Winter Outlook 2021 to 2022: My Call For Snowfall Opposing Forces Meet In The Middle
Outlook
Winter Weather
Justin Berk
Nov 12, 2021
11:09 am
0
November 12 2021
The time has come to put it on the line.  After a build up of research reports and anticipation, what do I think will happen this winter?  Will I fall in line with most other forecasters or be an outlier? 
No!  I believe the final snow total will be at least a 'near' normal winter. It's weird to even think that is the rare high end this year. Forgive me for a lot of info here, but I want to share what goes into my thinking,
So, why even do this?
Us weather people get a bad rap for forecasting just a few days away, so imagine the thoughts for an entire season.
But we humans like to look ahead, and it's not just about the weather.   
Some financial pundits said inflation was short term, and we know it's not. I realize the higher cost of energy does take away from some of the fun and love for a cold and snowy winter, when it will cost more money to stay warm.
The 'experts' are still on TV or only with their daily stock picks, and people listen. 
Even news pundits are already talking about the election… which is a full year away!
Football analysts do it weekly as well.  Do you remember when The Kansas City Chiefs were expected to win the Super Bowl this season?  How about ALL of the TV guys saying Mahomes was better than Lamar Jackson and would beat him in September?  We know how that ended up.
Then, just last night, the Ravens were expected to walk over the Dolphins in an easy win. People on TV almost unanimously agreed. But they lost.  It turned out to be a 'Trap' game.
So as for my 'two cents' are for potential. I will hold myself accountable, but it is more a game. Not my main objective. That is more short forecasting to keep you aware and help you prepare.
Personally, I believe this winter may very well be a 'trap' as well highlighted by La Nina luring us into 'thinking' this will be another mild season. I'd rather think we will wake up to more mornings like this one Alison Decker showed us from Baltimore County last winter.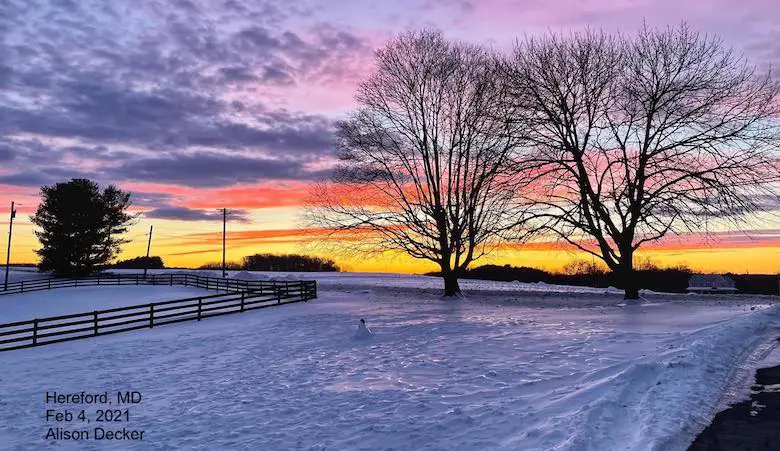 I recently shared my track record for last winter along with my record over the last 8 years.  I did miss the overall total snow. It was about half of my call!  However, I was pretty close calling the timing of events AND the 'pulse' of events clustered in February. So regardless of the large look ahead, we truthfully are be better suited for the individual events.
I have failed and also had stellar winters before. I strive to bring back the 'stellar' this time!
Links that report and other research are at the bottom of this post. 
I need to share the main information to explain the reason for my call. But you can jump to the bottom if you just want that.
Weather posts straight to your inbox
Sign up and be the first to know!
Supporting Evidence (Recap):
Opposing Forces
I've written quite a few reports about signals for the winter ahead.  If there was one that was perfect, this would be easy. But there have been opposing forces:
Warmer and Less Snow Than Average

 
Most local forecasters on TV and online re going with below normal snow.  There are too many to mention here, but I am sure you have already read something from your favorites.
With all due respect, we had a saying back at Cornell: "If you get four meteorologists in a room, you will end up with five different forecasts".  That fifth one may be the best…. My call here is just another one to add to the overall mix.  But it is my scientific interpretation.
NOAA:
Went warmer with a suggestion of less snow mostly based in the La Nina pattern.
Click to see My full report.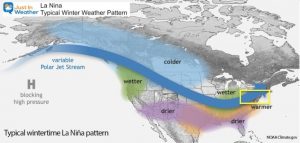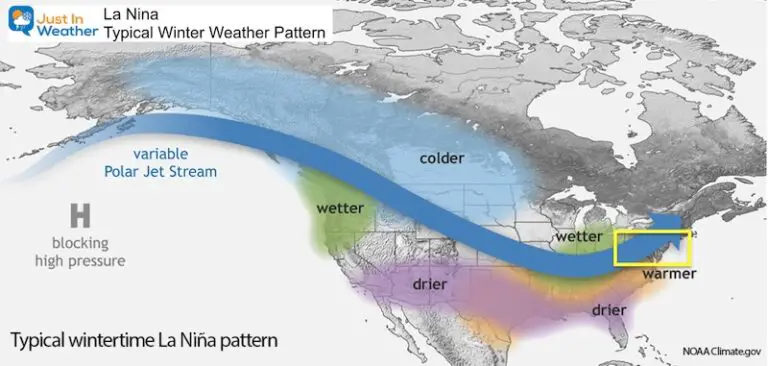 La Nina Double Dip:
"Usually" warmer and less snow.  However we have had one recent blockbuster winter in 1996. 
65% of winter are warmer
35% of winters are cooler.
*Could this be based on intensity and location of that water in the Pacific?
*This is the second winter in a row, but the location and intensity of the cool water is NOT the same as last year.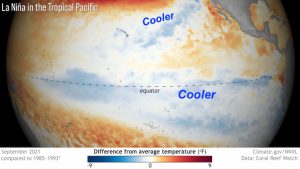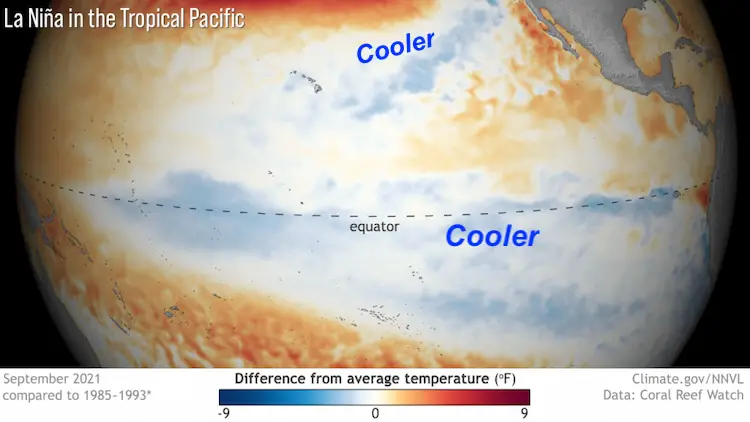 Contradiction:
January 1996 Blizzard was in a La Nina winter and resulted in the 2nd highest seasonal total of 62.5 inches. 
Colder With More Snow
Distant Snow Pack
Fast building snowpack between China, Siberia and Canada. That is the sourcing of our cold air.
Significant change in snow cover across northeast #China this weekend with the strong cold shot. Some snow amounts are 30 cm (12″) in Jinzhou, 22 cm (~9″) in Tongliao, 21 cm (~8″) in Zhangwu & 4 cm (~1.57″) in #Beijing. pic.twitter.com/ZjKKnU3fIi

— Jason Nicholls (@jnmet) November 8, 2021
QBO – Quasi-Biennial Oscillation
This upper air pattern is in the Stratosphere. 
When this is Negative during a Moderate La Nina we tend to  get more snow. 
As of now (mid November) the Index = -1.18, That is Negative or in the Easterly Phase
Also See: Global Weather Patterns and Forecast Charts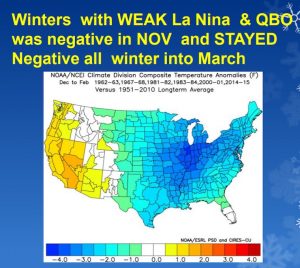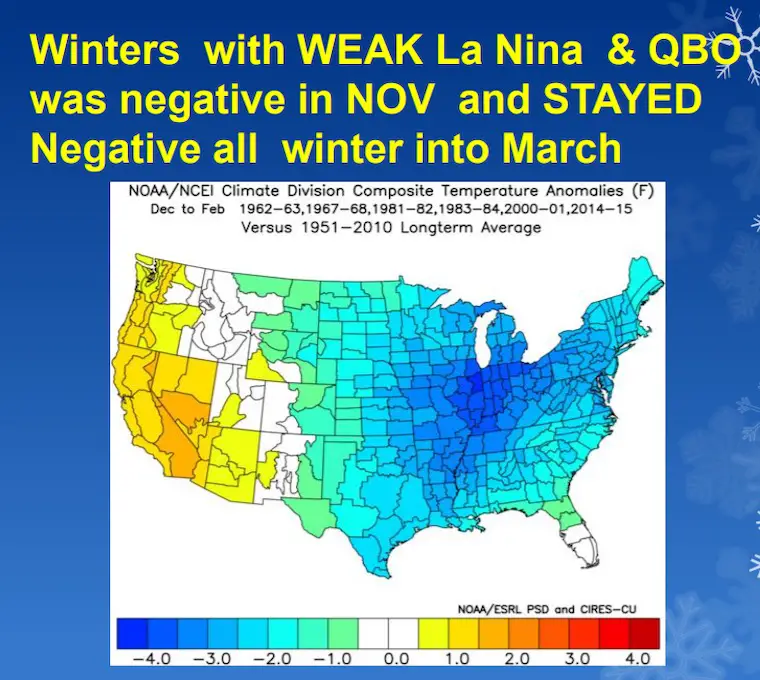 New Solar Cycle Beginning
In my research of the last 50 years, I noticed that there was an above normal snowfall winter associated with a new solar cycle. This usually was a lag of about 1 or 2 years after the solar minimum, but one time at the minimum itself. It has happened each time since 1964.
See the full report on Solar Cycle and Winter Snowfall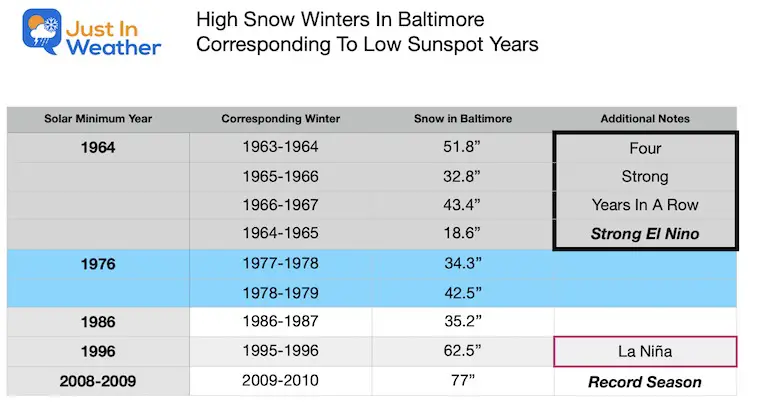 Farmer's Almanacs
I wrote an article showing 3 out of 4 different publications went for a near to above normal snow.
Is this scientific? Perhaps… We don't know their methods.
Why does this matter? Because people still buy the books and mention them every winter when we do get a storm.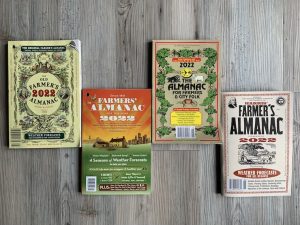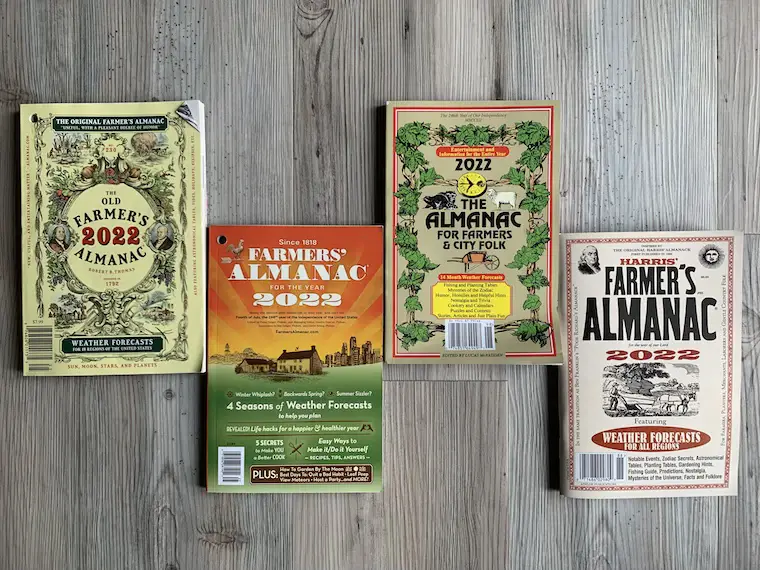 Winter Weather Folklore
There are many elements that have been brought to my attention leaning towards more snow. Does this matter? Well, people have been looking for signs in nature long before computers and satellites helped us.  Maybe the excessive acorns, location of wasps nests, thickness of skin on produce mean something. 
Perhaps even the latest Lady Bug invasions is them trying to tell us something?
As for the Wooly Bear Caterpillars… I've seen photos spanning the spectrum of colors. So this my be more subjective.
Also See: Winter Weather Folklore Checklist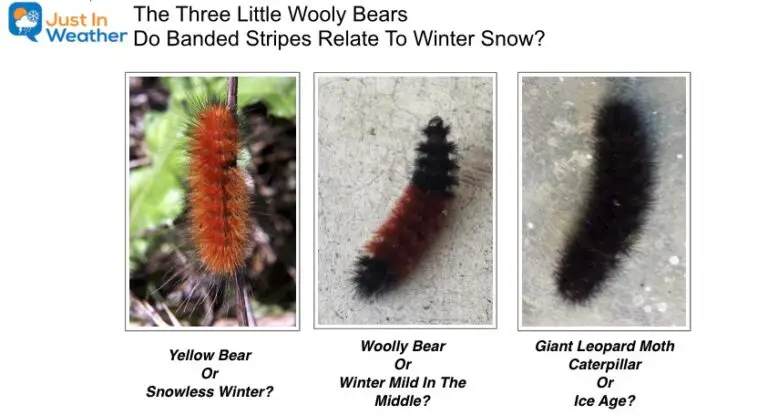 Overdue on BIG STORMS
We have historically had a big storm over 10 inches or snow at BWI every 3 to 4 years since the 1970s.   
This has not happened since 2016, six winters ago. That storm was the bulk of the snow the entire winter.
Did we break the pattern or are we overdue?
One good storm can break it wide open, and I give the odds on that at 50%.
Also See:
A cluster of storms can make a season in a short time.
January 2000 Most of the winter snow was in a 10 day span between Jan 20 and 30. This included the '"surprise" Nor'easter brought 14.9" snow to BWI.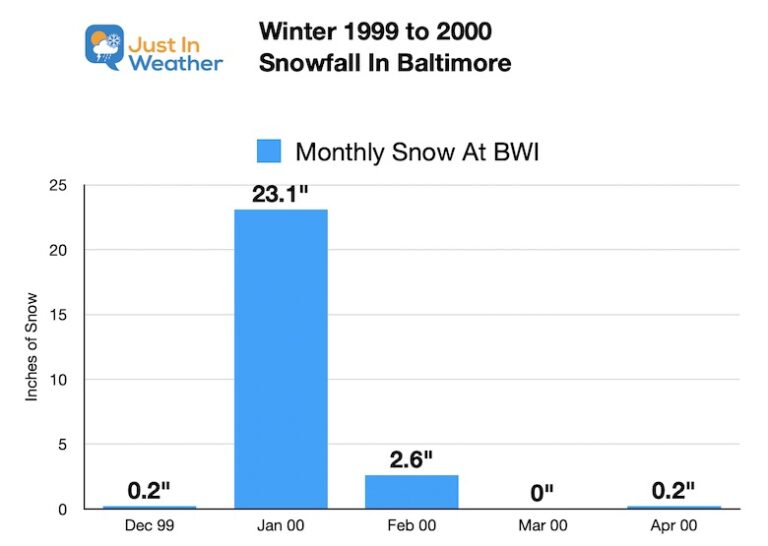 Tropical Cyclone Tracks
A very busy year in the Atlantic and one thing stands out:
Larry and Sam both made it to the North Atlantic. This helps to redistribute heat on our planet and warm water.  I feel this will help with more North Atlantic Blocking or -NAO patterns to support cold air for us.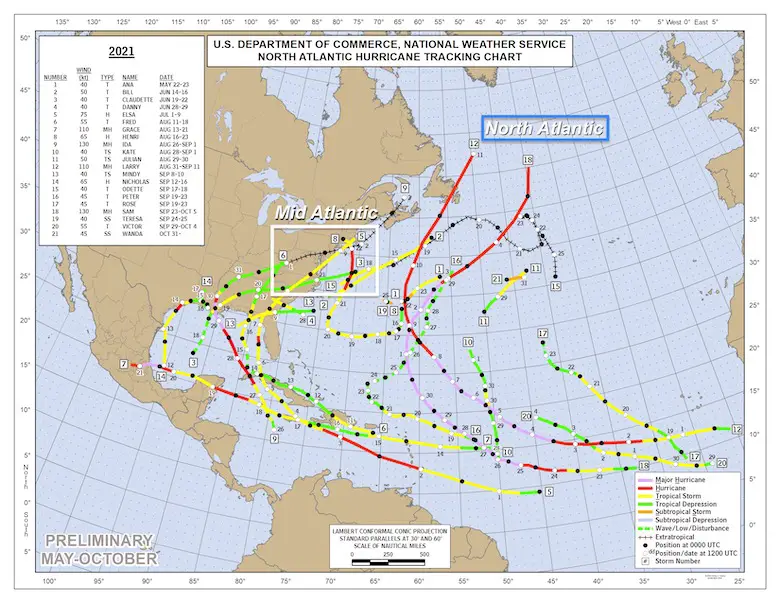 Also: Systems crossing the Mid Atlantic region.
Claudette – Passed South.
Elsa – Crossed SE Maryland July.

 

Fred– Remains crossed West into SW PA Aug 18- severe storms in MD.
Henri – Coastal and Retrograde… New England. Models Trended west, then shifted east at last moment. Rain for us Overachieved!
Ida – Through Maryland- Overachieved rain modeling. High Impact flooding. Locked track for 2 days. When inland shifted SE.. This brought us the Annapolis Tornado!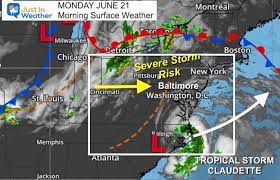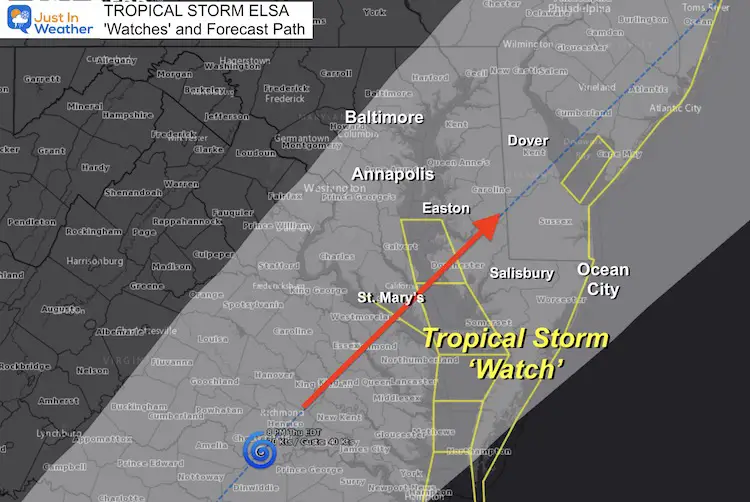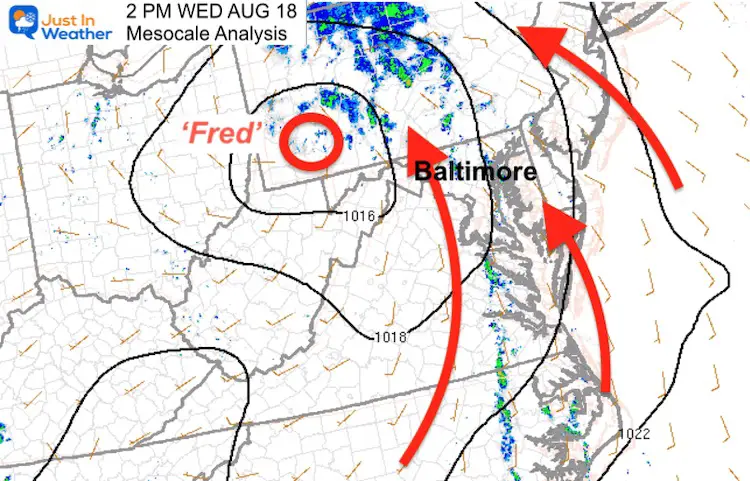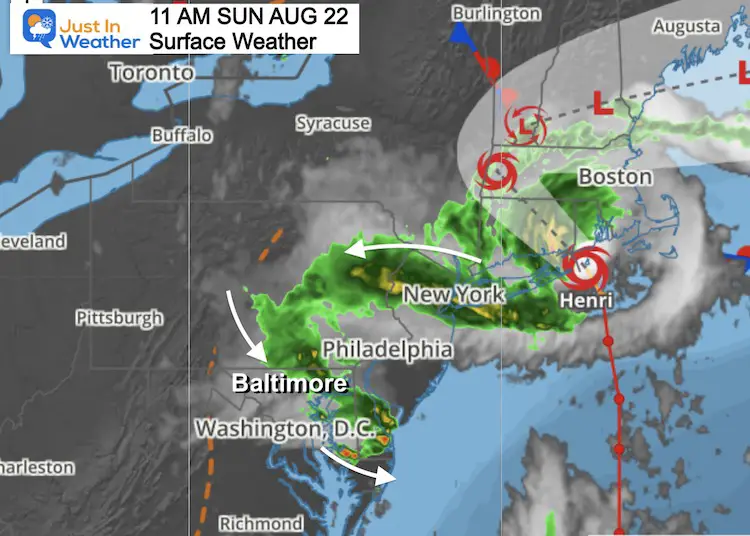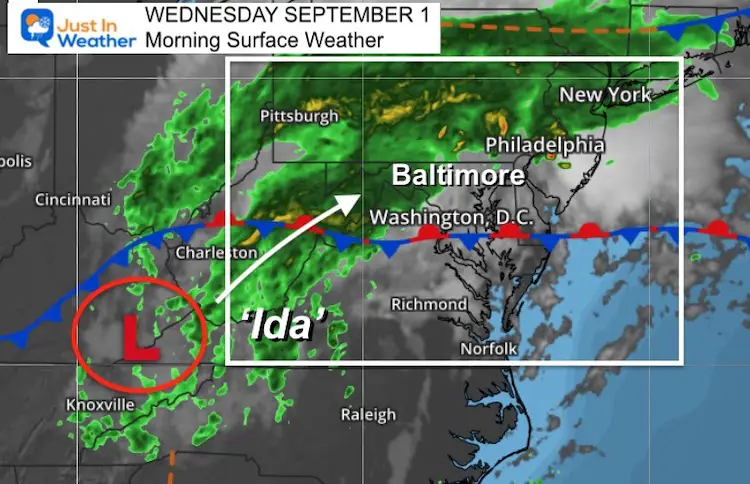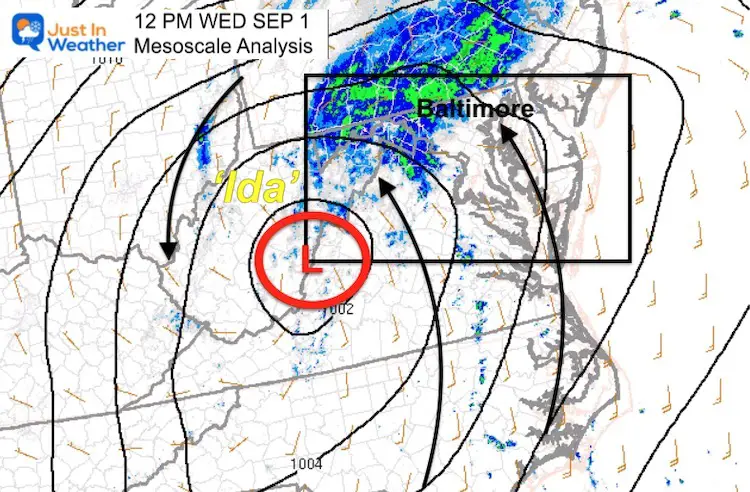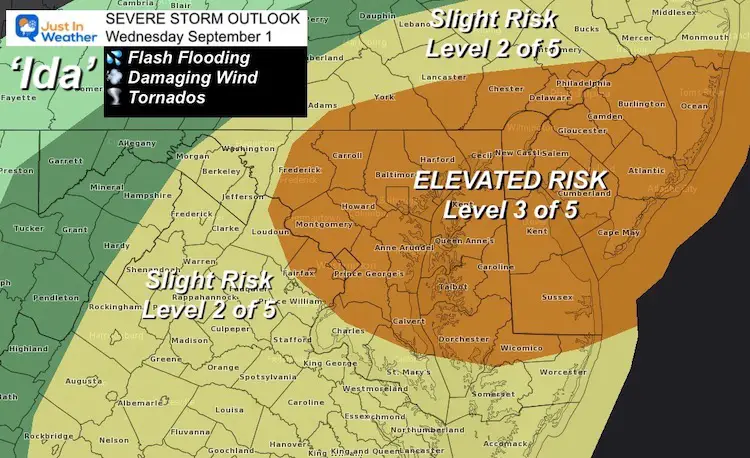 July_7_tropical_storm_elsa_maryland_watch_track
August_18_weather_afternoon_Fred_analysis
August_22_weather_surface_weather_late_morning_tropical_storm_henri
september-1-weather-wednesday-morning-730-am
september-1-storm-mesoscale-analysis-noon
September-1-severe-storm-risk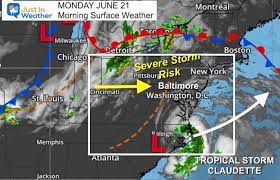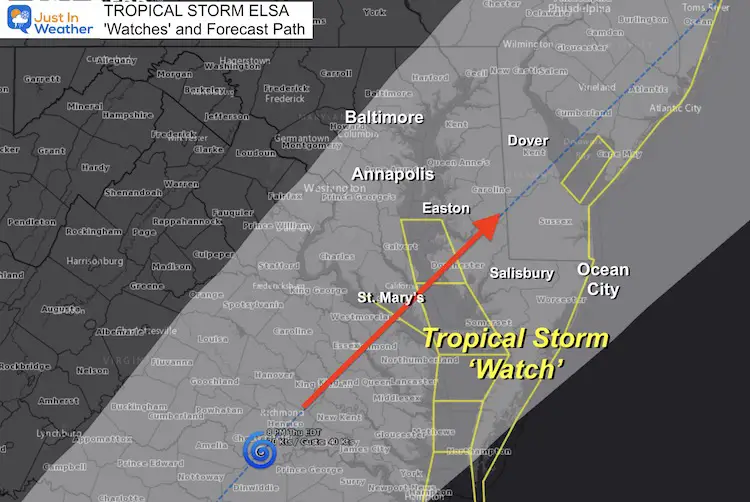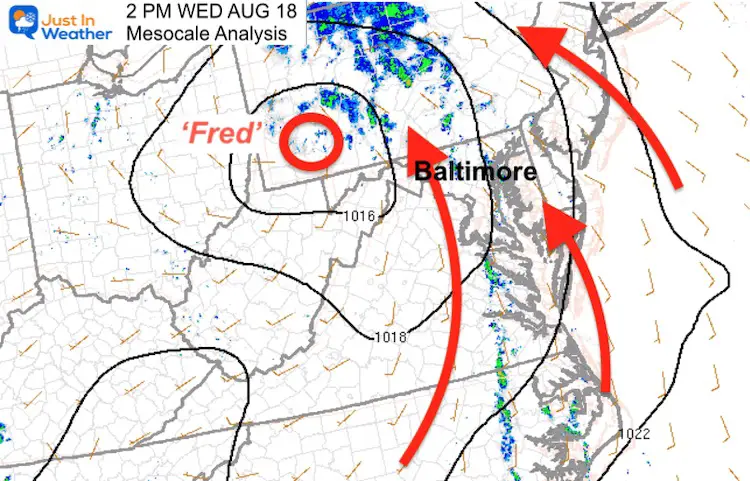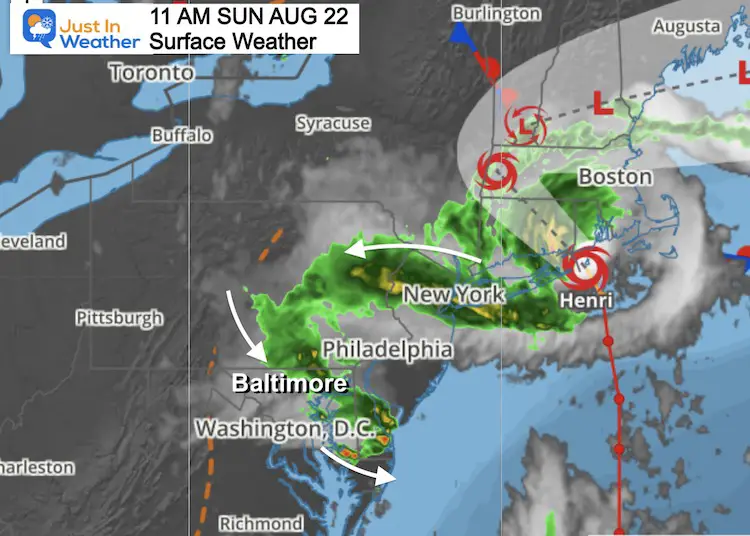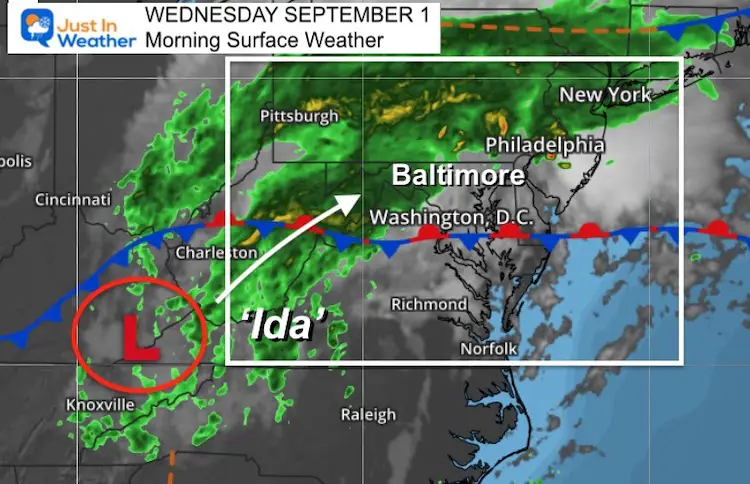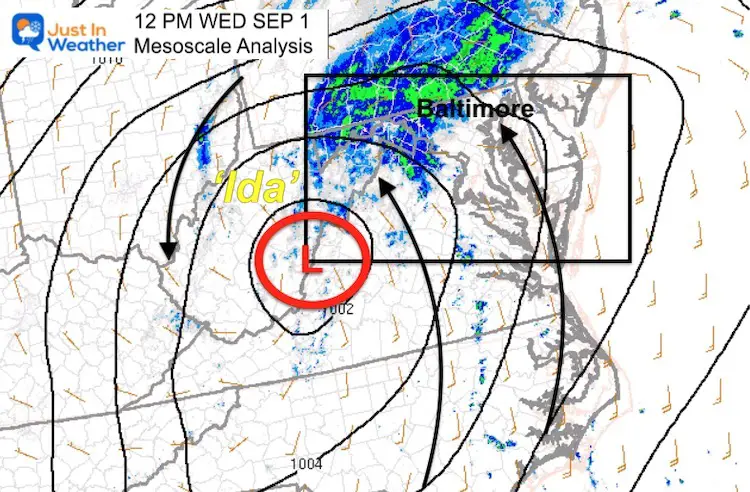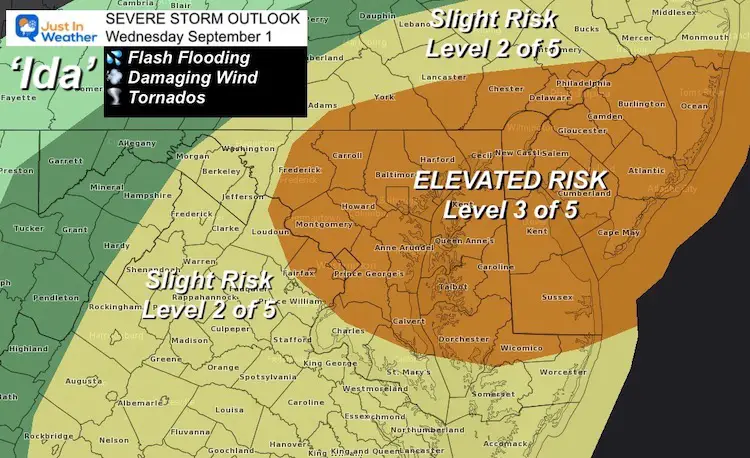 East Coast: Atmospheric Memory?
We had two Nor'easters including this retrograding storm  Oct 26-30.
The helped with high flooding on the Bay and shoreline.
This location suggests we may see a few Large Nor'easters, but too far off the coast.
However, all we need is the right blocking to our north to bring one of those back close enough for impact. I really believe the odds favor us getting in on at least one of those significant coastal events this winter.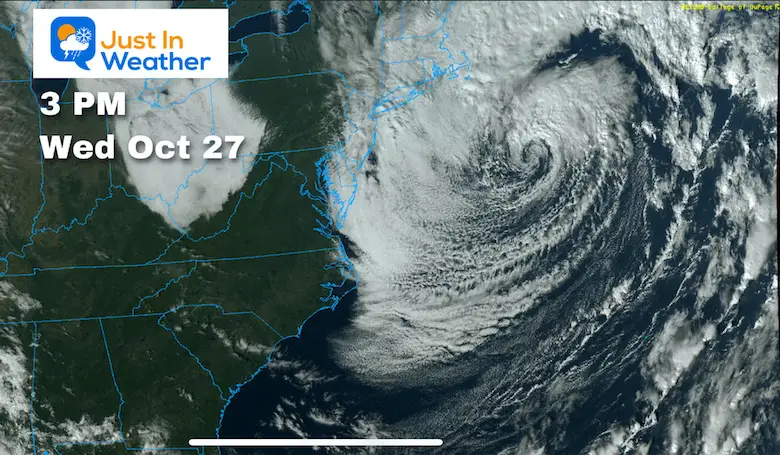 Extreme Weather Hot Spots:
These can be a local focus for peak energy when we do get a storm to hit
Frederick Multiple Tornadoes
Annapolis – The Big Tornado
My Call For Snowfall:
With this tug of warm, I do believe the energy will be present to give us a good chance to get
'at least' get a near normal winter.
My Forecast for Baltimore at BWI
I picked a round number of 20 to be near normal.
The range or margin for error tilted to the higher end (18″ to 24")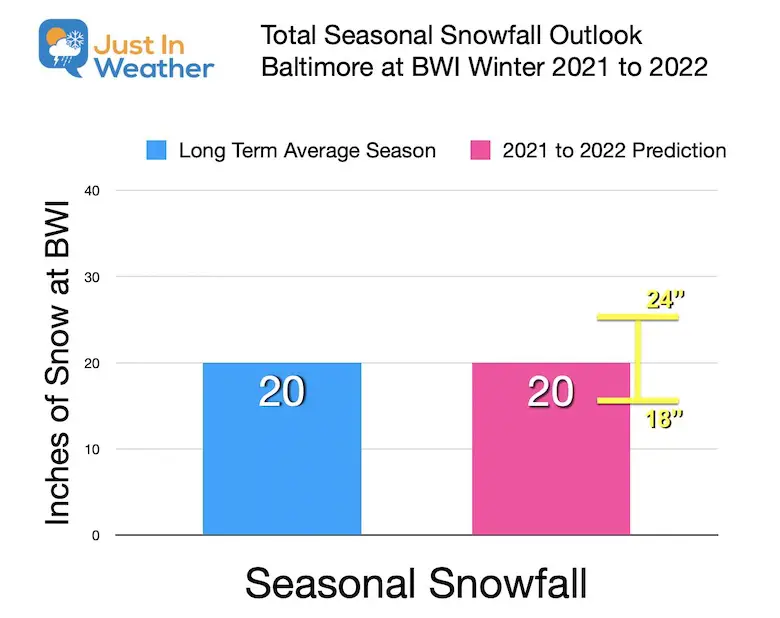 What could go wrong:
Less:  If we get a classic La Nina, the snow total will be lower, but I have a hard time thinking less than last winter.
More: If we get one or two blockbuster coastal… or a cluster of storms, we could easily exceed this mark in a hurry as we have seen in the past. 
Snow Map for region
Breakdown below…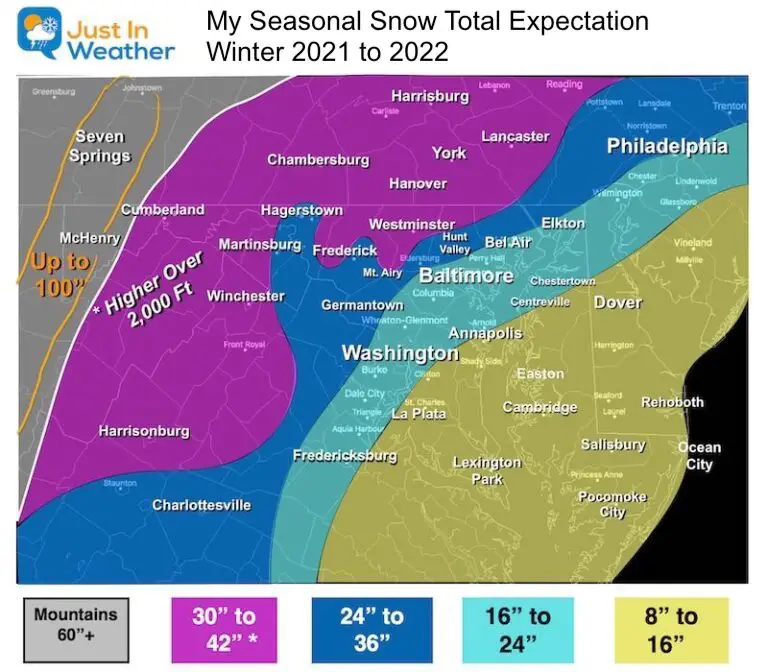 Metro Baltimore, Washington, and along I-95:
16″ to 24″ (less by the water)
This range allows for variations with the region as we often see with individual events.
Due to the warm water, this would be mostly on the back half of winter when the water cools.
Northwest Suburbs:
24″ to 36″
Farther Inland, Lower Ridges and Southern PA: Elevation above 600 Ft
30" to 42"
Since this is away from the water and colder in higher elevation, some earlier season snows are more possible here.
Southern MD/E.Shore:
8" to 16"
Due to the warm water, this would be mostly on the back half of winter when the water cools.
Mountains of Garrett County MD, West Virginia, and western PA
80" to 100" is actually close to normal  here.
Seasonal Expectation:
December
Start To Winter: Early cold and snow.
We have already seen samples of this, but there is more northern blocking to suggest more cold air.
The North Pacific Oscillation is important because La Nina is located in the Pacific and will be a driving force.  This PDO is Negative and tends to drive colder air to the Eastern US.
The QBO is negative and also historically associated with a cold pattern for the winter. 
We need to watch for the MJO to get back to phase 1 or 8.
January
Mid Winter: Mild
La Nina is expected to peak mid winter.
If we get a classic La Nina influence, then it will be January. That may be busy with storms, that may tend to cut west and warmer, or redevelop (Miller B) off of the coast and leave us dry slotted.
February into March
Late Winter storm cluster again.
We typically get our most active pattern and best storm chances in February.
This winter it may have support with a fading La Nina. If that is the case, the other forces like a -QBO and -MJO, plus Ural Blocking could play a later role.
Storm Tracks:
It will be a very busy winter, but not all storms impact us the same way.
The La Nina pattern will result in storms that:
Cut west of us, up the Ohio Valley, leaving us on warmer side.
Redevelopment off the coast: Miller B events. These are tricky and can pound us with ice/ snow, or dry slot us.  But more likely pound New England.

 

Following these storms will be arctic air, and we may get many light snow clipper style events.
Coastal: The hot spot for coastal storms looks a little farther east, which following the trend would miss us. But all we need is one or two of these to hit a seasonal total. There is reason to believe the blocking 'could' line up at least once or twice. This is what happened in January 2000 and 2016.
Reference: See Winter Storm Tracks
What is Normal?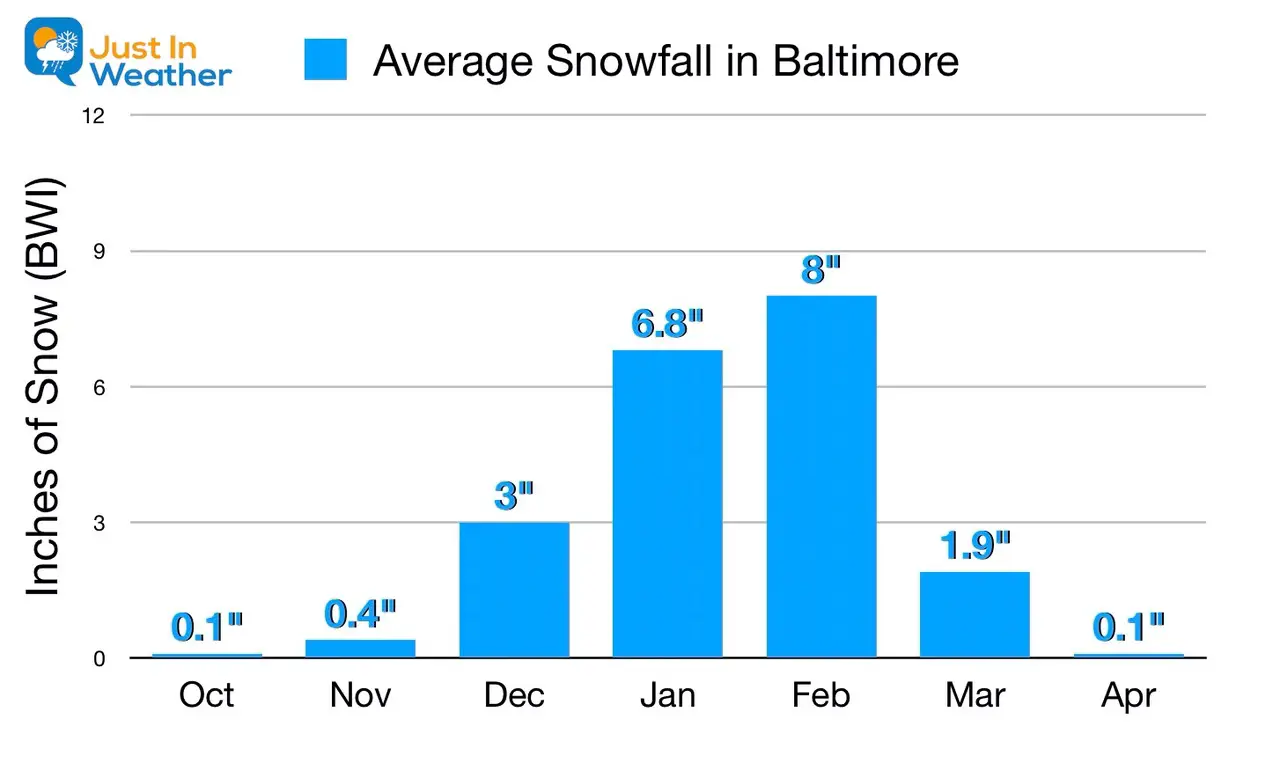 Faith in the Flakes Gear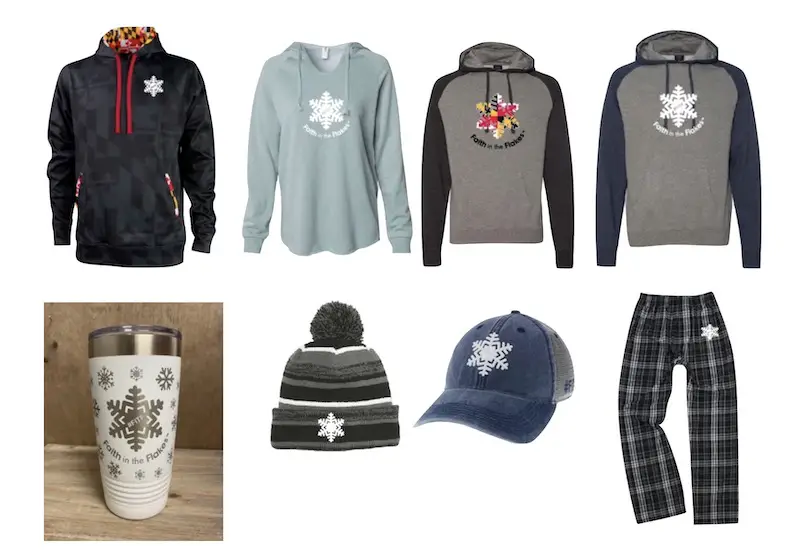 Last Winter Recap: My Old Outlook And Your Grades Of My Storm Forecasts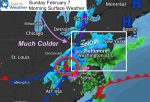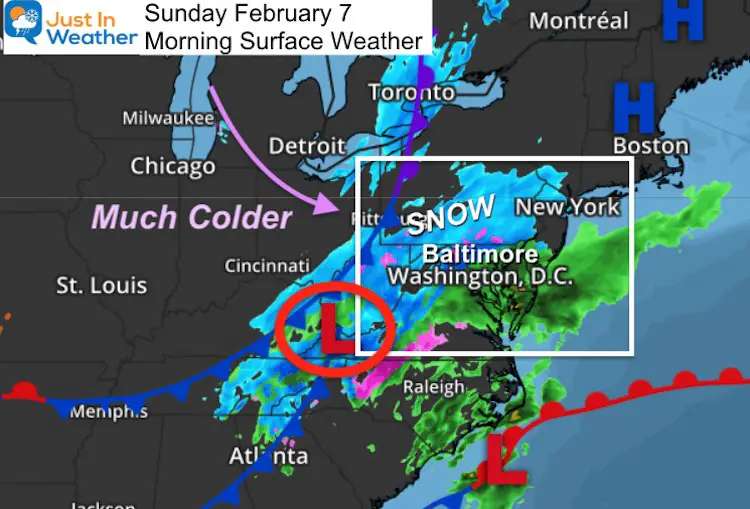 Also See The Winter Outlook Series: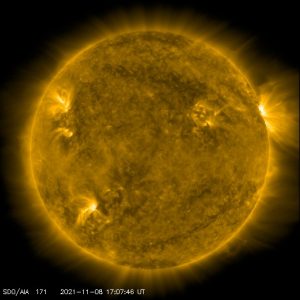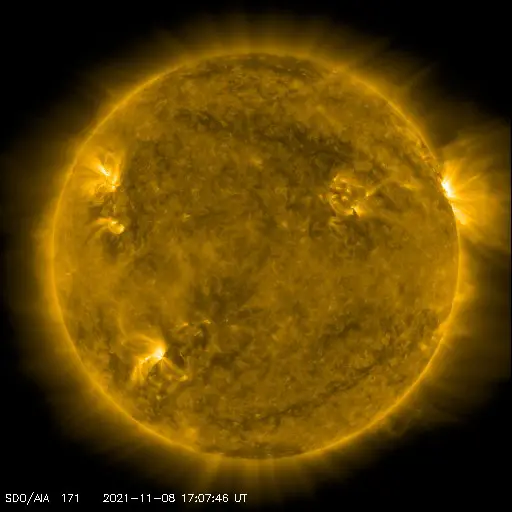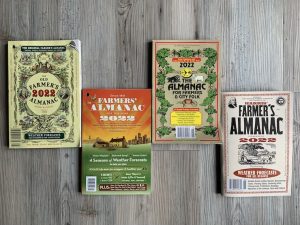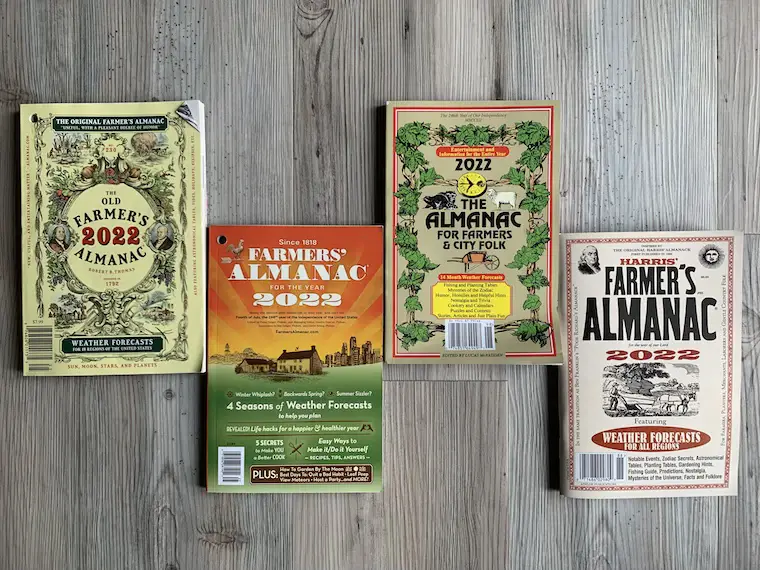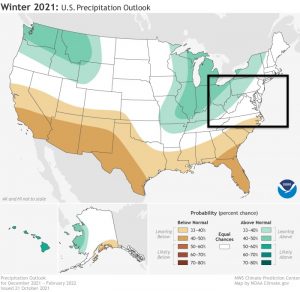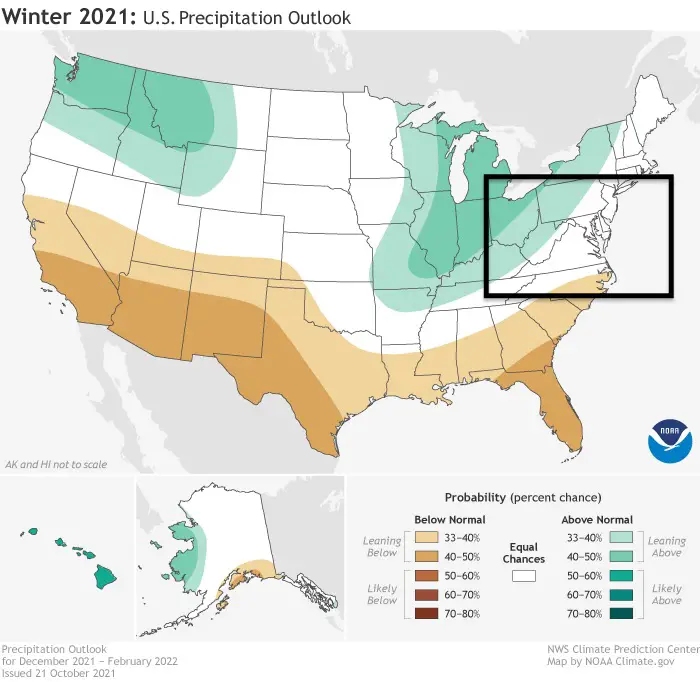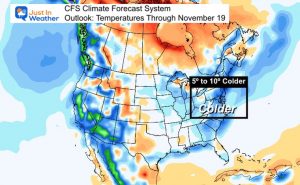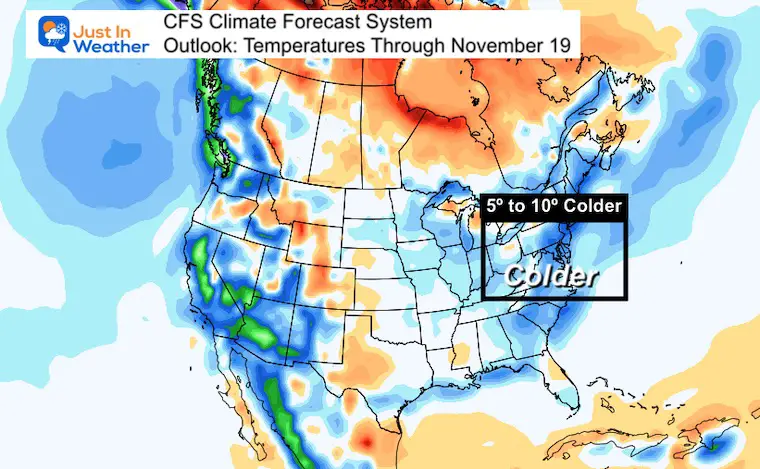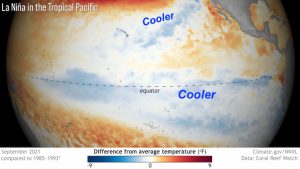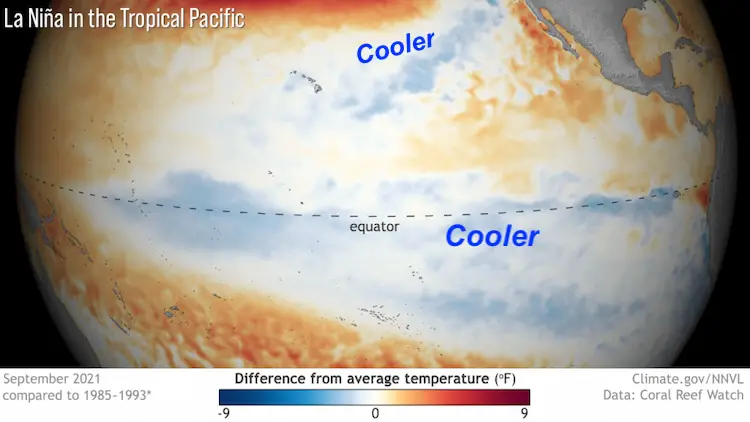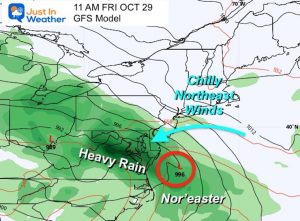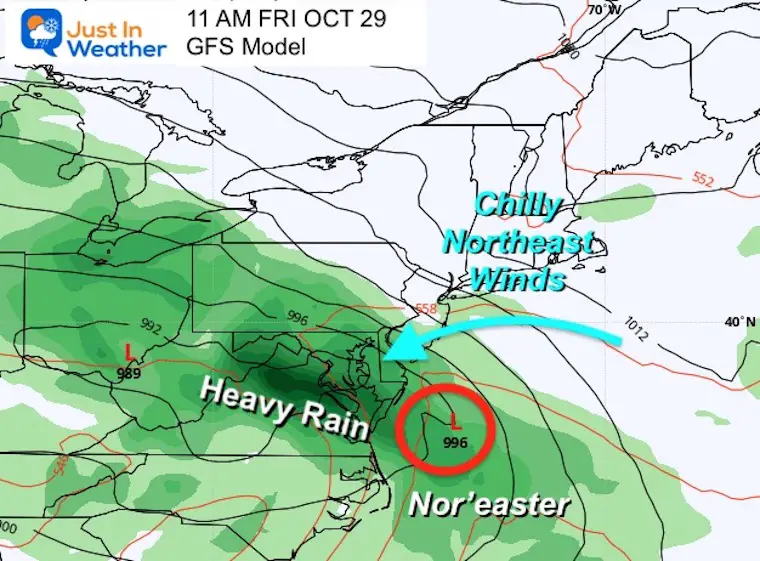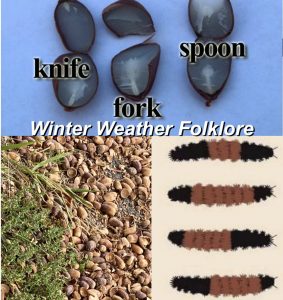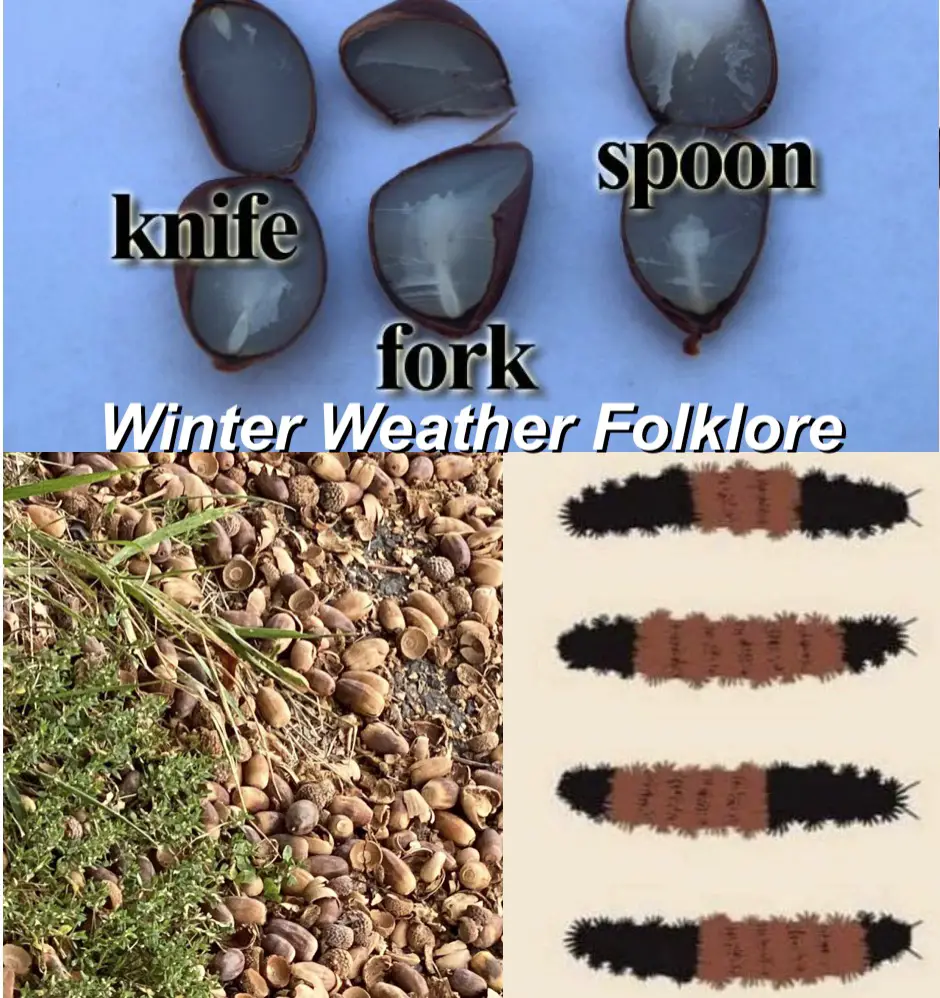 Please share your thoughts, best weather pics/video, or just keep in touch via social media