Looking Back At Storms And My Grades Last Winter 2020 to 2021
fun stuff
Outlook
Justin Berk
Nov 10, 2021
7:57 pm
0
Wednesday November 10 2021
Before sharing my snow outlook for this winter, I wanted to first revisit what happened last year.  I have been putting my forecasting out for scrutiny and grading for over a decade. So why not look back to remind ourselves of what happened AND how I did?
At first thought, I must be honest: I felt like I failed you. Perhaps I did on my seasonal outlook, but the individual storms were actually much more successful.  It's funny how our memories get clouded or shift focus on one thing over another.
What is more important here: The complete seasonal outlook, or the individual storms?
When I wrote on social media that I was going to do this recap post before my winter outlook, I was pleasantly surprised by the people who remembered me getting a lot of storms correct. Let's take a look at both. First the seasonal total history, then last winter's individual storms.
Seasonal Outlook History
I have been issuing my seasonal forecast for over a decade. However, I only have record of it on my websites dating back to the winter of 2013 to 2014. That winter is actually when I locked in on the Canadian Model and hit almost every storm. That was when my Facebook page first reached 100,000 people led to many other things in my business. For that I thank you!
That was also when I was on a role… I had three good winters in a row, then failed in the 2016 to 20176 winter. Who expected only 3 inches???
Yes, I have actually had three seasons I consider a Fail in the last eight winters, including the last two. Was it truly a Fail? More on that below.
You may also notice I do NOT like to issue a winter outlook below our 20 inch average.
Hint: I have double believing we will have 6 low snow winters in a row.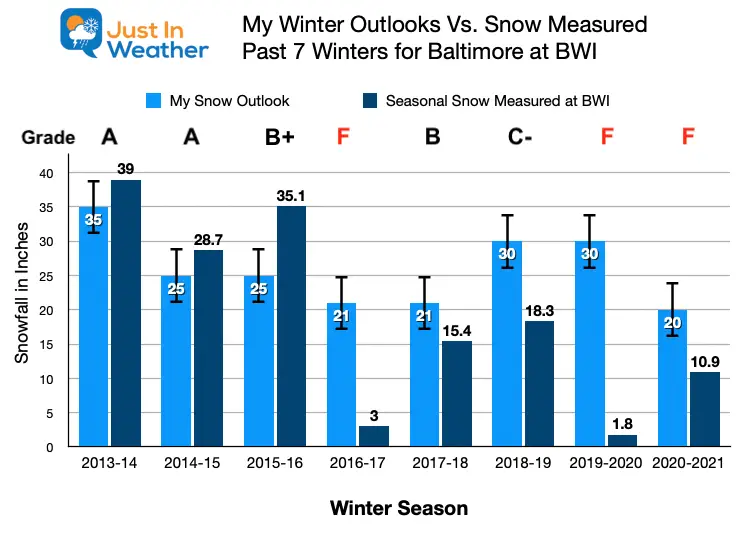 What is a Fail or Bust?
To be honest, yes I overshot the snow mark (double). But when I was exploring this report, I found that my suggestion for the winter as a whole was pretty spot on.
Here is a screen shot from my winter outlook from LAST YEAR
I felt this would be backloaded with clusters of storms in February. We ended up with 6 to the 7 notable events in a 4 week period from Jan 25 to Feb 22.  Pretty close.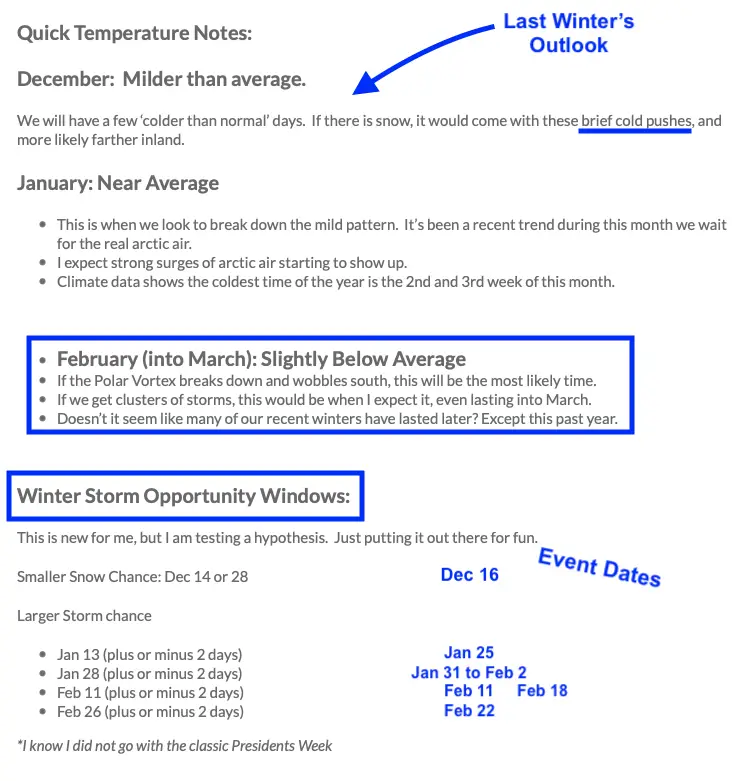 Winter 2020 to 2021 Grading
7 = Number Of Events or Notable Storms
6 of them occurred in a 4 week period.
| | | |
| --- | --- | --- |
| Storm/Event |  Your Grade  |  My Grade  |
| December 16 | A-/A | B+ |
| January 25 | *missing* | B- |
| Jan 31 to Feb 2 | A | B |
| February 7 | A | C+/B- |
| February 11 | A | A- |
| February 18 | B/C | C |
| February 22 | A | A |
Quick Storm Recap And Links
Each of these event reaps can be found with a link to the full report. As you may have noticed, this is a new version of my website. The older one is in 'archive mode' now and still has some problems. So there may be a graphic, chart, or grading poll that might not fully display.
Storm 1: December 16
Key Weather Maps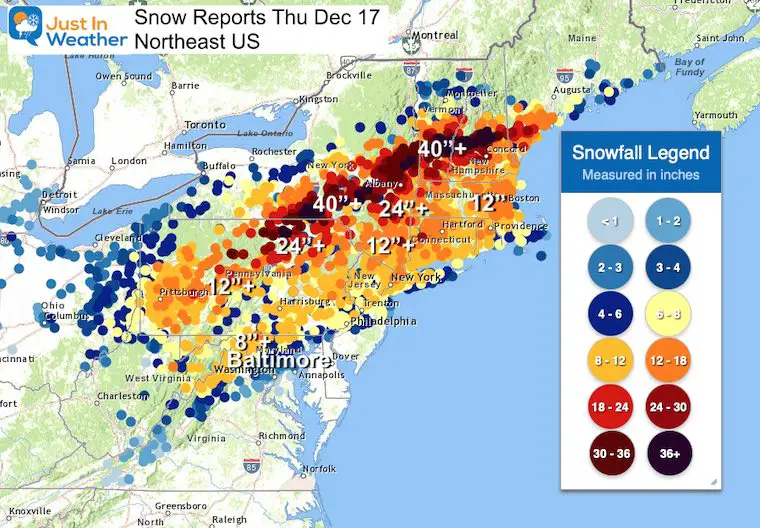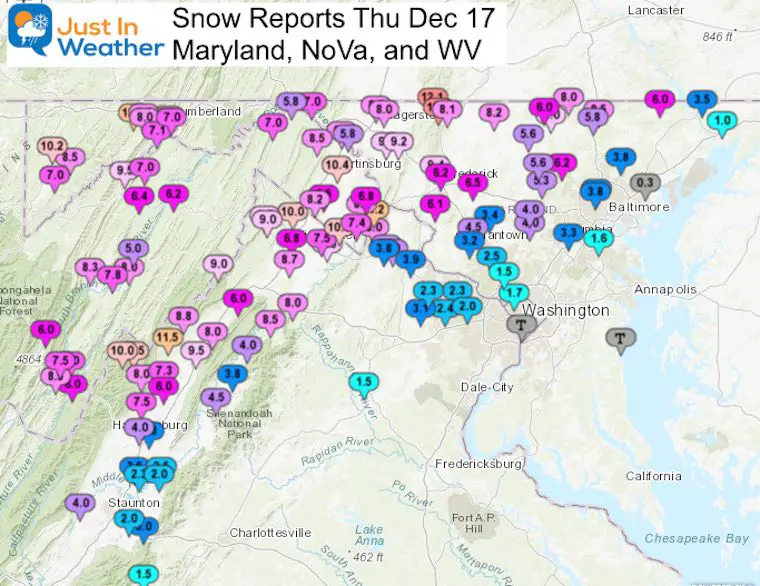 December-16-weather-storm-12-PM-analysis
December-17-storm-snow-reports-northeast
December-17-storm-snow-reports-Maryland-VA-and-WV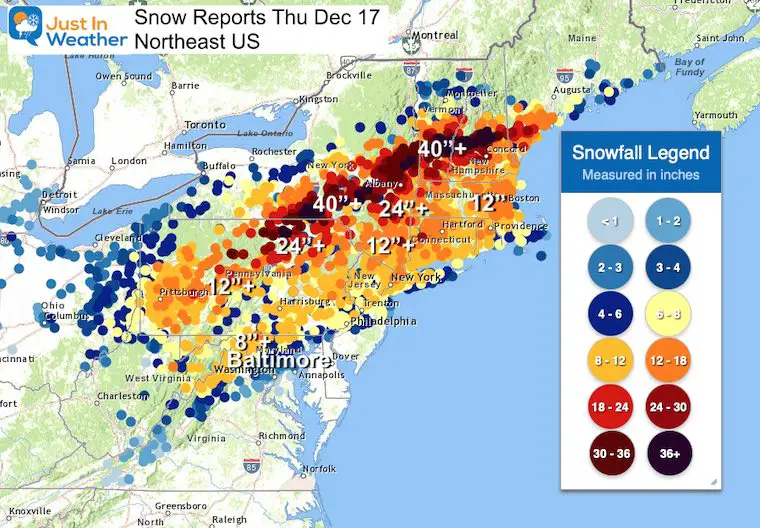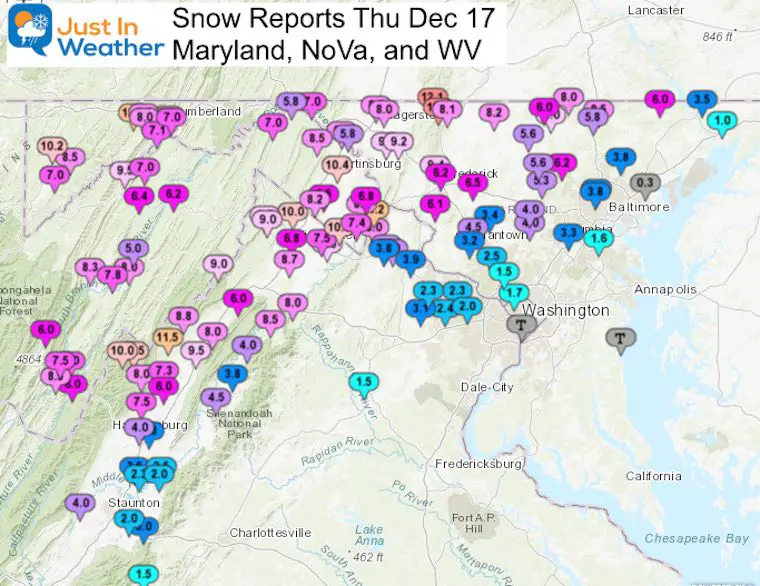 Here was the grade completed online
Storm 2: January 25
Key Weather Maps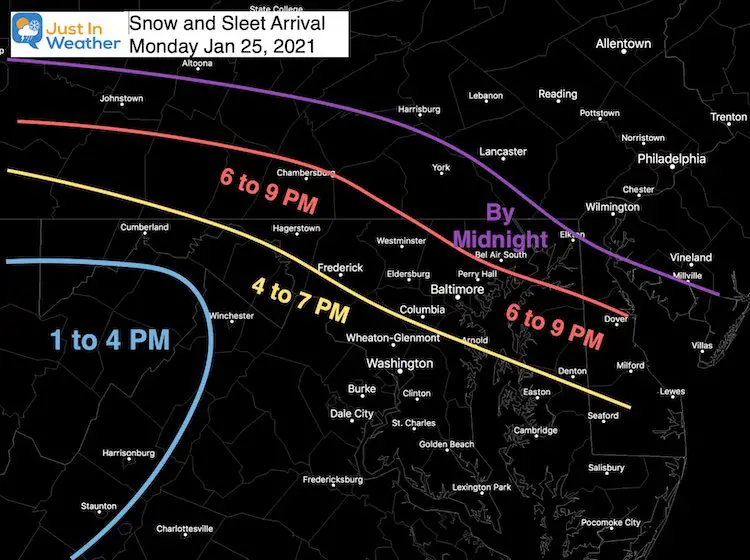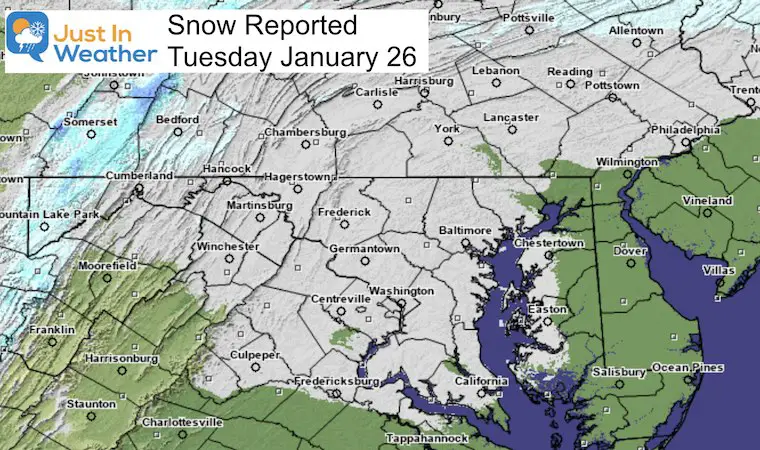 January-25-weather-Monday-morning
Janury-24-weather-snow-and-sleet-arrival-Monday
January-26-weather-grade-my-forecast-768x554
January-26-weather-snow-Maryland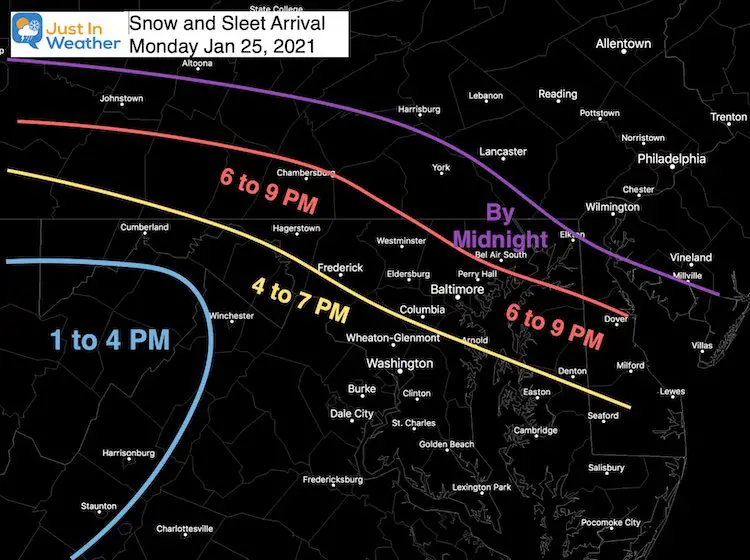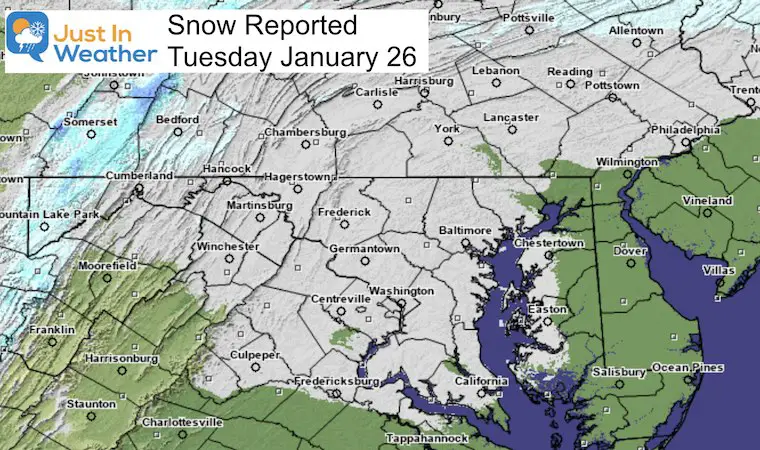 Storm 3: January 31 to February 2
Key Weather Maps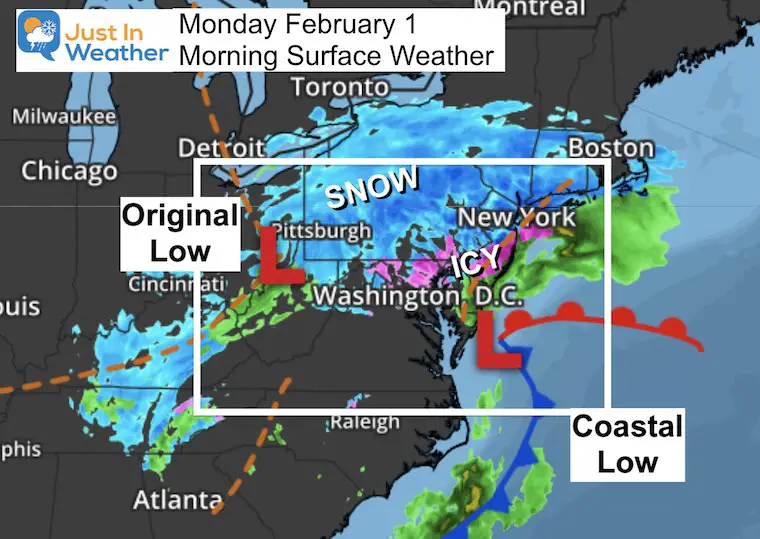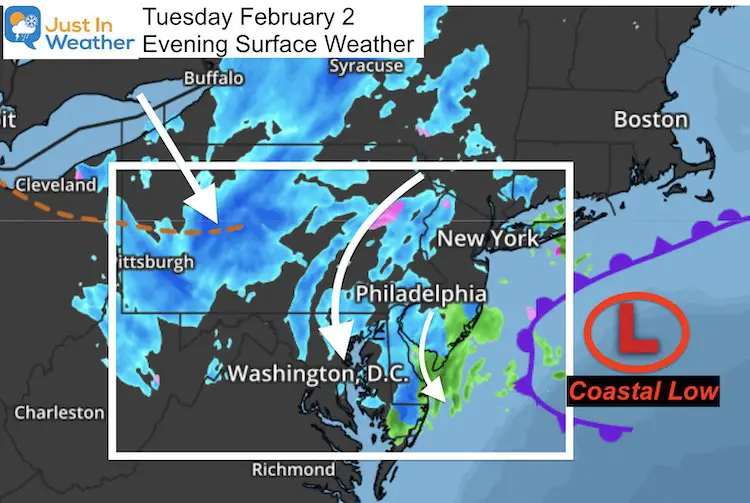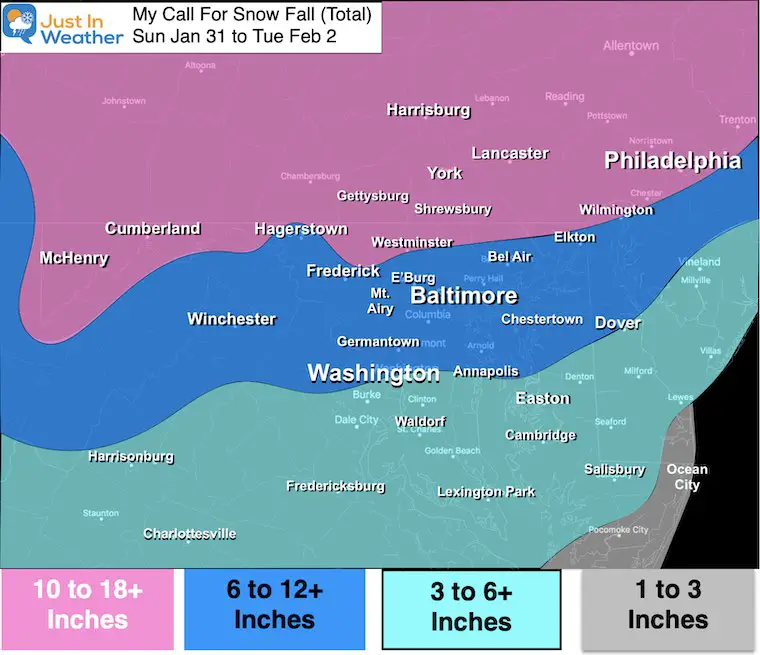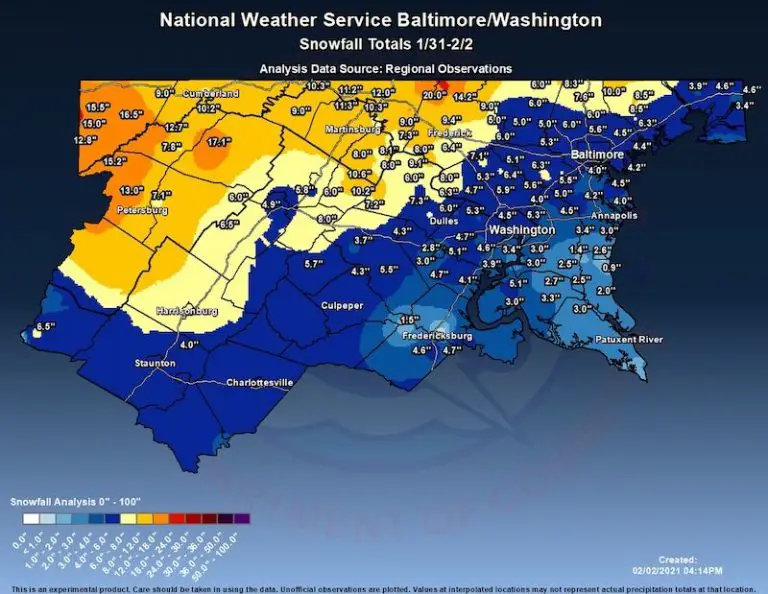 February-1-weather-morning-surface-weather
February-2-weather-snow-storm-Tuesday-evening
January-30-snowfall-my-call
Snow-February-2-Report-Map-Maryland-Virginia-768x594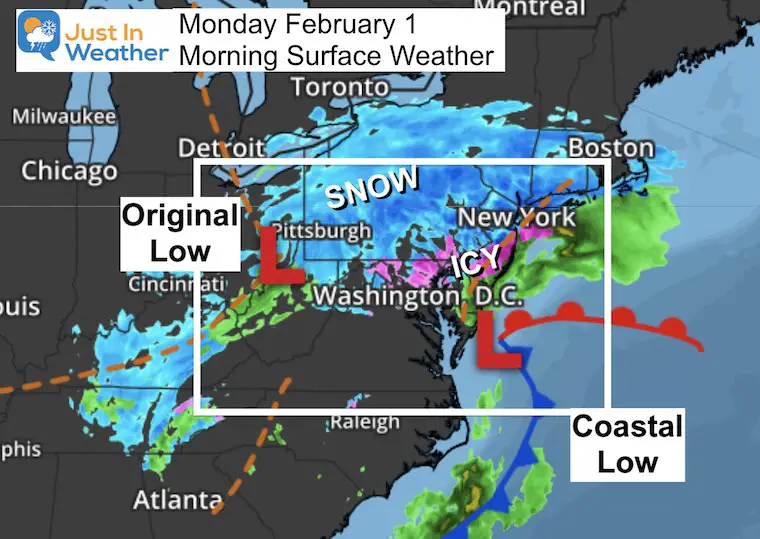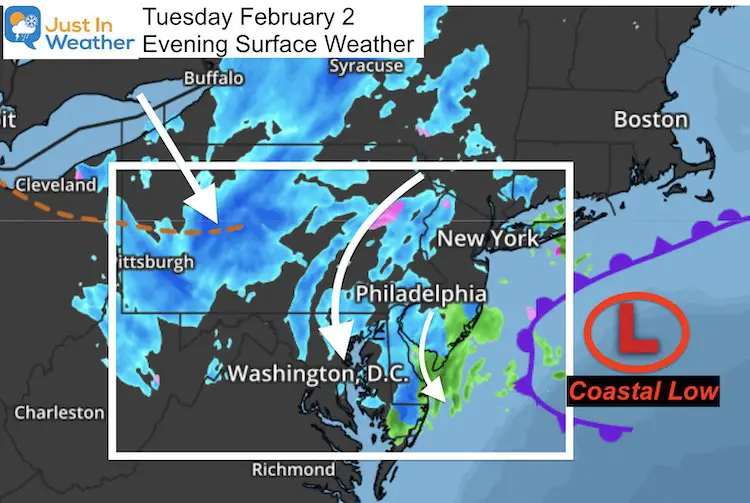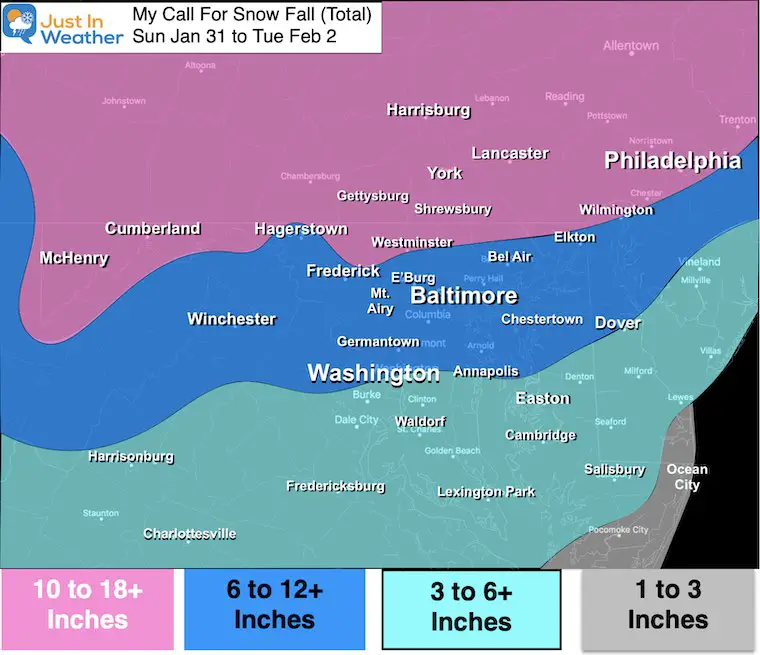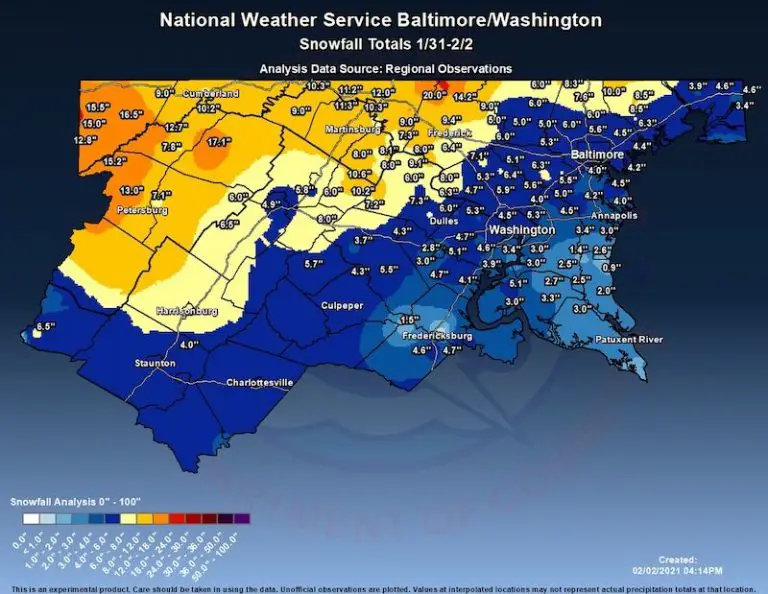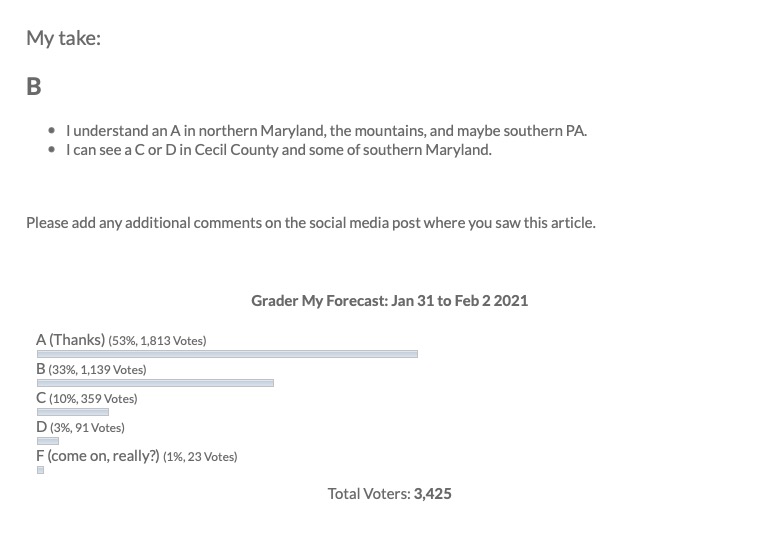 Storm 4: February 7
This was by far my worst forecasting for the season.
Key Weather Maps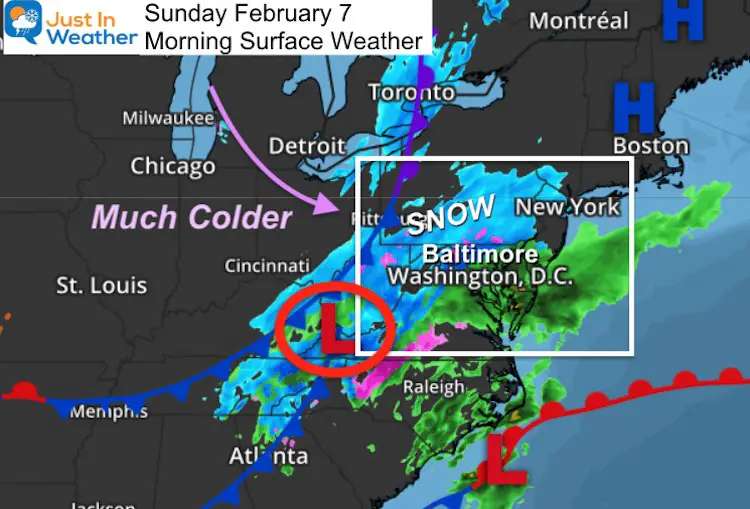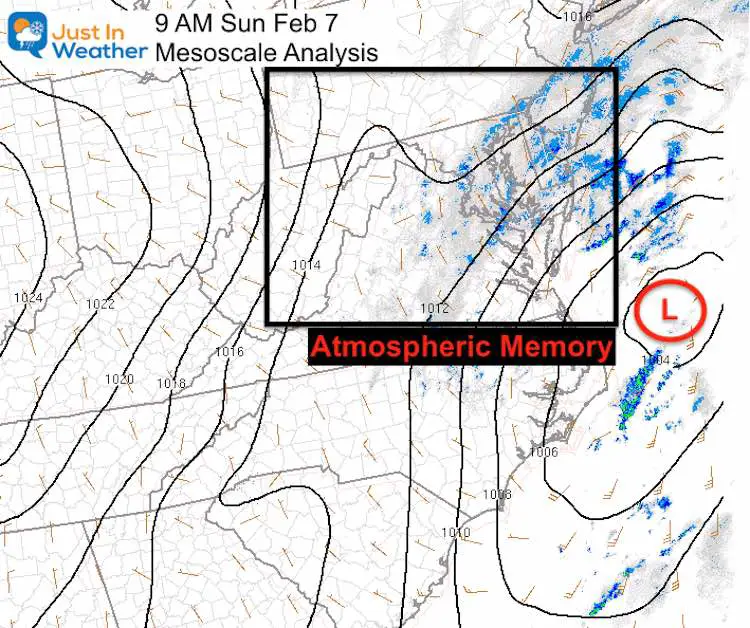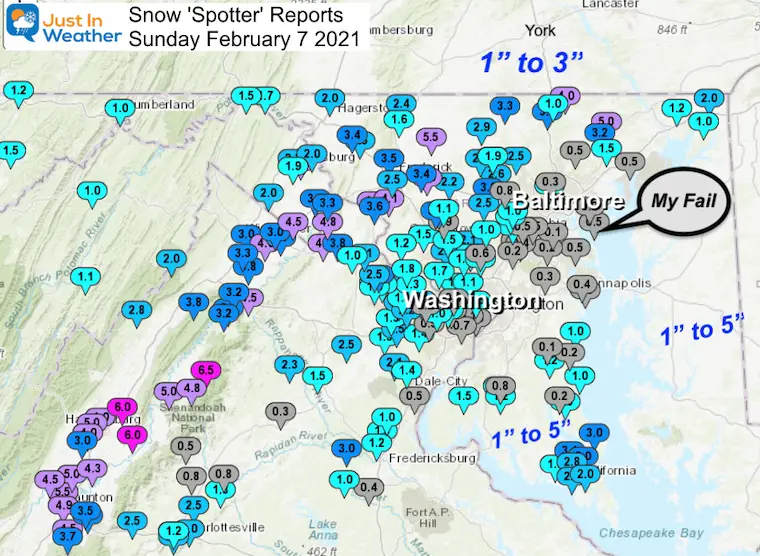 February-7-weather-snow-Sunday-morning
February-7-weather-Mesoscal-Analysis-Sunday-morning
February-7-snow-total-final-Sunday
February-7-snow-reports-Maryland-VA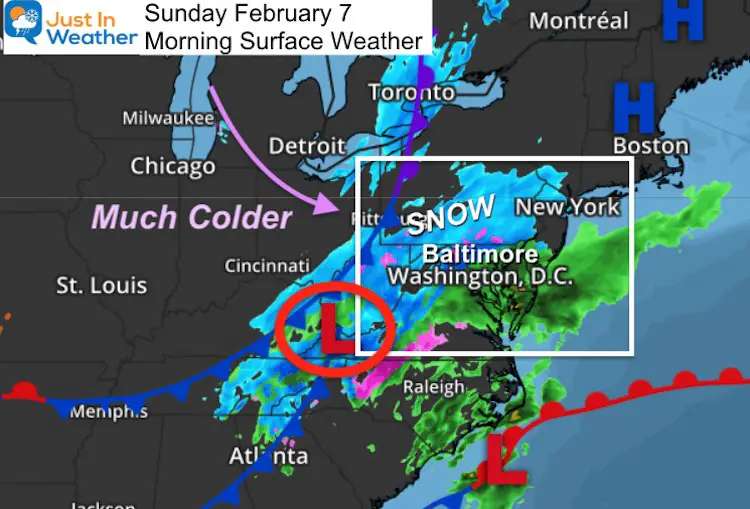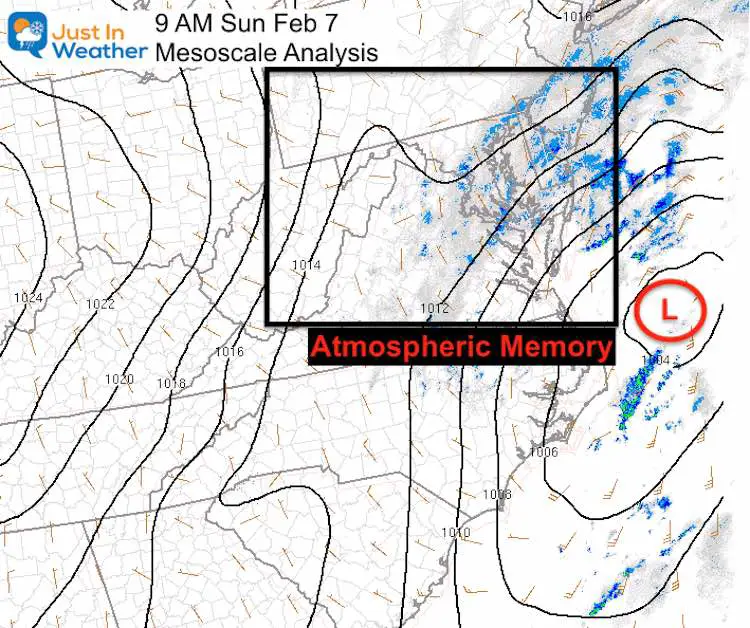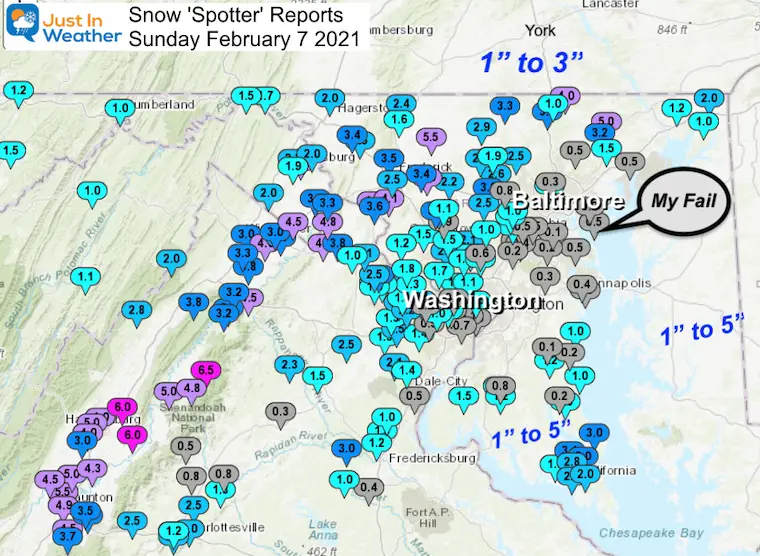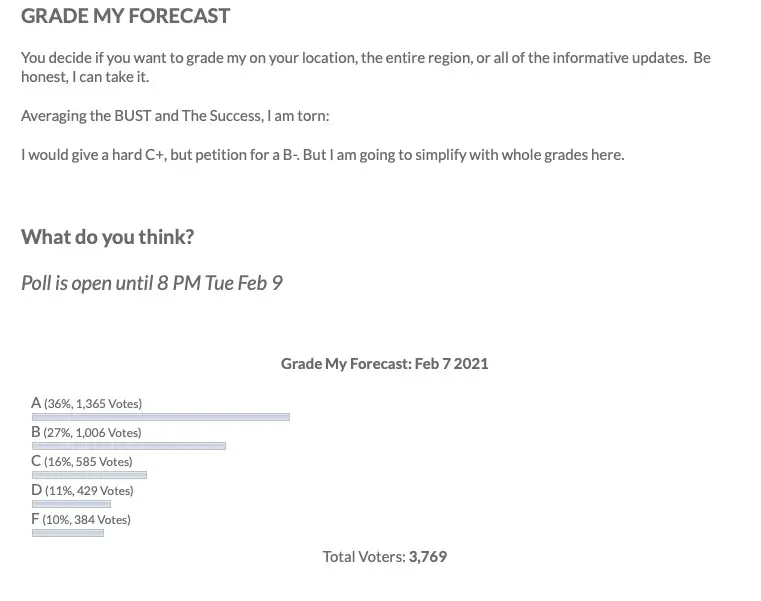 Storm 5: February 11
Key Weather Maps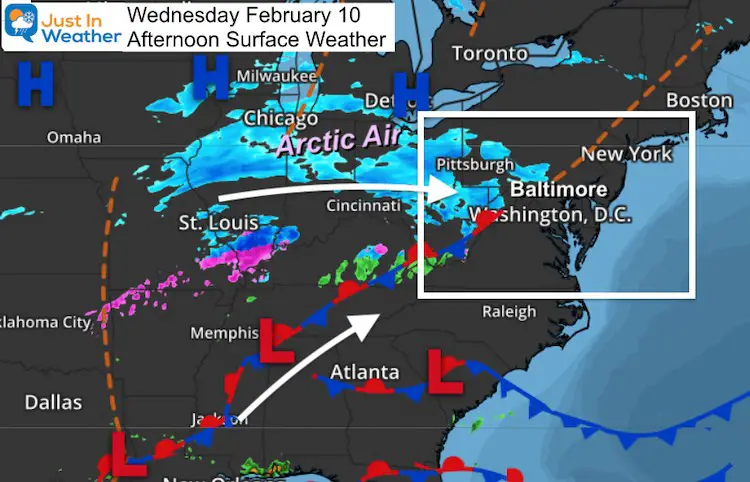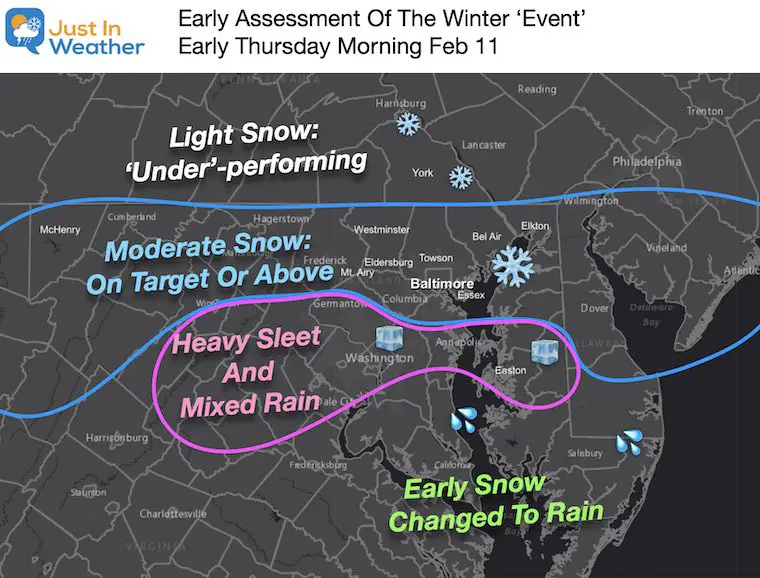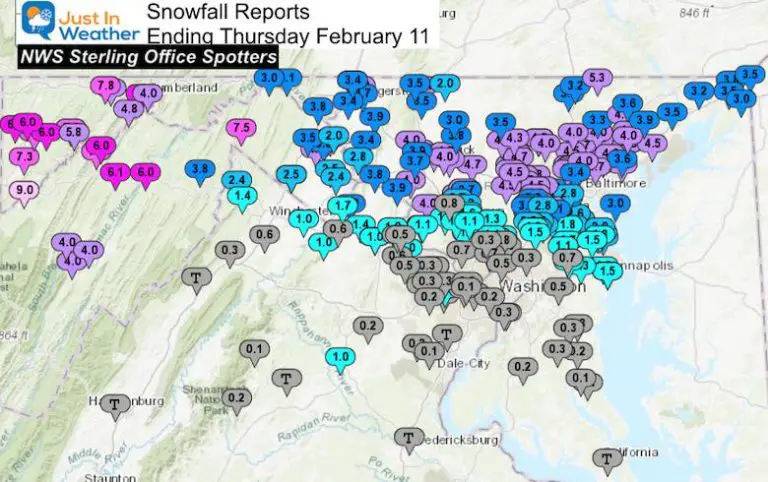 February-10-weather-afternoon
February-10-snow-tonight-ECMWF
February-11-weather-morning-winter-snow-ice-conditions
February-11-Snow-Spotter-Reports-Maryland-NWS-Sterling-768x482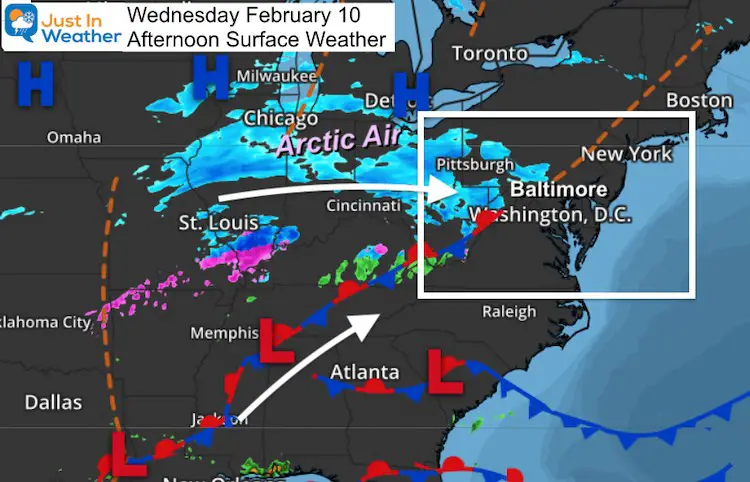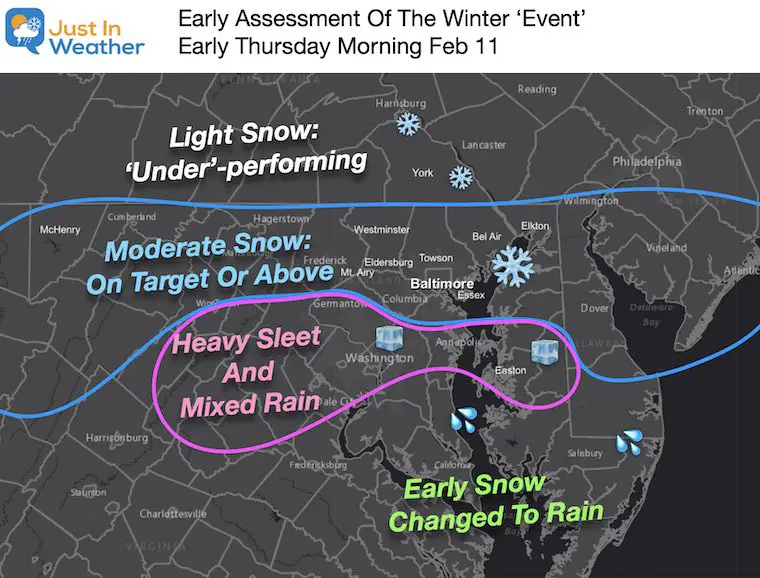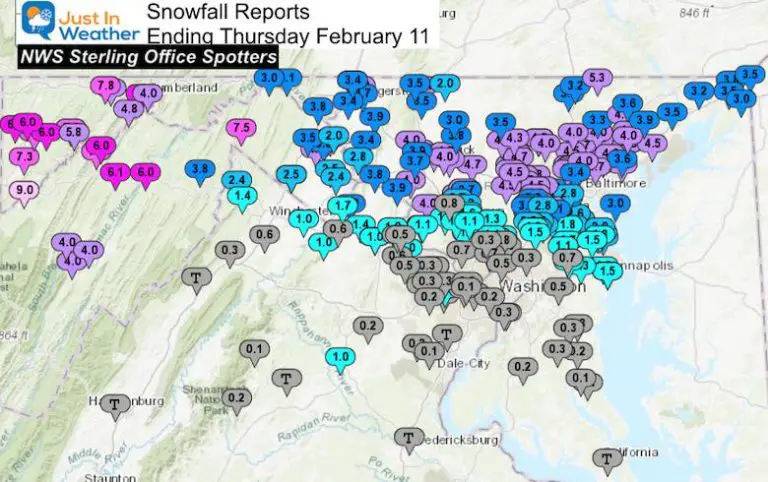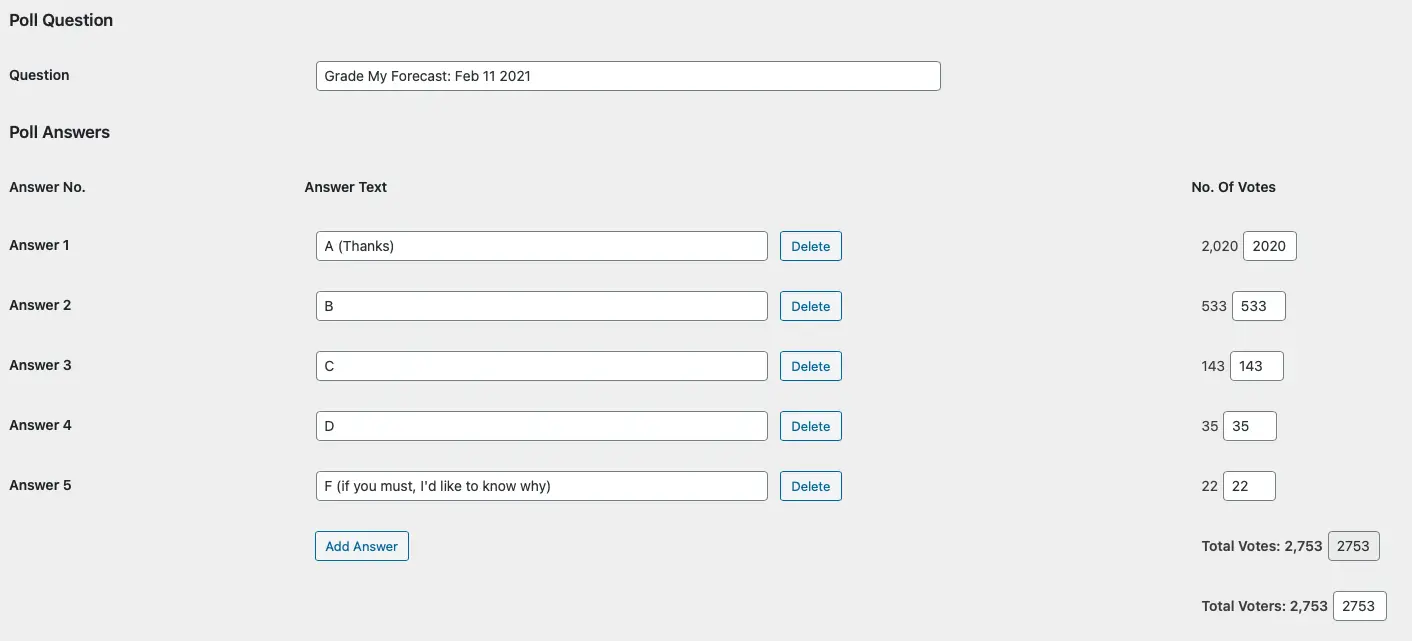 Storm 6: February 18
Key Weather Maps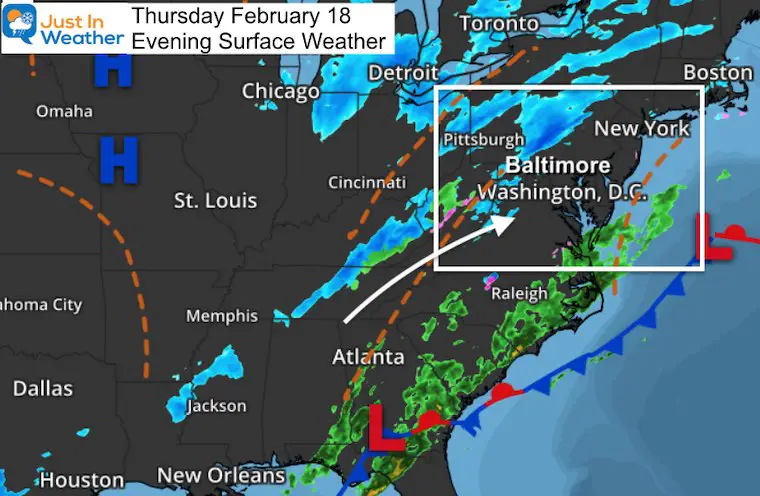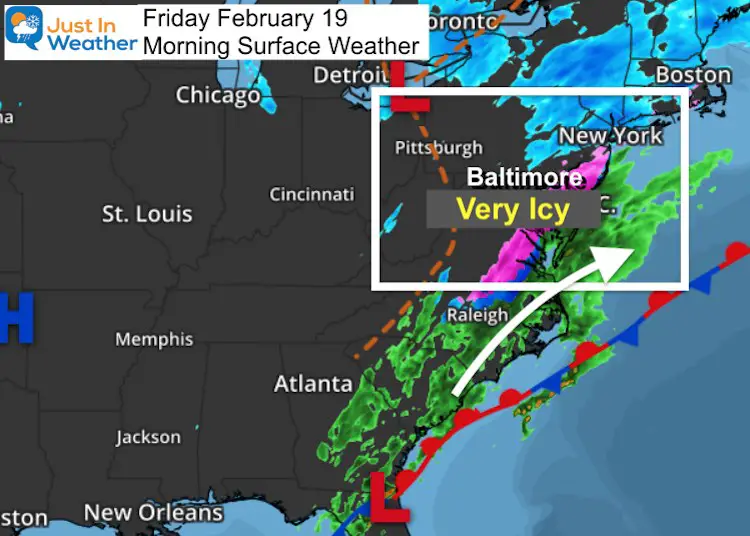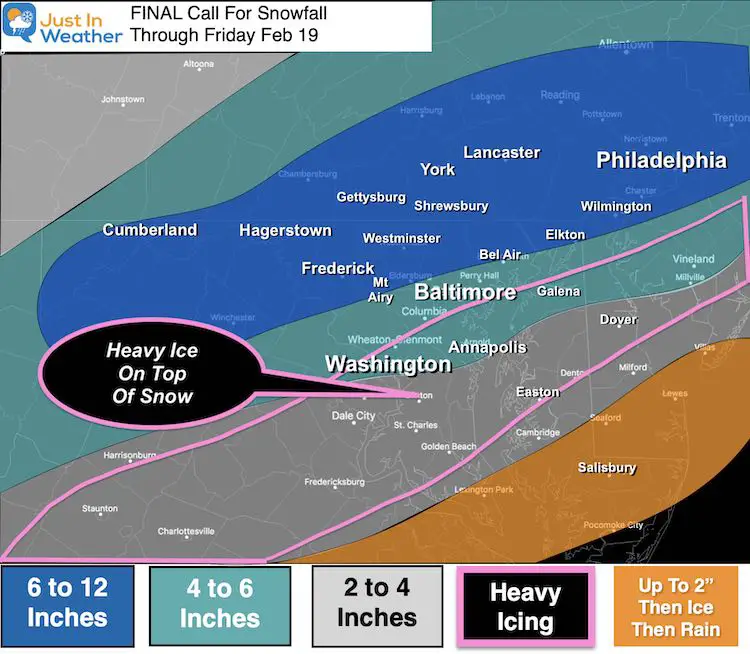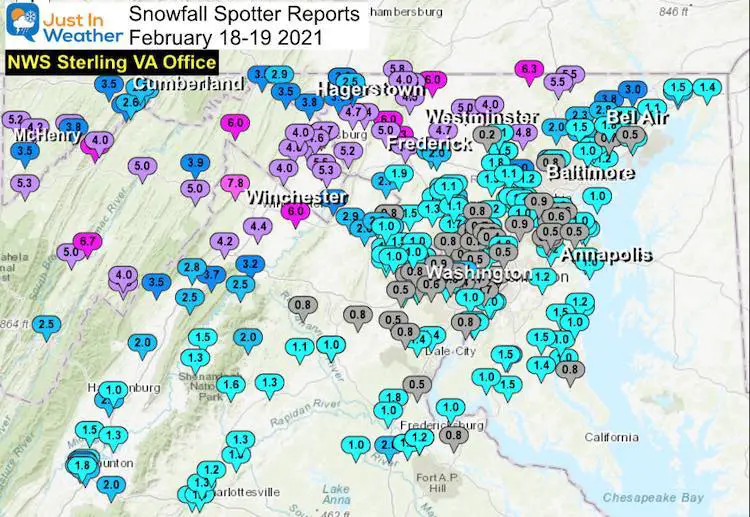 February-18-weather-snow-Thursday-night
February-19-weather-snow-ice-Friday-morning
My-Final-Call-for-Snowfall-Feb-18-to-19
Snow-Spotter-Reports-February-19-Maryland-Virginia-WV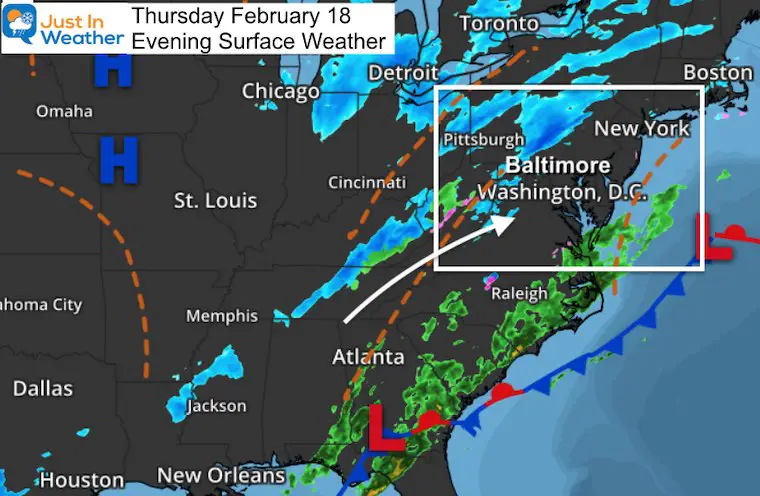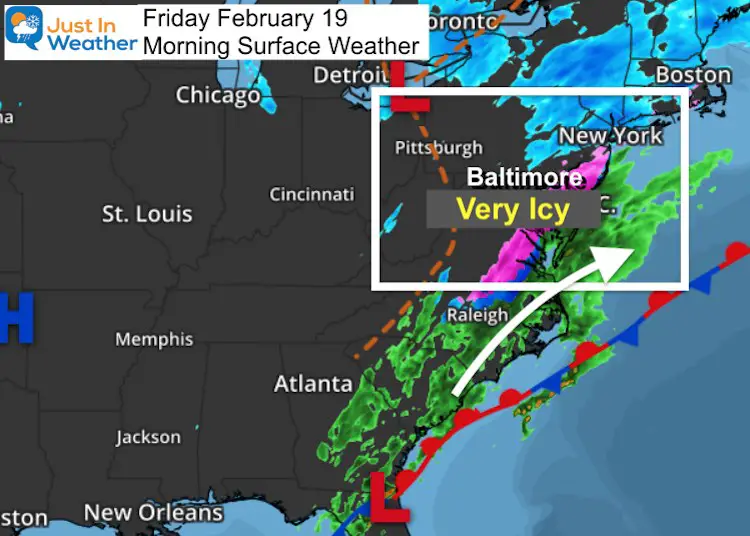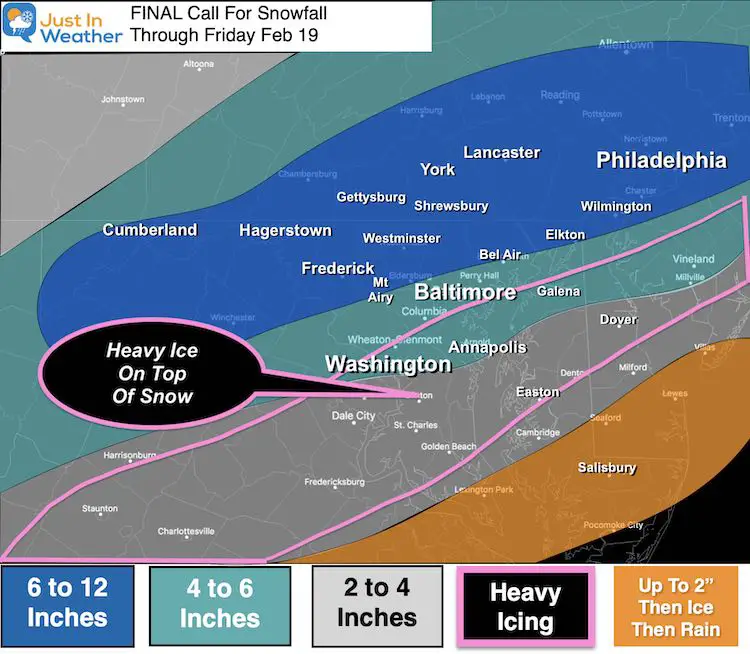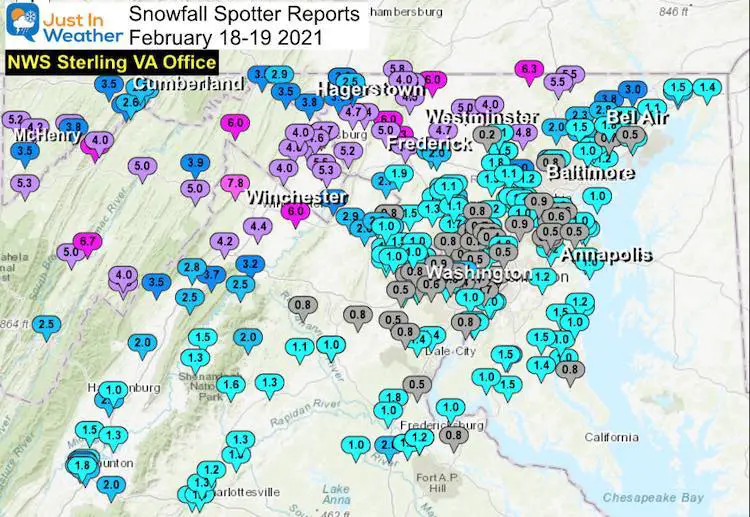 Storm 7: February 22
This was definitely a good way to end the season, with a solid win!
Key Weather Maps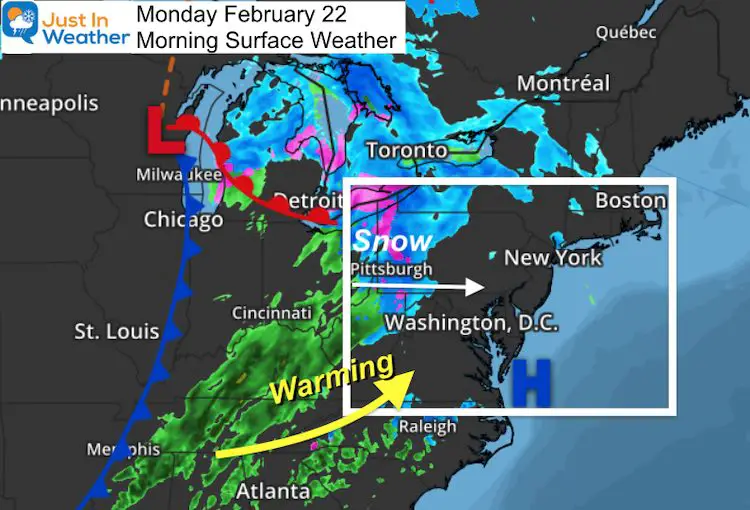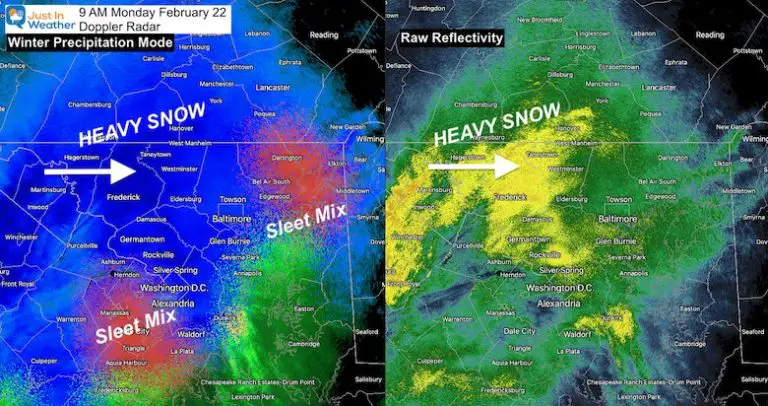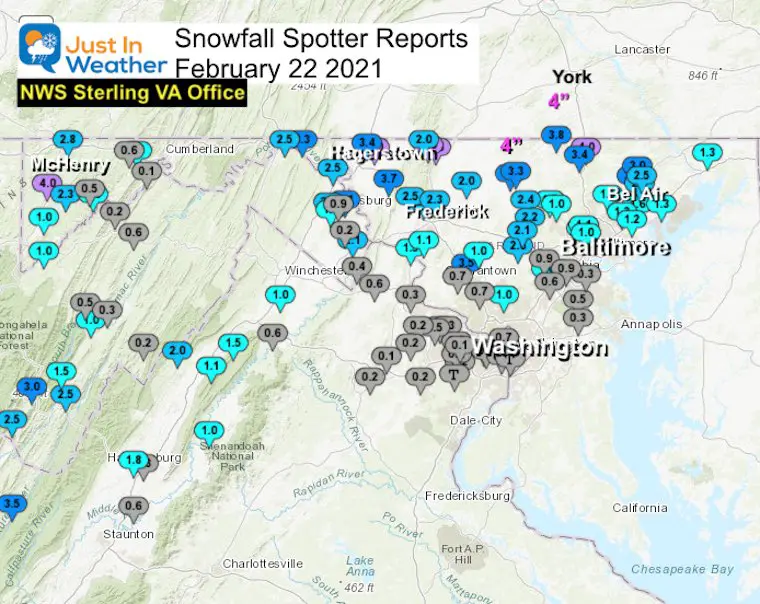 February-22-weather-snow-rain-Monday-morning
February-22-Weather-snow-radar-9-AM-768x406
February-22-My-Call-For-Snowfall
Snow-Spotter-Reports-February-22-Maryland-Virginia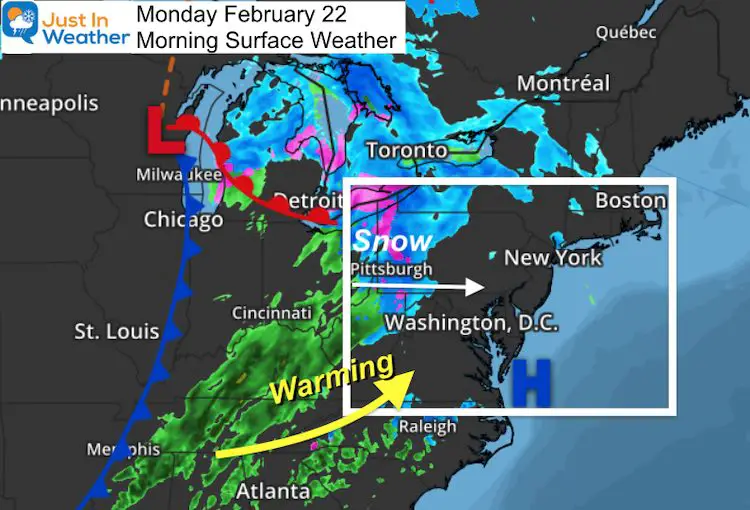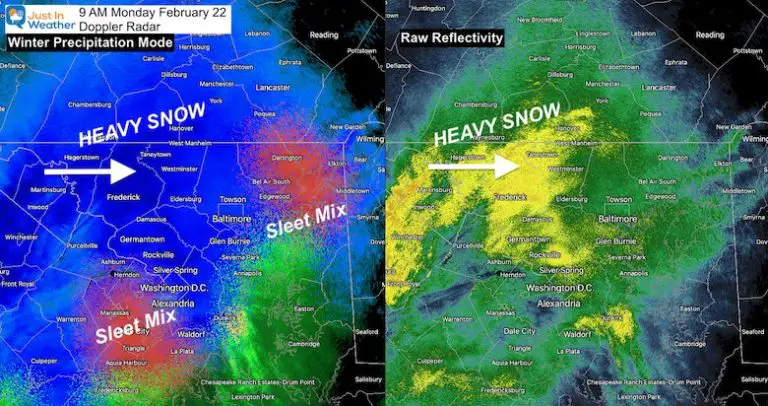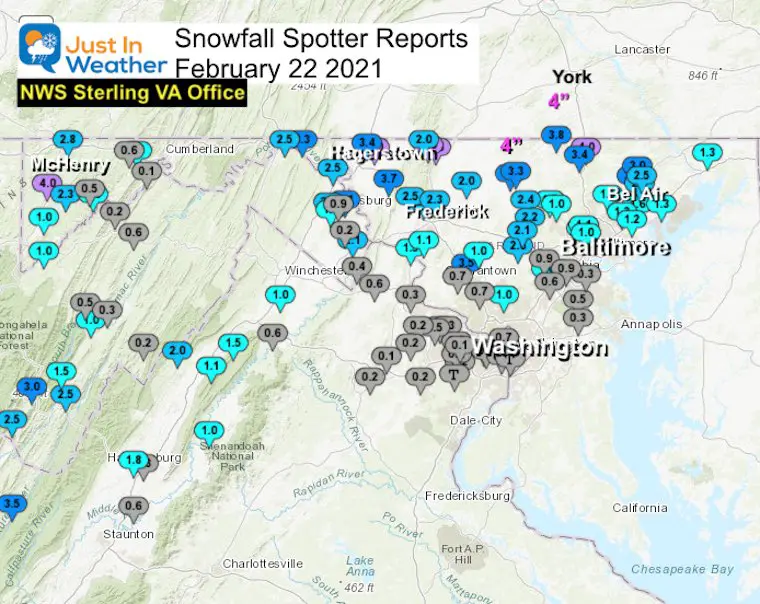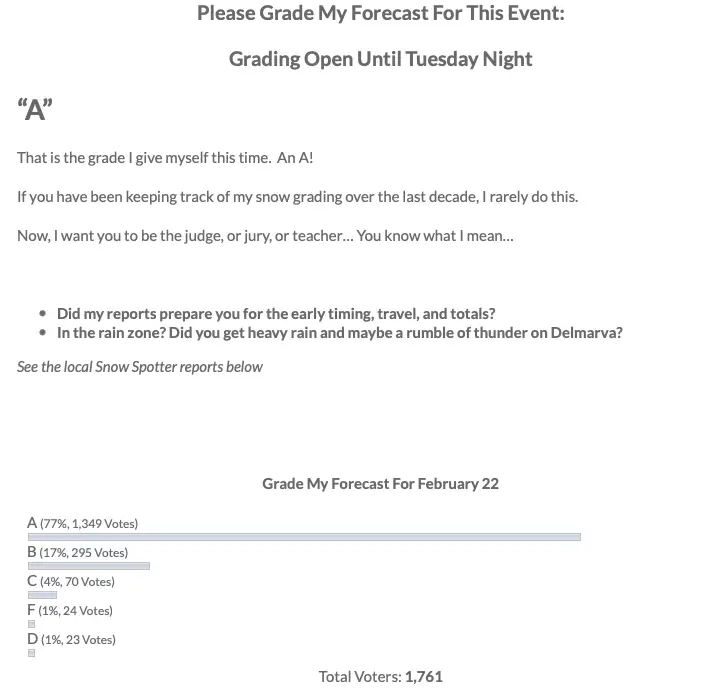 Next up: Winter Outlook 2021 to 2022.
Long range forecasting is as much science, art, and guessing. I am OK showing you where I went wrong, if that also opens up the trolling force to accept when I was right. This game is a two street.
The actual individual storms are where I place higher importance. I will always treat those with respect and do my best. There are many sources of information online. I am not here for clicks, only to share my thoughts to make you aware and help you prepare.
Faith in the Flakes.
Weather posts straight to your inbox
Sign up and be the first to know!
Also See The Winter Outlook Series: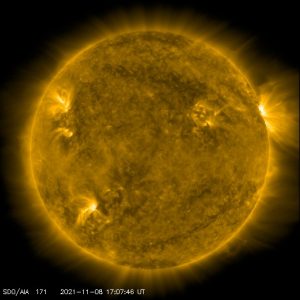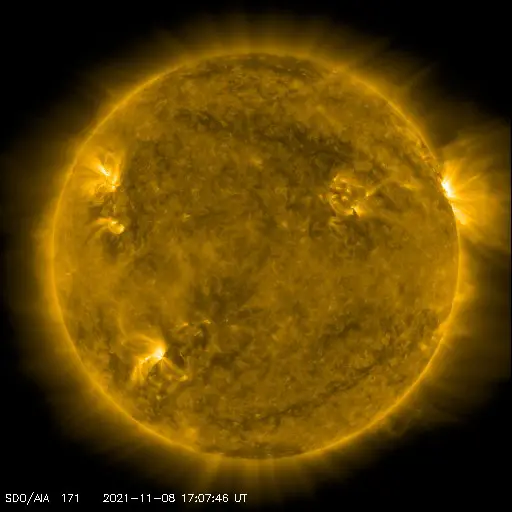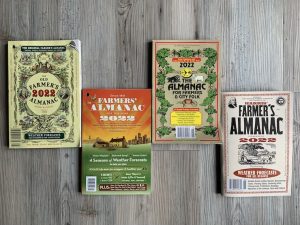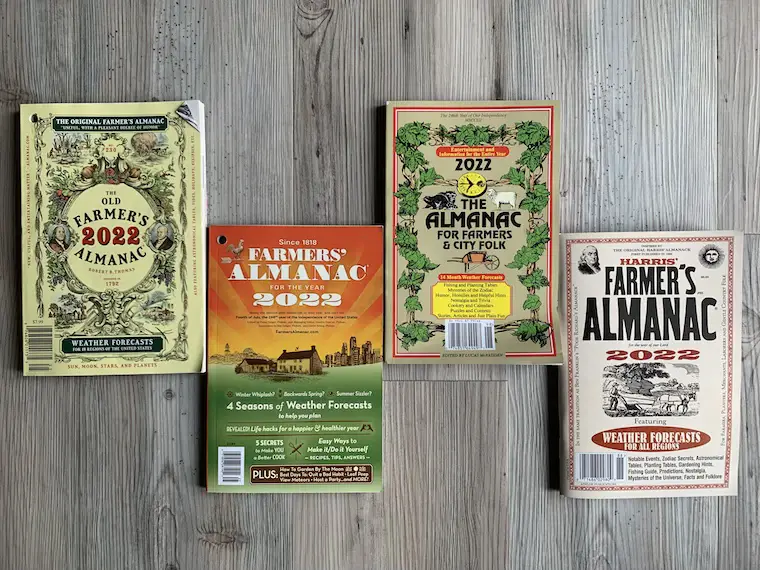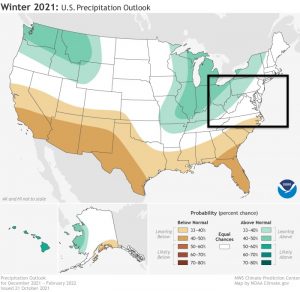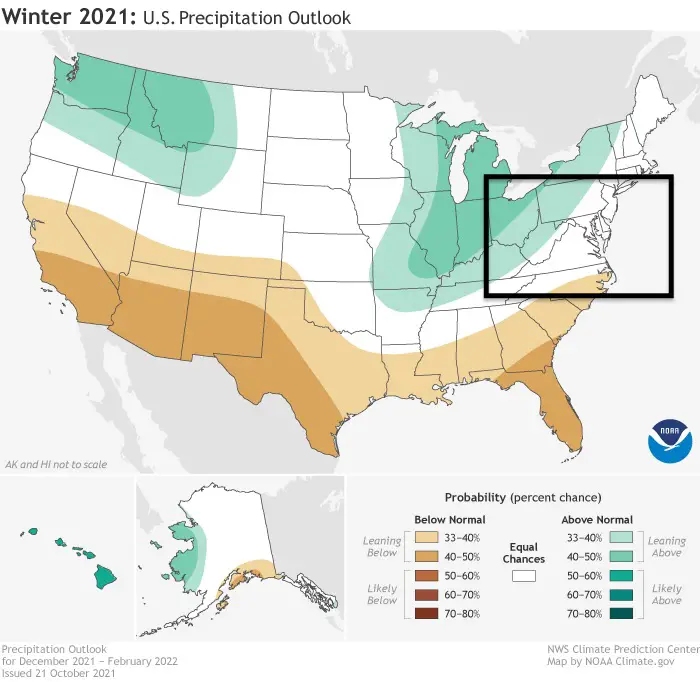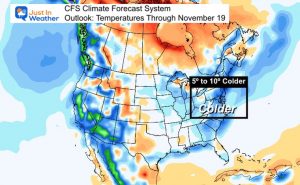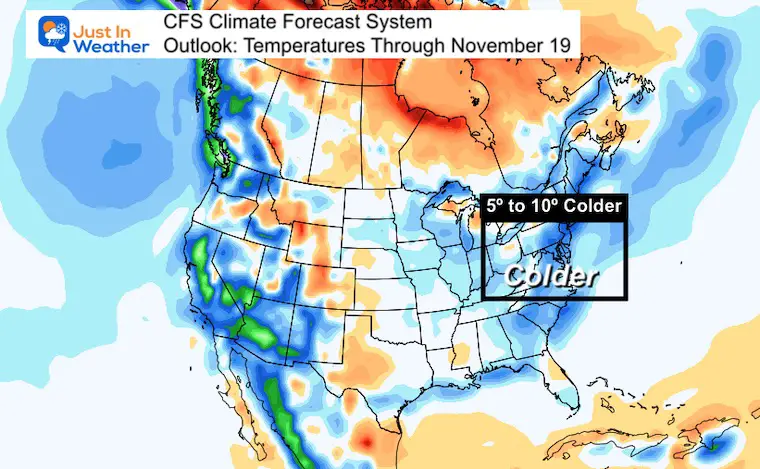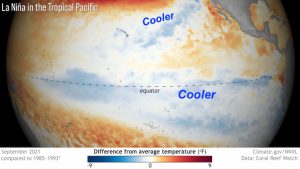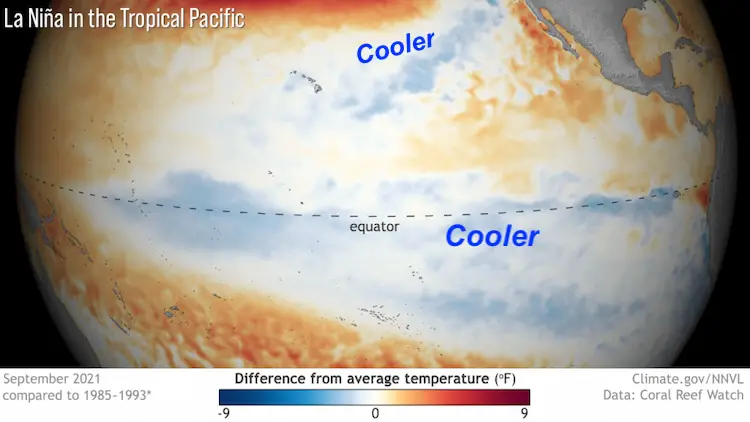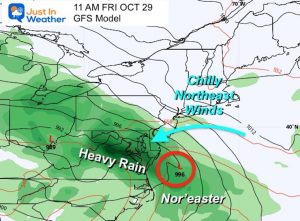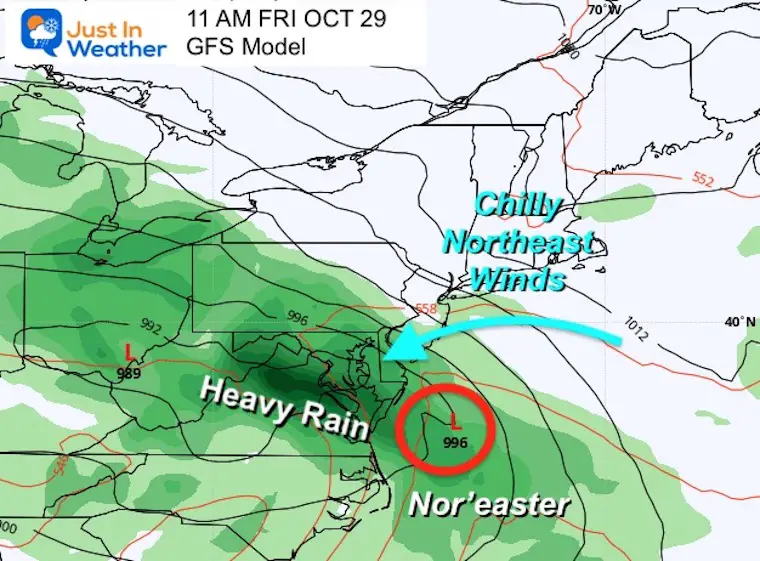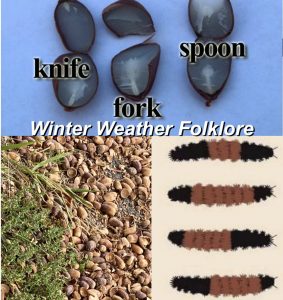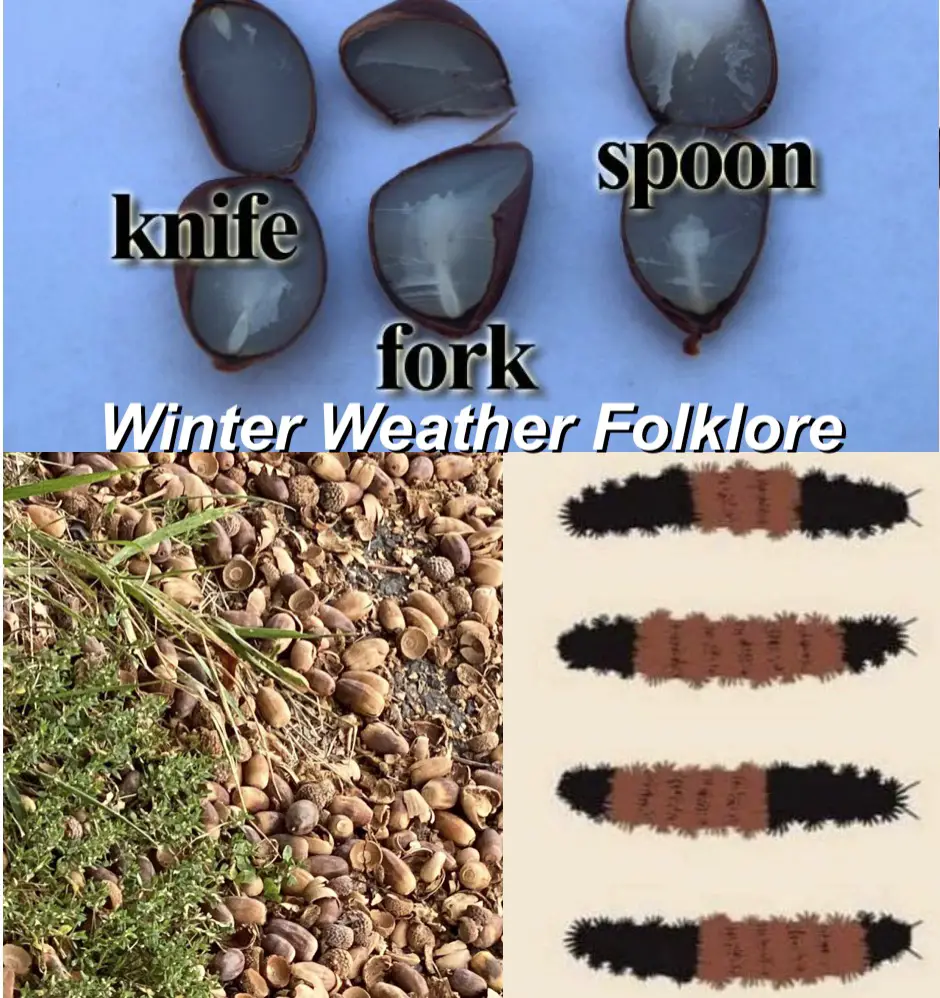 Faith in the Flakes Gear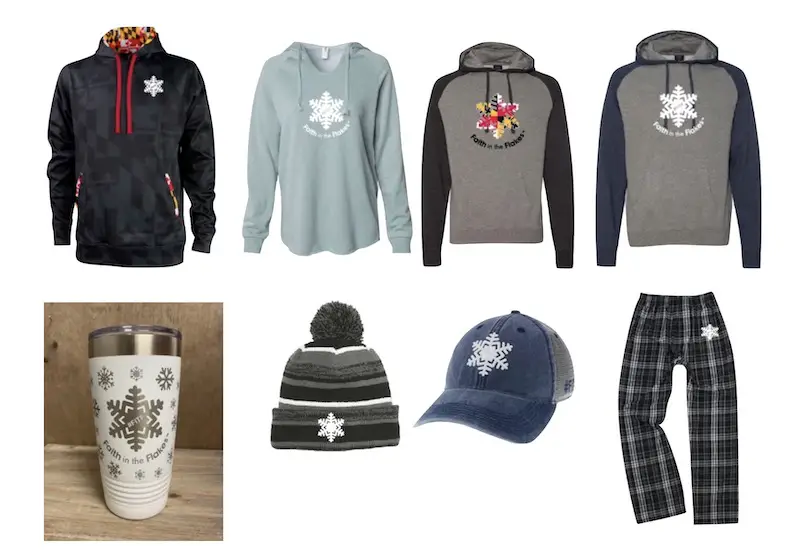 Please share your thoughts, best weather pics/video, or just keep in touch via social media