Storms This Week May Give Hints For Winter Ahead With Nor'easters
Outlook
Winter Weather
atmospheric memory
Justin Berk
Oct 24, 2021
8:36 pm
0
Sunday October 24 2021
The first in a series of storms from the Pacific Ocean will be reaching us on Monday with a risk of severe weather locally. I do not want to brush past that, but the purpose of this post is the entire pattern change.  I will address the severe storm risk in my Monday morning update.
For many years I have often referred to something called 'Atmospheric Memory'. There are a few ways our weather patterns can present in a repeating pattern. I believe what we may watch this week could help foretell how a prominent winter pattern of Nor'easters may unfold. 
Nor'easters are strong coastal storm along the Eastern US coastline. They can occur throughout the year, and do not need alway have snow. But in winter, they can bring our big snow makers, which is why it is valuable to track a pattern that can bring them.
The Big Picture:
Jet Stream Monday Morning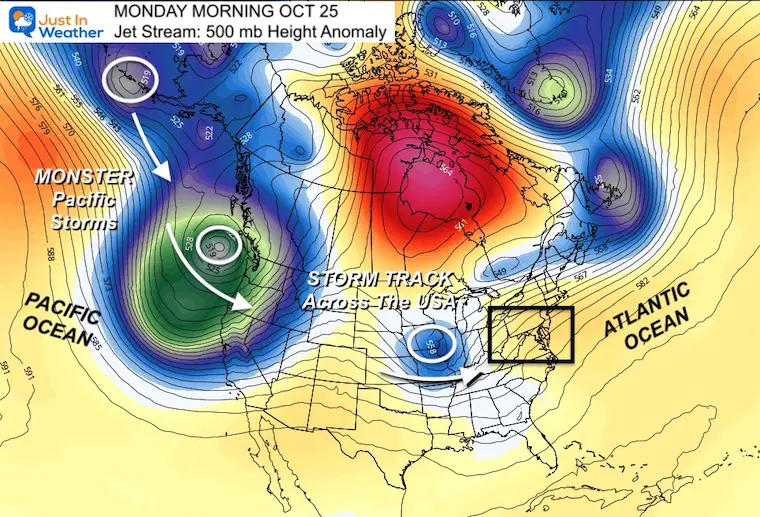 This map shows the upper air pattern, or river of air storms follow at 500mb, or around 18,000 Ft above the ground.   
The little blue blip in the central US is the instigator for our potential severe storms and First of a few Nor'easters to follow. 
The two large troughs on the left, in the Pacific are monster storms. Each has surface winds of hurricane force and will produce flooding rain in the NW states.  
There are more in line behind this.
This stormy North Pacific is an expected feature with our La Nina.
Those storms will track across the US our way.
Jet Stream Animation:
Monday Morning to Saturday Morning
We can follow that Pacific Storm to the eastern US, establishing a cut off trough…
Snapshot Saturday
The overall pattern will be cooler and unsettled next weekend. This will bring temperatures below average to the eastern US.
The Big Picture:
Surface Weather Monday Morning
Here we can see the reflection of the jet stream to produce very strong storms. 
The Pacific Storms are lined up, so there will be a few to track and establish a pattern.
Look closely and spot the blue. It will be cold enough for mountain snow.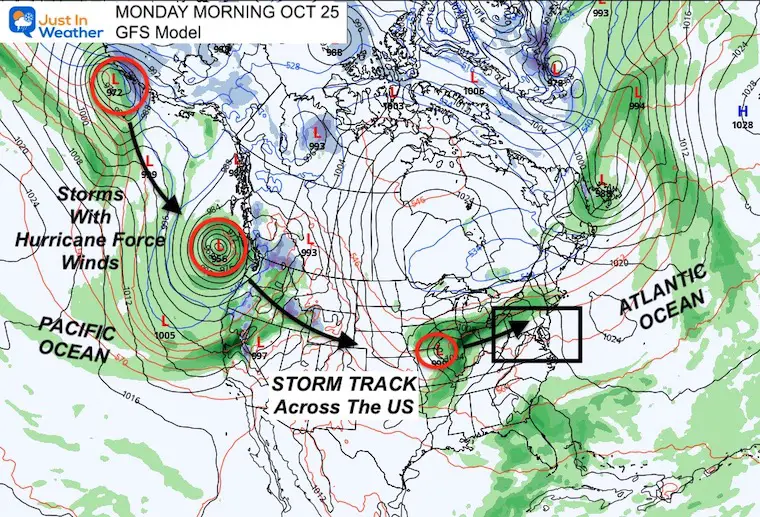 Animation
Monday Morning to Saturday Morning
This helps show how an initial storm can lead to redevelopment off of the East Coast.
On Tuesday and Wednesday, there is plenty of support for a Nor'easter to form and retrograde. That means, loop backwards. This will be a bigger player in New England, but will keep us with cooler winds and unsettled with showers.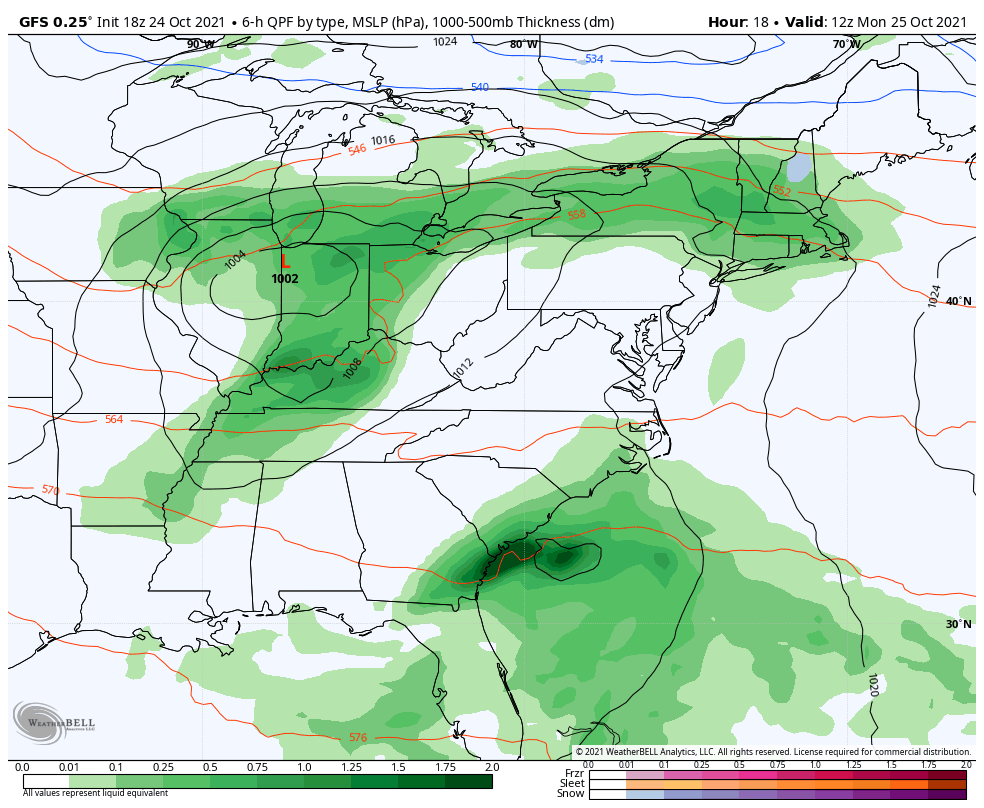 Nor'easter Snapshots
How these coastal storms or Nor'easters form and behave may lend insight to a pattern of more into the winter season. They all do not behave the same way, but they can establish a 'routine' that repeats throughout a season.
Tuesday Afternoon
This is the storm that should retrograde, or loop off of the coast.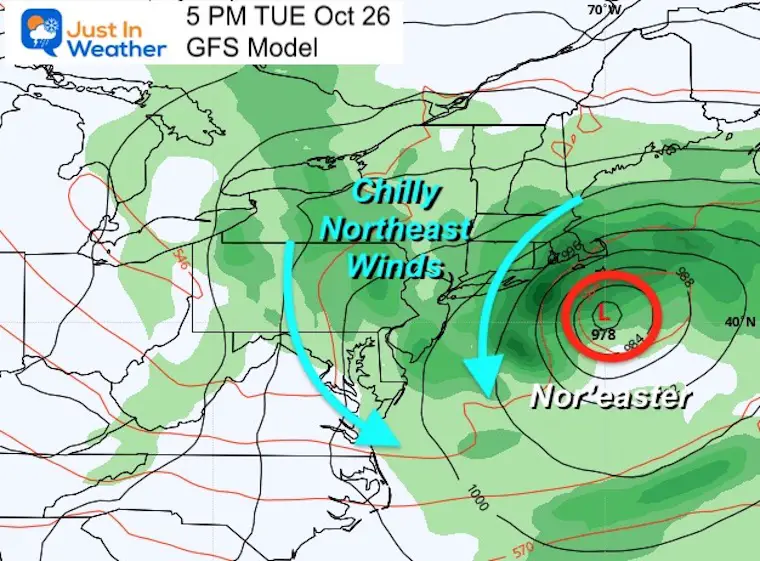 Friday Morning
This may initially bring us more rain. Then the upper pattern gets stuck with that trough of cool unsettled weather next weekend.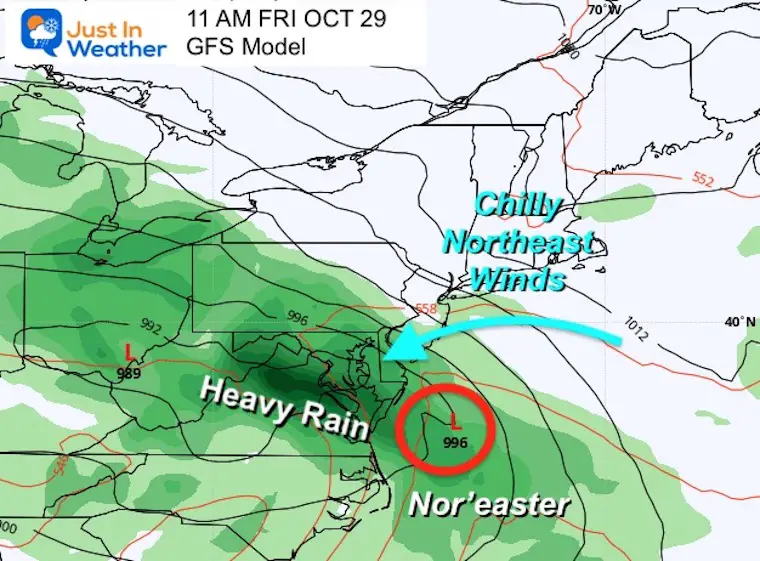 Why is this important?
This opens the door to establish a pattern of Nor'easters through Fall and Winter.
How these storms form, track, and behave is still open ended.  That is the Atmospheric Memory I am looking to establish.
La Nina Winters
This storm track map has been very popular as it does a good jobs showing what to expect from a busy north Pacific.  However, it is a little vague!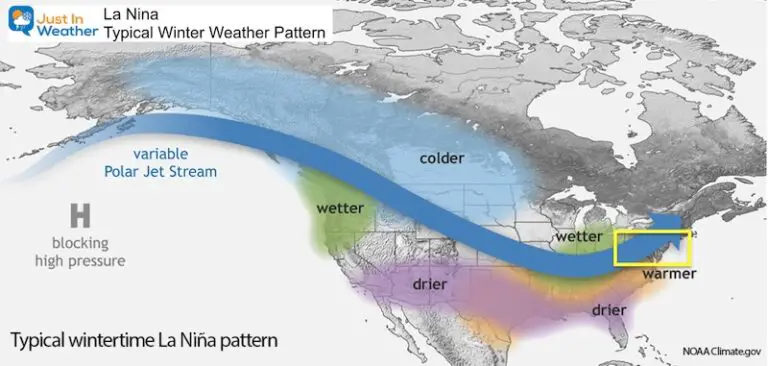 La Nina Winter tend to bring our region more winters with below average snow. However, the La Nina Winter of 1995-1996 resulted in 62.5″ of snow in Baltimore. That still ranks the second highest winter snow on record.
I do expect plenty of storms from the Pacific to cross the country. But what happens here in the East?
A direct path across the mountains, they can get broken up.
Tracking up the Ohio Valley west of the mountains, and we would end up on the warm side.
Then there is the Miller B type storms…
Miller B Nor'easters (in winter)
This storm pattern takes those Pacific storms and redevelops off the East Coast with a new Nor'easter. Similar to what we may see Tuesday and Wednesday.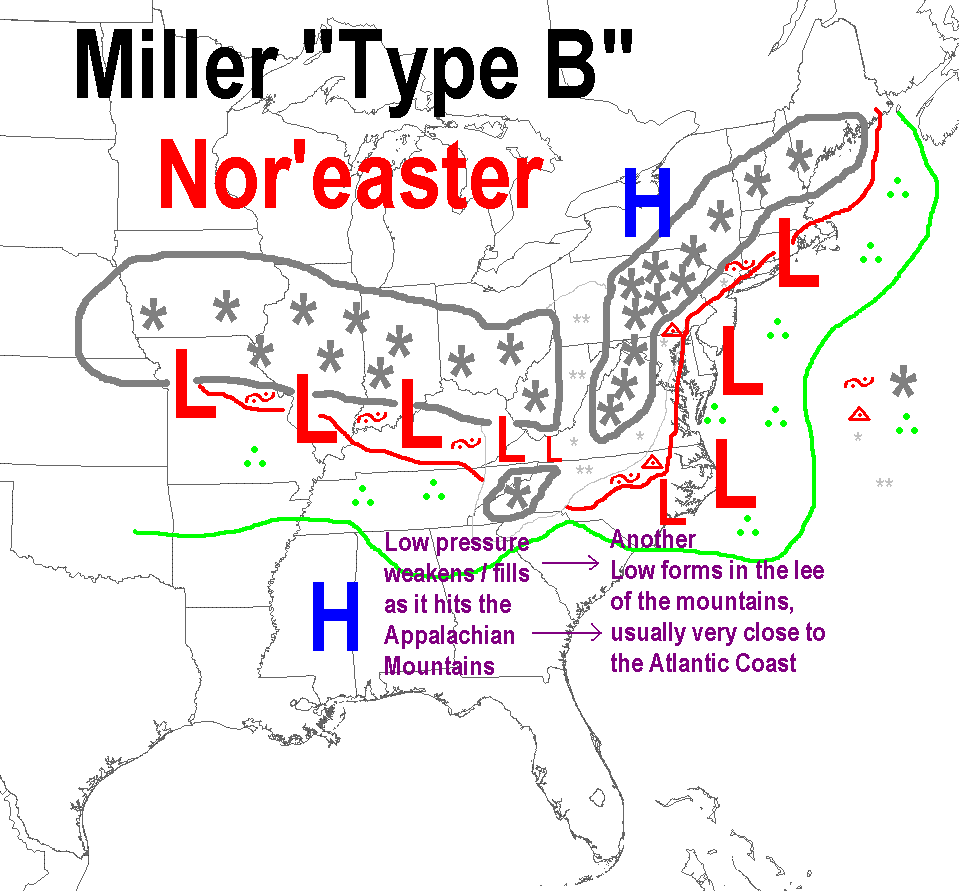 In Winter, these storms:
Can bring us hefty snow events
Can also dry slot- the ultimate forecasting headache!

 

That can skip us and bring the snows north.

 
Yes, there is a chance for a few successful snow makers. For other reasons, I do not trust this will be a classic La Nina winter. That is what I tend to wait into November before making my formal winter outlook. Watching this pattern evolve and maybe identifying atmospheric memory can give insight into the inter storm and snow potential.
Faith in the Flakes. 
Explore More
NOAA Winter Outlook- But Read The Fine Print
Signals For Early Start To Winter In November
Winter Outlook Series: La Nina Double Dip
Waterspout Among Top 10 Storm Photos Saturday
Also see:
Faith in the Flakes Gear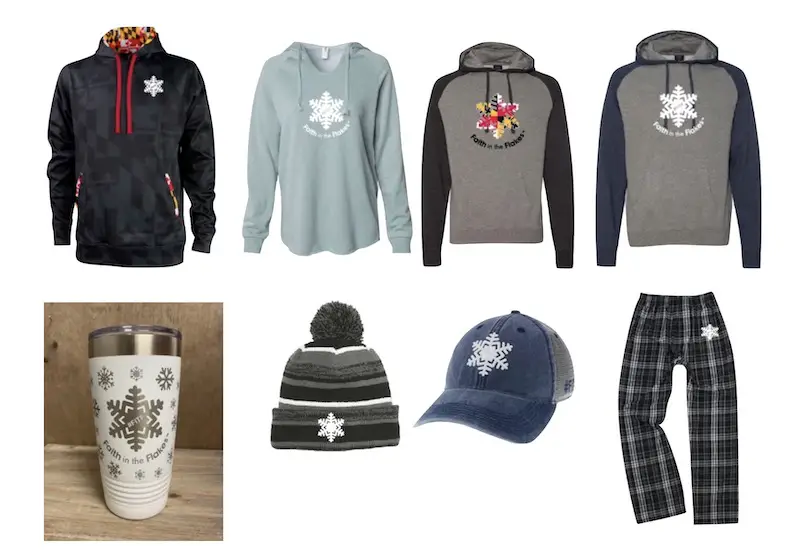 SNOWSTIX – Available Now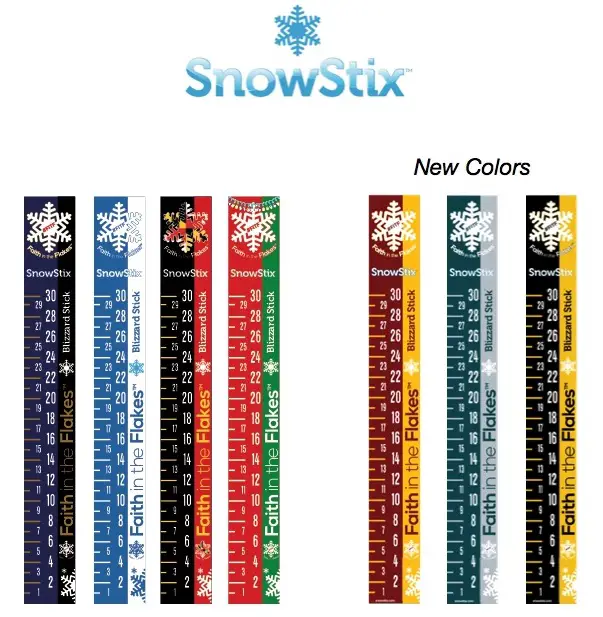 Please share your thoughts, best weather pics/video, or just keep in touch via social media
---
Email Updates
Please make sure you sign up for my newsletter.
Weather posts straight to your inbox
Sign up and be the first to know!