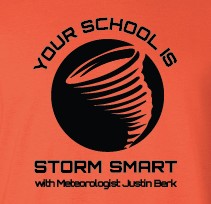 Storm Smart
60 to 90 minute STEM Program All About Severe Weather
Storm Smart
Severe Weather Assembly Program with award winning Meteorologist Justin BerkSTEM program with emphasis on science, technology, math, geography, and safety
Duration: 60 to 90 minutes
Format: Interactive demonstrations, videos, and safety tips
Cost: Free AND a fundraiser for you school with Spirit Wear Shirts
Grades: K through Middle School
Topics:
Lightning safety (Van de Graaff demo)
Hail
Strong Winds:
Tornadoes
Hurricanes
*Local records/statistics
*Ease severe storm anxiety*
Anemometer
Cool Clouds
Rainbow science
Everyone in attendance will get a Storm Smart 'keep your cool' card recapping the
info we cover.
FITF – Faith in the Flakes
60 to 90 minute STEM Program All About Winter Weather.
FITF with your school name plus the Pre-Snowfall Checklist on the back.
Raise money for your PTO.