October 25 Record Warm Day Storms Tonight Then Chilly And Wet
Severe Weather
Forecast
Justin Berk
Oct 25, 2021
6:43 am
0
Monday October 25
We get one more warm day surging in ahead of our next storm. This may help fuel a line of strong storms that may turn severe this afternoon and evening. 
The record high at BWI today is 77ºF, set in 1931. It is the only record below 80ºF and actually the coolest record for the entire month. This is likely to get beat today.
What to wear?
Light jacket this morning, T-shirt this afternoon, with rain coat or umbrella to carry after 4 PM.
Morning Surface Weather
The line of storms will race in by tonight, then we get in on much cooler air Tuesday. A coastal storm will develop and loop off the Northeast coast on Tuesday keeping us in the chilly and bringing back more rain.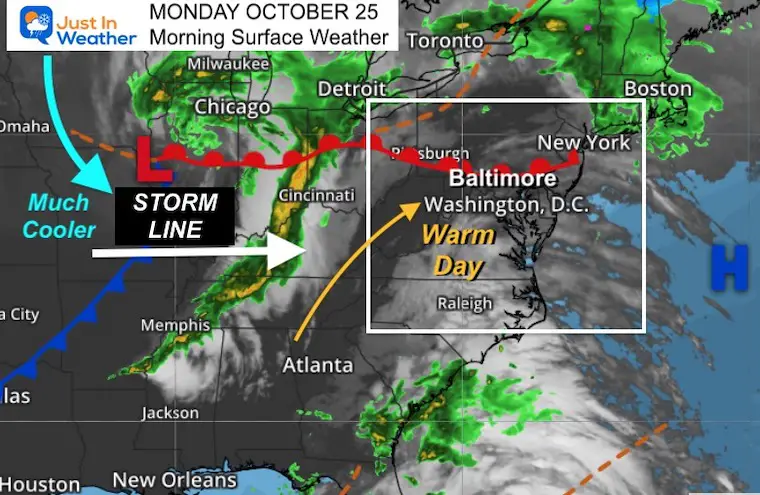 Headlines Ahead:
Monday: Warmer Then Evening Strong/Severe Storm
Tuesday: Windy And Cooler
Thursday: Rain Late
Friday: Stormy
Severe Storm Risk
Whomever gets in on the severe weather may depend on the timing.  A cluster of thunderstorms will try to develop well ahead of the front this afternoon. That will include Virginia and Southern Maryland. 
Metro Baltimore to Southern PA likely to get into the storms later, when the energy should weaken a little. Storms likely, but will lose some intensity.
I will have an update on the timing of this line during the day.
Radar Simulation: 4 PM to 11 PM
An initial cluster of storms may race north along Delmarva lat afternoon.
The main storm line will pass through western MD and Virgina after 4 PM.
Metro areas will be watching for this between 8 PM and midnight.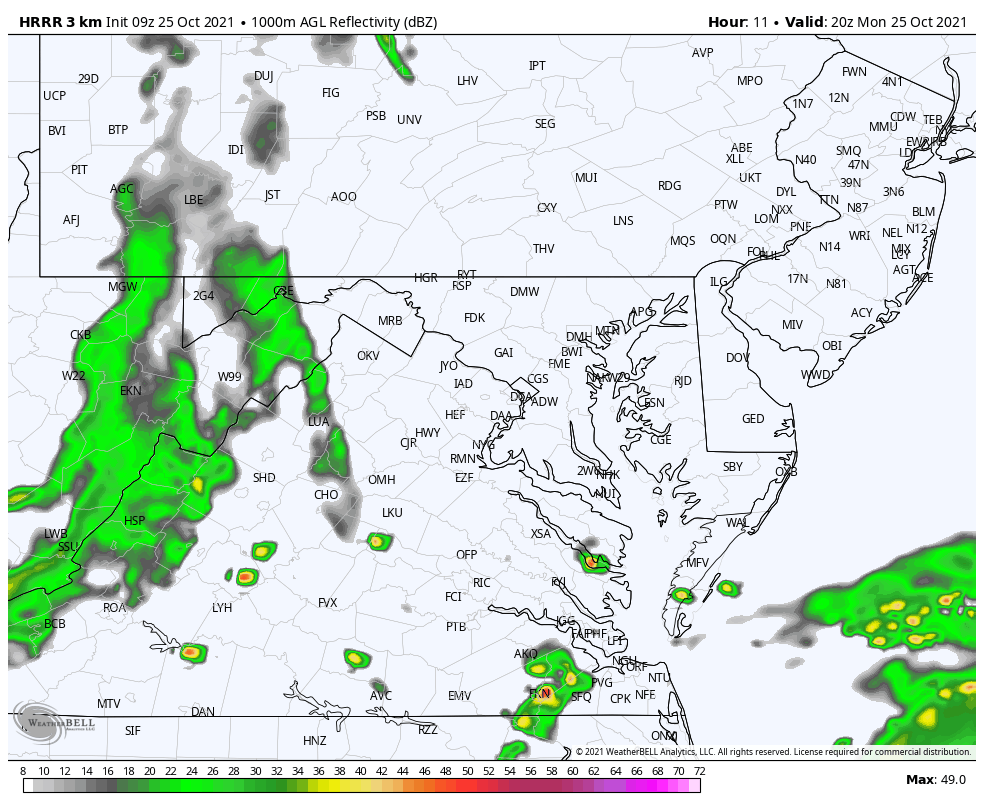 Afternoon Temperatures
These numbers will be close to seasonal averages for this date.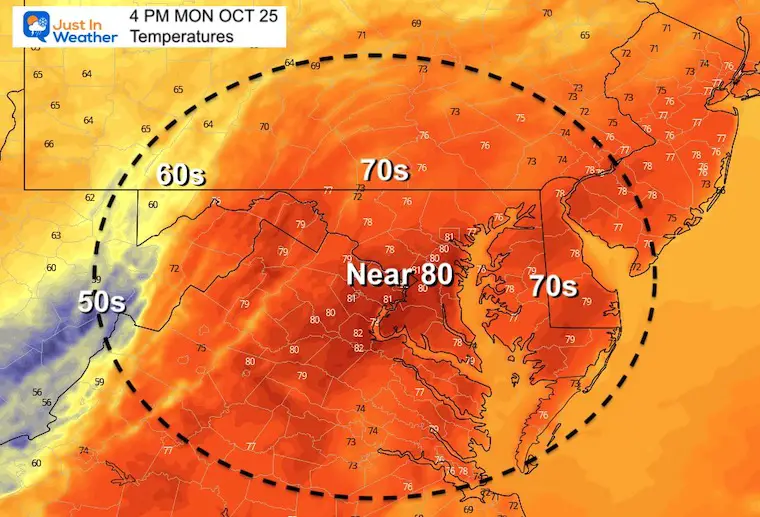 Weather Almanac: Climate Data
TODAY October 25
Normal Low in Baltimore:  43ºF
Record 28ºF in 1962
Normal High in Baltimore: 64ºF
Record 77º F 1931
*only record below 80ºF in October.
Also See:
NOAA Winter Outlook- But Read The Fine Print
Signals For Early Start To Winter In November
Winter Outlook Series: La Nina Double Dip
Nor'easters May Give Hint For Winter La Nina Pattern
Rain Animation
Monday morning to Wednesday morning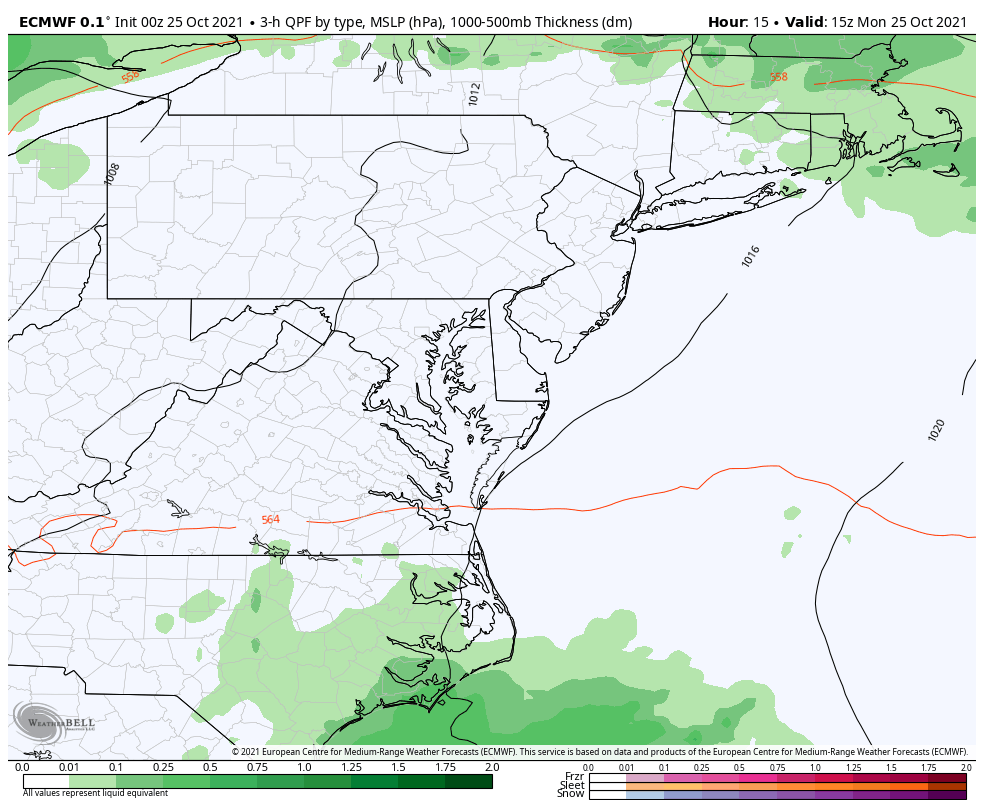 Snapshot Tuesday Afternoon
Watching a Nor'easter develop and loop around and retrograde. This will keep cool winds and throw some rain back later in the day.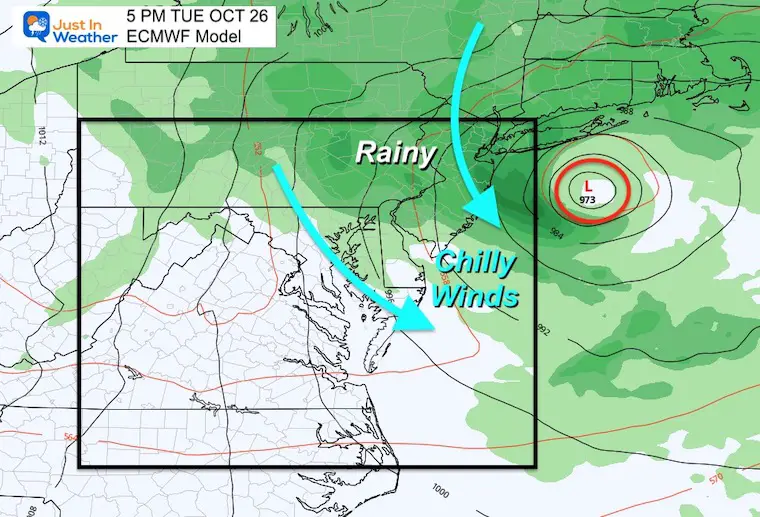 Temperatures Tuesday
Morning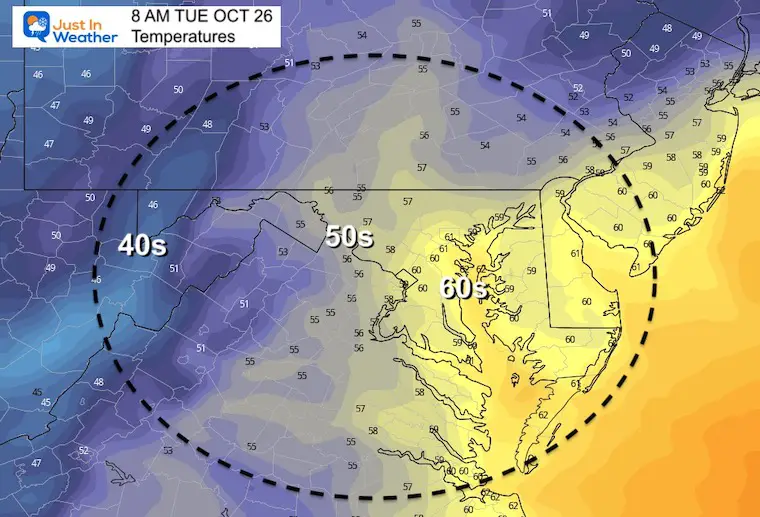 Afternoon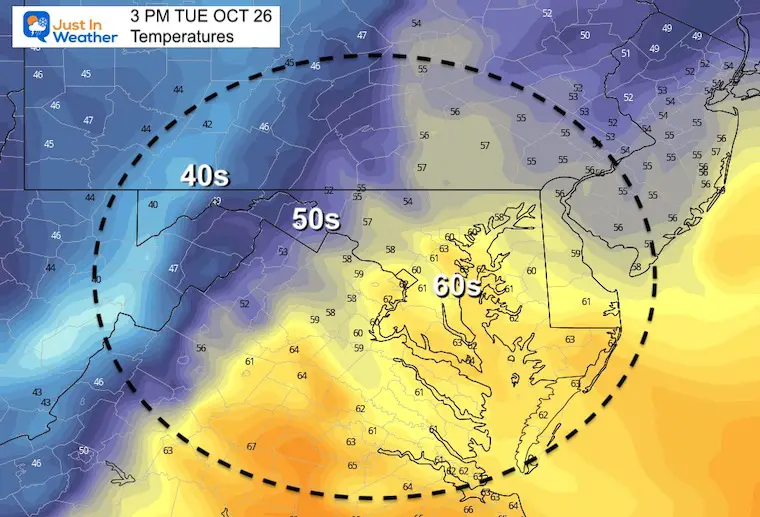 Looking Ahead: Friday
More rain moving in with the next storm.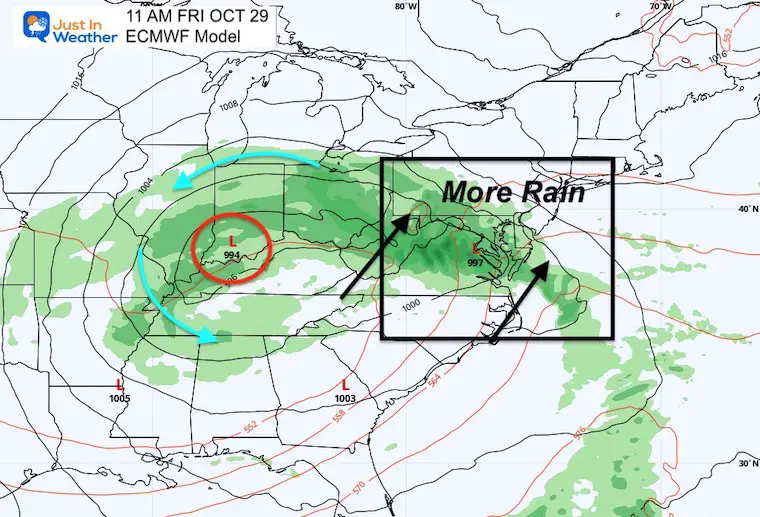 7 Day Forecast
Most of the week after today will be back to cooler seasonal temps.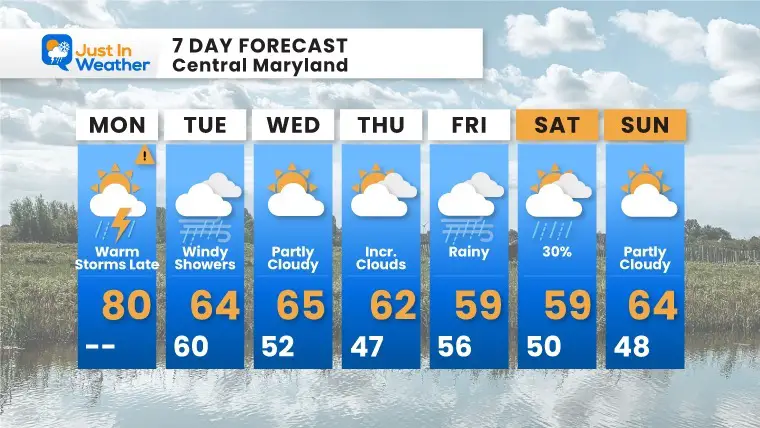 Email Updates
Please make sure you sign up for my newsletter.
Weather posts straight to your inbox
Sign up and be the first to know!
Faith in the Flakes Gear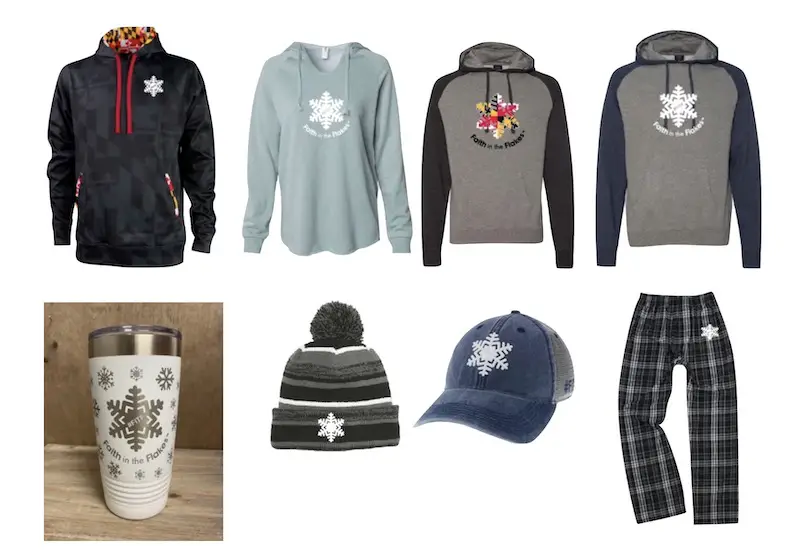 SNOWSTIX – Available Now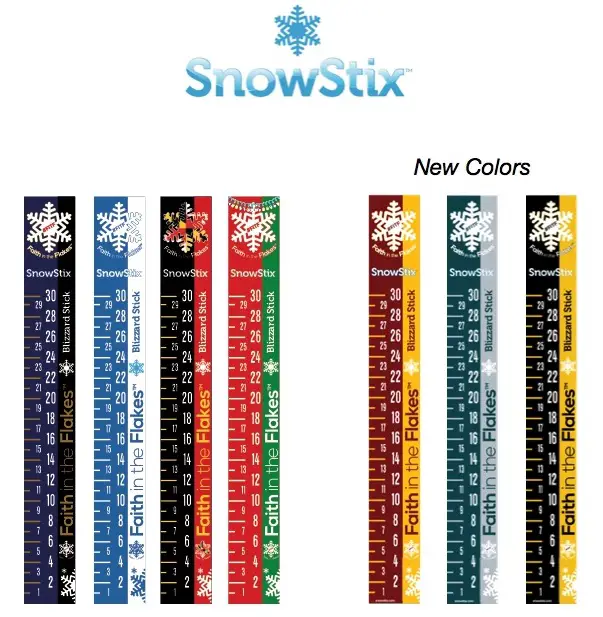 Please share your thoughts, best weather pics/video, or just keep in touch via social media
---