Winter Outlook From NOAA For 2021 To 2022 But Read The Fine Print
Outlook
Winter Weather
Justin Berk
Oct 21, 2021
8:16 pm
0
October 21 2021
NOAA has just issued their Winter Outlook for the United States to cover December 2021 through February 2022.  We are in the middle of a barrage of long range forecasts for the season ahead, and I want to help sort through the mix of information. This one may look warm, however I encourage all to read between the lines. In fact, actually just read the fine print. It is there in the maps and at the bottom of their report. 
I can guarantee two things for sure at this point. First, La Nina is a major factor in just about all forecasts. Second, long range weather forecasting have odds of being wrong or right about equal amounts of time.
I play this game as well, and will continue to share my insight along with multiple reports on this topic. 
I do love snow (Faith in the Flakes), but I do not let that cloud my judgement when assessing and presenting to the public. However, I look for a silver lining and there is a big one in this report!
Quote in the NOAA report, but it is buried at the bottom. So many may miss it:
"The outlook does not project seasonal snowfall accumulations as snow forecasts are generally not predictable more than a week in advance."
Highlighting The Mid Atlantic Region
Temperature Outlook: Warmer?
Leaning 40% to 50% probability chance that the seasonal average will be above average.
My Notes: 
"Leaning Above" as shown in the map legend on the lower right. This does NOT promise a warm winter or how warm it may be. Simply a better chance it may be above average.
This covers the entire season, and does NOT account for cold spells in between.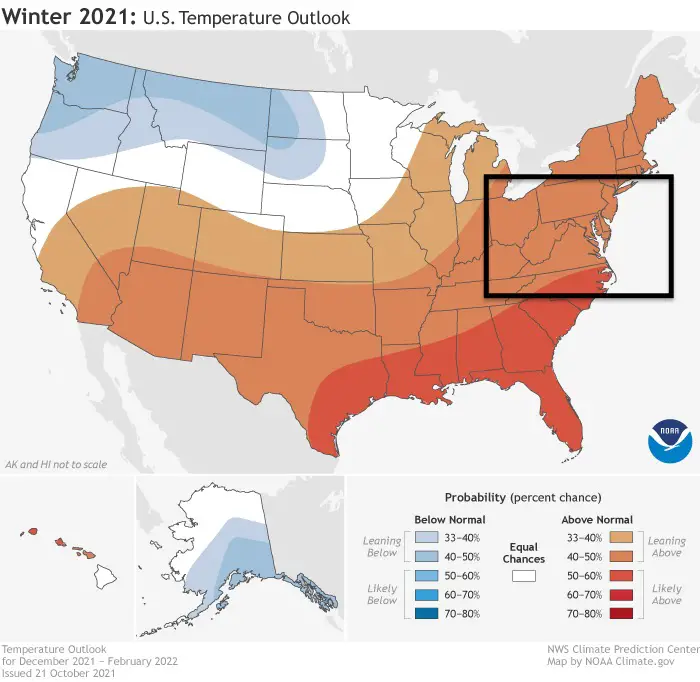 Precipitation Outlook: Near Average?
Equal chances for above, near normal, or below normal.
Western Maryland and West Virginia leaning  33% to 40% above chance of above normal precipitation.
My Notes:
This is suggesting near average rain or snow for most of the region. Perhaps higher chance for Lake Effect snow in the mountains.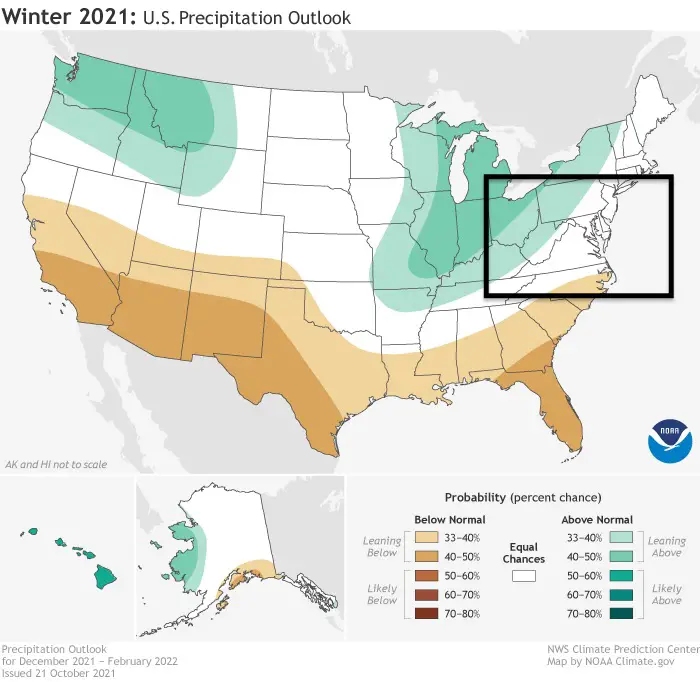 Also See: The entire NOAA Winter Outlook report
The typical La Nina Pattern brings storms into the Northwest coast of the US, and this maps shows the expected path across the country.
This is based on those storms turning up the Ohio Valley and leaving our region on the warmer side.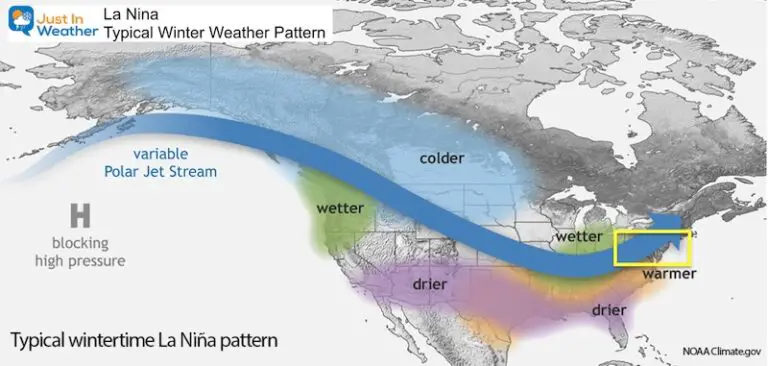 Weather posts straight to your inbox
Sign up and be the first to know!
However, 1 in 6 La Nina events since 1950 brought near average snowfall. 
We did have a blockbuster 14.9" snowstorm in Baltimore during the La Nina of January 2000.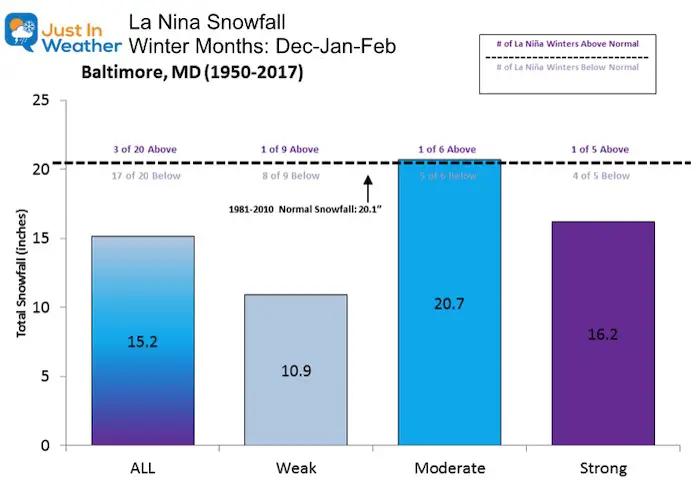 Other Factors:
I recently wrote about Signals For A Cold Start To Winter
When you combine a Weak La Nina in November with a Negative QBO, the result is much colder, and lasting through winter.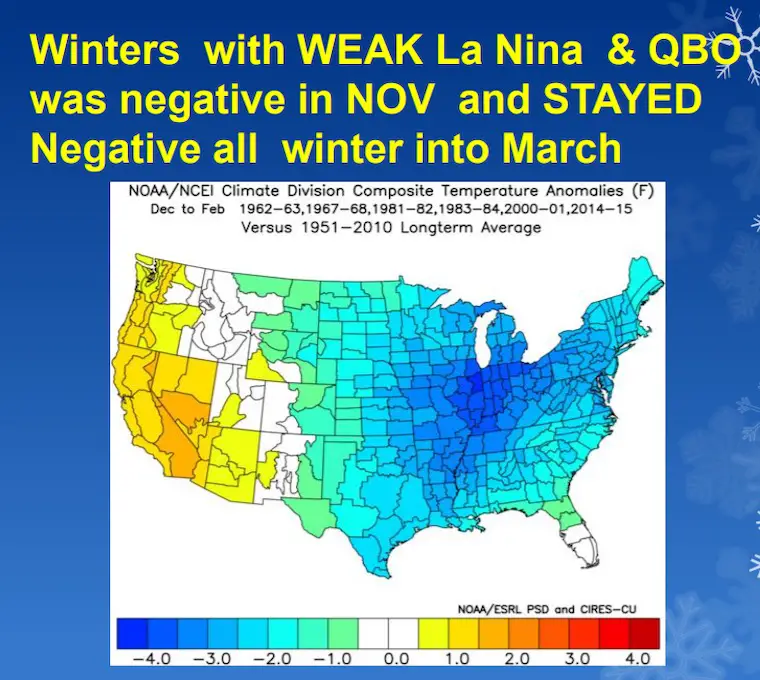 My Take:
This NOAA report is heavily based in pure La Nina averages, but may not be accounting for other factors.  
We have only been truly studying global weather patterns for under 100 years.  That is a small sample size to really get a good handle on the interactions.
See the rest of the NOAA report here, and read closely. These are not forecasts, but likelihoods.  I give my own Winter Outlook which does include snow. It is far from perfect!  My track record and grading for individual storms has higher accuracy, but I will continue to try for the long game.
Much more info on the way.
About NOAA's seasonal outlooks
NOAA's seasonal outlooks provide the likelihood that temperatures and total precipitation amounts will be above-, near- or below-average, and how drought conditions are anticipated to change in the months ahead. 
Repeating About Snow
The outlook does not project seasonal snowfall accumulations as snow forecasts are generally not predictable more than a week in advance.
Also See:
Waterspout Among Top 10 Storm Photos Saturday
Winter Outlook Series: La Nina Double Dip
Faith in the Flakes Gear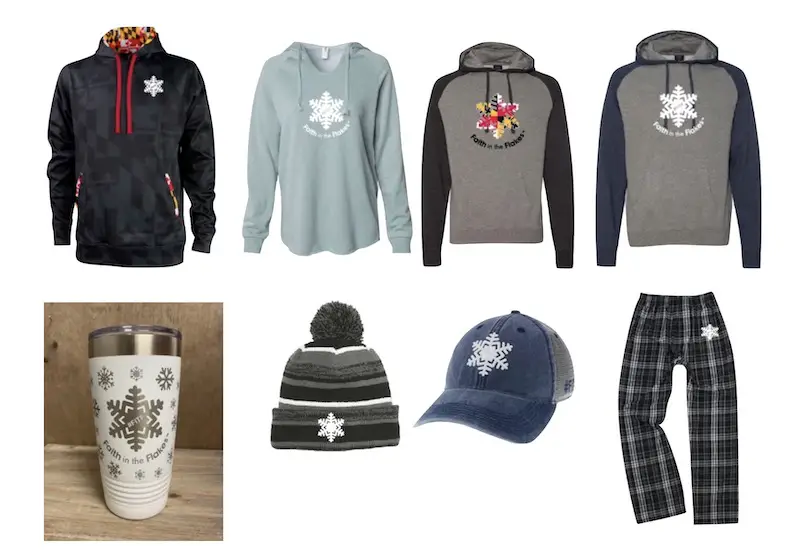 SNOWSTIX – Available Now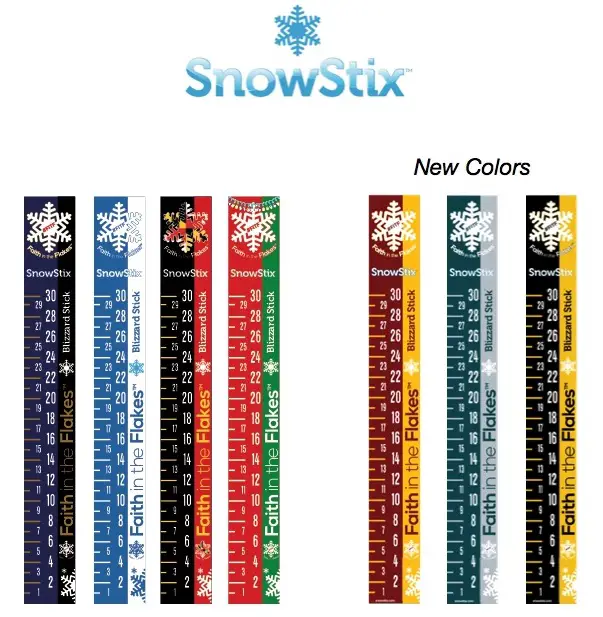 Please share your thoughts, best weather pics/video, or just keep in touch via social media
---
Email Updates
Please make sure you sign up for my newsletter.
See the SUBSCRIBE button at the bottom of the page.
This way you will get an email to make sure you are notified with each n