October 21 Last Warm Day For A While As Pattern Chance Brings Chill Then Rain
Forecast
Justin Berk
Oct 21, 2021
6:40 am
0
Thursday October 21
If you have been enjoying our slow entrance to fall weather, today may be your last warm day for a long while.  Enjoy the mid to upper 70s.  Out next cold front will cut temps down tomorrow, then open the pattern for even colder air and rain into next week.
Morning Surface Weather
A storm in the Upper Midwest will spin and pass to our north. But ahead of it we get warmer air on Southwesterly winds. The cold front will bring showers to western Maryland today,  and some NW Suburbs tonight. It's likely to dry out for metro areas.
By tomorrow we get into the colder winds.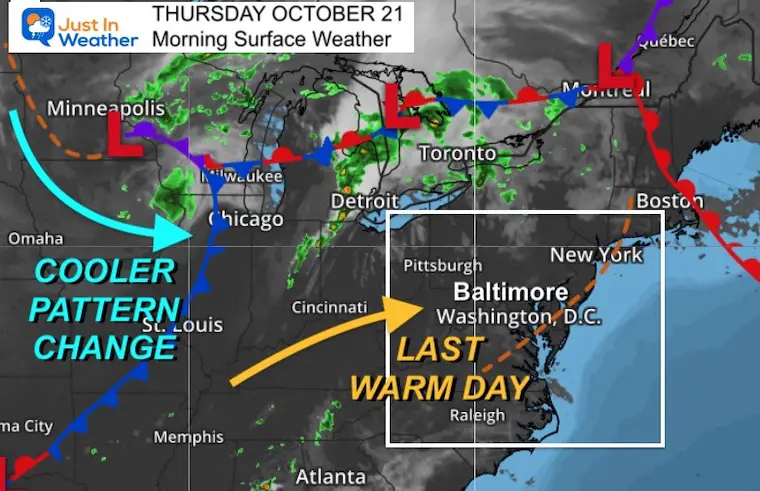 Morning Satellite Loop
The circulation can been seen moving through eastern Iowa. This will 'turn the corner' and start to move more east then northeast across the lower Great Lakes.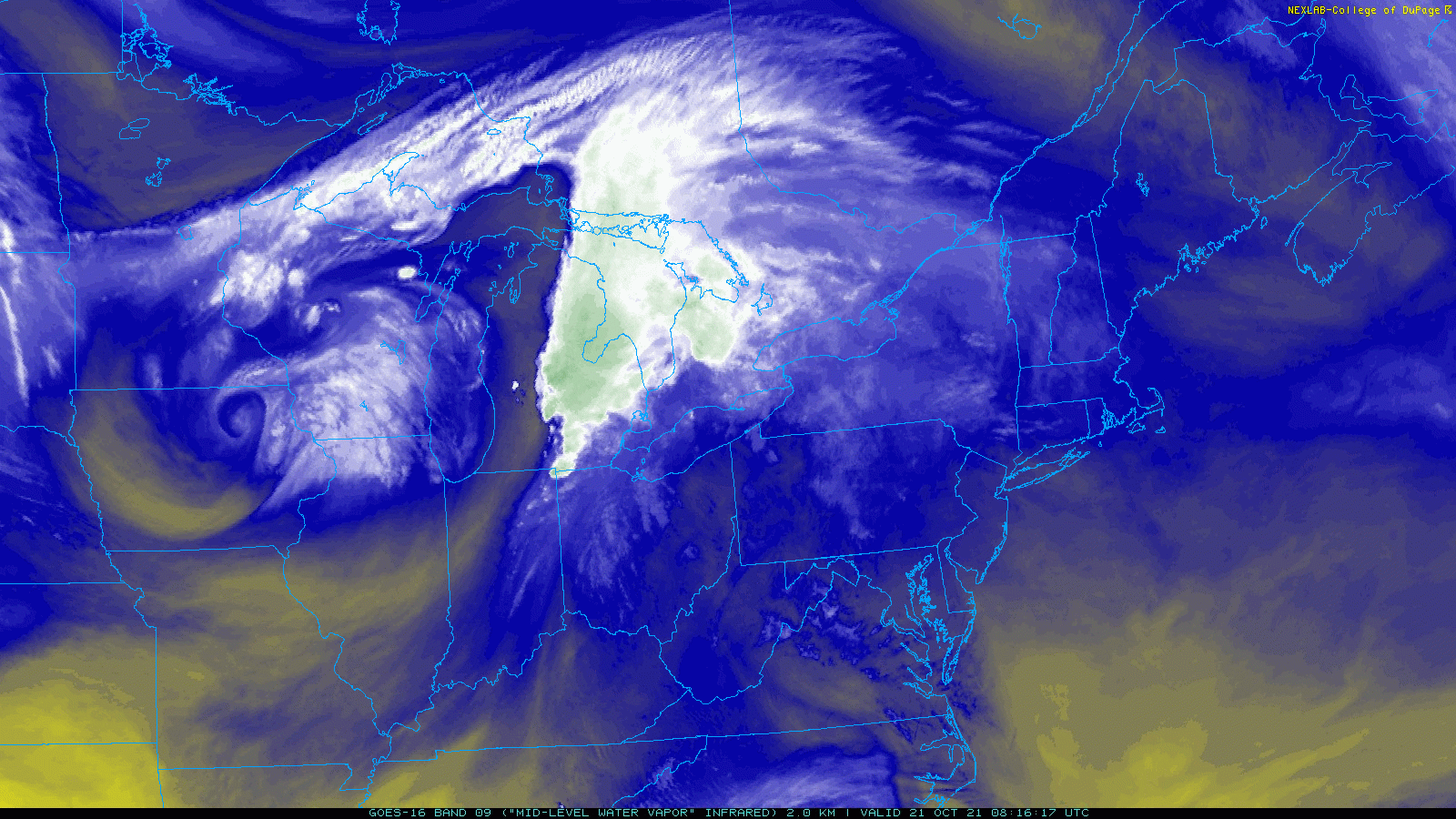 Morning Temperatures
Cool, but milder than recent mornings. You still might need a jacket.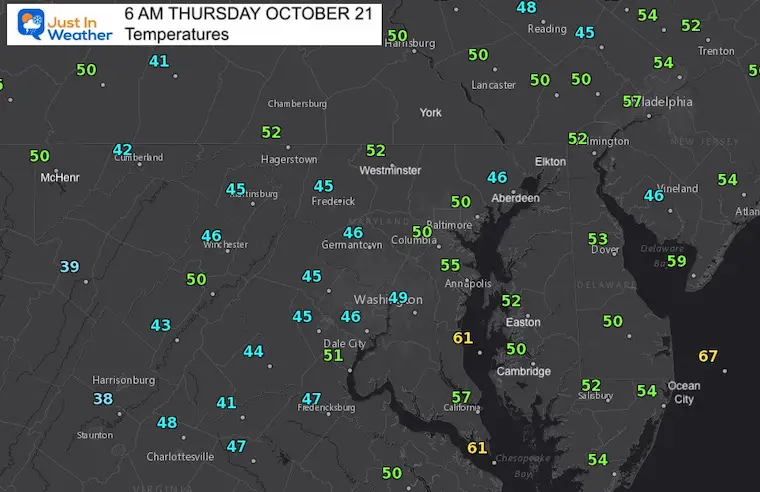 Afternoon Temperatures
This should be the warmest day of the week, and for a while. Metro areas will reach the upper 70s. Some car and bank thermometers might touch 80ºF.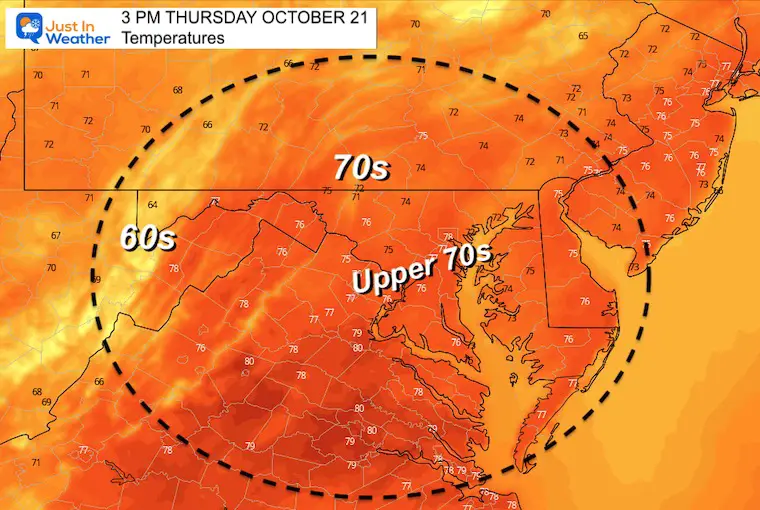 Evening Showers
6 AM To 11 PM – rain mainly west and north of the cities.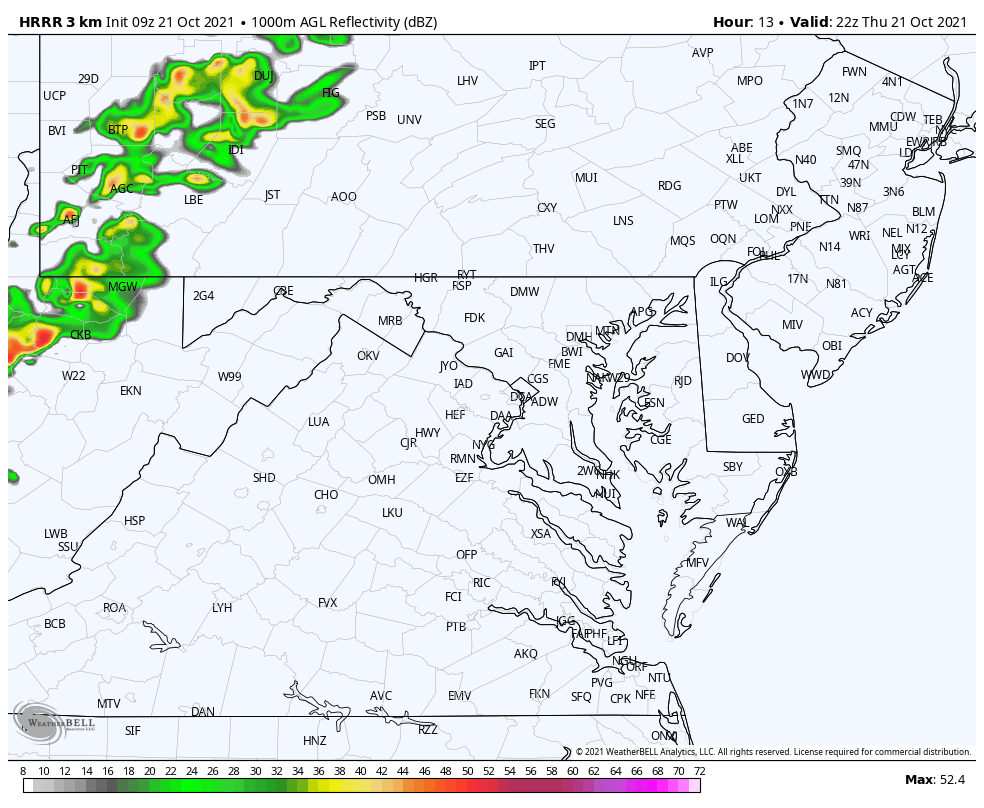 Weather Almanac: Climate Data
TODAY October 21
Normal Low in Baltimore:  44ºF
Record 26ºF in 1952
Normal High in Baltimore: 65ºF
Record 90º F 1947

Also See:
Signals For Early Start To Winter In November
Winter Outlook Series: La Nina Double Dip
Full Hunter's Moon May Appear Full For 3 Nights
Waterspout Among Top 10 Storm Photos Saturday
Temperatures Friday
Morning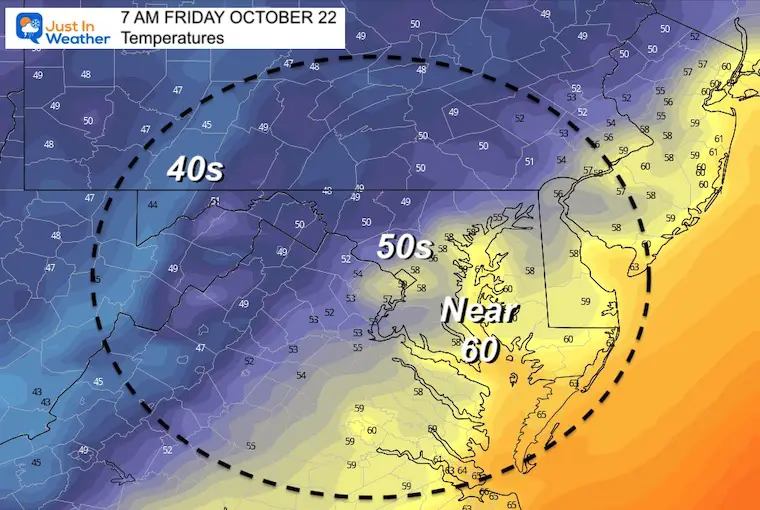 Afternoon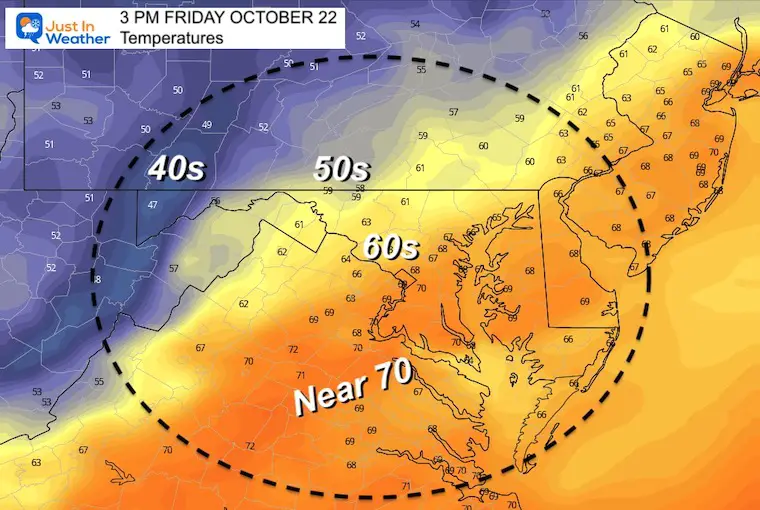 Wind Forecast
This will not be too gusty, but enough to impact the feel of the air.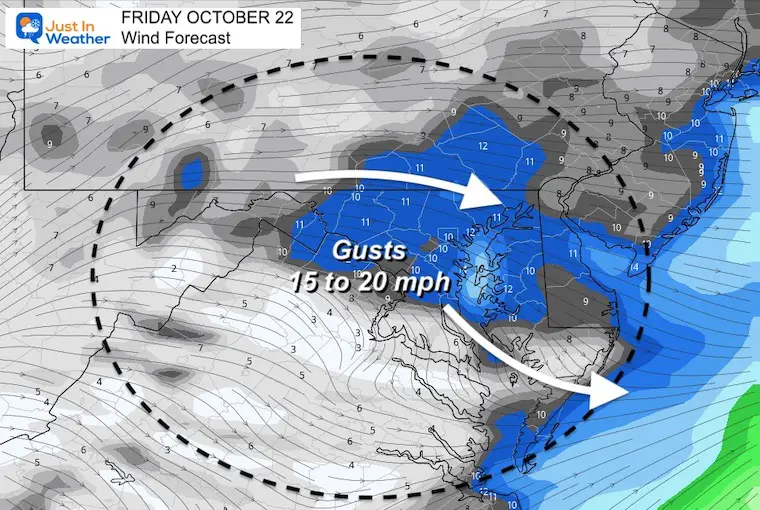 Rain Forecast
The Cold Front arrives overnight Thursday into Friday morning. This will being showers to the mountains, and some may reach our NW hilly suburbs after dark, before falling apart.
The next push of showers will be Saturday afternoon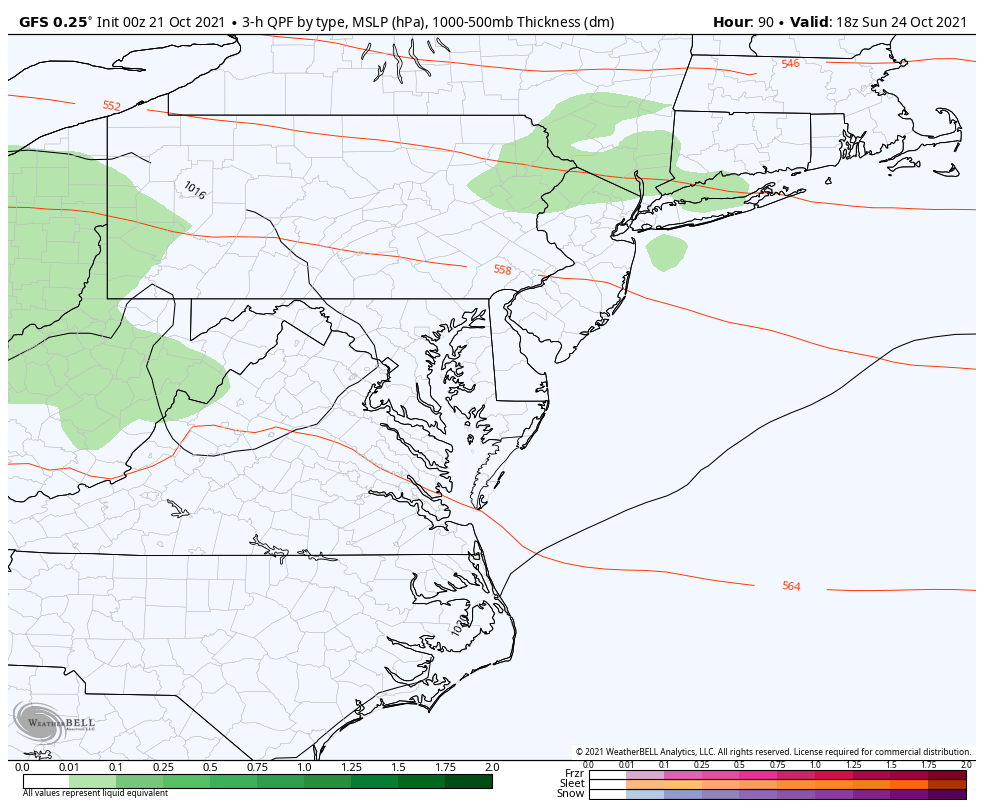 7 Day Forecast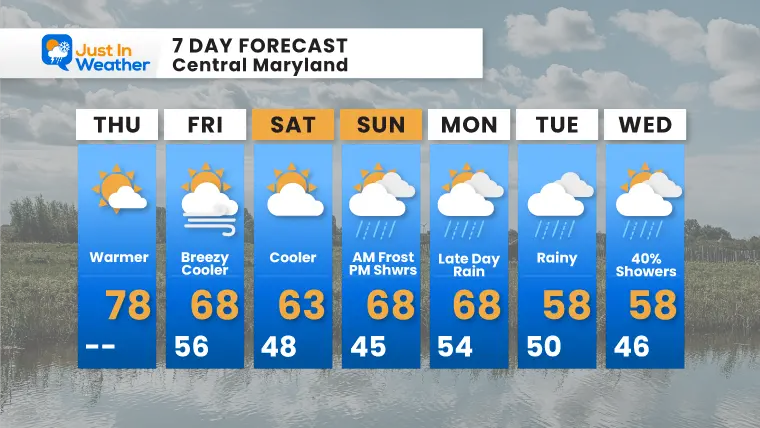 Faith in the Flakes Gear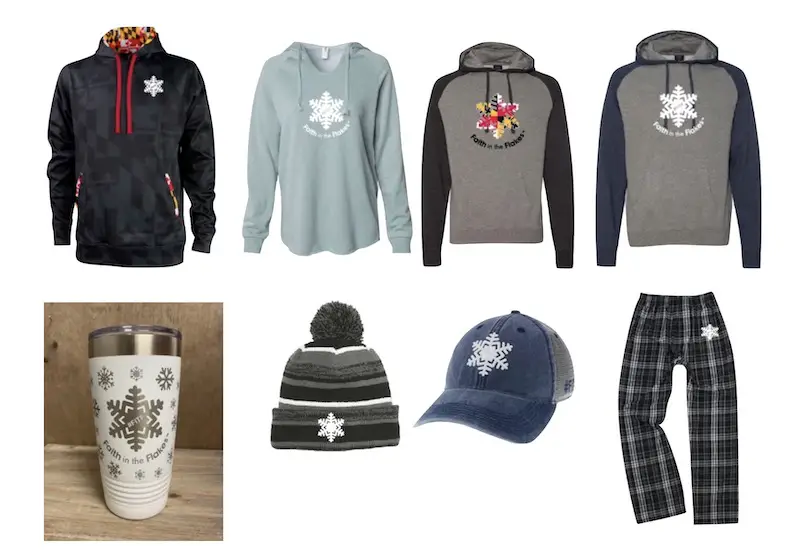 SNOWSTIX – Available Now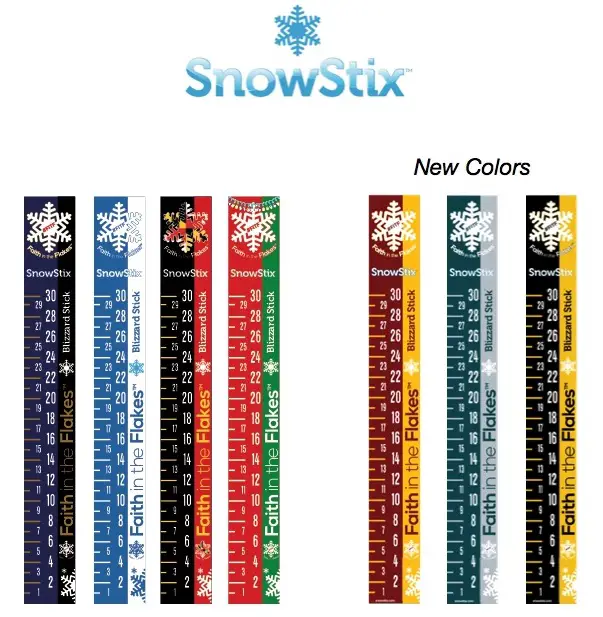 Please share your thoughts, best weather pics/video, or just keep in touch via social media
---
Email Updates
Please make sure you sign up for my newsletter.
See the SUBSCRIBE button at the bottom of the page.
This way you will get an email to make sure you are notified with each n