Signals For Early Start To Winter In November 2021
Outlook
Winter Weather
Justin Berk
Oct 20, 2021
8:19 pm
0
October 20 2021
Our exceptionally warm September and start to October has finally been capped by the first surges of colder air.  A delay of leaves turning may make it appear as if the seasons have shifted later, or put winter on hold. I have seen many messages and questions about that.  I do not believe that. In this post, I want to present some information that suggests winter may very well arrive early this year.
Climate Forecast System:
Outlook Through November 19
Here we see the outlook for temperatures in our region to range as much as 5 to 10 degrees colder than average for the first three weeks of the month.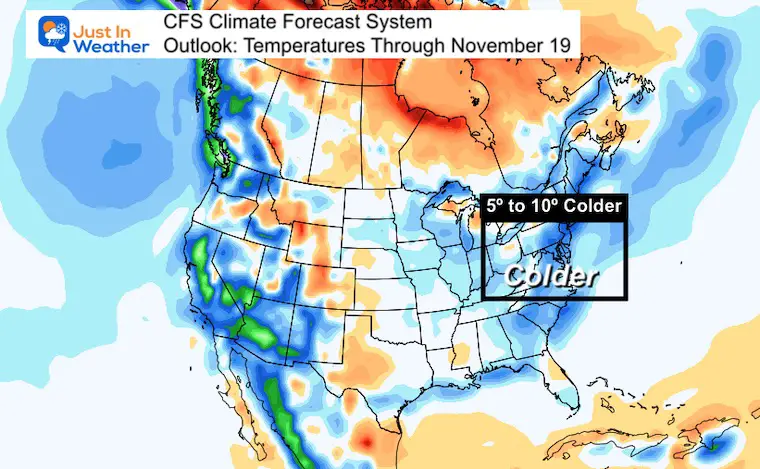 Do you remember when Justin Tucker kicked that NFL record 66 yard field goal for the Ravens win in Detroit?  That 'doink' off the crossbar could have just as easily bounced backwards.  But the ball orientation was at the right spot to help it spin and bounce over and through for the winning points. 
My view of winter has the distance to get a solid start, but will it all connect to go through? We'll have to see.
This is just a part of my Series of Winter Outlook reports.  My official winter outlook for snowfall will include the information I show here. I intend to have that final report soon.
Caveat: I write this outlook with the concern of economic and geopolitical pressures for higher energy prices. A cold winter can support more snow for those of us with Faith in the Flakes (FITF). However, it can also drive higher energy prices and make it more expensive to heat homes and fuel vehicles. 
Teleconnections Of Patterns Around The Globe
Trying to make a long range weather outlook for a few weeks or an entire season requires a look at global weather patterns. There are many that can influence our weather and interact with each other. 
This post will identify just a few patterns, which all seem to suggest a colder trend for us in the eastern US into the month of November. There are plenty of others patterns I will address at a later time.
This focus here will include:
Active Pacific Storms into the Western US
PNA (+) Pacific North American Index is Positive

 

NAO (-) North Atlantic Oscillation is Negative
Polar Vortex

 

is Weak, thus more variable
MJO – Madden-Julian Oscillation Forecast Regions 1 and  8 – Translates to cold winter.
QBO (-) Quasi-biennial Oscillation is Negative

 
Also See:
Global Patterns And Forecasts (Live Maps)
Winter Outlook Series: La Nina Double Dip
Active Pacific Storms into the US
Last week I mentioned the La Nina Advisory. In the cool water pattern in the tropical Pacific, we expect more active storms in the Mid and High Latitudes of the Pacific. We are already seeing that.
This is important because that storm track can bring a lot of moisture to the US, especially to drought stricken western States. It can also carry the pattern across the US or our Mid Atlantic region. 
Thursday Morning Forecast
Our next cold font will be wit this Low in the Great Lakes. The next stronger storm is already off the Pacific NW coast., with another in the Bearing Straights of Alaska.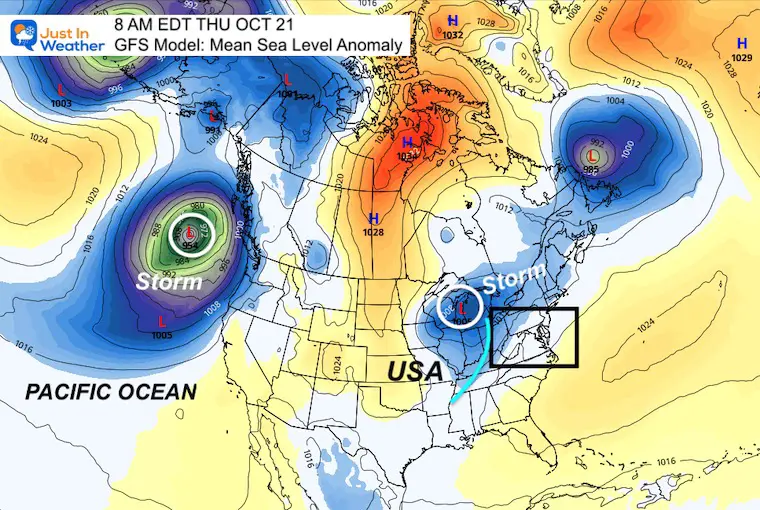 Pacific Wide View
Shifting the focus to the Pacific with annotations to help identify the map and storms. See the forecast animation of this view below.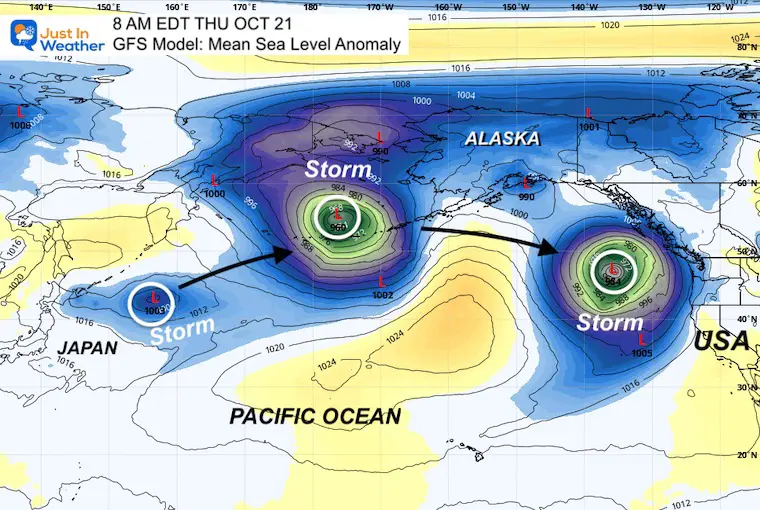 Animation into November 1
Here we see a series of Pacific storms, which will continue to break down the warm ridge in the eastern US. The will help the colder air continue to flow in.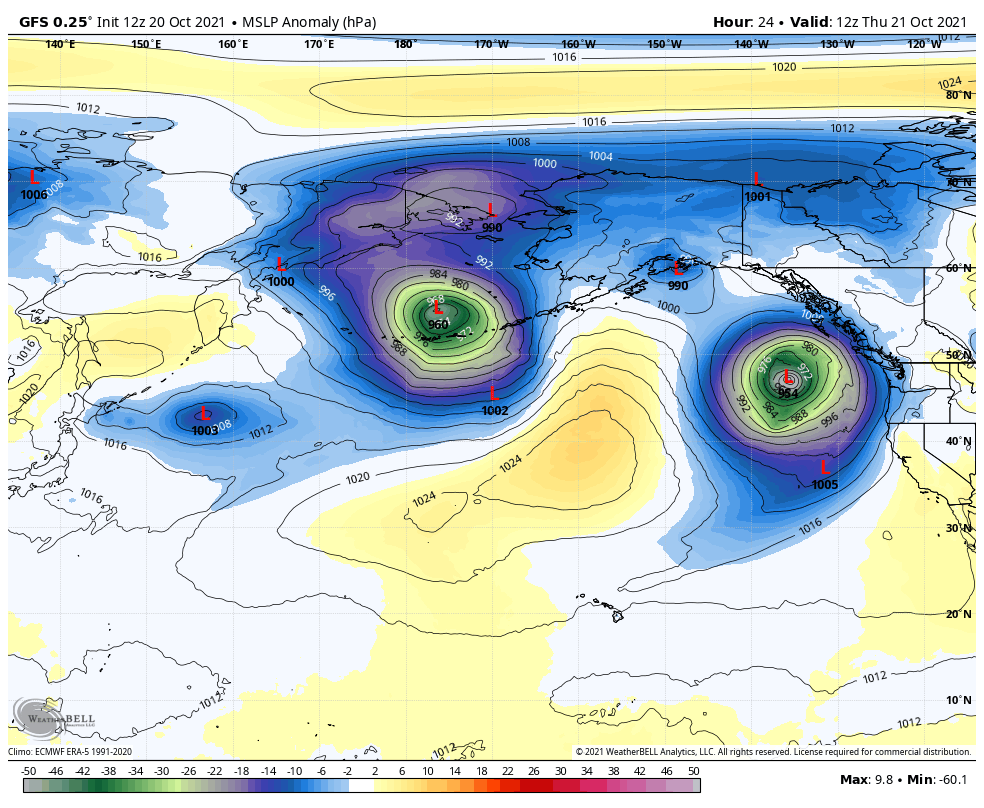 PNA (+) Pacific North American Index is Positive
This positive index reflects the stormy pattern in the Pacific… 
Forecast ENSM
Predominately Positive into the start of November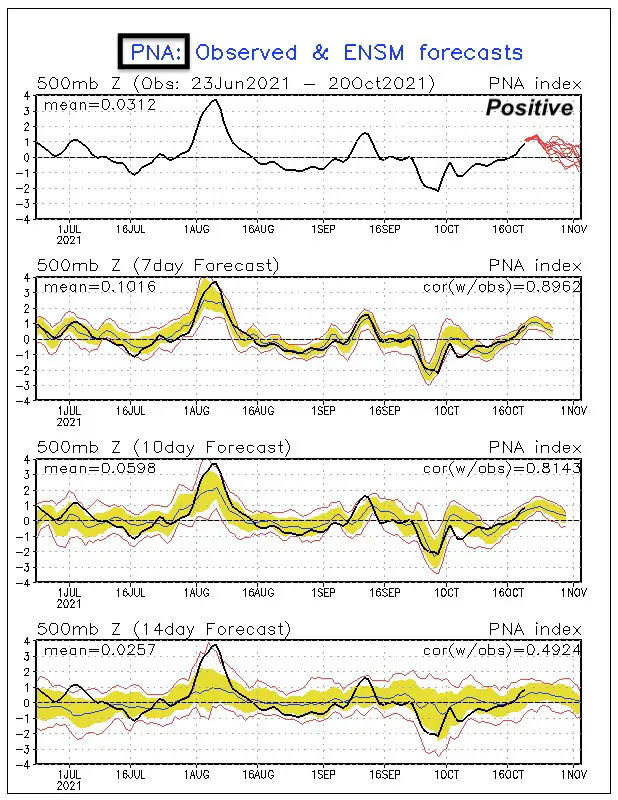 Forecast GFS
Predominately Positive into the start of November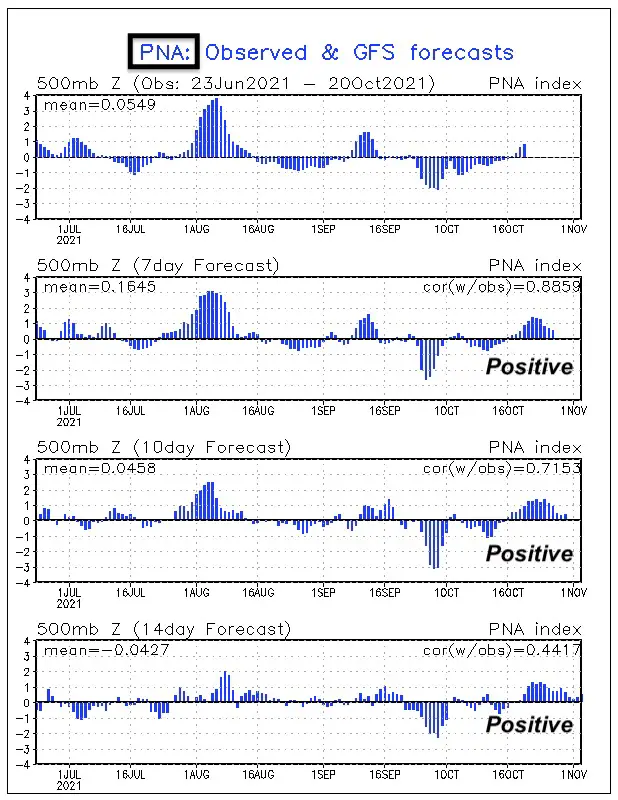 NAO (-) North Atlantic Oscillation is Negative
This negative index is more directly related to colder than average weather in the eastern US. 
While negative currently, you might notice we have a little warm up on the date of this post (Oct 20). However, another cool down will arrive by the weekend. The forecast to remain negative keeps thee trend stay near or colder than average.
Forecast ENSM
Predominately Negative into the start of November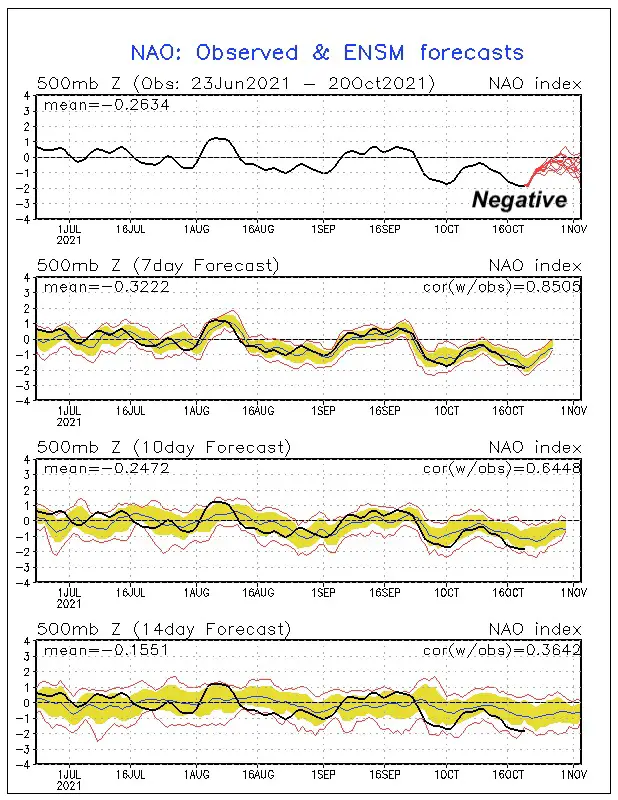 Forecast GFS
Predominately Negative into the start of November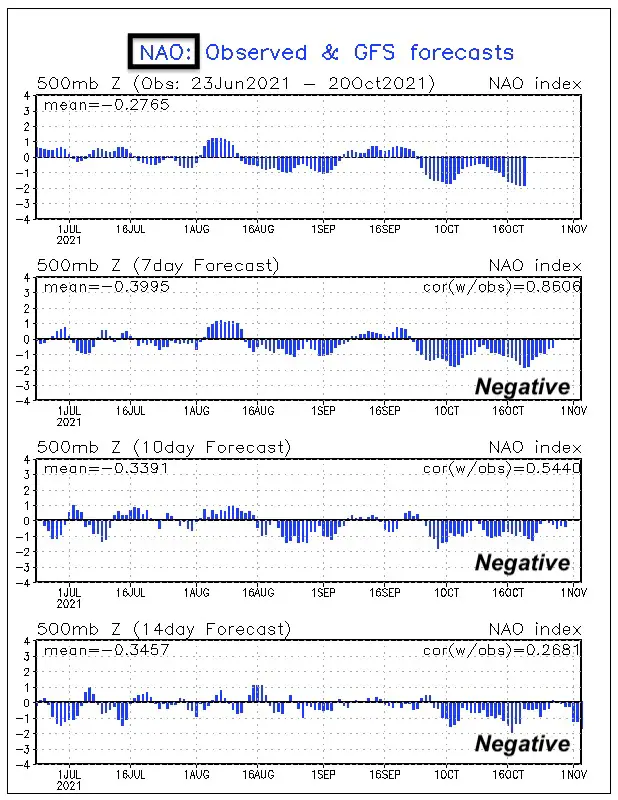 Important Note:
When combined,  a PNA (+) and NAO (-)  in winter, we often expect a colder and stormy pattern.
Polar Vortex
Following an upper stratospheric disruption, the core circulation around the North Pole called the Polar Vortex has been predicted to weaken. 
A weak Polar Vortex, allows it to wobble more. That is needed to push colder air farther south into the US. 
In contrast with winter 2019-2020 when a record strong Polar Vortex kept the arctic air bottled up and we had a milld winter.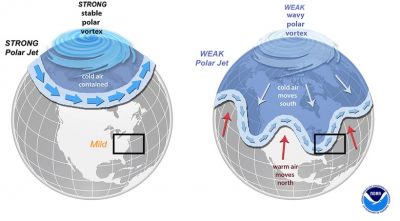 Dr. Judah Cohen, an expert in this field, has predicted this weakening. Thus, colder trend next month.
On October 17, Dr. Cohen said,
"GFS starting to show with more consistency the upcoming #polarvortex disruption influencing the tropospheric circulation. Should lead to more high latitude blocking and possibly #colder weather across the mid-latitudes in November"
Just yesterday, he Tweeted this:
Interesting west-to-east #snow cover extent dipole this morning across Asia. Previous research has shown this dipole in November be related to weaker #PolarVortex and negative North Atlantic/Arctic Oscillation (N/AO) in #winter: https://t.co/x49qNlwvG3 & https://t.co/5CvsrhhQJC pic.twitter.com/yFnV7474FZ

— Judah Cohen (@judah47) October 19, 2021
MJO – Madden-Julian Oscillation
This tracks regions of tropical activity in souther Asia between the Indian and Pacific Oceans (see more on the Global Patterns and Forecast Page)
Forecast Regions 1, 8 –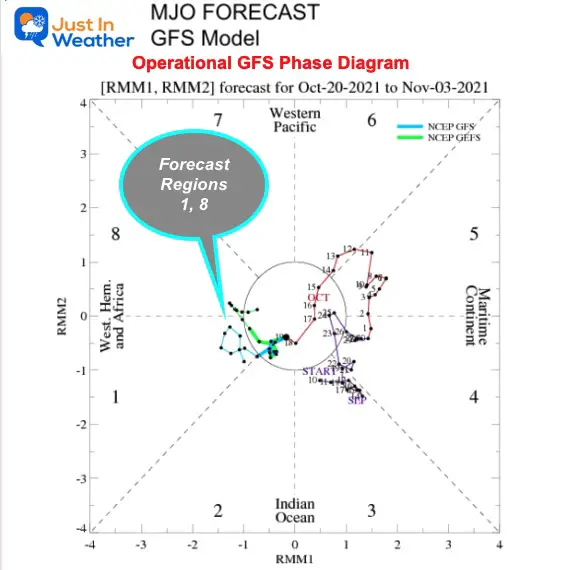 Temperatures:
This translates to a colder start to winter. I've highlighted the boxes showing typical impacts in the US Temperatures for phase 1 (upper left) and phase 8 (lower right).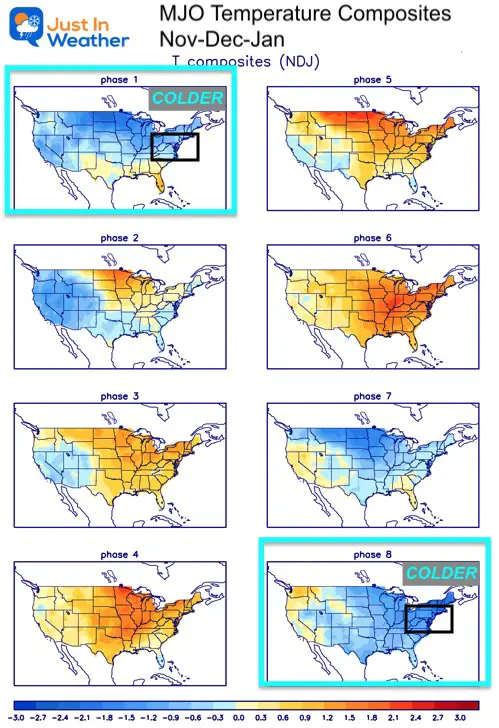 QBO (-) Quasi-biennial Oscillation
The is a measure of winds at high altitude above the equator. Winds can weaken and reverse direction in a cycle that lasts about 26 months.
A positive phase has Westerly winds. A negative phase is Easterly winds.
This report (the same date as I write this post) shows this has been in an Easterly (Negative) phase.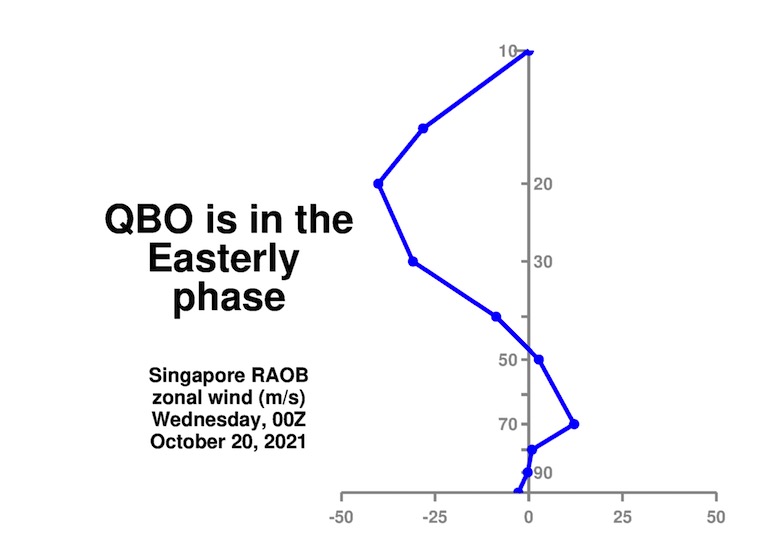 Important:
When the QBO has remained Negative in November, along with a weak La Nina (the intensity is key), the net result: Remains Negative through March and a Colder Winter in the Eastern US.
My Take:
This is not my full winter outlook. nor a look into the entire winter.  But that last image is a strong suggestion what we can look for.
This is just a look into the next month, which is likely to be colder than average November for our region.
If we maintain an active storm track in the Pacific, combined with forces to allow colder air to flow in, we may have the ingredients for an early start to winter.  It does not promise snow, but it does increase the chances, which may include Thanksgiving Week. That would involve the good ol' days like thee classic Planes, Trains, and Automobiles.
We need to track the development of these and other patterns for getting established in the next few weeks and their potency to kick off the winter season.
Stay tuned and FITF.
Also See:
Global Patterns And Forecasts (Live Maps)
Winter Outlook Series: La Nina Double Dip
Faith in the Flakes Gear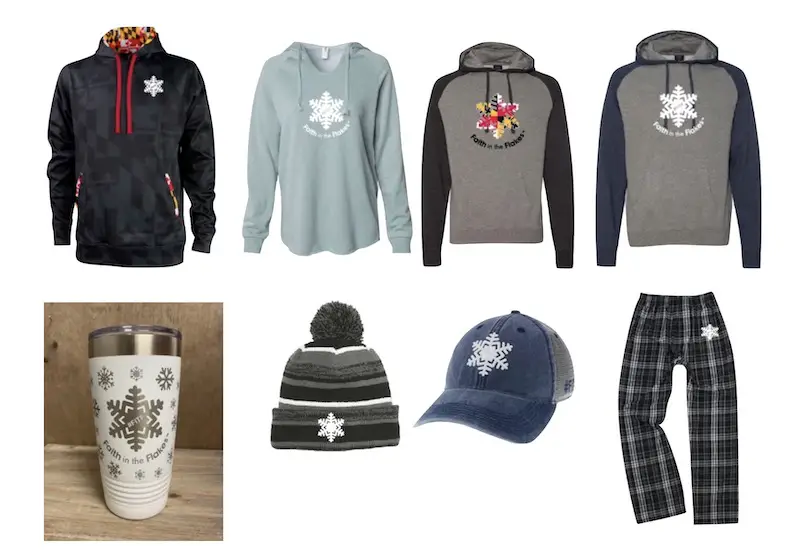 SNOWSTIX – Available Now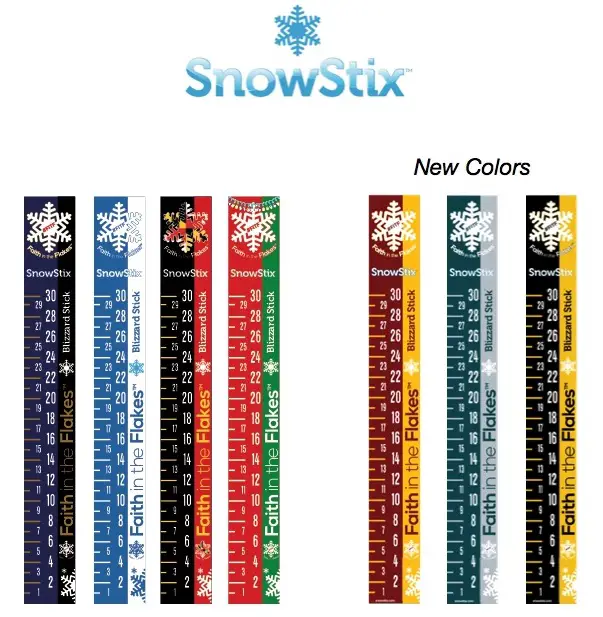 Please share your thoughts, best weather pics/video, or just keep in touch via social media
---
Email Updates
Please make sure you sign up for my newsletter.
See the SUBSCRIBE button at the bottom of the page.
This way you will get an email to make sure you are notified with each new post.