October 20 Warmer Today And Clear For Full Moon Then Chilly Weekend
moon
Forecast
Justin Berk
Oct 20, 2021
6:32 am
0
Wednesday October 20
On this date in 1940, Baltimore had an early snow event. It spanned two days and totaled 1.3" of snow.   In contrast, this year we remain in a clear sky pattern for the Full Hunter' Moon today.  It officially occurs this morning, but will appear full again this evening and tomorrow. 
The next cold front will arrive Thursday night, followed by a much cooler weekend. 
We still have a potential for the first (widespread inland) frost Sunday morning. There was some patchy frost on car tops and rooftops yesterday morning. This weekend may require protecting plants.
Morning Surface Weather
High Pressure directly overhead provides a clear sky. The wind will be light, but shifting to a warmer direction.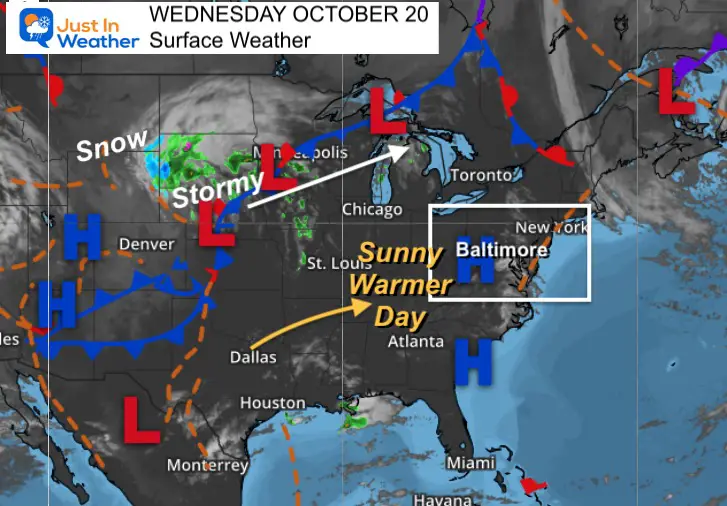 ALSO SEE: Full Hunter's Moon May Appear Full For 3 Nights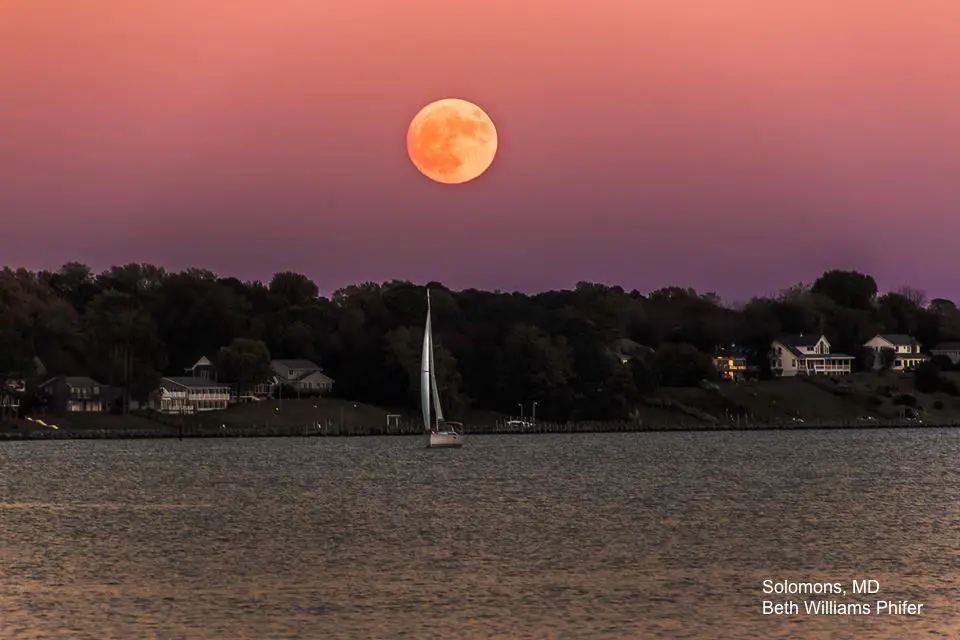 Morning Temperatures
What to wear: Jacket this morning, and T'Shirt this afternoon.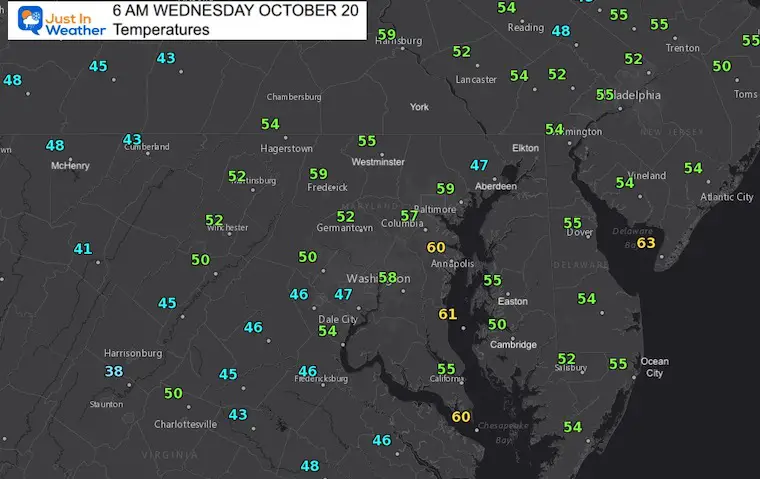 Afternoon Temperatures
The highest temperature is likely around BWI, but most areas will be in the 70s.
Weather posts straight to your inbox
Sign up and be the first to know!
Weather Almanac: Climate Data
TODAY October 20
1940 Snow Event: 0.9" single day. Two-day total = 1.3"
Normal Low in Baltimore:  44ºF
Record 28ºF in 1992
Normal High in Baltimore: 66ºF
Record 88º F 1992

Also See:
Waterspout Among Top 10 Storm Photos Saturday
Winter Outlook Series: La Nina Double Dip
Temperatures Thursday
Morning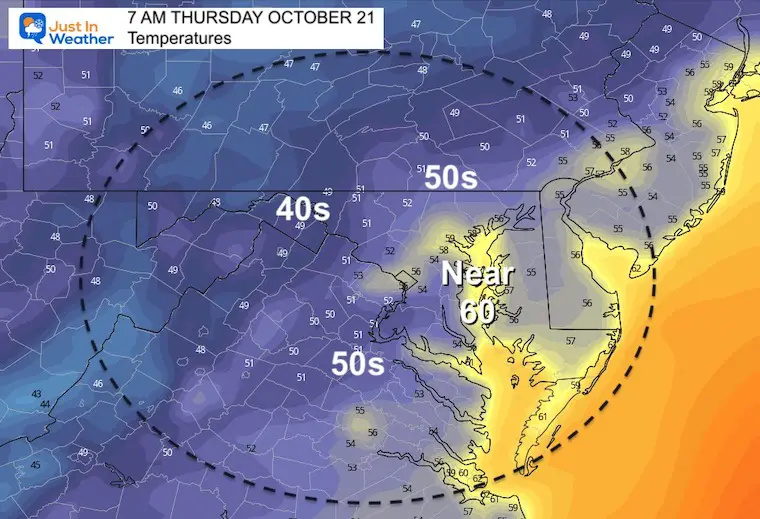 Afternoon
Rain Forecast
The Cold Front arrives overnight Thursday into Friday morning. This will being showers to the mountains, and some may reach our NW hilly suburbs after dark, before falling apart.
The next push of showers will be Saturday afternoon.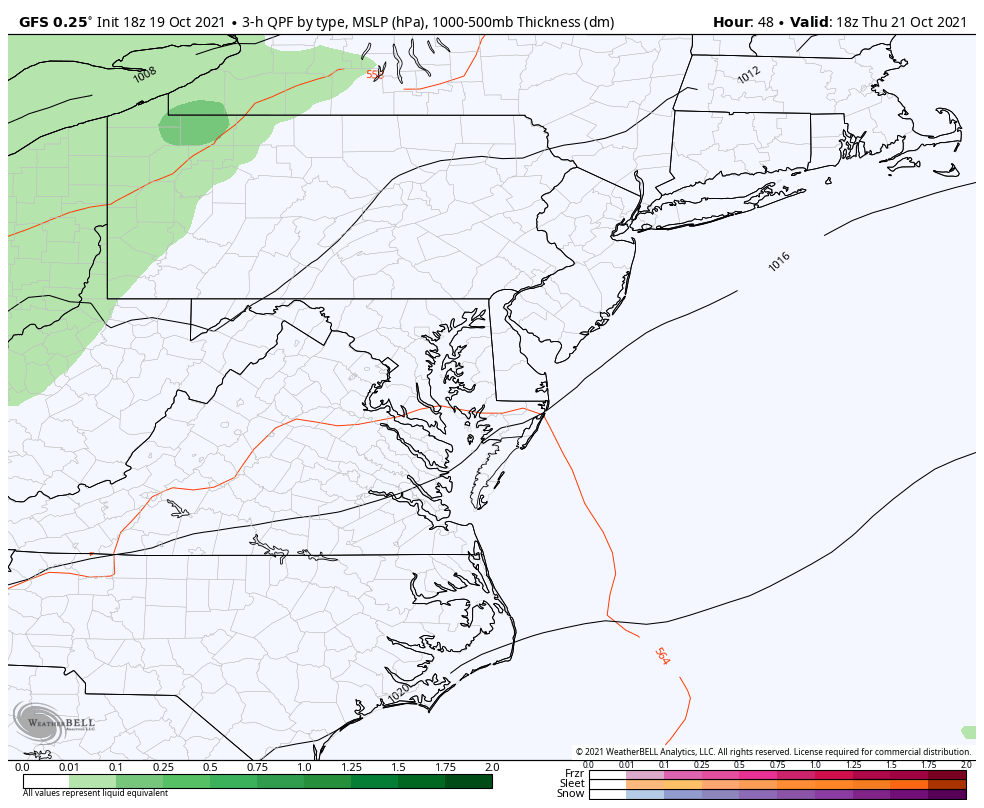 Colder Weekend: Jet Stream
The jet stream will bring in a trough of chilly air. This is what may provide the chance for frost Sunday morning.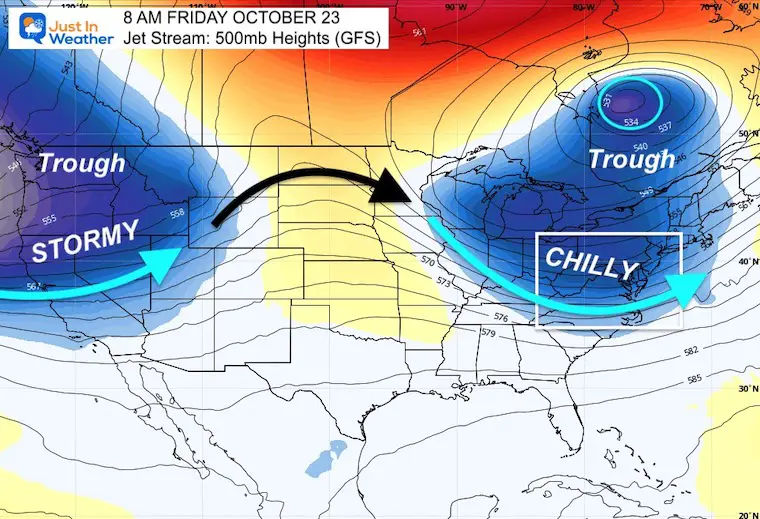 7 Day Forecast
Faith in the Flakes Gear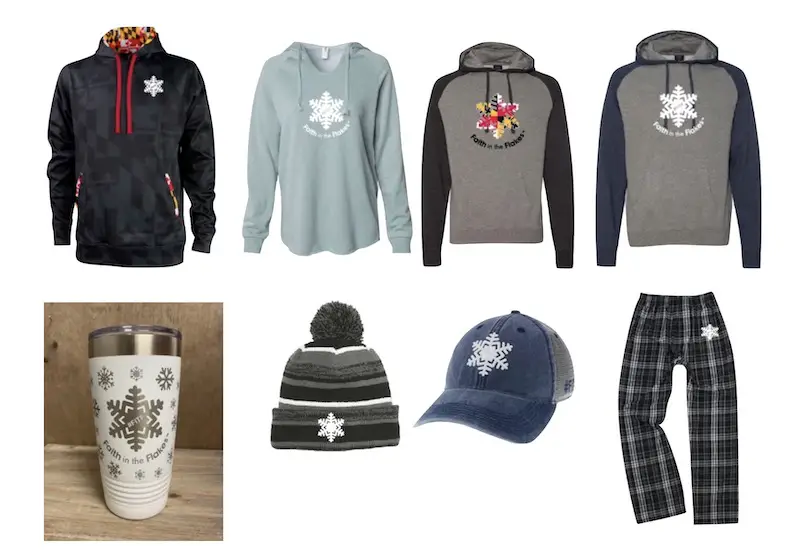 SNOWSTIX – Available Now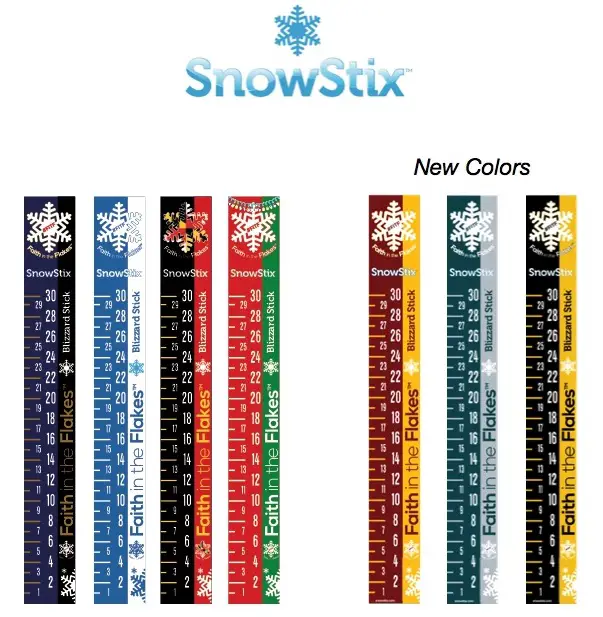 Please share your thoughts, best weather pics/video, or just keep in touch via social media
---
Email Updates
Please make sure you sign up for my newsletter.
See the SUBSCRIBE button at the bottom of the page.
This way you will get an email to make sure you are notified with each new post.