18% Of Winters End Up As Low Snow
Seasonal Snow Under 5 Inches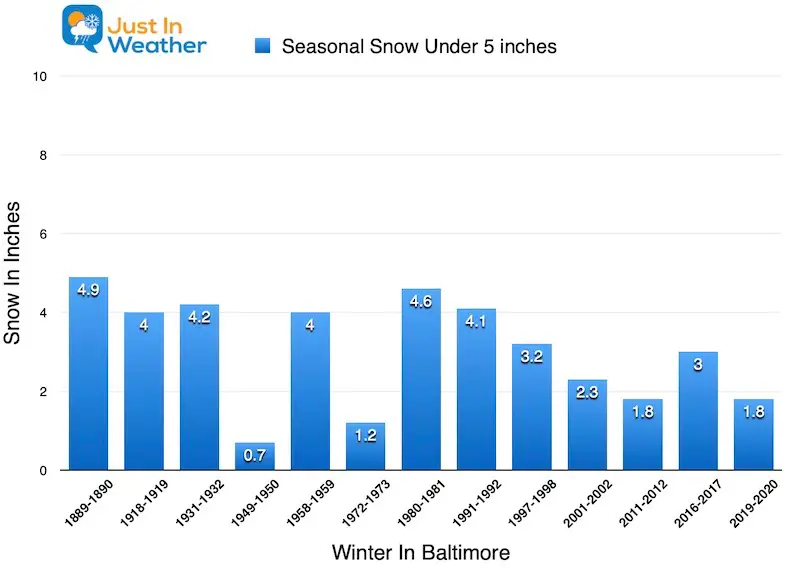 Seasonal Snow Between 5 and 10 Inches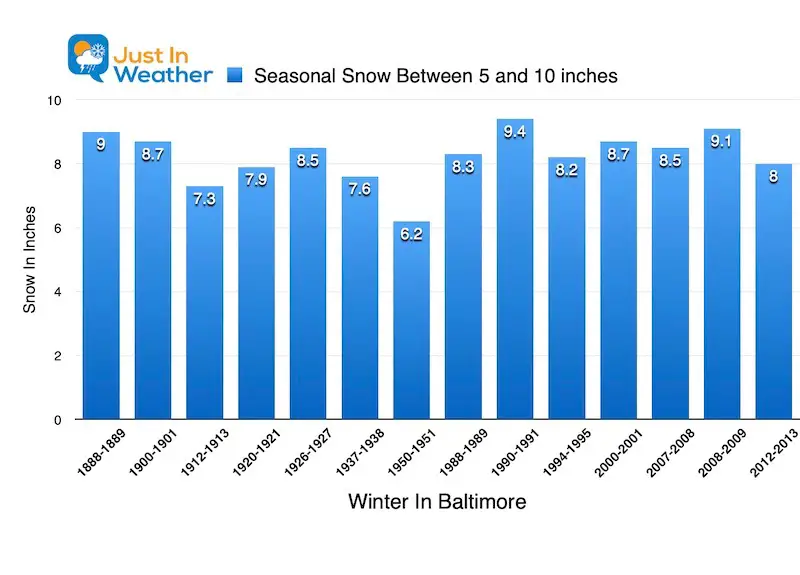 Low Snow happened 26 times, or 18% of winters. That might be more than many people expect to see.
Extreme weather of this sort has been displayed on occasion and documented since the 1800s.
I wrote an article I wrote a few years ago about snowless Decembers. I that I showed remainder of those winters were near or above normal snow about 50% of the time. There is still reason to keep your Faith in the Flakes*
Lowest Snow Winters in Baltimore
0.7″ in the winter of 1949-1950. *The ONLY time a full winter resulted in less than a single inch in Baltimore.
1.2″ in 1972-1973
2.3″ in 2001-2002
Under 5 inches of snow
Notice the winters fitting this category are evenly scattered throughout the record period since 1883.
Between 5 and 10 inches of snow
14 out of 137 winters fit this category.
Three winters since 2000
Two winters in the 1990s.
Seven winters have between 1883 and 1951.
Pairs of years under 10 inches of snow
There have been two years in a row with low snow occurring 4-Times since 1883. Twice those pairs were followed by one of the top snow winters
1888-1889: 9.0″
1889-1890: 4.9″
1949-1950: 0.7″ *Lowest on record
1951-1951: 6.2″
2000-2001: 8.7″
2001-2002: 2.3″
This was followed by out third highest snow total of 58.1″ in 2002-2003
2007-2008: 8.5″
2008-2009: 9.1″
This was followed by the most snow on record: 77″ in 2009-2010