Sunday Evening Update On Snow Showers
Winter Weather
Forecast
Justin Berk
Jan 23, 2022
6:08 pm
0
Sunday January 23 2022
6 PM Update
Some flurries already moved through the northern zones this afternoon, but that was not the expected event. The Clipper is still located in Ohio, with two bands of snow out ahead of it.
This is more of a widespread concern for travel in the mountains.  The edge of the snow had reached Hagerstown as of 5 PM.
My interest in this situation has been what happens east of I-81 this evening and tonight. The shield of snow will break up into bands or showers, and some squalls. A quick dusting to 1 inch is possible in the path.
This is not easy for models to track, which is evident below. 
TRAVEL
More impact on the roads west of I-81 and north of the Penn Turnpike (I-76)
Marginal impact up Rt 15 north of Frederick to Rt 30 between Gettysburg and York.
Central Maryland through Midnight: There there is NO PROMISE you will get this. But there will be hit or miss snow showers and some squalls that can drop a quick dusting to 1 inch. Since temps were just above freezing today
Saturday Evening Set Up
Surface Low Pressure with the Clipper was located in Ohio, but there is upper level support we do not see on this plot. That is what should help carry some snow over the mountains. 
The system is moving in our direction to the Southeast…
But the individual band of snow locally is moving along the ridge to the east/northeast.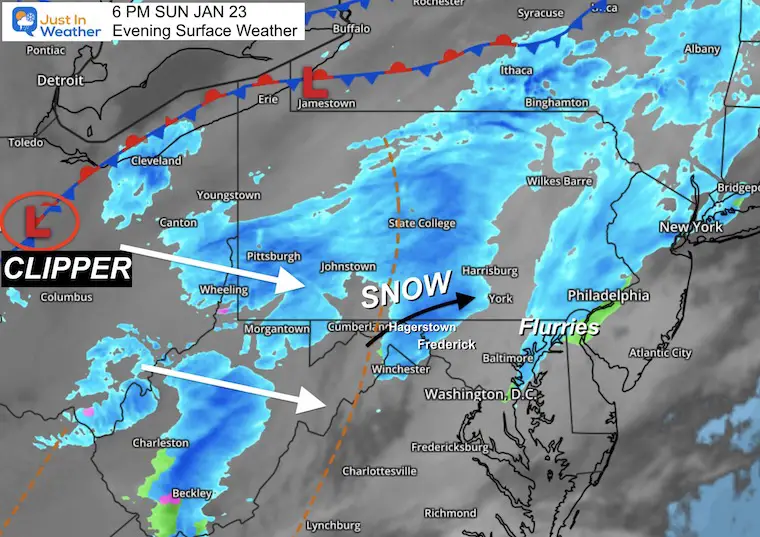 We are in a 'nowcasting' situation as short range models are providing no more support.  See why below.
Doppler Radar at 6 PM
The leading edge of the main band of snow has passed east of I-81 from Hagerstown to Thurmont and Gettysburg as expected.
Northern Frederick, Carroll, and Baltimore County, plus York and Lancaster Counties in PA will get in on this first band in the next hour.  This may drop a coating or more of snow. Since there temps are below freezing now, there will be stickage.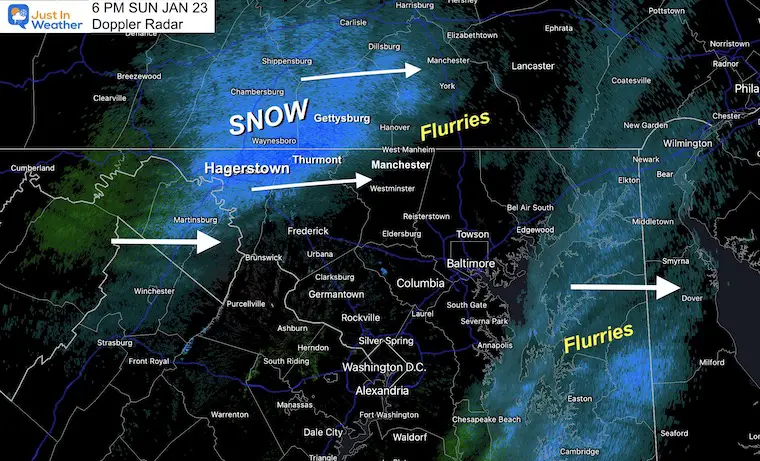 HRRR Model (2 Hour Forecast)
MISSING SNOW
The High Resolution Rapid Refresh Model DID NOT initialize well. The plot here should compared to the Doppler Radar snapshot above.
It is MISSING the snow near Hagerstown, so any future plot will be missing snow as well.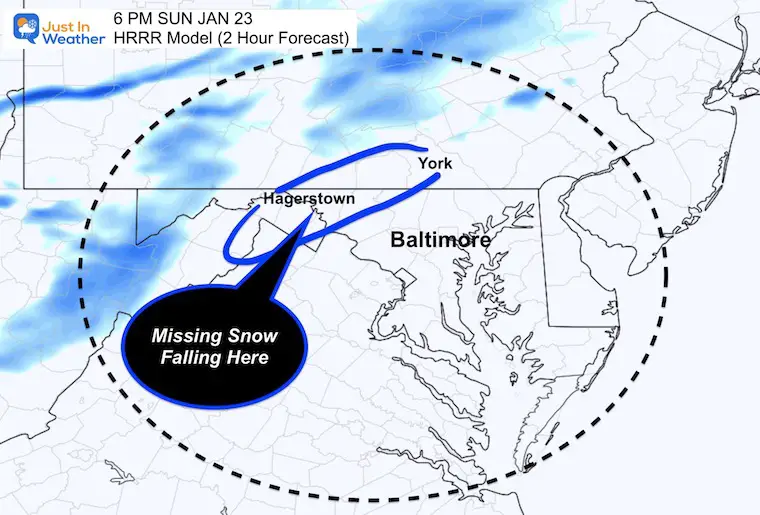 HRRR (Limited) Animation
MISSING SNOW
This is the simulation with the poor starting point.  It still shows a band of snow reaching northern Baltimore County, but there will be more validated that is not shown.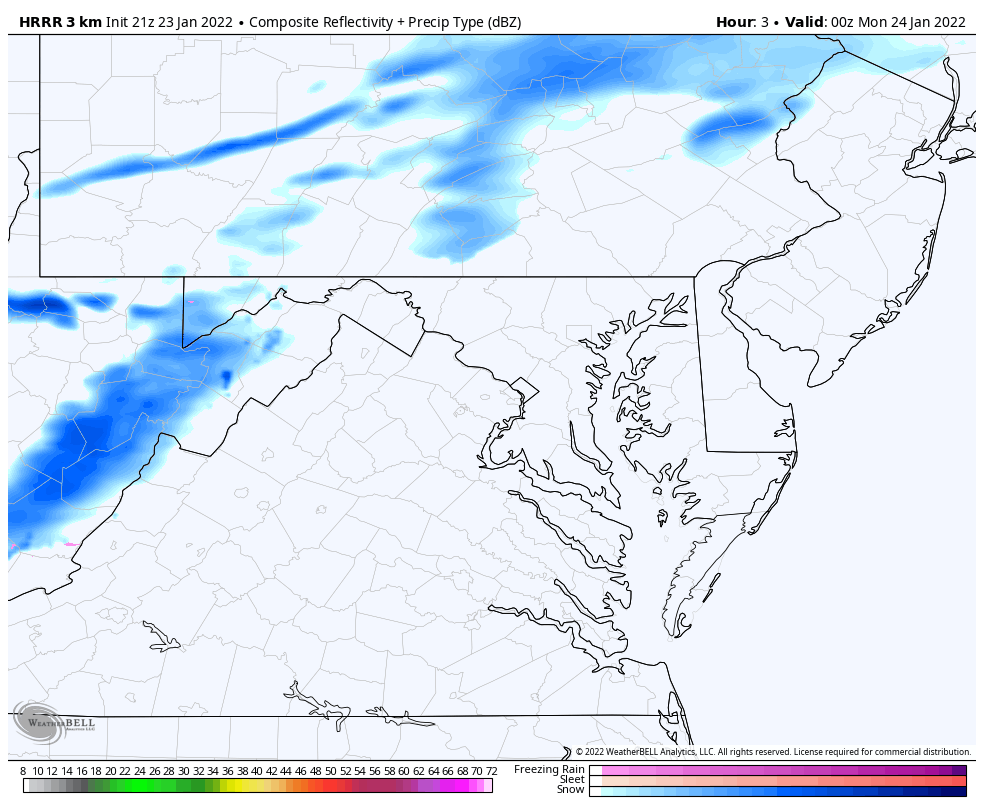 EARLIER RUN MORE ACCURATE
This was from my mid day report and is closer to verifying now. 
—-> slider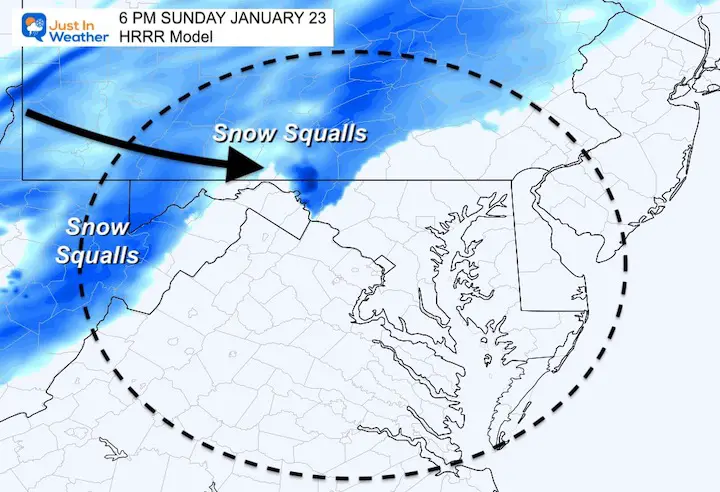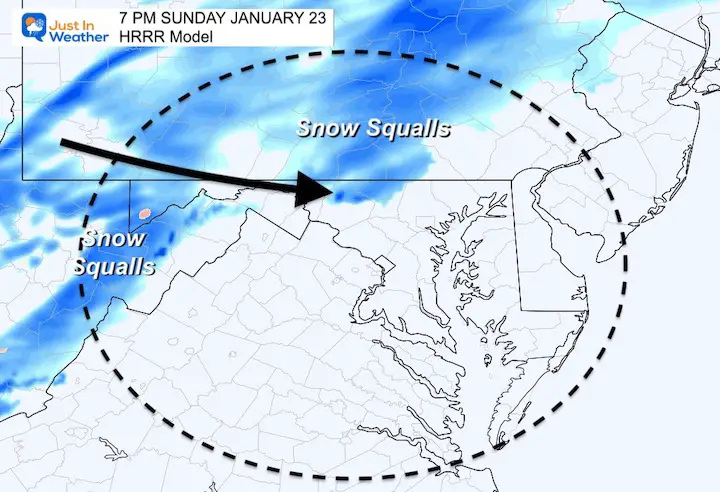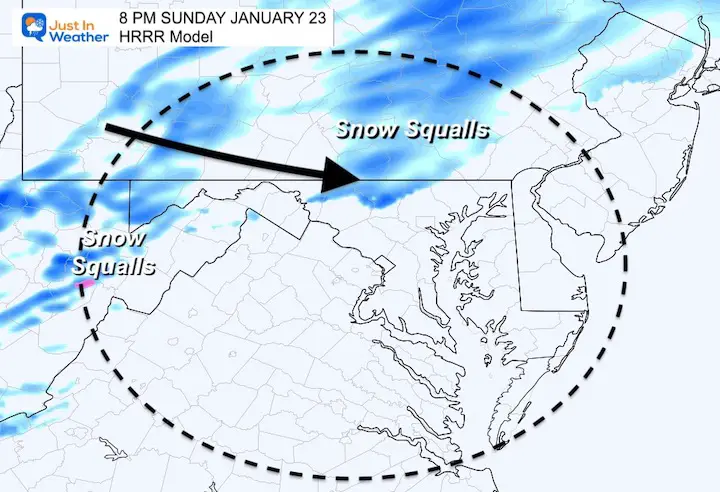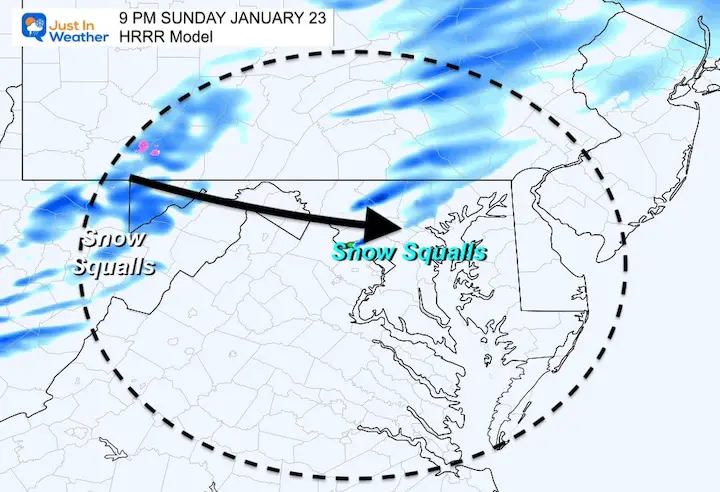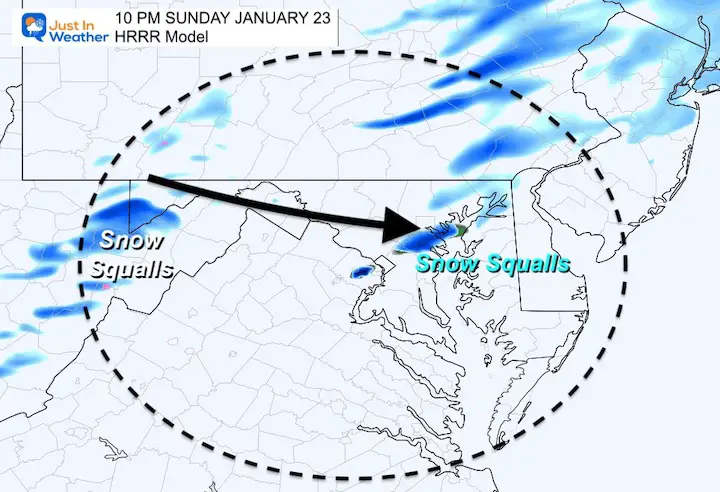 january-23-weather-forecast-snow-sunday-pm-5
january-23-weather-forecast-snow-sunday-pm-6
january-23-weather-forecast-snow-sunday-pm-7
january-23-weather-forecast-snow-sunday-pm-8
january-23-weather-forecast-snow-sunday-pm-9
january-23-weather-forecast-snow-sunday-pm-10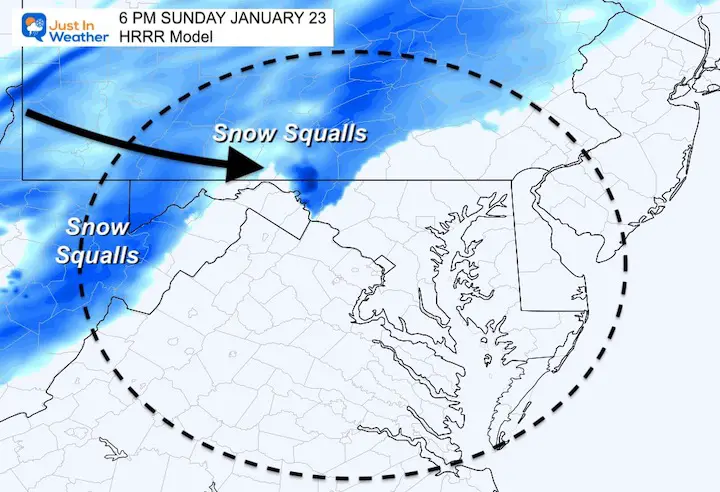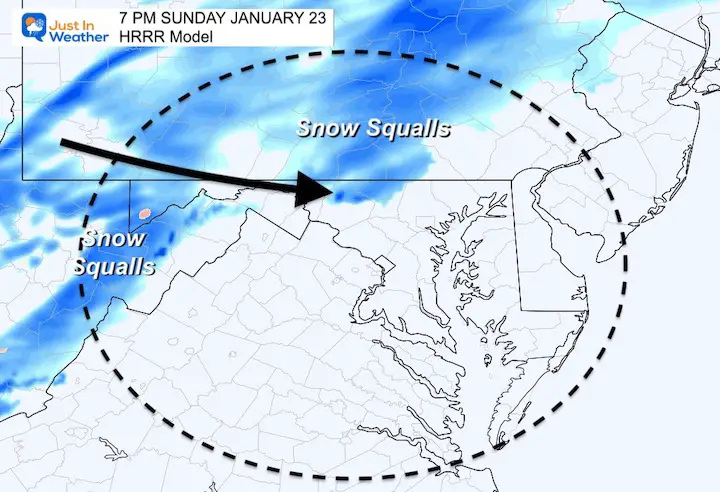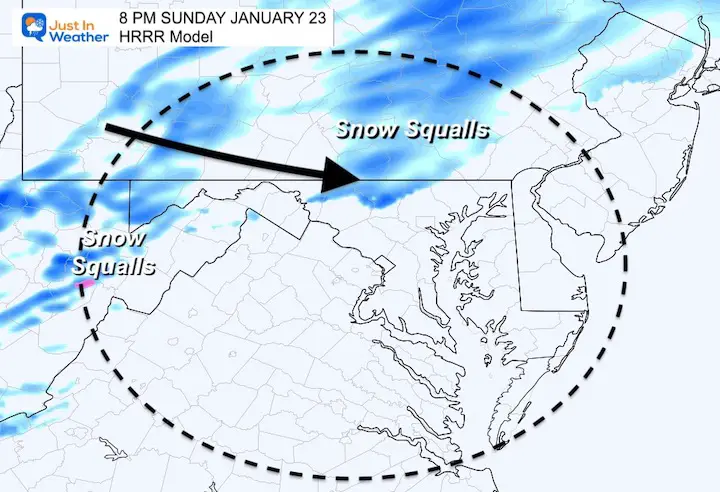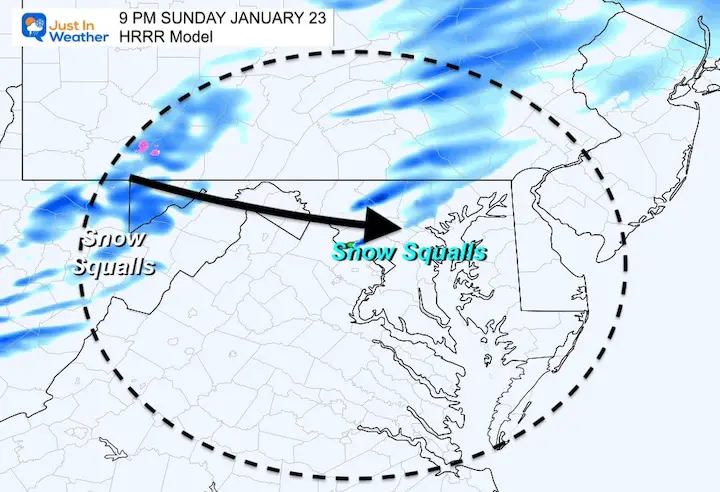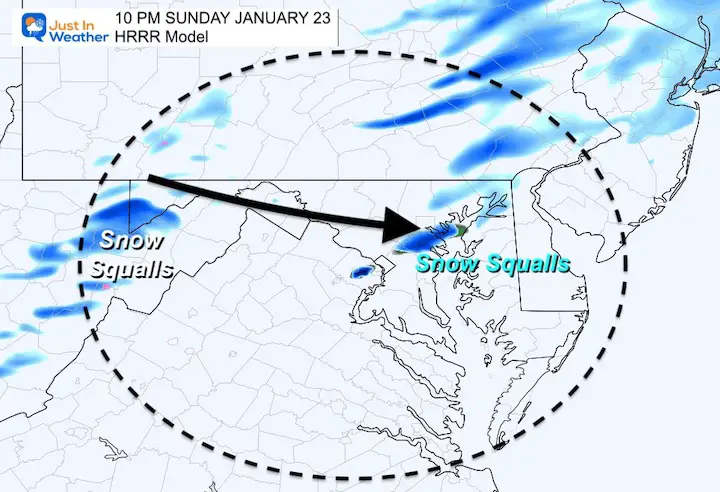 Upper Level Energy
Let's look at the Jet Stream at the 500mb level or around 18,000 Ft.  Vorticity is spin, like peso-low pressure that can enhance precipitation, and give a boost to ride over the mountains and maintain intensity.
If you want snow in central Maryland, the Vort Max needs to rid over Baltimore to overcome the topographic drying (downslope over the mountains).  This will be close, and we see two elongated jet streaks with encouragement aloft.
10 PM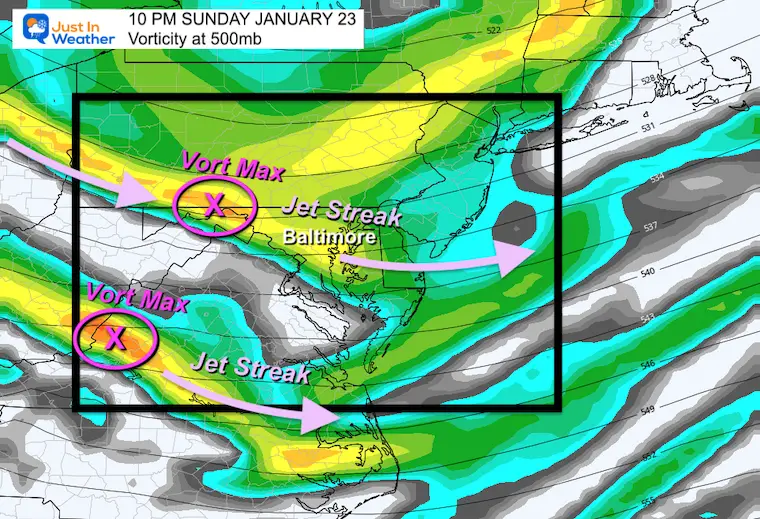 1 AM
Looking Ahead
Monday Morning Temperatures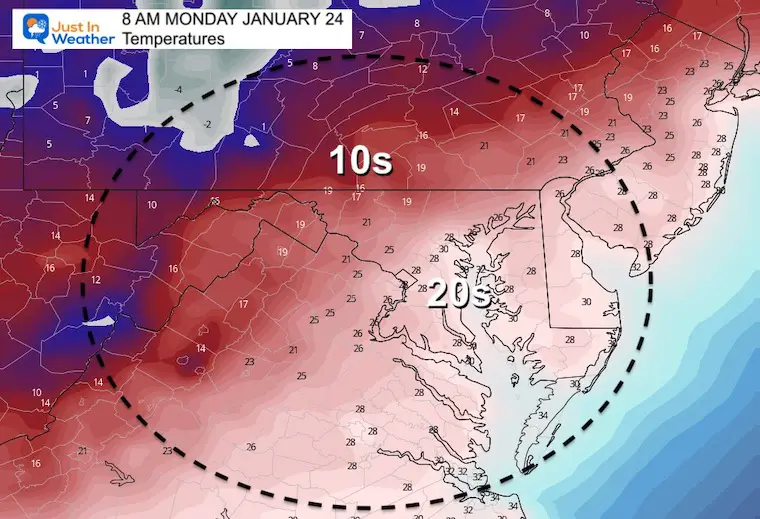 Monday Night
The next clipper will pass well north across Lake Ontario. This will also the mountains to block the snow from passing each into metro areas, so locally it should be a non event.
Next Weekend
If I had a dollar for every time there was a 'storm one week away' that did not happen… I would have a few bucks. HA!
THIS is why I do not make a big deal of long range surface storms.  Once again the buzz on social media got hopes up and dashed.
I am showing this simply to answer the questions I keep getting.  The pattern looks promising, and I think we will end up with a storm that will seem to show up at the last minute… That is why I focus more on the upper level pattern for potential.
Faith in the Flakes… There will be more chances.

Bitter Cold!
The arctic air that should arrive next weekend may be the coldest of the season. That is what is expected to push that storm offshore.
Here's a look at how cold it could get. If this verifies, it would be the coldest air we've had in three years!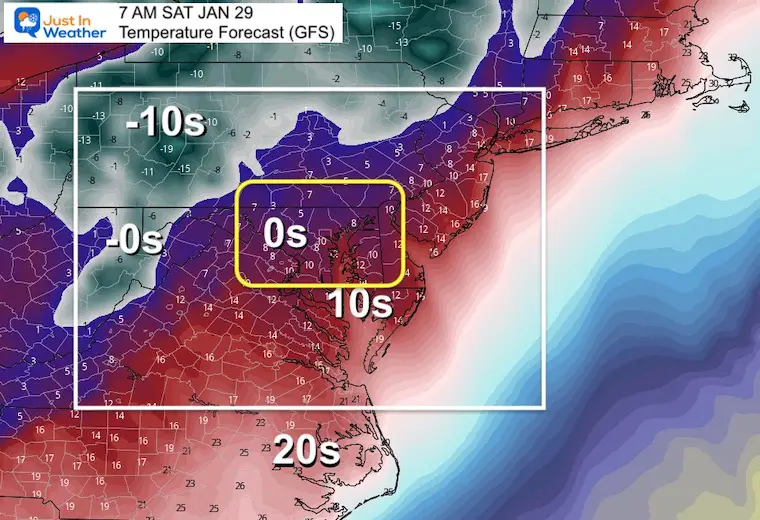 7 Day Forecast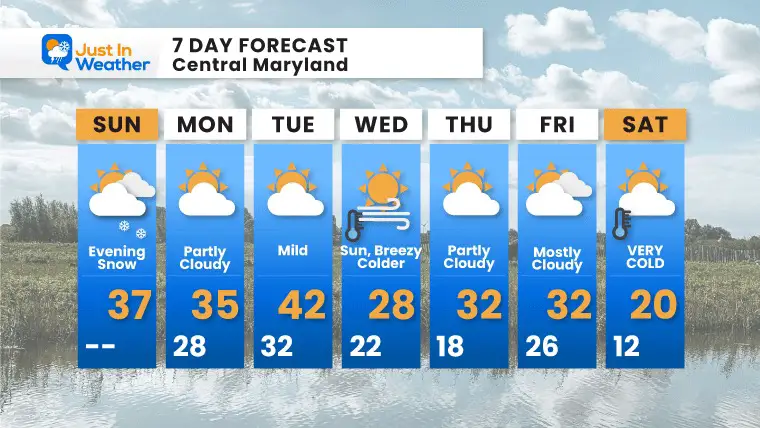 Weather posts straight to your inbox
Sign up and be the first to know!
ALSO SEE
ALL FITF GEAR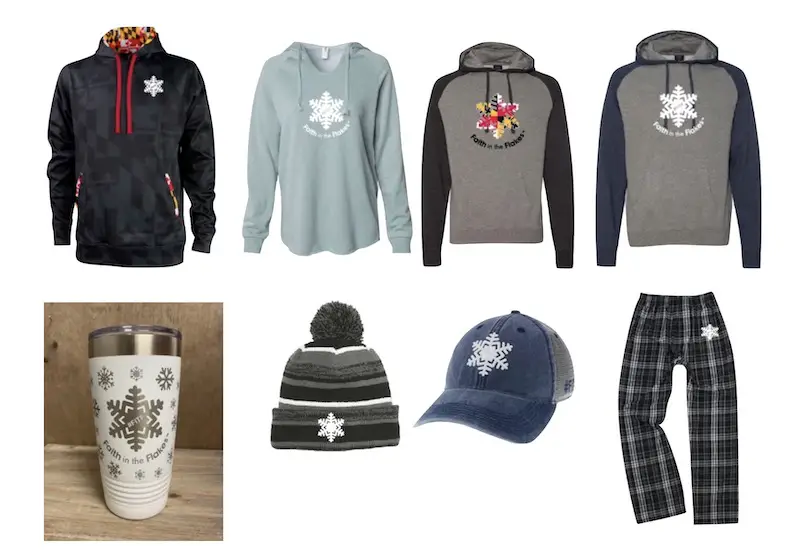 FITF THUNDERSNOW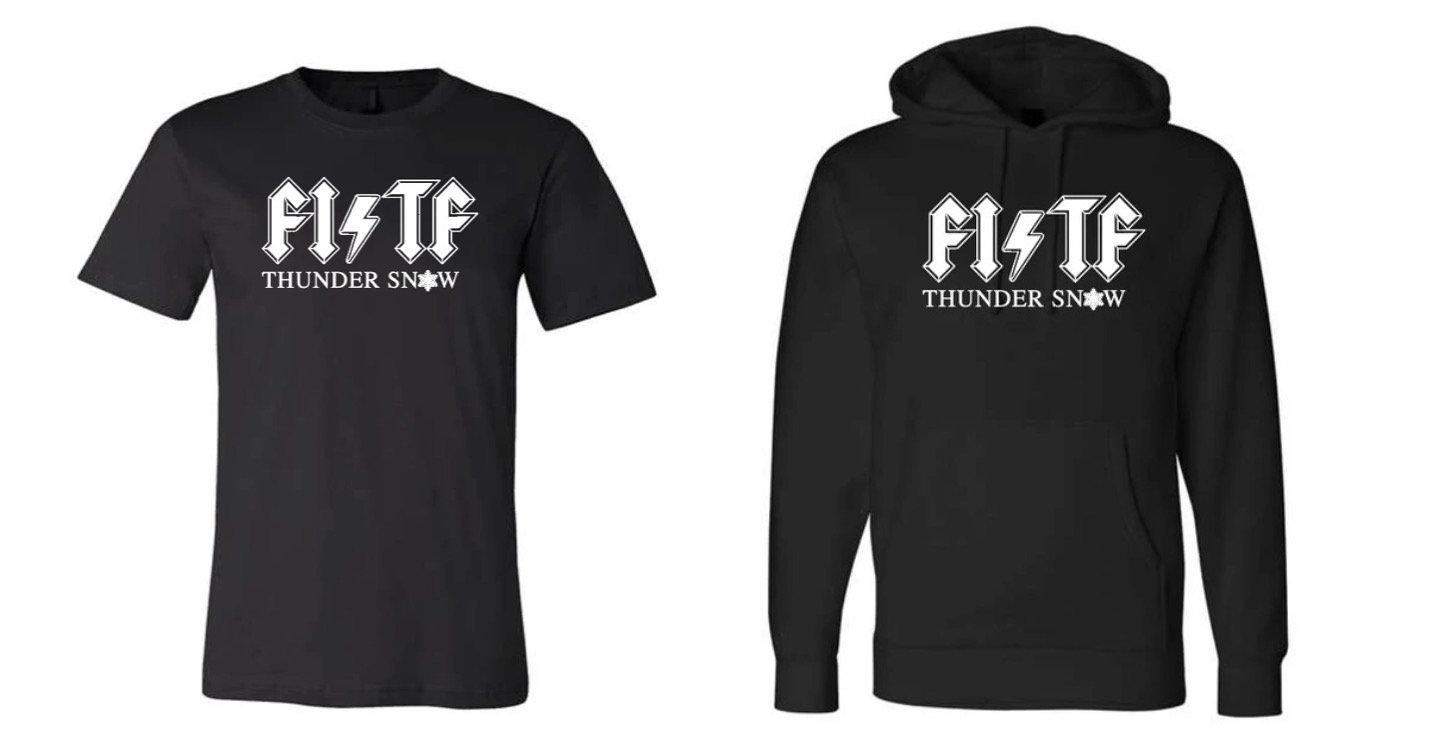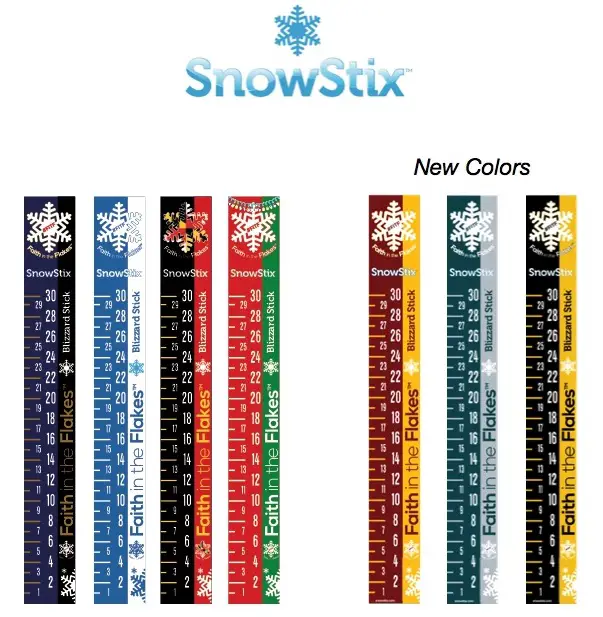 Winter Outlook Series: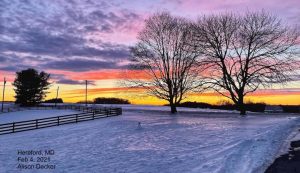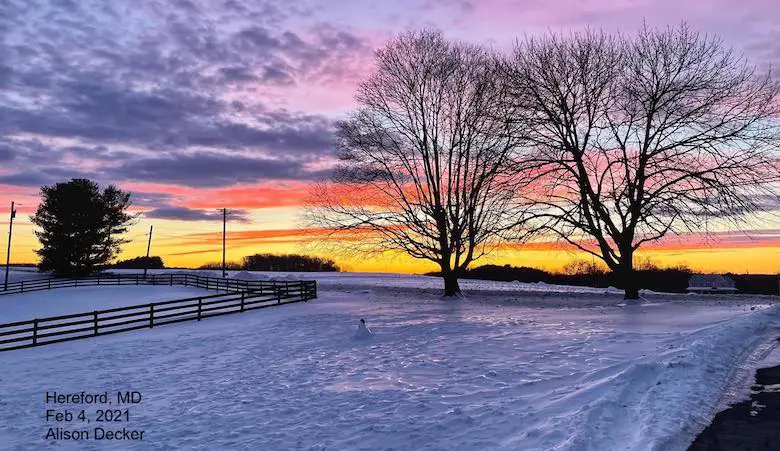 Last Winter Recap: My Old Outlook And Your Grades Of My Storm Forecasts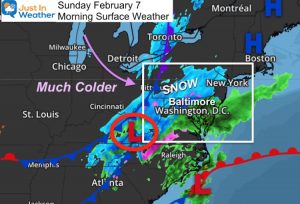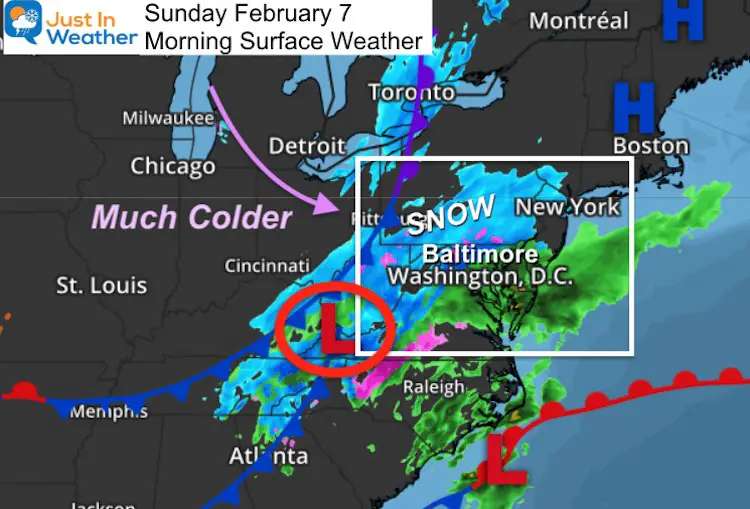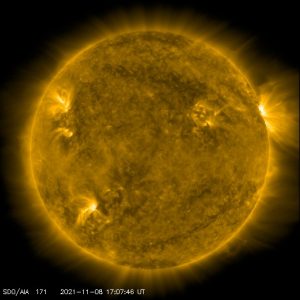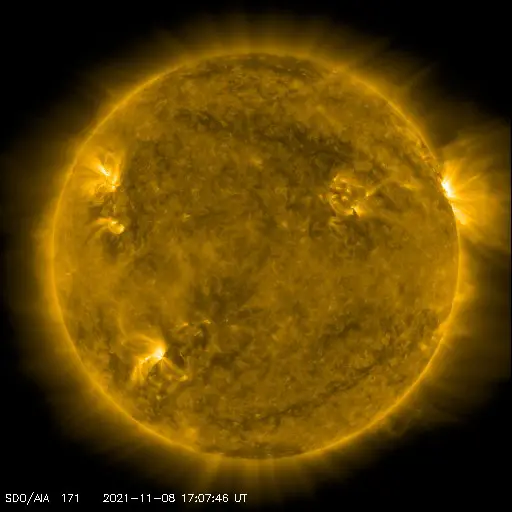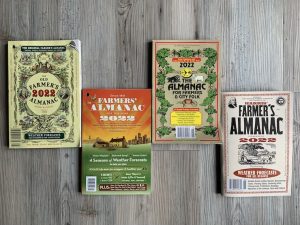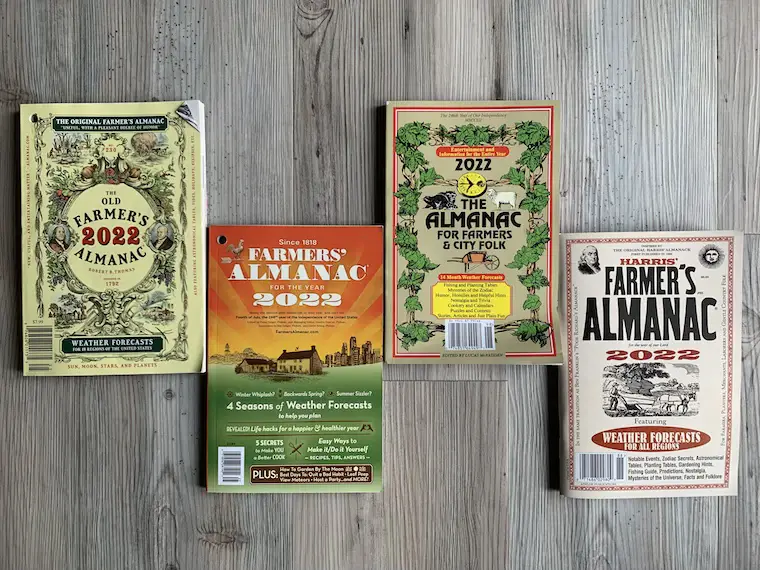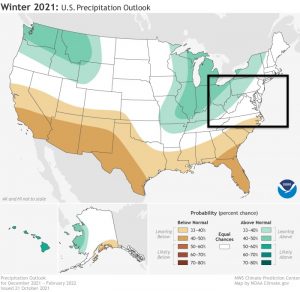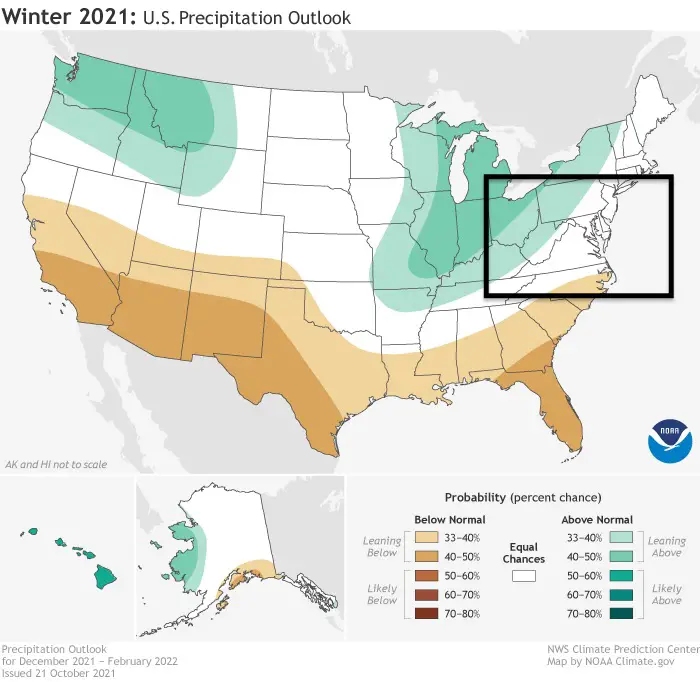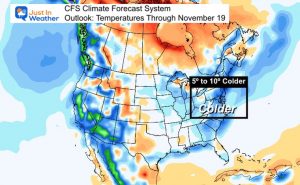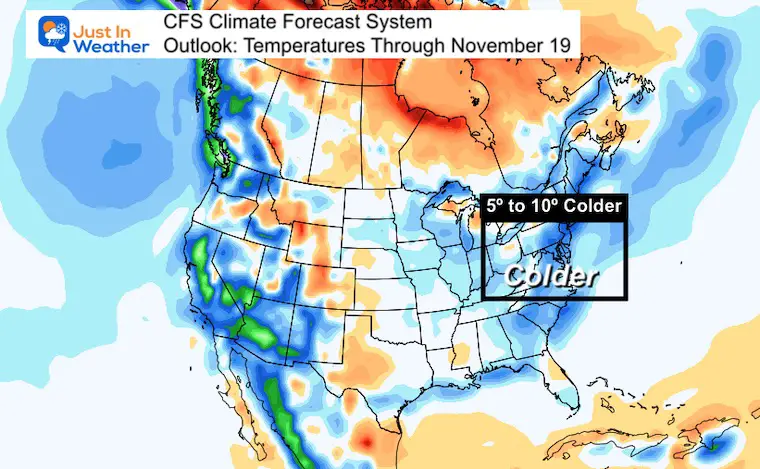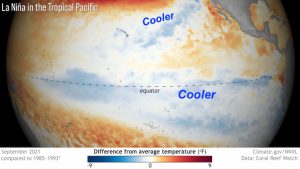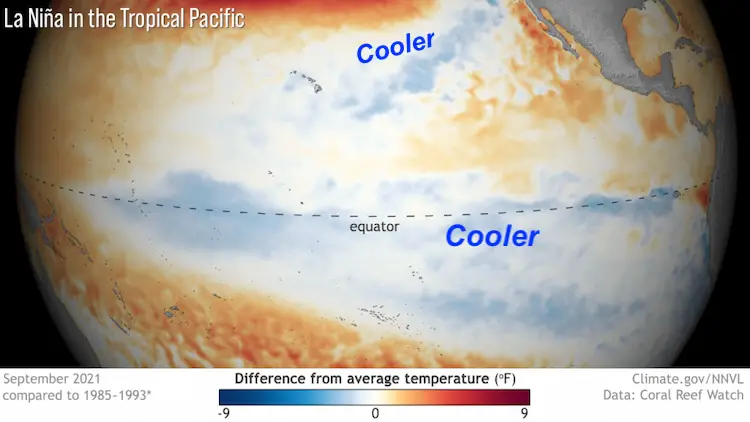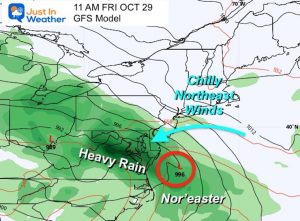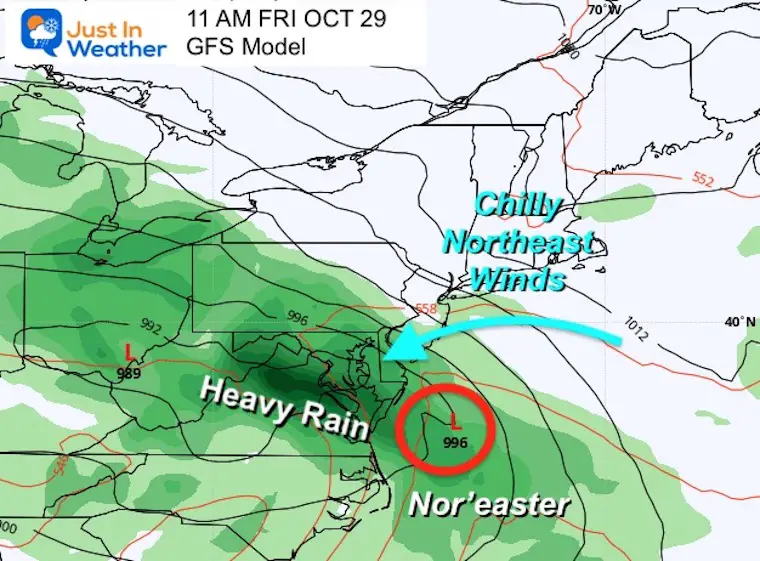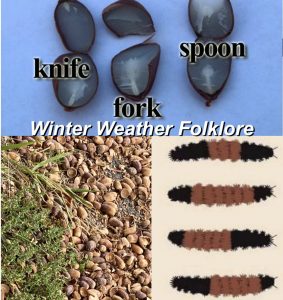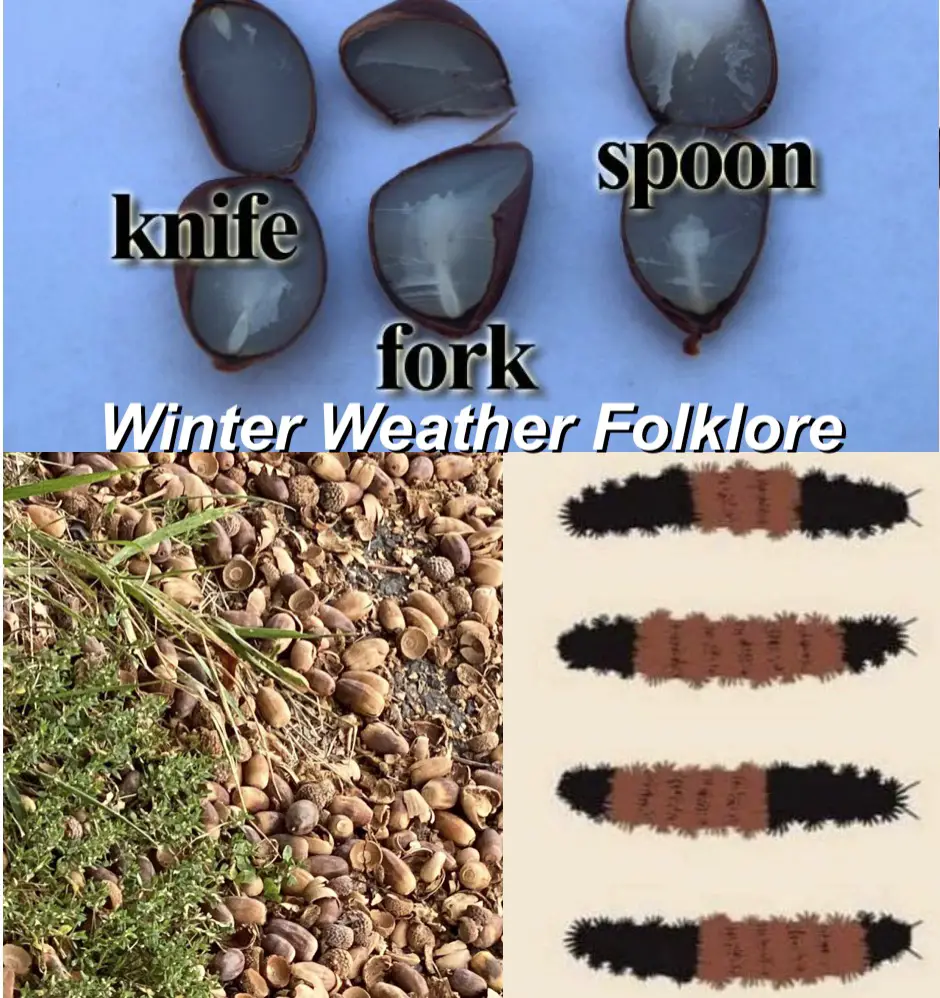 Please share your thoughts, best weather pics/video, or just keep in touch via social media