Tracking The Winter Storm This Weekend In Phases
Coastal Storm
Outlook
Winter Weather
Forecast
Justin Berk
Jan 13, 2022
8:37 pm
0
Thursday January 13 Evening Update
The complication with this weekend winter storm is something I have been trying to break down in simplest form. I see the storm in parts, and each one will help us compare to model plots for the progress in direction and eventual track into our region. 
Once we get into Friday, the storm will take form in the Northern US and be 'on the grid'. That is when the accuracy of the modeling will improve dramatically. Then we will watch for keep locations along the way that will give hints on the eventual impact on us.
The good news is that there is already better agreement, but I still see some wiggle room downstream, which could still adjust the tack enough for some of our region to adjust snow expectations. 
Plan for this:
Saturday will be VERY COLD! Highs in the 20s or colder.
Sunday: Snow arriving for most during the afternoon into the evening.

 

Sunday Night to Monday: Heavy snow, ice, and rain. Where and when it changes, let's explore below.
UPDATE FRIDAY MORNING
Click to View: Storm On The Map: First Winter Storm Watches Issued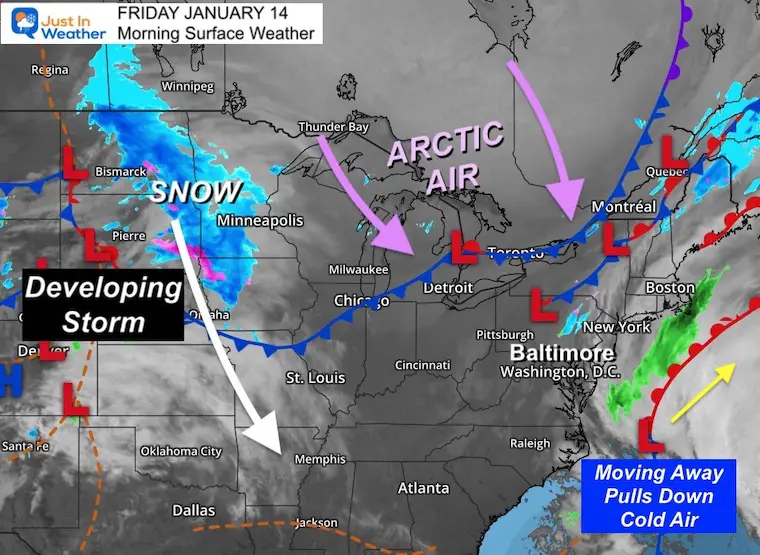 Friday Afternoon
On the Grid:
Band of snow will be spreading southward across Minnesota and Iow.  We may see the Low Pressure central showing up. 
Computer guidance should initialize better and fine tune the rest of the track and timing.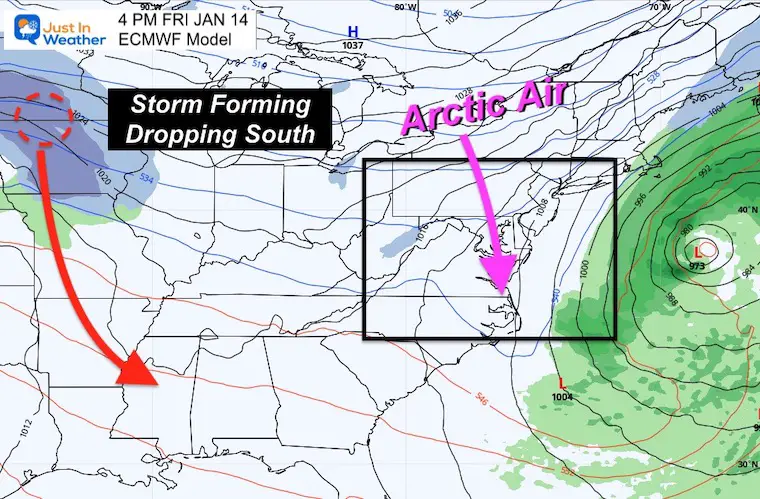 Animation through Sunday Morning (7 AM)
The track of this snow heaven southward is on the back side of the jet stream trough…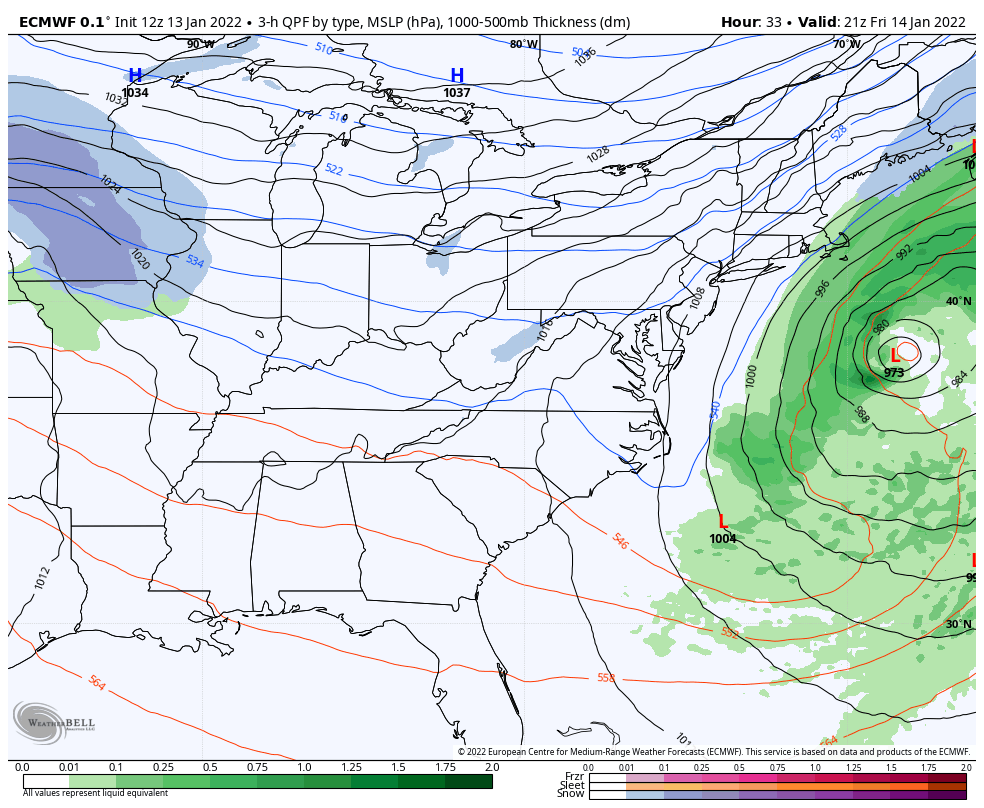 Snapshot: Sunday Morning at 7 AM
Turning the Corner
This is when the Low Pressure rounds the base of the trough and moves to the east. 
Where this is located will help determine how much moisture it picks up. That will also be make or break for snow and ice tracking into the Southeast.
We can compare the location of this phase to models for which is most accurate and trustworthy going forward.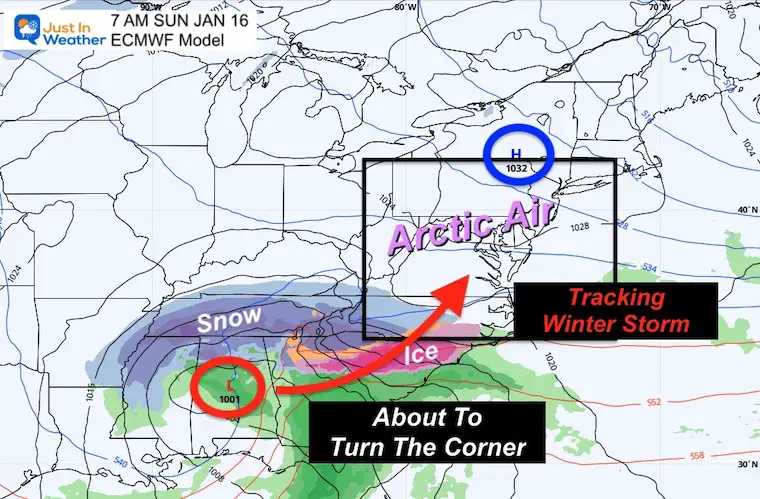 Sunday Morning Temperatures
Arctic air will in place deep into the Southeast US. 
Temps for our region in the teens or single digits.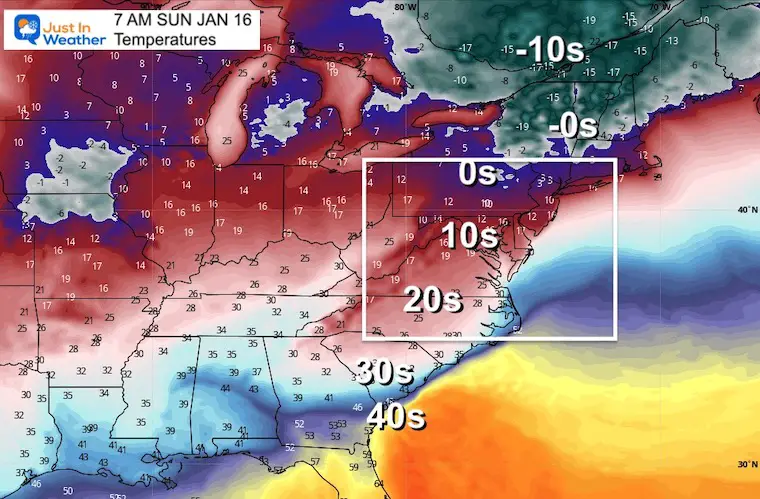 Animation Sunday Morning 7 AM to Monday Evening To 10 PM
Moving up the Coast
This is when the storm turns the corner up the east coast. 
That is when the path of the Low should be more obvious.
This is what will determine precise track of the Low Pressure, which in turn will set up who gets all snow, ice, or change to rain.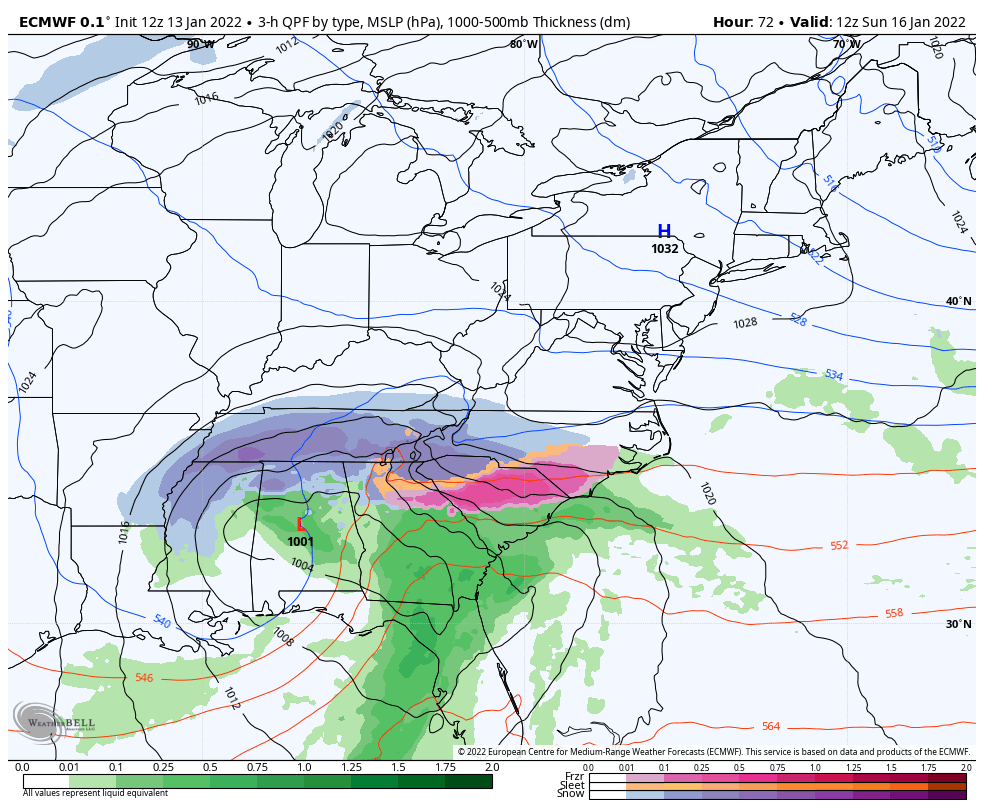 Closer Look Sunday Morning
Arrows indicate the wind direction with the cold air and snow zone. 
This refines the track but still can have a buffer of 50 to 100 miles west or east that can make or break a snow forecast.
European Model:
This time period there is time some uncertainty with how the Low behaves. 
1 AM – Low in the southern Chesapeake Bay…
Warmer air wraps into the center, so the snow shield will be farther north and west.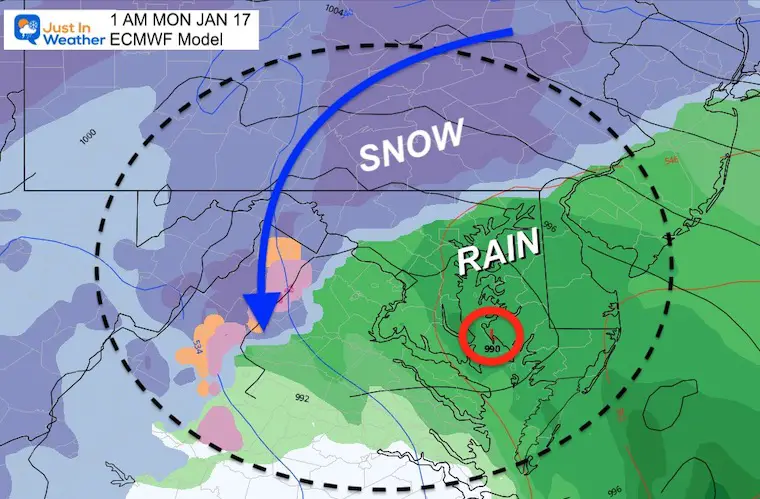 4 AM- This plots the Low pulling Northwest briefly. This is subject to change, and that could truly change the snow total or icing for much of metro areas if this tracks north northeast instead.
Notice the snow line 'near' Hagerstown and Harrisburg.
This is in the B Zone in my Expectations Map below.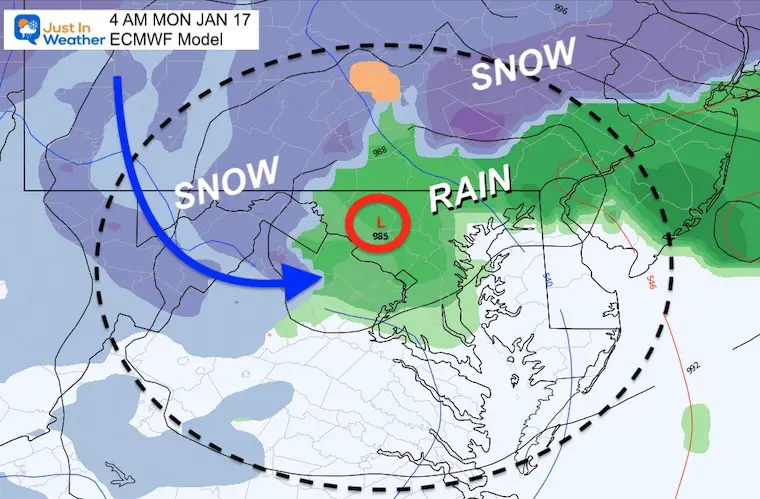 GFS Model at 4 AM
This is a little faster and 50 miles farther east with the Low.
Here the snow is sill into Frederick, Westminster, and York/Lancaster.  This plot suggests it then stays in the comma head and cold wrap around.
This is in the B Zone in my Expectations Map below.
That subtle track adjustment still could result in a big difference in the location in the snow and ice longer.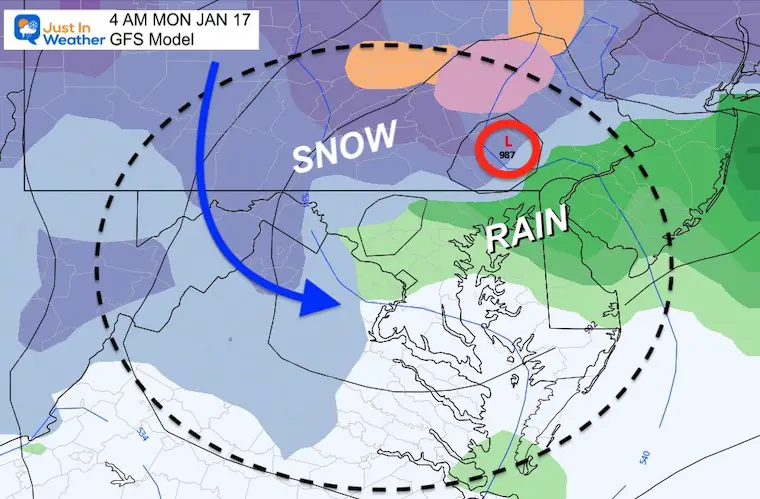 My Storm Expectations
If you missed it earlier. More details will come into form on Friday.
*See the Jet Stream Outlook Below.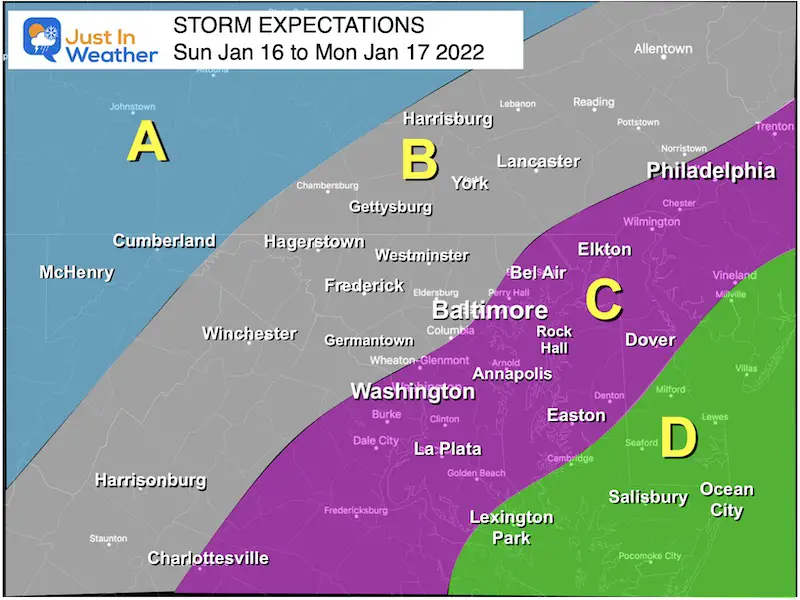 Regions
A:
Most likely all snow. Totals where that happens can easily be over 10 inches.
B:
Colder with more snow and sleet for longer.
Moderate totals until change over. Impact Sunday evening and night.
Still potential to mix to rain overnight.
Transition region! Slight change in track will determine a lot more or less snow.
C:
Starts as snow Sunday afternoon to evening. Faster Change over to rain, perhaps by midnight.
Rain Monday morning, may end with some snow showers.
D:
Most likely all rain and strong winds.
Jet Stream Outlook
Want more winter? Check this out.. 
Tracking the upper level air flow for 8 days to the following Monday Jan 24 (more confidence with jet stream out that far)
We have progressive surges of cold air. This is thanks to what may be an elongated dislodged Polar Vortex.

 

There will be more troughs and likely more winter storms in our future.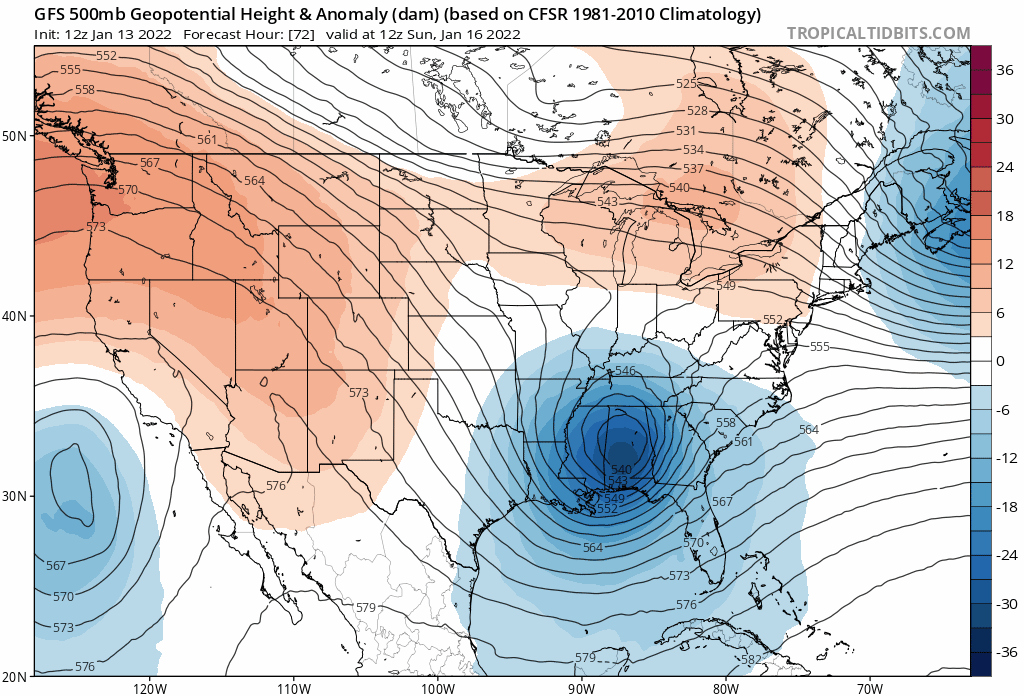 Welcome to the Winter Pattern that is NOT LIKE La Niña I wrote about in my seasonal outlook. 
Isn't it fun?
Faith in the Flakes.
Weather posts straight to your inbox
Sign up and be the first to know!
ALSO SEE
ALL FITF GEAR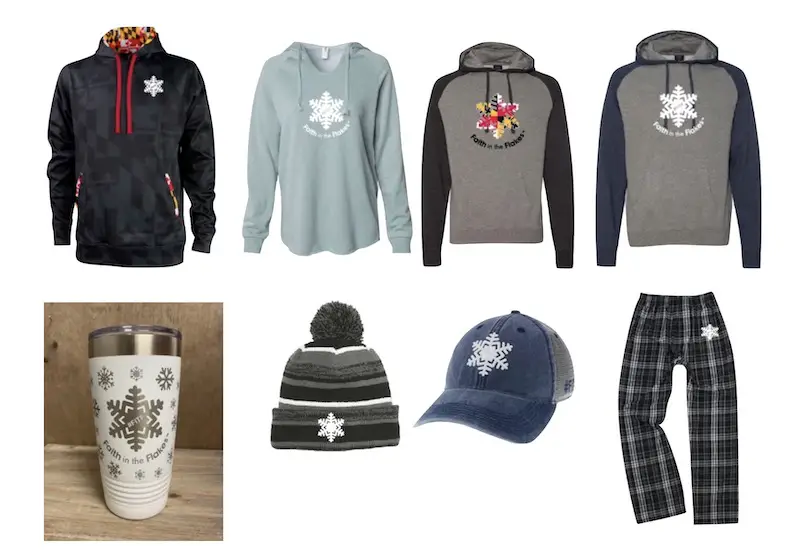 FITF THUNDERSNOW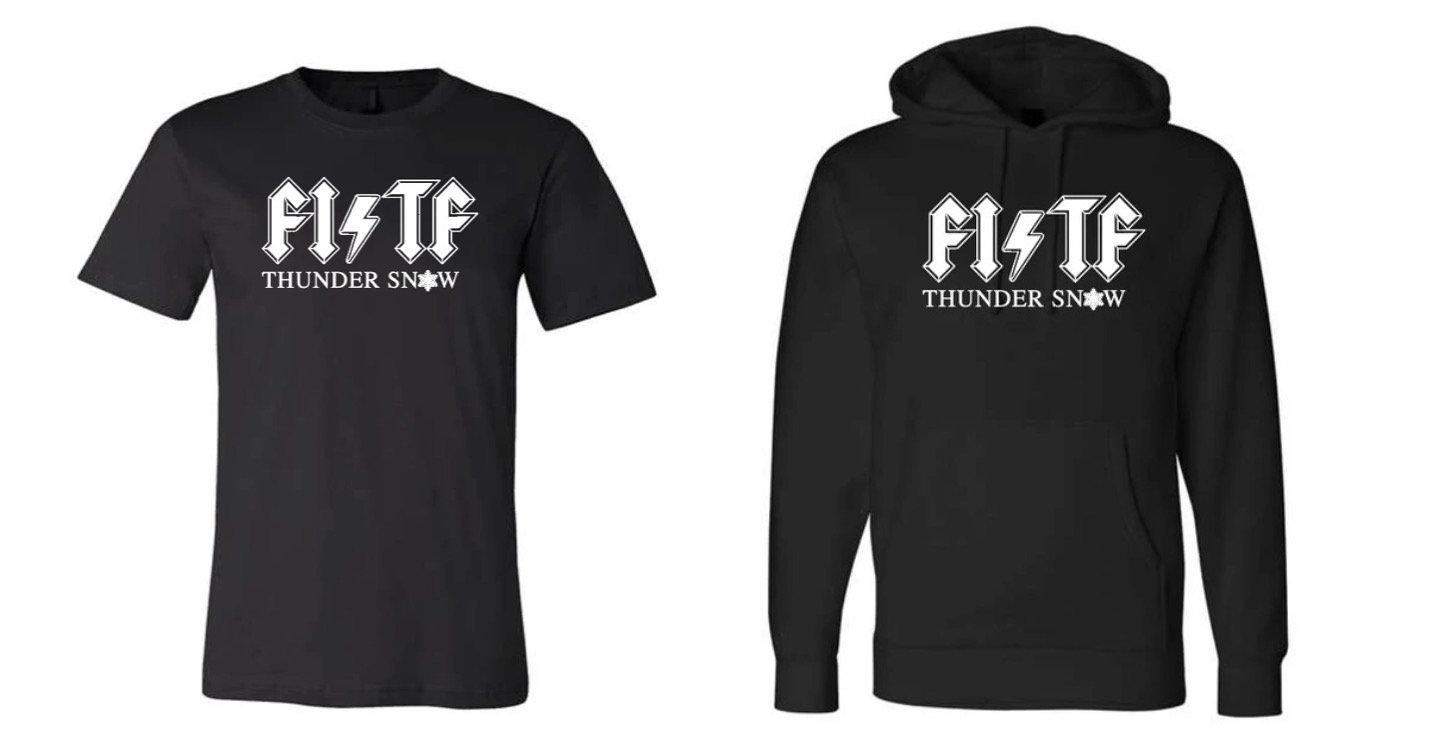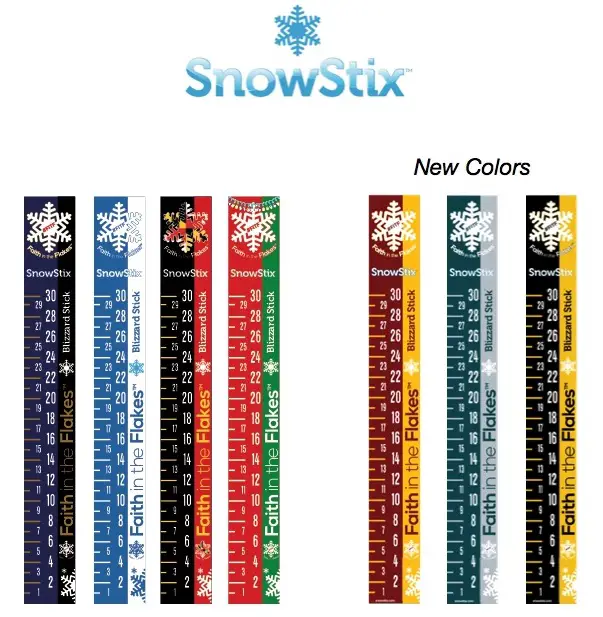 Winter Outlook Series: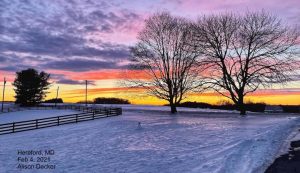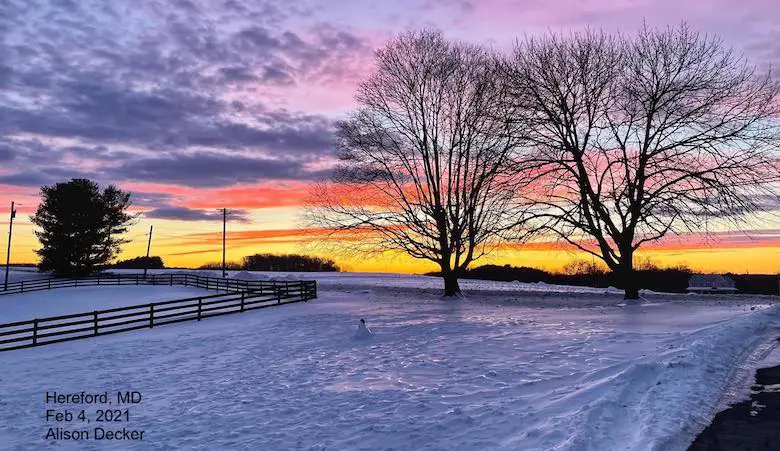 Last Winter Recap: My Old Outlook And Your Grades Of My Storm Forecasts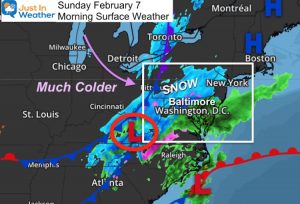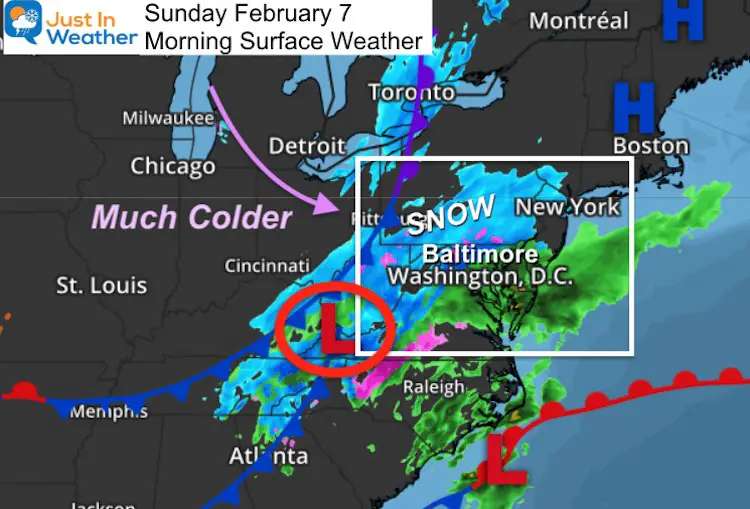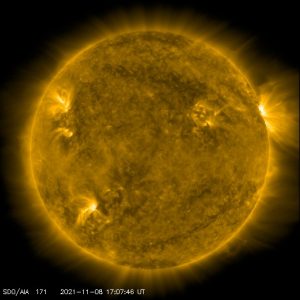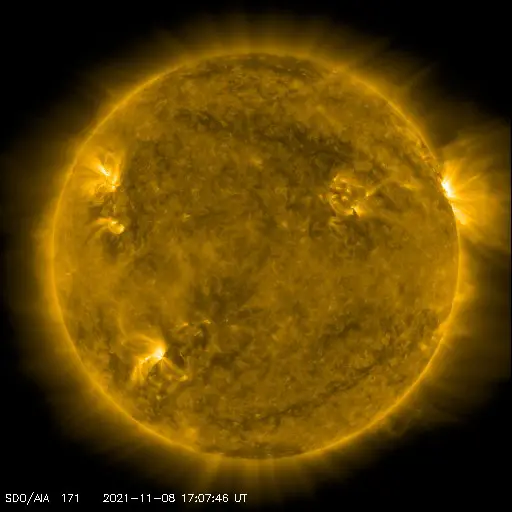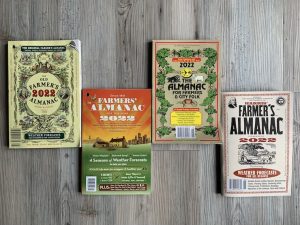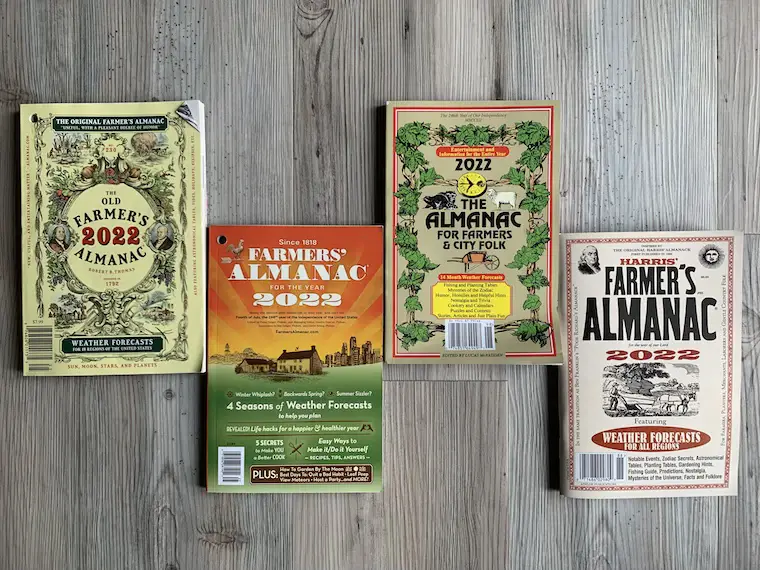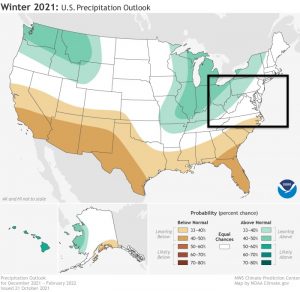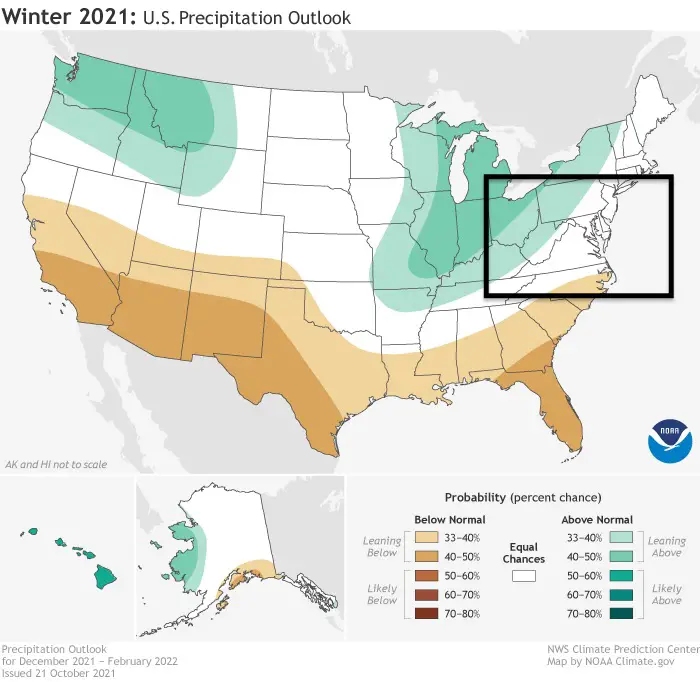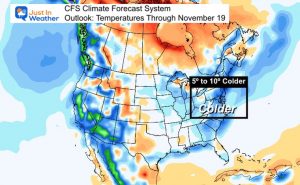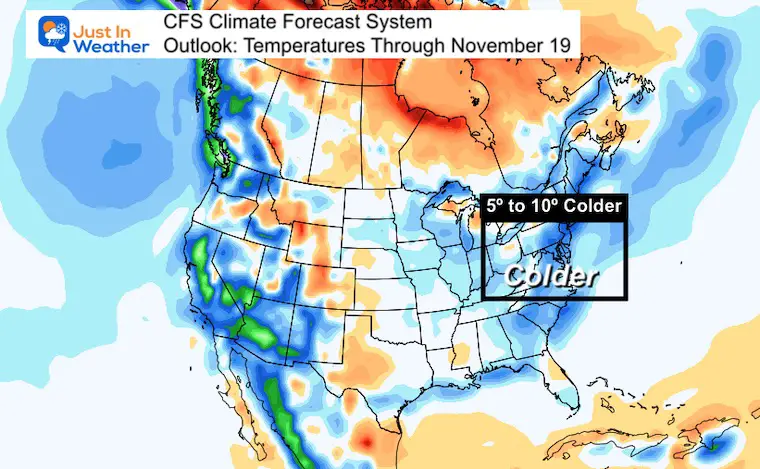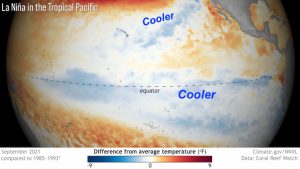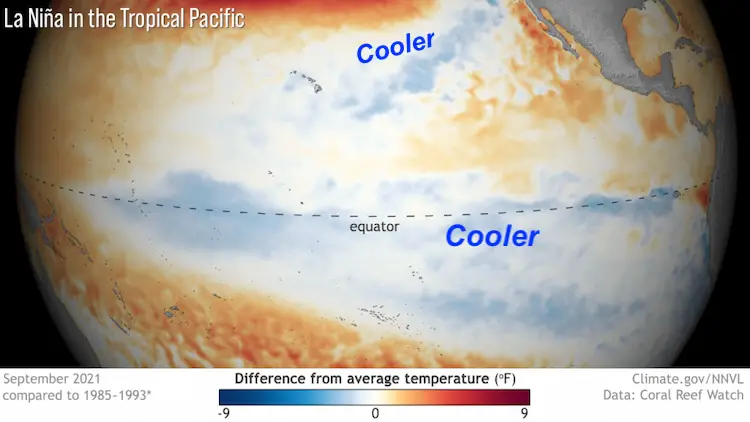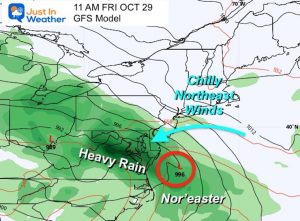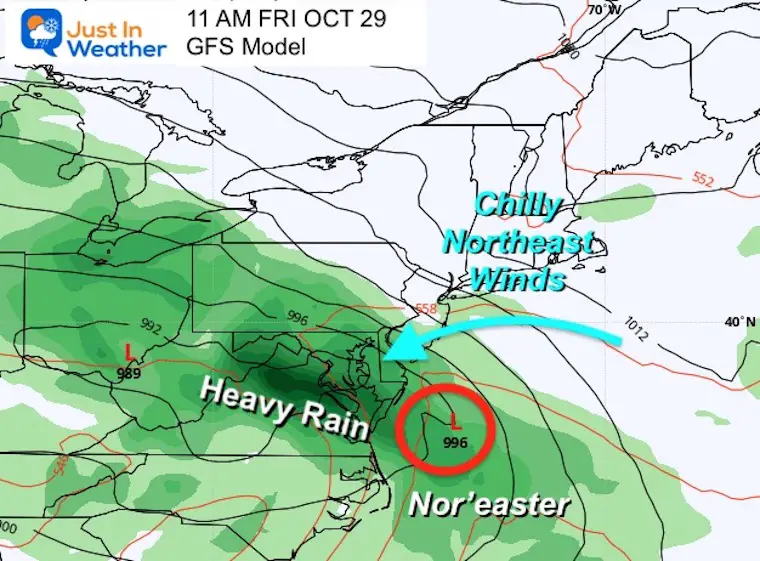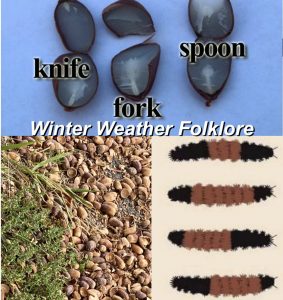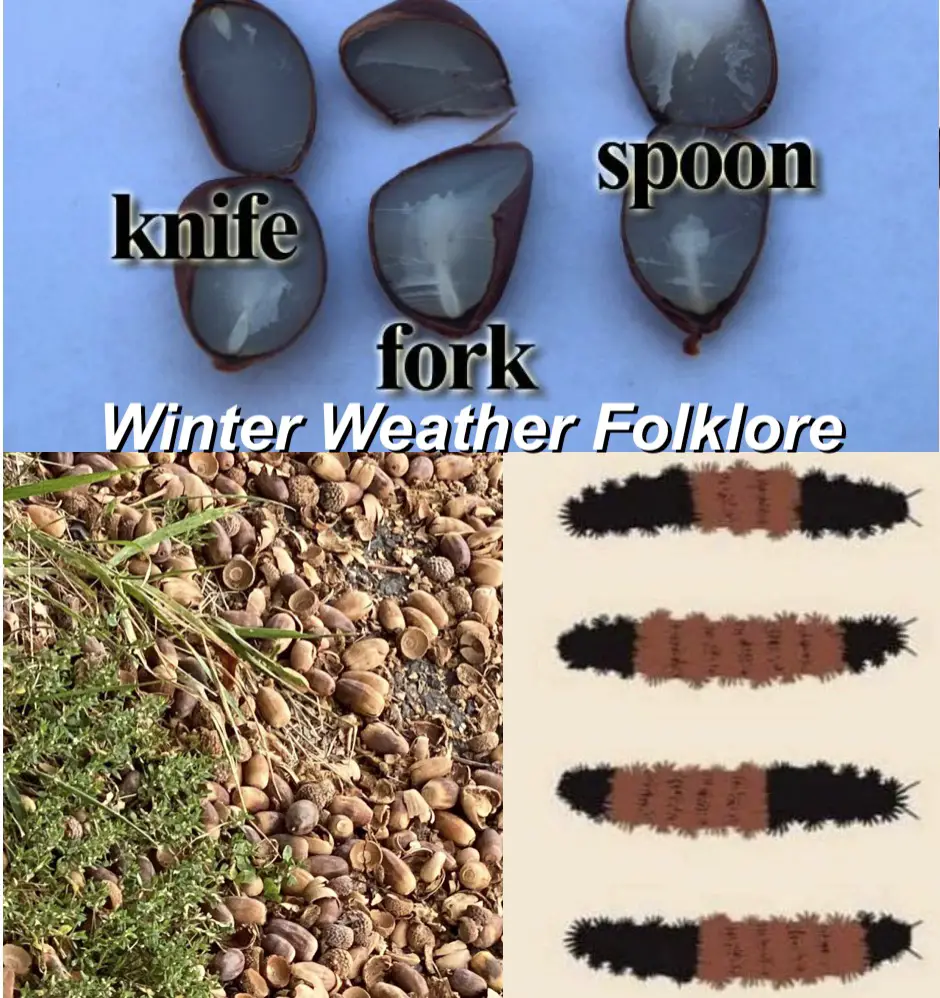 Please share your thoughts, best weather pics/video, or just keep in touch via social media