January 13 Weather Setting Up The Winter Storm Arriving Sunday
National Weather Service
Outlook
Winter Weather
Forecast
Justin Berk
Jan 13, 2022
6:09 am
0
Thursday January 13 2022
The next two days will be mild by January standards. This weekend however a lot will change. Arctic air will move in Saturday and set the stage for a storm with explosive development on Sunday. 
Please note that the storm has not even formed yet. So the precise location of where it takes shape may help then determine the precise track. 
As it looks now, there is high confidence in the start of this event mostly with snow.   Then the details get sketchy, and the snow/rain line will be the make or break with totals and impact into Monday. More on that storm below.
Morning Set Up
Surface Weather
It's cold this morning and will be mild this afternoon. Snow showers are moving across central PA to New York.
Arctic air is building in Canada and waiting to move our way by Saturday.
The expected snowstorm has not even formed, so not on this map. There are maps showing it below.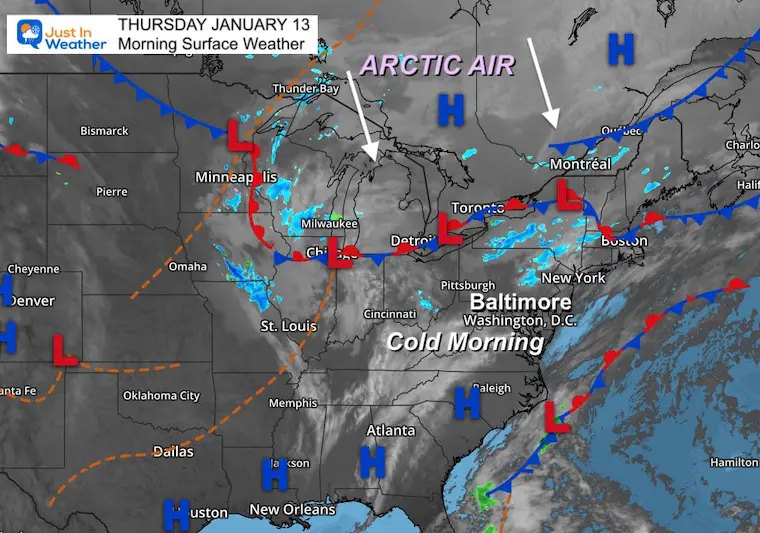 Temperatures
Almost uniform: Seasonal mid to upper 20s in much of the region.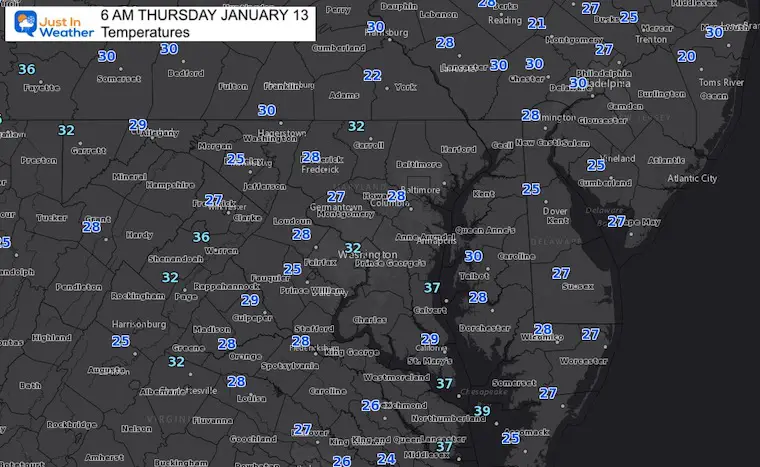 Afternoon Temperatures
Temps will thaw for most of the region into the upper 30s to mid 40s.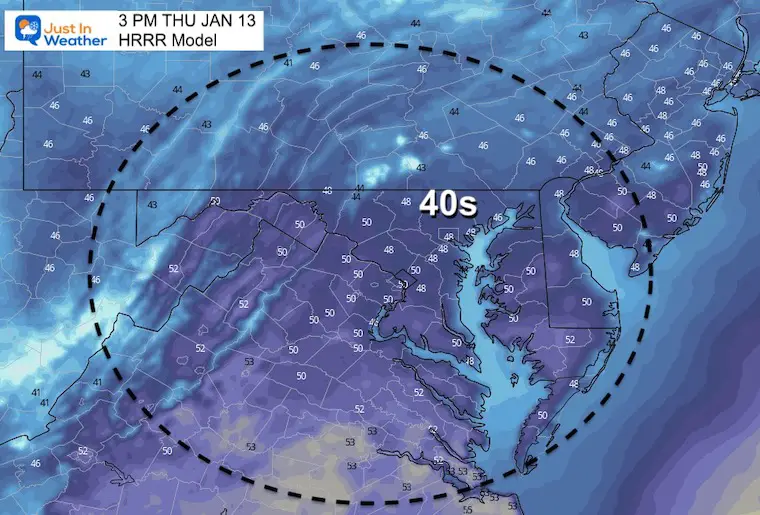 Weather Almanac: Climate Data
TODAY January 13
Normal Low in Baltimore:  24ºF
Record 0ºF in 1981
Normal High in Baltimore: 41ºF
Record 76ºF 1932
Friday Temperatures
Morning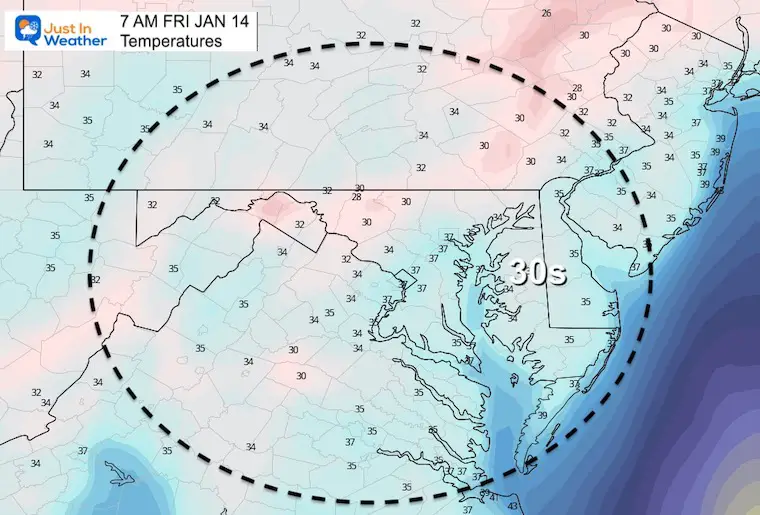 Afternoon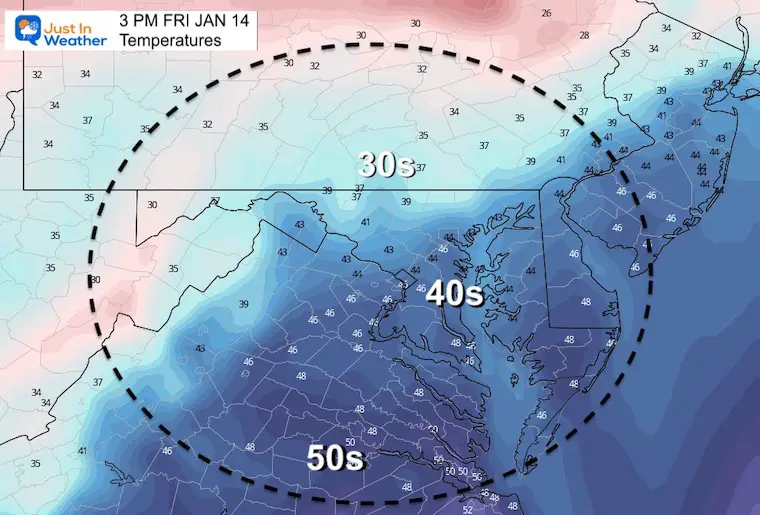 Looking Ahead: Winter Storm
Saturday Set Up
Arctic air will spread down the eastern seaboard. This is the kind of air mass that will keep afternoon highs in the 20s for much of central Maryland. 
Jet Stream: 500mb Vorticity
Saturday afternoon to Monday morning.
I like this display to show the rapid spin up in the upper levels (18,000 Ft). 
Watch the storm drop south from North Dakota to The Gulf Coast States, the 'turn the corner' up the east coast. 
That is part of a deeply amplified trough. That 'turn' is what will help increase the spin up and rapid development of the surface storm.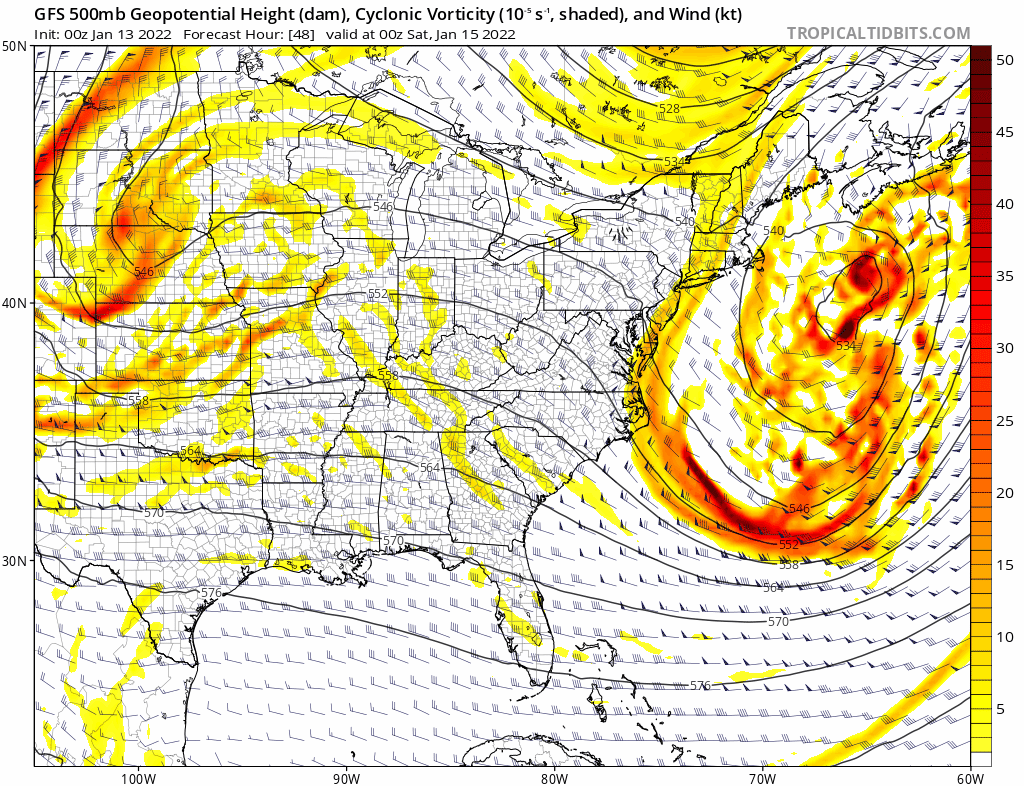 Saturday Surface Weather
This storm has not formed yet. So the location of where this is on Saturday will help determine the rest of the trip. 
A change of 50 to 100 miles for this on Saturday, can make or break a difference of 1 inch of rain or 10+ inches of snow on Sunday.
Yes, there will be the much snow in areas that remain all snow in this event.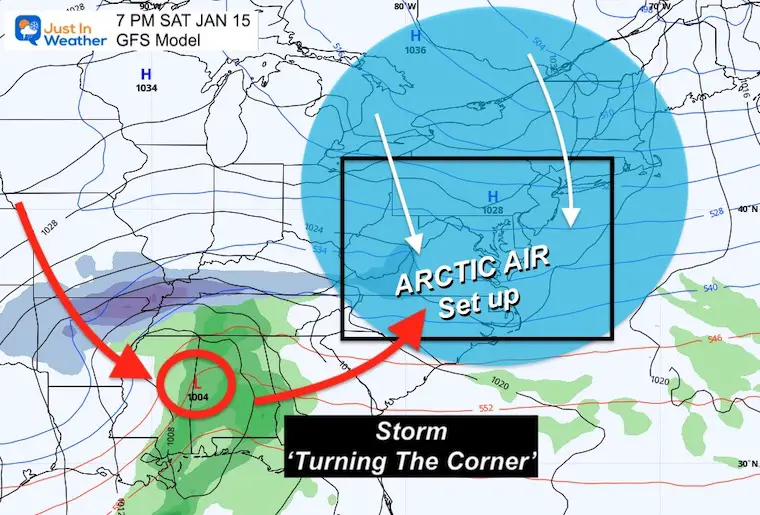 GFS Model Animation:
This is just one solution and I am only showing it to help display the overall development. Please DO NOT expect this to remain the same with each update.  Starting this afternoon I will being to get more detailed with the trends.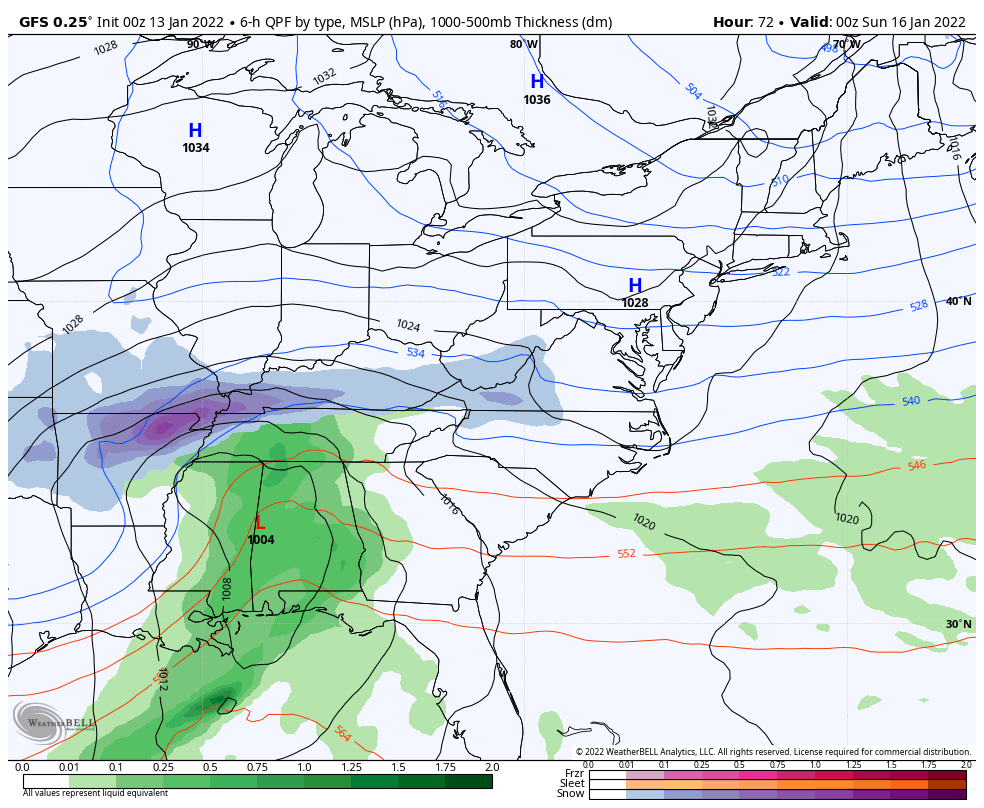 Model Comparison
Then good thing is that the GFS and European Models are in more agreement.  Yes, there are other models that may show more snow at this time, but I see that as confirmation bias at this time. That is not my goal despite how much I love snow. 
I did not do updates most of yesterday. If I had, there could have been a display of a lot of snow.  The overnight models actually have cut the snow potential for Baltimore in half!  I do expect there will be more fluctuation, which I why I am not showing snow totals yet. 
Sunday Night
High Confidence: Most of our region will start with snow. Timing will be Sunday afternoon to evening for first flakes. Eastern Shore/beaches may be rain.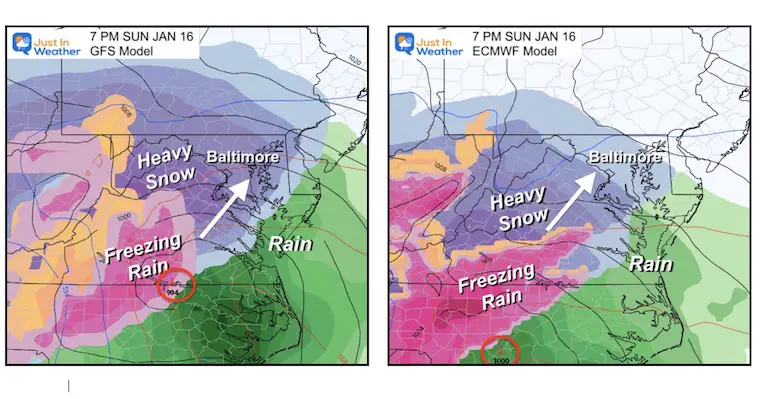 Monday Morning
Both main models bring Low Pressure through Baltimore and York/Harrisburg. This inland track would turn most areas to rain east of I-81. Even the GFS that shows snow here at the end, is posting rain overnight.
Heavy snow remains west and north.  
*A simple shift east of 50 to 100 miles in track would double snow total potential.
*I still expect this to change and will highlight in each update.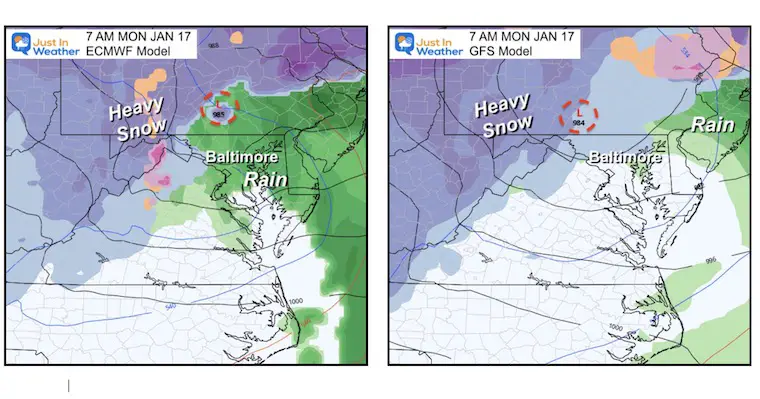 National Weather Service Storm Expectations
Sunday Evening To Monday Morning
This is actual a great display just focusing on the overall impact. Here is a look from the NWS Office for Baltimore/Washington and State College/Central PA
Legend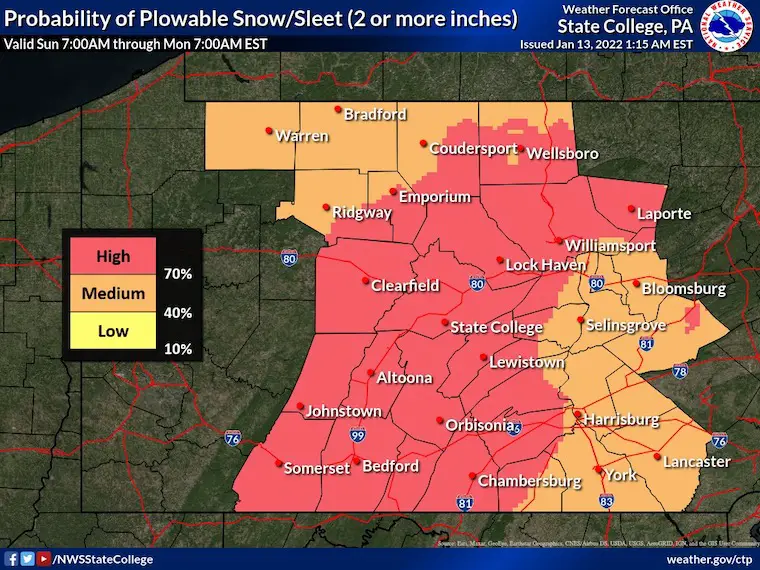 7 Day Forecast
Weather posts straight to your inbox
Sign up and be the first to know!
ALSO SEE
ALL FITF GEAR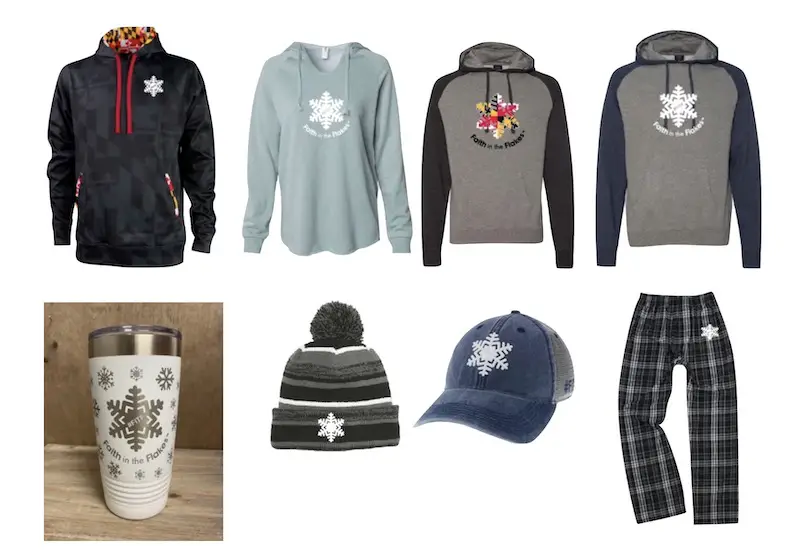 FITF THUNDERSNOW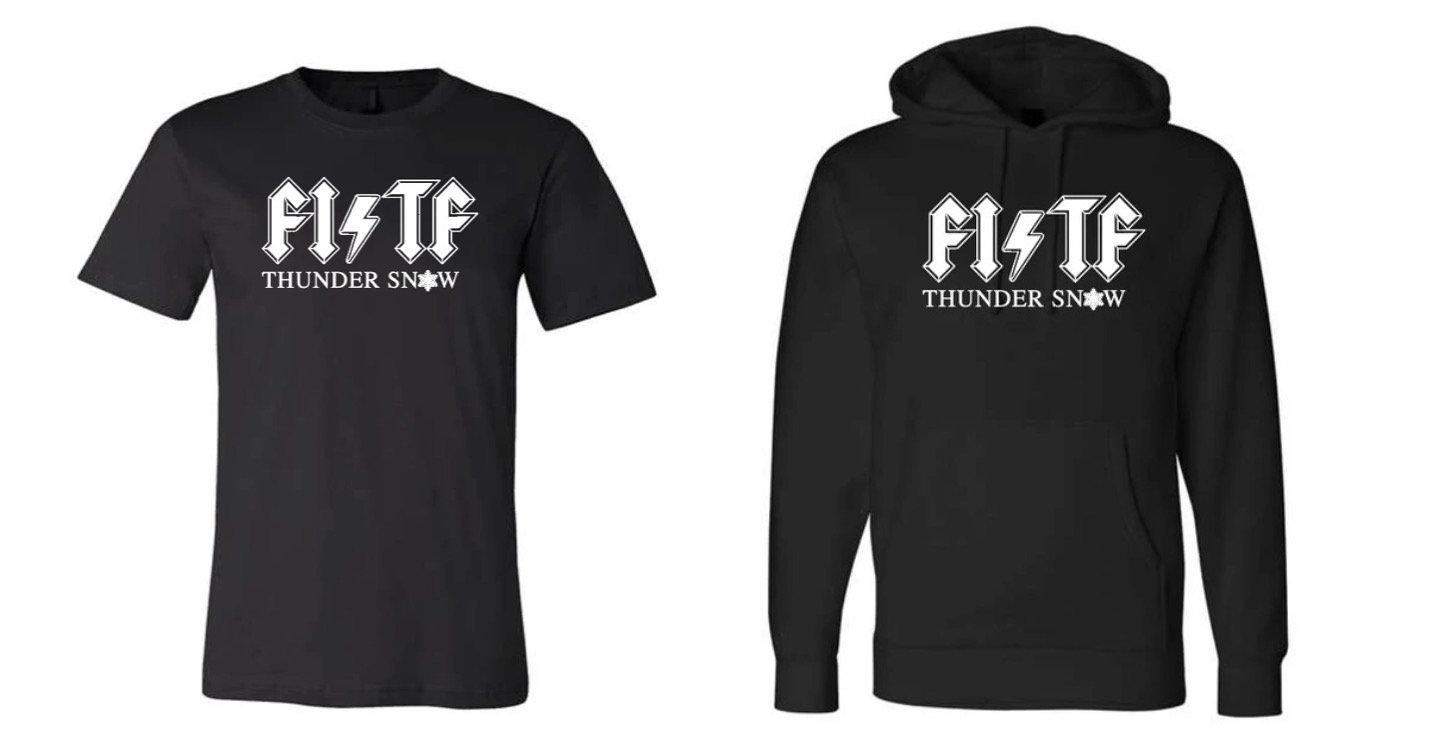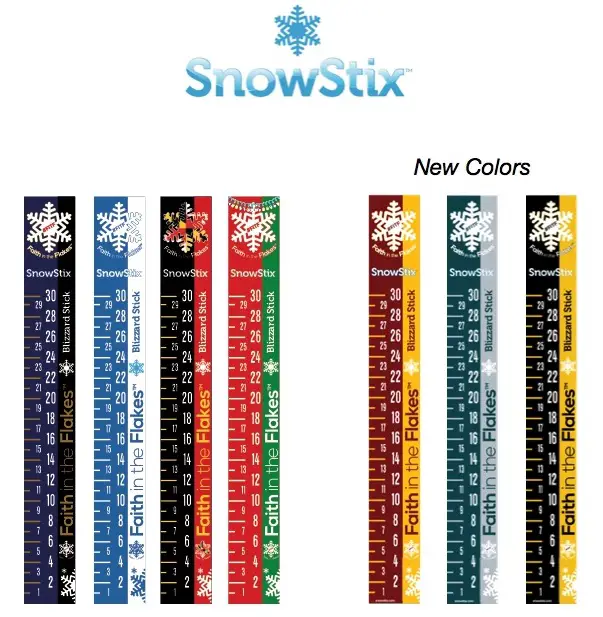 Winter Outlook Series: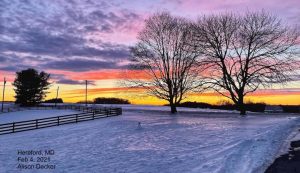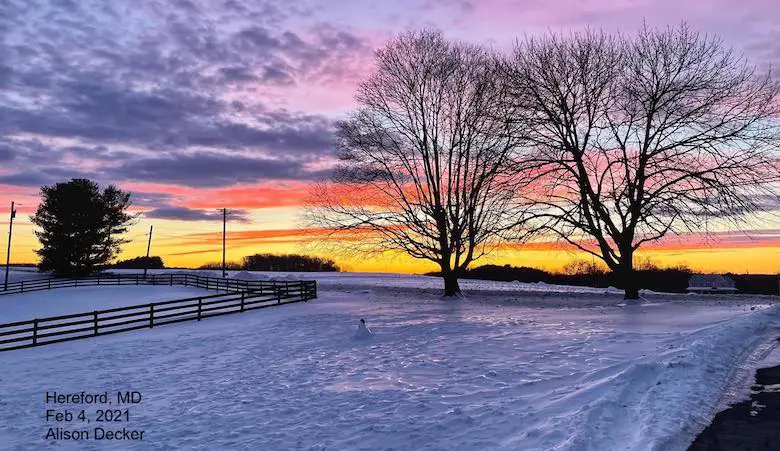 Last Winter Recap: My Old Outlook And Your Grades Of My Storm Forecasts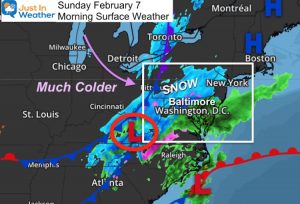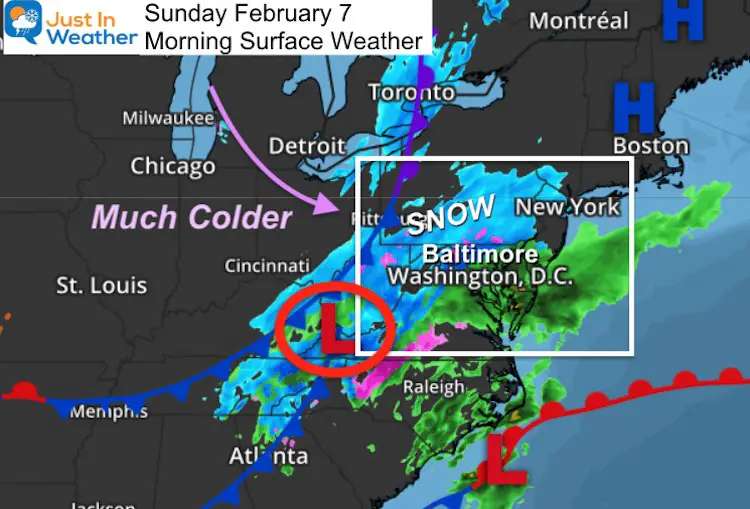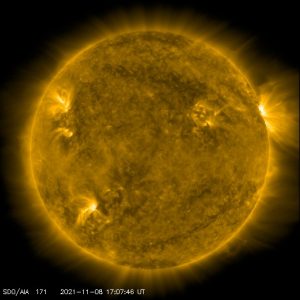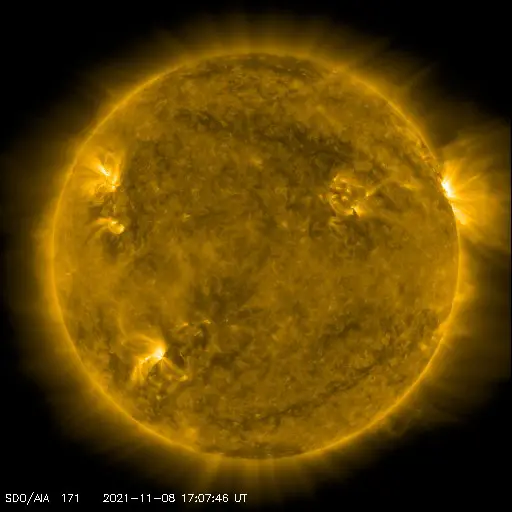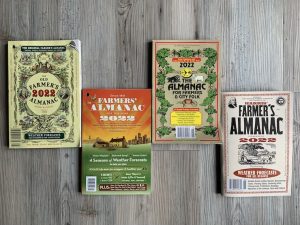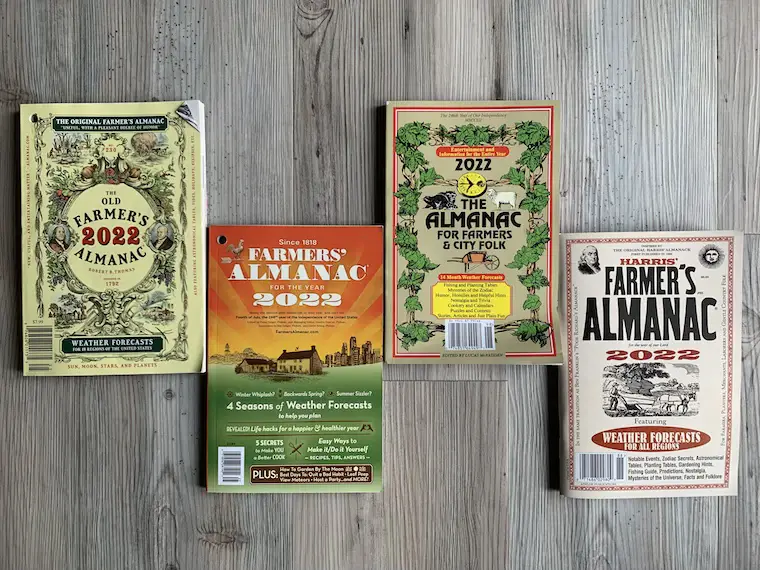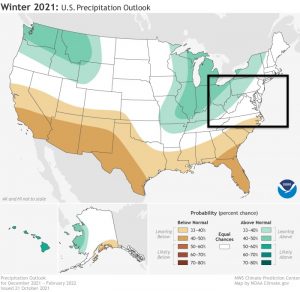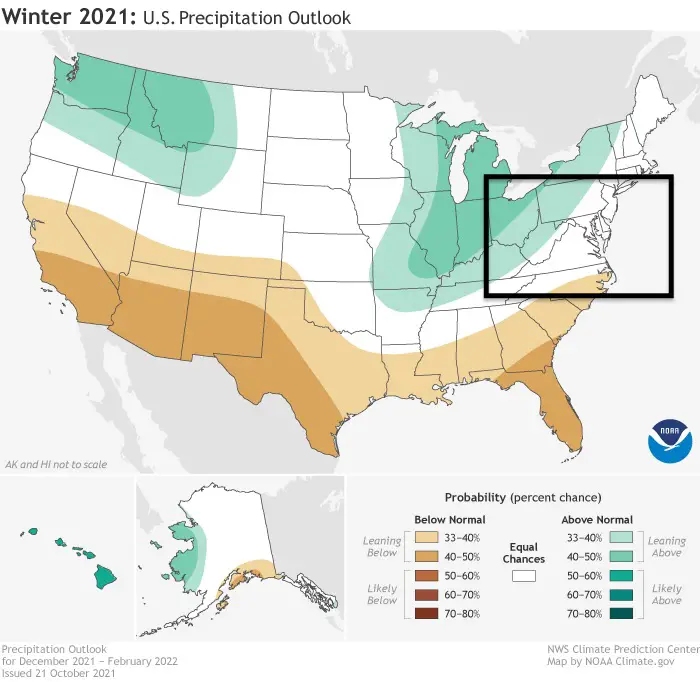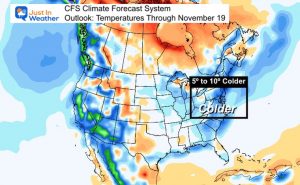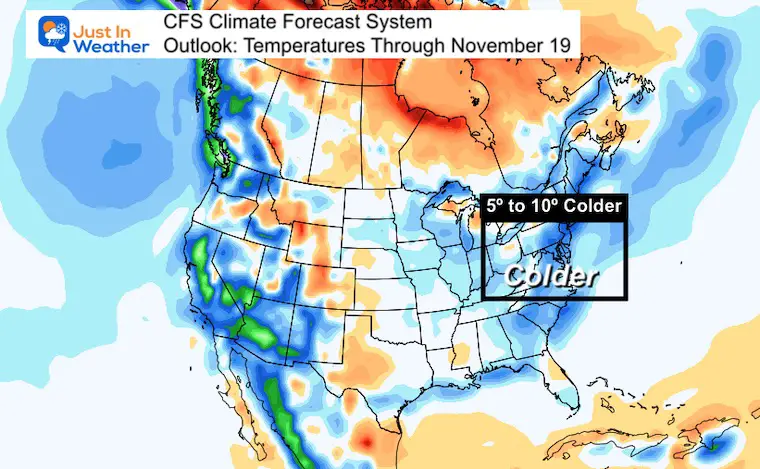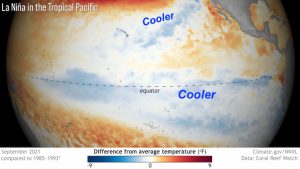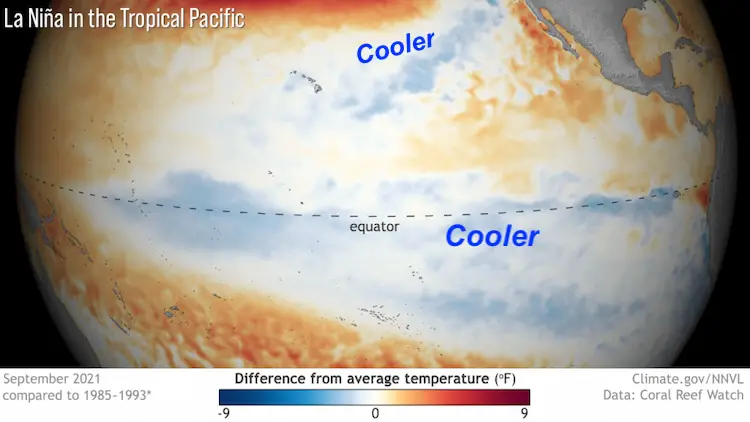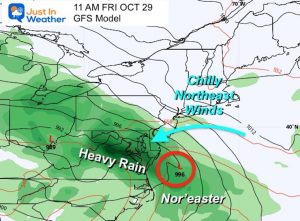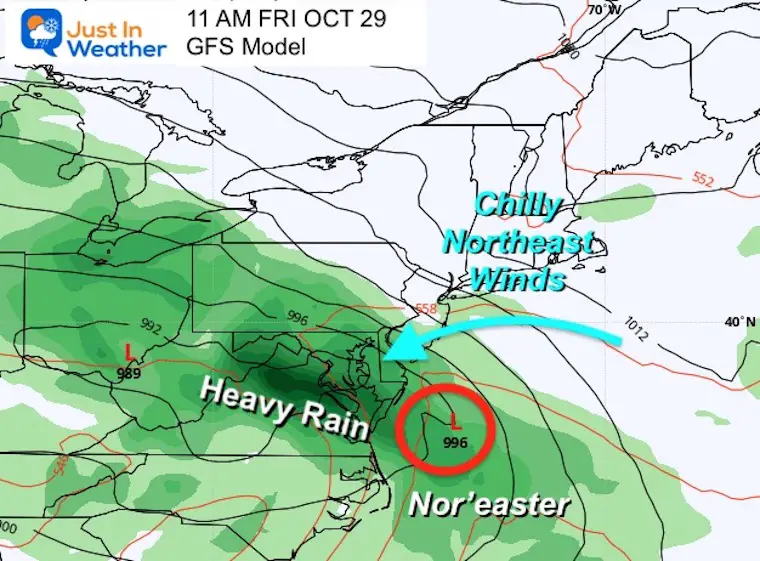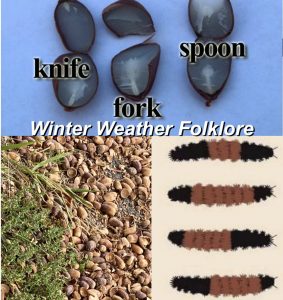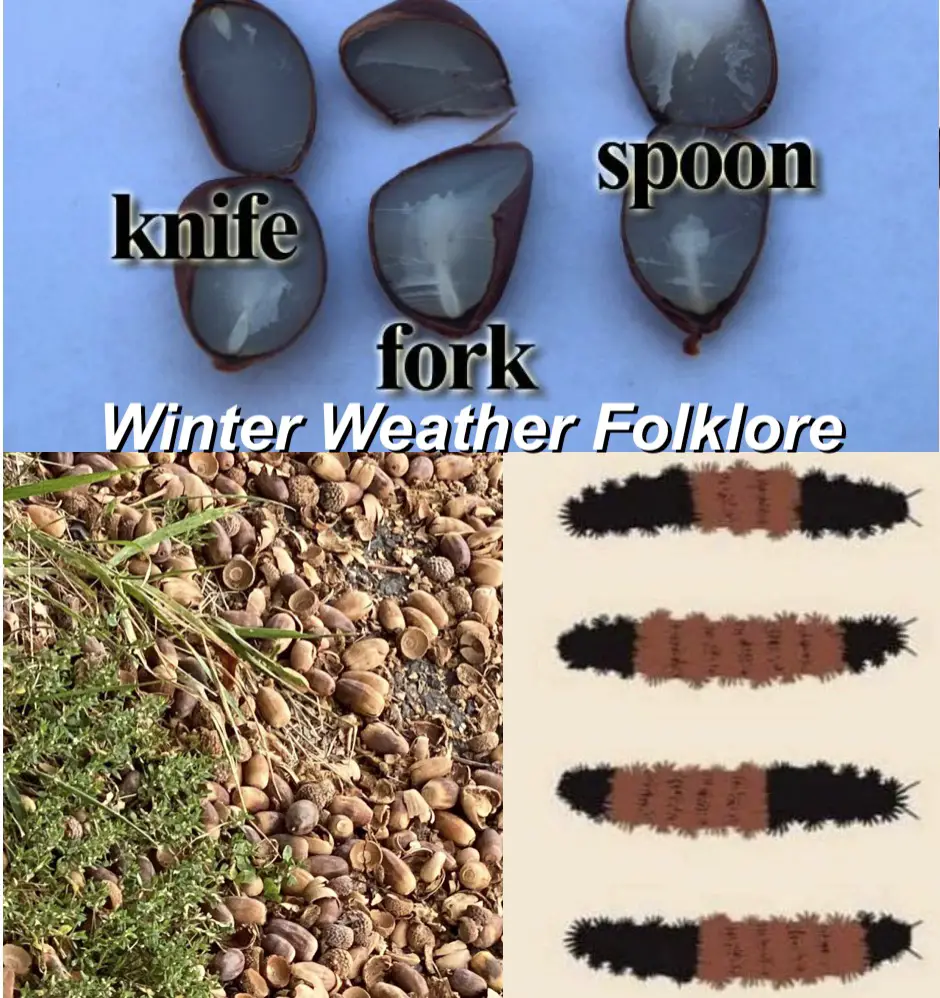 Please share your thoughts, best weather pics/video, or just keep in touch via social media