Winter Pattern Most Of January And What It May Mean For Snow
Polar Vortex
Outlook
Winter Weather
Justin Berk
Jan 10, 2022
8:12 pm
0
Monday January 10 2022
Some of the coldest air of the season is moving into the Eastern US now, and it is just the beginning of classic winter weather.   The pattern is becoming more progressively cold.
It may very well be doing what I suggested in my Winter Outlook. We are breaking out of typical La Niña with global support. That will increase our chance for cold and maybe snow. 
Backward Trajectory Plot
If you missed my afternoon post on social media, I want to start off with this new toy. I ran the simulation to show the air in place over Baltimore Monday afternoon backwards 84 hours. That shows it began in far Northwestern Canada on Friday morning.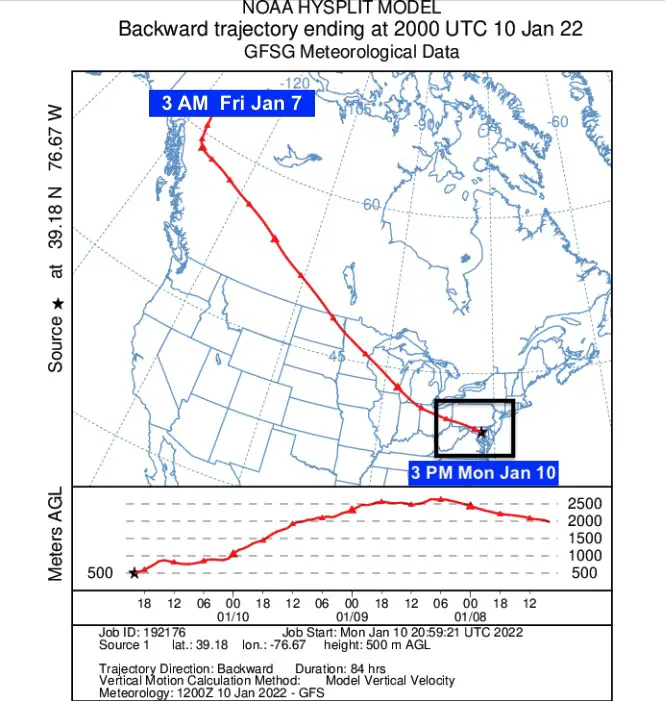 Monday Evening Temperatures 
There is plenty of Arctic Air to our north waiting to be tapped.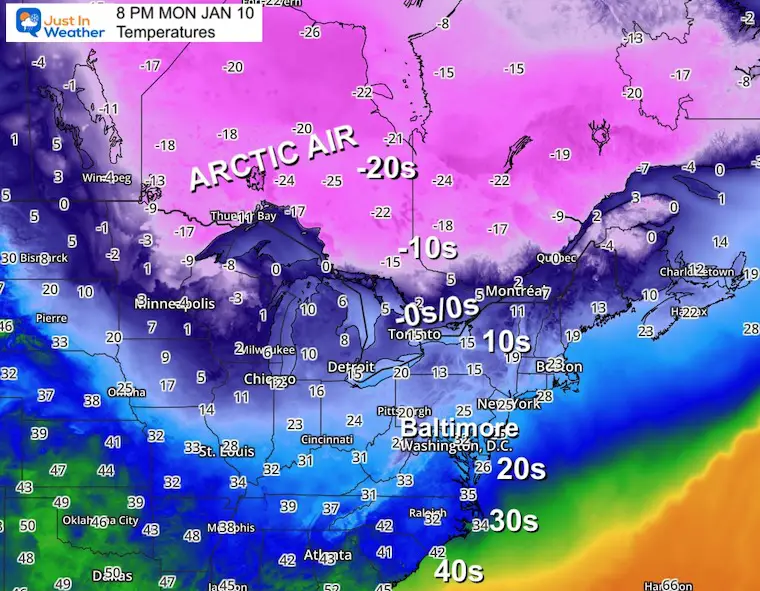 Jet Stream:
Now let's look ahead in the long range to NEXT Thursday morning,  January 20. 
I have often said I DO NOT trust ling range modeling, but that is referring to surface storms. I still stand by that. But on a global scale with the air aloft, there is more reliability for patterns.
This 500mb plot is around 18,000 Ft above the ground. 
Cold air/Lower Heights are showing in blue, with extremely cold soon in shades of green.
This 240 Hour projection is designed to show one thing: The trend of cold air constant and persistent in the eastern US.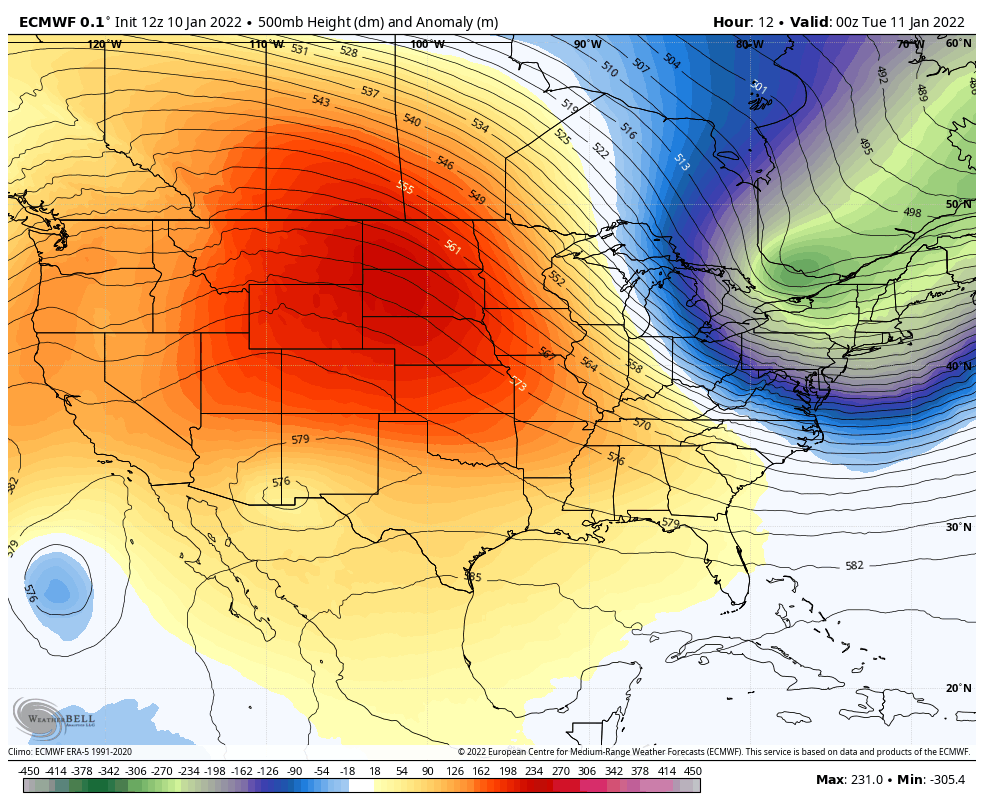 Snapshot: NEXT MONDAY: JANUARY 17
There is the dislodging of the Polar Vortex SOUTH OF HUDSON BAY, into eastern Canada. The elongation high amplitude trough will allow even colder arctic air to reach us then.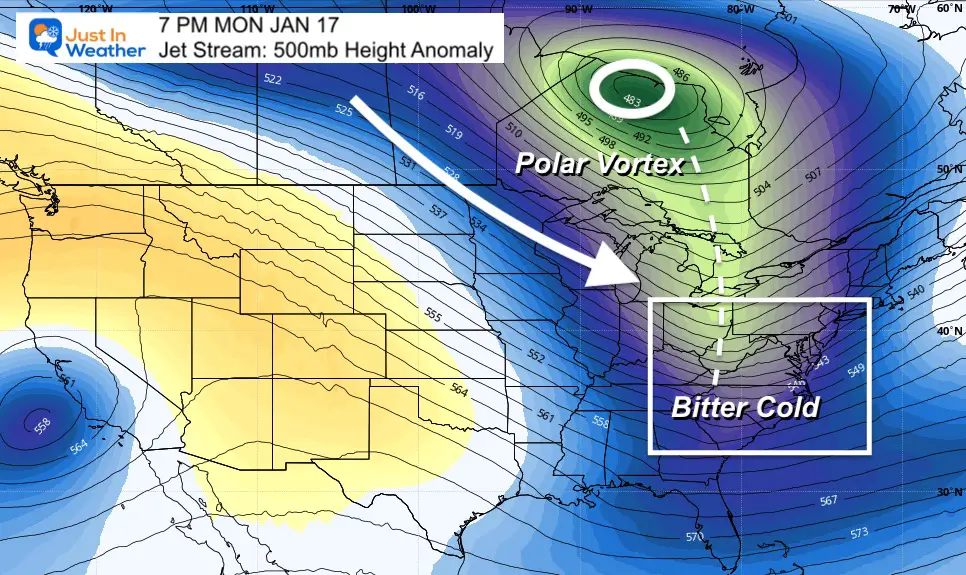 Good Company:
Our friend Dr. Judah Cohen issued these two tweets that have many snow lovers excited for the weeks ahead. 
1/ As I write today's blog, the predictions for the mid-tropospheric circulation with increasing high latitude blocking especially near Alaska & deepening troughing in eastern N America could potentially yield the most active mid-winter pattern in the Eastern US since 2014 & 2015 pic.twitter.com/nwyqcaypdU

— Judah Cohen (@judah47) January 10, 2022
Canadian Model On Overdrive: 
I Often refer to the GEM when we get into arctic outbreaks. In fact I mad a point to highlight it in the 2014 winter, which was very active here. It helped me stay ahead of many weather systems I shared online… 
The Canadian ensembles signaling an elevated risk for #snowstorms along the US East Coast second half of January. GFS ensembles agree but not as emphatic but the potential snow shield is larger. pic.twitter.com/0aaRHoxhFW

— Judah Cohen (@judah47) January 9, 2022
Global Support:
As I mentioned in my Winter Outlook, there are cycles or patterns around the planet that can help influence our weather here in the eastern US.
Madden-Julia Oscillation (MJO)
The MJO is a feature in the tropics of Asia.  You can read more about it on my 
Global Patterns and Forecast Page: 
What is important here is that Phase 7 and 8 are conducive for our region to have active/cold winter weather.
This the forecast to be in PHASE 7 and 8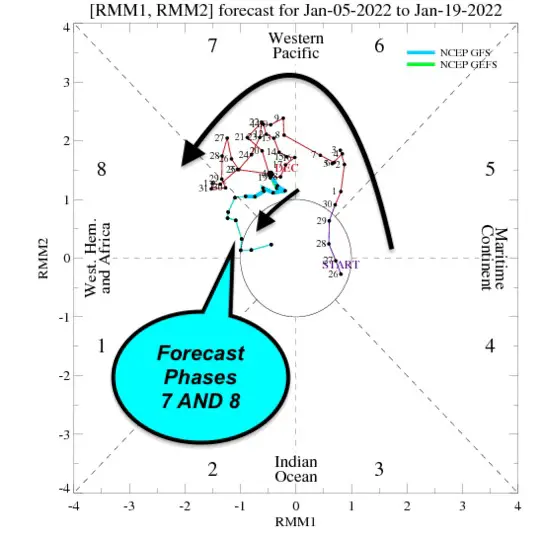 North Atlantic Oscillation
See more about the Polar Vortex, Arctic Oscillation, and North Atlantic Oscillation here
The short story here: We look for a Negative Phase to support cold air and stormy weather for the Eastern US.  
Currently it is Positive, but is forecast to go negative again into next week. This fits the Jet Stream Trough shown above.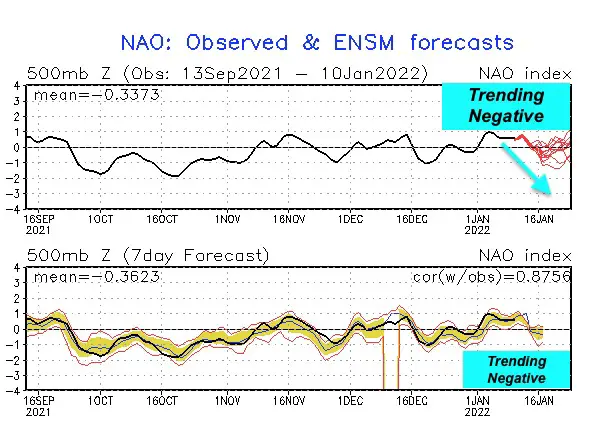 Surface Weather: Not As Firm
The upper level pattern is the easier part of the weather story. Why translates down below is very different. Yes, I do believe we will have more snow this month. A few snow events. It will be hard to not have them with this set up.
But the individual events beyond 5 days has been something computer model guidance has failed us on.
This Weekend:
All the talk of storms and big snow, here we are with no agreement and confidence just 5 days away. 
Check this out:
Saturday Night:
The European Model brings in a chance for light snow with a shortwave passing south of Baltimore. This is around the edge of the polar front. 
The GFS is slower with a deeper trough. That allows it to dig and develop stronger… But that digging allows it to push farther south as it spins up, ejecting it off the North Carolina coast Sunday morning. 
European Model
Saturday Night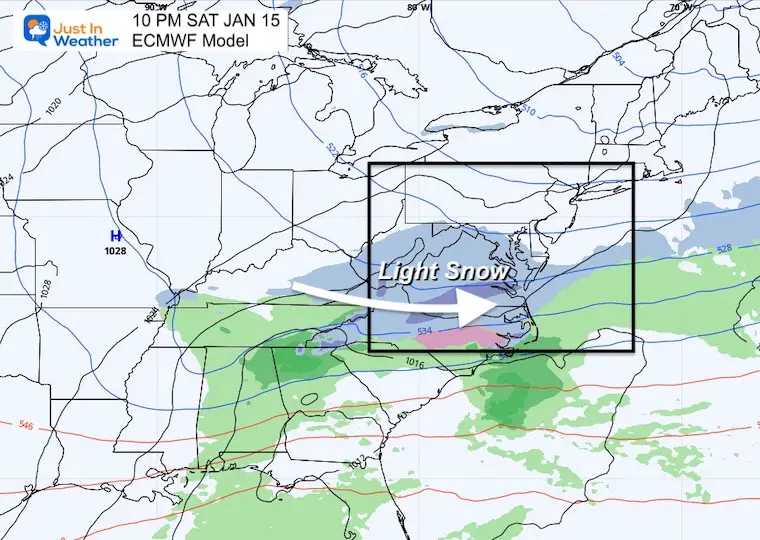 GFS Model
Saturday Night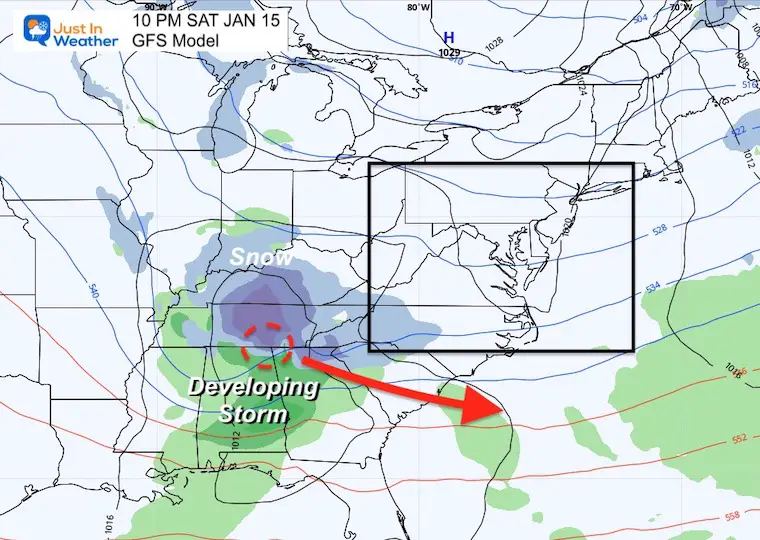 Sunday Morning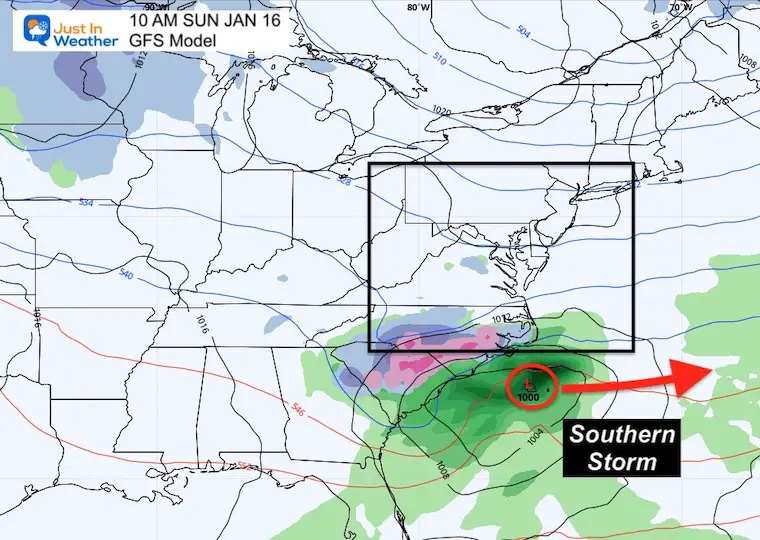 Looking Ahead: Next Tuesday
The GFS is trying to develop another Storm off the east coast, keeping us in play with snow.
The European model actually has nothing notable at that time.
Snow?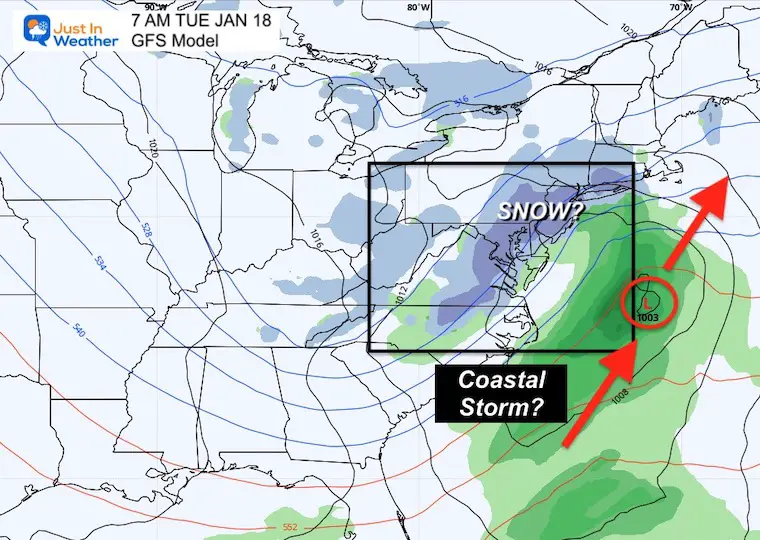 Or No Snow?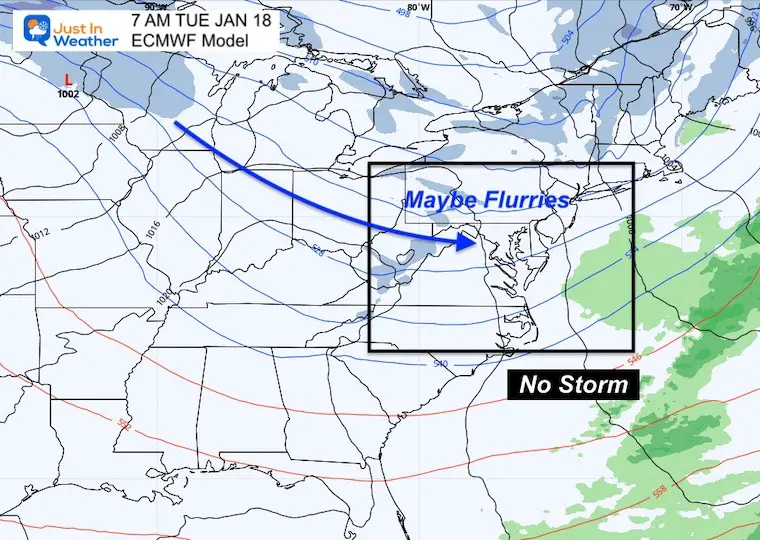 It should be noted that the GFS has performed better in the last few events. But I also do not trust stop forecast guidance beyond 5 days…
So the take away is this:
Colder than average for much of the rest of January. 
Arctic Outbreaks: There will be more, and colder than what is in place now. Climatology shows us the coldest air is usually the 3rd week of January. 
Storms: There will be a few chances. In fact I see potential for a moderate to significant event. Just based on the pattern set up. That is broad based, and as Dr. Cohen showed the Canadian Model supported the later part of the month.
Forecasts:  It is very likely that our bigger storm may not show up a week away, but may appear to 'come together' in a shorter time frame. That is similar to how the storm we had last week played out. 
If you hear about a 'big storm next week', odds are maybe not.  I'd like to be pleasantly surprised. Until then, I will personally refrain from 'storm talk' with realistic promise until we et into a 5 day window.
I have Faith in the Flakes!  We are already well above average snow for January and almost halfway to a normal season (and my call)
Weather posts straight to your inbox
Sign up and be the first to know!
ALSO SEE
ALL FITF GEAR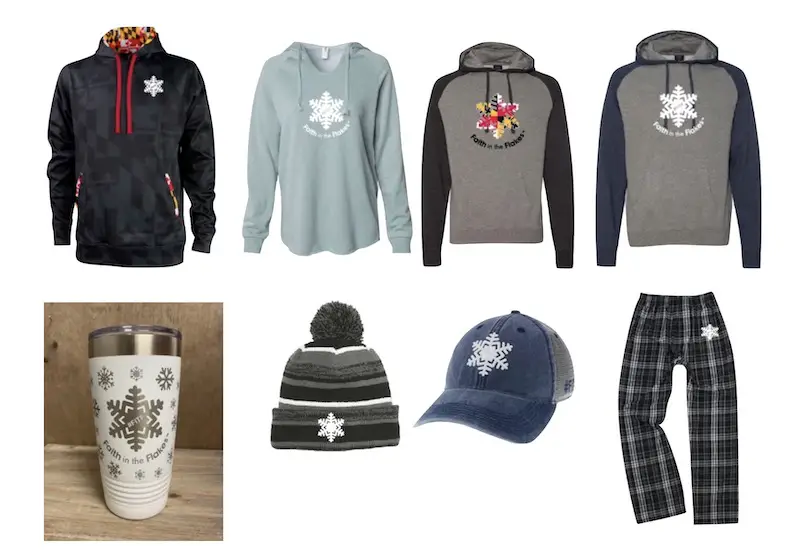 FITF THUNDERSNOW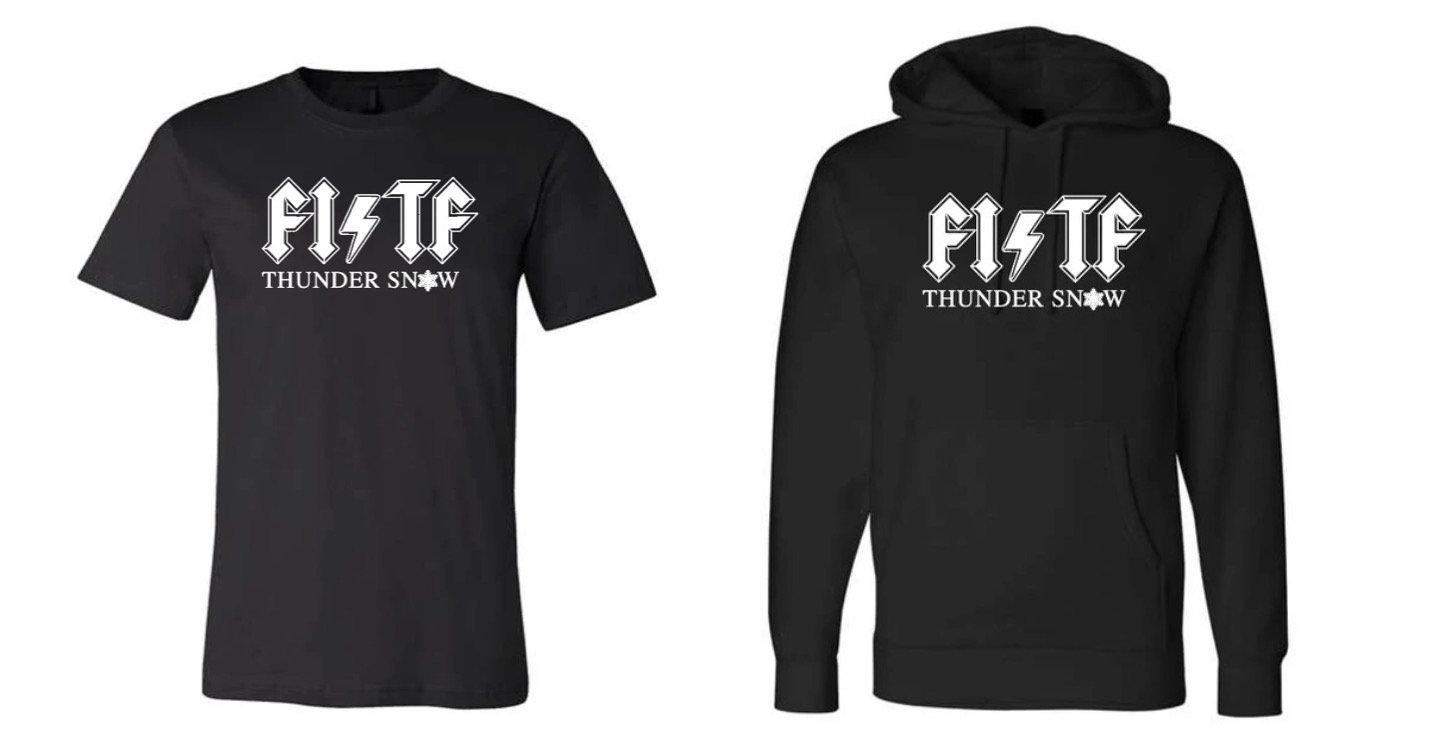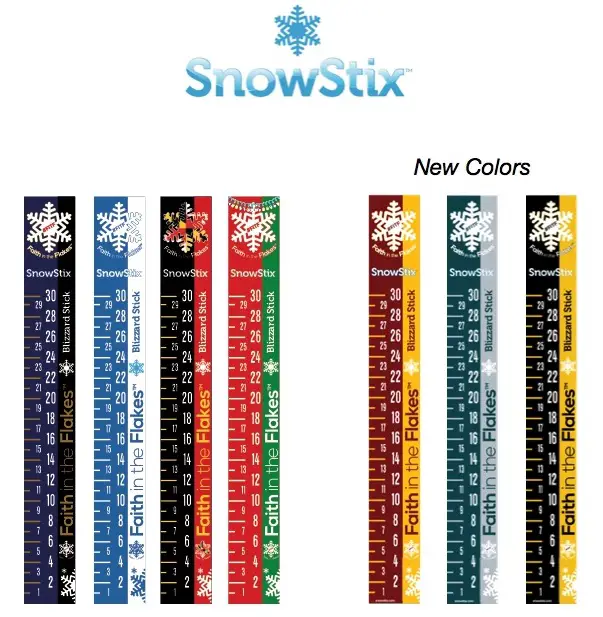 Winter Outlook Series: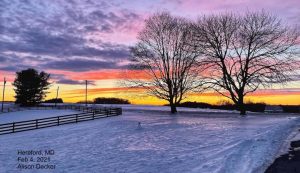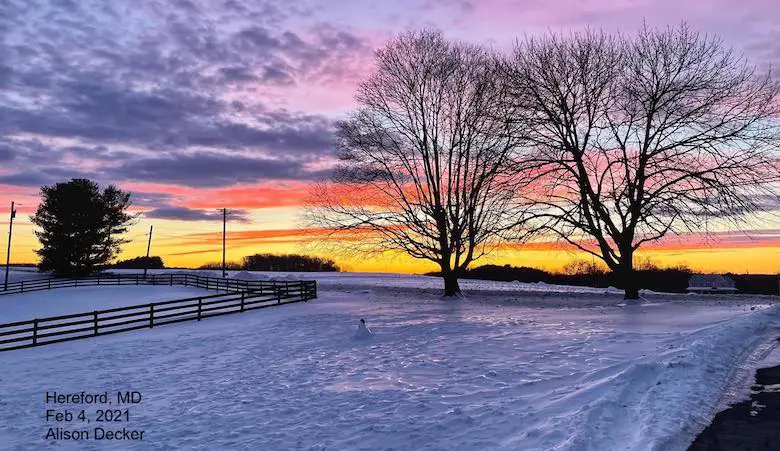 Last Winter Recap: My Old Outlook And Your Grades Of My Storm Forecasts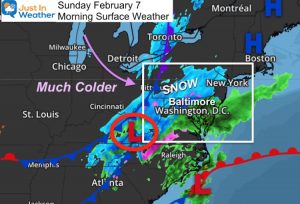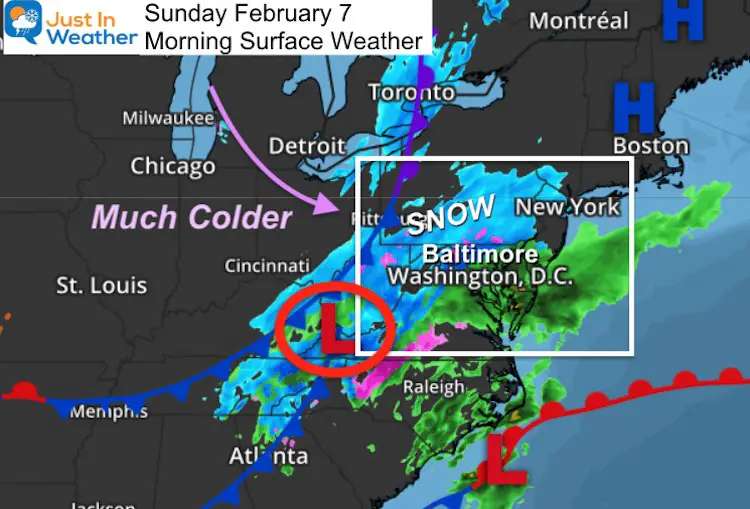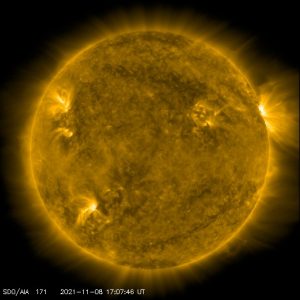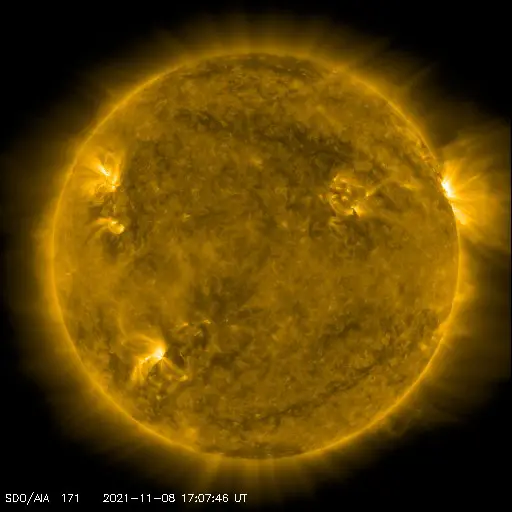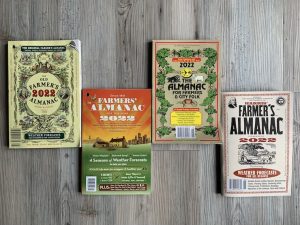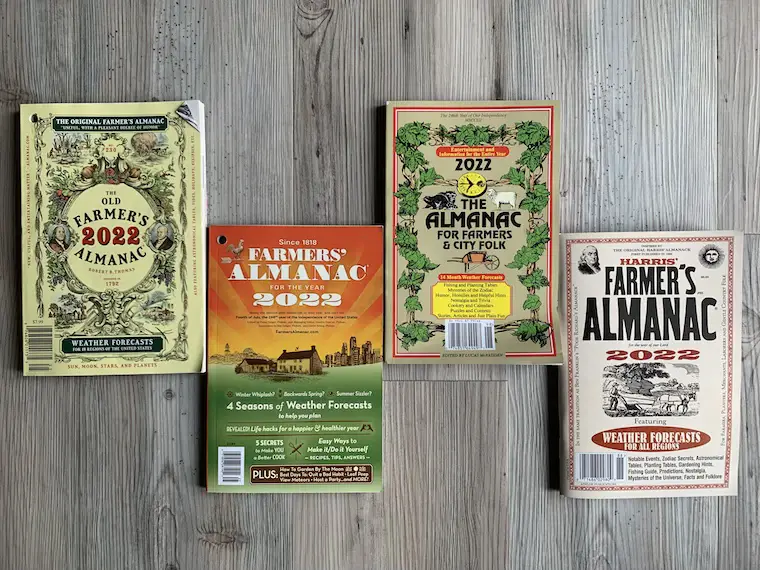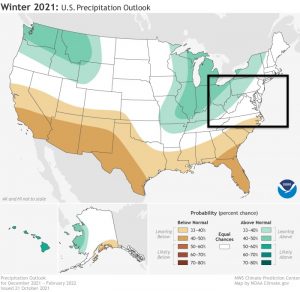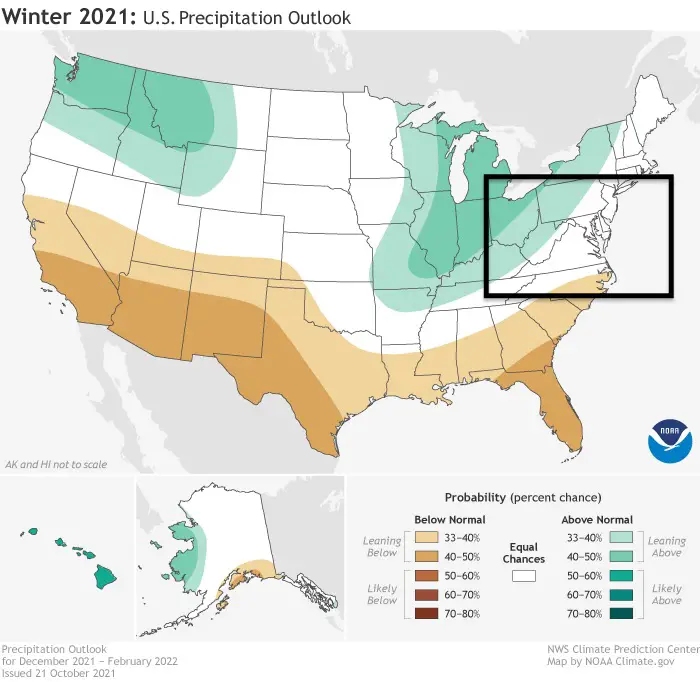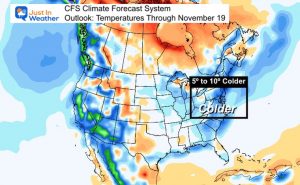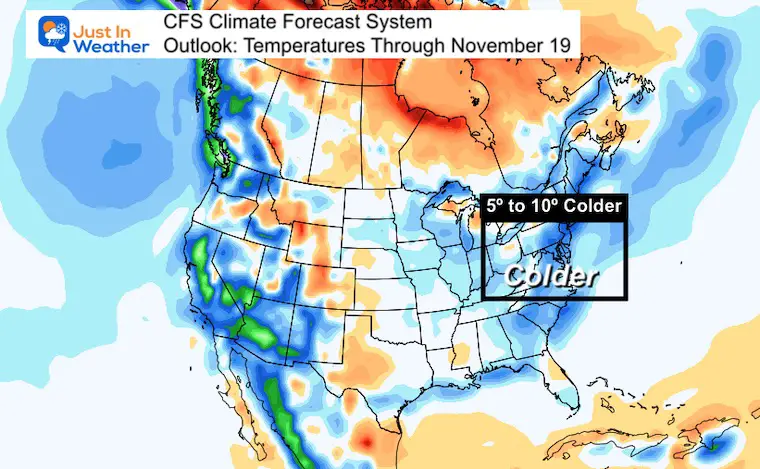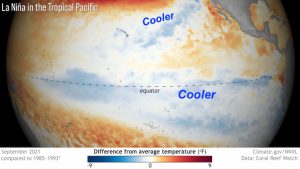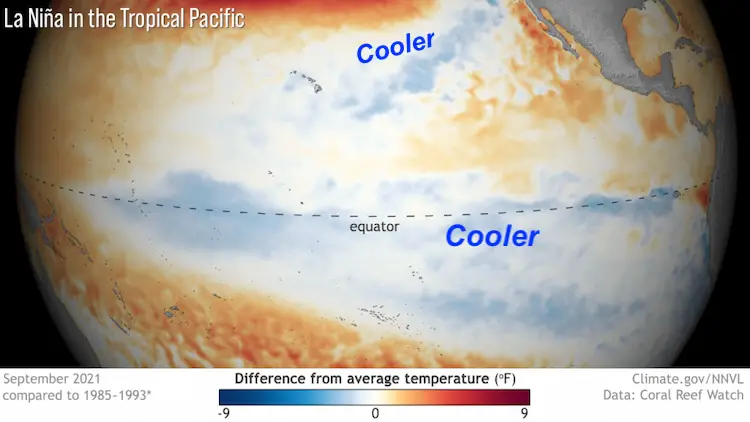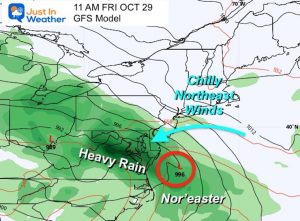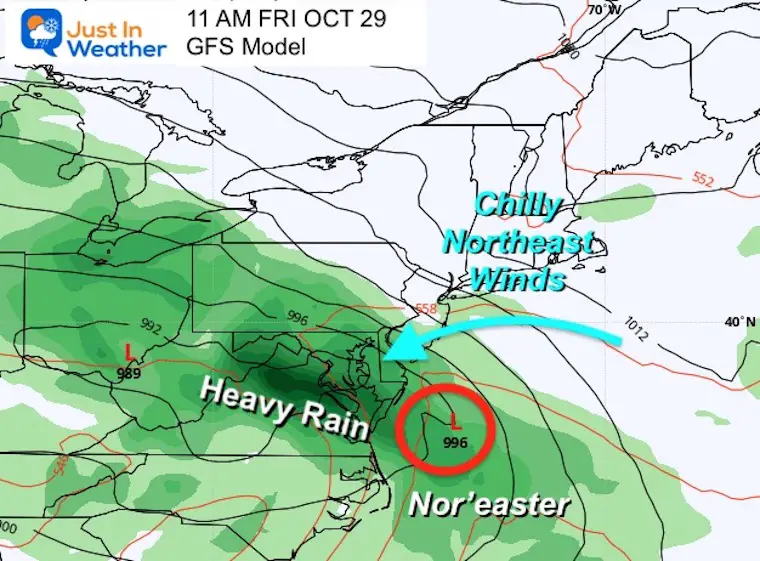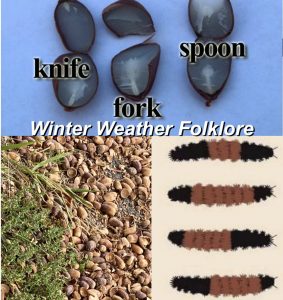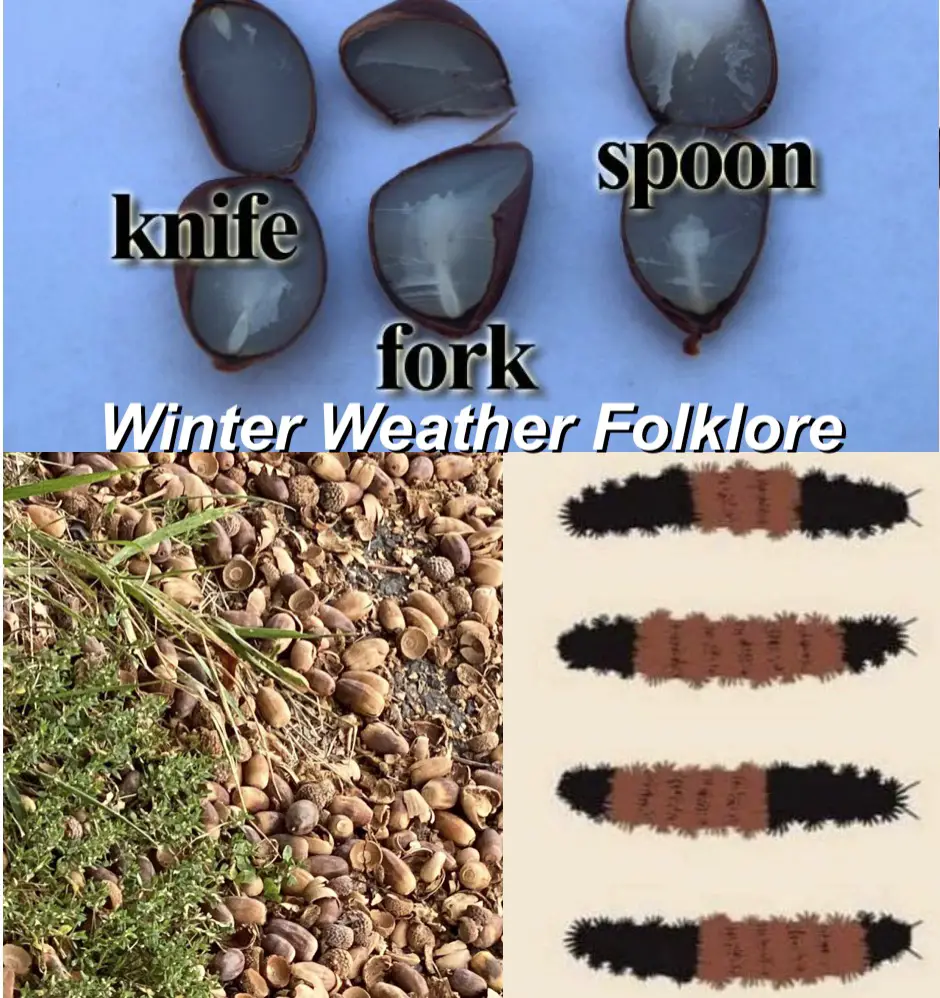 Please share your thoughts, best weather pics/video, or just keep in touch via social media