My First Call For Snowfall And Model Maps This Wednesday
Outlook
Winter Weather
Forecast
Justin Berk
Dec 6, 2021
9:20 pm
0
December 6 2021- Evening Update
It's time to put up some numbers!  Baltimore hit 70ºF today, so I understand the doubt many have that we can get snow in less than two days. This will be the first snow event of the season for much of the region. Notice I carefully used the word 'event' and not storm, but it will be noteworthy.
In my last snow update, I showed the impact of the warm Chesapeake Bay water temps on the nearby areas. But the air temps are forecast to drop to freezing near Baltimore and inland. So the battle line for stickage has been drawn. 
In this report I have included the latest model maps from the Canadian GEM and European ECMWF.  I have also included Snow Forecast Plots from four models to compare. Then we can look at my first call for snowfall.
In the mix of forecasting and communication, I read and listen to many comments. 
I am with the crew that gets excited about snow. FITF! But I am well aware not all share that sentiment. My wife is one of them. As for the people who want to doubt everything, they may never read this, so let's just move on. 
UPDATE TUESDAY MORNING:
Computer Models
Canadian GEM:
4 AM to 7 PM Wednesday
This had faded the snow, but came back to join the GFS with the steady snow in central Maryland.
This shows the arrival by sunrise, which would increase the chance for stickage. 
European Model:
4 AM to 7 PM Wednesday
This continues to the the party pooper. This solution is due to a flatter trough and later arrival of the northern energy.
However, the timing and snow coverage has increased in this newer plot. It still is the weakest of the collection.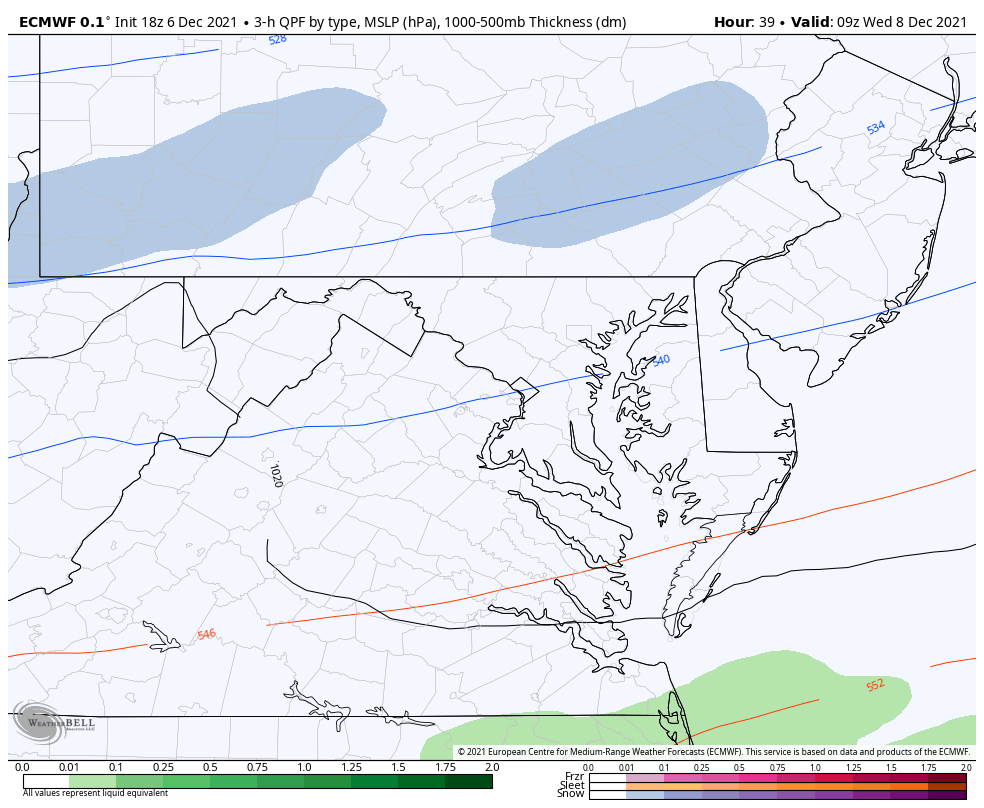 GFS Model —> slider
If you missed my last report, here is the American Model that has been the most consistent with the track for snow.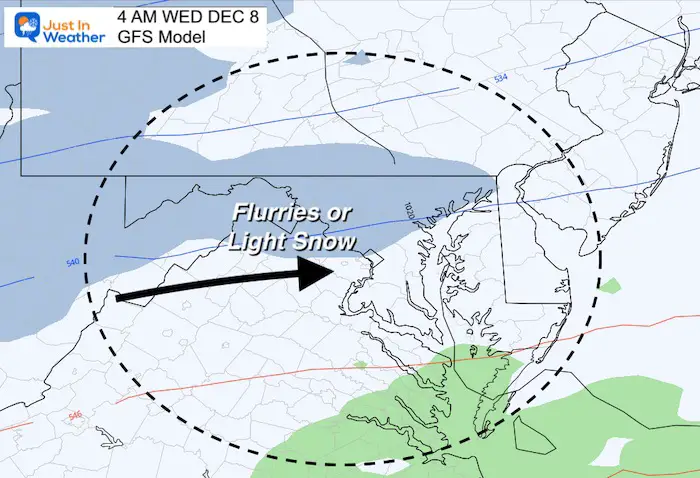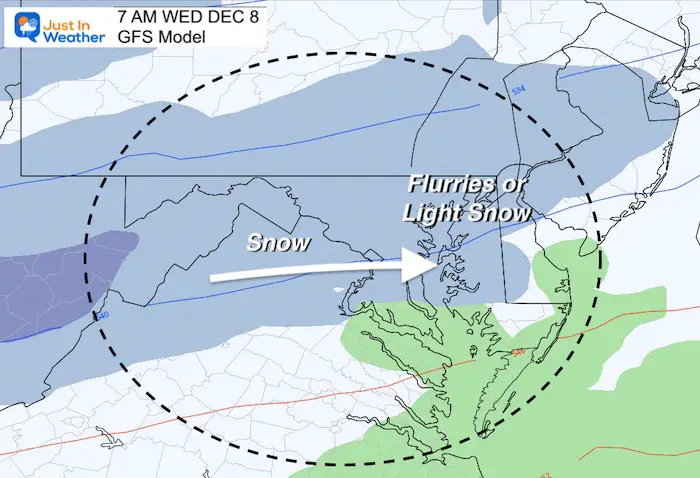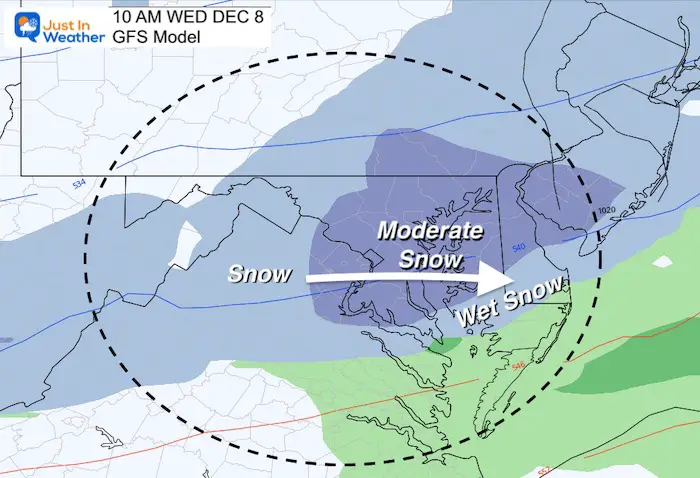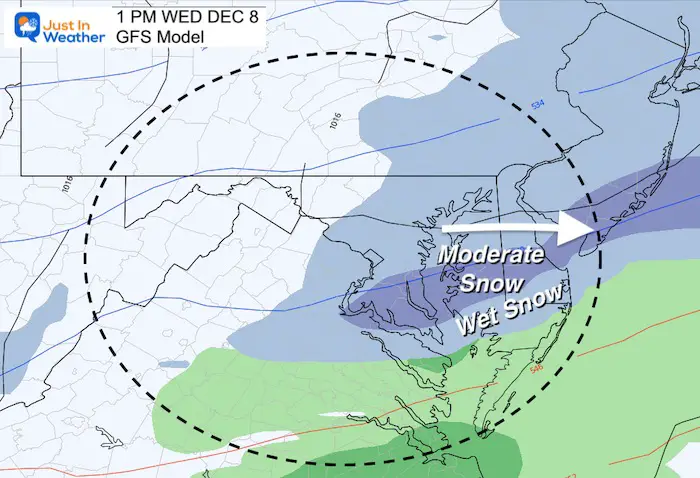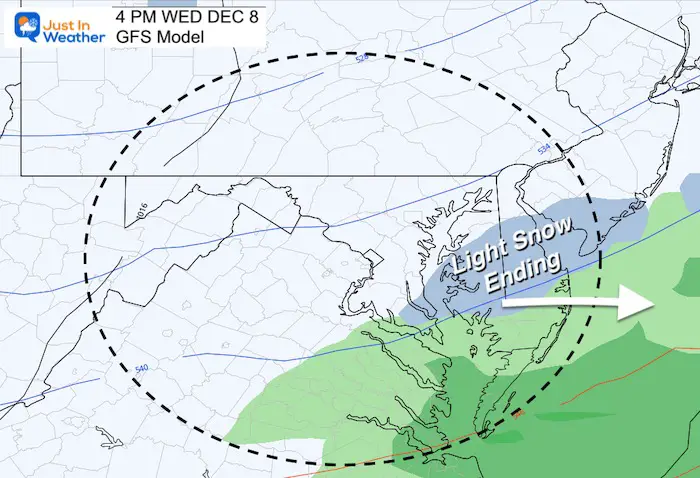 december-6-weather-snow-wednesday-GFS-AM-4
december-6-weather-snow-wednesday-GFS-AM-7
december-6-weather-snow-wednesday-GFS-AM-10
december-6-weather-snow-wednesday-GFS-PM-1
december-6-weather-snow-wednesday-GFS-PM-4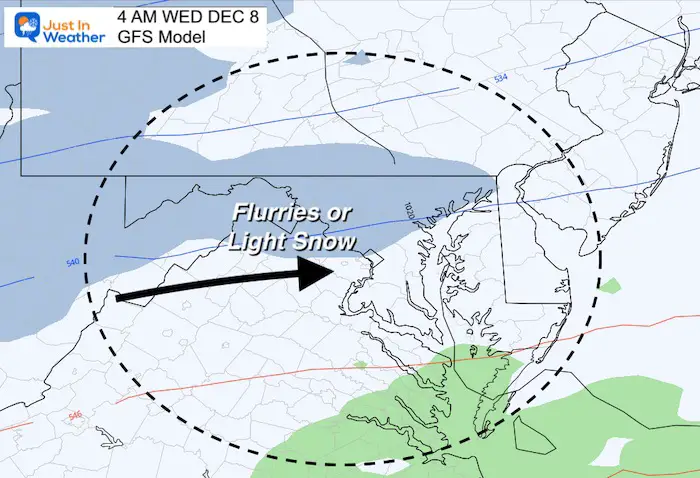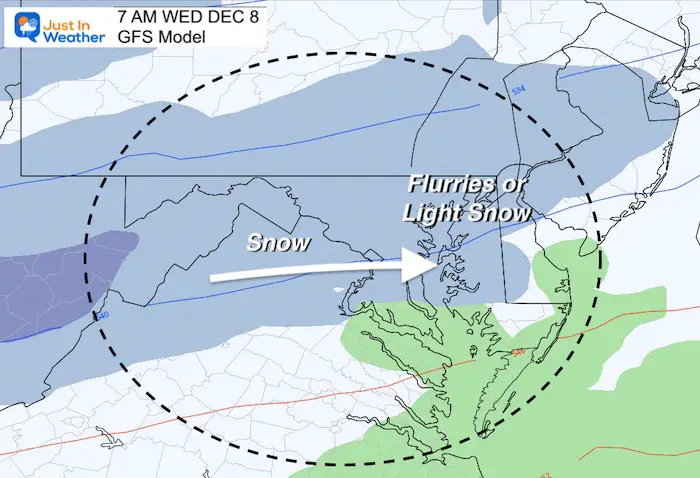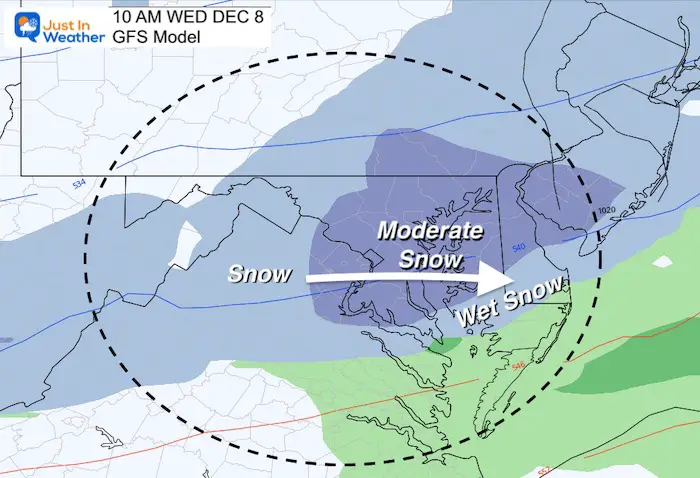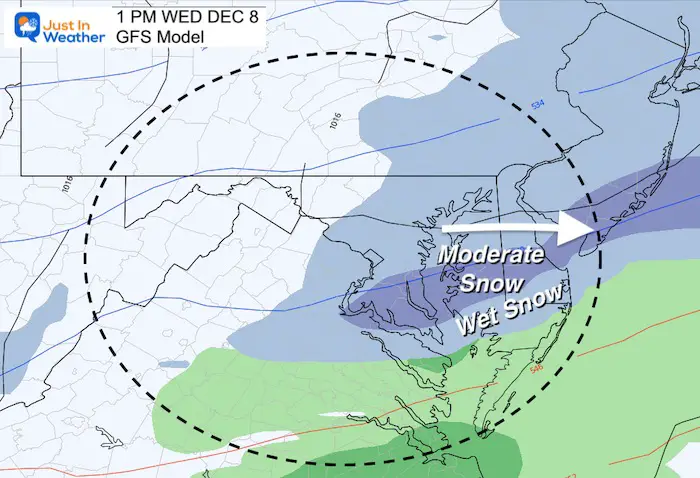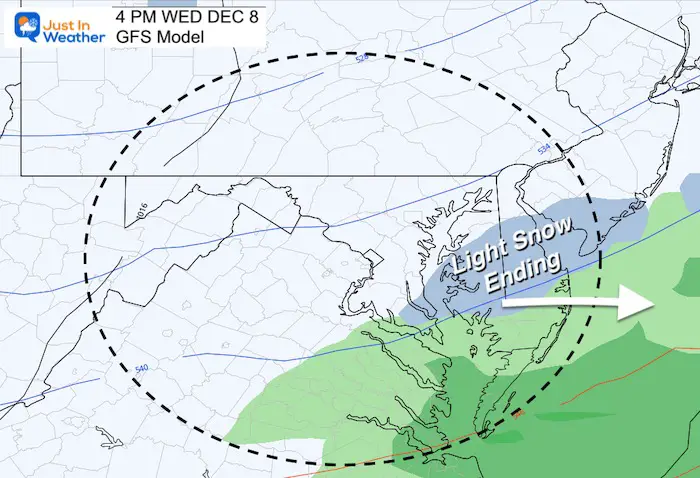 Wednesday Temperatures
Based on the GFS Model
This actually shows temps dropping to near freezing and holding all day in central MD
Morning
I am showing 10 AM to get the impact of conditions after sunrise.
The hourly plots show temps dropping to freezing with snow falling… after a start in the mid 30s for metro Baltimore.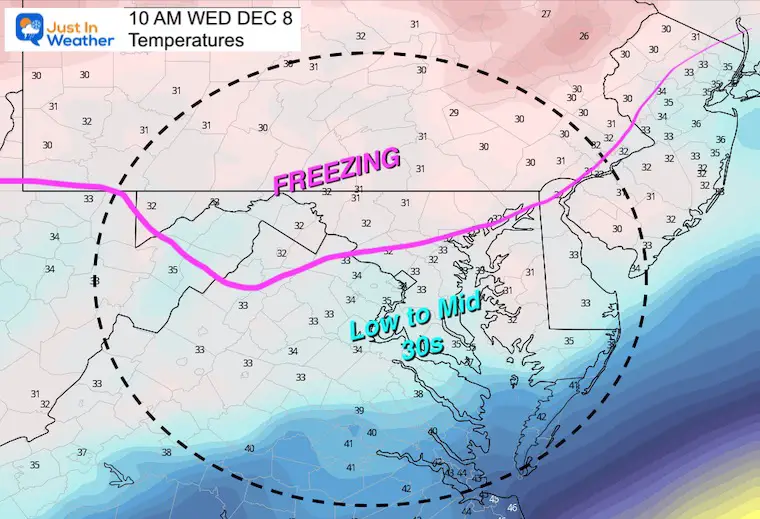 Afternoon
Temperatures remain near freezing all day… with colder 20s post snow north…. And just above freezing south of I-95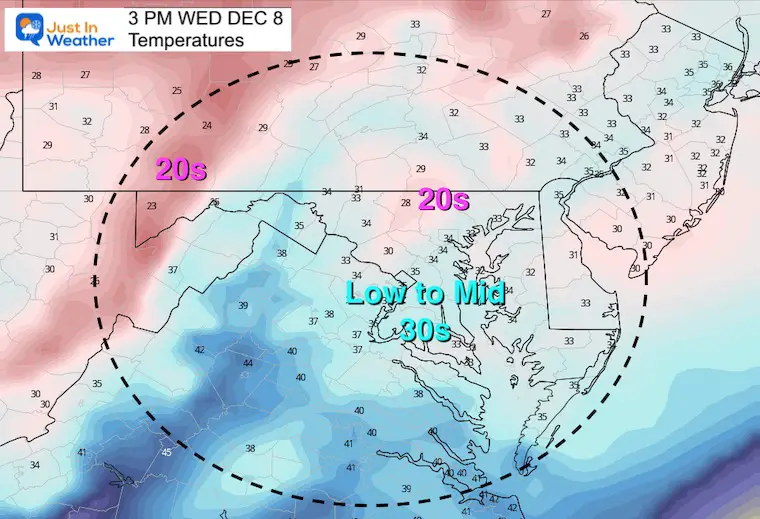 Snow Forecast 'Model' Maps —-> slider
Order from least to most amount of snow.
*Not all that falls will stick. The regions in central/southern Maryland and Delmarva will compete with warmer ground and melting.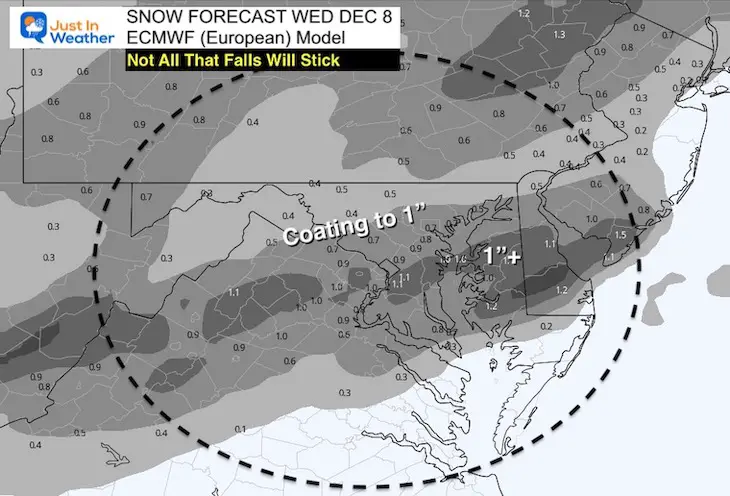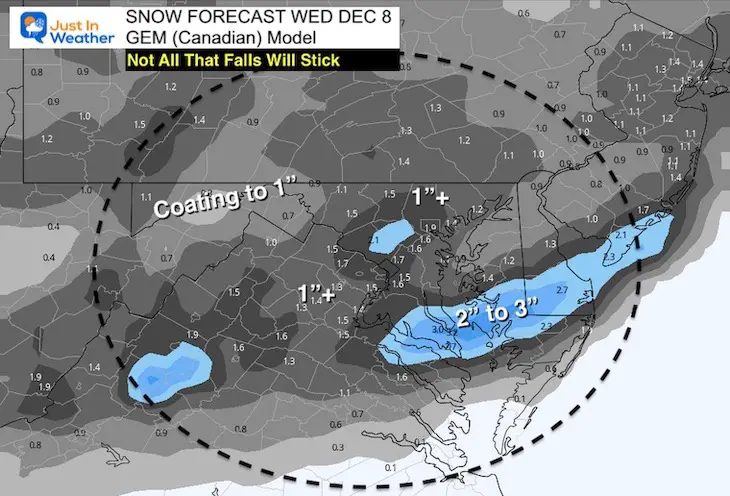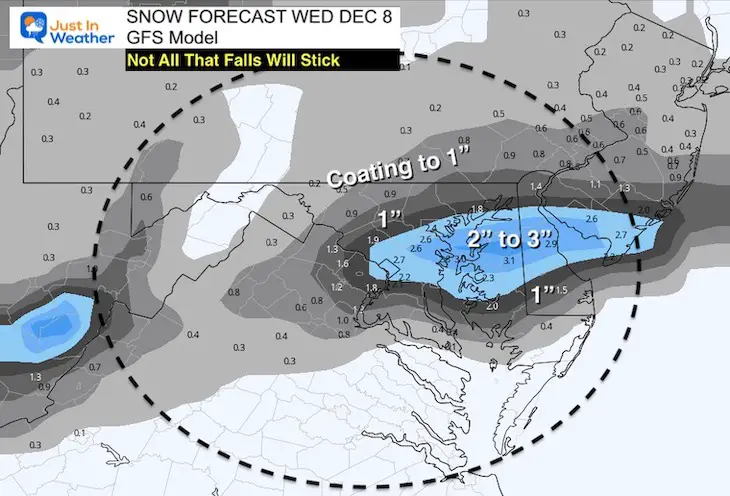 december-6-weather-snow-forecast-wednesday-ecmwf
december-6-weather-snow-forecast-wednesday-Canadian
december-6-weather-snow-forecast-wednesday-gfs
december-6-weather-snow-forecast-wednesday-NAM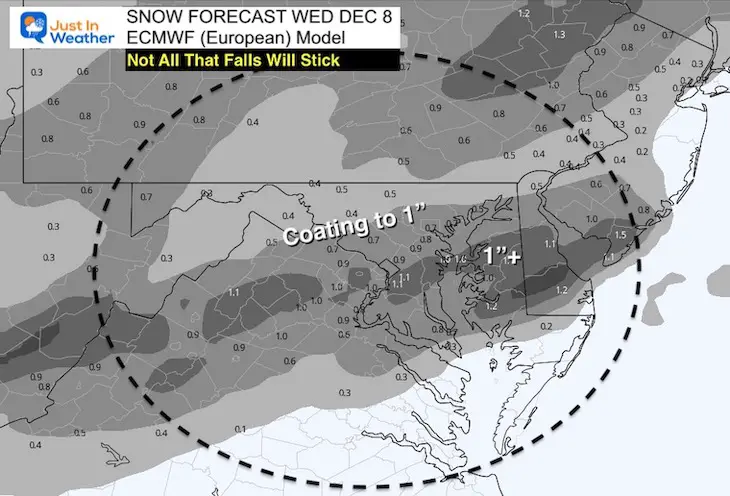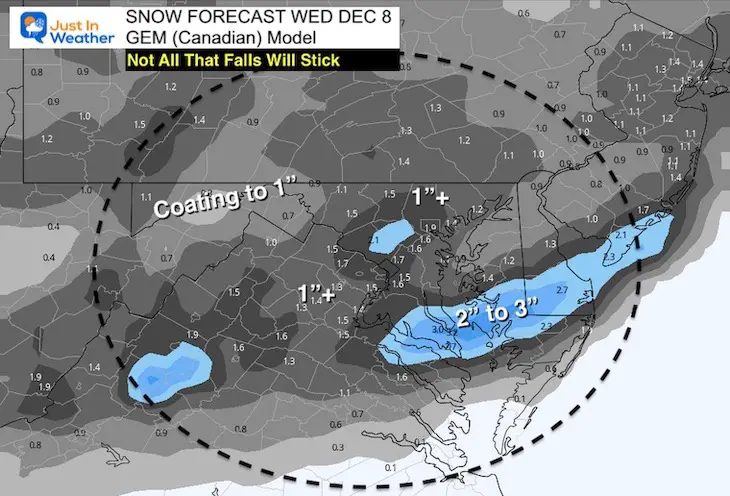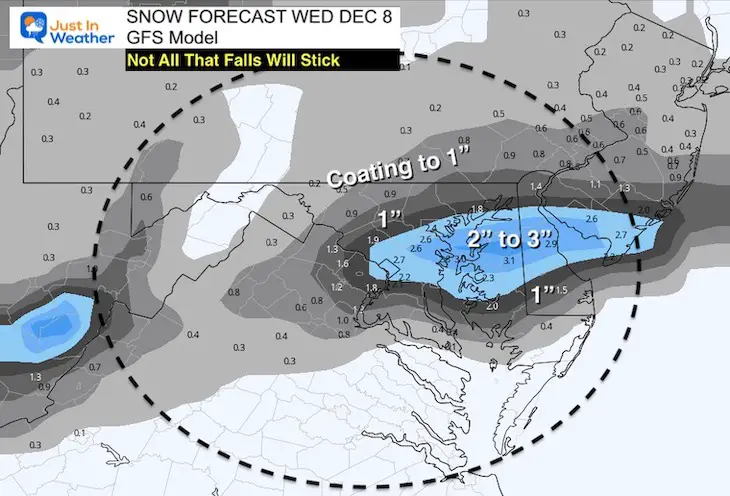 My First Call For Snowfall
I've plotted this closely to the my prior 'expectation' map.
My thinking continues to bases a lot of elevation and distance from the Bay.
Also See: Maryland Snow: The influence of water and topography
Climatology suggests the colder inland areas may support some stickage on the roads, but closer to the cities and south it will likely not.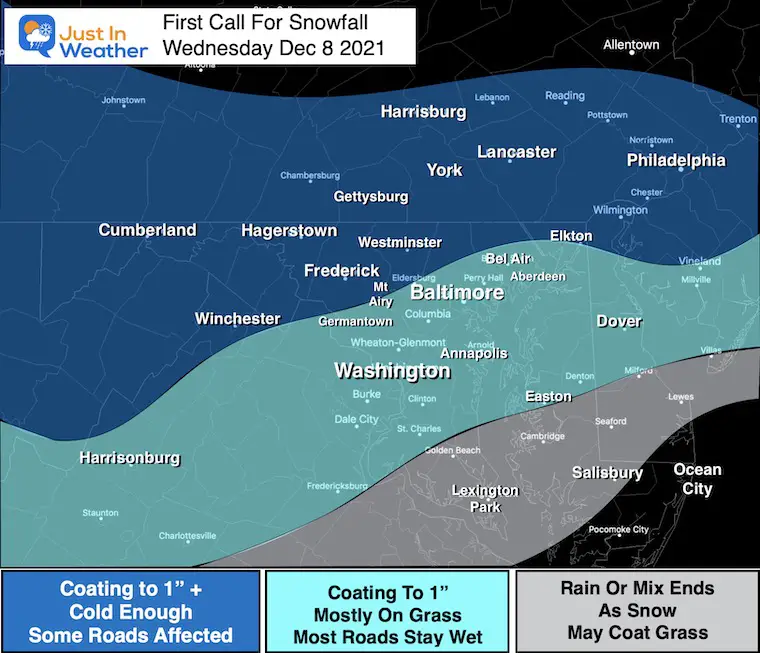 Notes:
The timing of our wether events over the past few months has arrived earlier than model forecasts. Should this happen again, then more dark hours before dawn may help with some stickage. 
Air temps will be near freezing Tuesday, and most of Wednesday. There is some heat retained int he ground AND influence from the warmer Bay waters. This is more of a factor around the cities, along and south of I-95, and within a 5 to 10 miles of the Bay.
See the NWS Snow Forecasts for MD/PA/NJ/DE/NoVA and WV
Click the image for the resource page
Note: There are 'official', high and low snow maps to view.
Also, the Pennsylvania mapping only is for 24 hours and at last check did not include the event yet.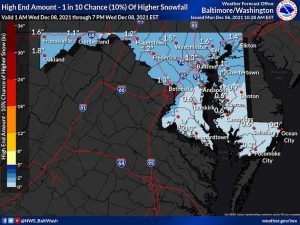 Also see:
Chesapeake Bay Water Temps
Click the image for all water forecast maps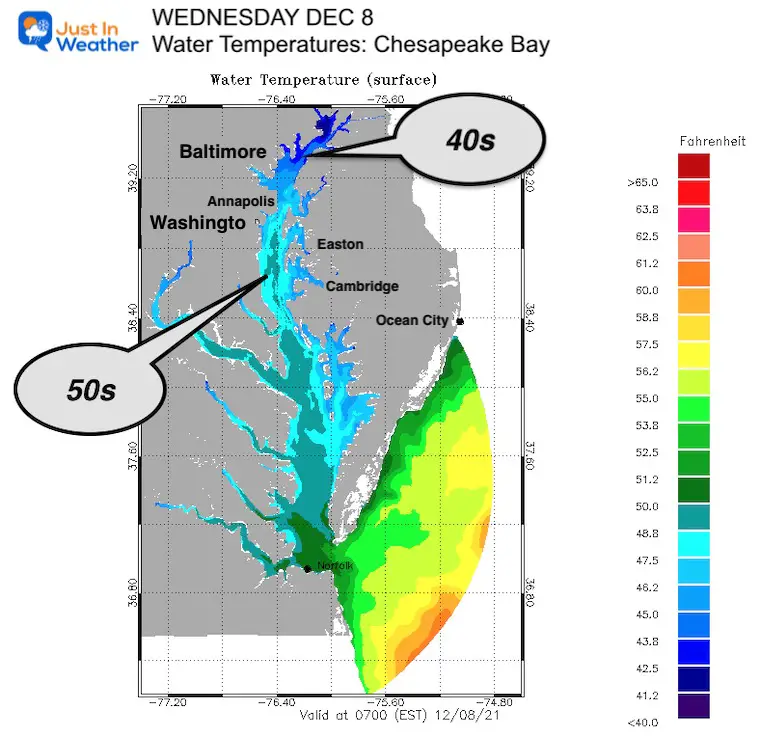 Winter Outlook Series: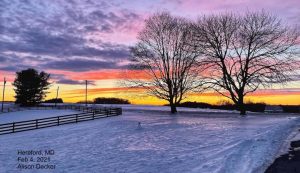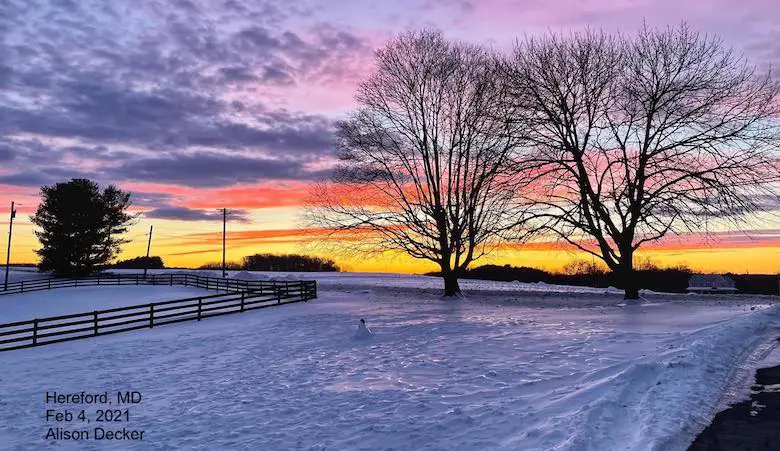 Last Winter Recap: My Old Outlook And Your Grades Of My Storm Forecasts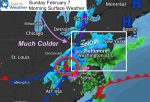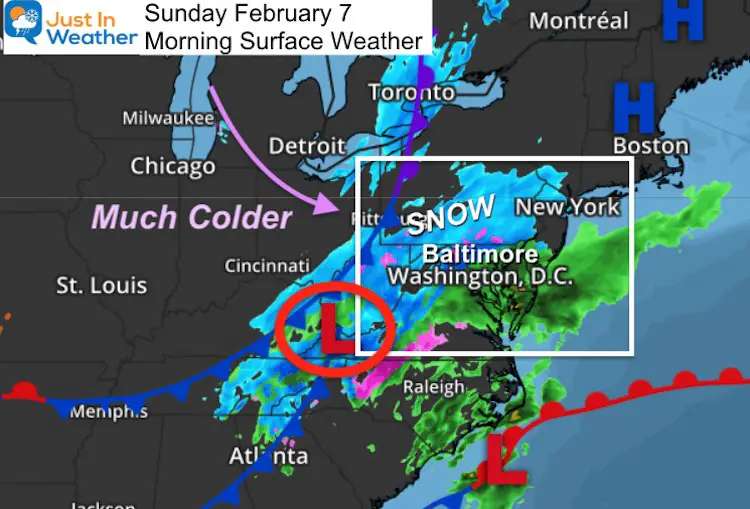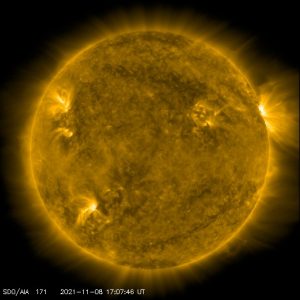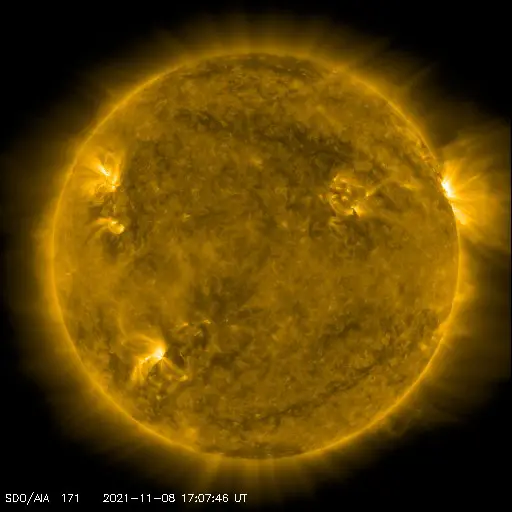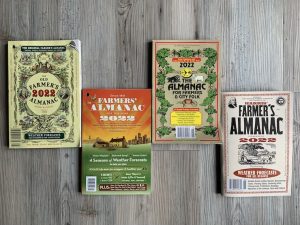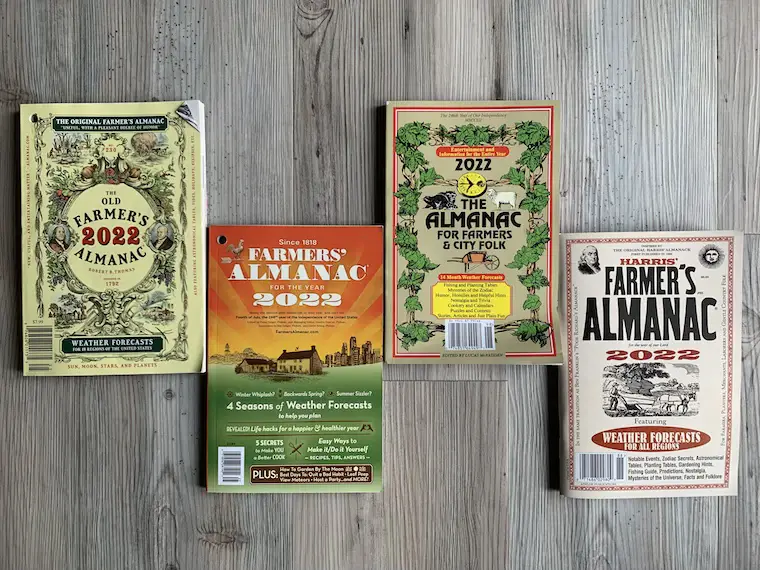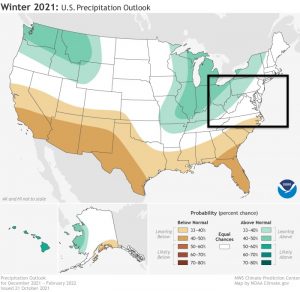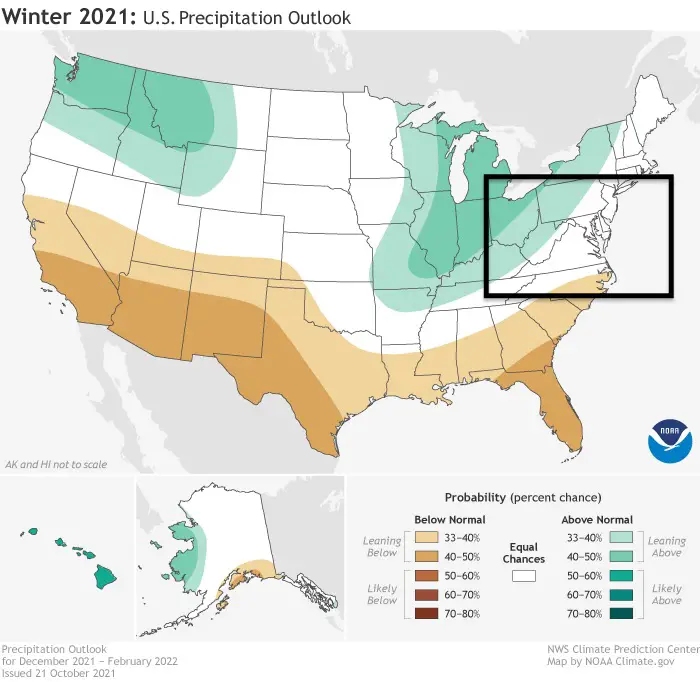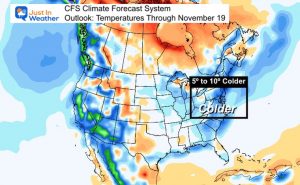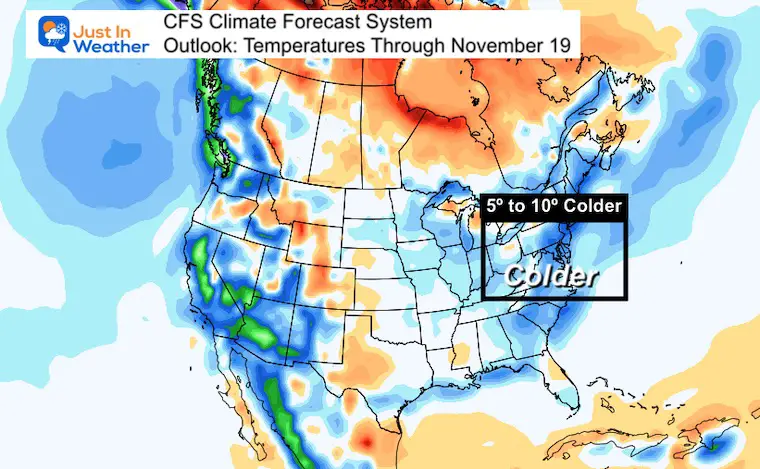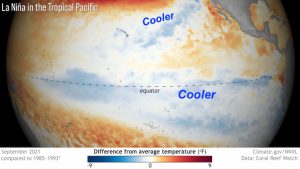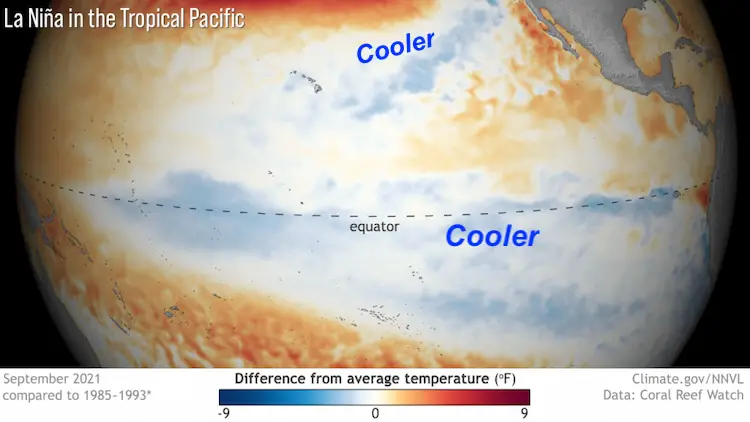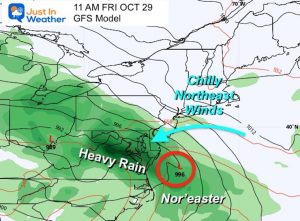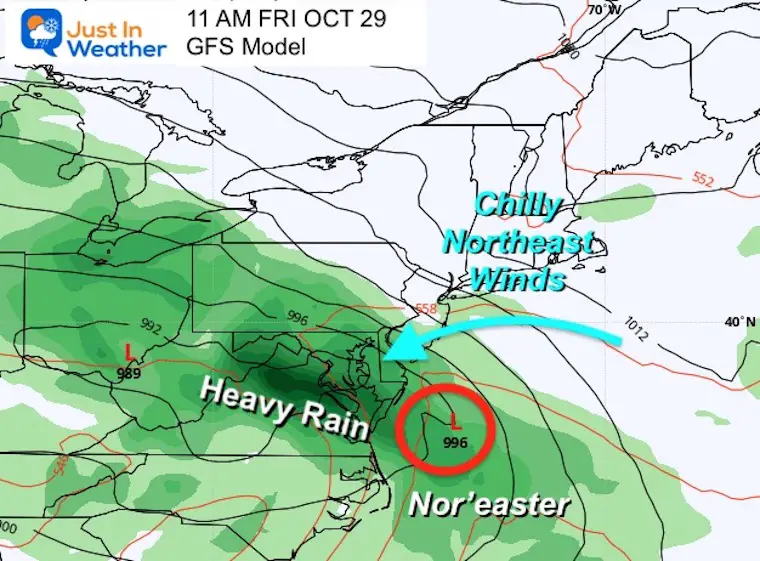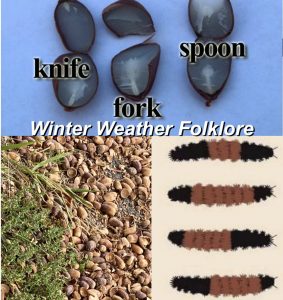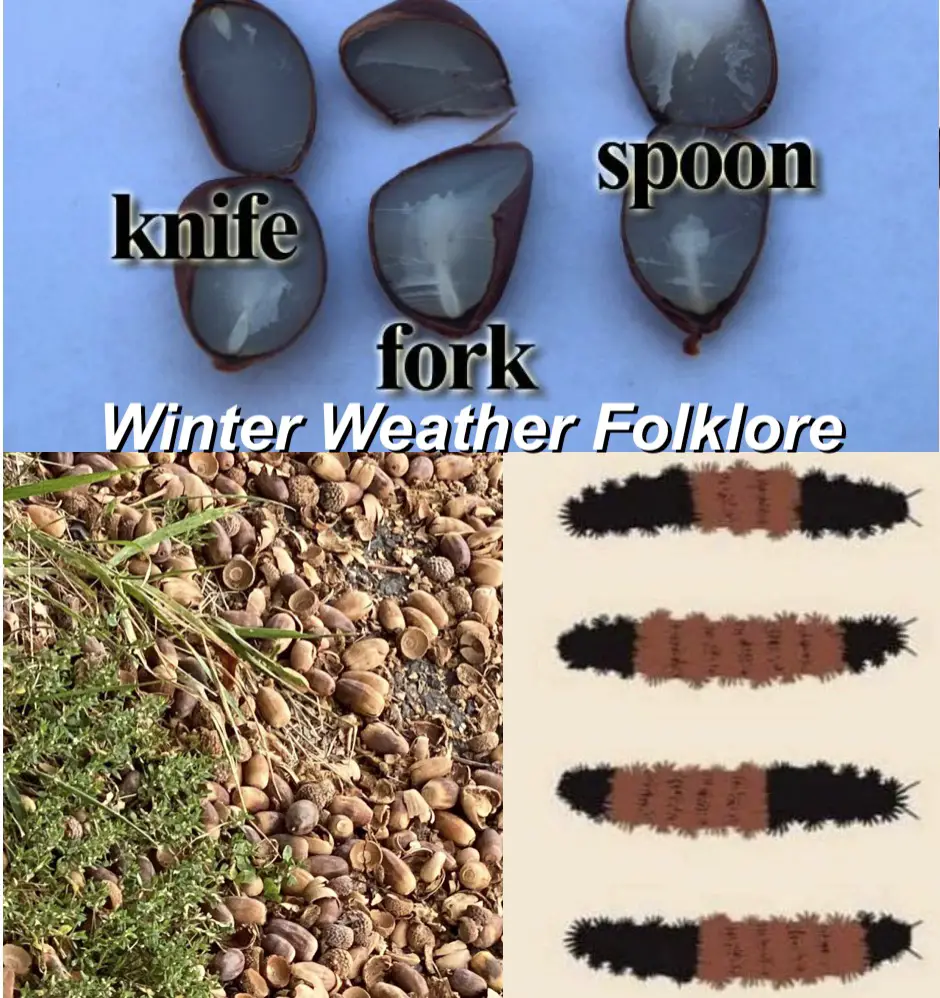 Please share your thoughts, best weather pics/video, or just keep in touch via social media