July 6 Flood Watch And Brief Tornado Recap From Tuesday
Flooding
tornado
Severe Weather
Forecast
video
Warnings
Justin Berk
Jul 6, 2022
7:11 am
0
July 6 2022
Wednesday Morning Update 
There is a lot to discuss but I unfortunately have to keep this very brief due to prescheduled plans with my son. So I apologized for the abbreviated recap of the storms yesterday and forecast for more today.
We do have a Flood Watch in central Maryland including metro Baltimore and Washington. The good news is that the severe storm risk will be pushed to our south today, but we may see some heavy rain producers anyway. 
Before we get to that, yesterday a tornado touched down in Bowie, MD.
Tornado Report
Bowie has the confirmed tornado (likely EF-0 or EF-1) with additional tree damage in southern Anne Arundel County.
Time: 5:33 PM
Location: 1 Mile north of Bowie in Prince Georges County
Preliminary Report: STRUCTURES DAMAGED ALONG WITH TREES UPROOTED AND
            SNAPPED, AND POWER-POLES SNAPPED. AT THIS TIME, THERE
            HAVE BEEN NO CONFIRMED REPORTS OF INJURIES. ESTIMATED
            MAXIMUM WIND SPEEDS OF 90 MPH.
Radar Recap
It was an active weather day for those east of DC, especially between 515-630 PM. A supercell (rotating thunderstorm) spread severe weather across parts of Prince Georges & Anne Arundel counties. Tornado Warnings are in red & Severe T'Storm Warnings are in yellow. #MDwx pic.twitter.com/xTHRfxiU4P

— NWS Baltimore-Washington (@NWS_BaltWash) July 6, 2022
Video Collection
These was the best I could piece together on short notice. Thank you to al that shared. This included the possible tornado near Salisbury as well.
When the final storm survey is issued, I will share it online.
Tree Damage Photos
Thank you Jeff Reetz and The Bowie Volunteer Fire Department
Today's Weather
Morning Surface Weather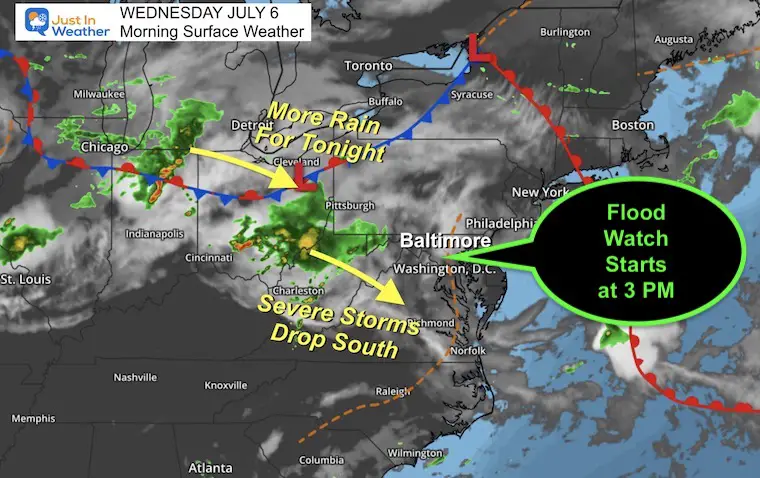 Severe Storm Outlook
The main energy will shift south today. However, in the marginal areas there will be the potential for locally heavy rain producing storms.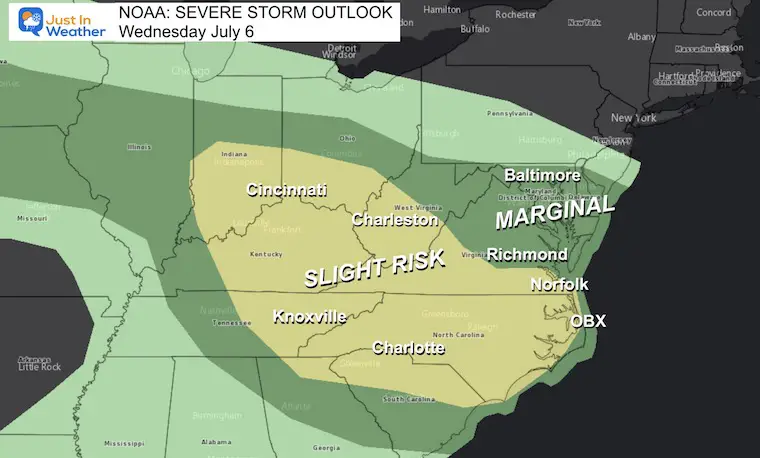 Satellite Loop 5 AM to 7 AM
More active storms are moving out of the Great Lakes and Ohio Valley. These will be shifting to the south, but we are expecting to get in on some locally heavy  rain producing storms this afternoon and tonight.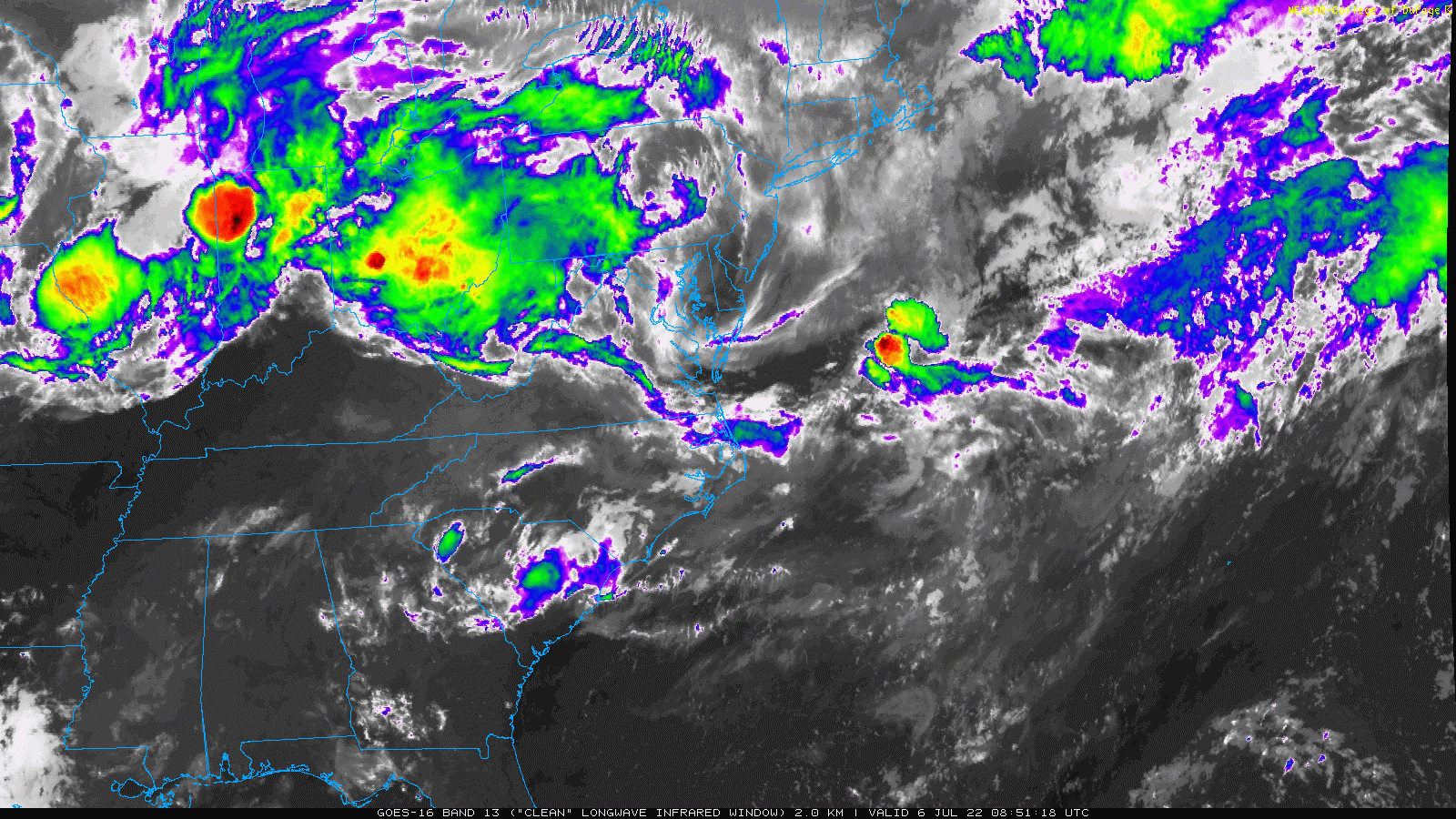 Flood Watch
Radar Summary 5 PM to 8 PM
I have little confidence with the short range model guidance. While it has been helpful with general storm product, they have been lacking with specifics. Today's guidance package is wide ranging and sparse… So I resorted to showing these two products as we may see one late afternoon storm cluster, then more likely storms after dark.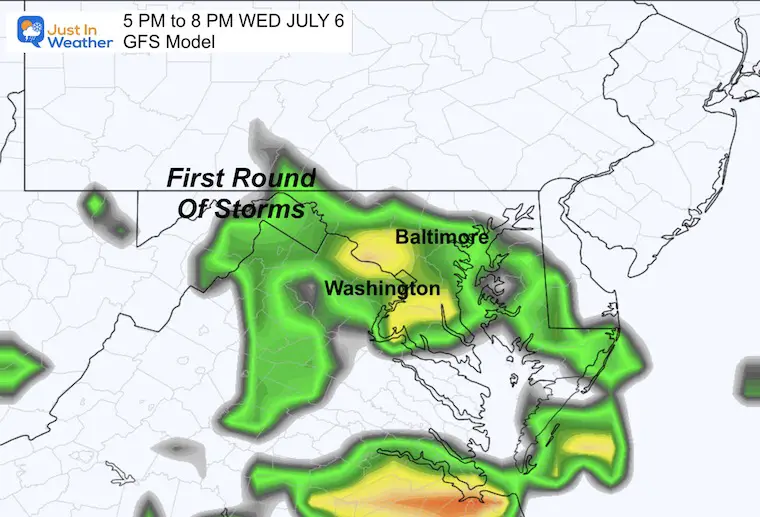 Radar Simulation at 10 PM
More storms like to form overnight.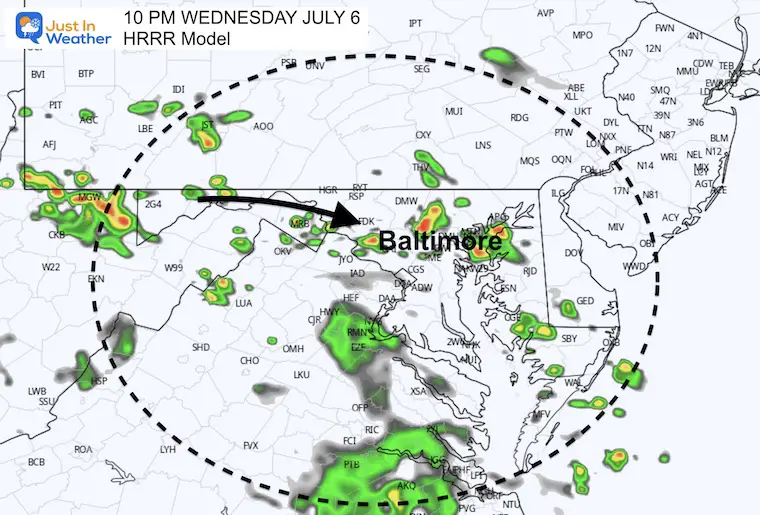 Rainfall Forecast
Where the storms set up, they may produce up to 3 inches of rain rain, leading to local flooding.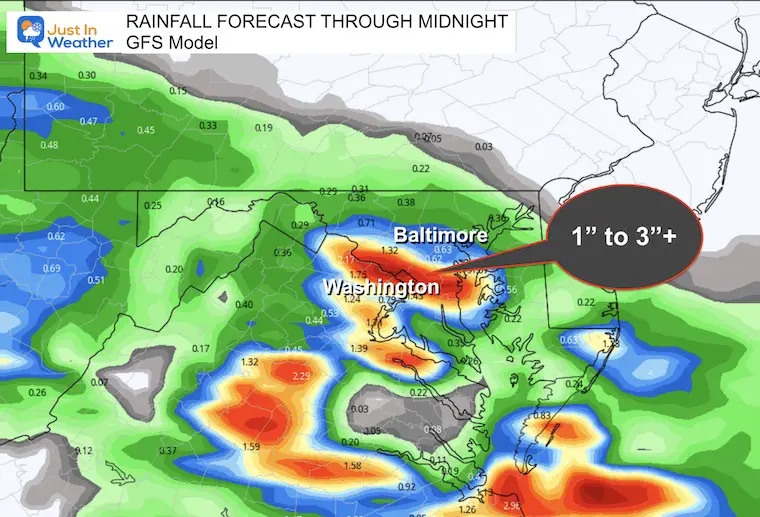 Temperatures
Wednesday Afternoon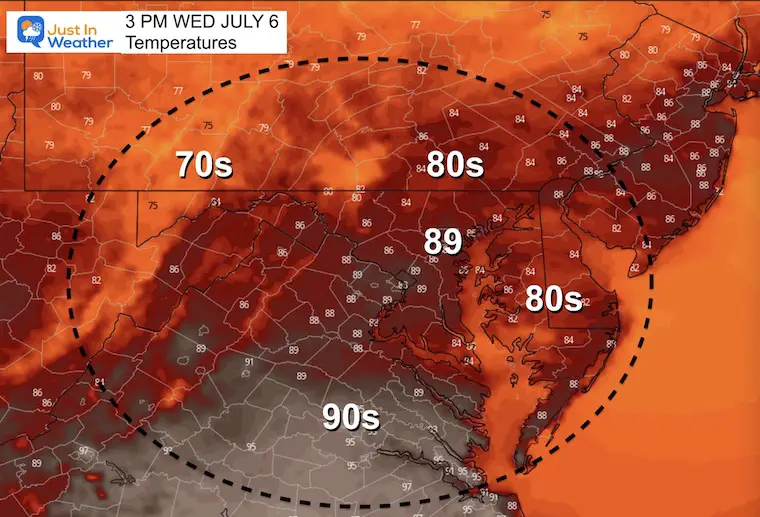 Thursday Morning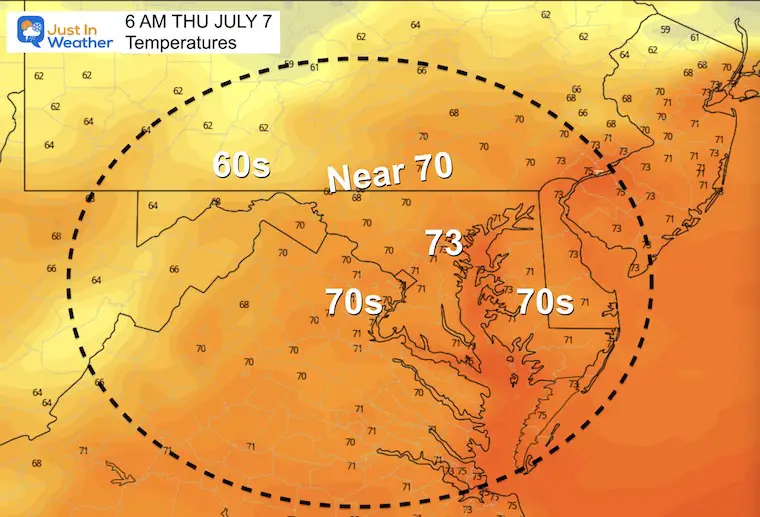 Thursday Afternoon
Thursday Radar Simulation
6 AM to Midnight 
This may begin with storms in the morning and then may become another active day with severe storm risk.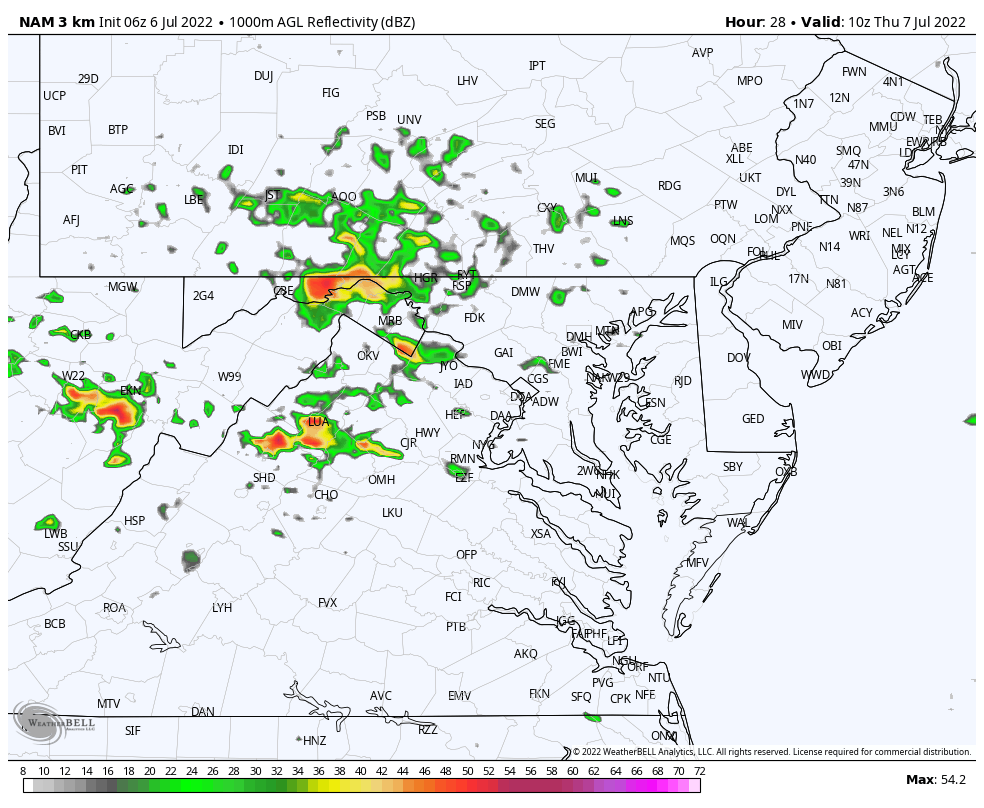 I am sorry I do not have an extended outlook prepared today.
Plan Your Kayaking Day Now

Hurricane Season Forecast: June 1 Through November 30
NOAA 2022 Hurricane Forecast- Above Normal Again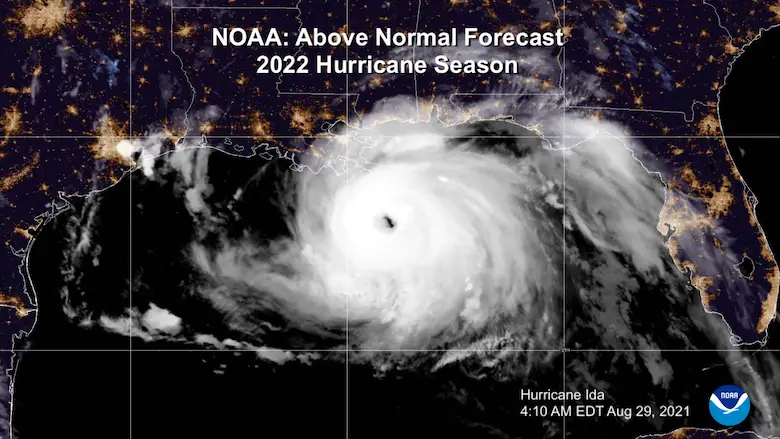 Forecast From Colorado State University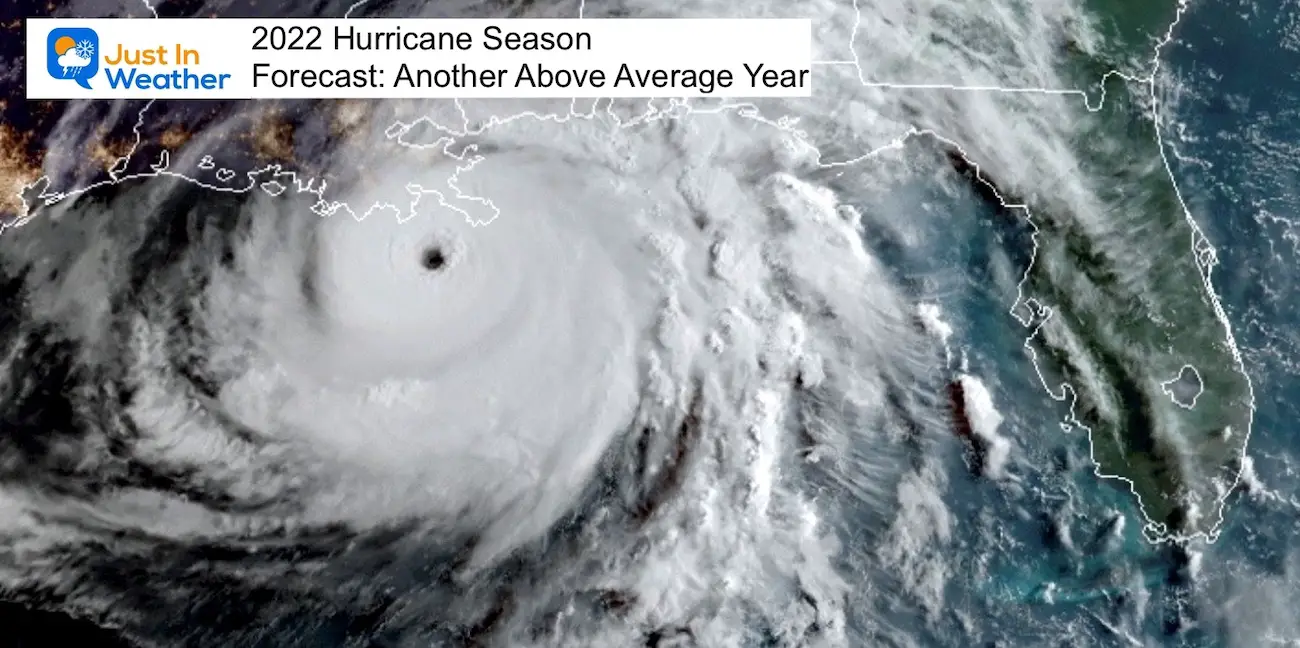 Related Posts
NOAA Study: Reducing Air Pollution INCREASED Tropical Storms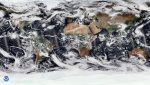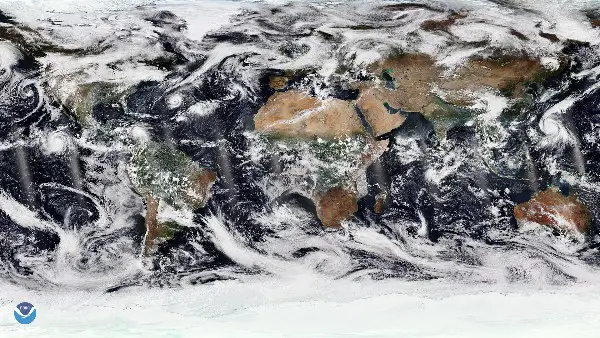 Atlantic Tropical History: Maps of Origin Regions Every 10 Days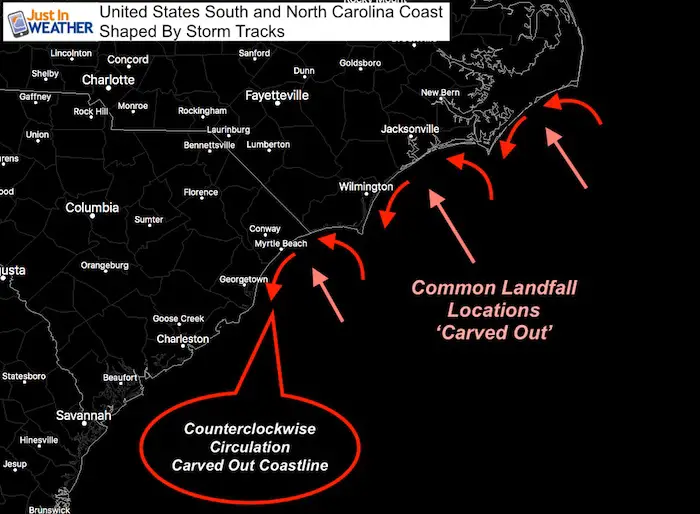 Recent Storm Reports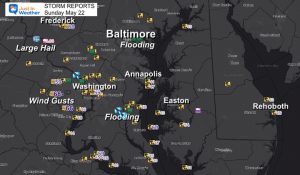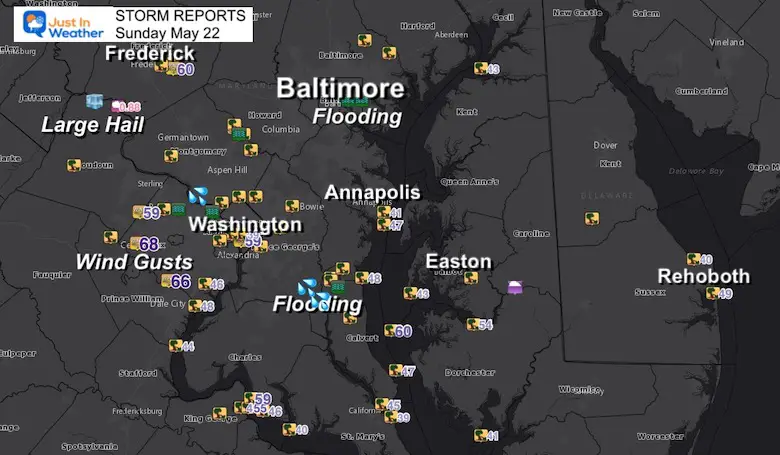 May 16 Large Hail Videos And Storm Tracking Map
Please share your thoughts, best weather pics/video, or just keep in touch via social media
*Disclaimer due to frequent questions:
I am aware there are some spelling and grammar typos. I have made a few public statements over the years, but if you are new here you may have missed it:
I have dyslexia, and found out at my second year at Cornell.  I didn't stop me from getting my meteorology degree, and being first to get the AMS CBM in the Baltimore/Washington region. 
I do miss my mistakes in my own proofreading. The autocorrect spell check on my computer sometimes does an injustice to make it worse. 
All of the maps and information are accurate. The 'wordy' stuff can get sticky. 
There is no editor that can check my work when I need it and have it ready to send out in a newsworthy timeline. 
I accept this and perhaps proves what you read is really from me…
It's part of my charm.