Large Hail Videos Photos And Storm Report From May 16
storm recap
Severe Weather
video
Justin Berk
May 17, 2022
6:14 am
0
Tuesday Morning Report
May 17 2022
We had the expectation of widespread destructive storms for Monday. While some did materialize, the worst was confined in a line clipping Washington, DC then crossing Southern Maryland into the Lower Eastern Shore.
This was a case where it held firm as it passed over the Chesapeake Bay.
There was wind damage, but the most profound impact was the hail reports between 1 and over 2 inches.
Storm Damage Map- Wide
Video
The most intense storm damage appears to have been near Cambridge in Dorchester County. 
These first two clips are from Danny Lee Bell, Owner of Choptank Bowling & Billiards. First, the storm, then the damage.
The Storm in Linkwood, MD
The Damage
"Needless  to say I am not a happy camper. Destroyed our house, dented up one year old pick up and Robin's suburban"
Between Golf Ball and Baseball Size
This from James Nichols outside Vienna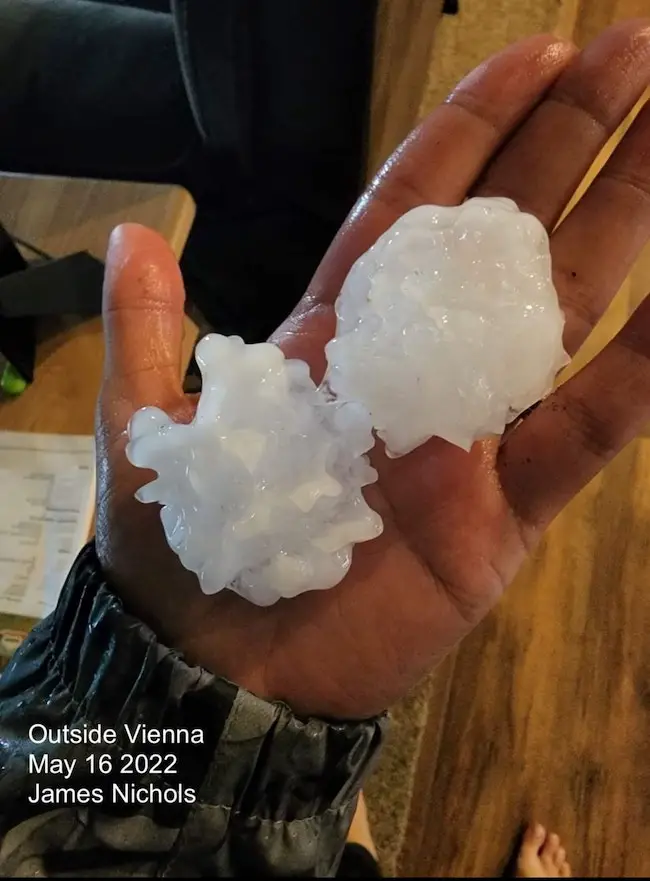 Storm Tracking:
I posted this warning online for the storm as it was approaching, then it overachieved!
Storm Crossing The Bay
Brian Haislip captured this from Lexington Park in southern Maryland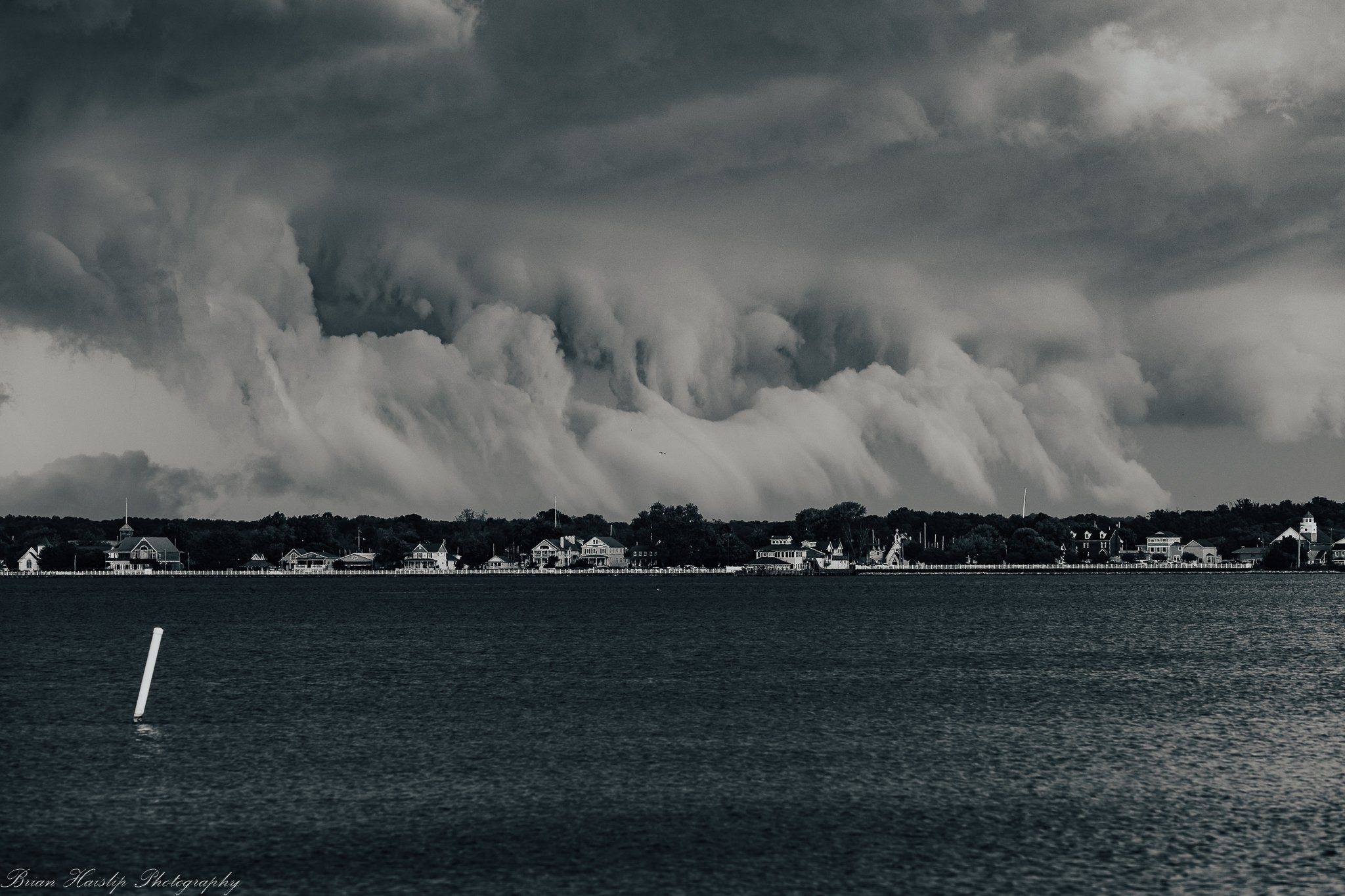 Time Lapse Video: From Tim Grooms
Crossing the Chesapeake Bay to Ragged Island
Time Lapse Video:
Rotating Cloud with Hail Storm Crossing The Chesapeake Bay To Ragged Island
From Tim Grooms#severestorm pic.twitter.com/YTG2l3tB7U

— Justin Berk (@JustinWeather) May 17, 2022
Storm Damage Map
Southern Maryland- Centered on Calvert County
Top Report: 3 INCH HAIL South of Chesapeake Beach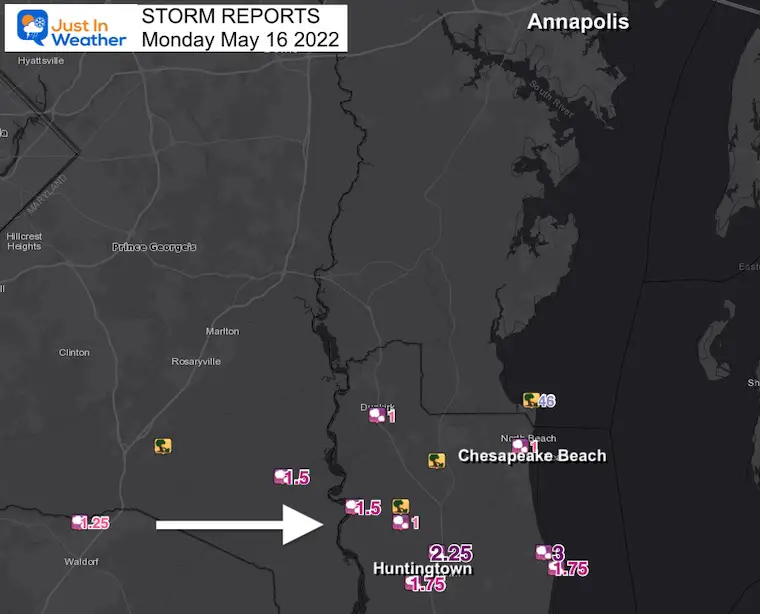 Storm Damage Map 
Near Cambridge MD we can see winds to 64 mph and Hail reports to 2 inches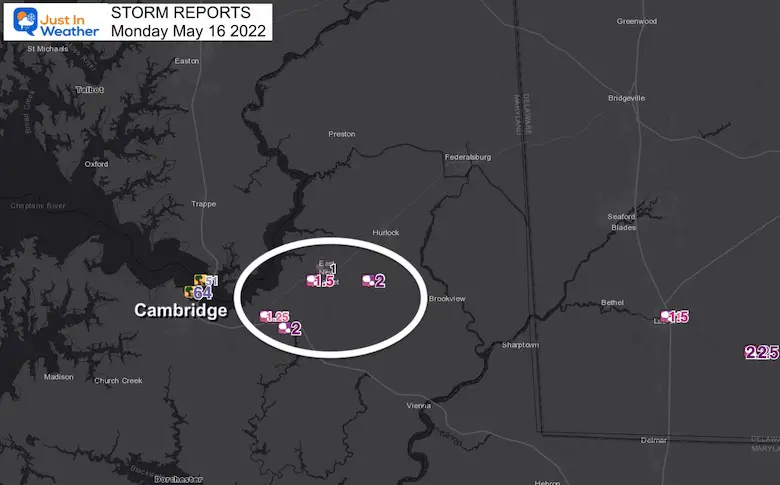 Video Composite:
Three Storm Clips I shared online Monday Night
Hail Reports For Maryland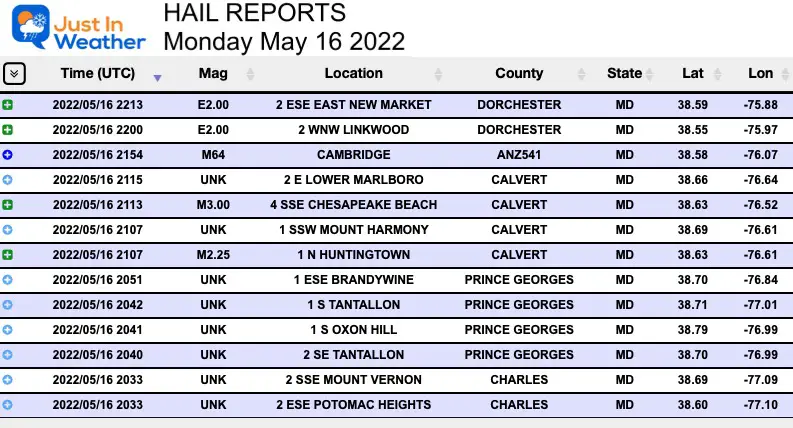 Severe Storm Risk- From This Monday Morning Morning
The Enhanced Risk is Level 3 of 5, a rare status for us, so lease take this seriously. 
Storms may contain damaging winds, large hail, and isolated tornados.
This is a Risk POTENTIAL, NOT A PROMISE…
Severe Storm Risk: Potential For
Damaging Winds Over 58 mph
Hail OVER 1 inch diameter
Isolated Tornadoes are very possible, but not for everyone. These are hit and mostly miss, but all it takes is one!
Weather posts straight to your inbox
Sign up and be the first to know!
Tropical Season Begins June 1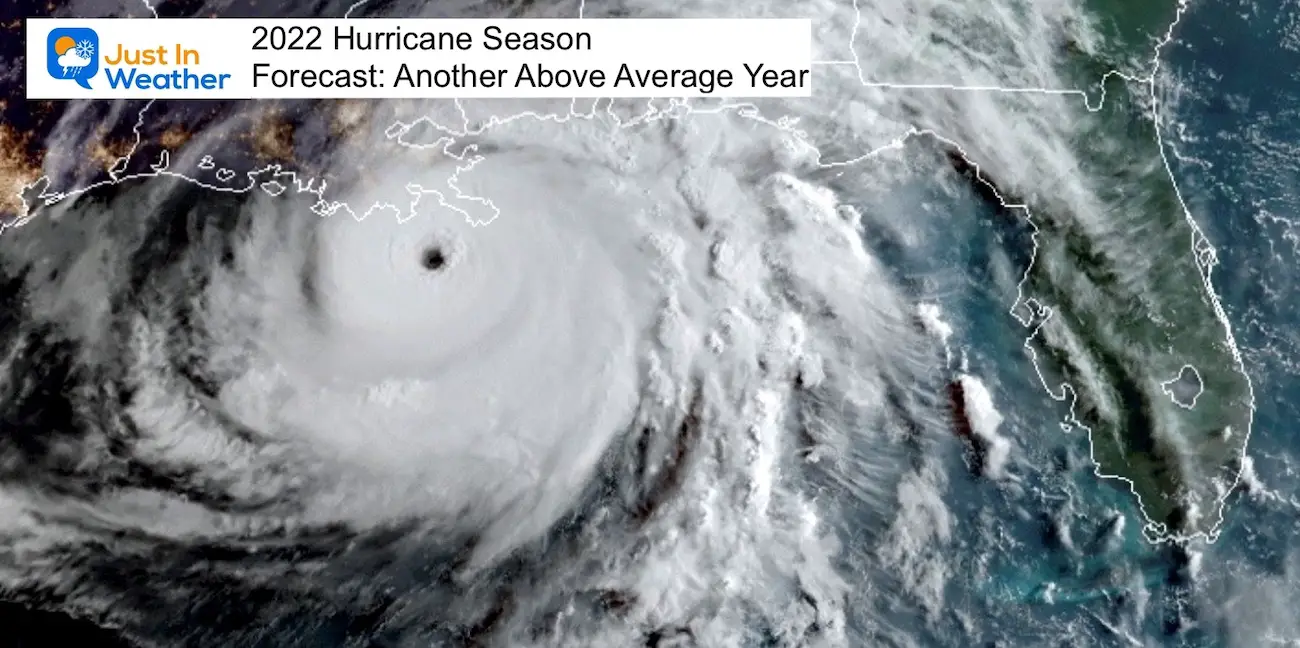 Related Posts
NOAA Study: Reducing Air Pollution INCREASED Tropical Storms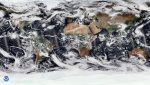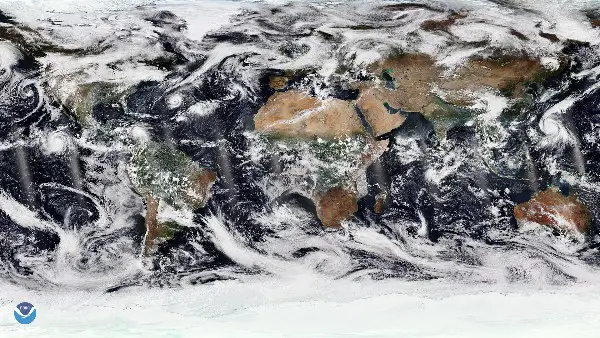 Atlantic Tropical History: Maps of Origin Regions Every 10 Days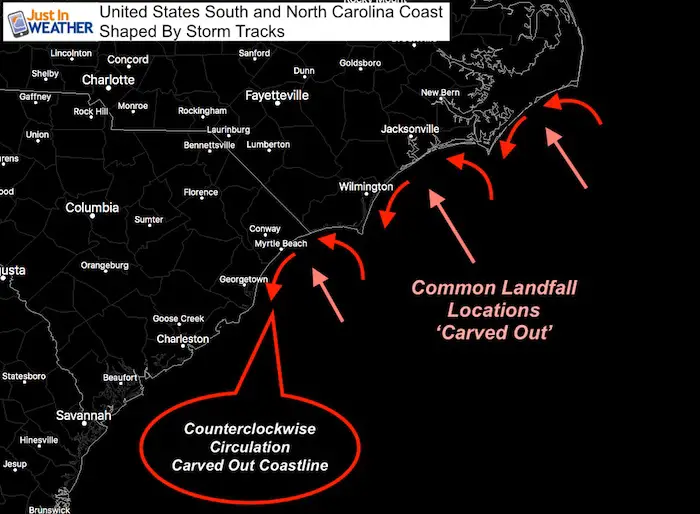 Please share your thoughts, best weather pics/video, or just keep in touch via social media
*Disclaimer due to frequent questions:
I am aware there are some spelling and grammar typos. I have made a few public statements over the years, but if you are new here you may have missed it:
I have dyslexia, and found out at my second year at Cornell.  I didn't stop me from getting my meteorology degree, and being first to get the AMS CBM in the Baltimore/Washington region. 
I do miss my mistakes in my own proofreading. The autocorrect spell check on my computer sometimes does an injustice to make it worse. 
All of the maps and information are accurate. The 'wordy' stuff can get sticky. 
There is no editor that can check my work when I need it and have it ready to send out in a newsworthy timeline. 
I accept this and perhaps proves what you read is really from me…
It's part of my charm.