2022 Atlantic Hurricane Season Forecast And Storm Names
NOAA
Outlook
Tropics
Justin Berk
Apr 8, 2022
2:39 pm
0
April 8 2022
Researchers at Colorado State University have come out with their forecast for the Atlantic Hurricane Season, and it should be busy again.
Dr. William Gray pioneered long range forecasting and impacts of teleconnections from other parts of the world on tropical development. Since his death in 2016, Dr. Phil Klotzbach and his research team continue this work with remarkable accuracy. It is a primary factor with the NOAA and The National Hurricane Center.
Below you can find the CSU Forecast, 2022 Storm Names
Forecast:
By Philip J. Klotzbach1 and Michael M. Bell2
In Memory of William M. Gray3
This is expected to be anther above average season. The influence of the upper level winds from the Pacific Ocean should be light. This is due to a light and weakening La Niña towards neutral. The odds of a significant El Niño is unlikely. That has a history of increasing upper level winds resulting in sheer and less hurricanes in the Atlantic.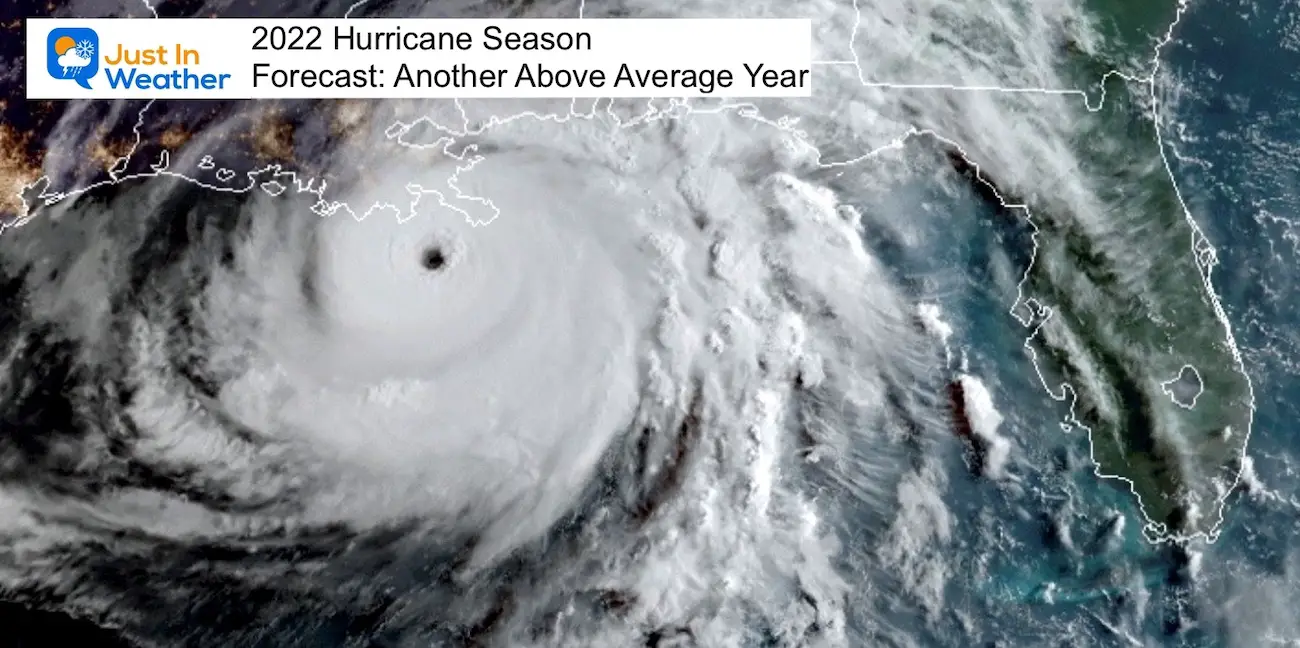 PROBABILITIES FOR AT LEAST ONE MAJOR (CATEGORY 3-4-5) HURRICANE LANDFALL ON EACH OF THE FOLLOWING COASTAL AREAS:
71% – Entire US Coastline.

 

Average last century was 52%

47% East Coast. Average last century was 31%
PROBABILITY FOR AT LEAST ONE MAJOR (CATEGORY 3-4-5) HURRICANE TRACKING INTO THE CARIBBEAN
60% compared to Average Last Century = 42%
Compare Other Forecasts:
Average Vs NOAA Vs AccuWeather Vs Colorado State
2021 Atlantic Hurricane Season outlooks are out, and it looks to be another active year! While it doesn't look to be as crazy as 2020, top tropical scientists from NOAA, AccuWeather, and Colorado State University all predict above normal activity. #tropicalwx #hurricaneseason pic.twitter.com/xrnNRKLyHK

— Beth Carpenter | TDS Weather (@B_Carp01) May 24, 2021
ACE – Accumulated Cyclone Energy
Forecast 160 compared to average 123 from 1991 to 2020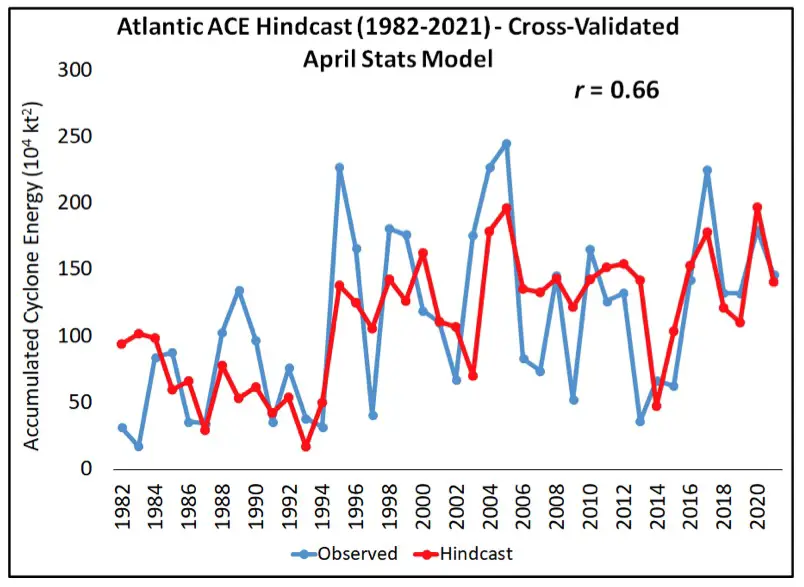 NUMBER OF STORMS DOES NOT DETERMINE WHAT WILL REACH LAND
1992: Only 7 storms were named, but one of them was the devastating Category 5 Andrew that crushed south Florida.

 

1983: Only 4 storms were named, but one of them was Category 4 Alicia pummeled south Texas,
2010: There were 19 named storms with 12 becoming hurricanes. None reached the US shores.
Storm Names
2020 brought us a record 30 named storms and a big change to the naming system.
The Greek Alphabet was used (as was in 2005), when the name list was completed.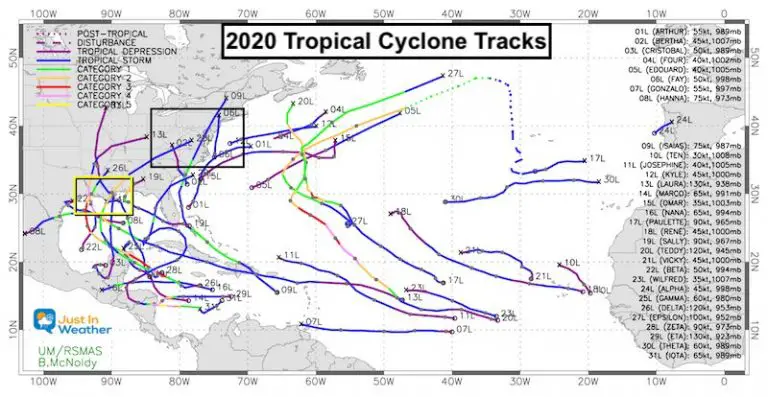 The World Meteorological Organization decided it caused added confusion, so a secondary list is waiting indefinitely. If that is not used this year, it will be waiting for when it may be needed.
2021 brought us 21 names storms
Tropical Storm Names: Atlantic for 2022
Alex
Bonni
Colin
Danielle
Earl
Fiona
Gaston
Hermine
Ian
Julia
Karl
Lisa
Martin
Nicole
Owen
Paula
Richard
Shary
Tobias
Virginie
Walter
Supplemental List (If the main list gets used up
ADRIA
BRAYLEN
CARIDAD
DESHAWN
EMERY
FOSTER
GEMMA
HEATH
ISLA
JACOBUS
KENZIE
LUCIO
MAKAYLA
NOLAN
ORLANDA
PAX
RONIN
SOPHIE
TAYSHAUN
VIVIANA
WILL
Related Posts
Atlantic Tropical History: Maps of Origin Regions Every 10 Days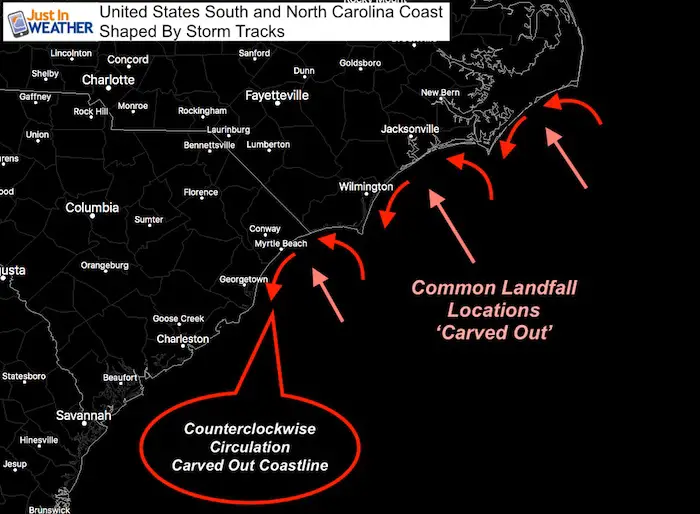 Weather posts straight to your inbox
Sign up and be the first to know!
Please share your thoughts, best weather pics/video, or just keep in touch via social media
*Disclaimer due to frequent questions:
I am aware there are some spelling and grammar typos. I have made a few public statements over the years, but if you are new here you may have missed it:
I have dyslexia, and found out at my second year at Cornell.  I didn't stop me from getting my meteorology degree, and being first to get the AMS CBM in the Baltimore/Washington region. 
I do miss my mistakes in my own proofreading. The autocorrect spell check on my computer sometimes does an injustice to make it worse. 
All of the maps and information are accurate. The 'wordy' stuff can get sticky. 
There is no editor that can check my work when I need it and have it ready to send out in a newsworthy timeline. 
I accept this and perhaps proves what you read is really from me…
It's part of my charm.