April 9 Harford Hail Storm: Forecast Weekend Wind Then Warm Up
storm recap
Forecast
video
Justin Berk
Apr 9, 2022
7:57 am
0
Saturday Morning Report
Yesterday I call the pattern self destructive sunshine. I did not intend 'destruction', but there was enough energy for loud boomers and more to develop.  Northeastern Maryland was one area that got pounded with multiple loud storms, and even a hail event at night.
Doppler Radar Recap: Friday 9:30 PM to 10:30 PM
Here is how that storm cell developed. There was plenty of lightning that accompanied this cluster.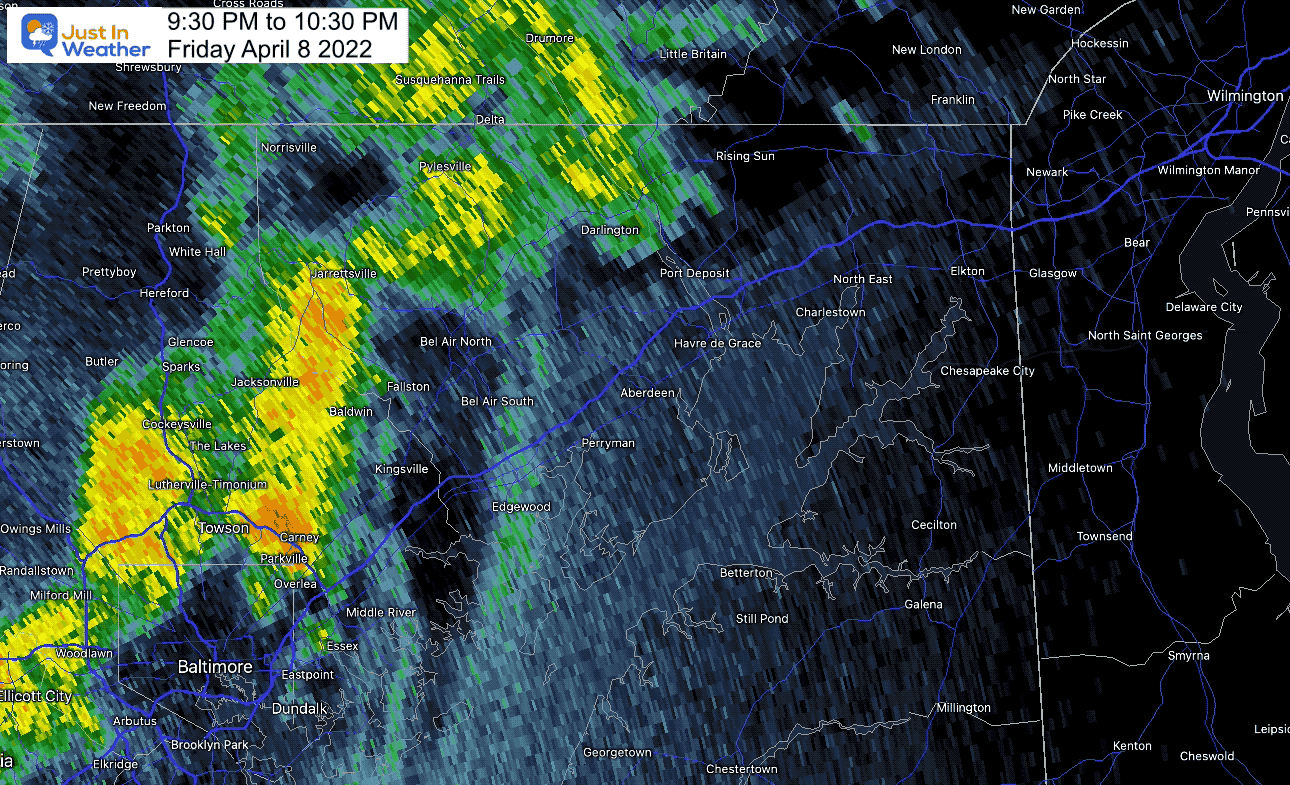 Video From Aberdeen's Erin Mullen
This was an impressive storm to develop at night while temps were in the chilly 50s and 40s.
More Photos:
Hail stones were pea to dime size, just UNDER criteria for a severe storms. When over 1" diameter or the size of a quarter, a storm is considered severe and a warning is issued to track it.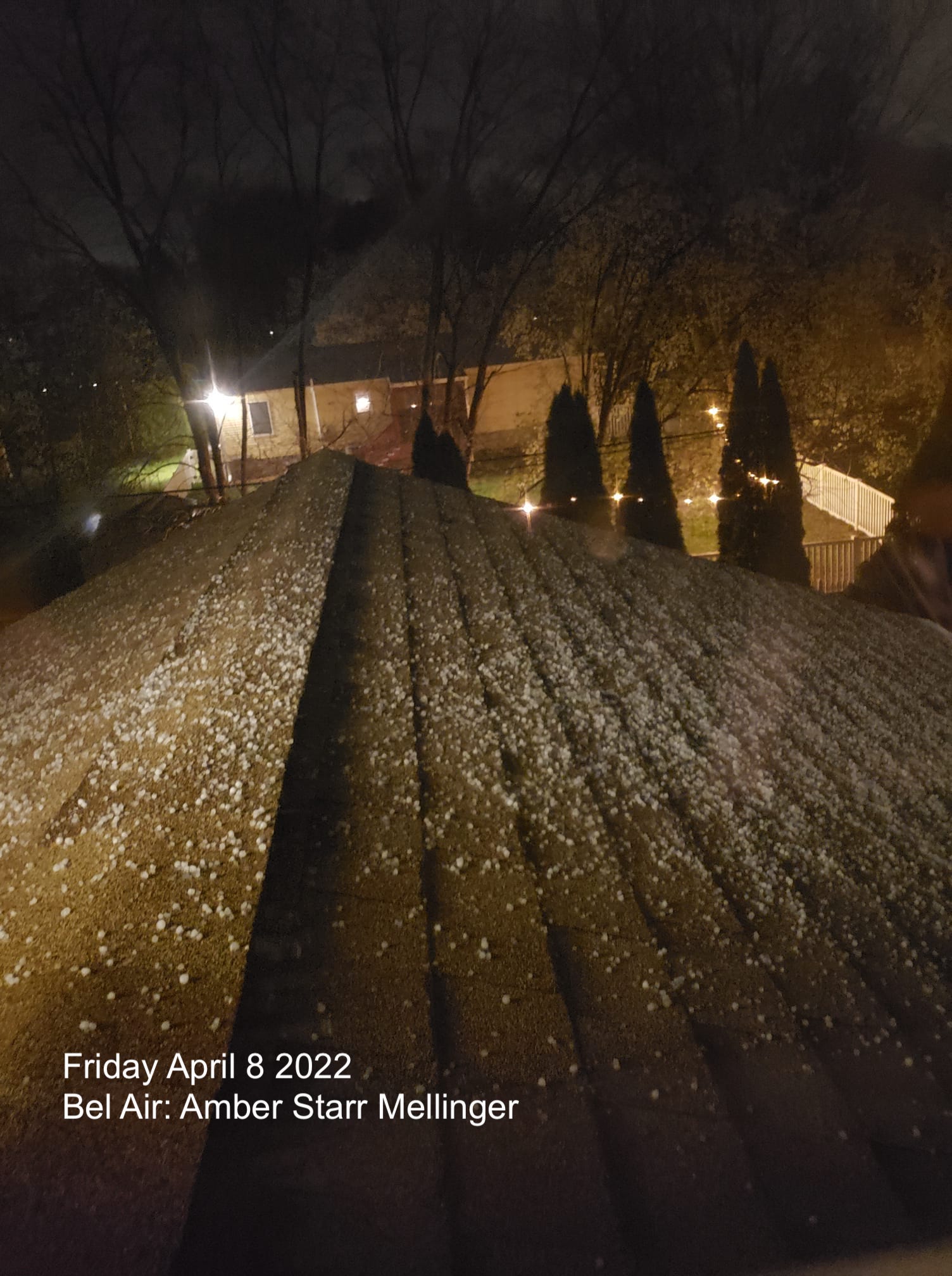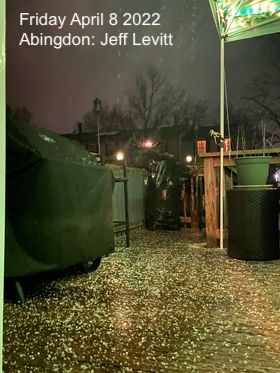 Saturday Set Up
Surface Weather
It's a soggy start, which has led to our baseball practice being cancelled. You might want to check on your activities.
We are under a large pool of cool air aloft. This pivots pieces of energy our way, so it remains unsettled. The batch of rain from overnight is moving away to the north and east, but more showers are likely to develop during the afternoon.  This will mix with snow and some stickage in the high mountains. 
Our final push of chilly air (from this) will be Sunday, then we warm up BIG TIME!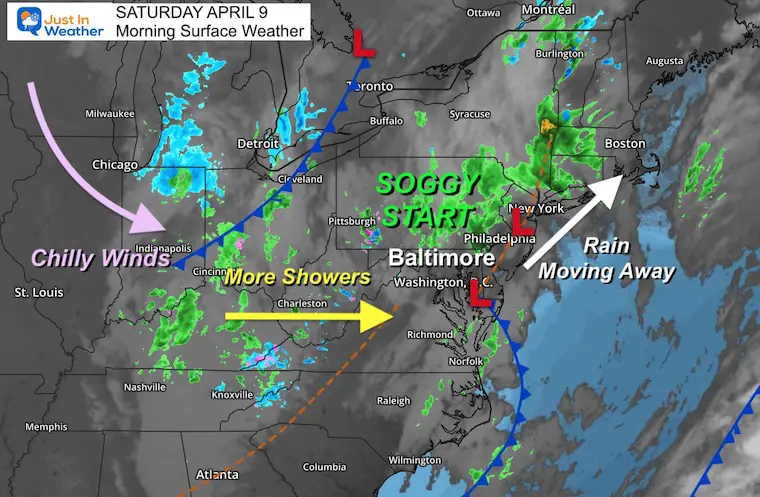 Morning Radar – I found the error!
Often I show a radar simulation from one of our short range models. This morning, it was nearly perfect, but off by about 40 minutes. Check this out.
Doppler Radar Snapshot at 6:22 AM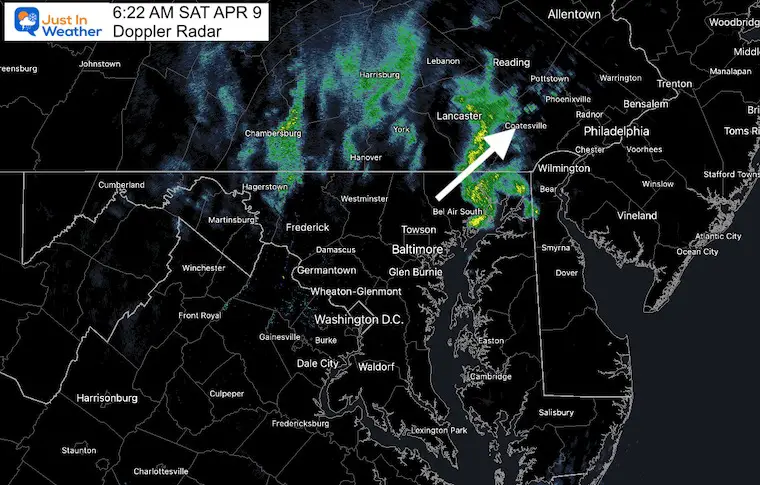 HRRR Forecast For 7 AM
This looks nearly identical, but later… I will keep this in mind for future events.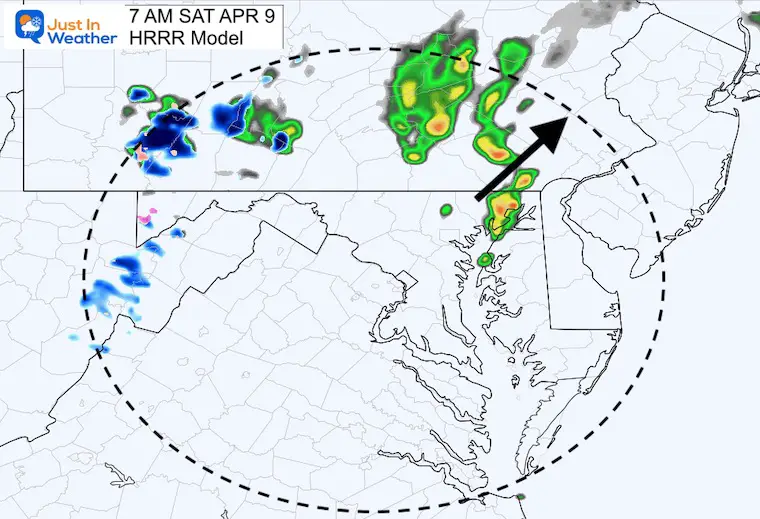 Morning Temperatures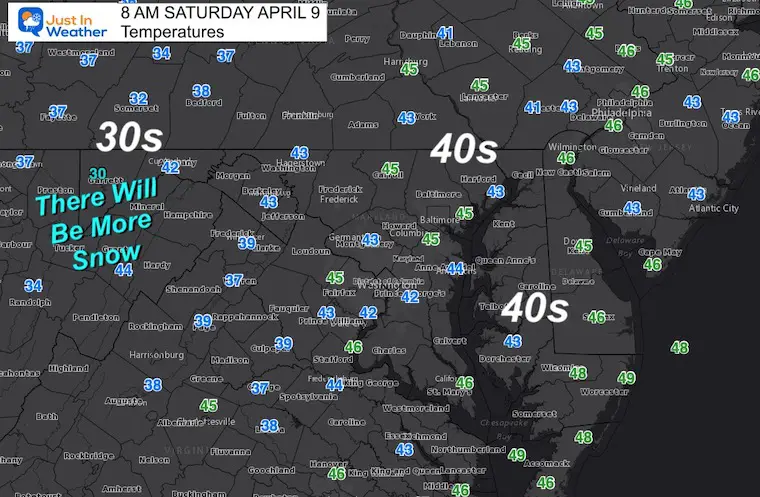 Rain Animation: 8 AM to 10 PM
This product is NOT perfect, so the scattered showers may be spread out more.  Just keep the thought that there may be more showers at any time…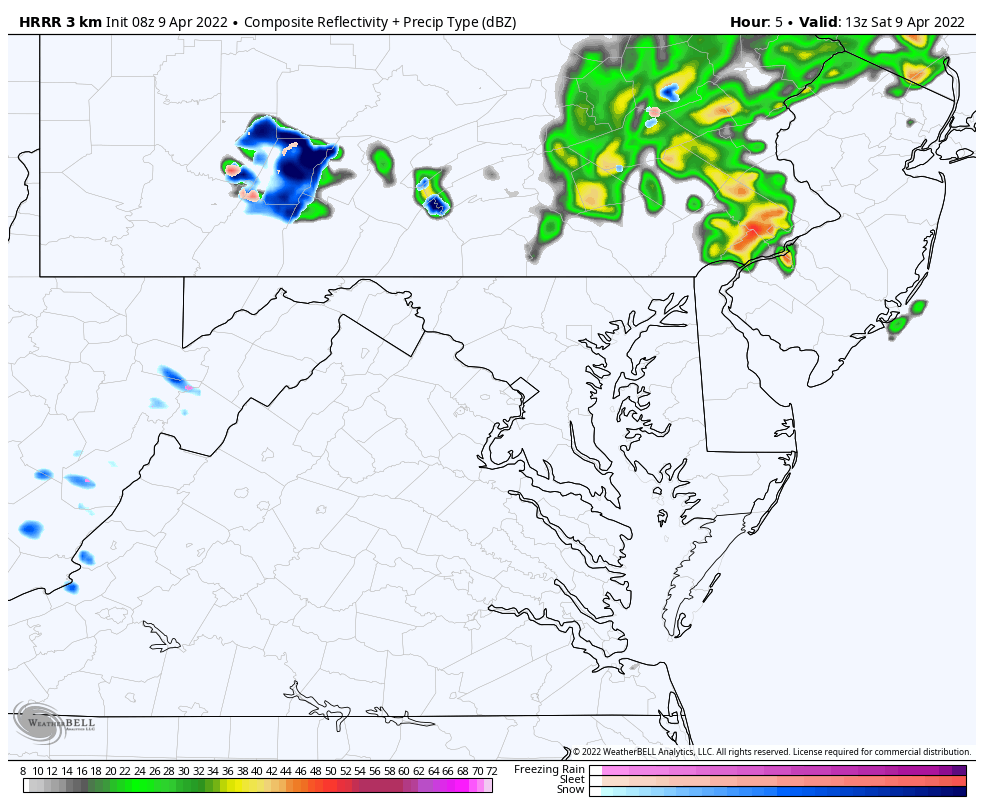 Afternoon Temperatures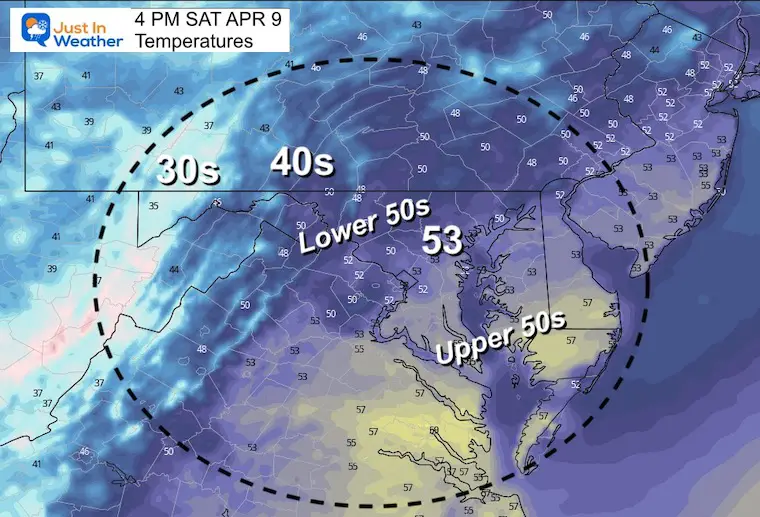 CLIMATE DATA
TODAY April 9
Seasonal Snow: 14.4"
Normal Low in Baltimore:  41ºF
Record 26º F in  2007
Normal High in Baltimore: 62ºF
Record 89ºF 1959
Sunday Morning
 

Temperatures

Yes, it is still too early to plant.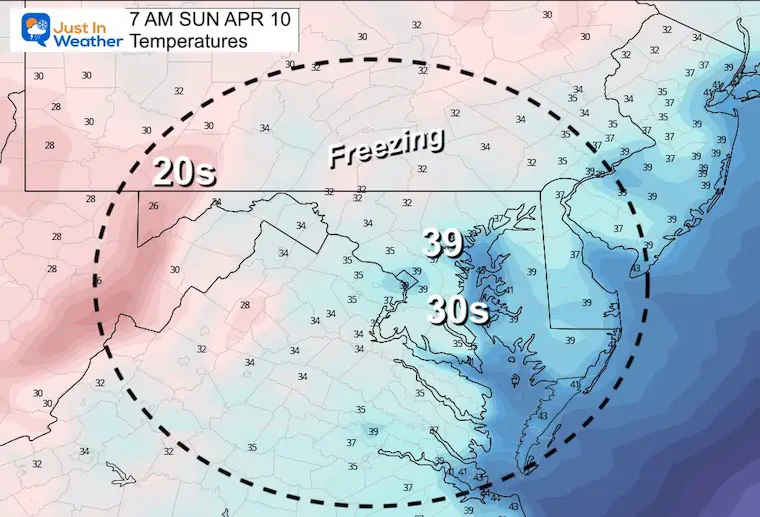 Wind Forecast
Winds will increase from the Northwest. This will dry us out, but remain cool… and gust up to 30 mph.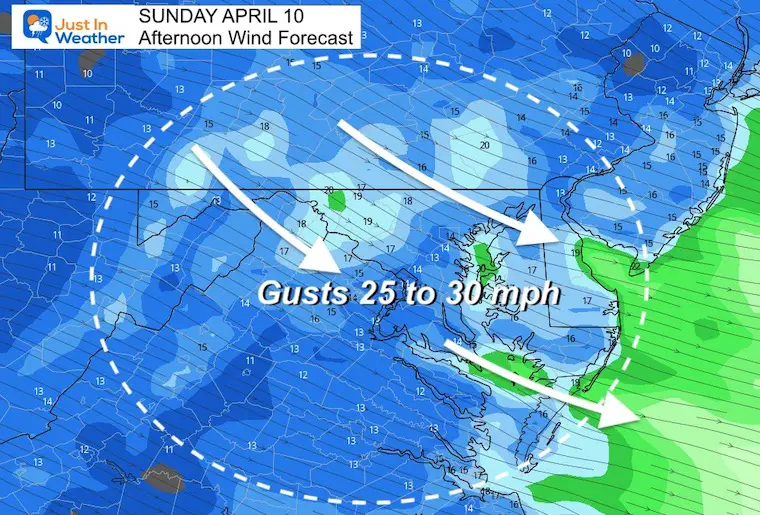 Sunday Afternoon Temperatures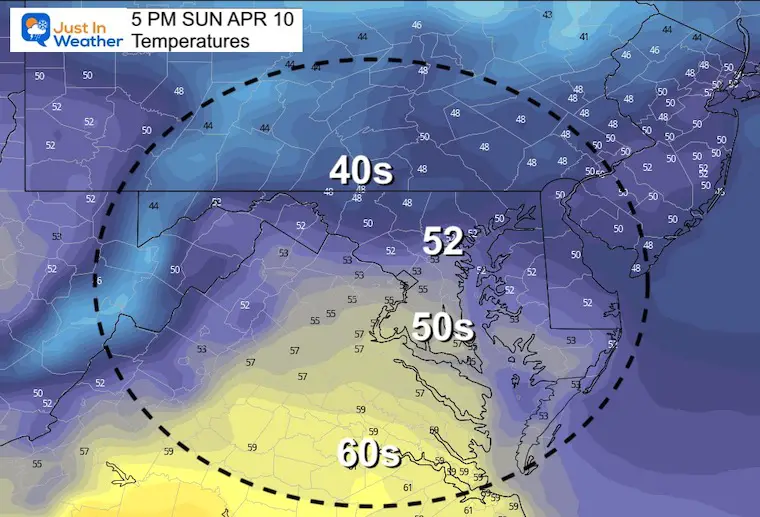 Looking Ahead: Wednesday to Friday
While we get a warm up, there will be a chance for showers many days.  As we push the 70s+, there will be an increase in thunderstorms as well.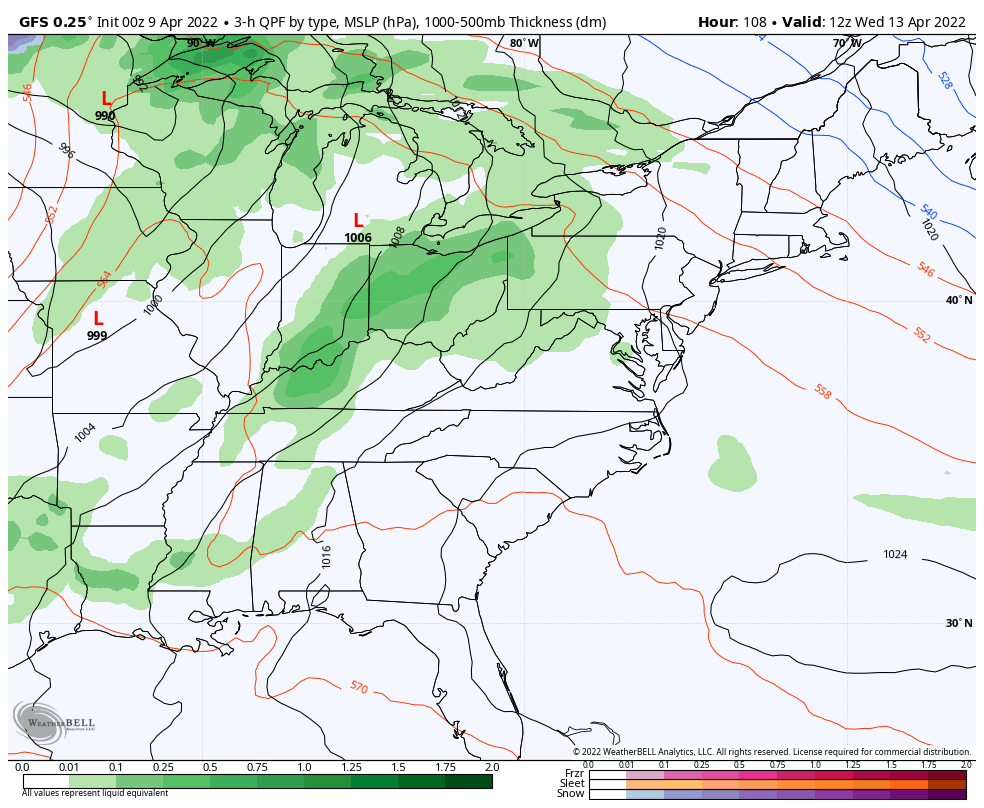 7 Day Forecast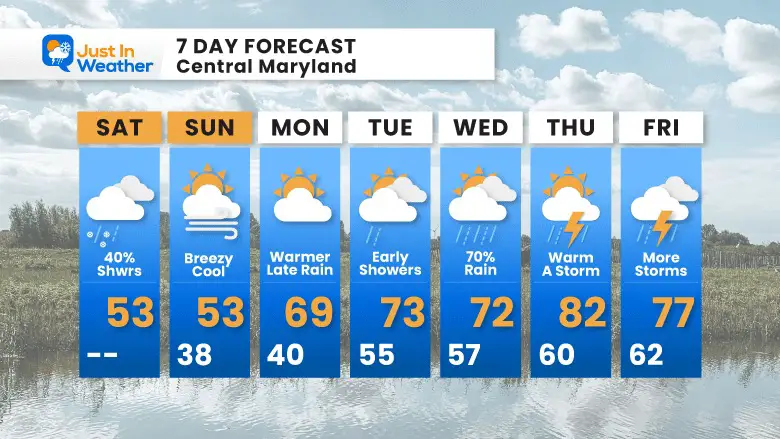 Weather posts straight to your inbox
Sign up and be the first to know!
Tropical Season Beings June 1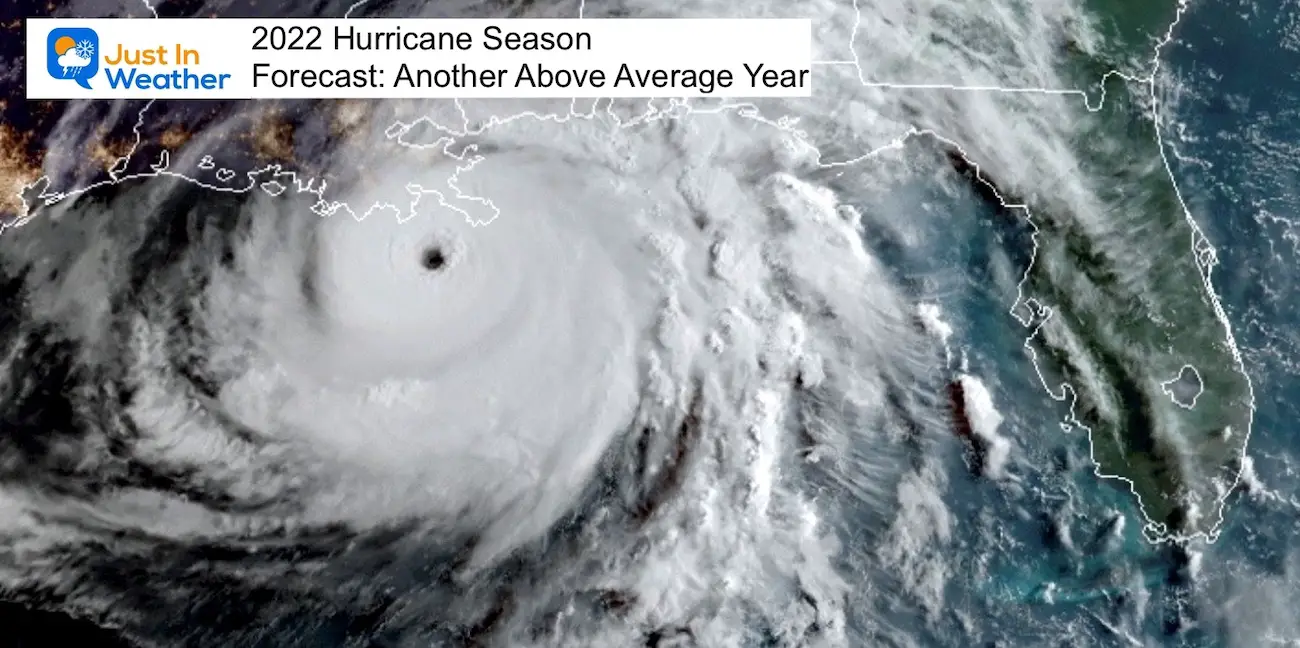 Related Posts
Atlantic Tropical History: Maps of Origin Regions Every 10 Days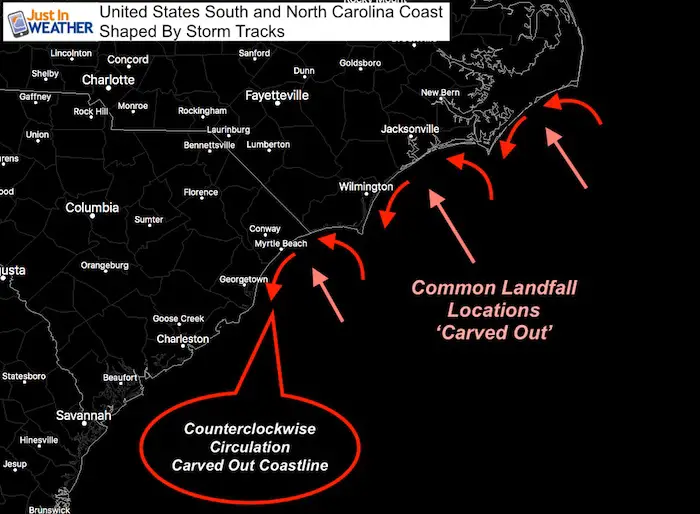 Please share your thoughts, best weather pics/video, or just keep in touch via social media
*Disclaimer due to frequent questions:
I am aware there are some spelling and grammar typos. I have made a few public statements over the years, but if you are new here you may have missed it:
I have dyslexia, and found out at my second year at Cornell.  I didn't stop me from getting my meteorology degree, and being first to get the AMS CBM in the Baltimore/Washington region. 
I do miss my mistakes in my own proofreading. The autocorrect spell check on my computer sometimes does an injustice to make it worse. 
All of the maps and information are accurate. The 'wordy' stuff can get sticky. 
There is no editor that can check my work when I need it and have it ready to send out in a newsworthy timeline. 
I accept this and perhaps proves what you read is really from me…
It's part of my charm.