Storm Reports From Sunday May 22
Flooding
storm recap
Severe Weather
Justin Berk
May 23, 2022
6:18 am
0
May 23 2022
The cold front that moved through on Sunday May 22 ended our mini-heat wave and three days in the 90s. The eruption of storms in the afternoon overachieved the expectations from the morning model simulation. 
Two rounds of severe storms developed. The first produced widespread hail, the other an incredible light show and local flash flooding with rain up to 2 inches.
Here is a quick summary.
Storm Reports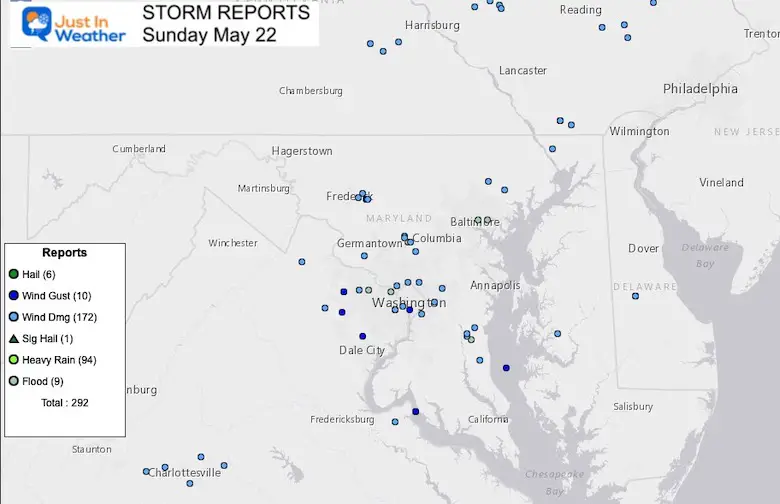 Close Up Map
This shows Hail almost to 1 inch near New Market in Frederick County.
Winds gusted to 68 mph west of Washington DC.
Flooding included Baltimore City, Washington DC, and northern Calvert County.
Wind Damage reports were widespread, even to the beach near Rehoboth, DE.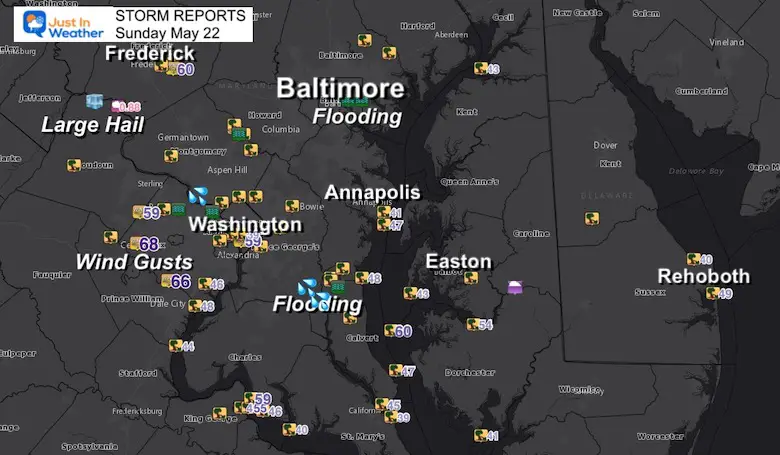 Report List (Maryland)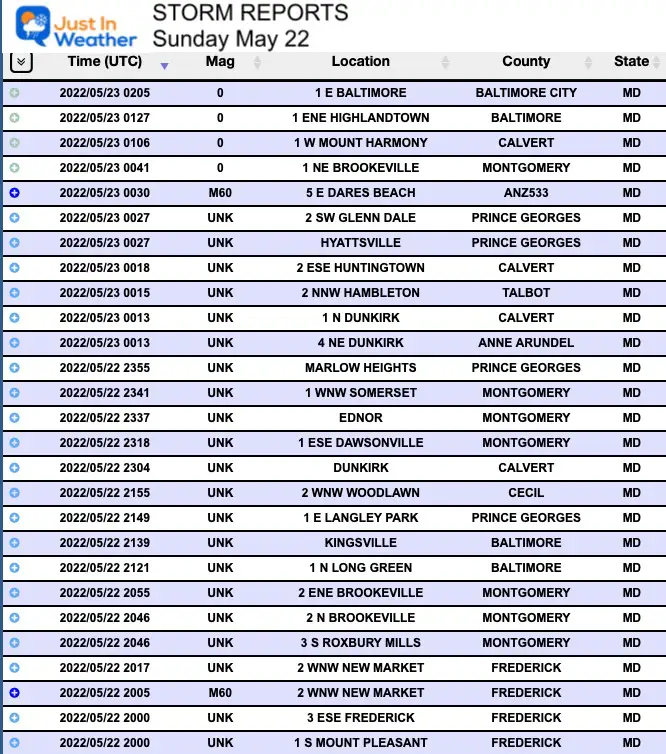 Rainfall Total
Compare The Radar Summary To Simulation 
Many metro areas received over 1 inch of rain.
Over 2 inches near Mt. Airy and Damascus, Laurel, and Chesapeake Beach along the AACo and Calvert Co border.
Radar (and Satellite) Summary
4:30 PM to 9:30 PM
Radar Simulation
This was in my report about the meeting and decision with Johns Hopkins University to postpone commencement.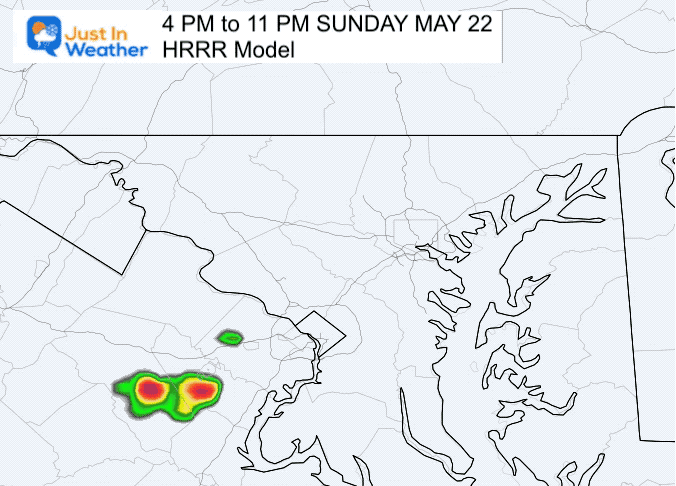 As we can see, the timing was off a little, and the storm development was more widespread that the short range forecast.  We made the correct anticipation.
For the next storm event we need to consider that it could be more active than short range forecasts show.
Weather posts straight to your inbox
Sign up and be the first to know!
VOTE: Best 'Meteorologist'
Of Baltimore (Reader's Poll)
Through May 29 at 5 PM
Click here to access The Baltimore Sun 

Tropical Season Begins June 1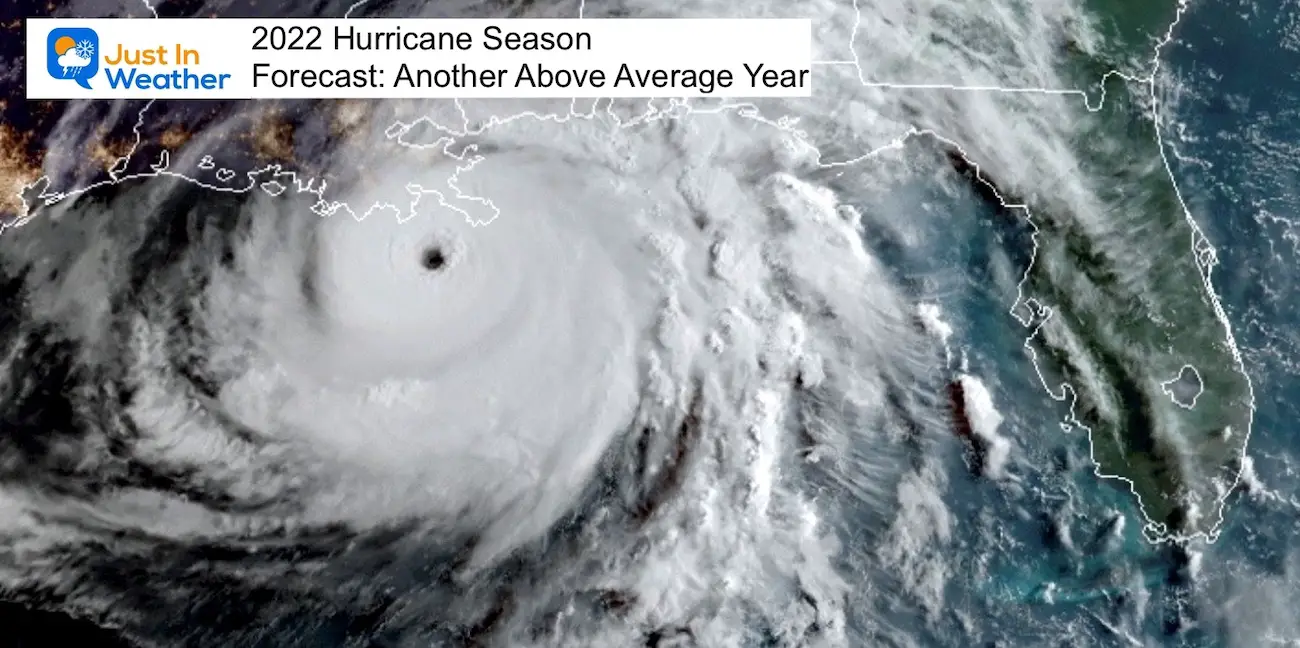 Related Posts
NOAA Study: Reducing Air Pollution INCREASED Tropical Storms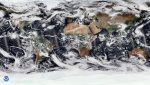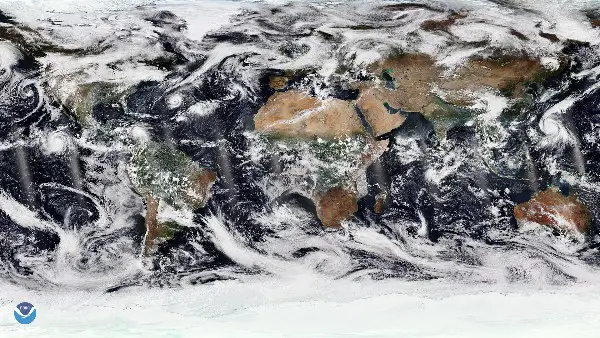 Atlantic Tropical History: Maps of Origin Regions Every 10 Days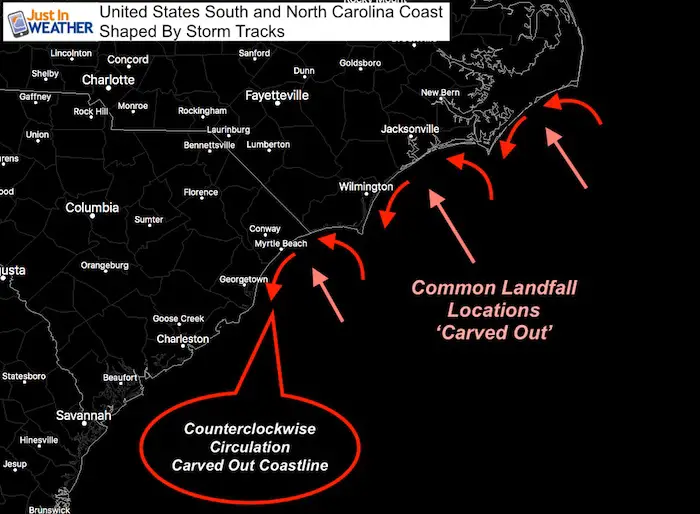 Please share your thoughts, best weather pics/video, or just keep in touch via social media
*Disclaimer due to frequent questions:
I am aware there are some spelling and grammar typos. I have made a few public statements over the years, but if you are new here you may have missed it:
I have dyslexia, and found out at my second year at Cornell.  I didn't stop me from getting my meteorology degree, and being first to get the AMS CBM in the Baltimore/Washington region. 
I do miss my mistakes in my own proofreading. The autocorrect spell check on my computer sometimes does an injustice to make it worse. 
All of the maps and information are accurate. The 'wordy' stuff can get sticky. 
There is no editor that can check my work when I need it and have it ready to send out in a newsworthy timeline. 
I accept this and perhaps proves what you read is really from me…
It's part of my charm.