May 23 Next Storm Brings Rain Later Today And Most Of This Week Stays Damp
climate data
rain timeline
Forecast
Justin Berk
May 23, 2022
10:53 am
0
May 23 2022
Monday Report
The next storm looks impressive on the weather map. Often in Spring, a cold front stalls in the Southern US, then a wave of Low Pressure will form along it and return north. That is the case today.  So after a cool, crisp, and beautiful start to the day, clouds are already increasing. The rain  is not far behind.
Here is a look at the set up and quick forecast. Heavy rain will fall in parts of our region with this storm through Tuesday. Then we keep an easterly wind holding clouds and showers around most of the work week. The holiday weekend looks much better. 
Morning Set Up
Surface Weather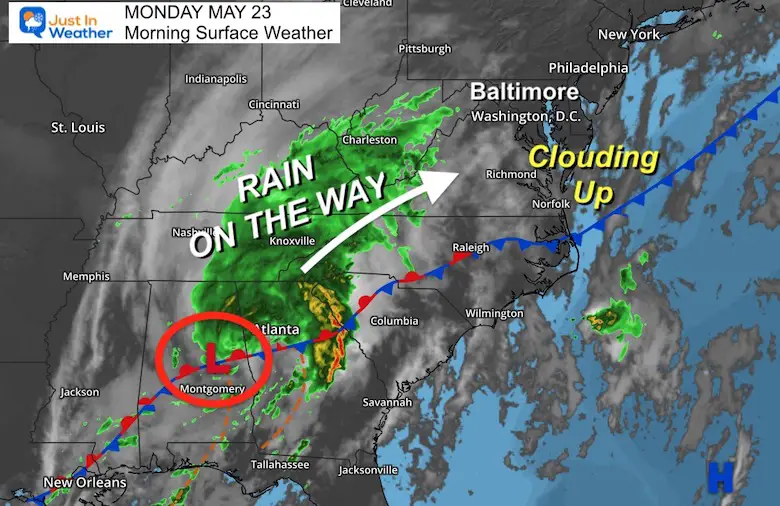 IR Satellite Loop 8:30 AM to 10:30 AM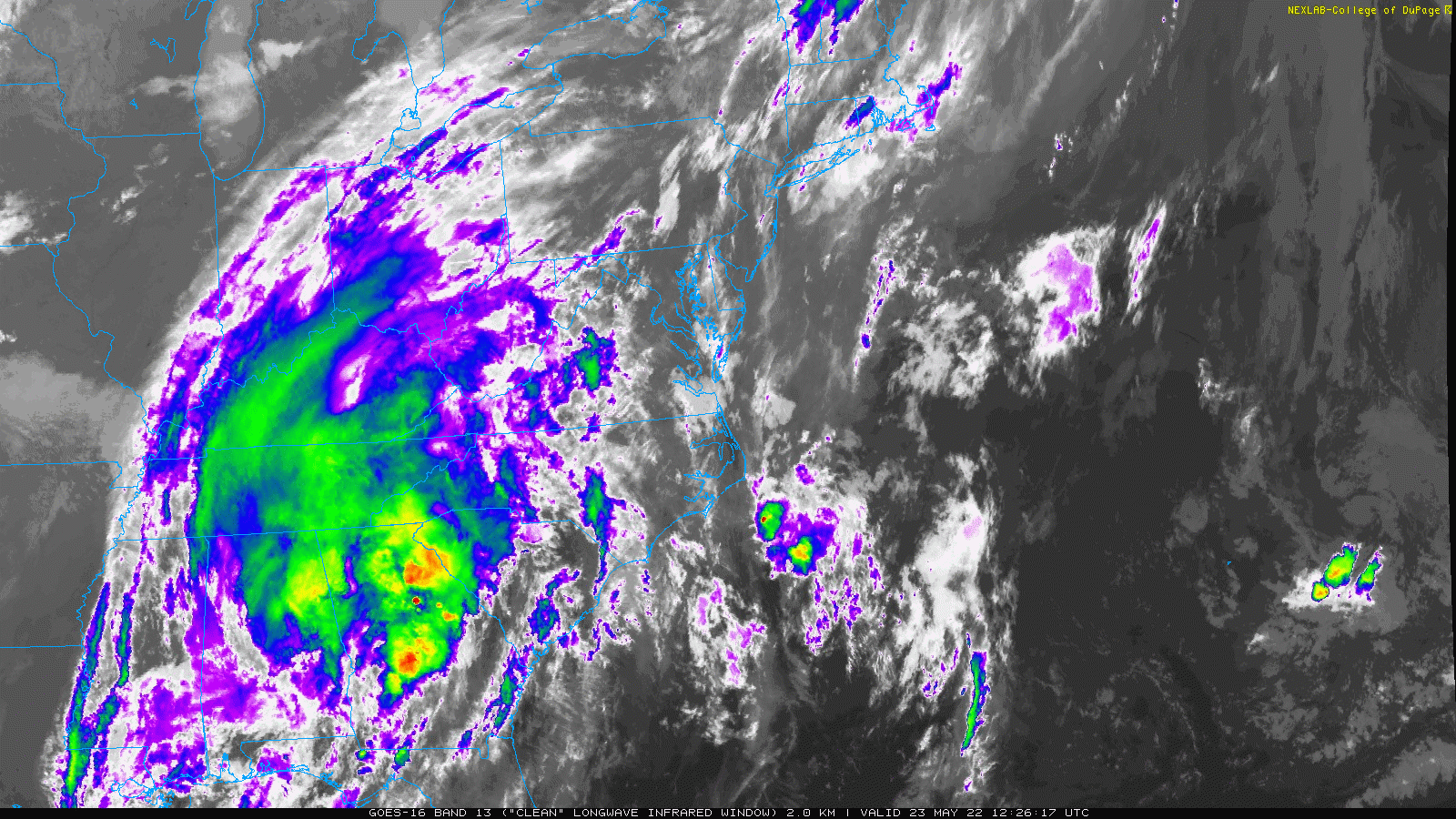 Visible Satellite 
Look closely for the lines… Those are jet contrails moving with the upper level winds ahead of the storm.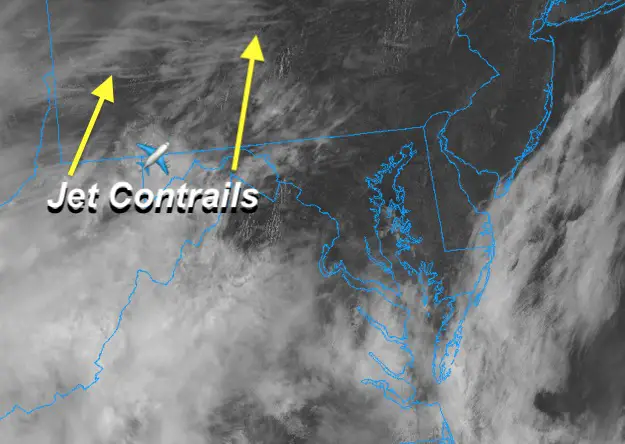 Loop 8:30 AM to 10:30 AM
Pollen Report
Keep this link handy… I post the latest info as soon as I get it on this page.
Click here for The Pollen Page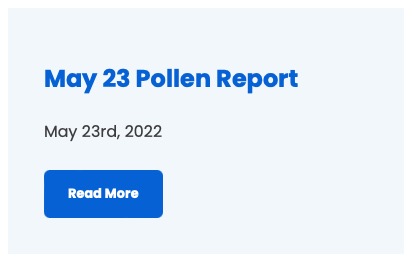 Afternoon Temperatures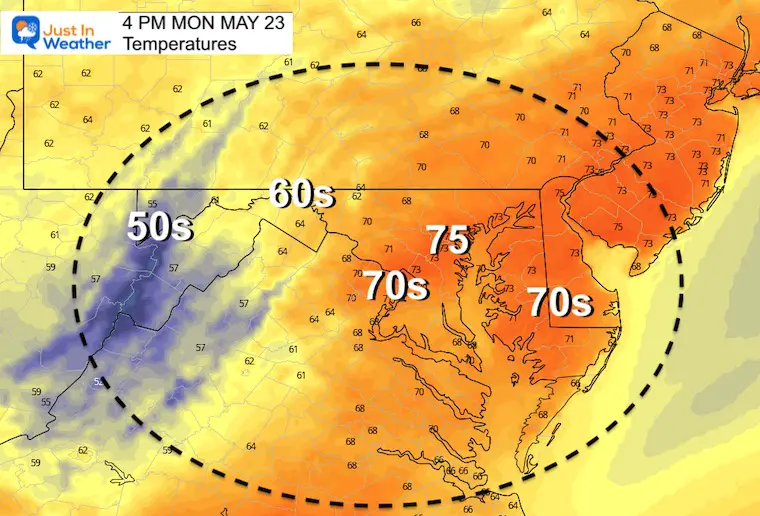 Rain On The Way…
Loop: 4 PM Monday to 12 PM Tuesday 
Watching for rain near or west of Frederick around 4 PM.
Metro areas get the rain arriving around or after 6 PM through tonight.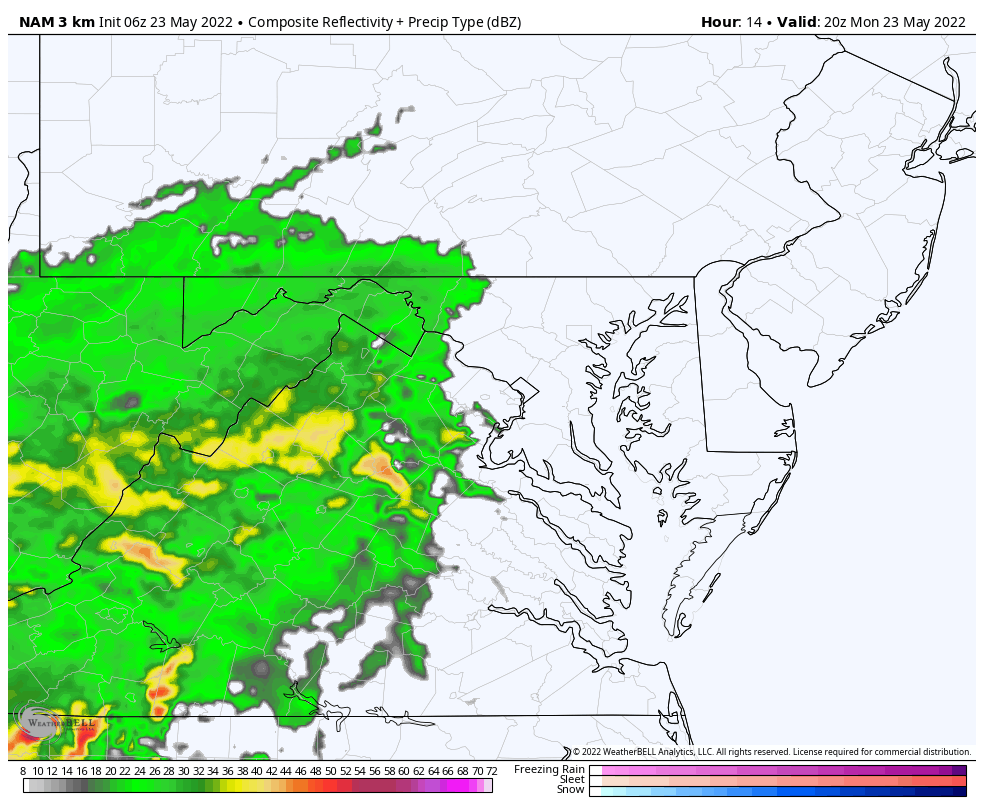 Rain Forecast Through Noon Tuesday
Sharp edge of the heavy rain, with the bulk into central and northern Virginia.
Between 2 and 4 inches expected west and southwest of Washington DC.
Baltimore just over 1/2″ with much less to the north.
Delmarva… there will be more on top of this into Tuesday afternoon.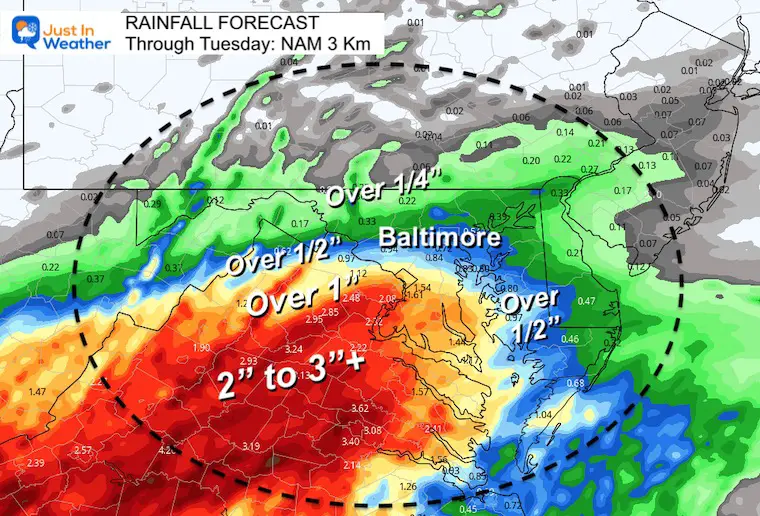 CLIMATE DATA
TODAY May 23rd
Normal Low in Baltimore:  54ºF
Record 39ºF in 1961
Normal High in Baltimore: 76ºF
Record 98ºF 1925
Tuesday Temperatures
Morning
It may actually be warmer in the morning than the afternoon…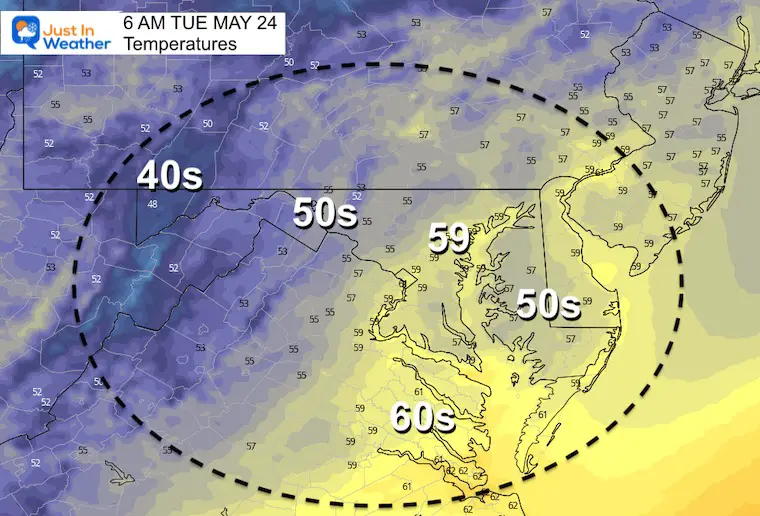 Afternoon
A high late morning (after daybreak) is expected to be followed by cooler winds through the afternoon. Yes, many of us may spend the day in the 50s just a few days after the mid 90s.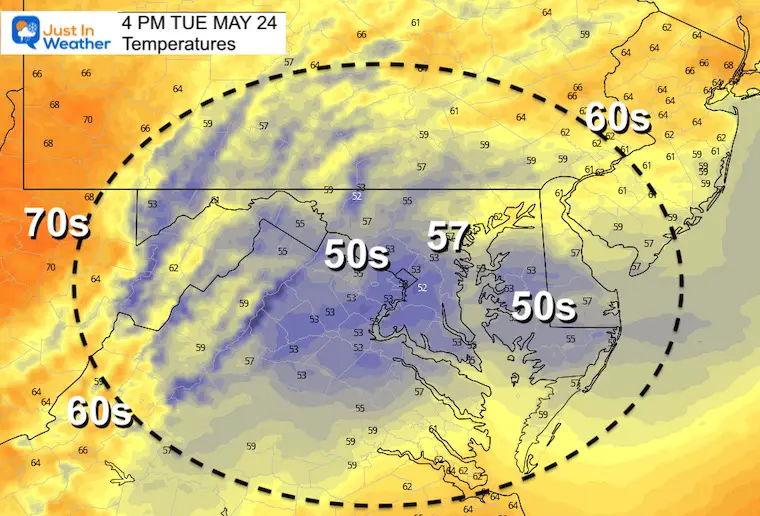 Looking Ahead
Rain Animation: Monday Afternoon To Friday
An east wind will keep us cool and damp with showers. They may not show well on this product, but they will be there.
This wet pattern should end with a strong cold front on Friday, which may include strong thunderstorms.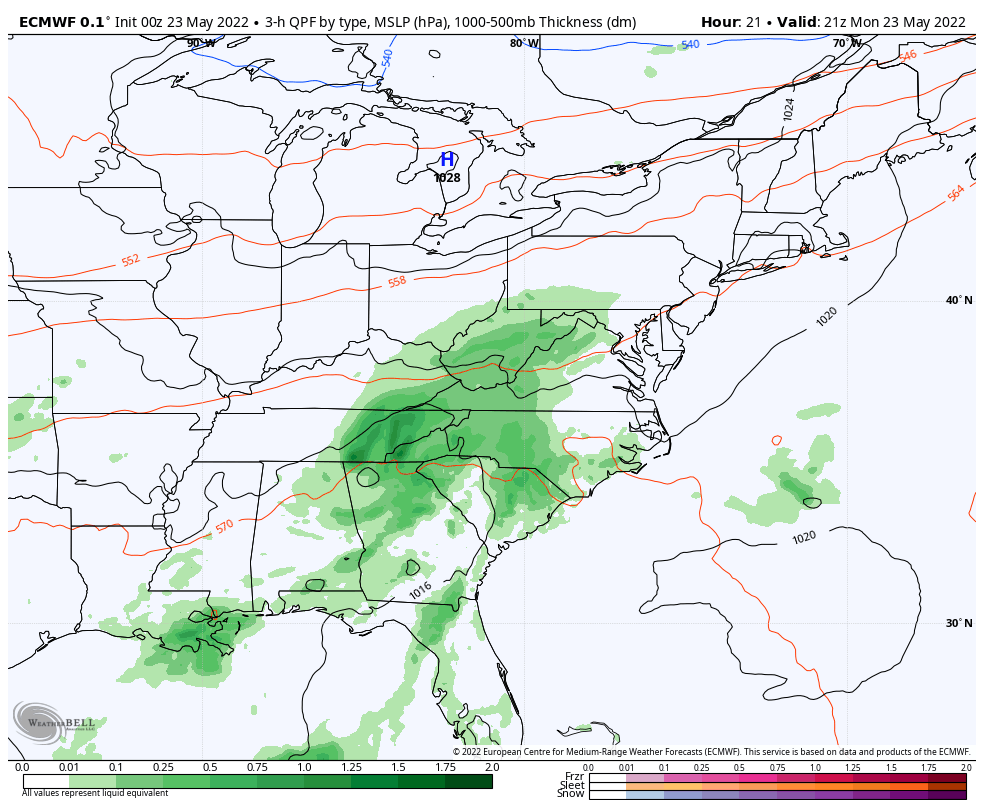 7 Day Forecast
Weather posts straight to your inbox
Sign up and be the first to know!
Cooler winds from the ocean plus clouds and periods of rain will keep us even cooler than I earlier suggested. It will be chilly for a couple of days.
Memorial Day Weekend does look much better.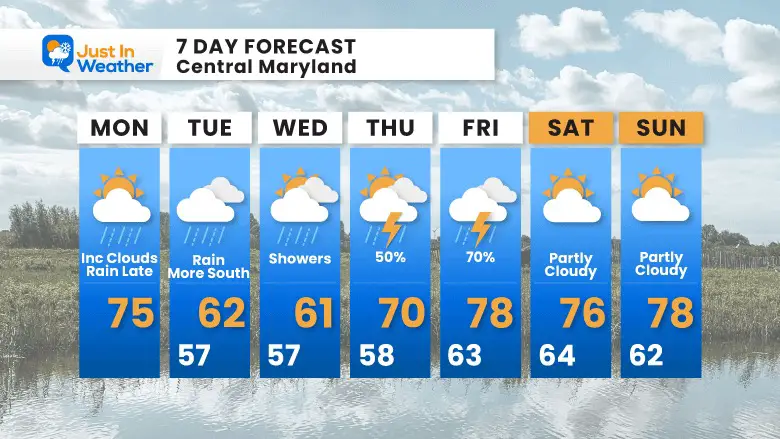 Storm Reports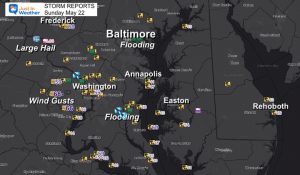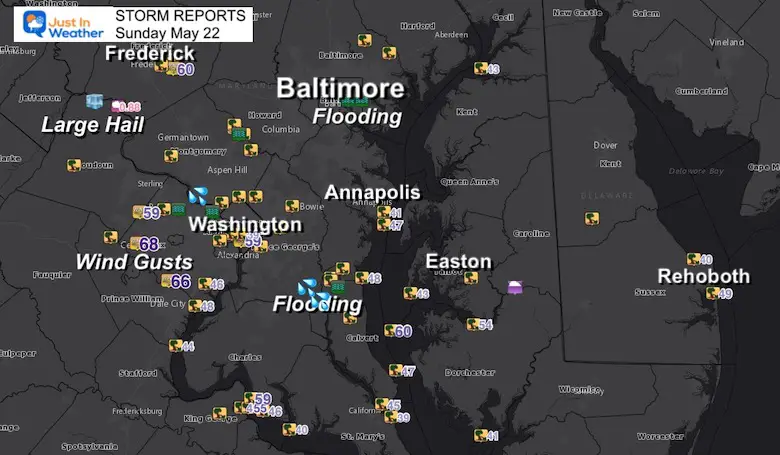 May 16 Large Hail Videos And Storm Tracking Map
VOTE: Best 'Meteorologist'
Of Baltimore (Reader's Poll)
Through May 29 at 5 PM
Click here to access The Baltimore Sun 

Tropical Season Begins June 1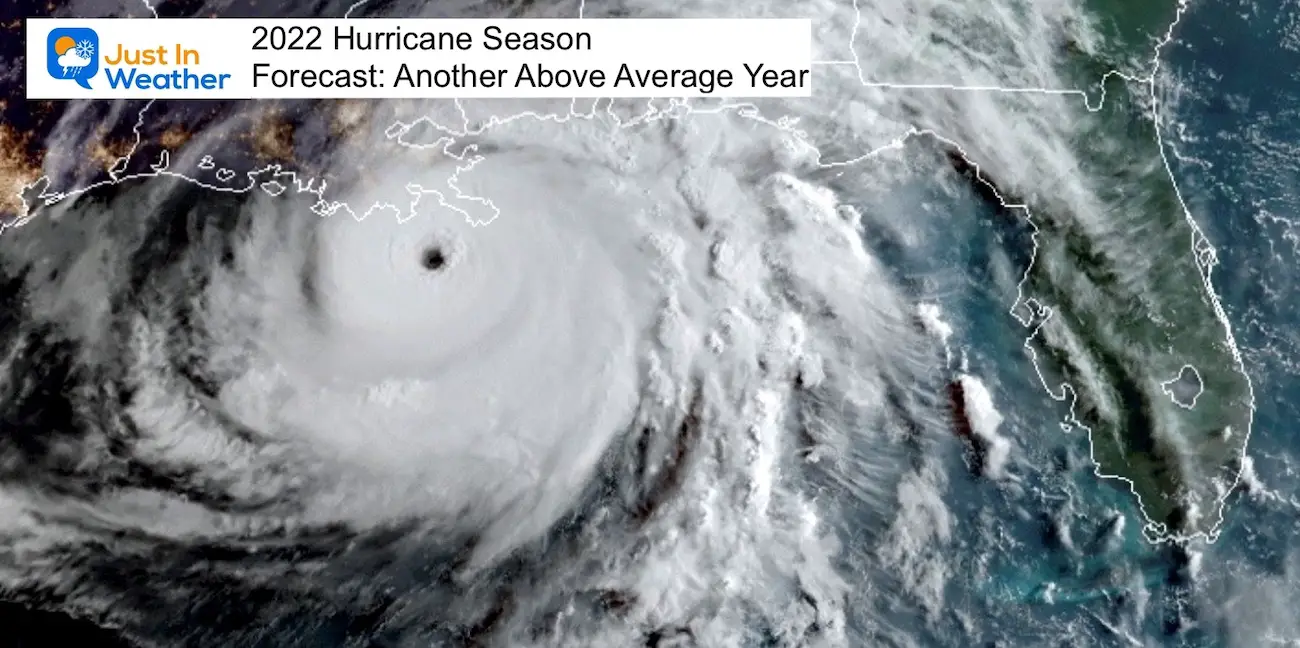 Related Posts
NOAA Study: Reducing Air Pollution INCREASED Tropical Storms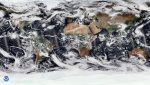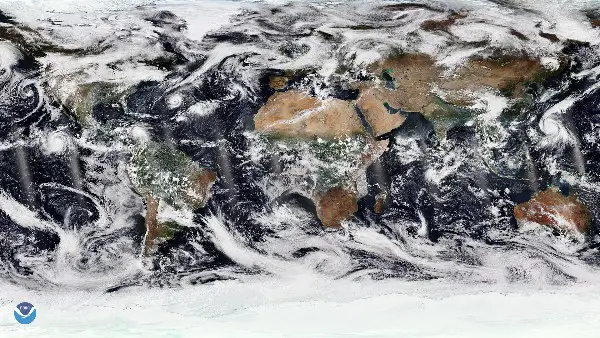 Atlantic Tropical History: Maps of Origin Regions Every 10 Days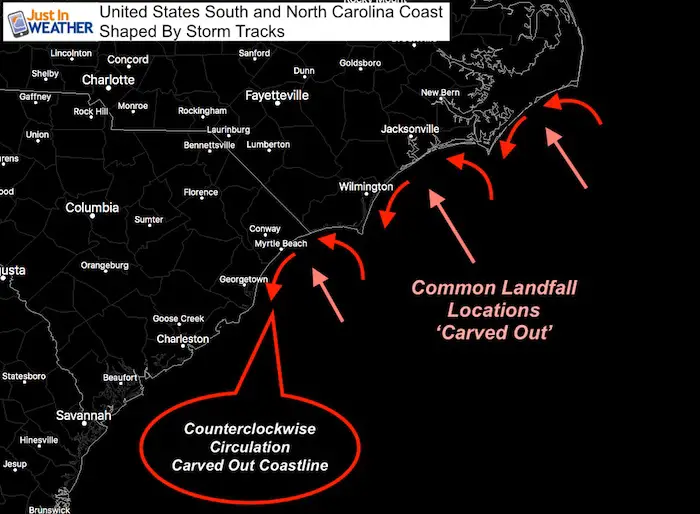 Please share your thoughts, best weather pics/video, or just keep in touch via social media
*Disclaimer due to frequent questions:
I am aware there are some spelling and grammar typos. I have made a few public statements over the years, but if you are new here you may have missed it:
I have dyslexia, and found out at my second year at Cornell.  I didn't stop me from getting my meteorology degree, and being first to get the AMS CBM in the Baltimore/Washington region. 
I do miss my mistakes in my own proofreading. The autocorrect spell check on my computer sometimes does an injustice to make it worse. 
All of the maps and information are accurate. The 'wordy' stuff can get sticky. 
There is no editor that can check my work when I need it and have it ready to send out in a newsworthy timeline. 
I accept this and perhaps proves what you read is really from me…
It's part of my charm.