First Expectation For Wednesday Snow: Impact Yes Or No
Winter Weather
Forecast
Justin Berk
Dec 6, 2021
12:20 pm
0
Monday December 6 2021
The prospects for snow on Wednesday has stirred up a lot of activity. This has ranged from excitement and anticipation, to those suggesting nothing is going to happen. 
Saying snow in the forecast is simply for what might fall. As we get closer there is more attention on stickage. Will it be cold enough to lay and stay. Even further to determine if it will just be on the grass, or on the roads as well. 
Below is my first suggestion for what I think about that.
I never put out a snow amount forecast 48 hours ahead of time. But what I do feel confident in is the potential impact or lack thereof from falling snow based on climatology in our region. 
Below is a look at new GFS Model snow maps. It is holding firm, but other models have split.
Water Influences Our Weather
The Chesapeake Bay is the largest estuary in the world. It divides our region, has many tributaries, and the temperatures of the water plays a big role in winter weather.
Temperatures:
Here's a look at the water temperature forecast on Wednesday morning. Notice even in the northern part of the Bay will be in the lower 40s.  
If you live within 5 to 10 miles of the water, even on the colder west side, it is likely that should there be snow falling, it will NOT stick by you.  
South of Annapolis and Kent Island there are pockets in the 50s. It is hard to compete with the heating influence that brings nearby, and across southern Maryland. 
Chesapeake Bay Water Temps
Click the image for all water forecast maps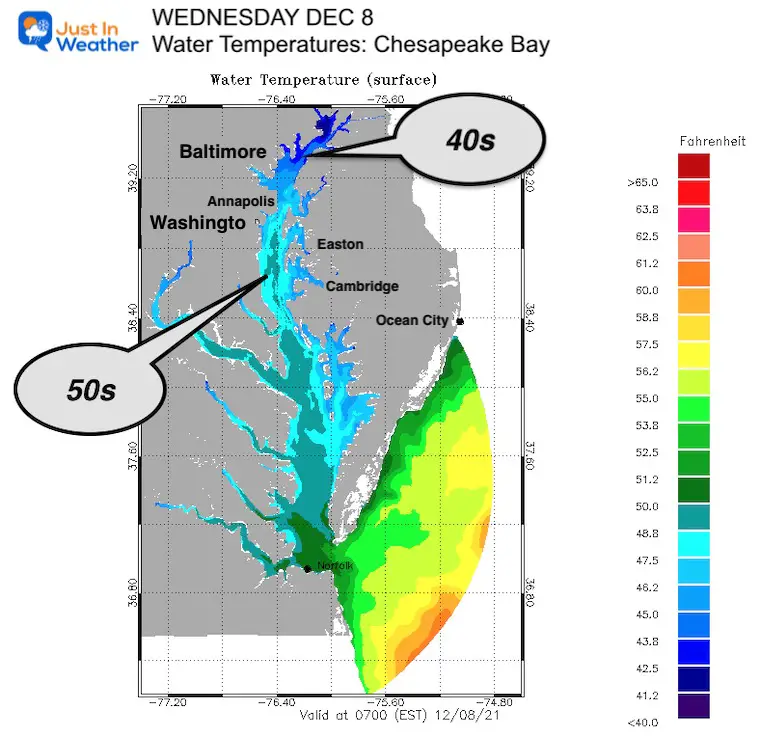 Wednesday Morning Air Temperatures
Before looking at any precipitation, the surface temps also play a big role. Here is the GFS Model temperature forecast. We can see it now shows the freezing line very close to I-95. Should there be snow falling, the rate may determine the ability to cool the ground more. But the cold air will there…. 
The thaw line will be somewhere near or south of I-95. Southern Maryland and MOST of Delmarva can expect temps to be above freezing as well. 
Wednesday Temperatures
Based on the GFS Model
This actually shows temps dropping to near freezing and holding all day in central MD
Morning
I am showing 10 AM to get the impact of conditions after sunrise.
The hourly plots show temps dropping to freezing with snow falling… after a start in the mid 30s for metro Baltimore.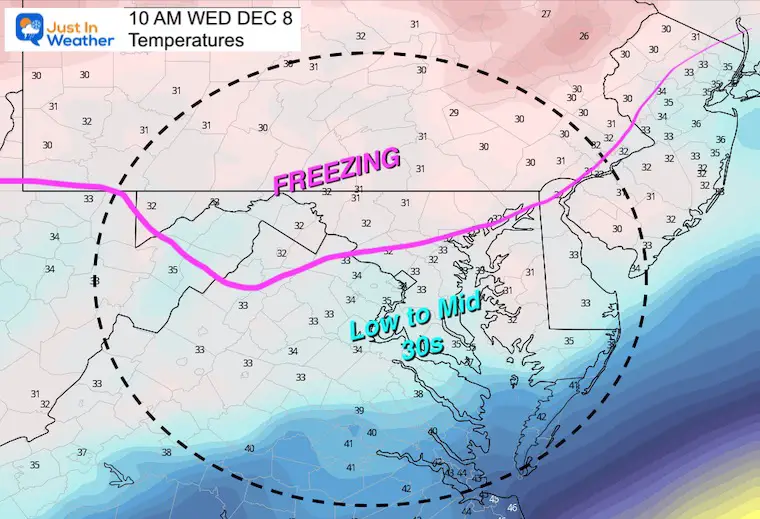 Afternoon
Temperatures remain near freezing all day… with colder 20s post snow north…. And just above freezing south of I-95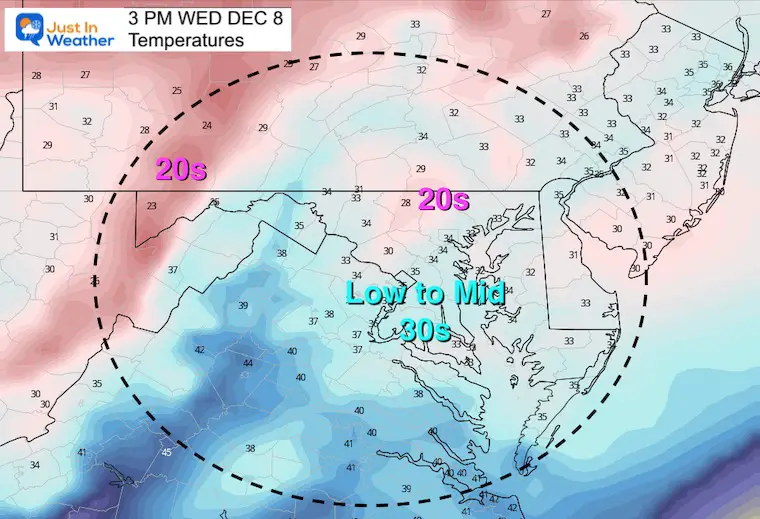 My Initial Expectation:
I am NOT giving snow amounts yet, but the system has 'potential' for a coating to a couple of inches (at best where it all sticks)
Should Snow Fall By You
It will be cold enough air for snow to fall, but will it stick. After 60s today, temps remain in the 30s Tuesday. That will help chill the ground.
Within 10 miles of the water and I-95 is the marginal area. Likely wet roads, and marginal stickage on grass.
Washington-Baltimore-Bel Air: Many but maybe not all roads stay wet. Marginal conditions may have some spotty pavement stickage.
North/Inland  will be cold enough to support snow falling and sticking.

 Roads and parking lots may need treatment.

South I-95 and Rt 50 will be mild enough to support wet pavement, and may limit any snow on grass or landscaping.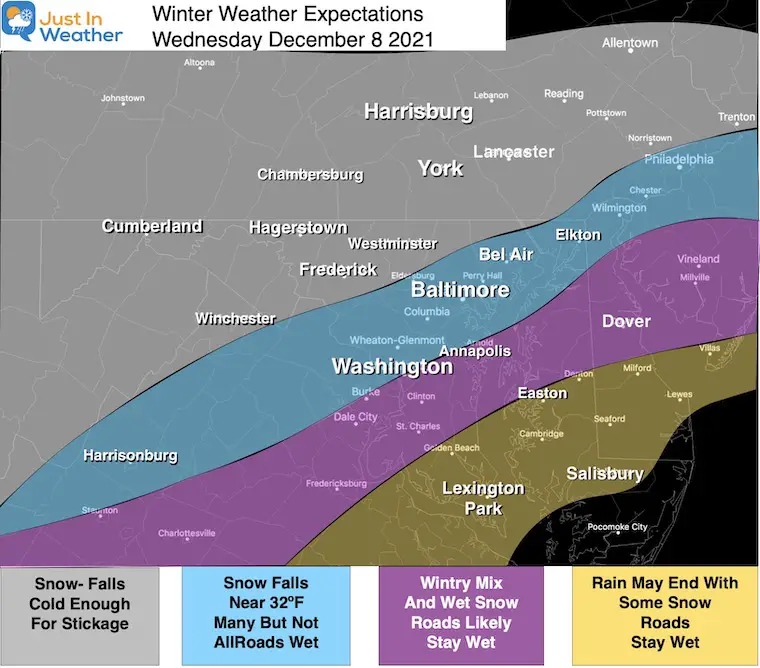 Latest Models
The GFS model is holding on to the central Maryland Snow. 
The last European did not, but it will be this afternoon when that new run comes in. I will update with that later. 
—> slider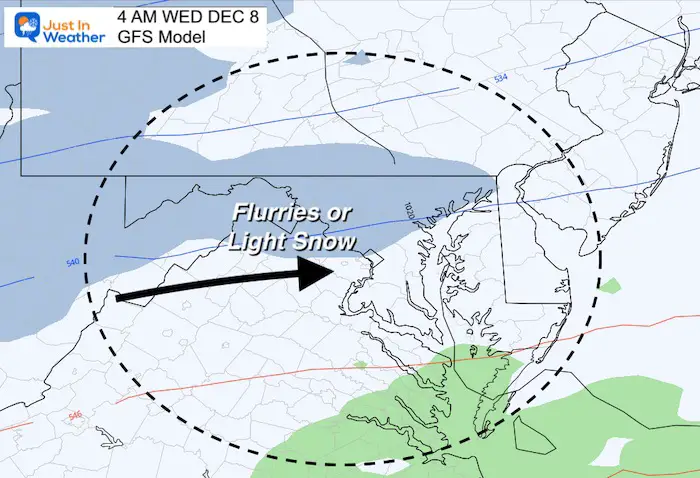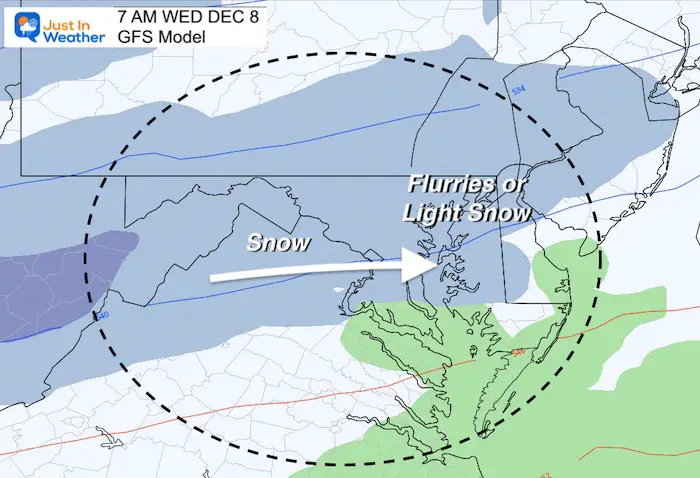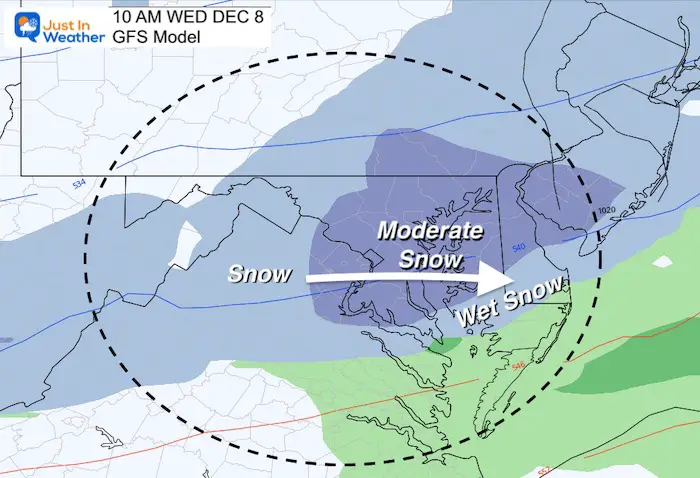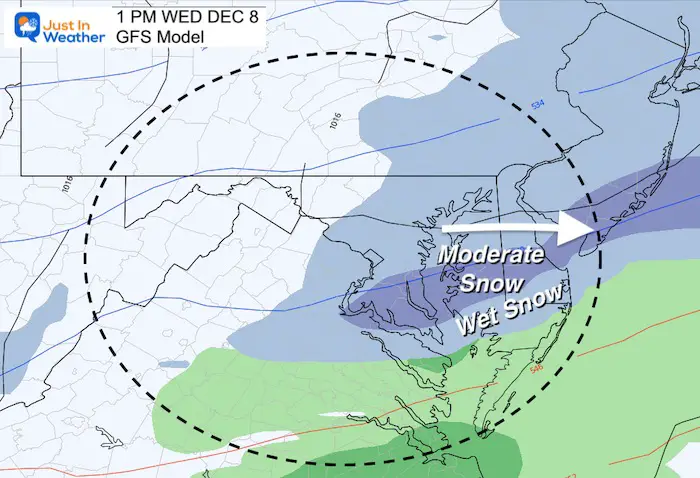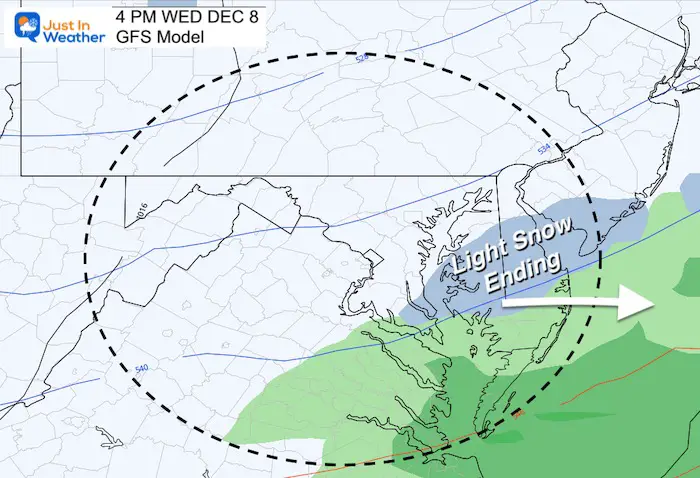 december-6-weather-snow-wednesday-GFS-AM-4
december-6-weather-snow-wednesday-GFS-AM-7
december-6-weather-snow-wednesday-GFS-AM-10
december-6-weather-snow-wednesday-GFS-PM-1
december-6-weather-snow-wednesday-GFS-PM-4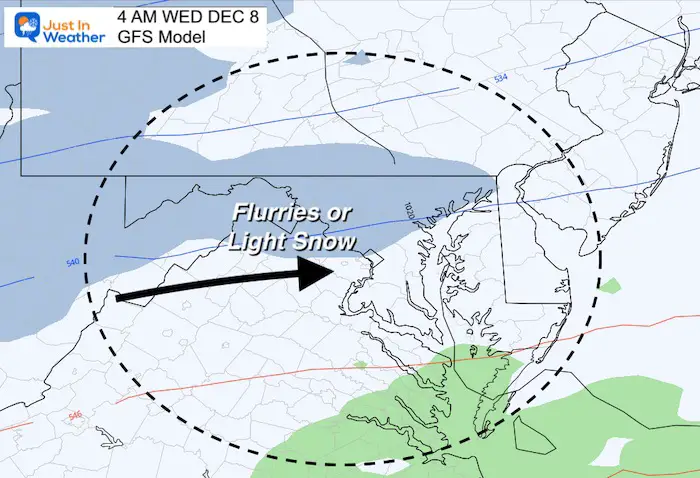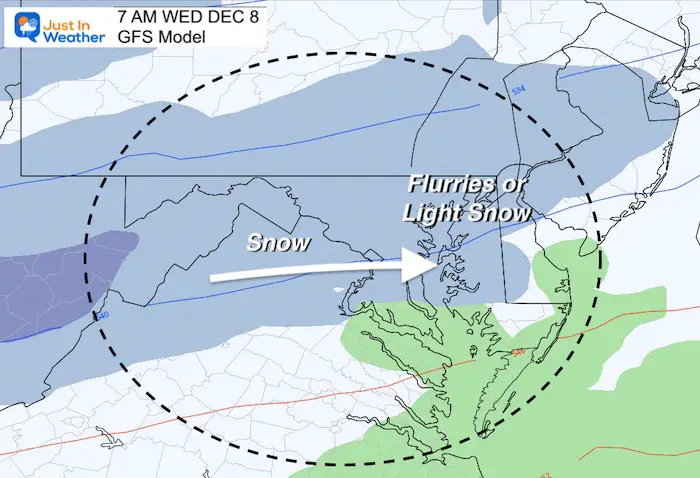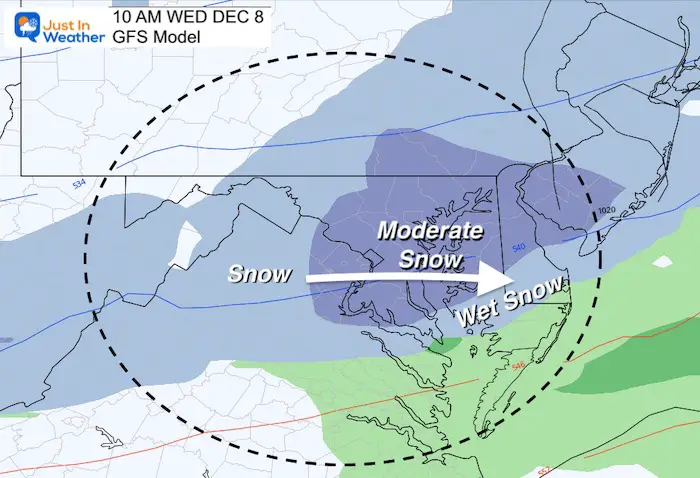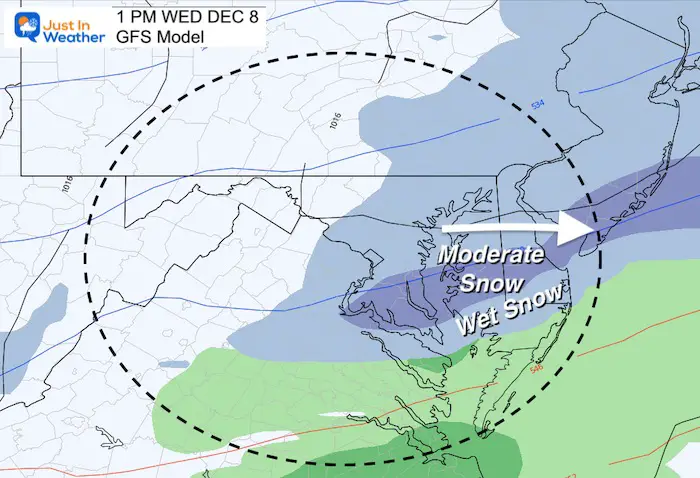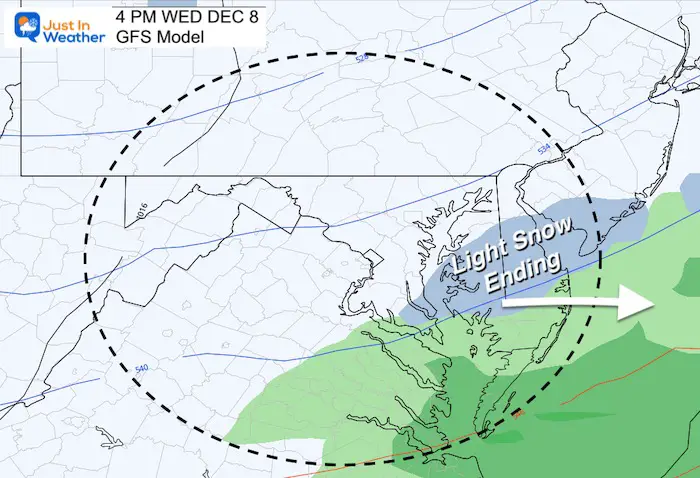 Snow/Rain Animation
Wednesday 1 AM to 7 PM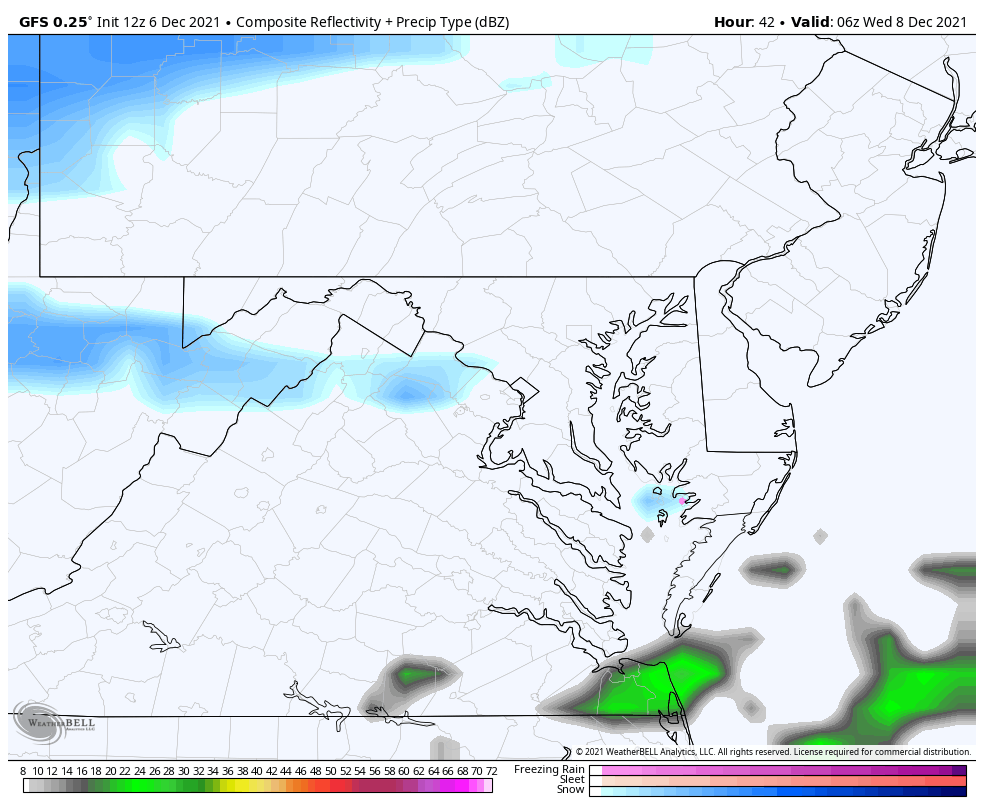 Notes
There is still a split in the modeling, and I have often said I do not want to rely solely on computer guidance.  My outlook for some snow began last week with the notion that the models that did not show it were limited with their data and would adjust. This was based on the La Niña charged faster northern jet. The result would seed up the timing and track of the energy needed. 
Over the past few days, we have seen the forecast maps from these models go from rain with snow to the north, to snow across metro and even southern areas, to now a break what if anything may fall. Do you hang on to any hope, dismiss this at all, or analyze that something in the middle may result. 
European Model (form last night)
This model lost much of the event for us.
I am anticipating the update in the afternoon that may show it more in line with the GFS. That will add confidence to more accepting the snow potential. It may also prompt the National Weather Service to issue a 'Watch'.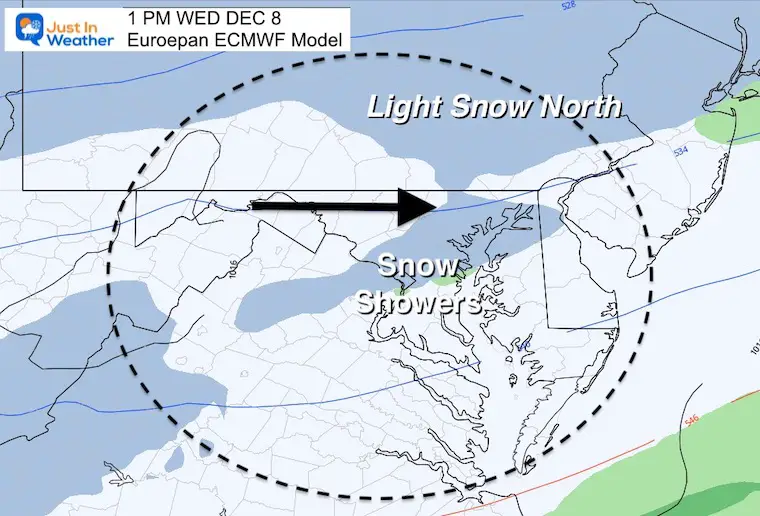 Weather posts straight to your inbox
Sign up and be the first to know!
See the NWS Snow Forecasts for MD/PA/NJ/DE/NoVA and WV
Click the image for the resource page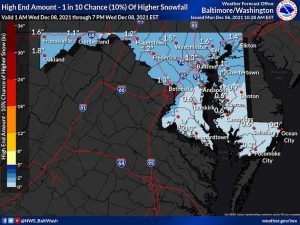 Also see:
Winter Outlook Series: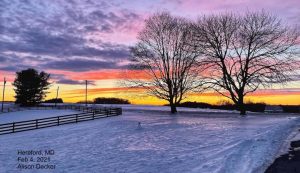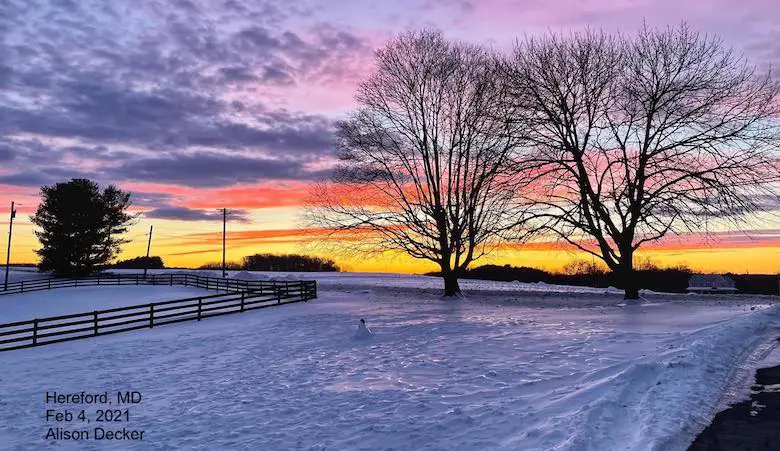 Last Winter Recap: My Old Outlook And Your Grades Of My Storm Forecasts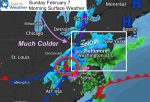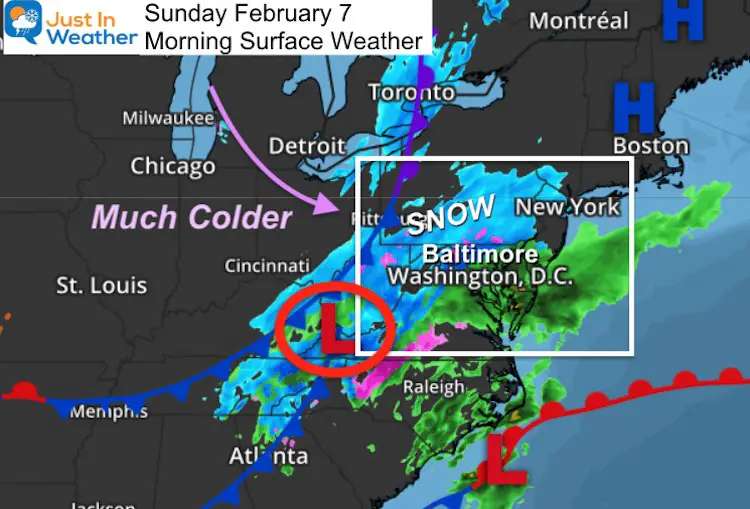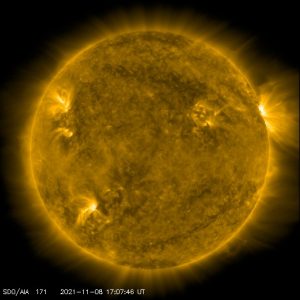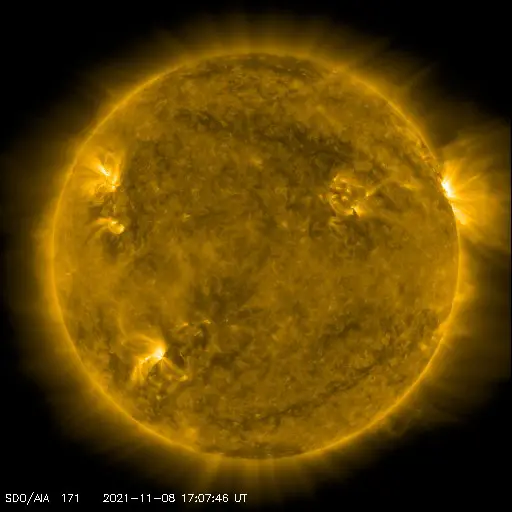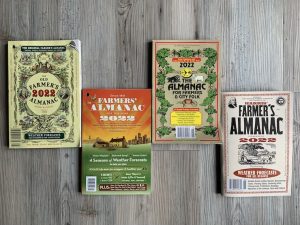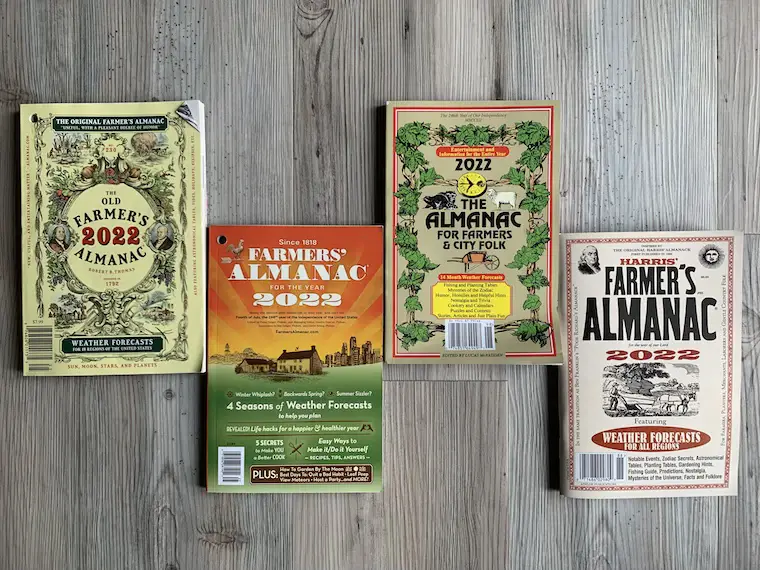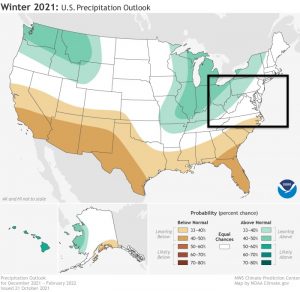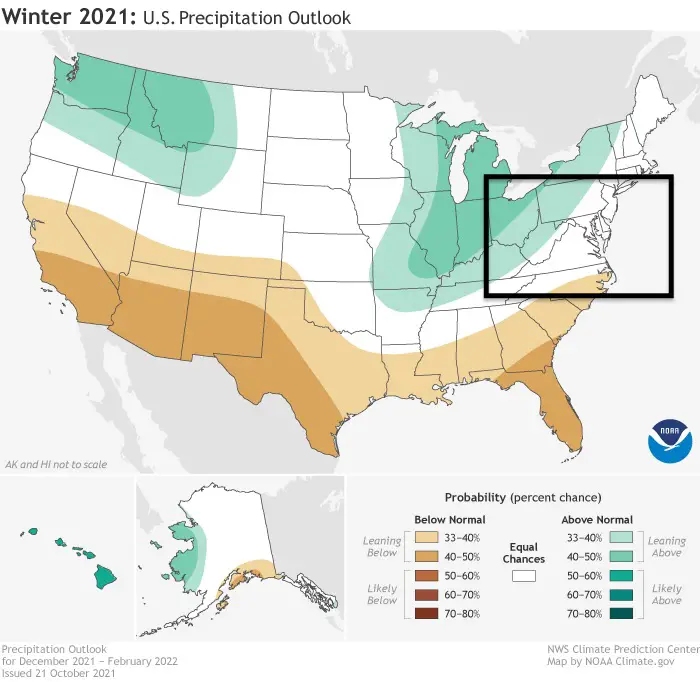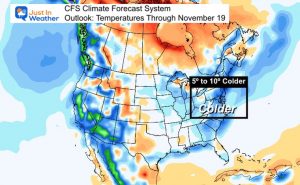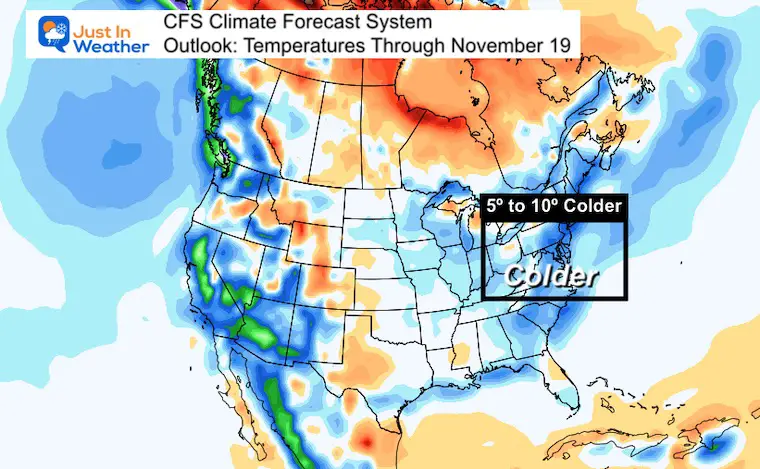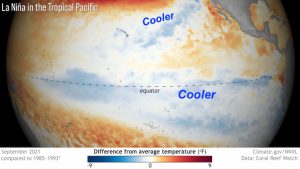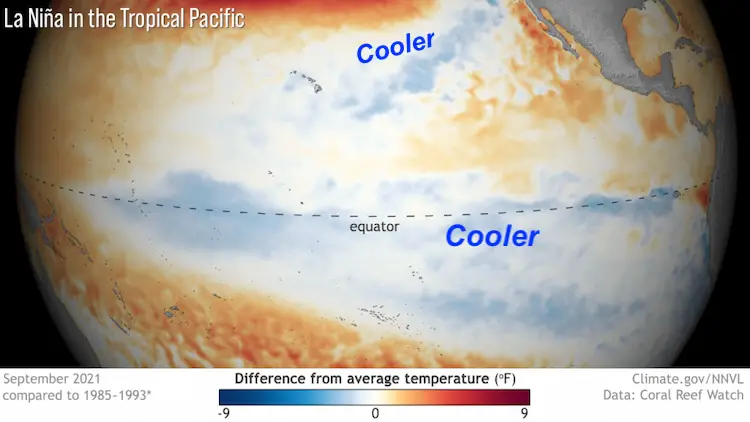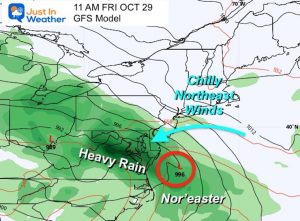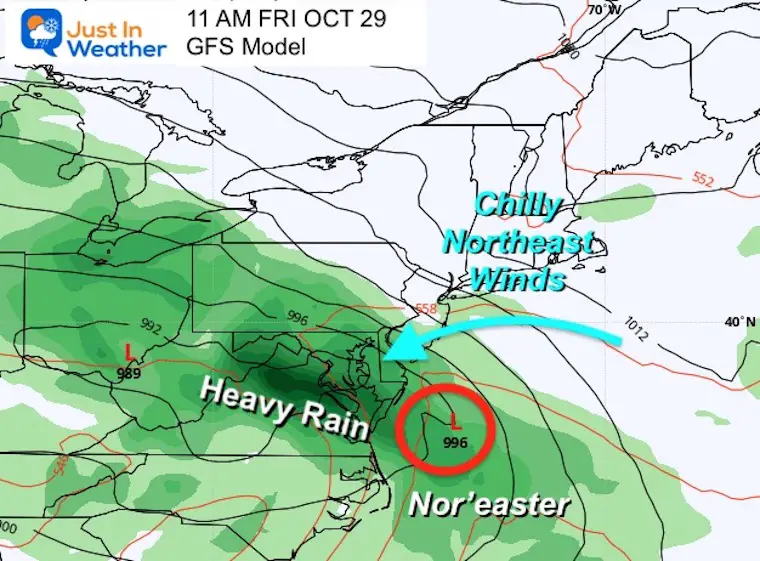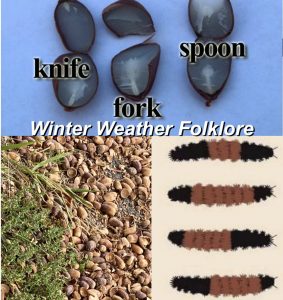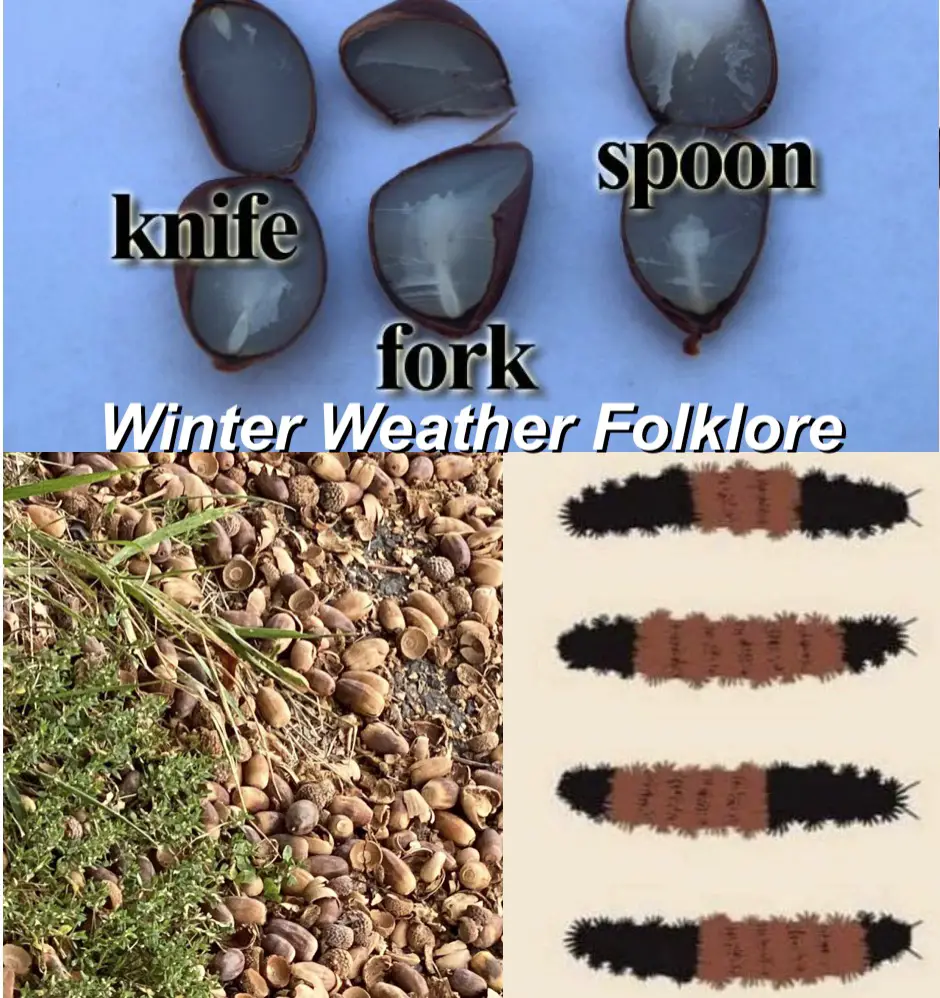 Please share your thoughts, best weather pics/video, or just keep in touch via social media