November 18 Weather Clearing For Meteor Shower Then Heavy Rain Into Thanksgiving
meteor shower
Maryland Weather
climate data
rain timeline
Forecast
Justin Berk
Nov 18, 2023
7:31 am
0
November 18, 2023
Saturday Morning Update
Yesterday brought a high of 71ºF to Baltimore's BWI. This was well above average but not a record. That was 75ºF in 1896 and 1928.
A few showers overnight and morning clouds will be giving way to a cooler breeze. This will bring today back to seasonal averages with sunshine. It will also bring a clear sky tonight for the Leonid Meteor Shower.
Thanksgiving Week Storm
The next event will be a storm arriving Tuesday with much needed rain. This has been a challenge and I have written a few reports this past week to highlight the inconsistency of the computer models. I did not subscribe to the snow portion but I put myself out there for scrutiny to show off the model errors.
Last night I showed that snow was back on the GFS and this morning it is not only gone again, but the rain may extend another day into Thanksgiving Thursday.
Morning Temperatures
Colder air is spreading in… Some areas may have similar temps in the afternoon.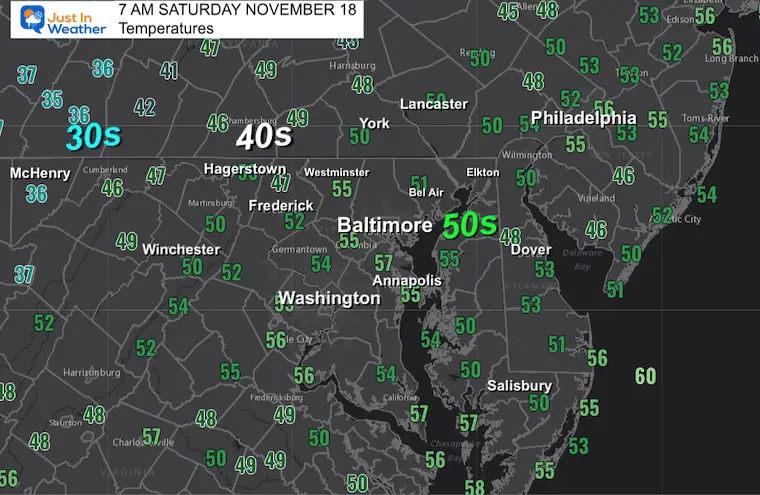 Morning Surface Weather
Wind Forecast 7 AM to 7 PM
Increase of air flowing from the Northwest during the afternoon, then easing in the evening.
Snapshot 2 PM
Winds will range from 15 to 25 mph.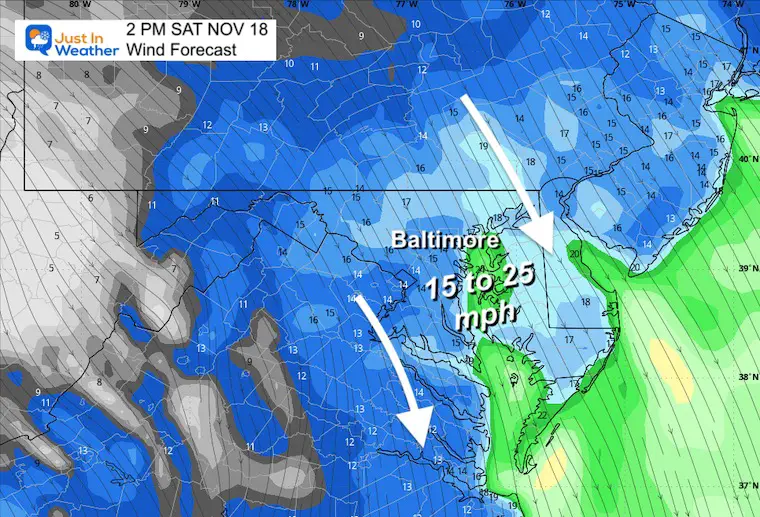 Afternoon Temperatures

LEONID METEOR SHOWER TONIGHT
Expecting 10 to 15 meteors per hour.
Every 33 years there can be a peak of 1,000 per hour. That happened in 1966 and 2002.
When: Best After Midnight
Where: Look up
Note: Allow 30 minutes for your eyes to adjust to the dark. That also means do not look at a phone screen.
Drought Report
Click to see the breakdown per state.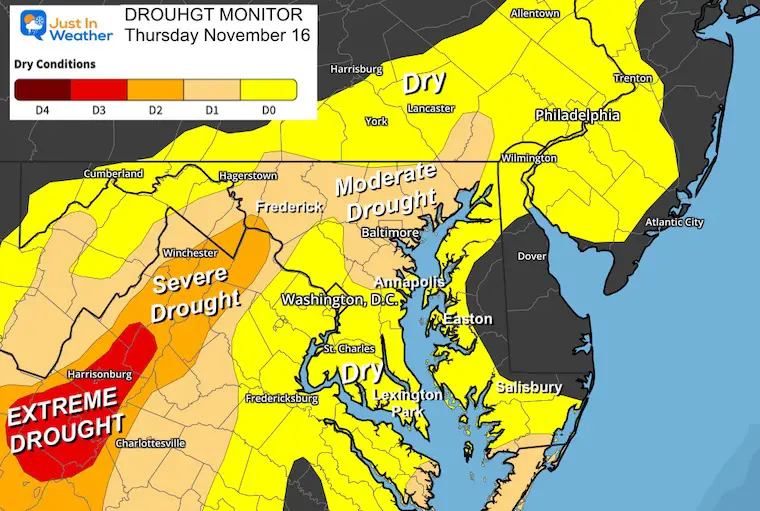 CLIMATE DATA: Baltimore
TODAY November 18
Sunrise at 6:52 AM
Sunset at 4:51 PM
Normal Low in Baltimore:  36ºF
Record 20ºF in 1959
Normal High in Baltimore: 56ºF
Record 78ºF 1928 AND 1938
Winter Outlook Reports:
El Niño Winter Updates
Computer Models Support East Coast Storm Track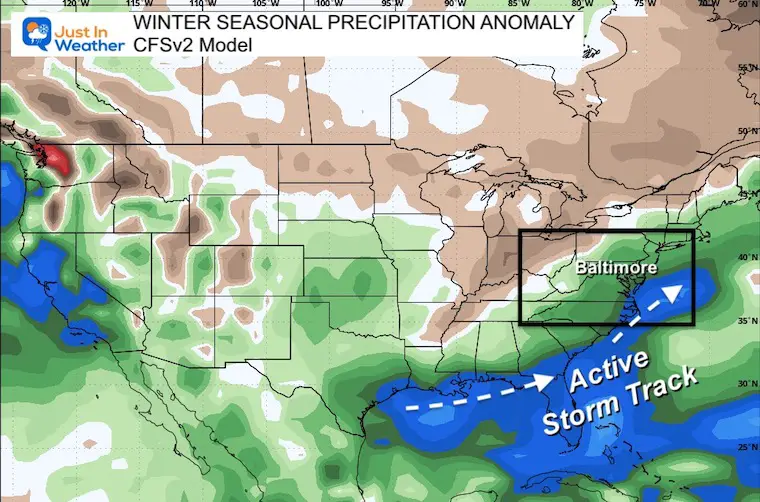 The latest NOAA report is confident in a Very Strong event. Possibly HISTORIC! This refers to the temperatures in the Pacific, with impacts on the US Winter Storm Track.
Winter Weather Folklore: Top 20 and more signals from nature for snow.
Winter Outlook 2024 From Two Farmers Almanacs Return to Cold and Snow
Subscribe for eMail Alerts
Weather posts straight to your inbox
Sign up and be the first to know!
Temperatures
Sunday Morning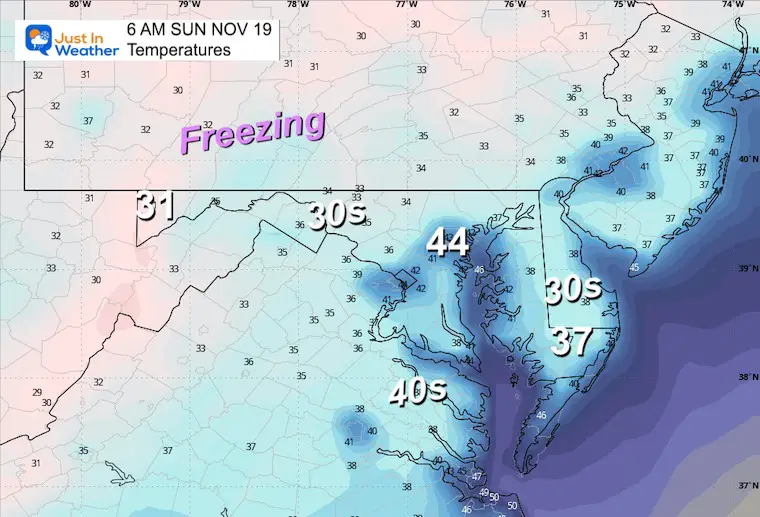 Sunday Afternoon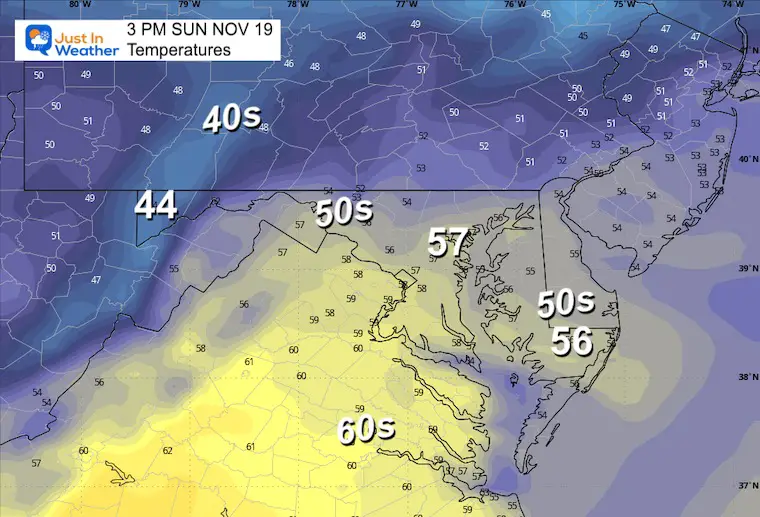 Holiday Storm Simulation
Recap Prior Model Forecasts (That were NOT Consistent)
I showed this in my Wednesday Night report:
I showed this in my Friday Night report:
I included the Question Mark to highlight my doubts.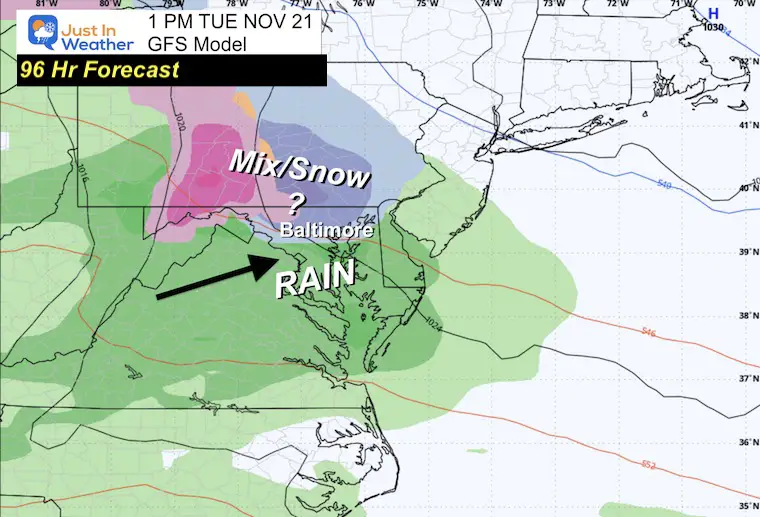 Latest Forecast
Tuesday Afternoon
We are back to an all-rain event, which looks more likely. This shows the rain developing with heavier rain on the way.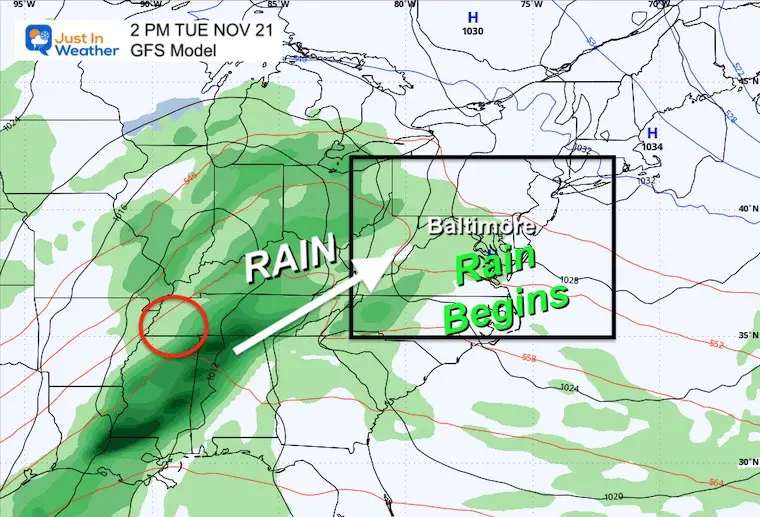 Forecast Animation: Tuesday Afternoon to Thanksgiving Thursday Night
The difference in this model is that it slows down the cold front, allowing rain to linger Wednesday, then a second Low-Pressure rides along the front with another surge of moderate to heavy rain on Thanksgiving.
This is very different than the cold and dry solution we have been expecting.
Wednesday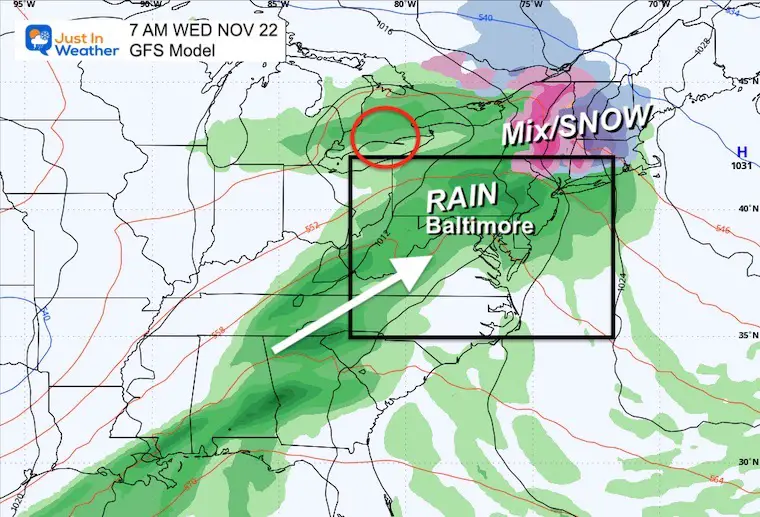 Thursday
This is based on the stalled front and Second Low Pressure… if that verifies. I am not sold on this solution… We need to see consistency or these models are seriously flawed.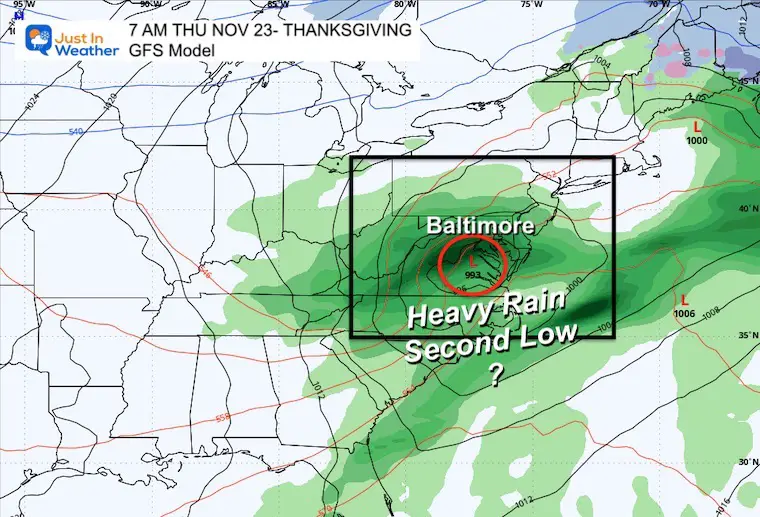 Rainfall POTENTIAL
The latest run of the GFS Model (most consistent) pushes over 2 inches of rain for much of our region. That would help put a dent in our drought.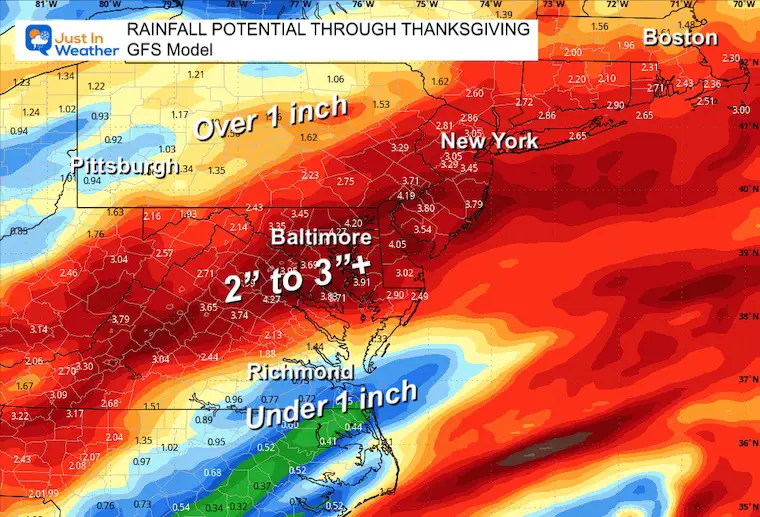 7 Day Forecast
I've included the potential for rain to last into Thanksgiving but kept the odds at 60%. However, I would not promise that yet. The computer guidance is having trouble validating itself.
Subscribe for eMail Alerts
Weather posts straight to your inbox
Sign up and be the first to know!
Explore More
Maryland Snow Climate History And Other Winter Pages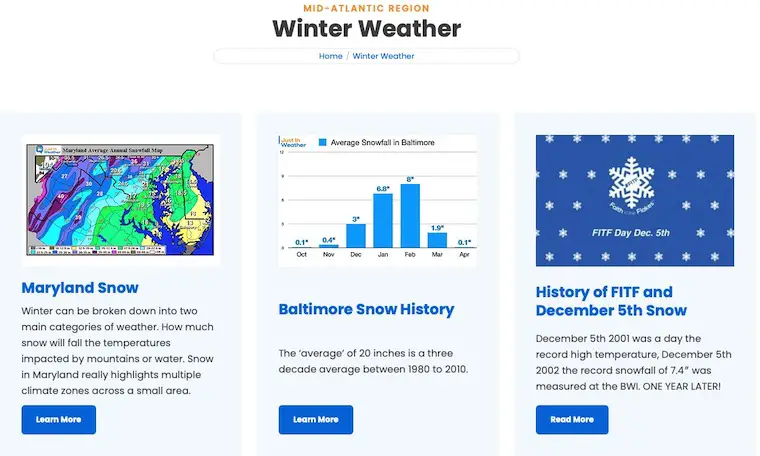 Faith in the Flakes Gear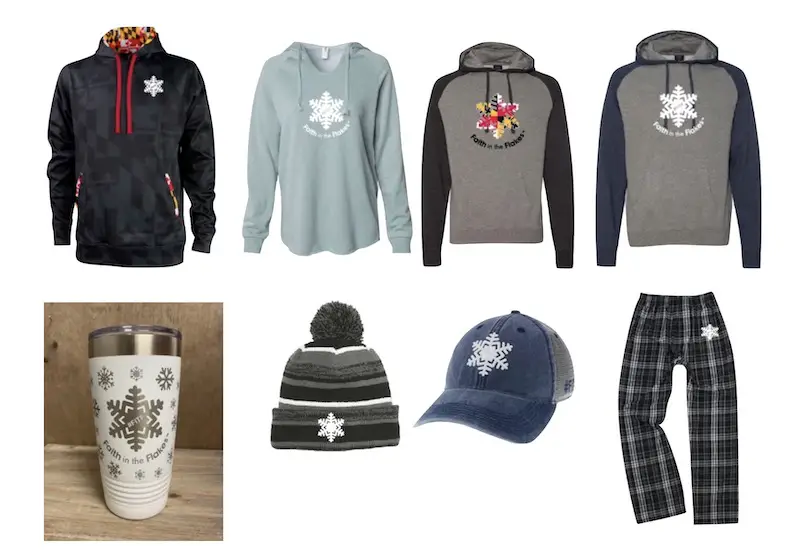 STEM Assemblies/In School Fields Trips Are Back
Click to see more and 'Book' a visit to your school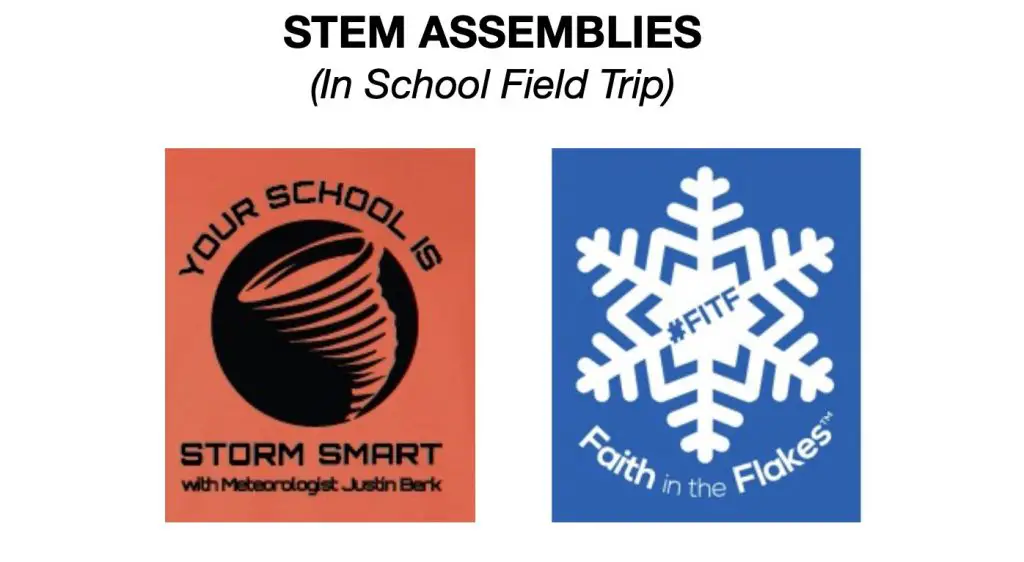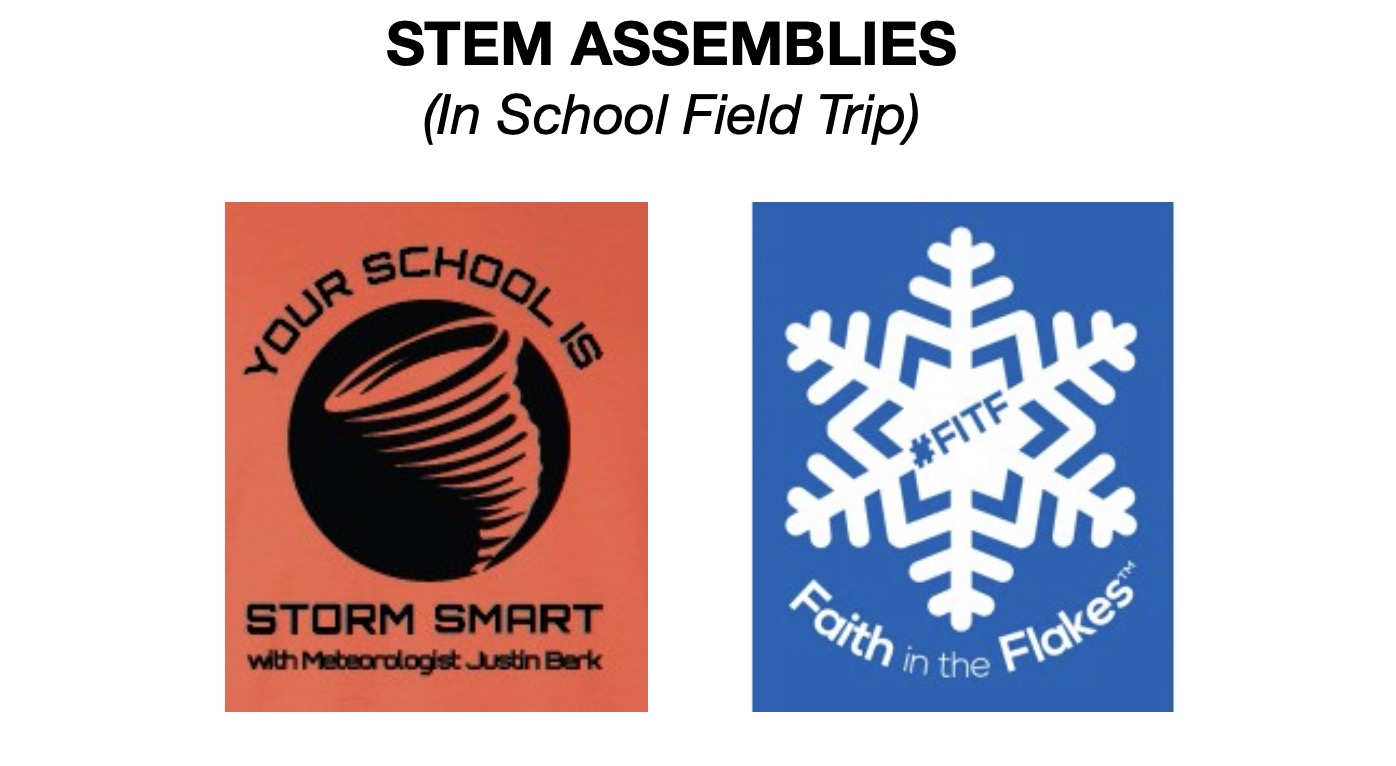 Please share your thoughts and best weather pics/videos, or just keep in touch via social media
RESTATING MY MESSAGE ABOUT DYSLEXIA
I am aware there are some spelling and grammar typos and occasional other glitches. I take responsibility for my mistakes and even the computer glitches I may miss. I have made a few public statements over the years, but if you are new here, you may have missed it: I have dyslexia and found out during my second year at Cornell University. It didn't stop me from getting my meteorology degree and being the first to get the AMS CBM in the Baltimore/Washington region. One of my professors told me that I had made it that far without knowing and to not let it be a crutch going forward. That was Mark Wysocki, and he was absolutely correct! I do miss my mistakes in my own proofreading. The autocorrect spell check on my computer sometimes does an injustice to make it worse. I also can make mistakes in forecasting. No one is perfect at predicting the future. All of the maps and information are accurate. The 'wordy' stuff can get sticky.  There has been no editor who can check my work when I need it and have it ready to send out in a newsworthy timeline. Barbara Werner is a member of the web team that helps me maintain this site. She has taken it upon herself to edit typos when she is available. That could be AFTER you read this. I accept this and perhaps proves what you read is really from me… It's part of my charm.
#FITF