November 19 Weather Cooler Before Heavy Rain Arrives Tuesday
holiday
Maryland Weather
climate data
rain timeline
Forecast
Justin Berk
Nov 19, 2023
7:28 am
0
November 19, 2023
Sunday Morning Update
Yesterday brought a high of 60ºF to Baltimore's BWI as we return closer to normal mid-November weather. The colder trend will continue for a couple of days, then a welcome storm will arrive on Tuesday. The rain may be heavy, which is needed, but also may affect travel plans ahead of Thanksgiving.
Thanksgiving Week Storm
We are narrowing the expectations for this storm and the original solution does seem to be the most likely. Rain will arrive Tuesday, with the heaviest rain at night and into early Wednesday. This is most likely to be followed by dry and colder weather on Thanksgiving.
Morning Temperatures
Colder air is spreading in… Some areas may have similar temps in the afternoon.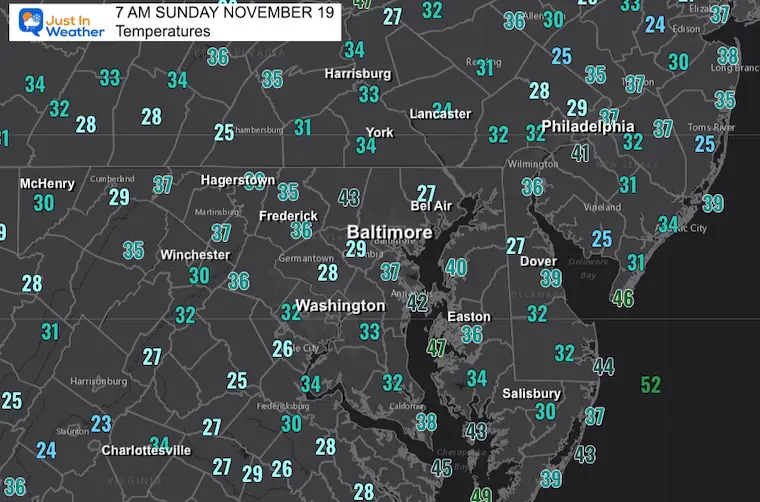 Morning Surface Weather
High Pressure has brought us a clear sky and seasonal temperatures. A colder air mass will arrive tomorrow, just ahead of the developing storm. That will reach us Tuesday mostly with rain by Tuesday afternoon. There may be some wintry mix at the start… in the mountains. See the storm forecast below.
Afternoon Temperatures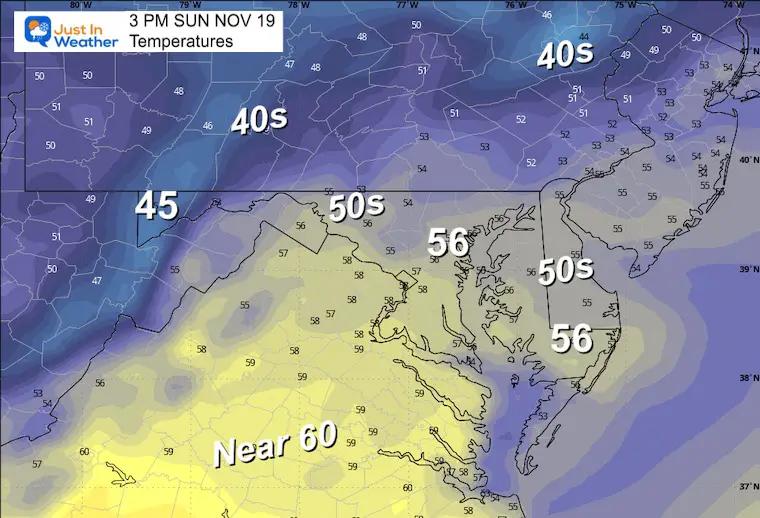 Drought Report
Click to see the breakdown per state.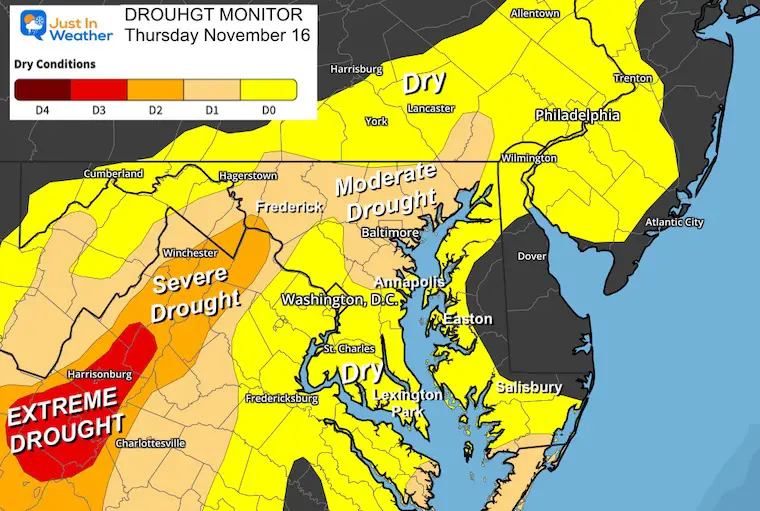 CLIMATE DATA: Baltimore
TODAY November 19
Sunrise at 6:54 AM
Sunset at 4:50 PM
Normal Low in Baltimore:  36ºF
Record 19ºF in 2014
Normal High in Baltimore: 56ºF
Record 77ºF 1928
Winter Outlook Reports:
El Niño Winter Updates
Computer Models Support East Coast Storm Track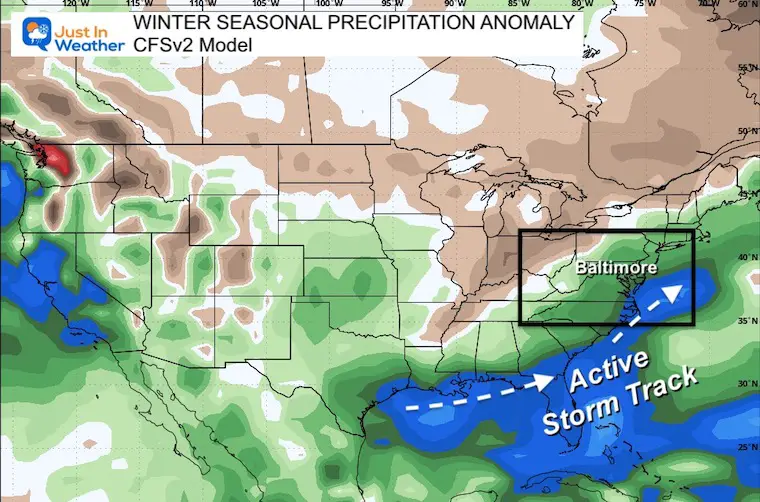 The latest NOAA report is confident in a Very Strong event. Possibly HISTORIC! This refers to the temperatures in the Pacific, with impacts on the US Winter Storm Track.
Winter Weather Folklore: Top 20 and more signals from nature for snow.
Winter Outlook 2024 From Two Farmers Almanacs Return to Cold and Snow
Subscribe for eMail Alerts
Weather posts straight to your inbox
Sign up and be the first to know!
Temperatures
Monday Morning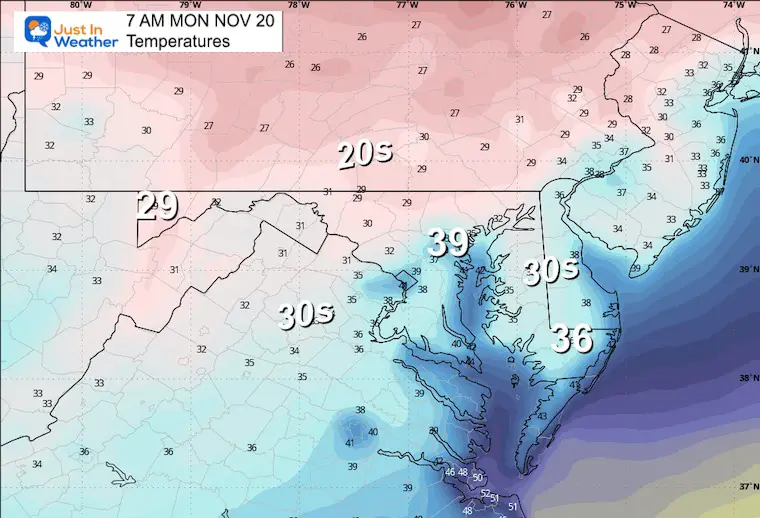 Monday Afternoon
Increasing clouds should dim the sun making it feel cooler.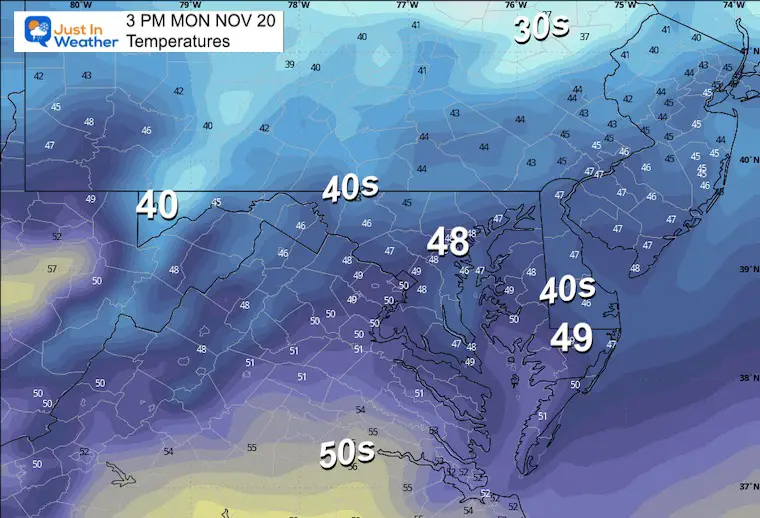 Holiday Storm Simulation
Tuesday Morning to Wednesday Evening
After all the flipping from the GFS Model, this solution seems most likely.
An all rain event for most. If there is any mixing at the start, it will be in the mountains. Then a slushy snow and mix Tuesday night from the Poconos to Central New York.
Snapshot Tuesday Afternoon
Rain will be developing by mid-day and expanding in the afternoon.
If there is any mix or snow at the start, it will be in the higher mountains from West Virginia through Western Maryland and Western Pennsylvania.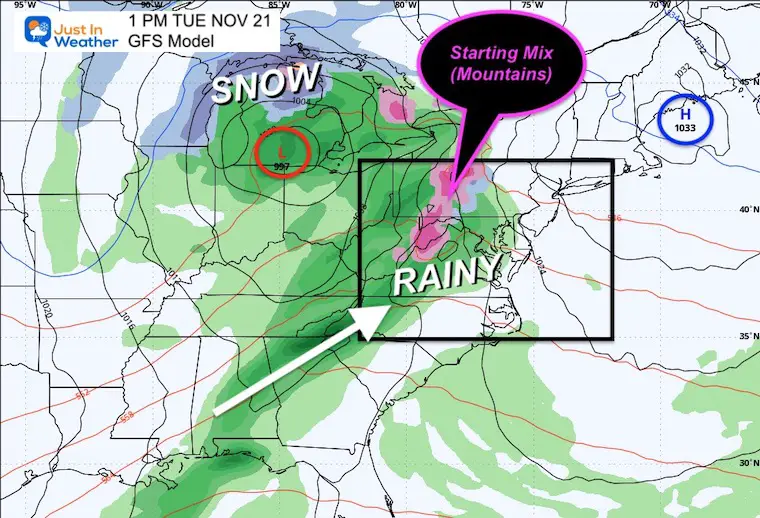 Closer Look
Tuesday Afternoon
Developing steady rain will be moderate to heavy at times.
Tuesday Night
Steady and heavy rain will fall overnight.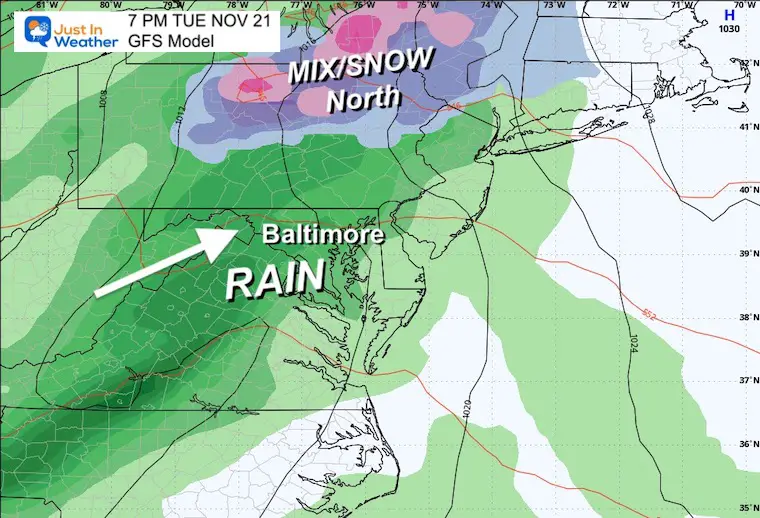 Wednesday Morning
The rain may still be with us in the morning but will be moving away.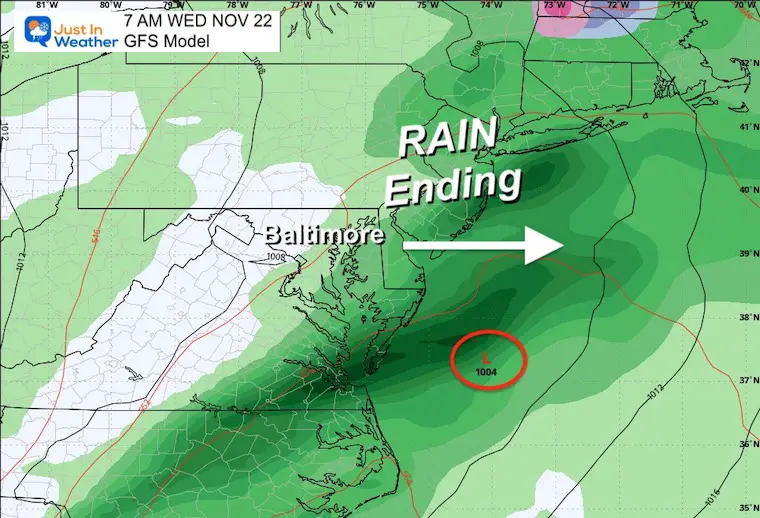 Wednesday Night
Rain may linger longer at the beaches during the afternoon, then ending at night.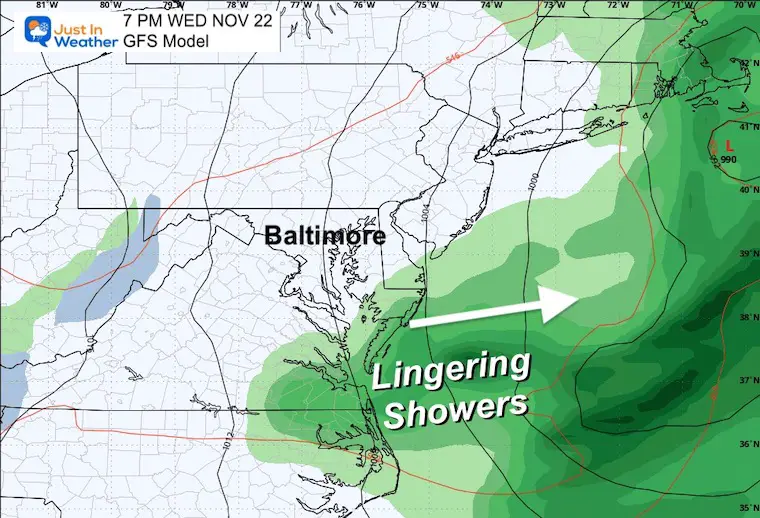 Rainfall POTENTIAL
The latest run of the GFS Model (most consistent) pushes over 2 inches of rain for much of our region. This would help put a dent into our drought.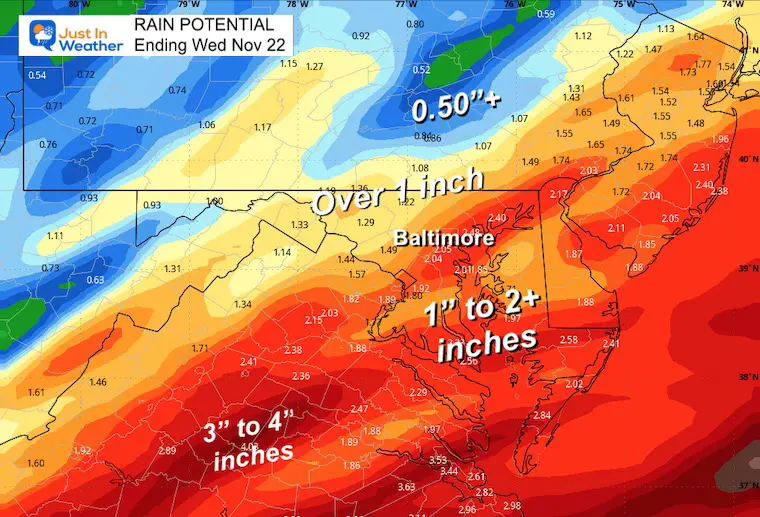 Thanksgiving Thursday
Despite what I showed from the GFS Model in my prior report, it is most likely that the storm will move away and leave us with a cold and dry day.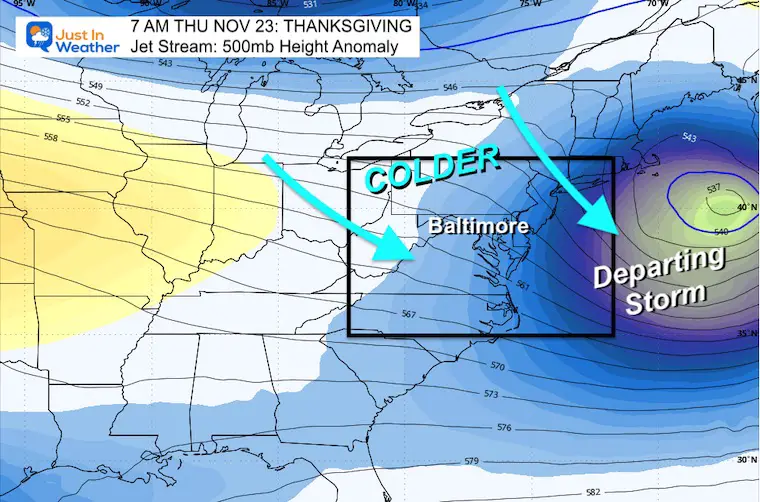 Morning Temperatures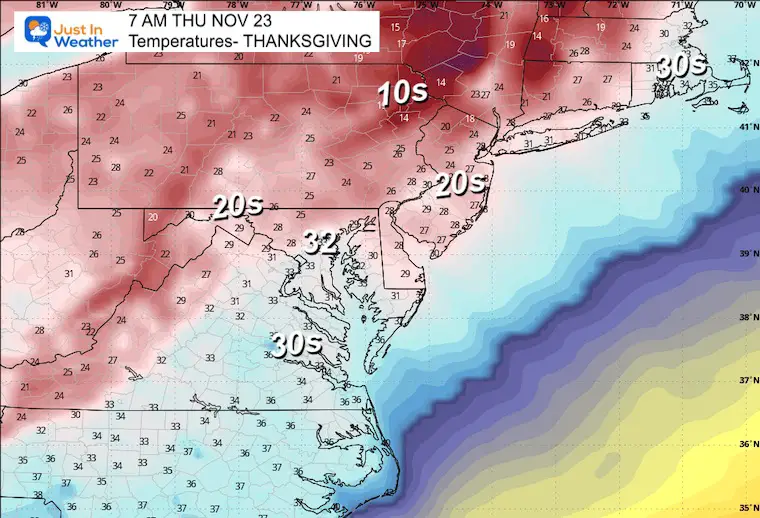 Afternoon Temperatures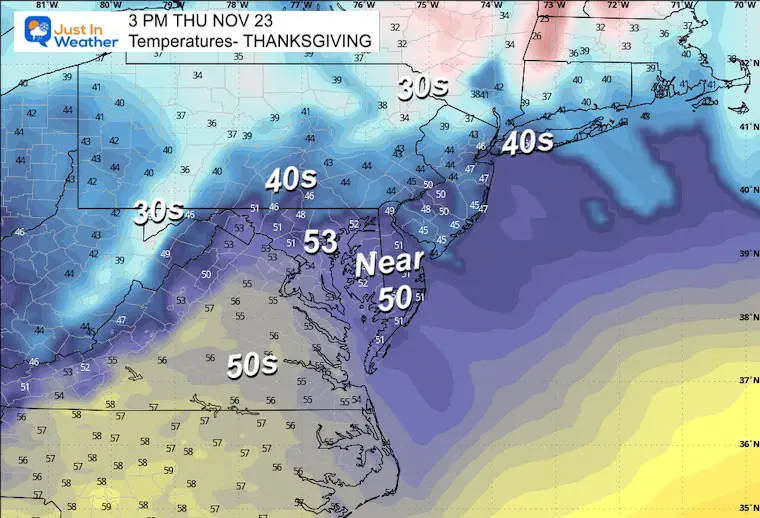 7 Day Forecast
I've included the potential for rain to last into Thanksgiving, but kept the odds at 60%. I would not promise that yet.  Our computer guidance is having trouble validating itself.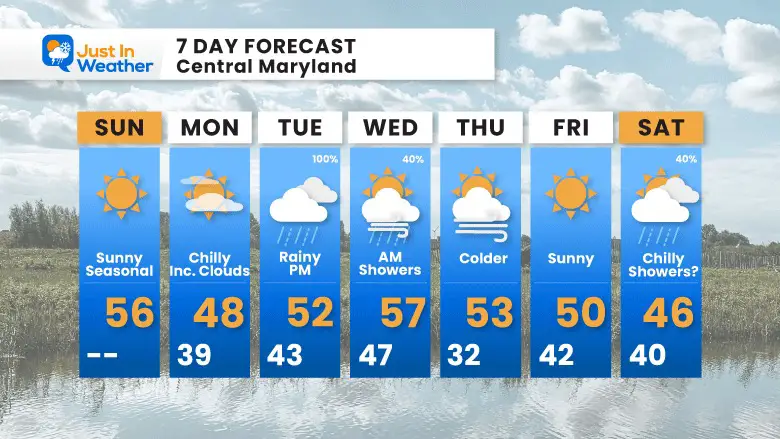 Subscribe for eMail Alerts
Weather posts straight to your inbox
Sign up and be the first to know!
Explore More
Maryland Snow Climate History And Other Winter Pages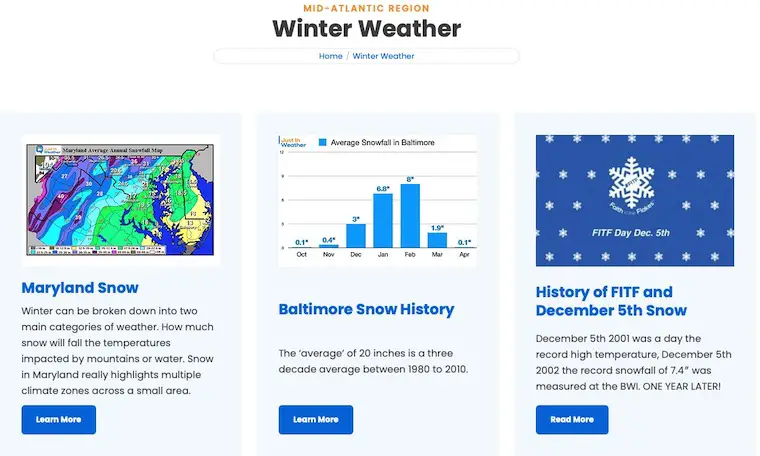 Faith in the Flakes Gear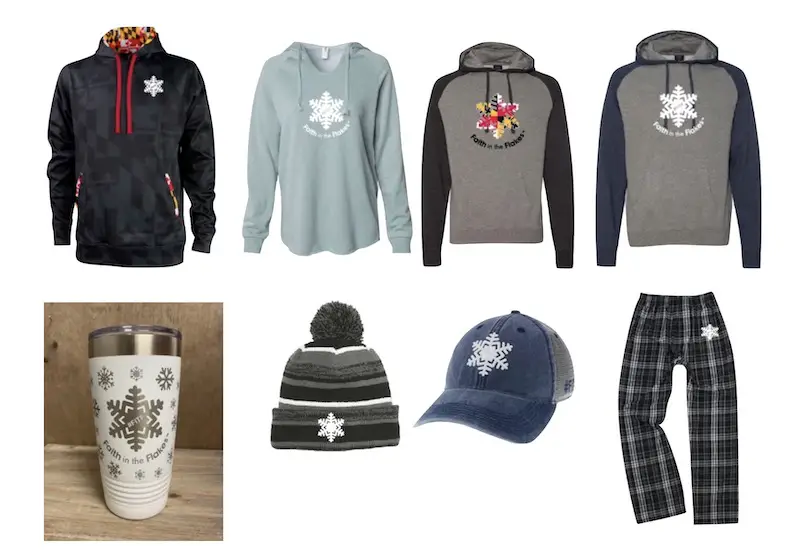 STEM Assemblies/In School Fields Trips Are Back
Click to see more and 'Book' a visit to your school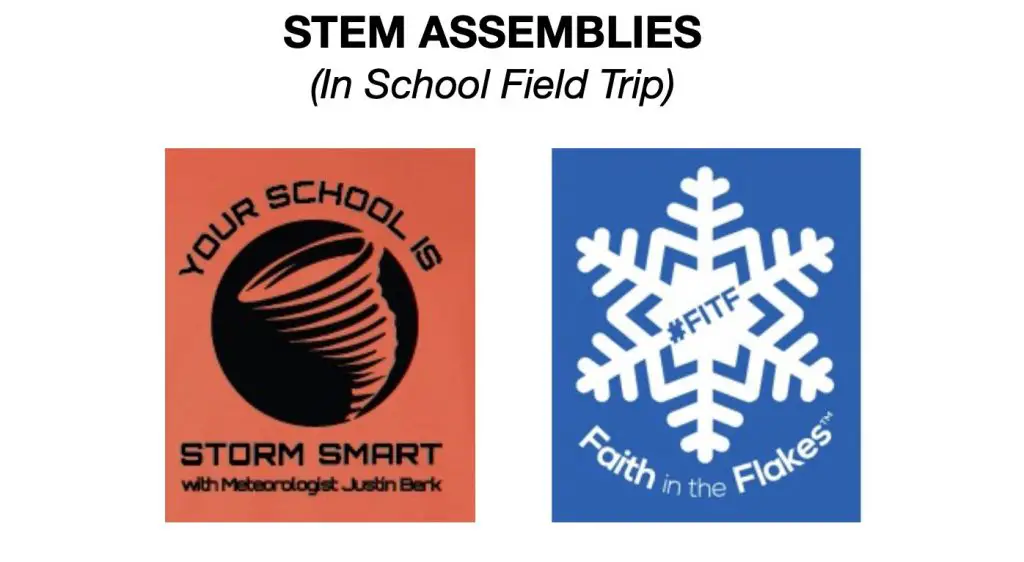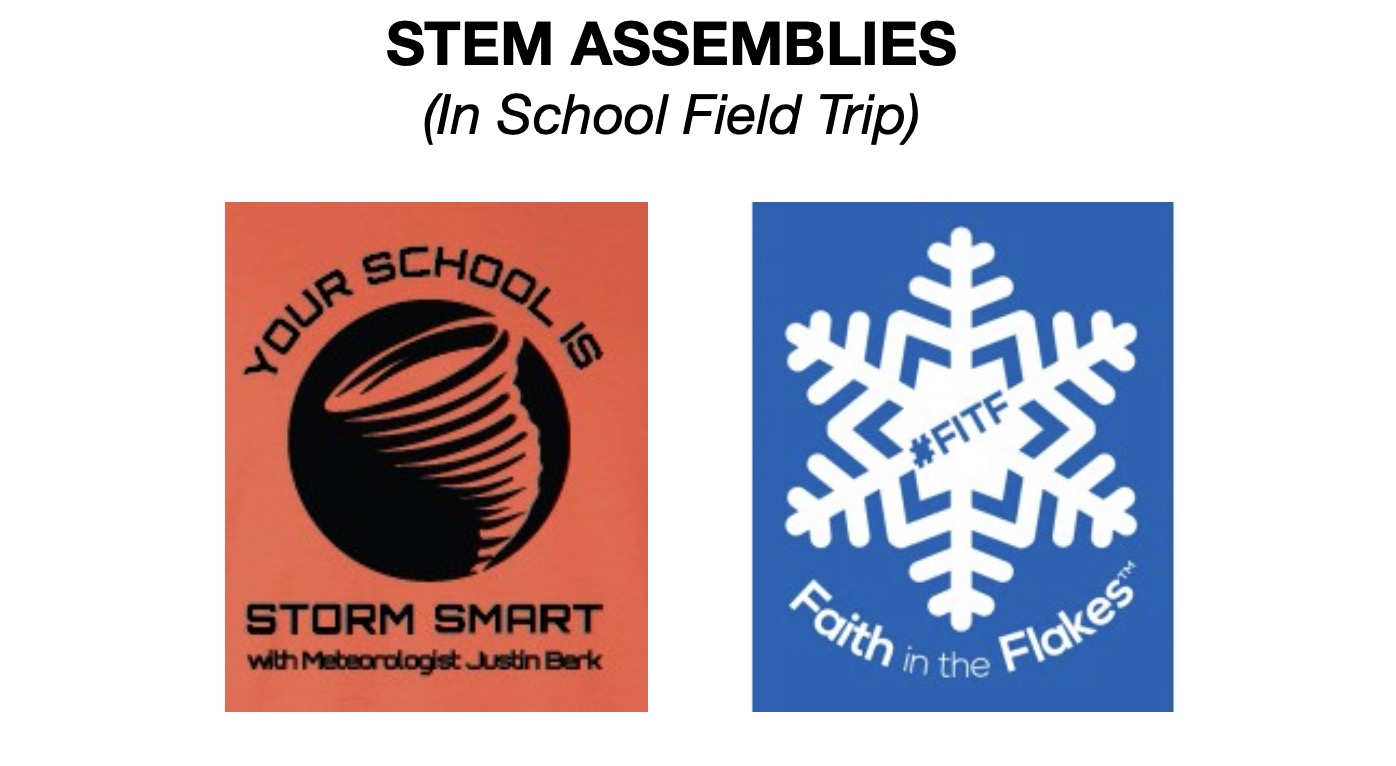 Please share your thoughts and best weather pics/videos, or just keep in touch via social media
RESTATING MY MESSAGE ABOUT DYSLEXIA
I am aware there are some spelling and grammar typos and occasional other glitches. I take responsibility for my mistakes and even the computer glitches I may miss. I have made a few public statements over the years, but if you are new here, you may have missed it: I have dyslexia and found out during my second year at Cornell University. It didn't stop me from getting my meteorology degree and being the first to get the AMS CBM in the Baltimore/Washington region. One of my professors told me that I had made it that far without knowing and to not let it be a crutch going forward. That was Mark Wysocki, and he was absolutely correct! I do miss my mistakes in my own proofreading. The autocorrect spell check on my computer sometimes does an injustice to make it worse. I also can make mistakes in forecasting. No one is perfect at predicting the future. All of the maps and information are accurate. The 'wordy' stuff can get sticky.  There has been no editor who can check my work when I need it and have it ready to send out in a newsworthy timeline. Barbara Werner is a member of the web team that helps me maintain this site. She has taken it upon herself to edit typos when she is available. That could be AFTER you read this. I accept this and perhaps proves what you read is really from me… It's part of my charm.
#FITF