September 19 A Few Nice Days Then Tropical Like Storm This Weekend
Coastal Storm
Maryland Weather
climate data
Forecast
Tropics
Justin Berk
Sep 19, 2023
6:27 am
0
September 19, 2023
Tuesday Morning Update
We are in the grip of a Canadian Air Mass that is bringing an early taste of autumn. Gradually over the next few days, we will warm up with the afternoon sun. The developing situation may be a possible storm. The old cold front is stalling and may form something with tropical characteristics near The Bahamas on Thursday. There is no promise it will get named, but it looks more like it will head our way and make for a soggy weekend.
TUESDAY NIGHT UPDATE:
This storm may be a drought buster and flood maker. Your weekend plans may have to deal with heavy rain AND strong winds. More detailed maps below.
Morning Surface Weather
I am showing this wide view today to highlight multiple features.
Hurricane Nigel is far out in the Central Atlantic Ocean. Winds are 80 mph and that cold front will protect the East Coast and steer it out in the ocean.
High Pressure is in control with our clear, cool, and crisp weather.
The old front is stalling off the Southeast US Coast near The Bahamas. This region is prone to develop new Low Pressure later in the week, which will head north and reach us this weekend. More on that below.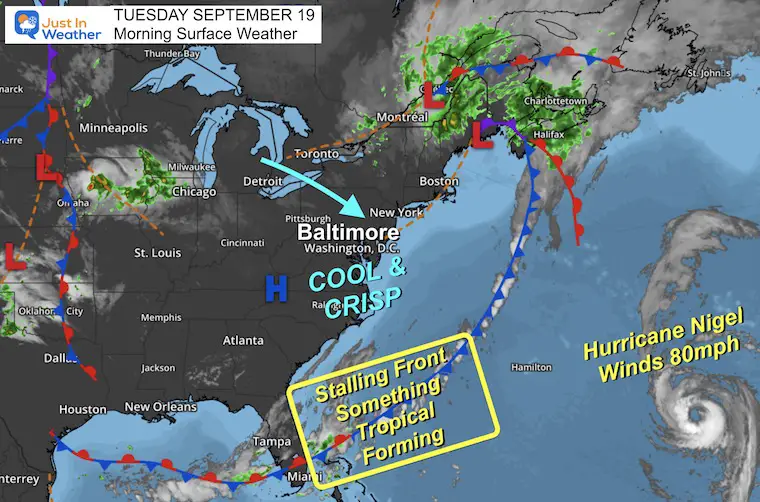 Wind Forecast
8 AM to 8 PM
A Small Craft Advisory is in effect on the Chesapeake Bay. Winds will average 10 to 20 mph with higher gusts mid-day.

Temperature Forecast
Still slightly below average. It is hard to believe we were in the middle of a record heat wave just one week ago.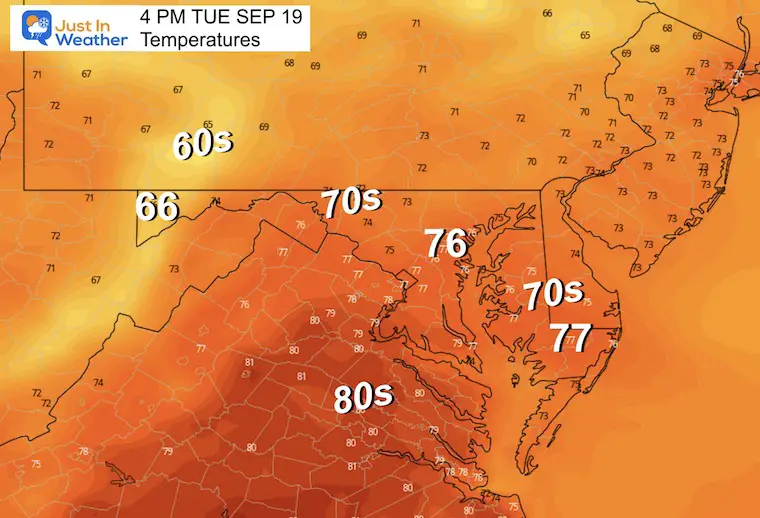 What You May Have Missed: Last Evening Brought TWO Sky Shows
Here are the posts I shared on my Facebook Page. The comments are filled with additional photos.
Crescent Moon
I call this a Thumbnail Moon. Some call it Cats Claw.
Star Link Satellite Chain
This is the Elon Musk company determined to provide wireless satellite-based internet around the globe. A line of satellites seen across the sky has become a more common sight. This was over the Mid-Atlantic Monday around 8:38 PM.
CLIMATE DATA: Baltimore
TODAY September 19
Sunrise at 6:51 AM
Sunset at 7:09 PM
Normal Low in Baltimore:  59ºF
Record 42ºF in 1896; 1983
Normal High in Baltimore: 79ºF
Record 94ºF 1896
New Reports:
Subscribe for eMail Alerts
Weather posts straight to your inbox
Sign up and be the first to know!
Wednesday Weather: Temperature Forecast
Wednesday Morning
Seasonably cool and not as chilly.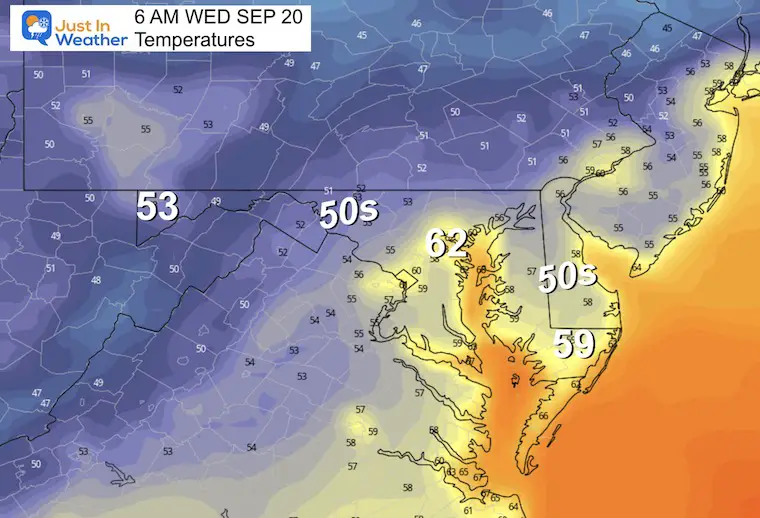 Wednesday Afternoon
Seasonal temps with most in the 70s, near 80ºF in urban areas. A cooling breeze may keep parts of Delmarva in the upper 60s.

Looking Ahead
Thursday Morning To Sunday Night 
Watch the bottom right side of the image. This is where Low Pressure will develop, then move north. It is expected to reach us with rain before sunrise on Saturday, then may stall out over the weekend.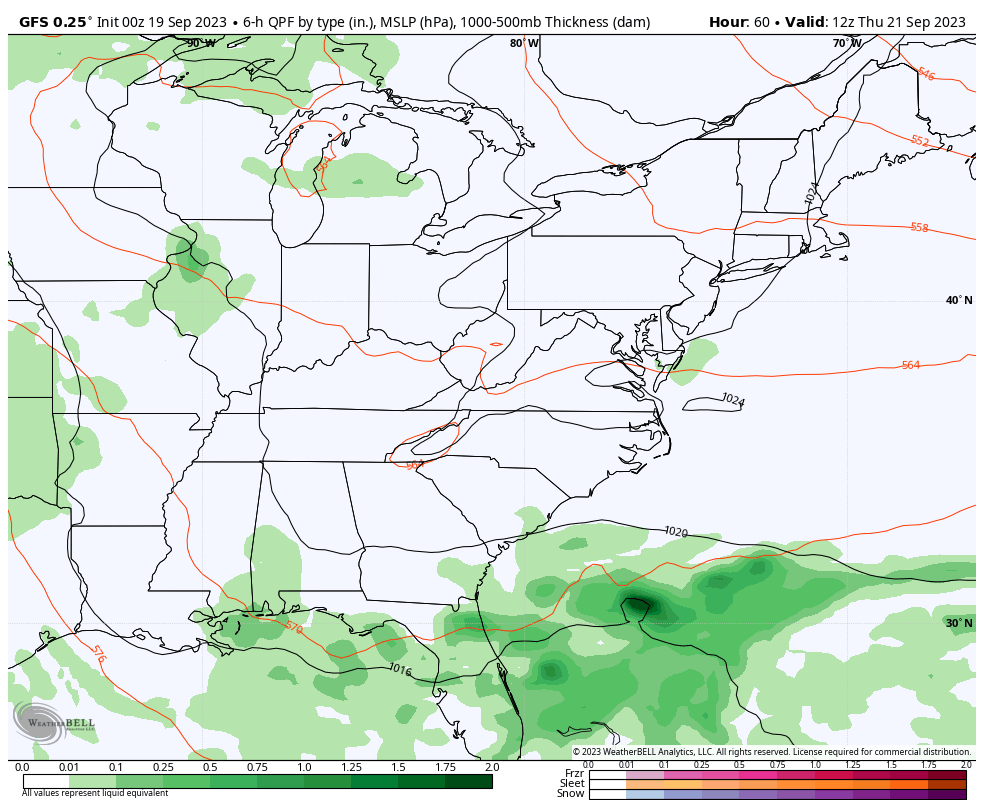 Closer View: Mid-Atlantic 
With Low Pressure making landfall in North Carolina, it may be trying to develop into a tropical system but it needs to reach 39 mph winds to get named. It will most likely have tropical moisture with it.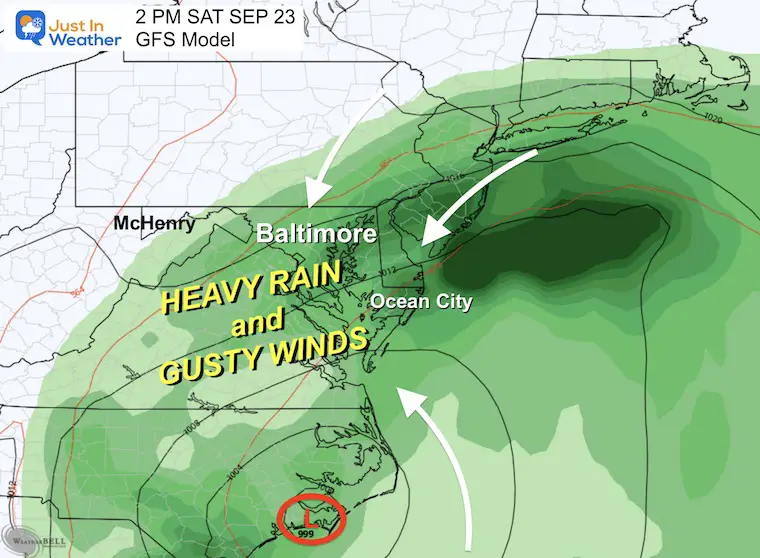 Saturday Afternoon Winds
While this may be a tropical-like system, it will have cool air feeding into it. That is the side we will be on. The North to Northeast air flow may average 15 to 30 mph, and up to 40 closer to the beaches.
This will enhance the rain and keep temps chilly in the 60s.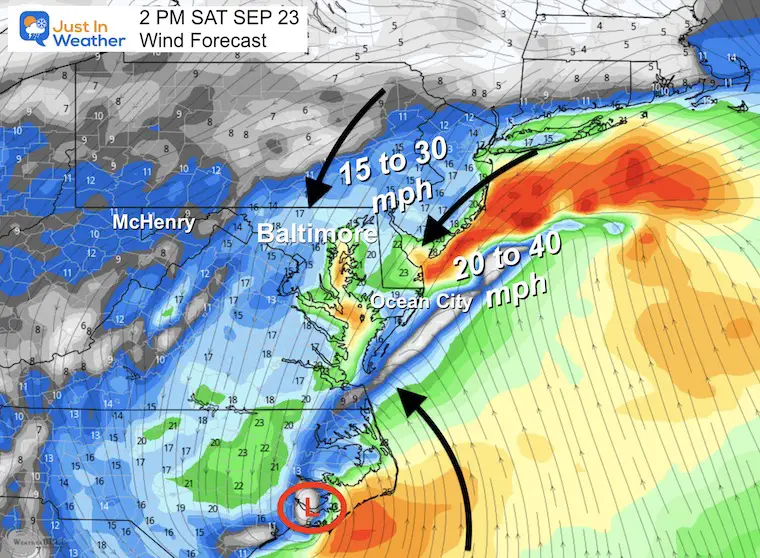 Animations
Wind Saturday to Sunday Night
We can see the center of circulation as the storm core moves over Delmarva and may stall.
Rain Friday Night to Monday Morning
The Low-Pressure system with tropical moisture will move into central Maryland and may stall for a day. The heaviest rain will be on Saturday, with showers lasting Sunday and into Monday.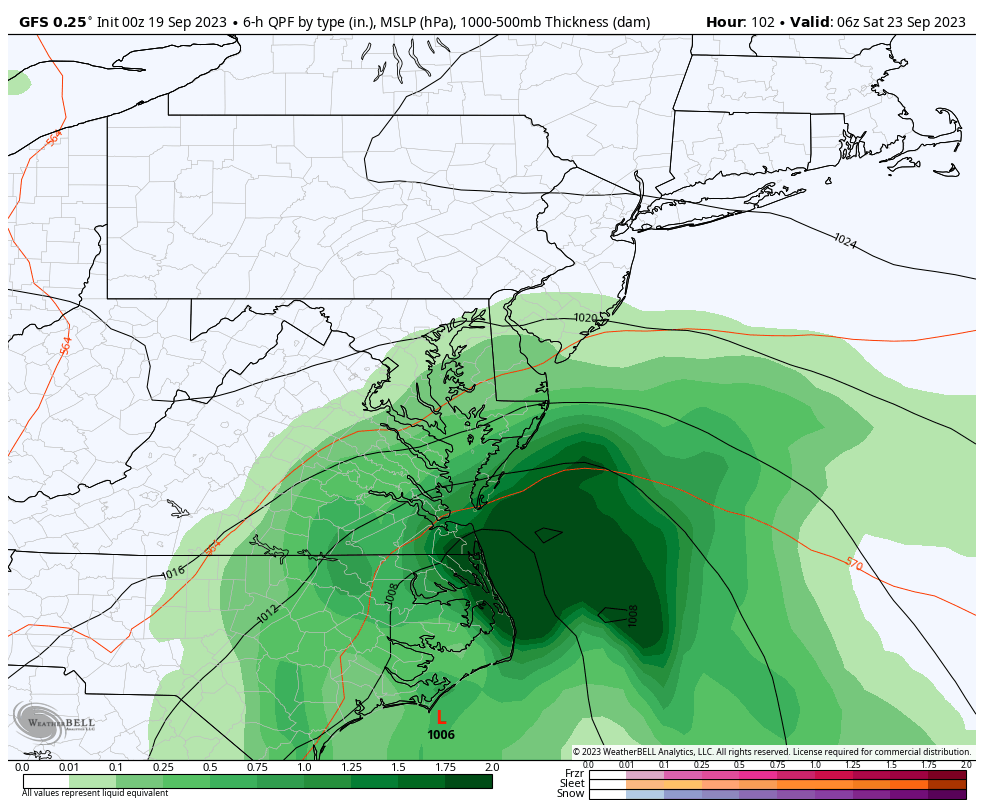 Rainfall Potential
This is a suggestion and is subject to change…
Based on the latest guidance, over 1 inch of rain is likely east of the mountains, with much heavier rain in central Maryland to the coast.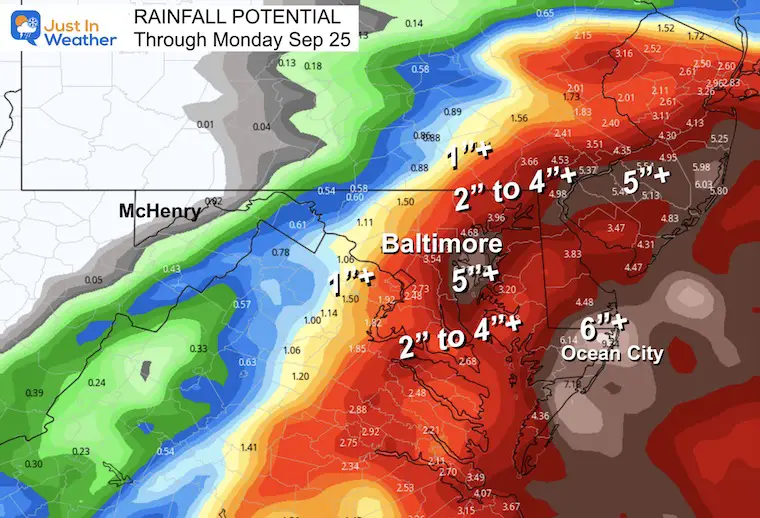 7 Day Forecast
A pleasant few days with cool mornings and sunny afternoons, gradually warming.
Then we watch that storm form off the Southeast US coast and move north.  We should get the wind and rain by Saturday morning which will last through the weekend.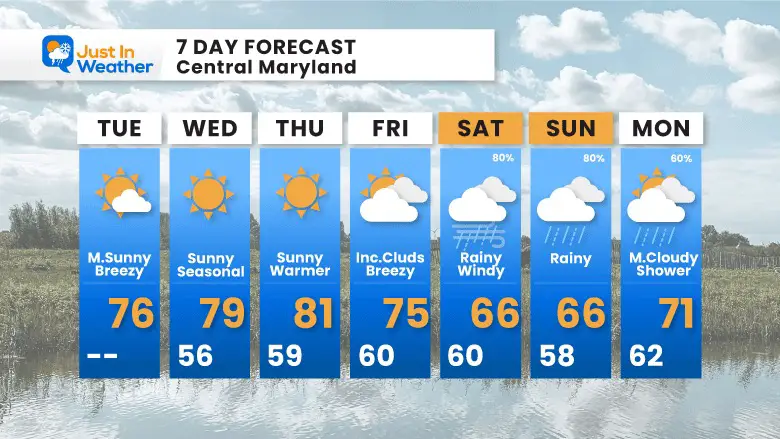 EXPLORE MORE
EARLIER IN AUGUST: Maryland Trek 10 For These Kids
I will have a follow-up and recap on our amazing week shortly.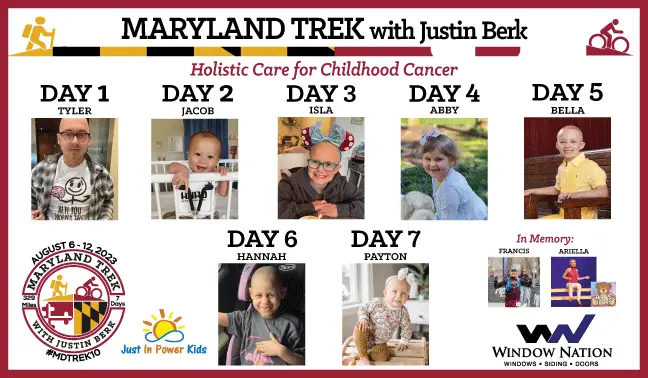 Subscribe for eMail Alerts
Weather posts straight to your inbox
Sign up and be the first to know!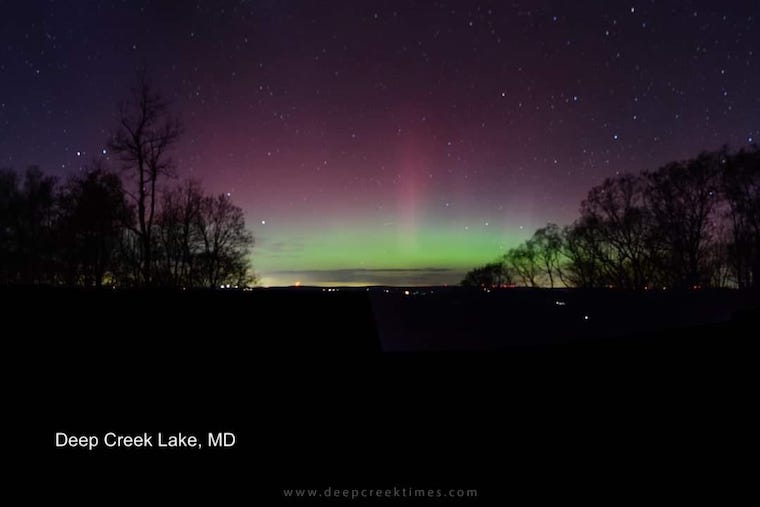 Please share your thoughts and best weather pics/videos, or just keep in touch via social media
RESTATING MY MESSAGE ABOUT DYSLEXIA
I am aware there are some spelling and grammar typos and occasional other glitches. I take responsibility for my mistakes and even the computer glitches I may miss. I have made a few public statements over the years, but if you are new here, you may have missed it: I have dyslexia and found out during my second year at Cornell University. It didn't stop me from getting my meteorology degree and being the first to get the AMS CBM in the Baltimore/Washington region. One of my professors told me that I had made it that far without knowing and to not let it be a crutch going forward. That was Mark Wysocki, and he was absolutely correct! I do miss my mistakes in my own proofreading. The autocorrect spell check on my computer sometimes does an injustice to make it worse. I also can make mistakes in forecasting. No one is perfect at predicting the future. All of the maps and information are accurate. The 'wordy' stuff can get sticky.  There has been no editor who can check my work when I need it and have it ready to send out in a newsworthy timeline. Barbara Werner is a member of the web team that helps me maintain this site. She has taken it upon herself to edit typos when she is available. That could be AFTER you read this. I accept this and perhaps proves what you read is really from me… It's part of my charm.
#FITF