2023 Atlantic Hurricane Forecast Comparison With El Niño Watch
El Nino
NOAA
Outlook
Season
Tropics
Justin Berk
May 31, 2023
8:58 pm
0
The Atlantic Hurricane Season begins on June 1 and lasts through November 30th. After a few above-average seasons, this year will be impacted by an El Niño developing. NOAA has issued an El Niño Watch with almost near certainty of the phenomenon forming. This warming of the ocean water in the Pacific Ocean has been shown to increase the winds and affect hurricane development in the Atlantic Ocean.
Here we will look at the NOAA official forecast and compare it to other forecasts for the season ahead. Also a look at the names on the list this year.
In general, there are competing forces at play. First, the Atlantic Ocean has been in a warm cycle since 1995, which helps to fuel tropical development. Second, an above-average tropical West African monsoon is expected to increase tropical waves.  While these can often grow into tropical storms, the El Niño forming in the Pacific Ocean will increase upper-level winds that tend to shear the tops of the storms off and limit growth.
El Niño Watch: NOAA Outlook
Over 90% probability for El Niño through Summer and Fall.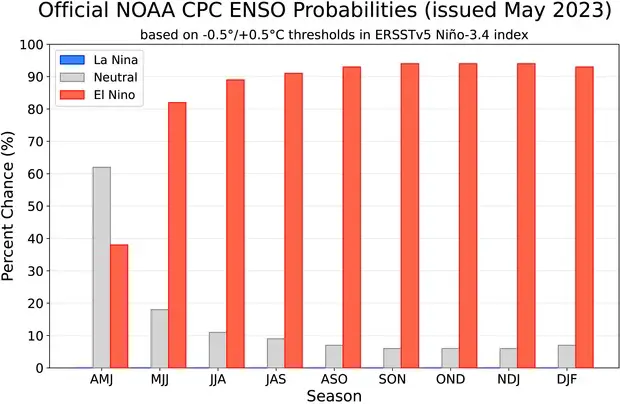 Influence Around The Globe
In the Pacific Ocean, warmer water leads to more storms and hurricanes.
Those storms increase the upper-level winds FROM THE WEST.
In the Atlantic Ocean, those upper-level winds sheer the tops of high clouds, limiting tropical storm development.
Video: More On El Niño
Forecast Comparison
From NOAA
"Forecasters with the Climate Prediction Center, a division of the National Weather Service, predict near-normal hurricane activity in the Atlantic this year. NOAA's outlook for the 2023 Atlantic hurricane season, which goes from June 1 to November 30, predicts a 40% chance of a near-normal season, a 30% chance of an above-normal season and a 30% chance of a below-normal season.
A Wide Range
This graphic shows the nearly equal chances with a slight edge to Near Normal.
The number of storms has a wide range, but keep in mind this is a forecast covering 6 months.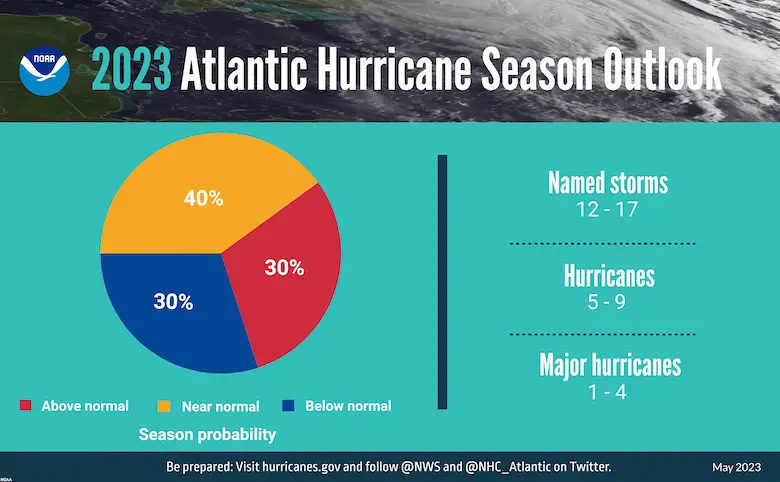 NOAA is forecasting a range of 12 to 17 total named storms (winds of 39 mph or higher). Of those, 5 to 9 could become hurricanes (winds of 74 mph or higher), including 1 to 4 major hurricanes (category 3, 4, or 5; with winds of 111 mph or higher). NOAA has a 70% confidence in these ranges.
IMPORTANT NOTE
Hurricane Andrew hit the US in 1992 as a Category 5 storm in South Florida. That was an El Niño year with only a total of 7 named storms. All it takes is one to break through the gap. Sometimes in a quiet year, the one that does get going can be a true monster. So a lower active forecast, even near average, is no reason to let our guard down.
Compare To Other Forecasts
This chart shows the forecasts from the well-respected Colorado State University. This was where Dr. William Gray pioneered long-range forecasting and global teleconnections. Also the forecast from WeatherBell, and I added the UK Met Office for good measure. Note that is the outlier. For some reason, they are going against El Niño and keeping the more active trend.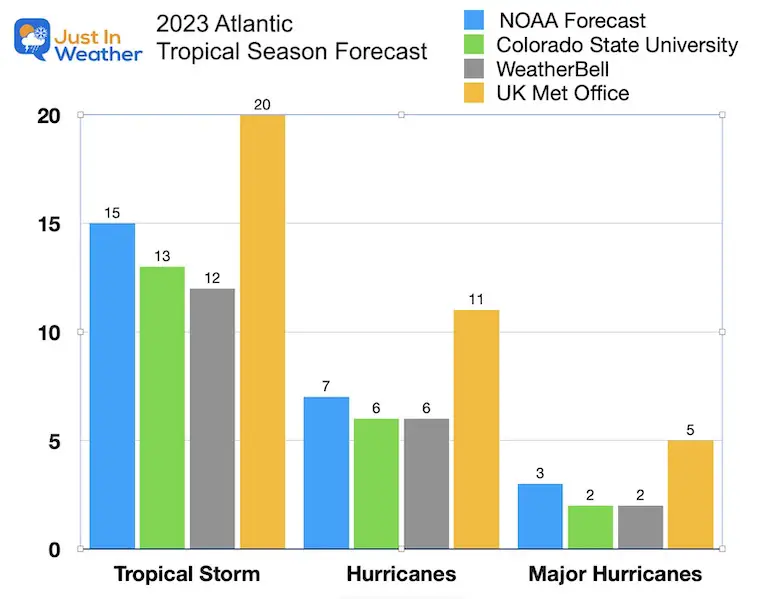 Additional Ranges:
WeatherBell:
Tropical Storms: 10 to 14
Hurricanes: 5 to 7
Major Hurricanes: 2 to 3
UK Met Hurricane Season Forecast Tweet
UK Met Office released their Atlantic seasonal #hurricane forecast today and predicts extremely busy season, with most likely forecast of:

20 named storms, 11 hurricanes, 5 major hurricanes.https://t.co/WRlYUperJc

UK Met also forecasting moderate/strong #ElNino. pic.twitter.com/KBIEfJzlTC

— Philip Klotzbach (@philklotzbach) May 26, 2023
Past 10 Years: Tropical Activity
A tropical storm gets a name when winds reach 39 mph. It becomes a hurricane with winds over 74 mph.  Then a Major hurricane when reaching Category 3 intensity on the Saffir-Simpson scale and winds clocked over 111 mph.
Most of the last decade was close to average or slightly above average in numbers. The outlier was 2020 for many reasons! With respect to the tropics, that was the most active season on record. There were 30 named storms, going deep into the Greek Alphabet with names. Of those, 14 became hurricanes and 7 became major hurricanes. That matched less active years of 2016 and 2021 with 7 hurricanes.
The second most named storms was 21 in 2021.
The second most year active with hurricanes was 10 in 2017, with a total of 17 named storms.
The numbers do not always match up as well with the years as those two did.
Two other years had lower total named storms but ranked 3rd with hurricanes (8) in 2018, and 2022.
Note that 2005 had more hurricanes with a total of 15.
2023 Hurricane Names
Note: On January 16, there was an unnamed Tropical Depression identified by The National Hurricane Center. It did not get a name but will be included in the overall tropical records. It was located about 300 miles from Bermuda.
I will have a more detailed article on the history of names soon.
Names are in alphabetical order.
Arlene
Bret
Cindy
Don
Emily
Franklin
Gert
Harold
Idalia
Jose
Katia
Lee
Margot
Nigel
Ophelia
Phillipe
Rina
Sean
Tammy
Vince
Whitney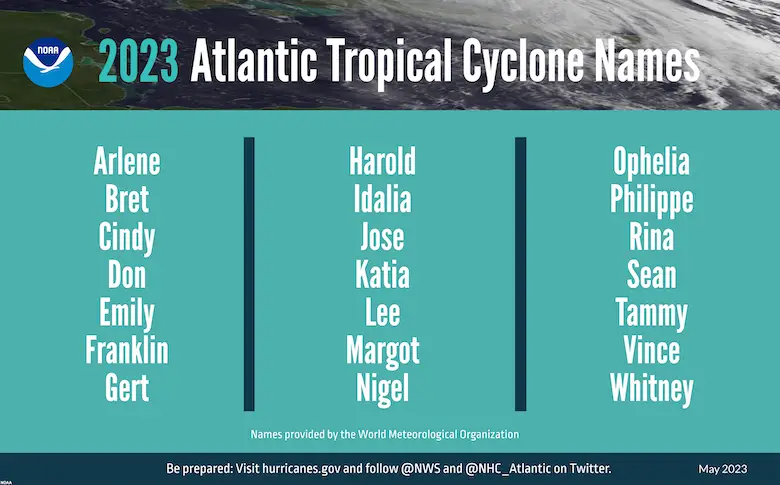 My Thoughts On US Impact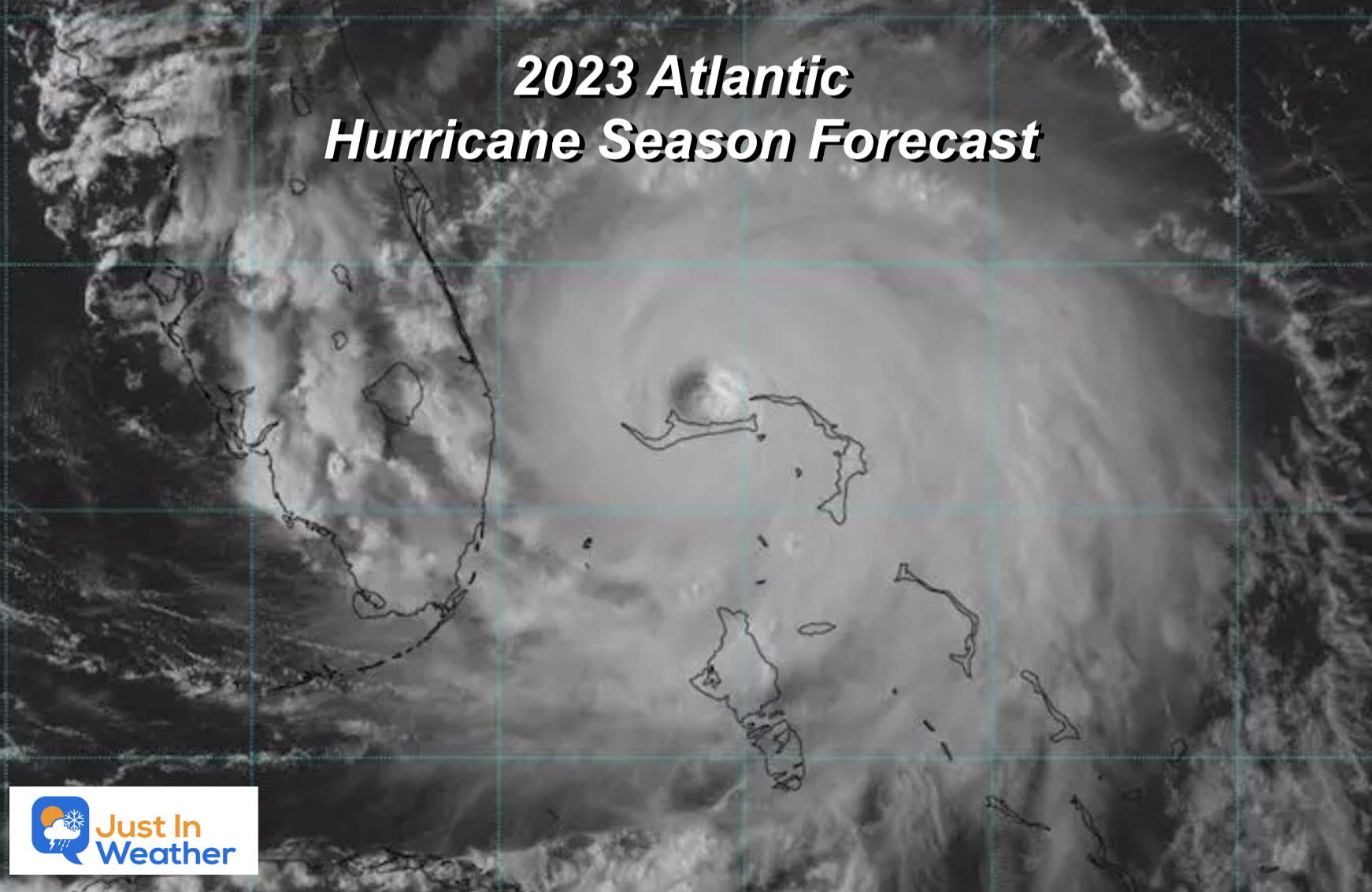 I believe we have already seen the signals in late May as to what the tropical season will try to replicate. I see favorable areas in the Eastern Gulf of Mexico AND along the Mid-Atlantic to Northeast US.
While the season is starting with an 'Invest' in the eastern Gulf with interest for Florida, this does seem to be a prime environment for more activity to develop thanks to the warm water. Also, more influence from an El Niño would give a more West to East push aloft for quick spin-ups near the coast.
The Mid-Atlantic has already seen two systems come on shore near South Carolina. This loop from the Memorial Weekend storm did look impressive but was not tropical as it was missing a warm core.  Atmospheric Memory suggests there will be more trying to generate here.
Low pressure off the SC coast looks really good for being a non-tropical system. Look at that spin. pic.twitter.com/0A6kbEWtGm

— Henry Burton (@HenryWX) May 27, 2023
Unsettled East Coast
As we begin June, there has been a growing drought. However, there has also been a very cool month of May. This has been in part thanks to a more dominant flow from the Atlantic. We see this forecast by the ECMWF Model for the first week of June to become more prominent. I am not promising a cool summer. However, I do see storms forming along the coast and getting support to hug the coast or push inland.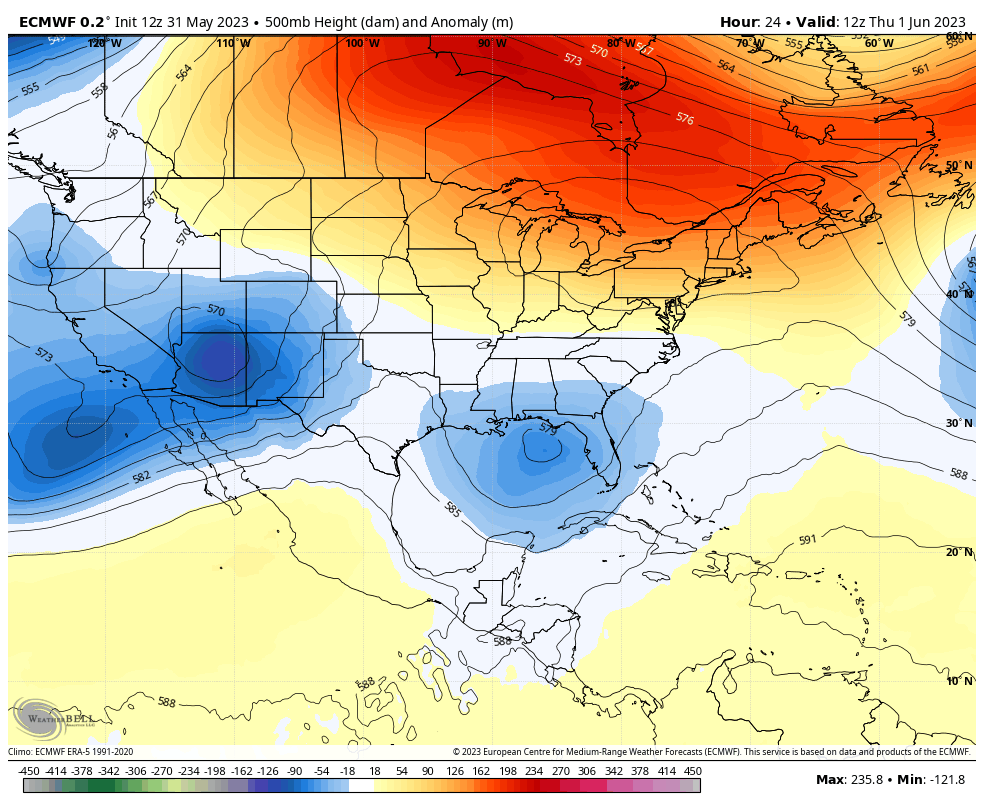 My estimate:
Florida will get a minimum of 3 named storms (Tropical Storms or Hurricanes). One may be a Cat 3 or higher.
Mid-Atlantic t0 Northeast: South Carolina to New England… A 70% chance for 2 to 4 named storms. Of these, at least one to become a hurricane that either pushes inland or rolls along the coast.
Subscribe for eMail Alerts
Weather posts straight to your inbox
Sign up and be the first to know!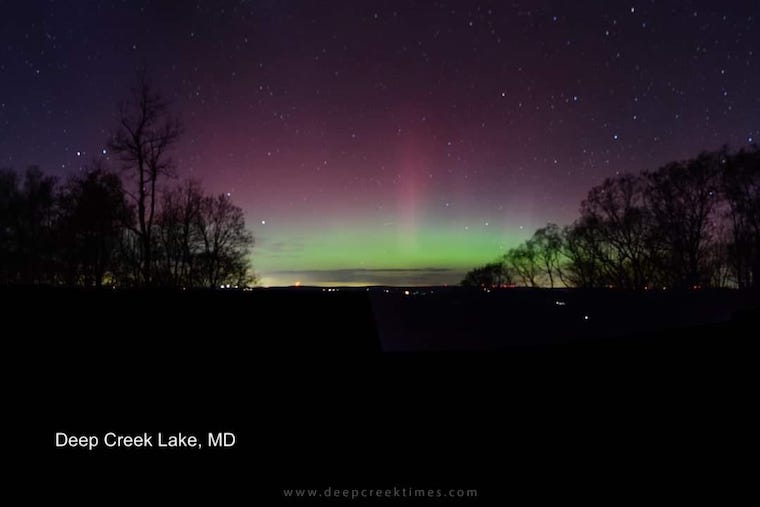 Please share your thoughts, best weather pics/videos, or just keep in touch via social media
RESTATING MY MESSAGE ABOUT DYSLEXIA
I am aware there are some spelling and grammar typos, and occasional other glitches. I take responsibility for my mistakes, and even the computer glitches I may miss. I have made a few public statements over the years, but if you are new here you may have missed it: I have dyslexia, and found out during my second year at Cornell University. It didn't stop me from getting my meteorology degree, and being first to get the AMS CBM in the Baltimore/Washington region. One of my professors told me that I had made it that far without knowing, and to not let it be a crutch going forward. That was Mark Wysocki and he was absolutely correct! I do miss my mistakes in my own proofreading. The autocorrect spell check on my computer sometimes does an injustice to make it worse. I also can make mistakes in forecasting. No one is perfect predicting the future. All of the maps and information are accurate. The 'wordy' stuff can get sticky.  There has been no editor that can check my work when I needed it and have it ready to send out in a newsworthy timeline. Barbara Werner is a member of the web team that helps me maintain this site. She has taken it upon herself to edit typos, when she is able. That could be AFTER you read this. I accept this and perhaps proves what you read is really from me… It's part of my charm.
#FITF