La Niña Has Ended With A New El Niño Possible By Fall
El Nino
La Nina
NOAA
Tropics
Justin Berk
Mar 10, 2023
1:55 pm
0
March 10, 2023
The latest report from The National Oceanographic and Atmospheric Administration (NOAA) has confirmed the expectations I had all winter. The cold temperature phenomenon in the tropical Pacific Ocean known as La Niña has ended. The outlook calls for a swing back to El Niño later this year. More on that below.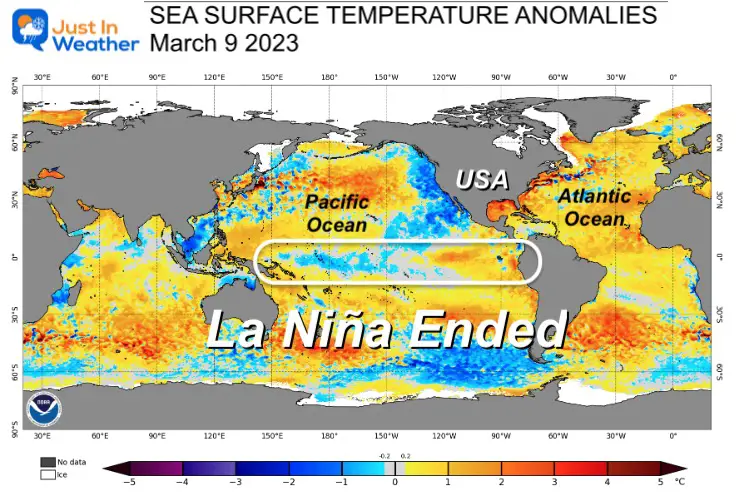 Sea Surface Temperature Animations
December 14 2022 to March 1 2023
Sea Surface Temperatures 
The central Pacific temperatures are warming.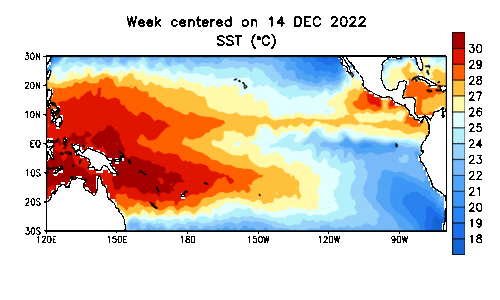 Temperature Anomalies 
The cooler than average water temperatures of La Niña has smoothed out and neutral conditions prevail.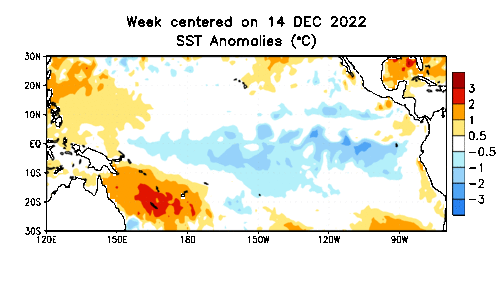 Winter Was Affected
A coordinated effort with NOAA, The National Weather Service, and the Climate Prediction Center has shown that the conditions have weakened and only persist in the central Pacific Ocean.  Parts of the Eastern Pacific are actually above average, which may have been contributing to some of the excessive storm tracks and Pineapple Express developing between Hawaii and the Western US.
We have had THREE La Niñas in a row, which is a rarity and seems to have played a significant role in our extreme winter storm track season. While the Mid-Atlantic has been in a snow drought, parts of California are pushing 700 inches of snow for the season.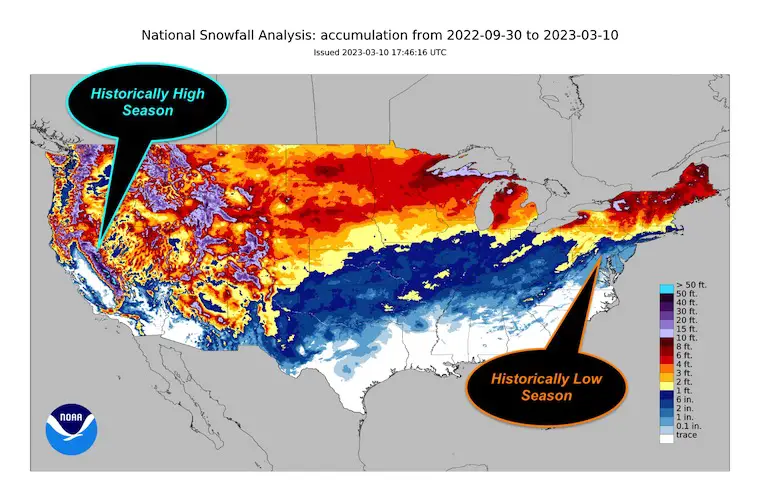 Validation – Sort Of
This was forecasted to occur at the end of winter, and was the reason for my report last December titled:
La Niña Likely to End During This Winter Increasing Late Season Snow Odds
I cannot claim victory when my overall snow outlook for this season has been a fail. This is about one month later than I was expecting, and perhaps a little too late in the season to make an impact. The jury is out on that.
However, there has been an increase in snow events pushing farther east and south in the last two Weeks! I believe this fits my theory, even if it's late.
Late Winter Stormy Forecast
GFS Model: Friday Night March 10 to Saturday Afternoon March 18
This animation is NOT a promise, as we have seen many long range forecasts flip/flop. It does demonstrate the active atmosphere and busy week ahead. Here we see the current East Coast storm, followed by another storm trying Sunday night and Monday. Then another event at the end of next week.
El Niño Forecast
From the NOAA Report:
"The forecaster consensus favors ENSO-neutral through summer 2023, with elevated chances of El Niño developing afterwards"
CHART
Here we can see the increased chance to develop an El Niño AFTER April with a 60% Chance of an El Niño between September and October.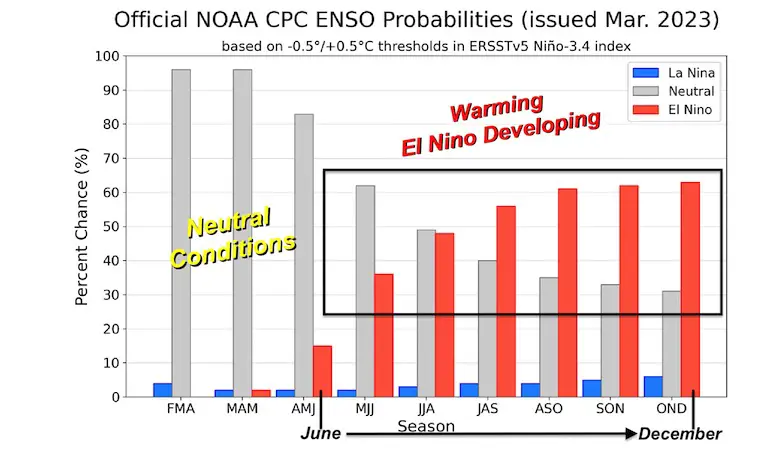 Why is this important?
El Niño in the Pacific LOWERS the hurricane activity in the Atlantic.
September is the peak of the hurricane season and increased upper level winds tend to inhibit tropical storm formation. There will be storms, but this should lower the expectations for this year after a few very busy seasons.
REPORT: March Snow and Extreme Weather History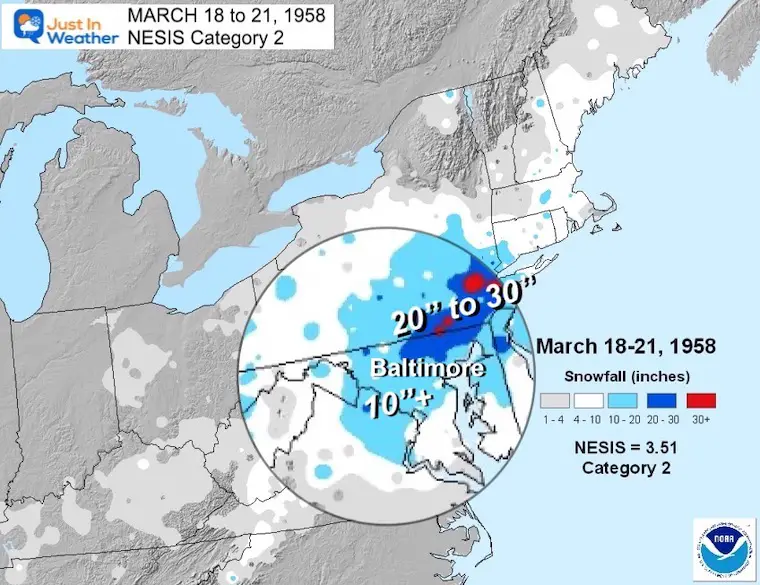 Subscribe for eMail Alerts
Weather posts straight to your inbox
Sign up and be the first to know!
IN CASE YOU MISSED IT
My REALISTIC Expectations for the COLD OUTLOOK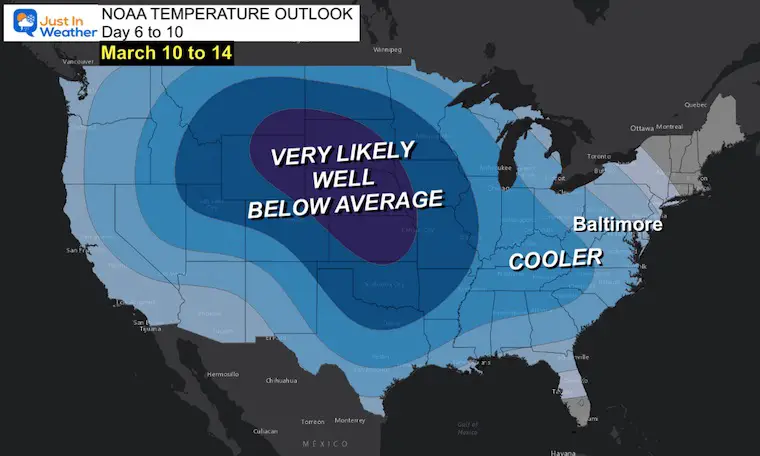 Winter History: Low Snow And Late Starts
See my research based on Baltimore data since 1883.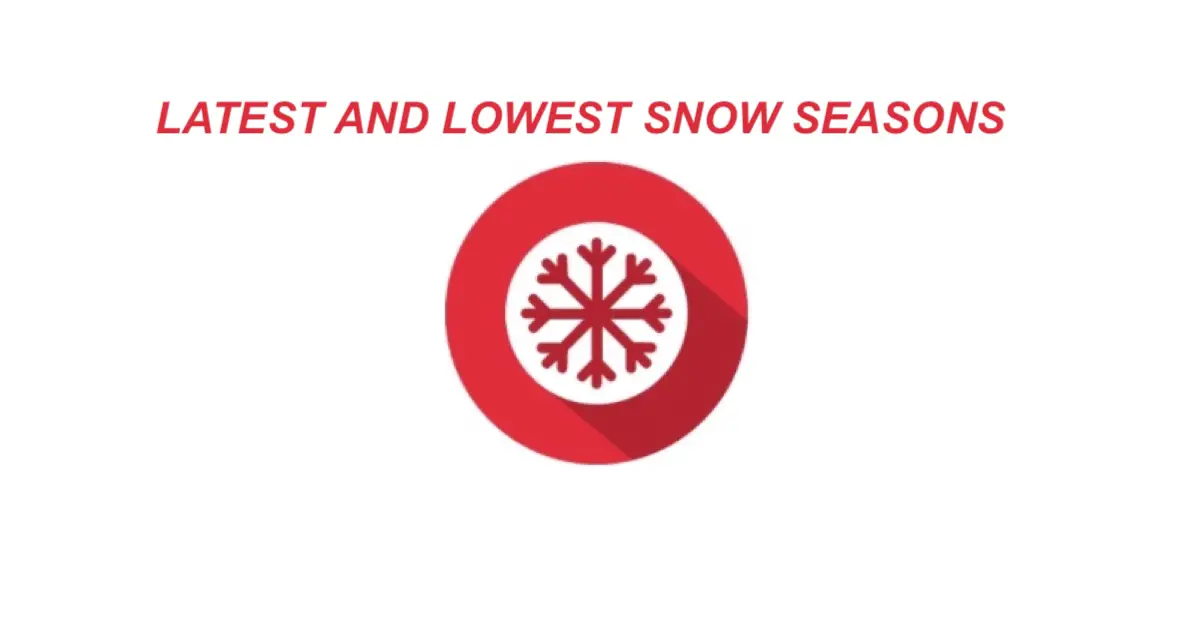 RESTATING MY MESSAGE ABOUT DYSLEXIA
I am aware there are some spelling and grammar typos, and occasional other glitches. I take responsibility for my mistakes, and even the computer glitches I may miss.
I have made a few public statements over the years, but if you are new here you may have missed it:
I have dyslexia, and found out during my second year at Cornell University. It didn't stop me from getting my meteorology degree, and being first to get the AMS CBM in the Baltimore/Washington region. One of my professors told me that I had made it that far without knowing, and to not let it be a crutch going forward. That was Mark Wysocki and he was absolutely correct!
I do miss my mistakes in my own proofreading. The autocorrect spell check on my computer sometimes does an injustice to make it worse. I also can make mistakes in forecasting. No one is perfect predicting the future.
All of the maps and information are accurate. The 'wordy' stuff can get sticky. 
There has been no editor that can check my work when I needed it and have it ready to send out in a newsworthy timeline. Barbara Werner is a member of the web team that helps me maintain this site. She has taken it upon herself to edit typos, when she is able. That could be AFTER you read this.
I accept this and perhaps proves what you read is really from me…
It's part of my charm.
#FITF
STEM Assemblies/In School Fields Trips Are Back
Click to see more and 'Book' a visit to your school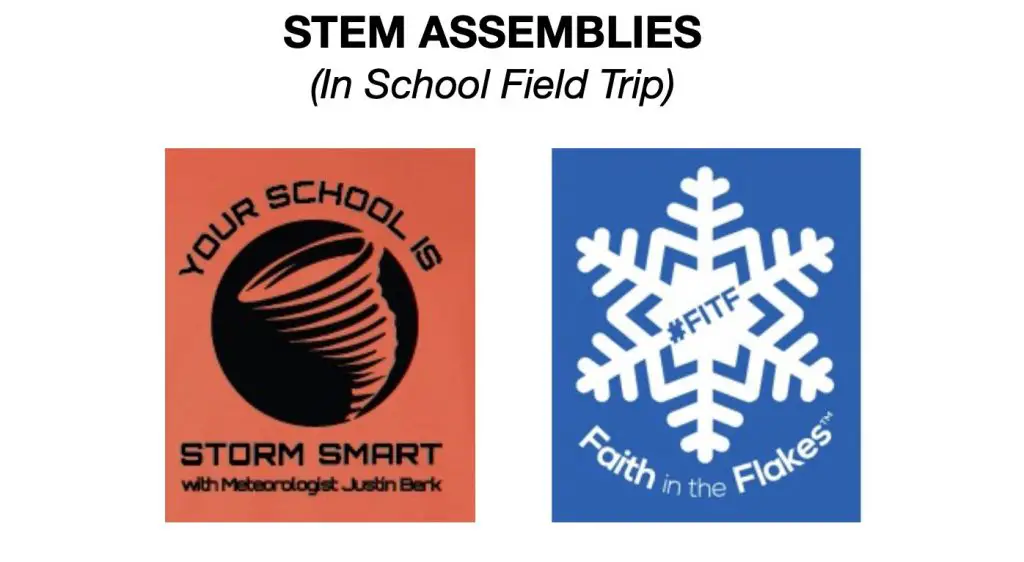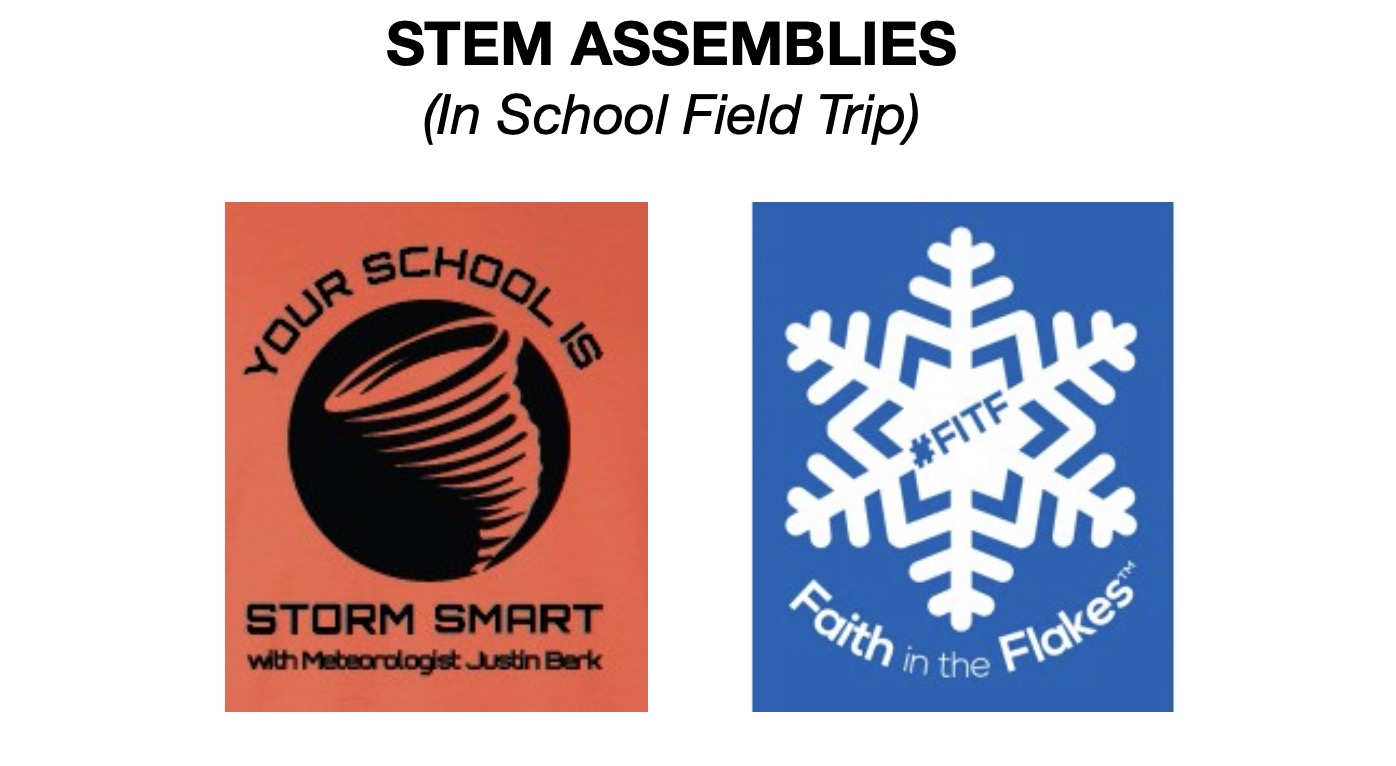 My Winter Outlook: Not A Typical La Niña!
I see many factors to support colder influence with multiple systems. Early and later in winter. Check it out. https://justinweather.com/2022/11/22/winter-outlook-2023-for-snow-not-typical-la-nina-plus-polar-vortex-disruption/
Triple Dip La Niña Winter
https://justinweather.com/2022/09/09/winter-outlook-2023-la-nina-triple-dip-expectations/
CONNECTION TO WINTER?
If you want a snowy winter, this is what you might want to look for in the rest of the tropical season. https://justinweather.com/2022/08/31/record-august-for-no-named-tropical-storms-closer-look-at-snow-following/
Woolly Bear Caterpillars
https://justinweather.com/2022/10/25/winter-weather-outlook-from-the-wooly-bear-caterpillar/
Persimmon Seeds
Click to see Top 20 and MORE
https://justinweather.com/2022/10/28/winter-weather-folklore-top-20-and-more-outlook-signals-from-nature-for-cold-and-snow/
Normals And Records: Maryland and Baltimore Climate History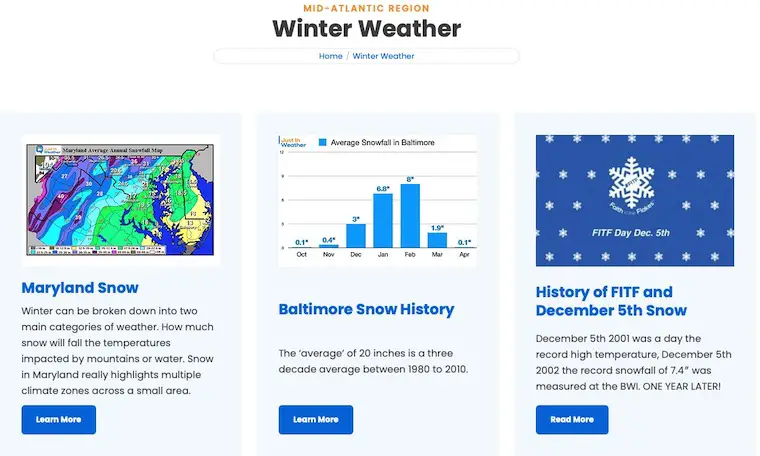 Please share your thoughts, best weather pics/videos, or just keep in touch via social media