Winter Outlook 2023 For Snow Not Typical La Niña Plus Polar Vortex Disruption
La Nina
Polar Vortex
Outlook
climate data
Winter Weather
Justin Berk
Nov 22, 2022
7:58 pm
0
November 22 2022
This winter has been advertised to be dominated by La Niña, but I DO NOT think that will be the main driving force. So instead of a statistical low snow year, I have Faith in the Flakes!  I have reason to believe it will start early, with maybe a lull in the middle, then an increased chance to end with a bang, or two!
Those are bold claims when most outlets are calling for below average snowfall. As an educator AND dad, I will show my homework here.
I have taken a little longer this year, but I am ready to share my thoughts for the winter ahead.  I always encourage you have multiple sources, but I am grateful to be one of them. You might like that fact that I maybe an outlier with snow potential this winter near to slightly above normal. Yes, I love snow. However, I do not want to call for more and be disappointed. My work and projection here is with bias removed as best I can.
I also realize the heightened sensitivity with much higher energy costs. I know this winter will be hard on a lot of people and I truly wish that was not the case. I do hope there is some way to resolve that and if nothing else the expectation will help those in need to prepare.
What is Normal? Let's Start With Some Charts
These stats are based on Baltimore at BWI. It is central to our region with a long standing history of data. The airport tends to get lower measurements than the surrounding region, but it is the best we've got.  My outlook covers our Mid Atlantic Region below. 
Average Season:
Usually accumulating snow begins in December with a few inches, then we get two good months.  The most snow often falls in the shortest month of February.  Yes, a high portion of historic storms happen during Presidents Week.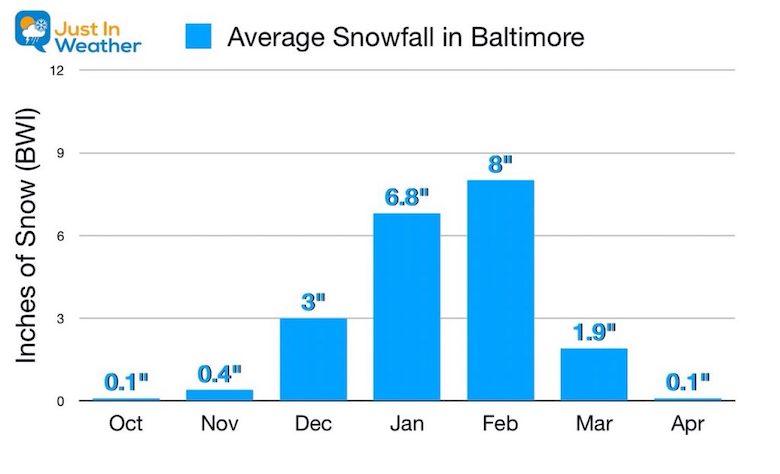 Last Decade:
If anyone says 'it never snows anymore', please show them this!  Last decade brought our biggest winter ever in '09 to '10.  We had three blizzards, including two in February. It was beautiful! There were three winters UNDER 10″, and three winters in a row with over 28" of snow (2013 to 2016). But we have not been above normal since 2016. We came close in 2019.  Good luck finding a pattern.  That's the fun in looking ahead, even if the confidence is low.
For reference last winter was 14.4", and we just missed reaching my forecast in that March storm. More on that below.
Average Per Decade Since 1900
Notice the Lowest Snow Decade (1950s) was followed by the Highest Snow Decade (1960s)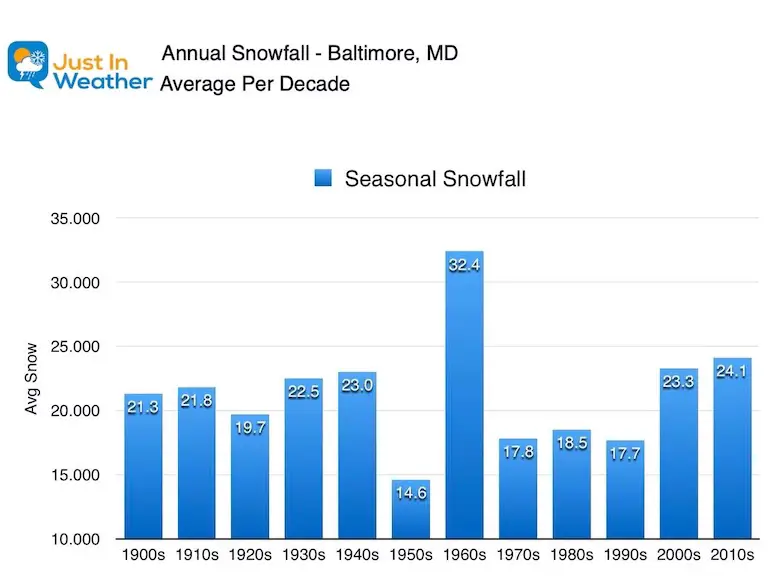 Sign Up For My Newsletter: Get email 

Alerts All Winter
Weather posts straight to your inbox
Sign up and be the first to know!
Seasonal Outlooks
It is important to note that a seasonal outlook is low confidence.  Our 7 day forecasting is challenging enough. I practice the motto to NOT mention an upcoming possible winter storm until within a week away. Only very few exceptions to the rule, and if so it is to prove a point.  I love snow, but I don't believe in hype for clicks. There are plenty of other places you can get that.
My call for snowfall has become a transition point for me. Each year I gather information and write articles through Autumn for hints at what the weather may bring us in the coming winter. If you have read those reports, then some of this might be a quick recap.  This is where I bring it all together and attempt to suggest how much snow we may get this season. Now that it is published for your reading pleasure, I am ready for the season to begin.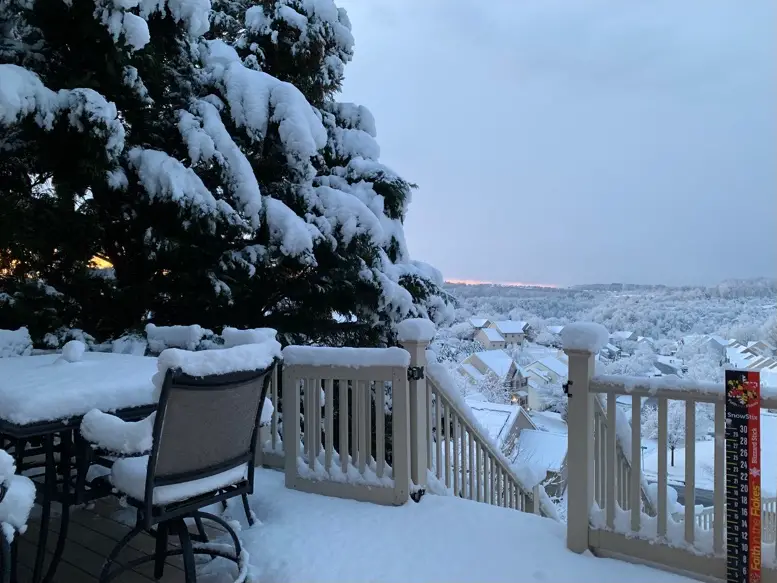 Below my supporting information and forecast, I have a brief look at last winter.  While last year ended below my call in Baltimore, we almost made it in March. Western Maryland did hit my mark and broke 100 inches around Deep Creek Lake.
Let's get to it with a look at Early Winter, Later Winter, then additional information. I will follow with my snow map and regional suggestion. 
Early This Winter: Early Start
Polar Vortex
I want to start with this because it picks up on what I recently discussed in my Atmospheric Memory article. This is the core circulation of cold air around the North Pole. When it wobbles, that disruption is when we get arctic air sent southward and it energizes winter storms. Tracking those disruptions for Eastern North America Vs. the rest of the Northern Hemisphere is part of the challenge.
In the short term, it looks like this may become evident for the start of December.
Disruption
The Hurricane Fiona storm track back in September was significant. This was once a Category 4 hurricane and made final landfall in Eastern Canada with 105 mph winds. Then continued north to the Arctic Circle and faded out west of Greenland.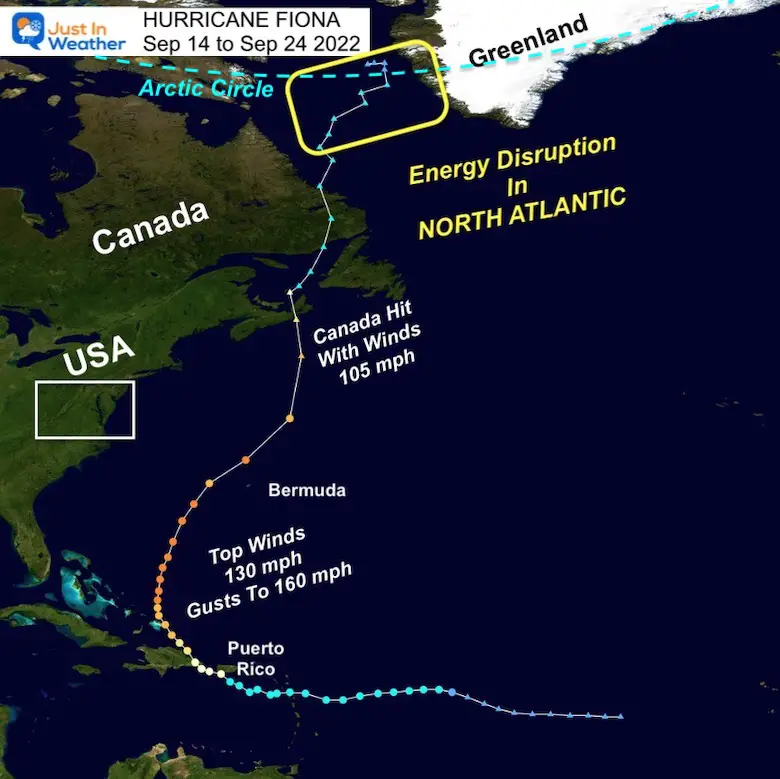 That Polar Vortex (PV) is showing signs of buckling, which we may have already seen a hint of with the record Lake Effect Snow Event…
Dr. Judah Cohen wrote about this recently. His 'disturbed' PV is referencing a cold shot for the Eastern US in December…
Last night's GFS #PolarVortex (PV) animation shows a more disturbed PV (i.e., stretched PV) than it has been predicting all week & at odds with the ensembles, which show a stronger, more circular PV. Is this the first crack in the GFS bullet proof PV predicted for early December? pic.twitter.com/RXPRzSjQno

— Judah Cohen (@judah47) November 18, 2022
Explore More:
Click here to learn more about The Polar Vortex, North Atlantic Oscillation, El Niño, and MJO 
North Atlantic Oscillation
This is another popular index measuring pressure levels in the North Atlantic and the resulting wind flow into Eastern US. When the index is NEGATIVE, we get our colder air!
Latest Forecast: Remaining below ZERO and trending MORE NEGATIVE into early December.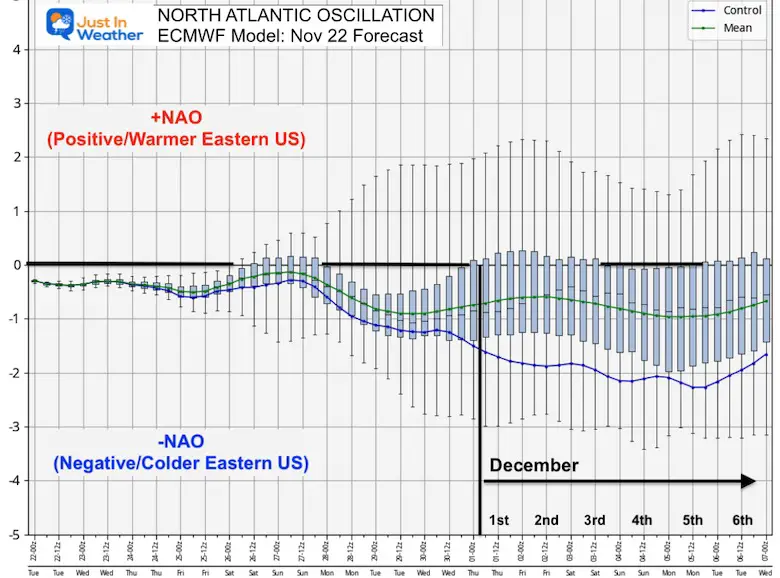 Suggestion:
Support for colder and more stormy pattern in the eastern US for the first 1 to 2 weeks of December.
MJO – Madden-Julian Oscillation
This is a weather pattern tracked between Southeast Asia and the Southern Pacific Ocean. It is broken down into 8 regions where disturbed weather tracks around the globe every 30 to 60 days.  
Explore More Here: MJO Explanation
Region 7 – 8 -1 Lead To East Coast Storms
The North Carolina Institute of Climate Studies researched this pattern in connection to storms halfway around the world. They found a connection!
"When the MJO is in positions (phases) 7, 8, and 1, chances of snowfall are increased."
This chart shows the storm tracks (more in orange and red) between 1950 and 2011 when the MJO was in Phase 7, 8, 4, and 5.
It was determined that the most active Nor'easters and resulting snow was in Phase 7 and 8.
Chart from NCICS Research on MJO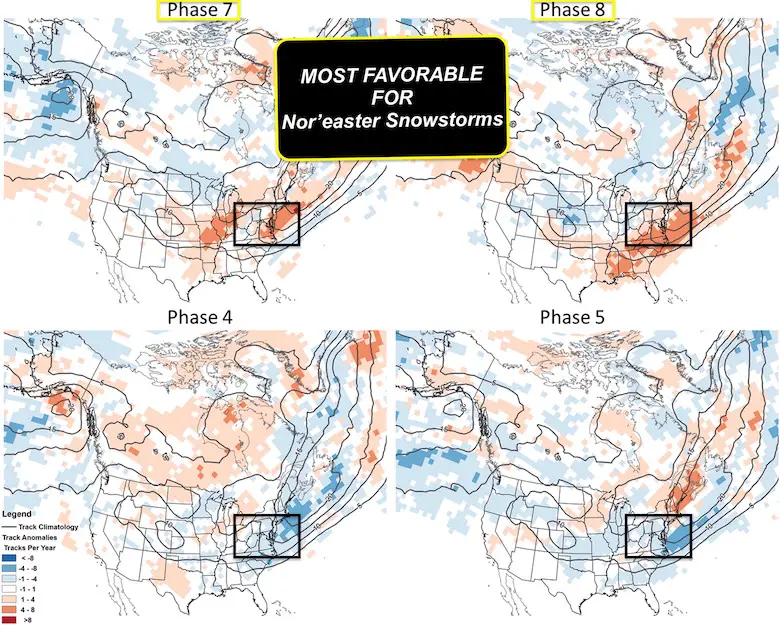 Guess What?!
The latest forecast shows the MJO heading towards Phase 7 as we enter December! That is ALSO more favorable for East Coast storms.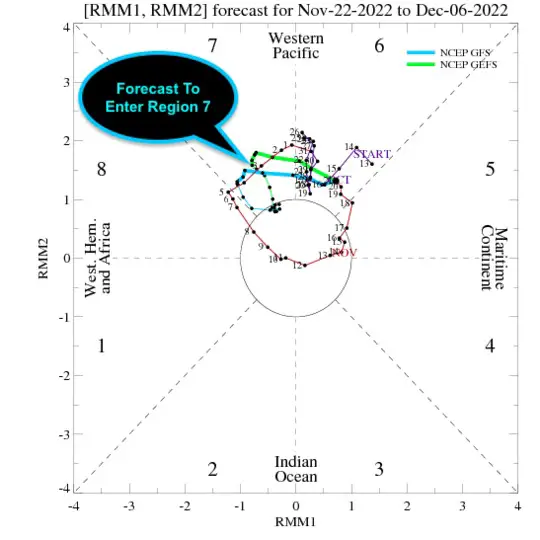 Suggestion:
Winter starts off early with cold air and multiple storm chances on the East Coast in December!
Later This Winter: La Niña Fading
Winter may end with a bang or a few bangs!
Most La Niña years result in Low Snow for us. Most!  So on the surface, it would be easy to assume that is what this year will bring. This is what NOAA and many other long range forecasts have been based on.  
Only 35% of La Niña winters are colder than normal. Then again, two recent La Niña winters produced big snow:
1996- January Blizzard was in a La Niña year. This also accounted for most of the snow that winter.
2000 – Most of snowfall that winter was in a 10-day period between January 20 and 30. This included the 'surprise' Nor'easter that brought 14.9″ of snow to BWI on January 25.
However, two things about this La Niña:
1)  We are in a RARE Triple Dip La Niña. That is a third year in a row with this similar colder water pattern in the tropical Pacific.
Only 2 OTHER Triple Dips are on modern record. Their resulting snow (for Baltimore) was low.
1973-1976: Snow in '76 = 11.5"
1998 – 2001: Snow in '01 = 8.7
Explore More: La Niña Triple Dip Winter Expectations
2) Long Range Forecast from mid September:  
ENSO (El Niño/Southern Oscillation) from Columbia Climate School…
In the 2023 portion:
JFM (Jan-Feb-March) La Niña forecast below 50%
FMA (Feb-Mar-April) La Niña forecast 30% with Neutral forecast up top 50%
Suggestion:
This means a good chance for the La Niña to end, thus diminishing the historic mild tendency.  If there is a chance for cold air and storms, it will have less resistance for the end of winter.
Another Factor: Historic Analog Years
This past August was marked by the 3rd time on record that entire month had NO NAMED STORMS in the Atlantic. 
The other years:
Neither were La Niña, so I had to look for other relative points.
Both had a named hurricane first form within the first two days of September. 
1961 – September 2 – Cat 4 Peak Winds
1997 – September 3 – Cat 3 Peak Winds
2022 – September 1 – Danielle was only a Cat 1
Note: September 14 Fiona reached Cat 4. I showed that track to the Arctic Circle above. 
Here's The Catch to Compare:
Storms Formed AFTER September 1
El Niño (since they were not La Niña)?
Snow The Following Winter
In 1961
11 additional storms were named.
No El Niño
35.2 inches of snow fell. That is 15 above the average!
In 1997
3 additional storms were named. It was quiet.
El Niño Very Strong.
3.2 inches of snow fell that winter. One of the lowest on record!
Now in 2022
11 Additional storms were named.

 

See the list below and click it for the full report on this record.
No El Niño (like 1961).
Snowfall? We don't know yet, but do you notice what looks familiar above?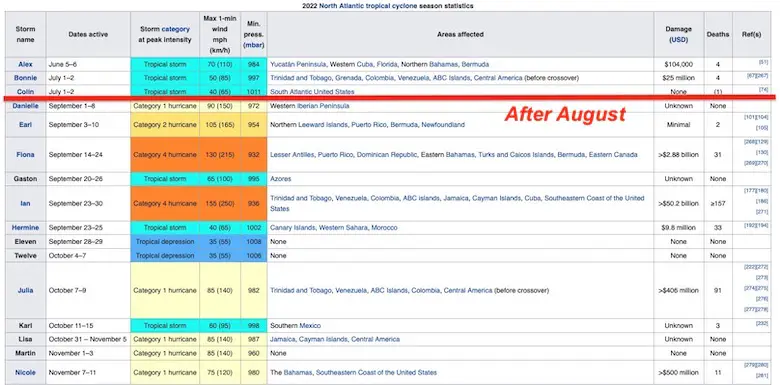 Suggestion:
A busy tropical season AFTER a quiet August could bring more snow.
If you missed my Atmospheric Memory post, take a look here for reference. I believe we have a chance for multiple Nor'easters. Not all are snow makers for everyone. But should the conditions set up like they could, we are overdue for a BIG STORM.
I have plotted the snow storms with over 10 inches in Baltimore that have occurred since 1979 every 3 to 4 years….
That ENDED in 2016! The pressure has been building and I know I thought last year could do it.  But I feel better this time.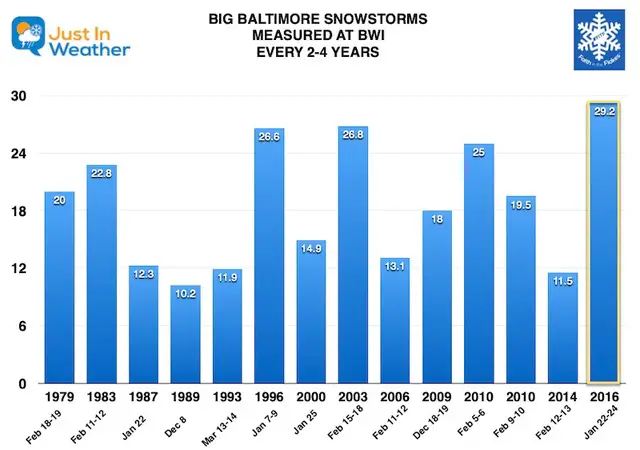 My Call For Snowfall:
Near Seasonal Averages
which we only did one of the last 5 years
My Forecast for Baltimore at BWI
I picked a round number of 20 to be near normal. This is what I went with last winter and we could have reached it if that March 12 snowstorm didn't melt at the airport.
I know this is above many other outlooks, but I believe I made my case for at least an historical near normal winter… even if this sounds high.
The range or margin for error tilted to the higher end (18″ to 24"). One big storm can blow this out of the park!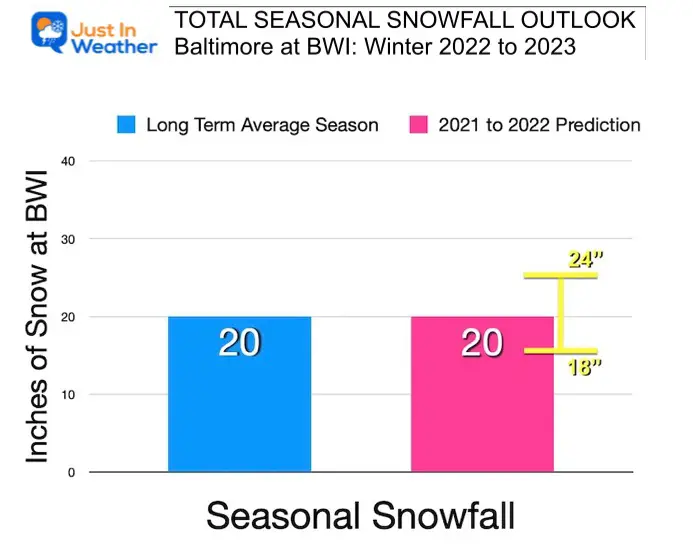 Snow Map For The Mid Atlantic Region
My breakdown below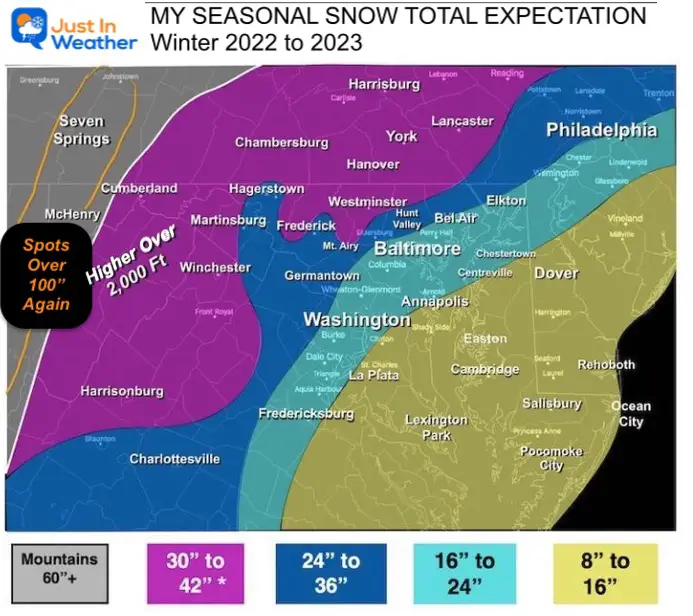 Metro Baltimore, Washington, and along I-95:
16″ to 24″ (less by the water)
This range allows for variations with the region as we often see with individual events.
Due to the warm water, this would be mostly on the back half of winter when the water cools.
Northwest Suburbs And Philadelphia
24″ to 36″
Northern Cecil County, north of Bel Air and Towson.
Owings Mills to Eldersburg, Mt. Airy, Fredrick,Hagerstown, and Germantown.
Farther Inland, Lower Ridges and Southern PA: Elevation above 600 Ft
30" to 42"
Since this is away from the water and colder in higher elevations, some earlier season snows are more possible here.
Lancaster, York, Baltimore's Hereford Zone, Westminster, the mountains surrounding Frederick, Hagerstown, to Cumberland.
Southern MD/E.Shore:
8" to 16"
Due to the warm water, this would be mostly on the back half of winter when the water cools.
Mountains of Garrett County MD, West Virginia, and western PA
80" to 100" is actually close to normal here.
Frostburg is on the edge, but the ski areas from Seven Springs to Canaan Valley are in the zone.
Last winter Deep Creek Lake did break over 100″ and I think they will do it again this year. Their average is 104″.
I believe Snowshoe, WV has a good chance to reach the 150″ mark. Not too rare for them.
Seasonal Expectation:
December: Early start. High chance for winter events during 1st two weeks.
Active Storms Again:
Mid January through early March for Nor'easters to be more favorable with city snow.  That will depend on La Niña ending. 
Last Winter Brief Review:
My call for last winter in terms of snow totals was similar to this winter. We did NOT get there.
Instead of 18″+, Baltimore hit 14.4″.
I counted 13 winter events between January and March that I had to report on for my clients. It was below average snow, yet still busy with snow and ice:
Jan 3, Jan 7, Jan 9, Jan 16, Jan 20, Jan 29, Feb 4, Feb 6, Feb 13, Feb 14, Feb 25, Mar 12, March 31.
In addition to some near misses, we had a very active winter. I thank the thousands that participate to Grade My Forecast after the events.
My track record for individual storms is usually B+ to A, but yes I have some misses.
I still hold firm that the March 12 Storm should have brought Baltimore to my forecast range, if only the ground was a little colder.
March 12 Snow Totals
The 3 inch snow line was 15 miles away, and the 4 to 6 inch range was within 30 miles.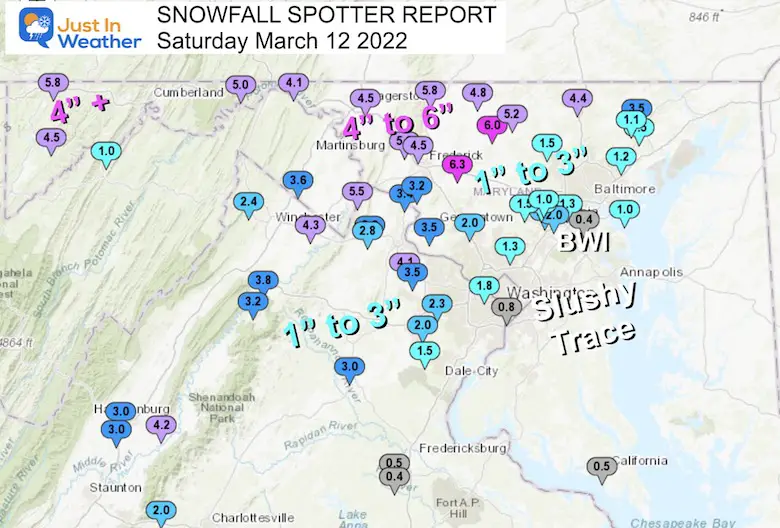 Metro Baltimore with BWI at the bottom of the map.  On the Northwest corner of the beltway, they measured 3 inches in Pikesville.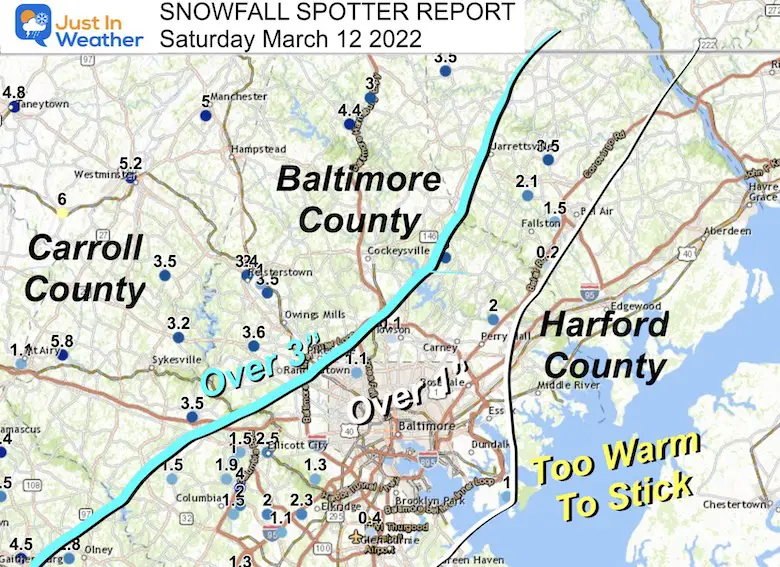 This winter will be active and I have Faith in the Flakes. Let's Do This
For the kids, and teachers that don't have virtual classes, and for me snowboarding with my son. I do not want anyone to suffer from cold or high un-payable heating bills.  I do wish it was easy on everyone.
Faith in the Flakes Gear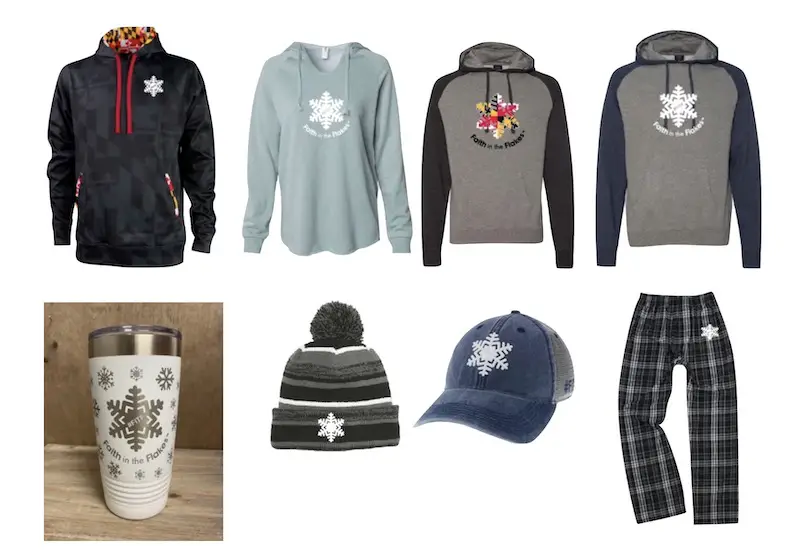 SNOWSTIX – Available Now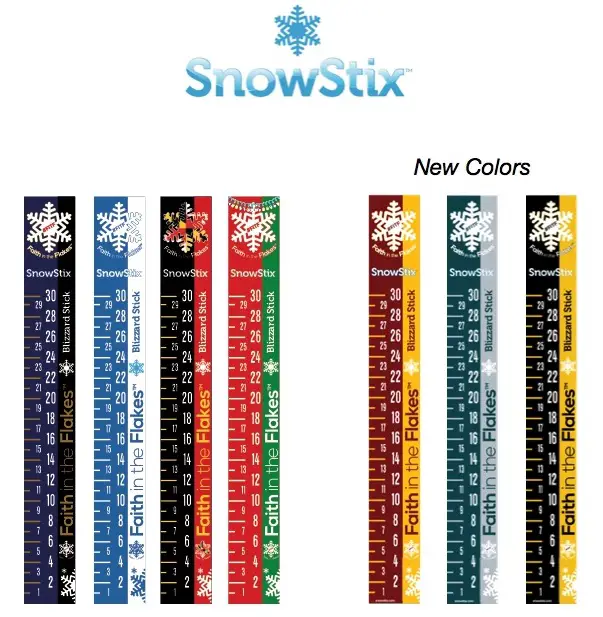 Also See: Winter Outlook Series:
Winter Outlook 2023 From NOAA Very Different Than Farmers Almanacs
Farmer's Almanac Comparison
Winter Outlook 2023 Early Look At Snow From Two Farmers Almanacs
Wooly Bear Caterpillars
Persimmon Seeds
Click to see Top 20 and MORE
Winter Weather Folklore Top 20 And More Outlook Signals From Nature For Cold And Snow
Normals And Records: Maryland and Baltimore Climate History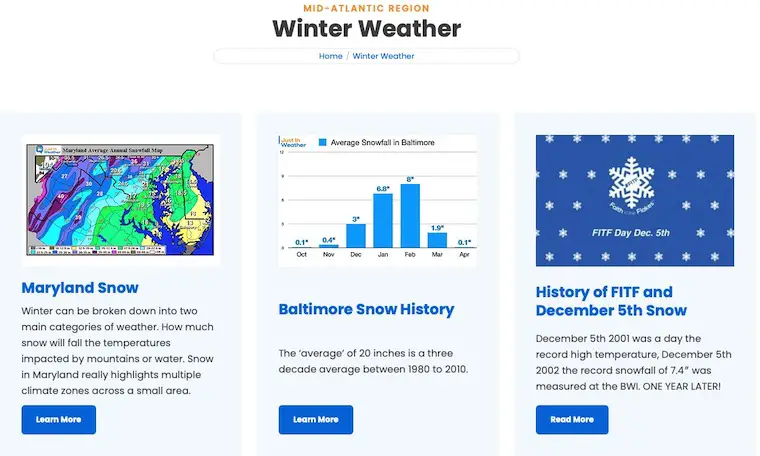 Winter Reports Referenced Here:
Atmospheric Memory Suggests Active Winter Storm Pattern Outlook
Triple Dip La Niña Winter
CONNECTION TO WINTER?
If you want a snowy winter, this is what you might want to look for in the rest of the tropical season. (You might be seeing a lot of commercial snow removal people out this Winter).
Record August For No Named Tropical Storms: Closer Look At Snow Following
STEM Assemblies/In School Fields Trips Are Back
Click to see more and 'Book' a visit to your school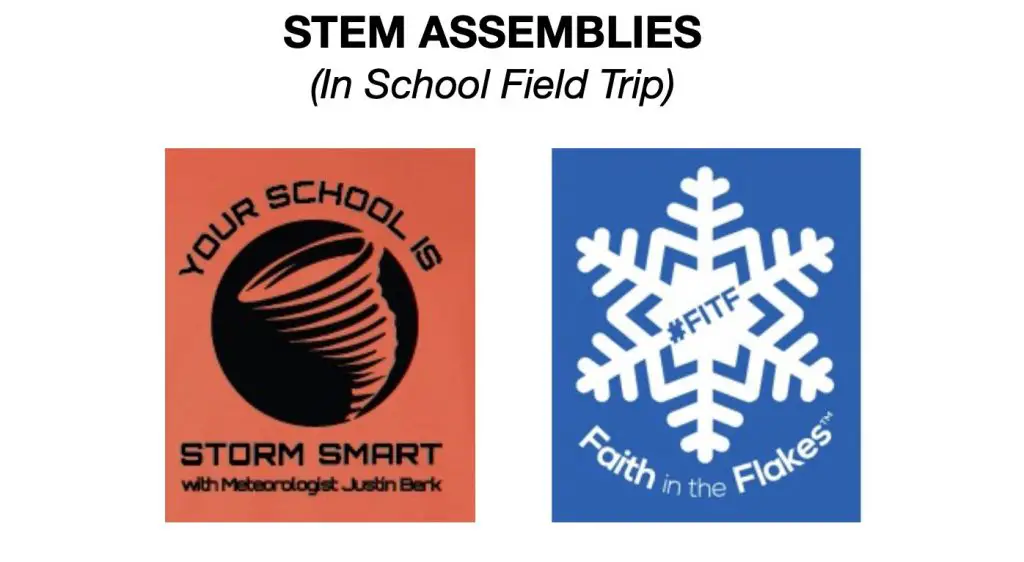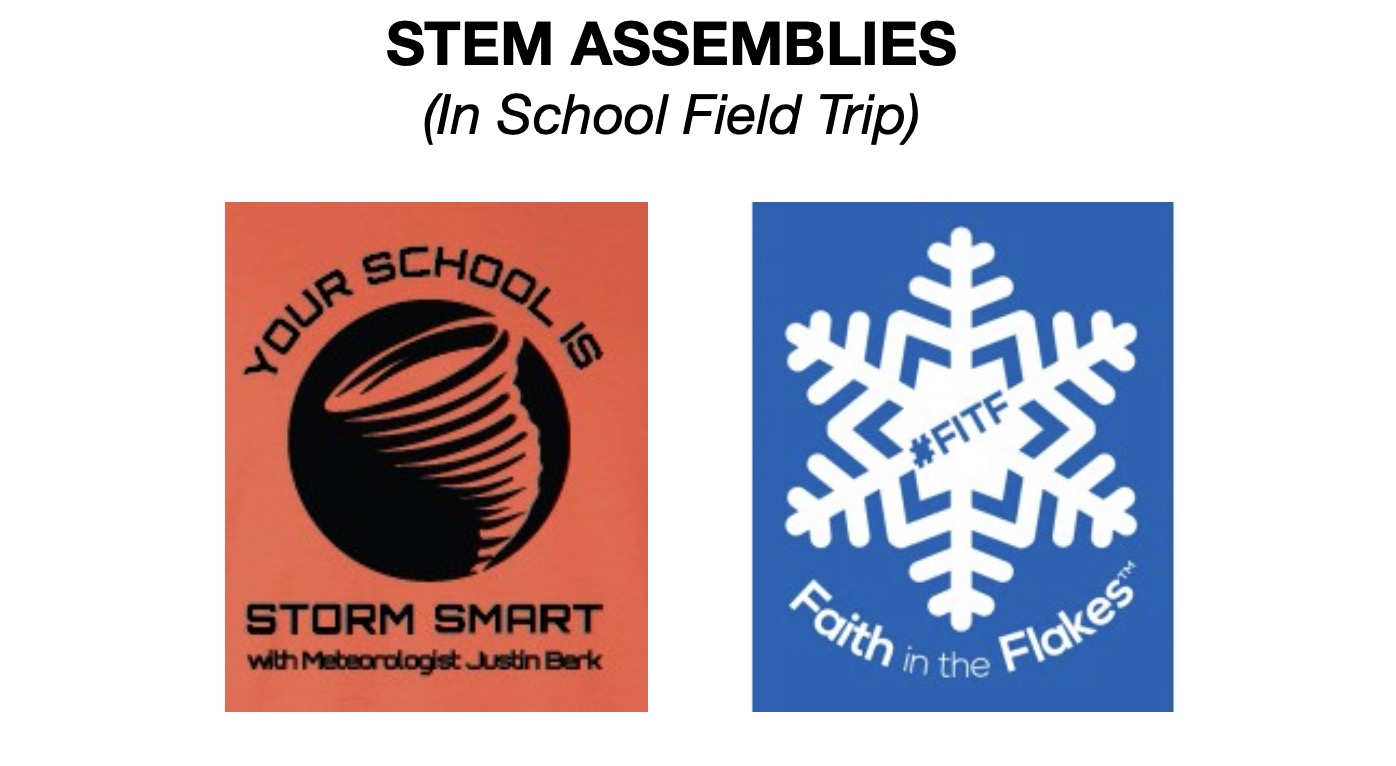 Please share your thoughts, best weather pics/videos, or just keep in touch via social media