November 24 Weather Turkey Trot Temperatures and Thanksgiving Weekend Storms
holiday
Maryland Weather
Outlook
climate data
Forecast
Justin Berk
Nov 24, 2022
7:09 am
0
November 24 2022
Thursday Morning Update 
Happy Thanksgiving! I am thankful you are here and truly hope you make the most of this day. It will be seasonal and quiet.  That does mean a chilly morning, but with the sun we will have a mild afternoon. If you are heading out early for a Turkey Trot, I have a run down of early temperatures. I suggest hats and gloves. 
Looking to the holiday weekend, we have two events, and I am calling myself out for the post I shared last week. I showed the GFS model with a wintry mix inland and said there would be some changes. Well, that change was to all rain, and two systems. I have a look below plus a peak into early December.
Morning Temperatures
A rare signal this morning, it is colder in Ocean City at 32ºF than the mountains where McHenry reported 37ºF.
There is also a pocket of mild air showing up across northern Frederick and Carroll counties. However, most of the region is waking up with temps near freezing. The warmer air is moving in from the west.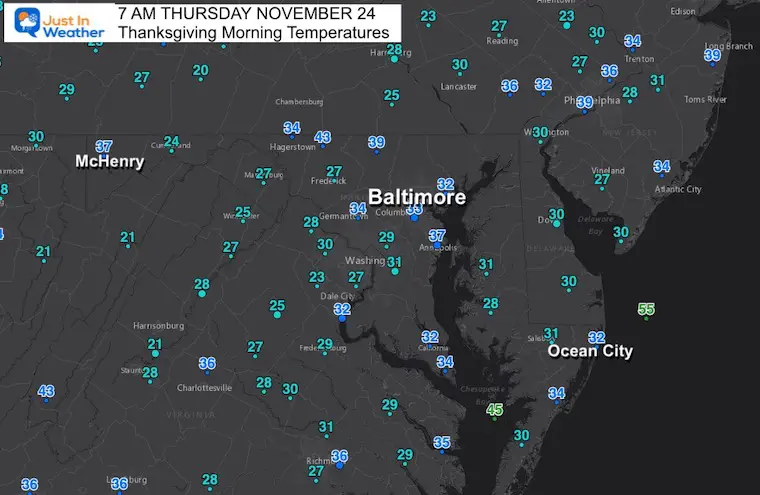 More Local Turkey Trot Areas
Note that these are at 7 AM. I've highlighted the Turkey Trots I've learned about. There may be others, or you might be running your own.
Sunrise is at 6:59 AM. Most Turkey Trots are at 8:30 AM or 9 AM, so a little warming will begin by then. But it might be best to simply plan for a hat, gloves, and maybe those disposable hand warmers. Also, sunglasses, because that glowing orb will be rising in the sky.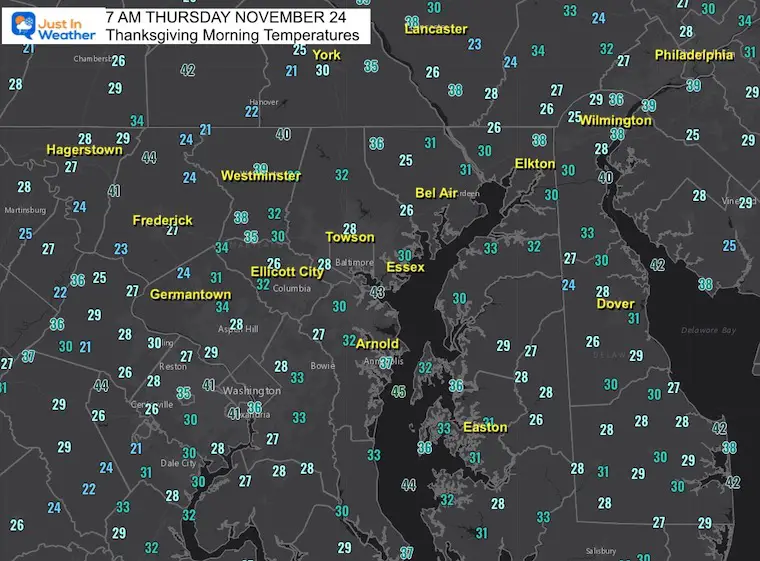 Morning Surface Weather
High Pressure dominates most of the Eastern US again.  There is a small Low Pressure system with rain from Dallas to Memphis and St. Louis. That is the first wave of rain we expect tomorrow. 
Today however, will be sunny with increasing high clouds.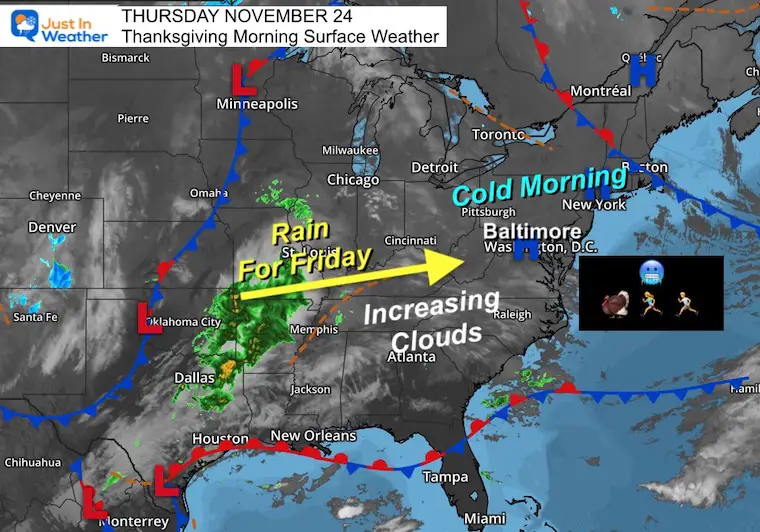 Temperatures Afternoon
High clouds may begin to dim the sunshine, but we remain mild and dry. Great for anything from a family flag football game to simply taking taking a walk.  Enjoy!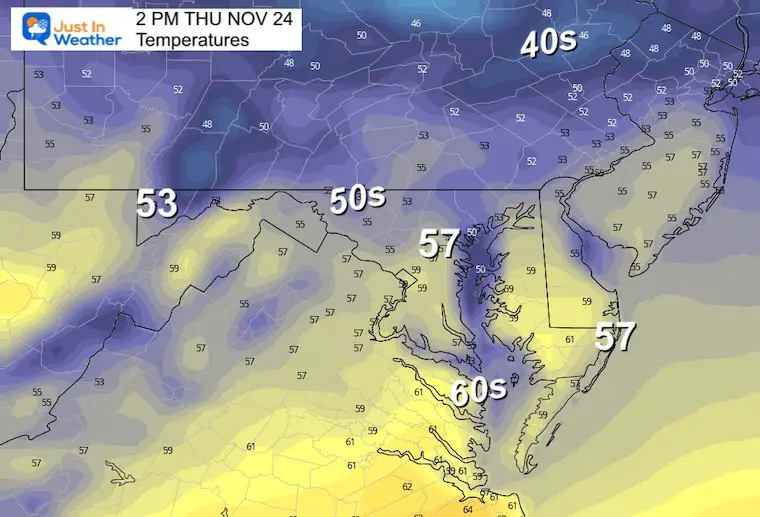 NEW REPORT:
My Winter Outlook: Not A Typical La Niña!
I see many factors to support colder influence with multiple systems. Early and later in winter. Check it out.
Winter Outlook 2023 For Snow Not Typical La Niña Plus Polar Vortex Disruption
CLIMATE DATA
TODAY November 24
Normal Low in Baltimore:  34ºF
Record 17ºF in 1989 
SNOW: 5 inches in 1938
Normal High in Baltimore: 54ºF
Record 73ºF 1979
Have you been missing some of my reports?
Two ways to get notified more often:
Sign Up For My Newsletter
Weather posts straight to your inbox
Sign up and be the first to know!
ALSO on Facebook
They keep changing the settings… Go to my page wall and click this button to mark it as *Favorites
Click this image to get to my page wall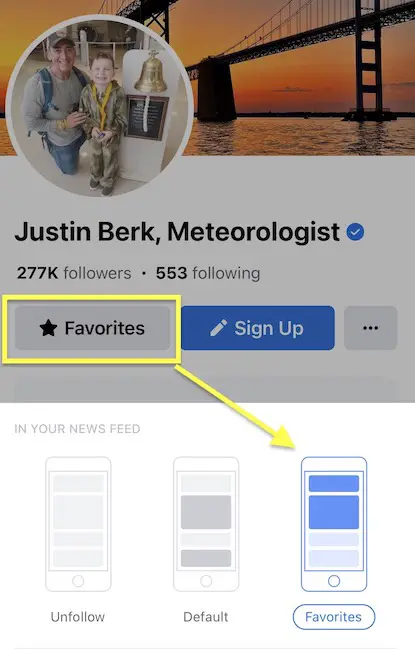 Friday Through Sunday: 2 Holiday Weekend Weather Events
ECMWF Model 4 AM Fri to 10 PM Sun
There will be two pushes of rain. The first on Friday will only last a few hours. The second system on Sunday should be larger with more rain during the day… especially in the afternoon. This may slow down the ride home. 
Radar Simulation Friday
NAM 3 Km 5 AM to 3 PM
The period of rain will only last a couple of hours… Earlier in metro areas, then passing through southern Maryland in the afternoon.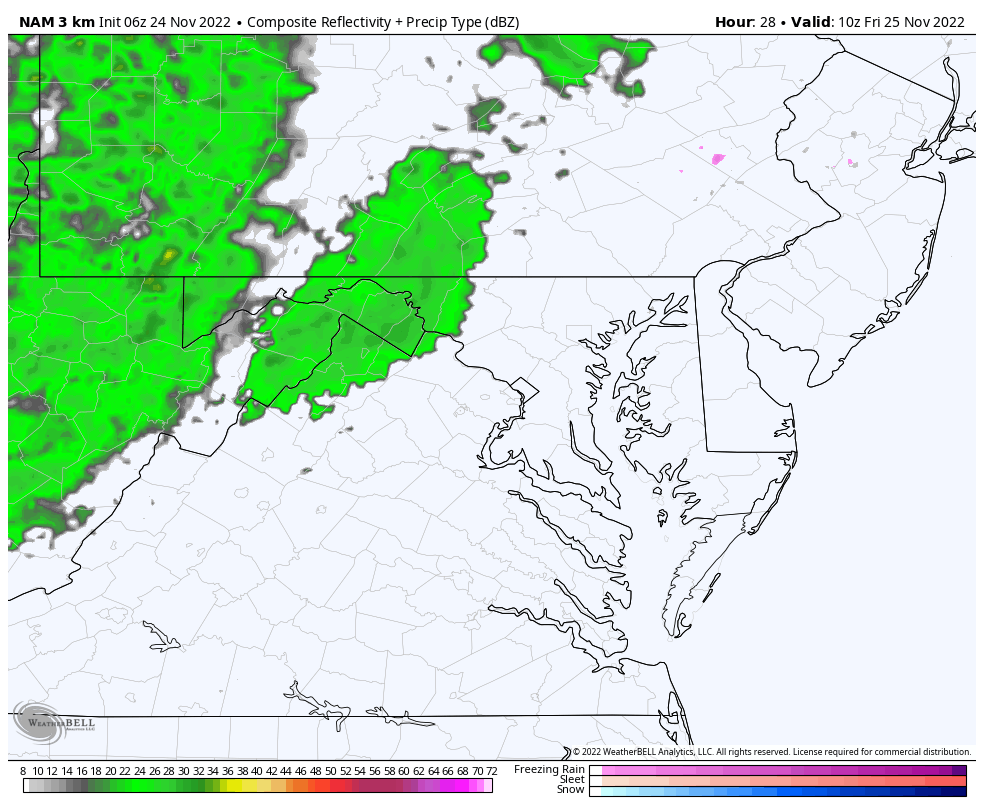 Friday Morning Temperatures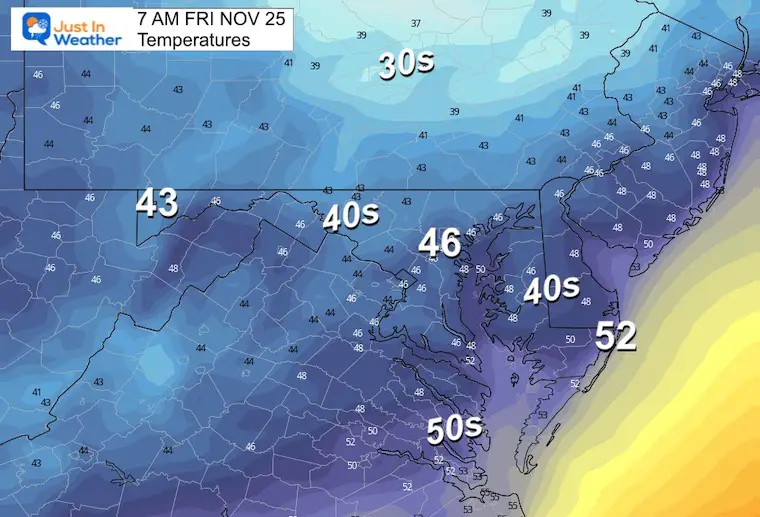 Friday Afternoon Temperatures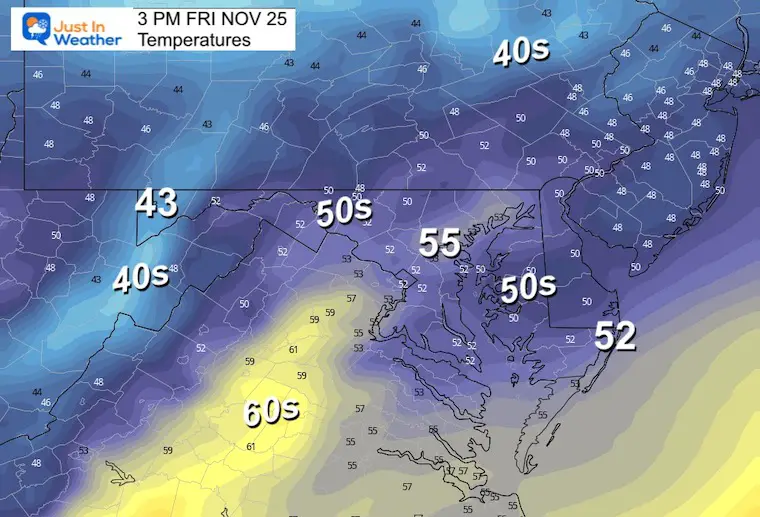 Peak Into December: Jet Stream
The suggestion is to start with a push of mild air with a rain event, followed by the first shift of the jet stream… This is a signal, not the main event of colder air we expect in December. 
NOAA Temperature Outlook: 6 to 10 Days
Note this is a balance of the mild push followed by the shift to a colder pattern. This is compared to climatological records. 
Here we see another cold air dominance for most of the US. The warmth will retreat to the Southeast US and Florida. This is the first signal of colder air expanding. Note, this averages a start of warmer air with the arrival of colder air in the period.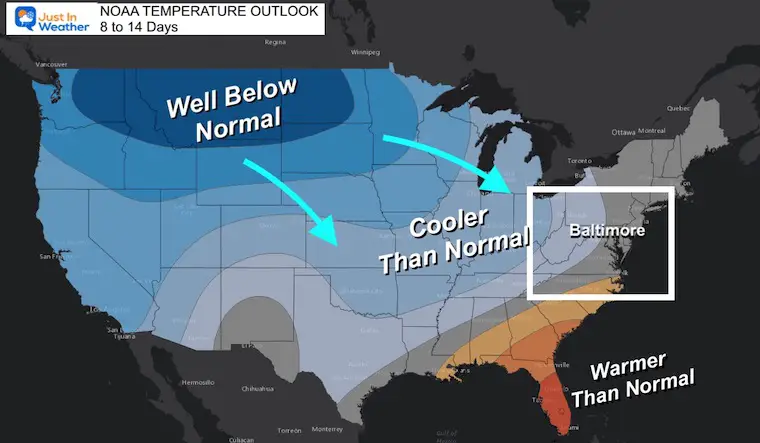 7 Day Forecast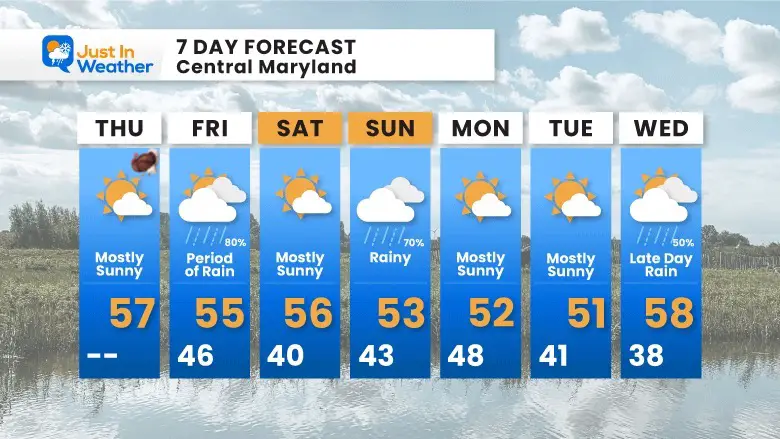 Faith in the Flakes Gear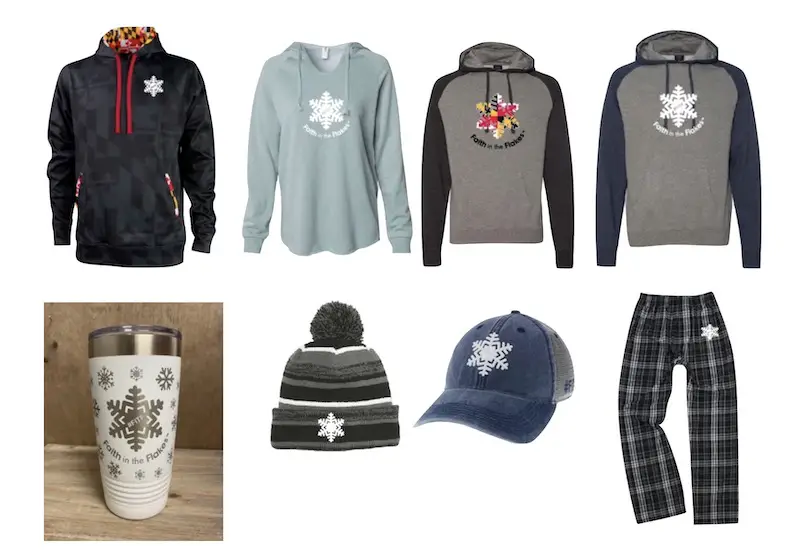 SNOWSTIX – Available Now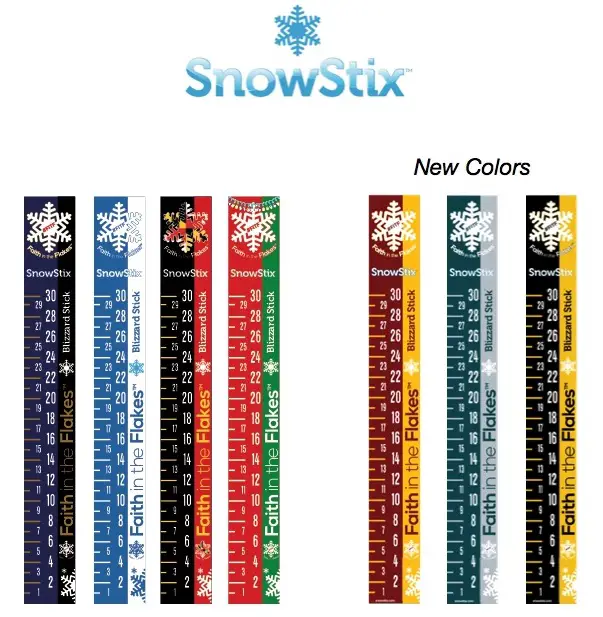 Also See: Winter Outlook Series:
Winter Outlook 2023 From NOAA Very Different Than Farmers Almanacs
ALSO, SEE THESE OTHER WINTER OUTLOOK REPORTS
Farmer's Almanac Comparison
Winter Outlook 2023 Early Look At Snow From Two Farmers Almanacs
Triple Dip La Niña Winter
CONNECTION TO WINTER?
If you want a snowy winter, this is what you might want to look for in the rest of the tropical season. (You might be seeing a lot of commercial snow removal people out this Winter).
Record August For No Named Tropical Storms: Closer Look At Snow Following
Wooly Bear Caterpillars
Persimmon Seeds
Click to see Top 20 and MORE
Winter Weather Folklore Top 20 And More Outlook Signals From Nature For Cold And Snow
Normals And Records: Maryland and Baltimore Climate History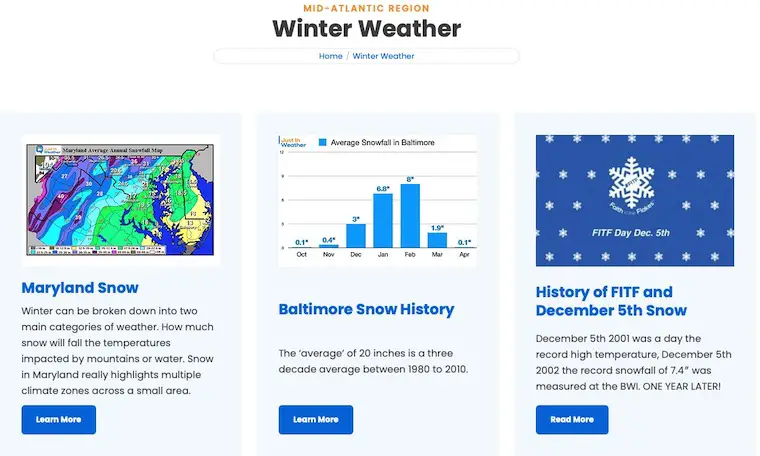 STEM Assemblies/In School Fields Trips Are Back
Click to see more and 'Book' a visit to your school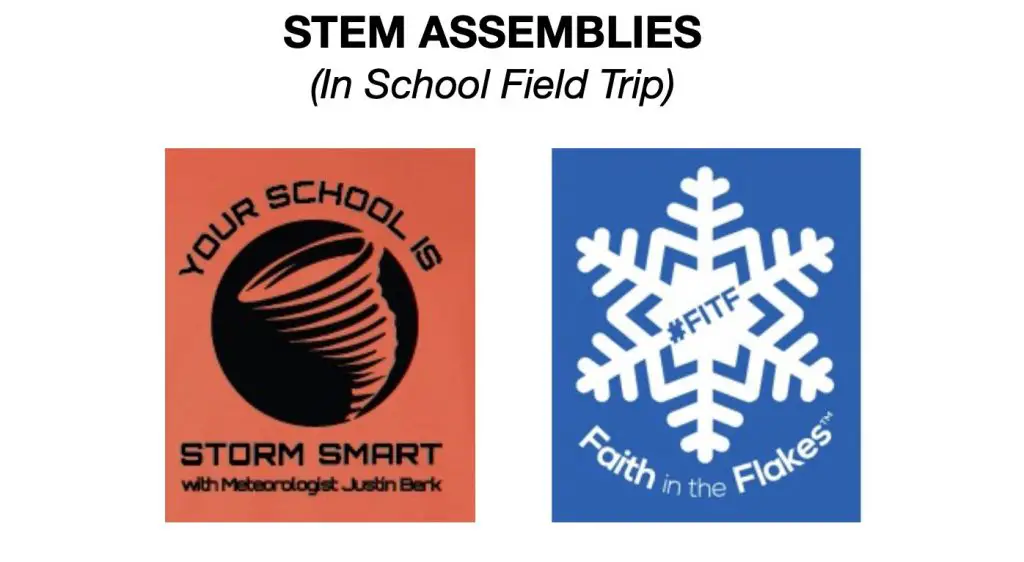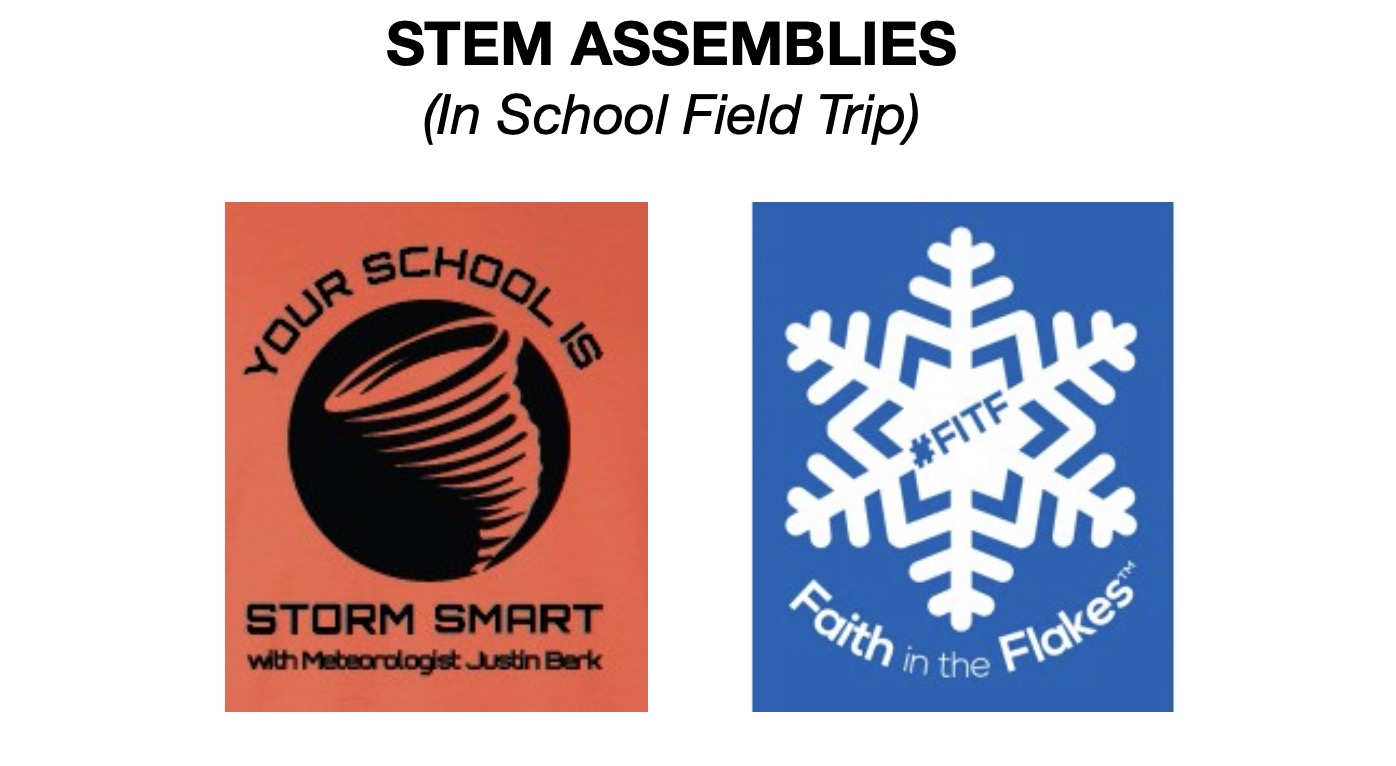 Please share your thoughts, best weather pics/videos, or just keep in touch via social media