November 25 Weather Early Rain Then Windy And More Rain Sunday
Maryland Weather
climate data
rain timeline
Forecast
Justin Berk
Nov 25, 2022
7:00 am
0
November 25 2022
Friday Morning Update 
I hope you had a great Thanksgiving and are now ready for the holiday season. I wonder if the crowds for Black Friday shopping are still as frantic as they used to be? That really makes the difference between who is reading this in line or at home. 
If you are out, you may have already seen rain. If you aren't, wait a few hours and the rain will clear. However, it will be followed by strong winds. 
NEW FITF Products for Ladies are in my store. I will post that link below today's weather.  20% Off site-wide through Sunday. No Code Needed.
If you want a long walk or hike, Saturday will be the best day to be outside, followed by a larger rain event on Sunday. 
Morning Temperatures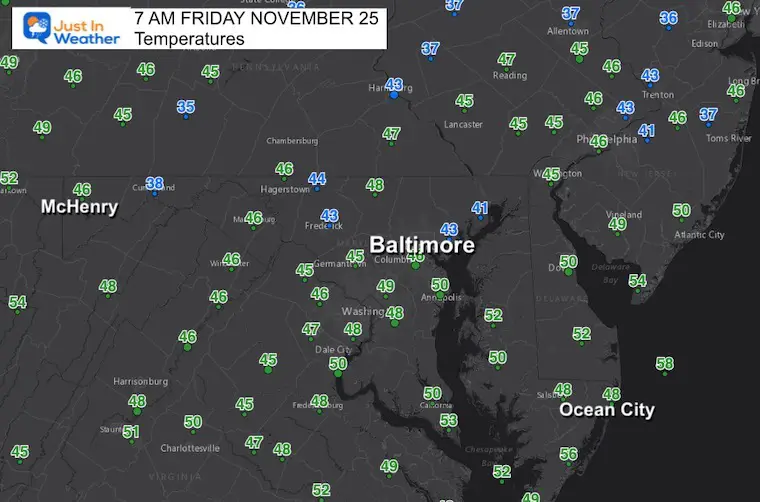 Live Radar Widget
Heavier rain will fall between Washington DC to Southern Maryland and the beaches.
Morning Surface Weather
Rain will only last a few hours with this cold front. It will be followed by strong winds this afternoon that will clear out most areas east of the mountains.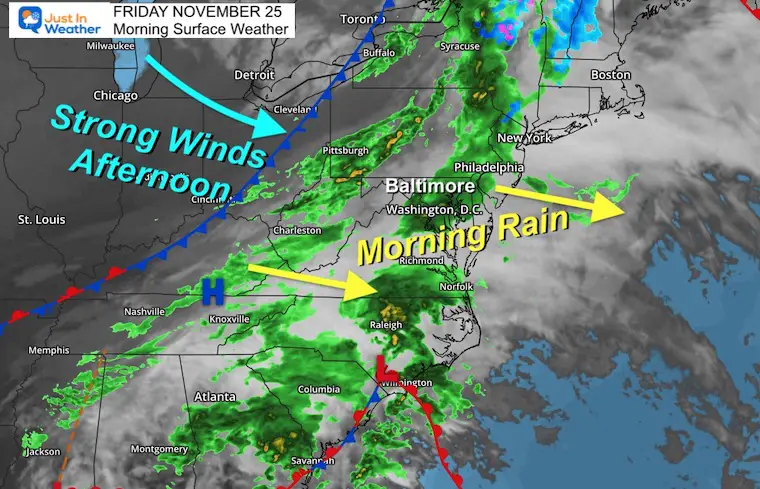 Radar Simulation: 6 AM to 2 PM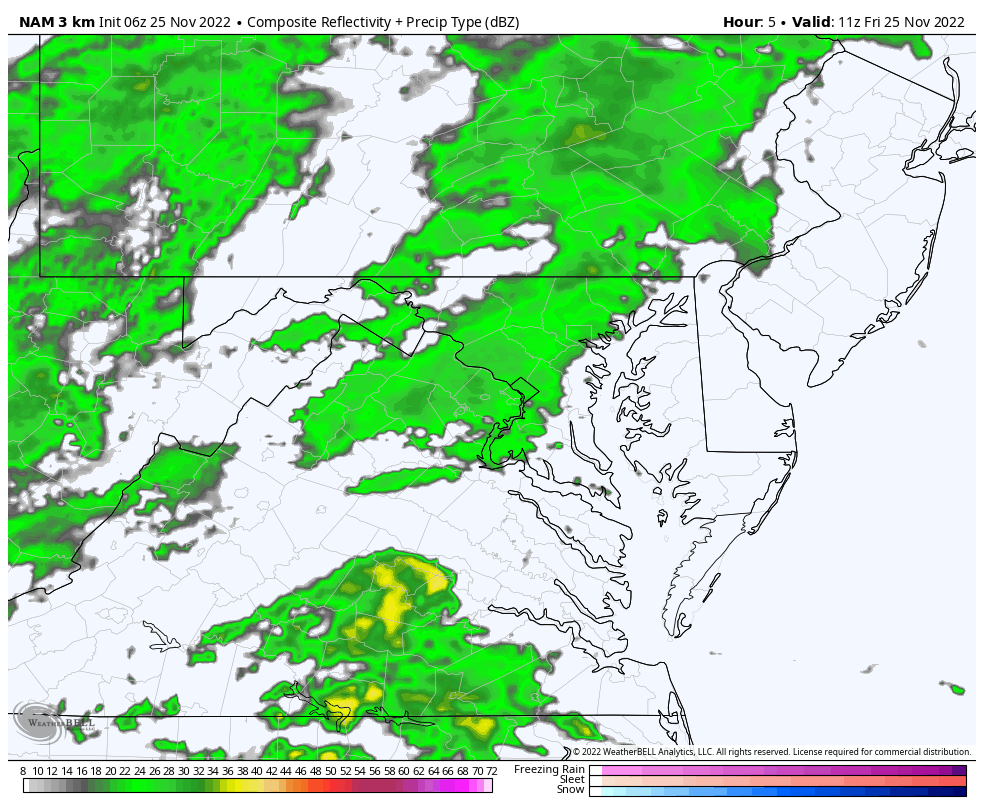 Radar Snapshots
10 AM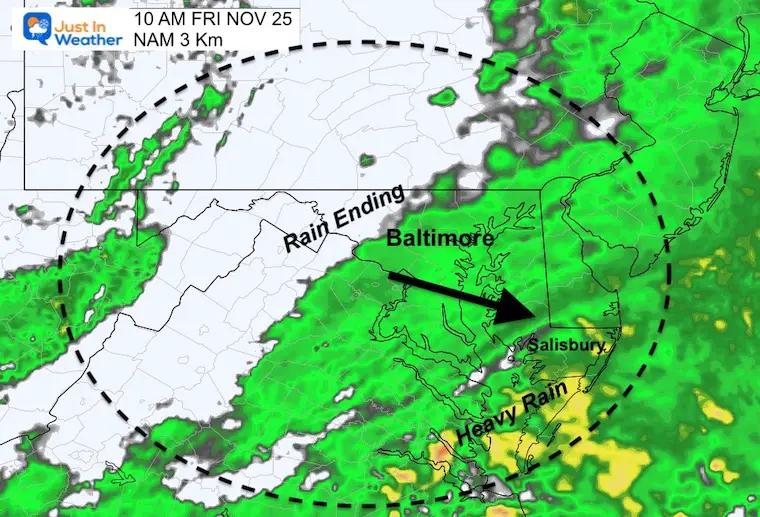 1 PM
Wind Animation
10 AM to 10 PM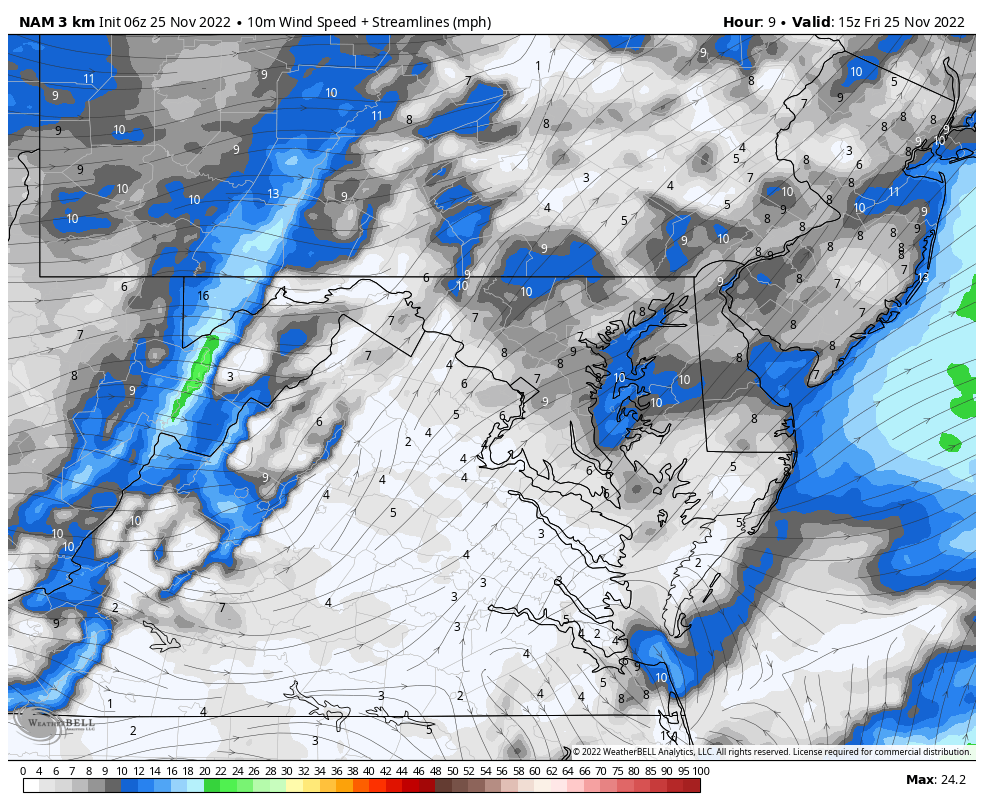 Wind Gusts
The shift to a colder Northwest wind will increase during the afternoon and evening. Top winds will be between 30 to 40 mph for most of the region, with the high mountains up to 50 mph.
NEW Faith In The Flakes Gear
20% Off All Items
New Shirts, Full Zip Fleece, Tote Bag, and we still have those popular Tumblers.
Make sure to explore all of the color options and collections. 

NEW REPORT:
My Winter Outlook: Not A Typical La Niña!
I see many factors to support colder influence with multiple systems. Early and later in winter. Check it out.
Winter Outlook 2023 For Snow Not Typical La Niña Plus Polar Vortex Disruption
CLIMATE DATA
TODAY November 25
Normal Low in Baltimore:  34ºF
Record 18ºF in 19856
SNOW: 3.5 inches in 1938
Normal High in Baltimore: 54ºF
Record 75ºF 1973
Subscribe to my Newsletter
Weather posts straight to your inbox
Sign up and be the first to know!
Saturday Temperatures
Morning

Afternoon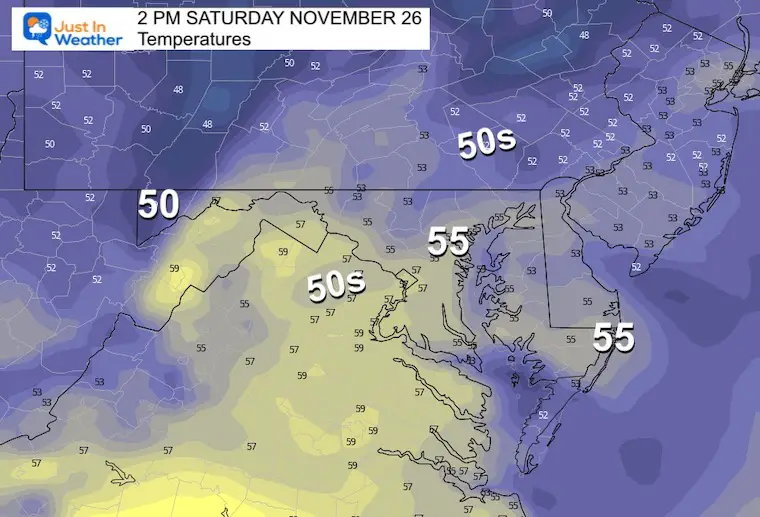 Sunday Rain
ECMWF 4 AM to 10 PM
This will be a larger rain event than we see today. Plan for a soggy mild day and possible impact on the big travel day home.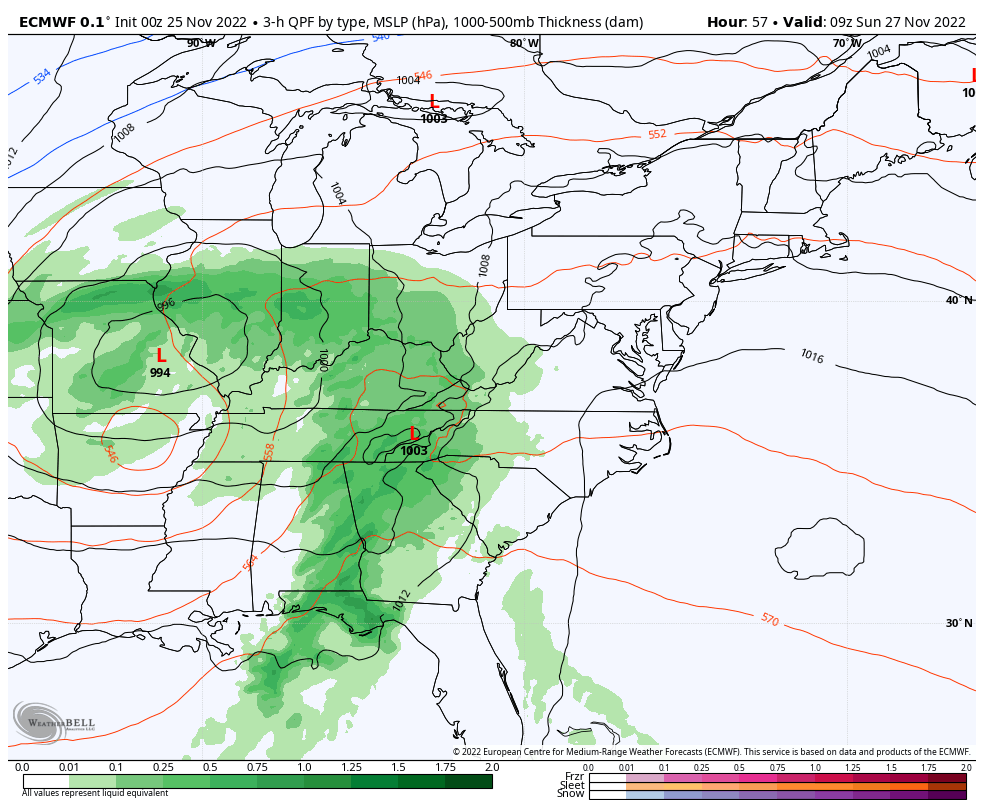 Local Rainfall Total Forecast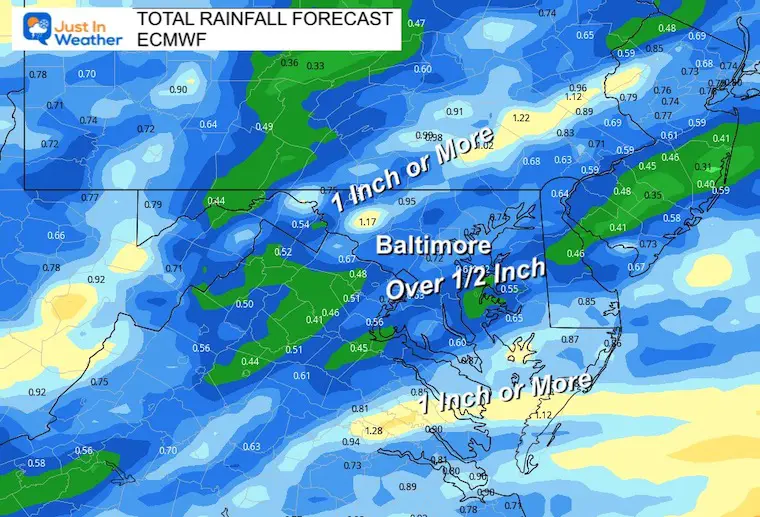 7 Day Forecast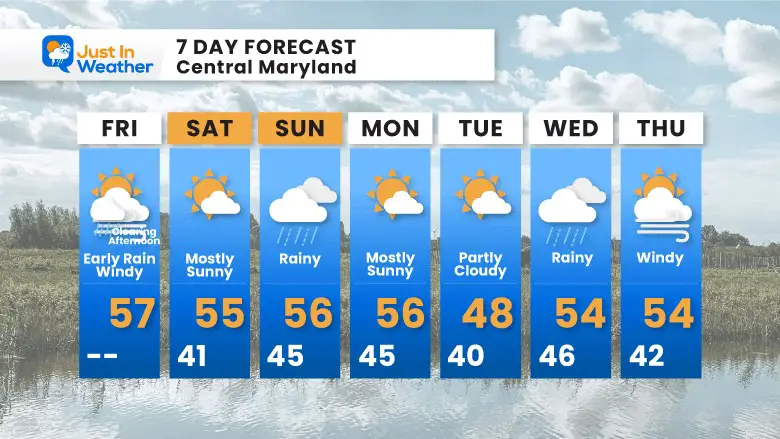 Also See The Winter Outlook Series:
Atmospheric Memory Suggests Active Winter Storm Pattern Outlook
Winter Outlook 2023 From NOAA Very Different Than Farmers Almanacs
Farmer's Almanac Comparison
Winter Outlook 2023 Early Look At Snow From Two Farmers Almanacs
Triple Dip La Niña Winter
CONNECTION TO WINTER?
If you want a snowy winter, this is what you might want to look for in the rest of the tropical season. (You might be seeing a lot of commercial snow removal people out this Winter).
Record August For No Named Tropical Storms: Closer Look At Snow Following
Wooly Bear Caterpillars
Persimmon Seeds
Click to see Top 20 and MORE
Winter Weather Folklore Top 20 And More Outlook Signals From Nature For Cold And Snow
Faith in the Flakes Gear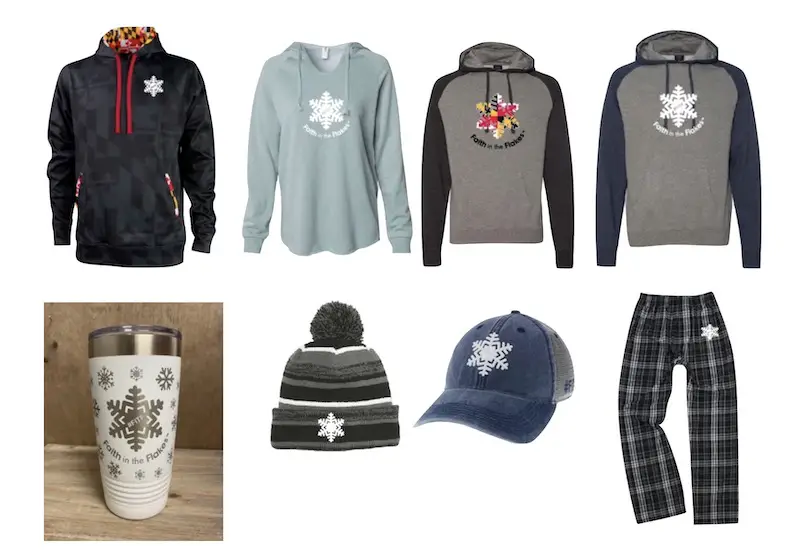 SNOWSTIX – Available Now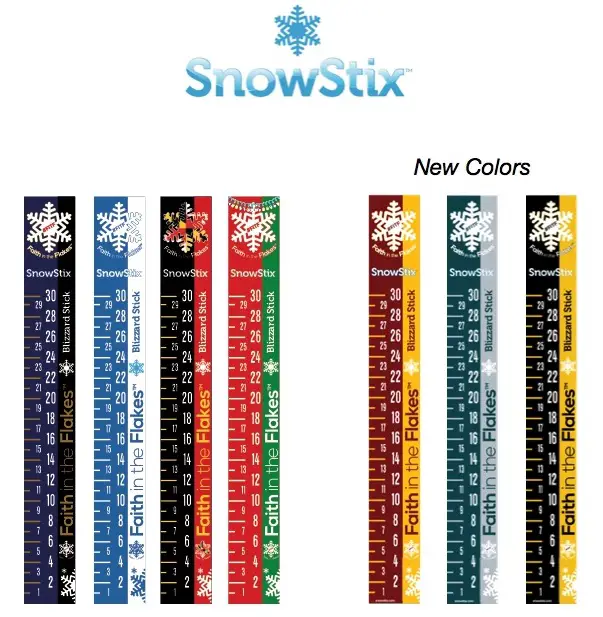 Normals And Records: Maryland and Baltimore Climate History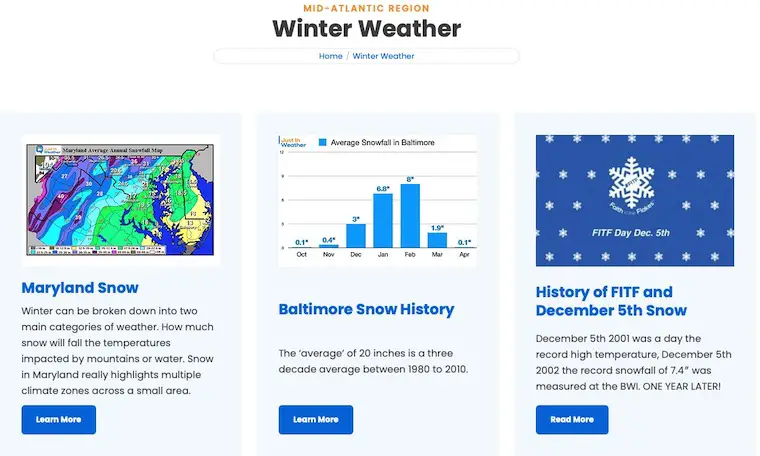 STEM Assemblies/In School Fields Trips Are Back
Click to see more and 'Book' a visit to your school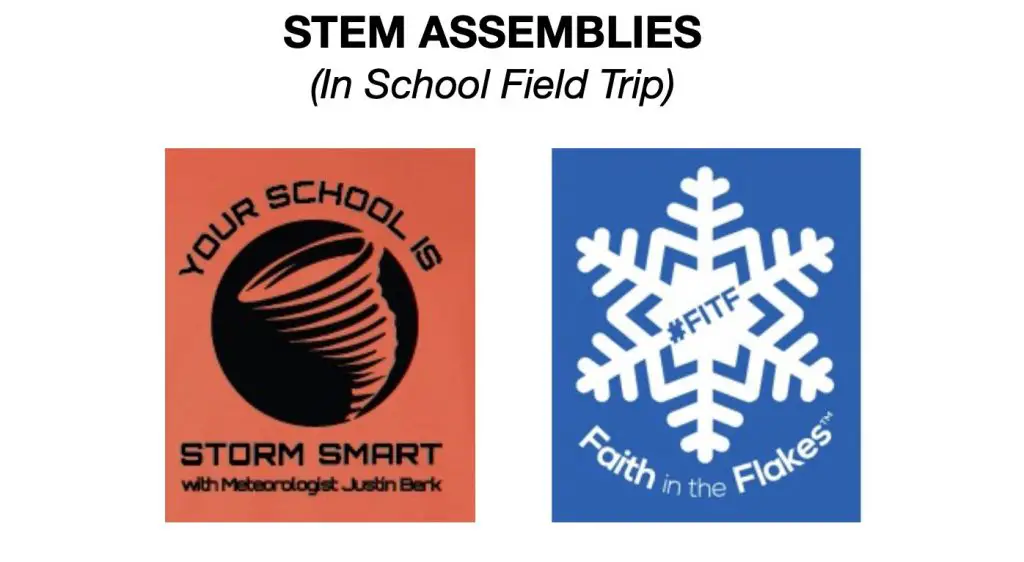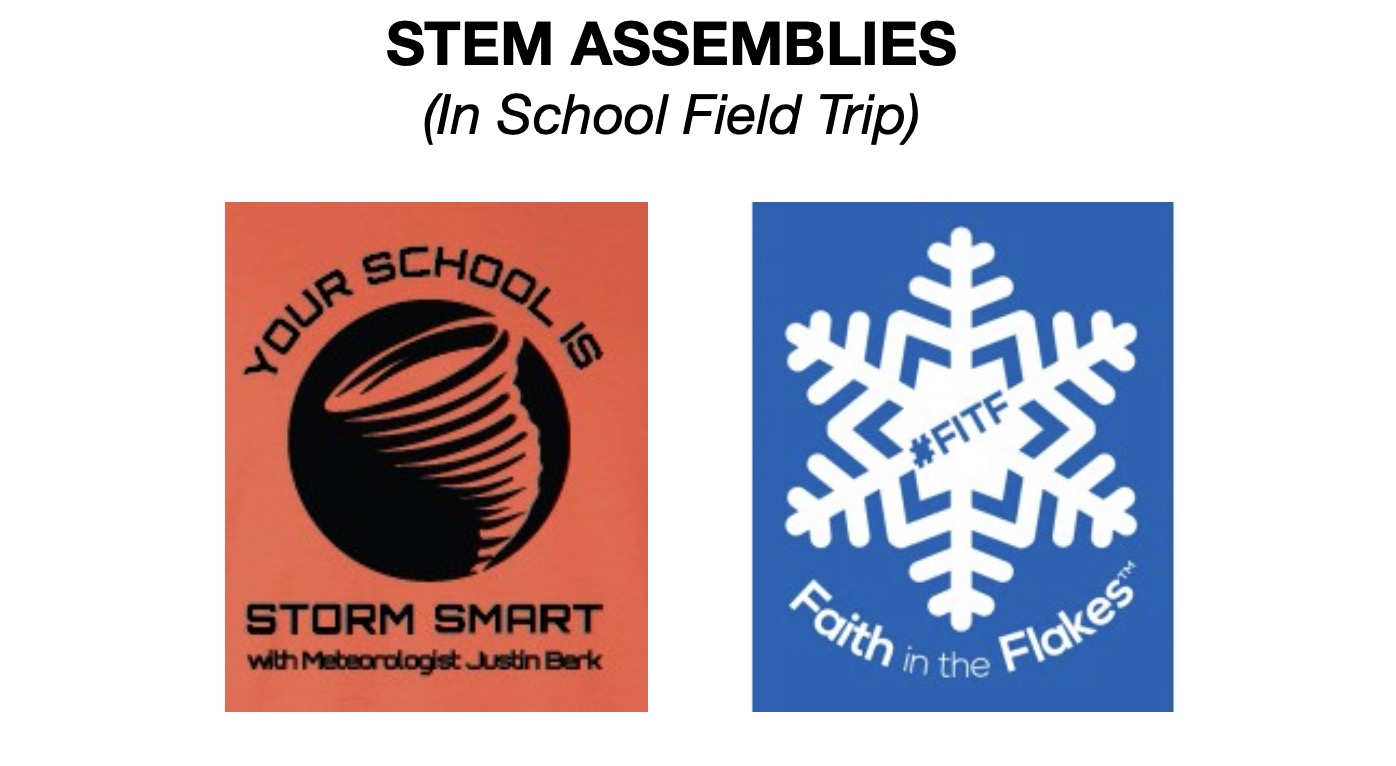 Please share your thoughts, best weather pics/videos, or just keep in touch via social media