November 26 Nice Today Then Soggy Start To Sunday
Maryland Weather
climate data
rain timeline
Forecast
Justin Berk
Nov 26, 2022
7:22 am
0
November 26 2022
Saturday Morning Update 
Today will be the best day of this holiday weekend to get outside. If you considered a hike, long walk, or even hanging up lights… This is your day!  The wind will be much lighter than yesterday. The next rain event will begin around sunrise. It may be heavy at times, then ending in the afternoon. 
The week ahead will start calm then bring in our next storm on Wednesday. This may have cold enough air to end with some inland flakes. Then we look ahead for the winter pattern signals in December. 
Morning Temperatures
It is chilly thanks to the clear sky, but the rising sun should boost these numbers quickly.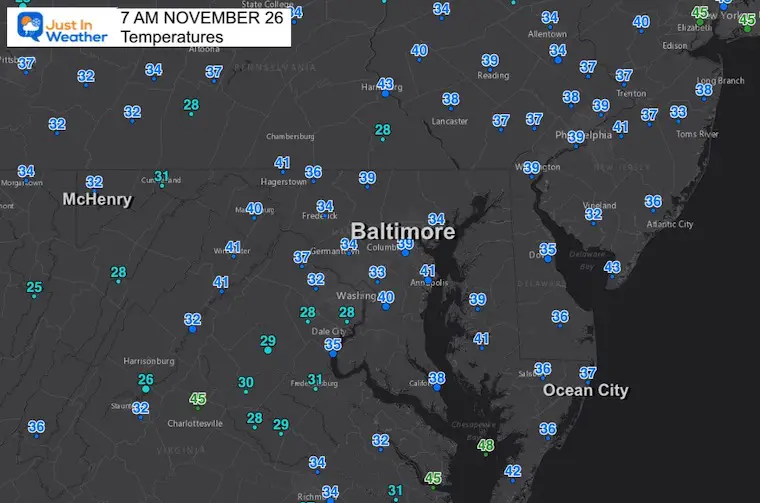 Morning Surface Weather
High is Dry! That big blue H is High Pressure and is in control of the Eastern US.  Our next storm is in East Texas and will reach us close to sunrise on Sunday.  There is enough energy with that southern system that could bring in a few heavy downpours and even a rumble of thunder.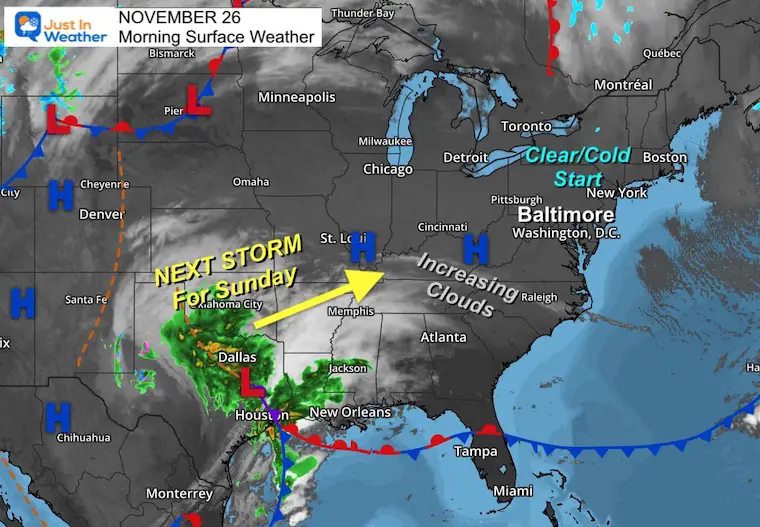 Temperatures Afternoon
Make the most of this day. We may see high clouds in the southern and western areas with the approaching storm.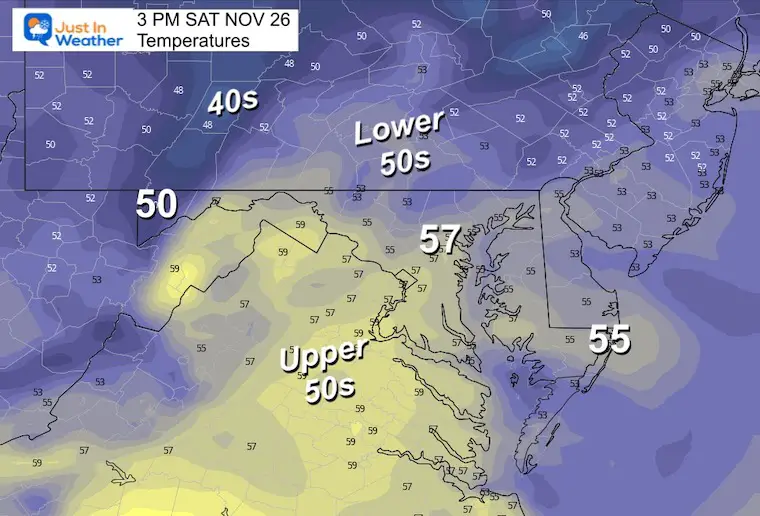 Small Business Saturday to Cyber Monday
20% Off All Items
NEW Faith In The Flakes Gear

NEW REPORT:
My Winter Outlook: Not A Typical La Niña!
I see many factors to support colder influence with multiple systems. Early and later in winter. Check it out.
Winter Outlook 2023 For Snow Not Typical La Niña Plus Polar Vortex Disruption
CLIMATE DATA
TODAY November 26
Normal Low in Baltimore:  34ºF
Record 15ºF in 1950
SNOW: 3.5 inches in 1938
Normal High in Baltimore: 53ºF
Record 72ºF 1979
Subscribe to my Newsletter
Weather posts straight to your inbox
Sign up and be the first to know!
Sunday Rain
NAM 3 Km: 8 AM to 8 PM
Most of the rain will be in the morning to lunch time. The arrival time may be an hour earlier than shown here.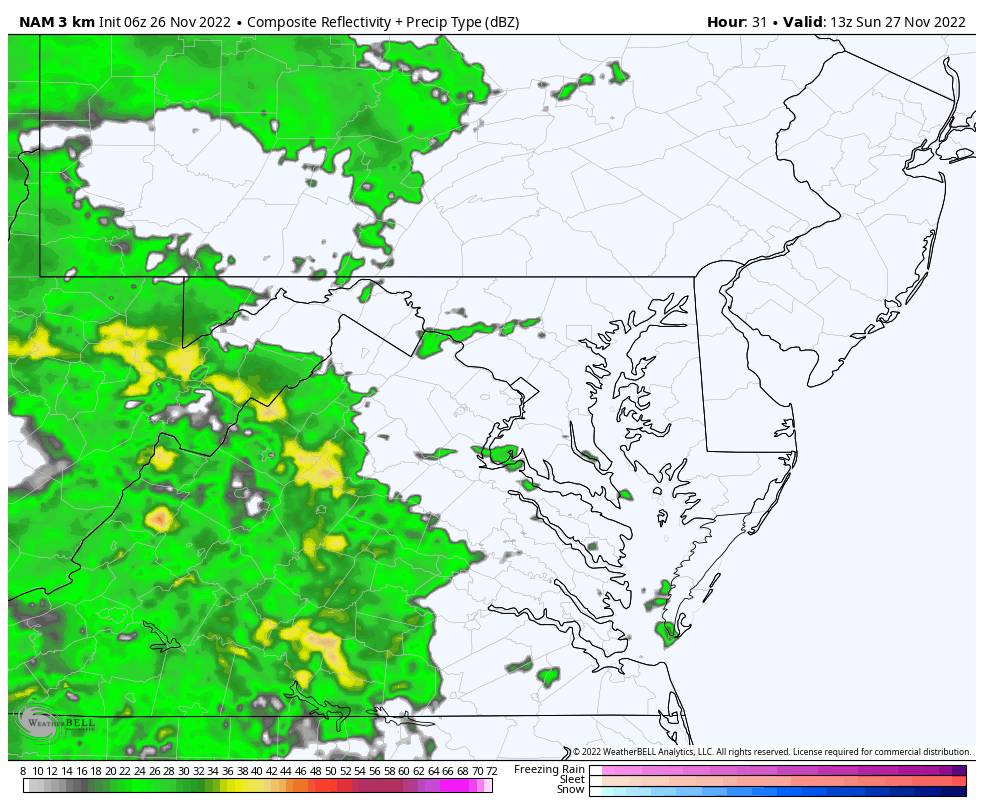 Key Time Frames
I am still monitoring the NAM 3 Km to see if the timing is on point or off again.
Morning
We may see the rain a little earlier than shown here.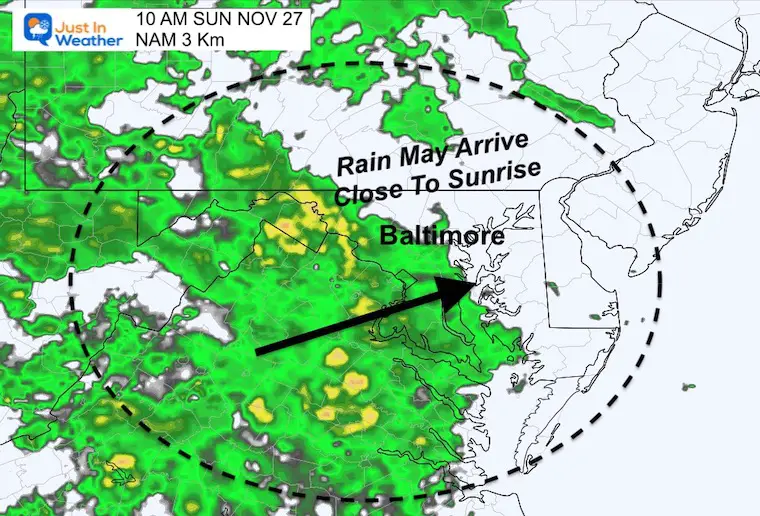 Afternoon
There may be some thunder with a few heavier downpours, then breaking up during the afternoon and ending as the system moves to the East.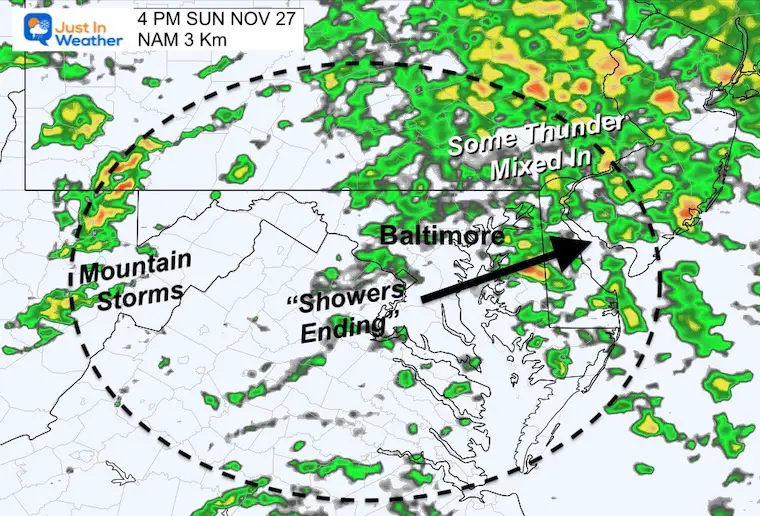 Local Rainfall Total Forecast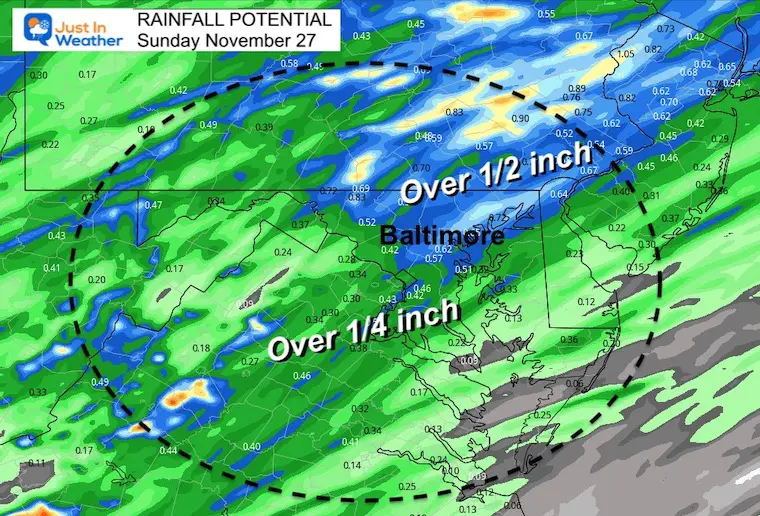 Sunday Temperatures
Morning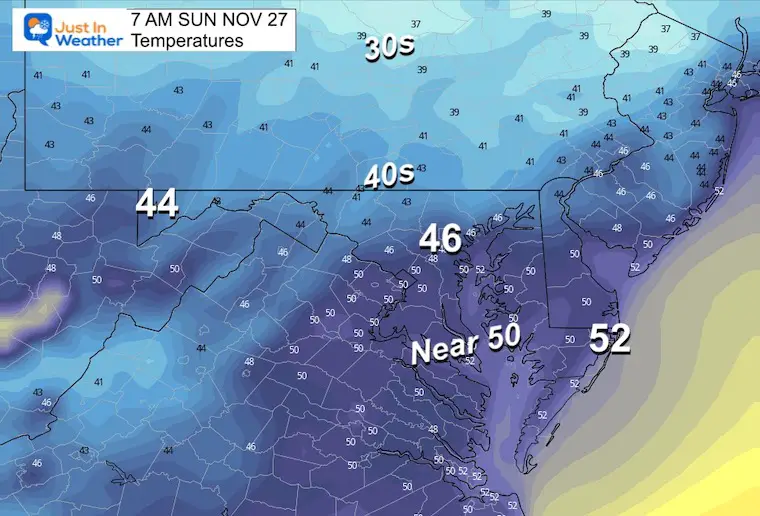 Afternoon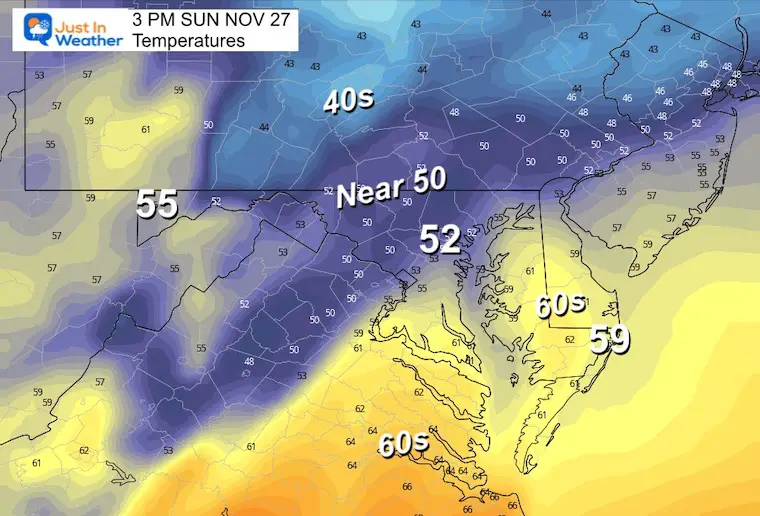 Mountains Back To Snow
Monday 12 AM to 7 AM
With Wisp, Seven Springs, and Snowshoe open to skiing and snowboarding, I want to show the rain ending as snow (blue) with colder air on Monday Morning.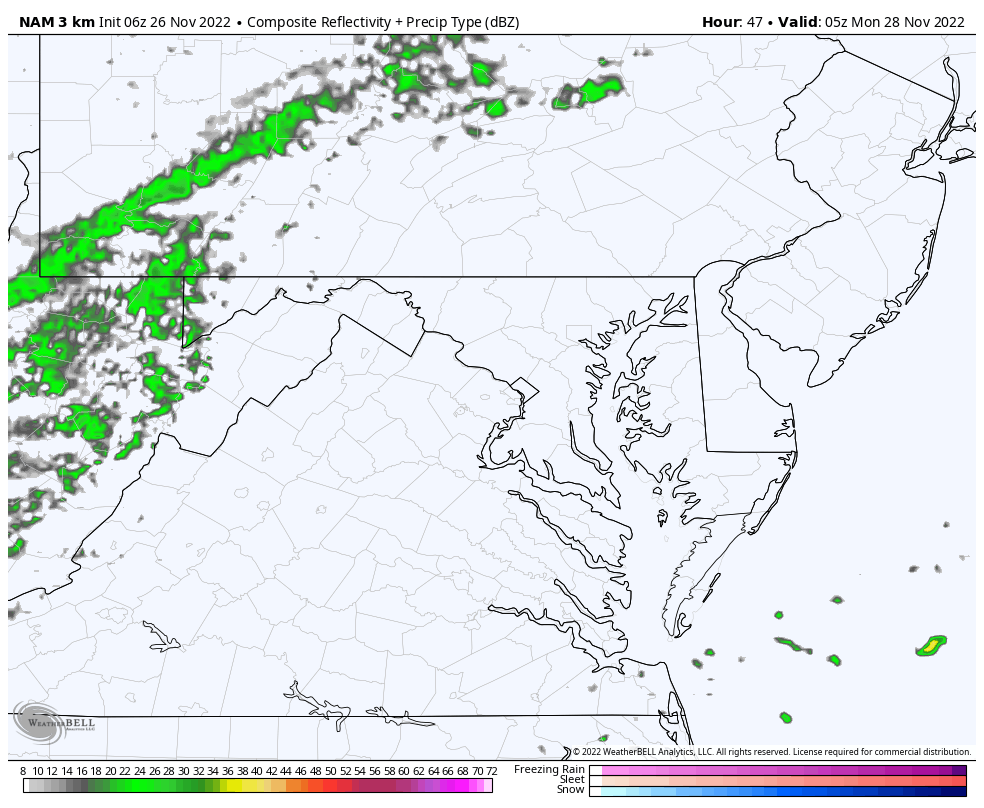 Looking Ahead
Mid Week Storm Wednesday Morning To Thursday Afternoon
The next event will bring in rain, then watch the end… A hint of colder air shows it may end with some mixed snowflakes for the inland suburbs.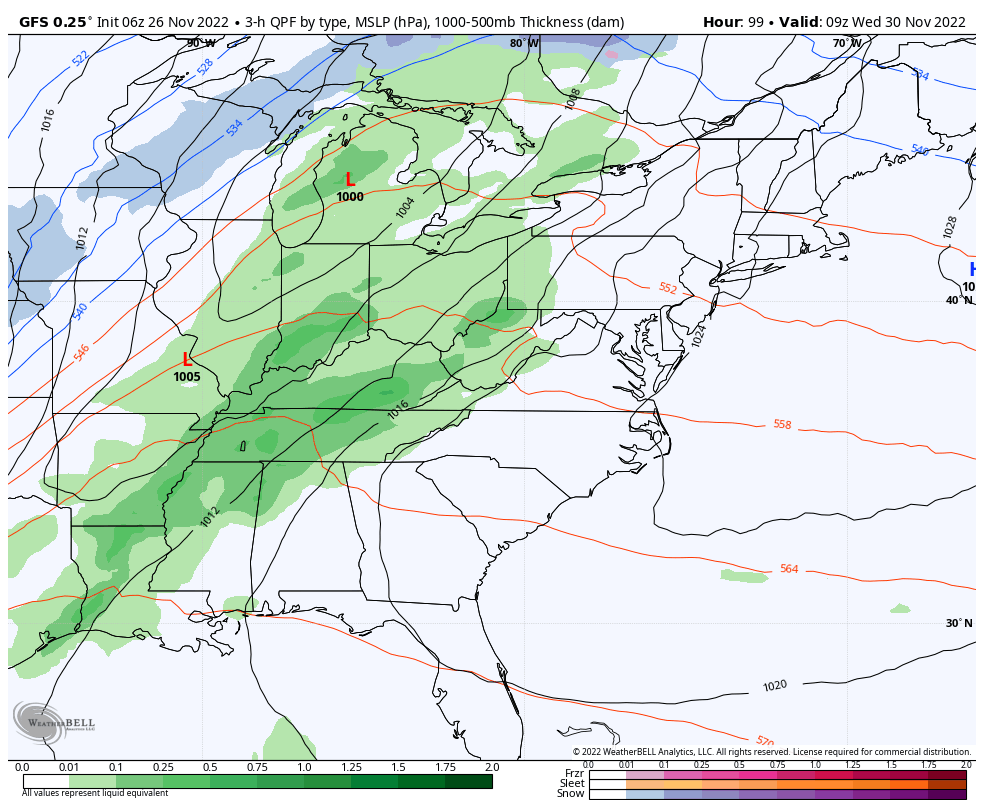 Jet Stream
Through December 9… We can see the attempt of colder air arriving in the Eastern US, but NOT HOLDING. This is often the struggle with the start of a winter pattern. All the signals are there to bring on the change. This does suggest some of it with the start of December, but establishing a 'pattern' may be into the second week of the month.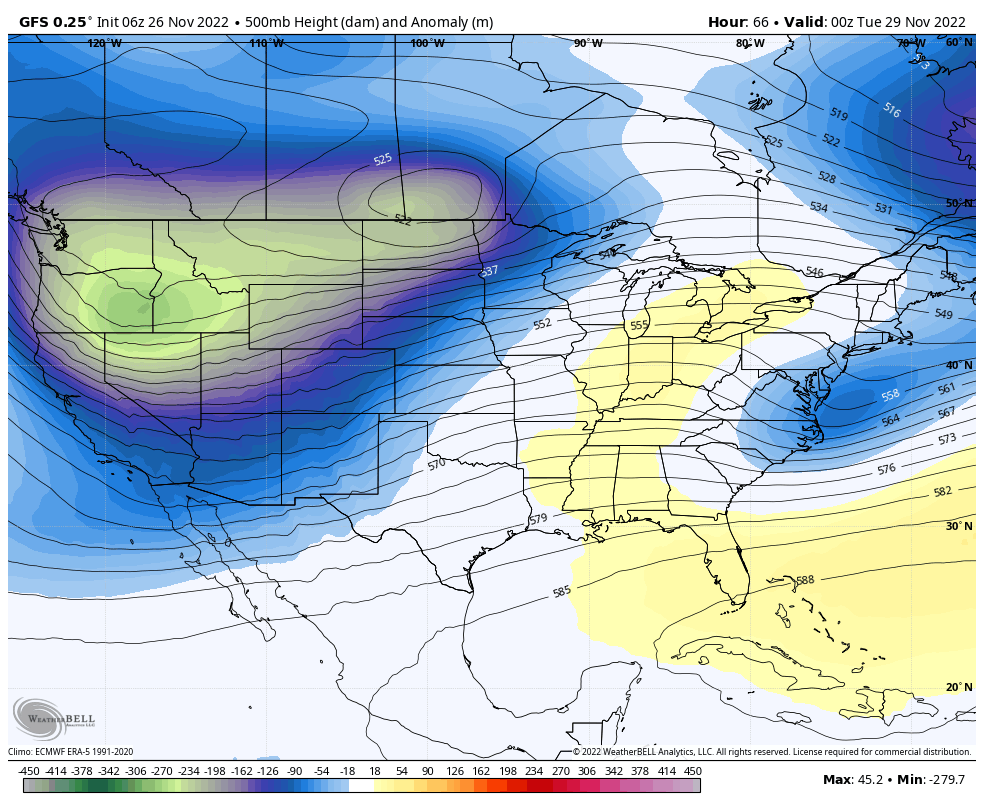 7 Day Forecast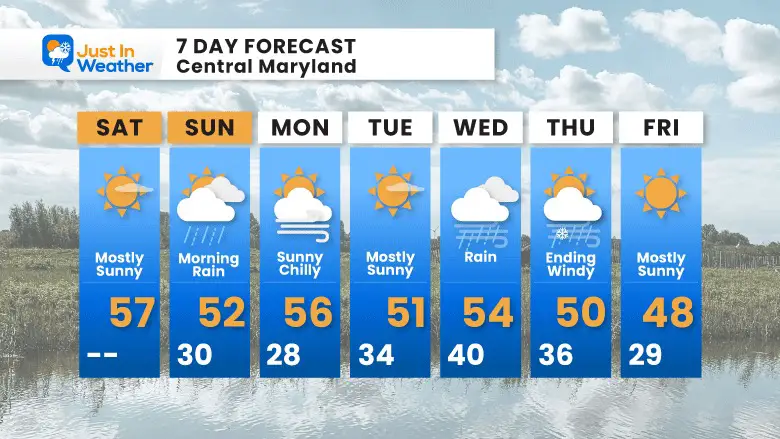 Also See The Winter Outlook Series:
Atmospheric Memory Suggests Active Winter Storm Pattern Outlook
Winter Outlook 2023 From NOAA Very Different Than Farmers Almanacs
Farmer's Almanac Comparison
Winter Outlook 2023 Early Look At Snow From Two Farmers Almanacs
Triple Dip La Niña Winter
CONNECTION TO WINTER?
If you want a snowy winter, this is what you might want to look for in the rest of the tropical season. (You might be seeing a lot of commercial snow removal people out this Winter).
Record August For No Named Tropical Storms: Closer Look At Snow Following
Wooly Bear Caterpillars
Persimmon Seeds
Click to see Top 20 and MORE
Winter Weather Folklore Top 20 And More Outlook Signals From Nature For Cold And Snow
Faith in the Flakes Gear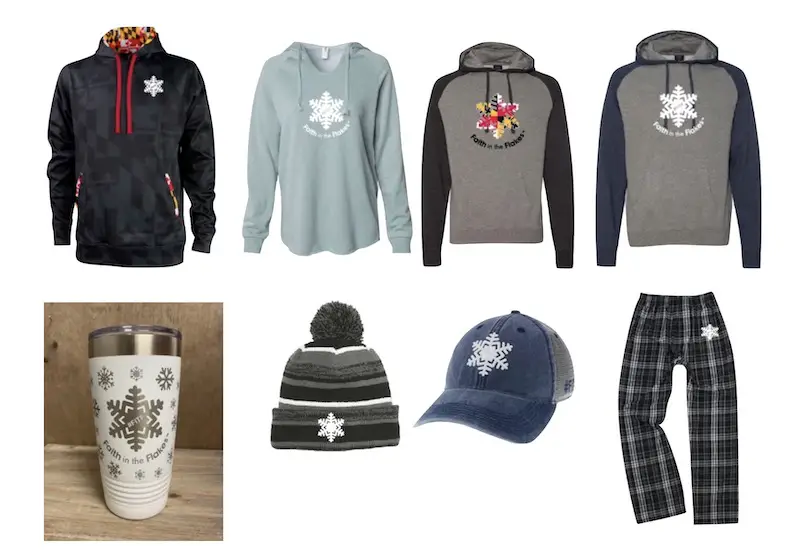 SNOWSTIX – Available Now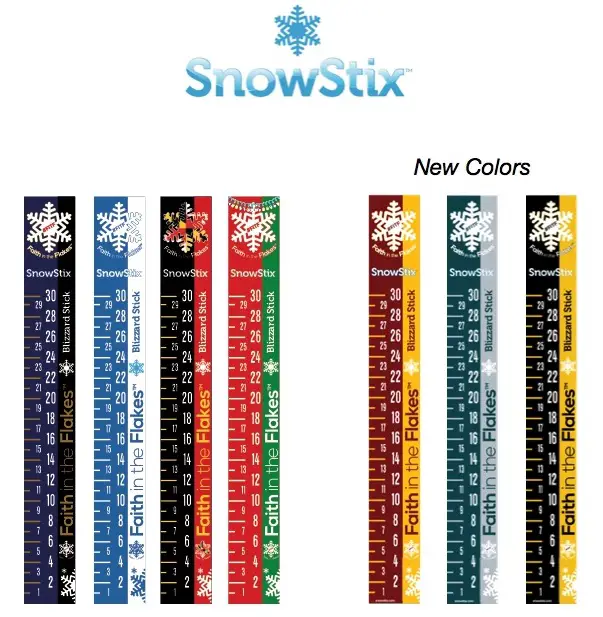 Normals And Records: Maryland and Baltimore Climate History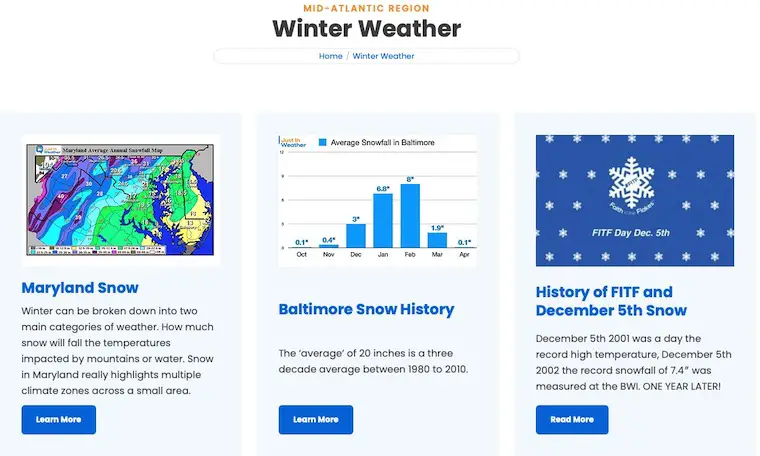 STEM Assemblies/In School Fields Trips Are Back
Click to see more and 'Book' a visit to your school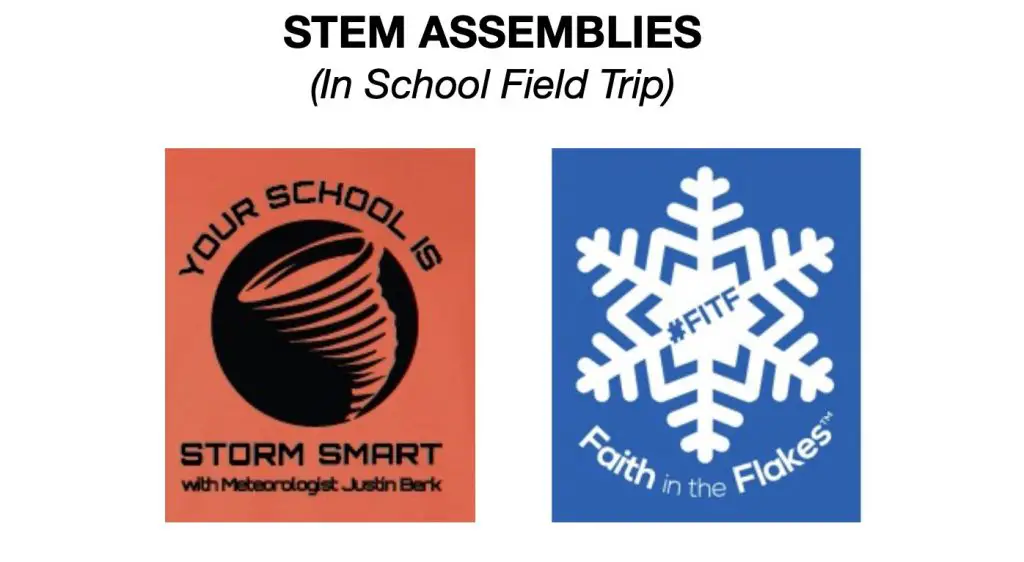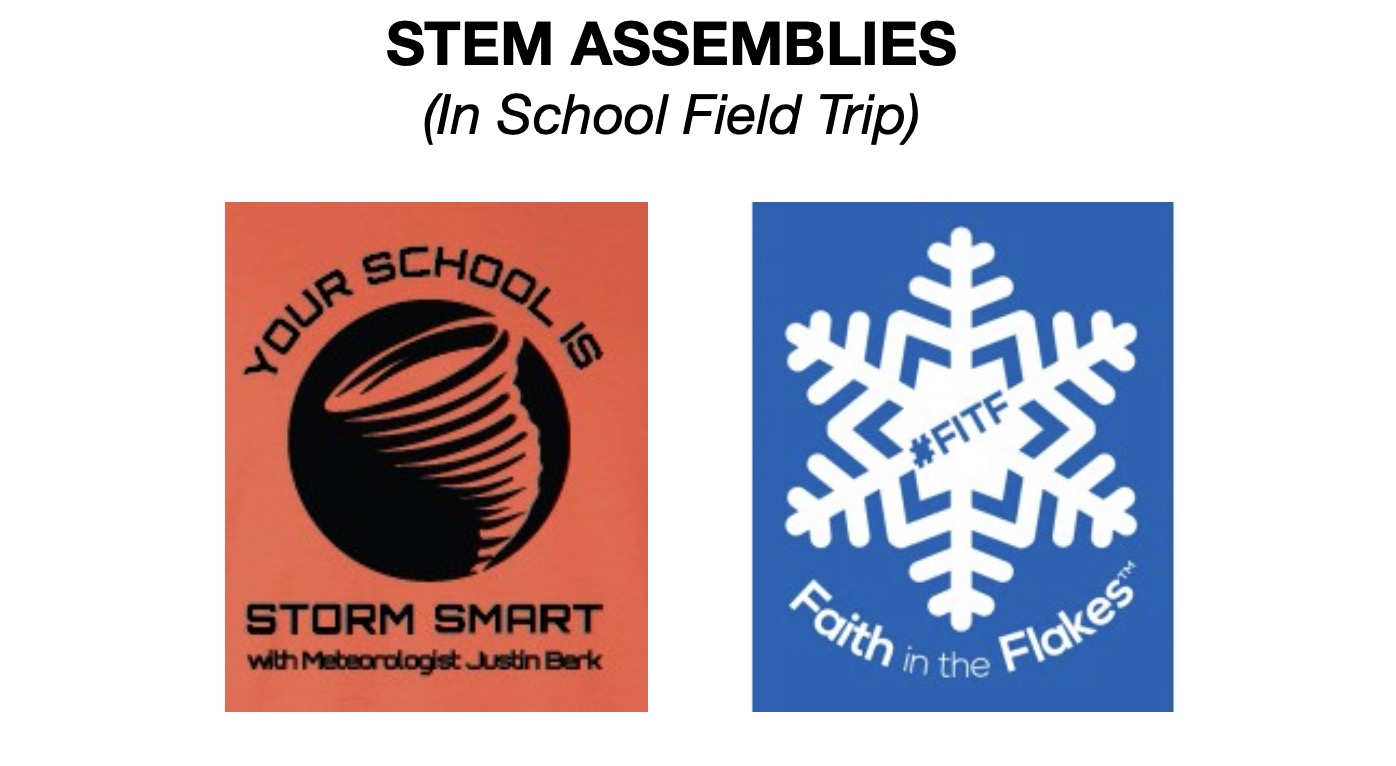 Please share your thoughts, best weather pics/videos, or just keep in touch via social media