COLD OUTLOOK FROM NOAA: My Practical Look At What This Means And Snow Skepticism
NOAA
Outlook
Winter Weather
Justin Berk
Mar 4, 2023
9:45 pm
0
March 4 2023
Saturday Night Update
In a recent report I shared the NOAA Outlook for a colder trend this month. That is very much a reality, and the bell is about to be rung on that. I have mentioned that it is possible some of that could include days similar to what we had this winter. That means it may be colder than average as we normally should be getting warmer. The real trick is if we can generate a full arctic blast to feed into a storm.
Jet Steam Forecast
Monday Morning March 6 to Tuesday Morning March 14
The Pacific cold storm track will be moving to the East Coast.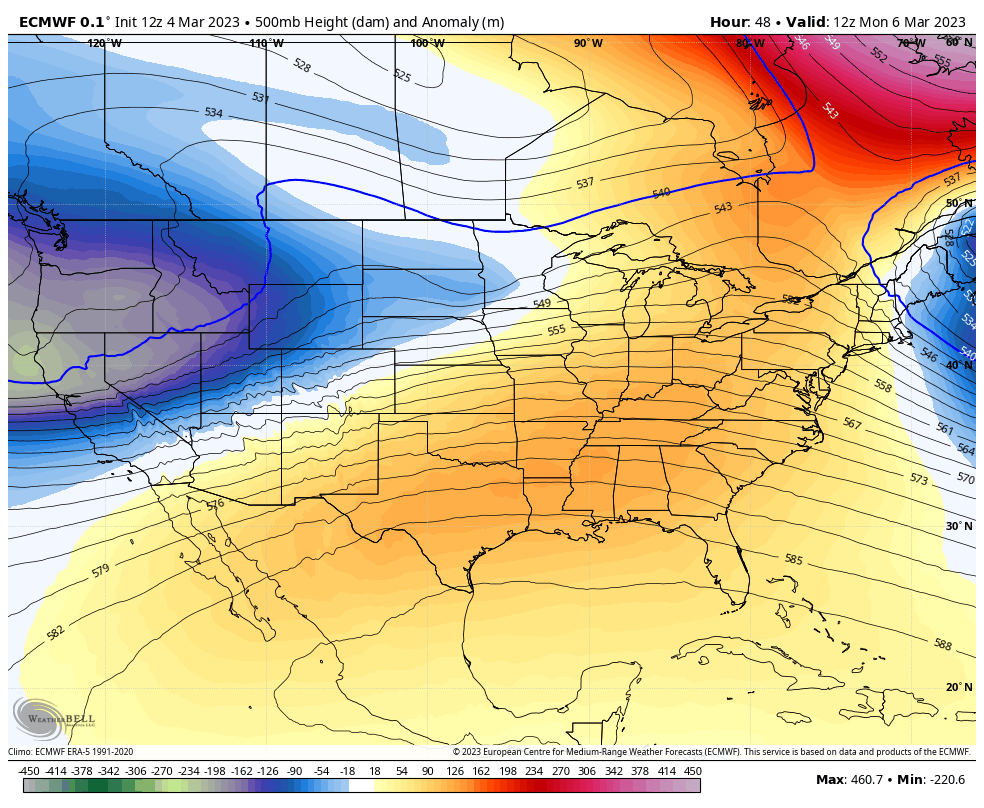 In my March Snow History I showed many examples of large snowstorms in Baltimore and the Northeast throughout the month. The largest was 22 inches of snow on March 29 in 1942. We can get stickage with snow even as the sun angle gets higher. It is just more challenging.
Here's the thing: I have been bombarded with messages and requests to address the storm pattern regardless of my personal view. The cat is out of the bag with many other pages discussing all the parameters that could 'do something'. This includes the full alphabet of Global Patterns like Negative NAO and AO, Positive AO, MJO moving to phase 8, and La Niña ending. All are true, but are they trying to team up and produce something?
Model Credibility Lacking
As meteorologists, we study the atmosphere and know how it works. Our forecasting is heavily reliant on computer guidance working the math out faster than any human can.
Imagine using the two most reliable computer guidance and they can't even agree with snow plotting less than 3 days away.
Snow Early Tuesday March 7
This is not our event. It is to our north, so I can safely compare the two without much criticism:
The European ECMWF is showing this on the northern fringe of my forecast area… Reaching Harrisburg to Philadelphia. However, the GFS Model has rain for those cities and the snow closer to Scranton and north.
ECMWF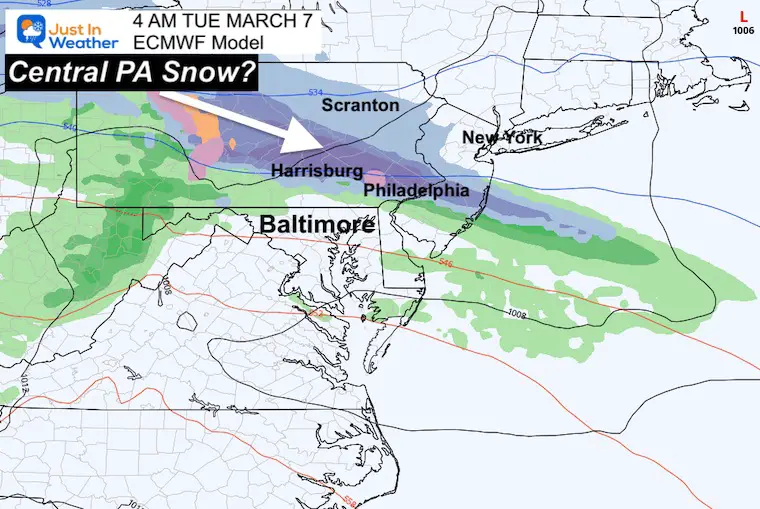 GFS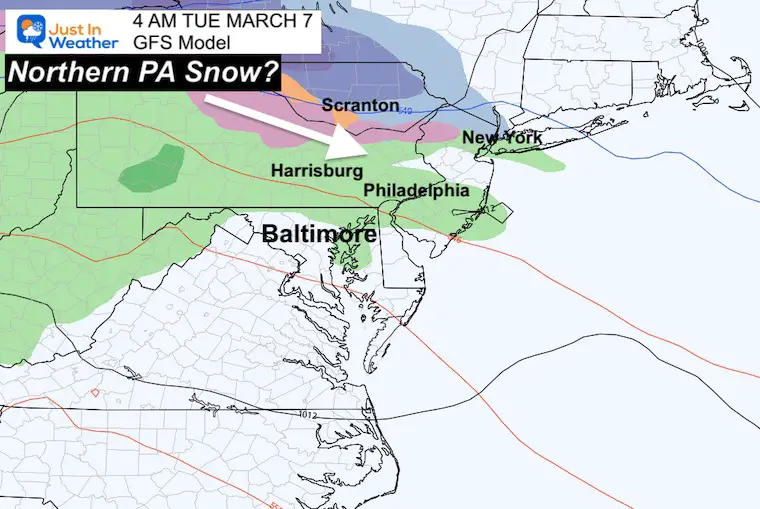 Before we look at the storm next weekend, let's take a look at the temperatures.
NOAA Temperature Outlook
UPDATED MAPS: These are showing the odds of being below average, NOT how cold temps will be.
Day 6 to 10
Most of the nation will be trending Colder!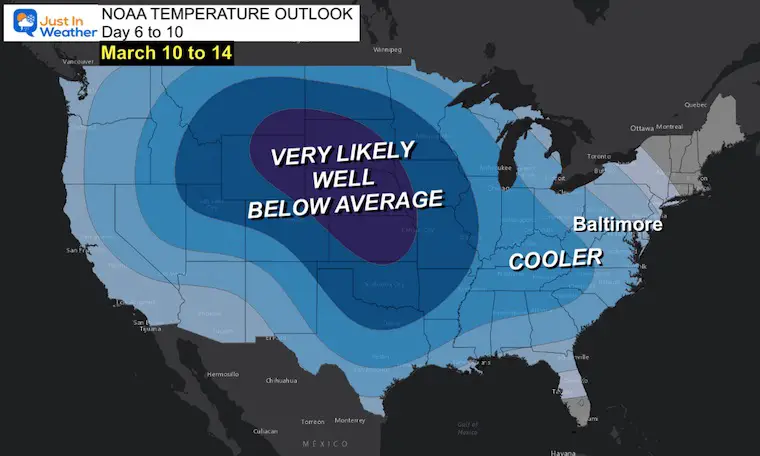 Day 8 to 14
The core of the cold air will reach the Gulf Coast states. For that region there is concern that early season blooms may be affected by morning frost and freezing temperatures.
We will be colder mid month as well. The question is how cold?!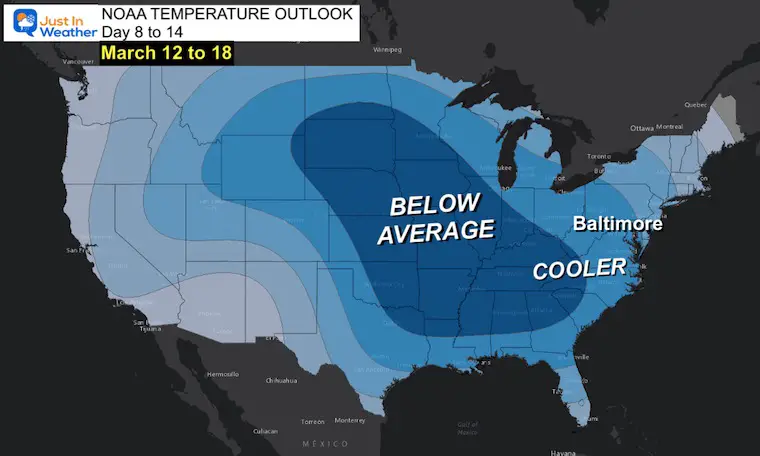 Average March High Temperatures In Baltimore
BWI starts the month with a typical High of 50ºF on the 1st, and ends with a typical High of 60ºF by the 29th to 31st.
Having temps below these numbers would verify COLDER, but does not guarantee it will be cold enough to freeze, let alone have snow.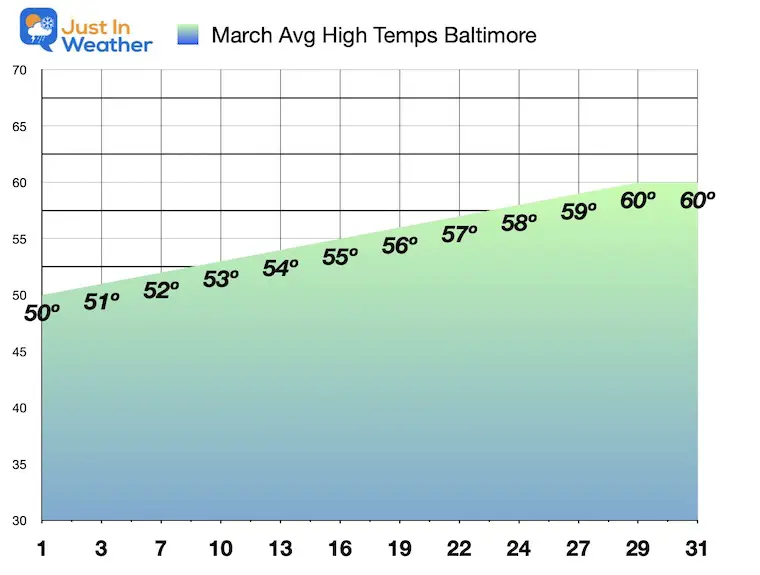 Temperature Forecast Next 10 Days
Comparing this forecast to the chart above, we can see the 'Cooler' temps during next week, even with mid 40s to near 50ºF.
The COLDER air is more likely next weekend and the week after, but even then there is only one long-term projection for a day in the 30s.
The morning Lows may drop below freezing many times, which could compromise the early flowers and tree buds.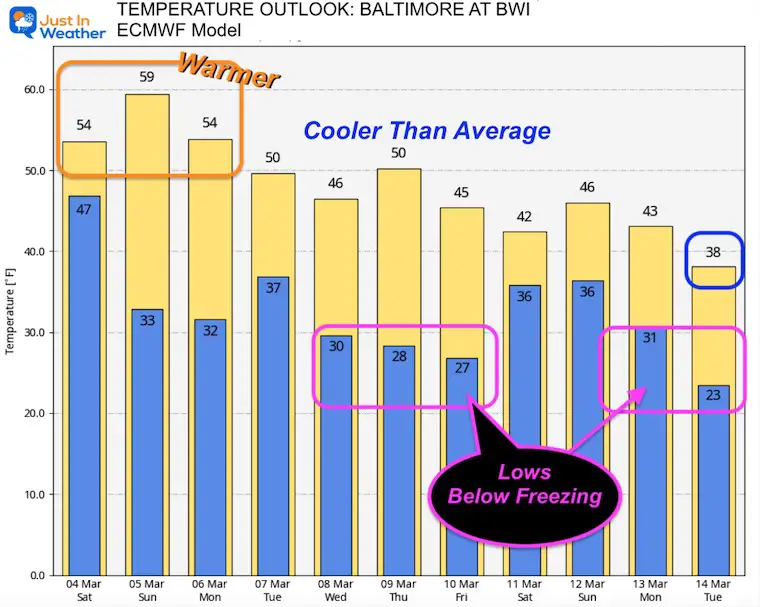 ABOUT THAT STORM
If we can't get an agreement on this, how can we trust a potential storm NEXT WEEKEND?
I showed the ECMWF Model yesterday with the potential snow event.  I was careful to highlight that I expected that forecast map to change. It has, and not to the liking of local snow lovers.
ECMWF Model
Friday Night to Sunday Night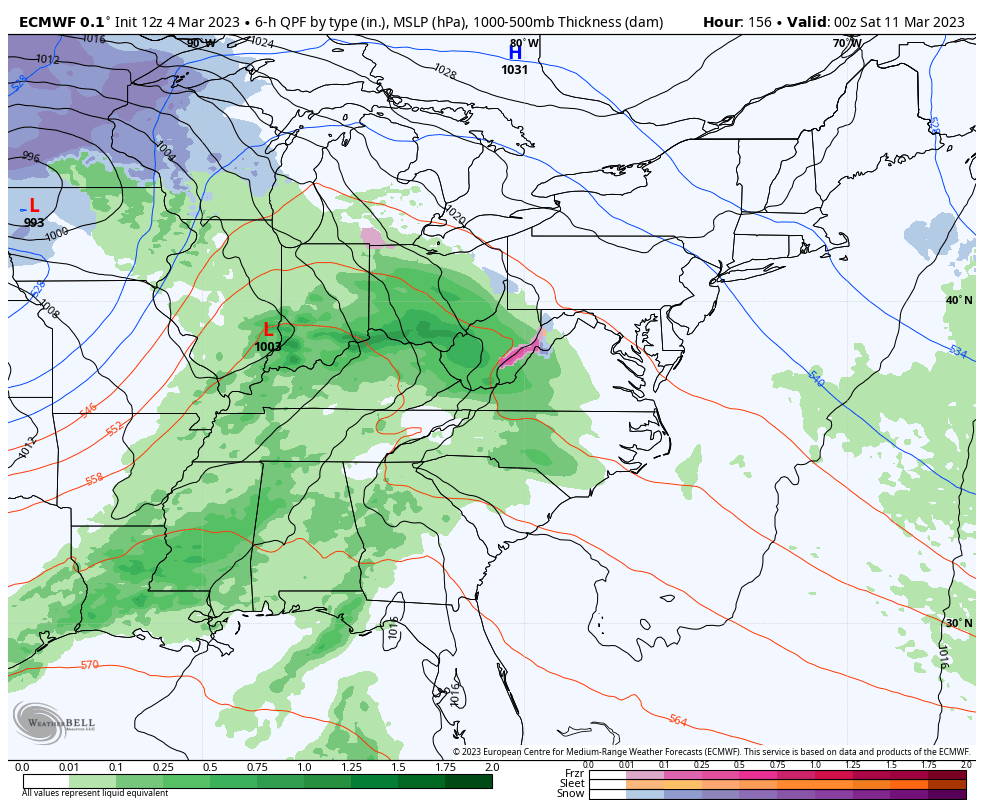 Snapshots:
Saturday Night (From March 4)
This has changed a lot from my prior report. This model is now speeding the storm up AND shifting it north. Once again pushing the snow farther north.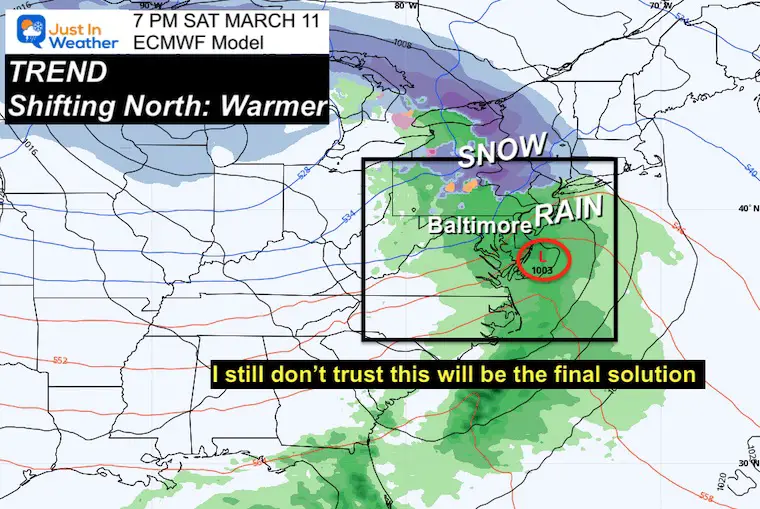 Sunday Morning MODEL UPDATE
For Saturday Night (From March 5)
Quite the shift South- AGAIN!!!!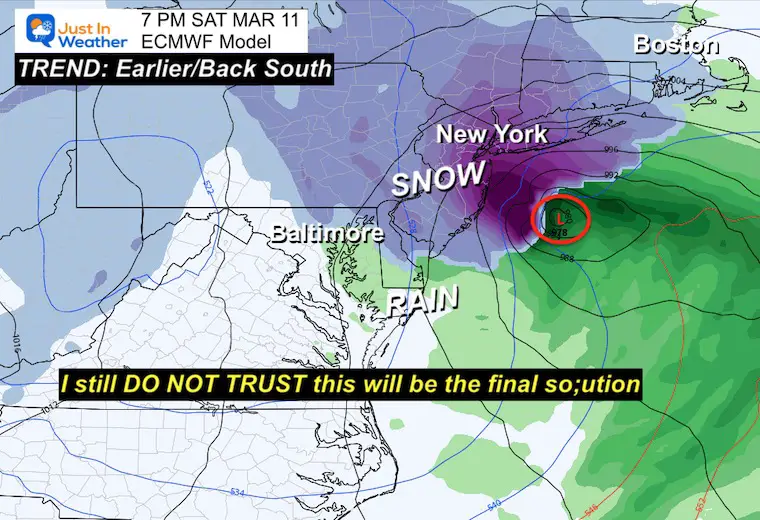 Take Away:
We will have a good chance of March feeling CHILLY!
Trending BELOW AVERAGE may bring more freezing mornings, but not guaranteed to be cold enough for storms to bring snow.
I HAVE LOW CONFIDENCE in our computer guidance… Even a few days away. If you recall, I doubted them early in February which allowed me to call the little snow we did get.
I believe the forecast maps for next weekend will continue to change. I am showing them for posterity but not to trust. In fact, I think if we do end up getting snow this month, it will happen with an event the models MISS or may even plot south of us.
March has often brought surprises. Even in other warm and low snow winters, so we must continue to keep an open mind.
No Promises! I am just plugging along with you.
Subscribe for eMail Alerts
Weather posts straight to your inbox
Sign up and be the first to know!
RESTATING MY MESSAGE
ABOUT DYSLEXIA
(I share this on my email newsletter)
I am aware there are some spelling and grammar typos, and other occasional glitches. I take responsibility for my mistakes, and even the computer glitches I may miss.
I have made a few public statements over the years, but if you are new here you may have missed it:
I have dyslexia, and found out during my second year at Cornell University. It didn't stop me from getting my meteorology degree, and being the first to get the AMS CBM in the Baltimore/Washington region. One of my professors told me that I made it that far without knowing, so don't let it be a crutch going forward. That was Mark Wysocki and he was absolutely correct! I kept it in my pocket hidden away until about 10 years ago.
I do miss my mistakes in my own proofreading. The auto-correct spell check on my computer sometimes does an injustice to make it worse. I can also make mistakes in forecasting. No one is perfect predicting the future.
All of the maps and information are accurate. The 'wordy' stuff can get sticky. 
There has been no editor that can check my work when I need it and have it ready to send out in a newsworthy timeline. Barbara Werner is a member of the web team that helps me maintain this site. She has taken it upon herself to edit typos when she is able. I sincerely appreciate her for that.  At times, her edits could be AFTER you read my posts.
I accept this and perhaps it proves what you read is really from me…
It's part of my charm.
#FITF
Also See:
Winter History: Low Snow And Late Starts
See my research based on Baltimore data since 1883.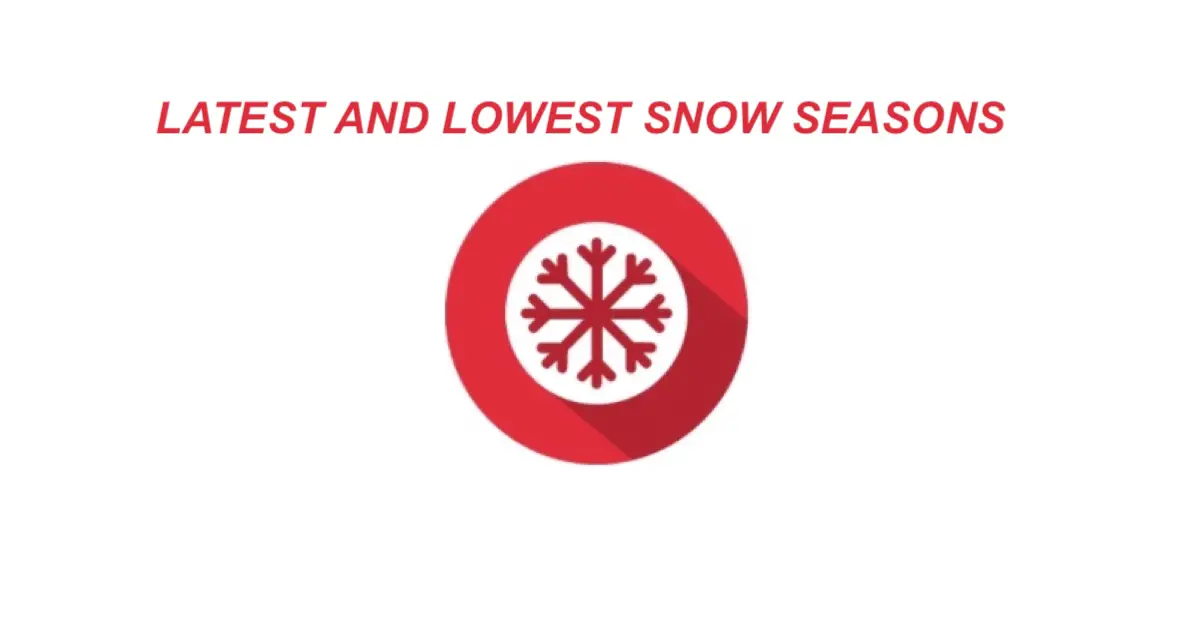 STEM Assemblies/In School Fields Trips Are Back
Click to see more and 'Book' a visit to your school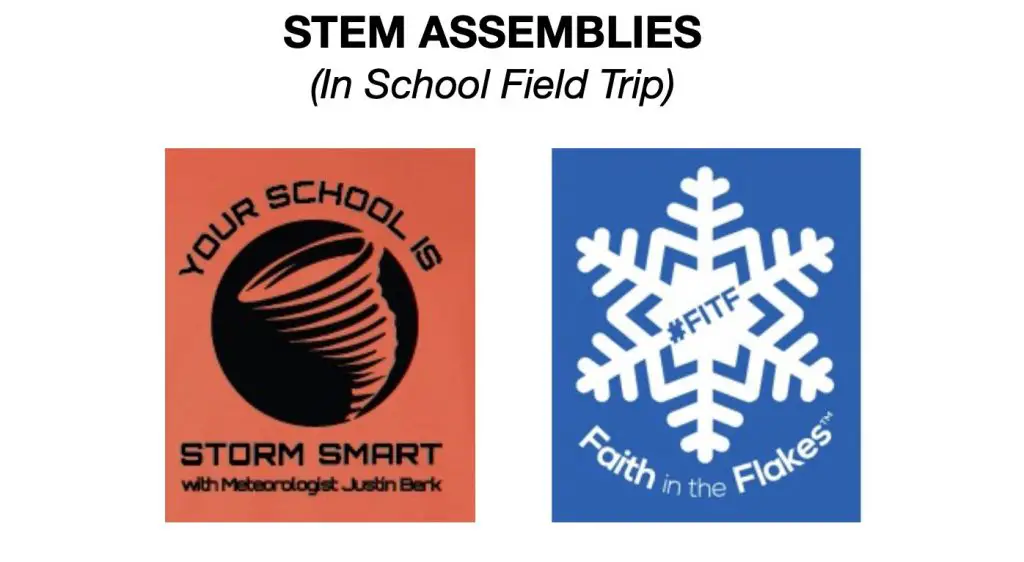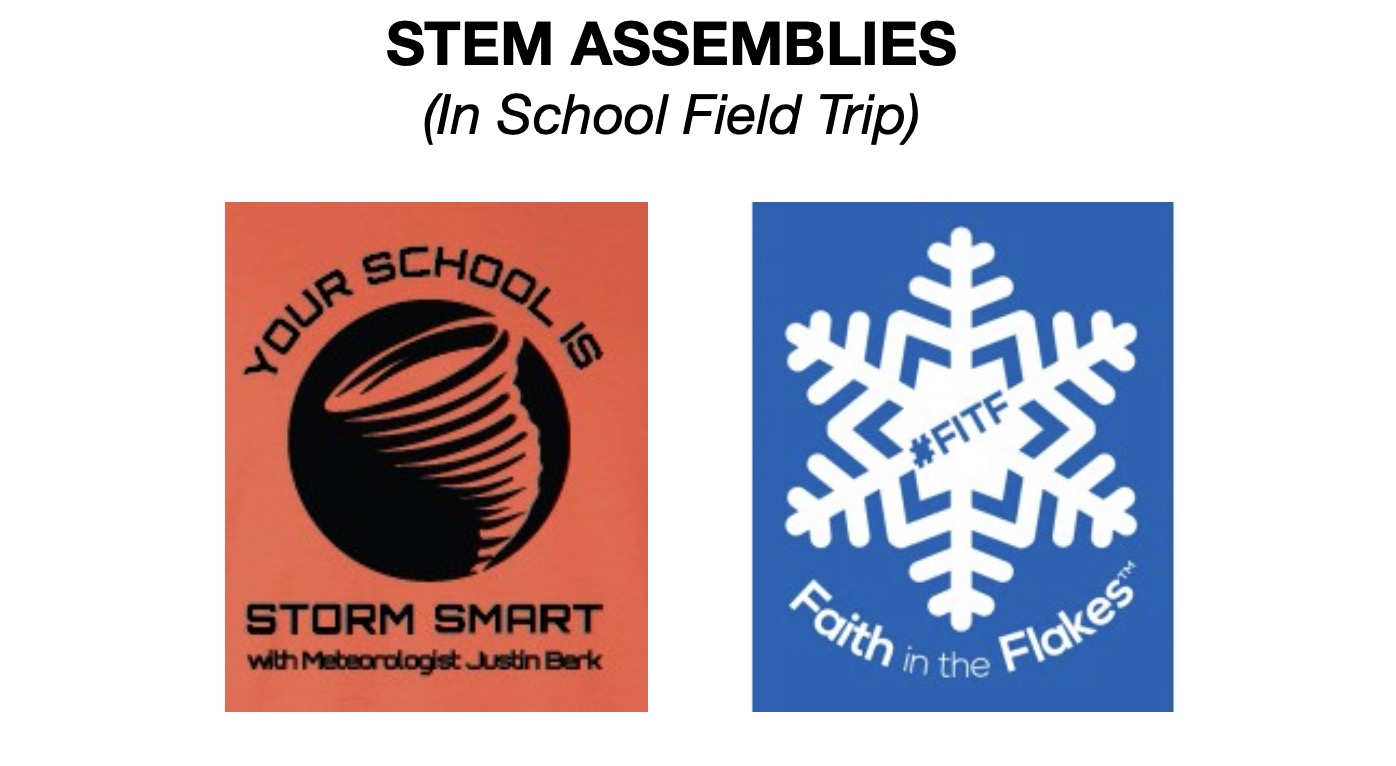 My Winter Outlook: Not A Typical La Niña!
I see many factors to support colder influence with multiple systems. Early and later in winter. Check it out. https://justinweather.com/2022/11/22/winter-outlook-2023-for-snow-not-typical-la-nina-plus-polar-vortex-disruption/
Also See The Winter Outlook Series:
https://justinweather.com/2022/11/20/atmospheric-memory-suggests-active-winter-storm-pattern-outlook/
https://justinweather.com/2022/10/21/winter-outlook-2023-from-noaa-very-different-than-farmers-almanacs/
Farmer's Almanac Comparison
Winter Outlook 2023 Early Look At Snow From Two Farmers Almanacs
Triple Dip La Niña Winter
https://justinweather.com/2022/09/09/winter-outlook-2023-la-nina-triple-dip-expectations/
CONNECTION TO WINTER?
If you want a snowy winter, this is what you might want to look for in the rest of the tropical season. https://justinweather.com/2022/08/31/record-august-for-no-named-tropical-storms-closer-look-at-snow-following/
Woolly Bear Caterpillars
https://justinweather.com/2022/10/25/winter-weather-outlook-from-the-wooly-bear-caterpillar/
Persimmon Seeds
Click to see Top 20 and MORE
https://justinweather.com/2022/10/28/winter-weather-folklore-top-20-and-more-outlook-signals-from-nature-for-cold-and-snow/
Normals And Records: Maryland and Baltimore Climate History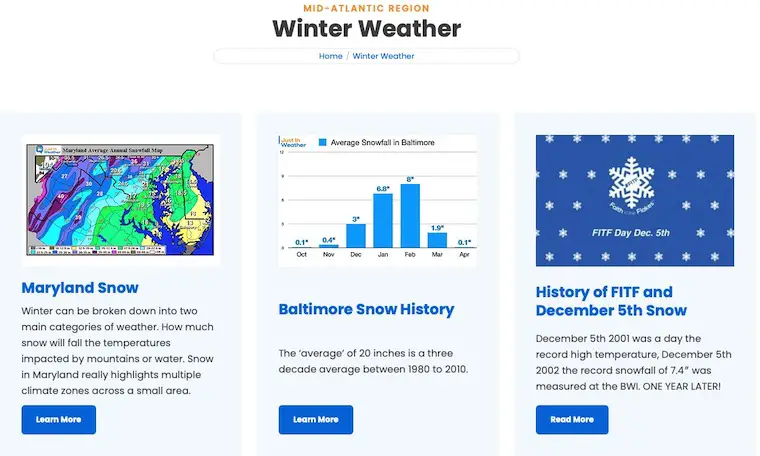 Please share your thoughts, best weather pics/videos, or just keep in touch via social media