More Aurora Photos From Maryland Delaware and Virginia: April 23 Severe Geomagnetic Storm
aurora northern lights
NOAA
Maryland Weather
Photos
Justin Berk
Apr 24, 2023
2:43 pm
0
Monday, April 24, 2023
This is a follow-up to the continuing story of the severe geomagnetic storm that reached Earth Sunday night. This was advertised to be a big event, and it did not disappoint.  Based in the Mid Atlantic region, it is rare to see the Northern Lights this far south, but occasionally it happens. Most recently, there was an event on March 23 that was documented down to North Carolina.
Here is a look at 10 new photos of the Aurora across Maryland, Delaware, and Virginia. If you missed my prior report, I will add those below.
K-Index
The Planetary K Index is a measure of the intensity of Earth's electrical field disruption. This reached severe levels and peaked at 8 a few times overnight. This often correlates with visible aurora south of 40ºN, which means our region.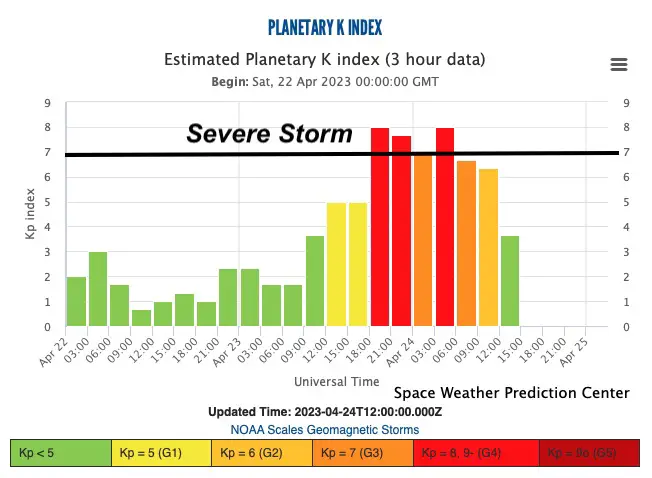 Aurora Photos
Virginia
I want to start off with the Aurora Pillar seen in NW Frederick County in Virginia. Jill Cook captured one of the most vivid displays in the region.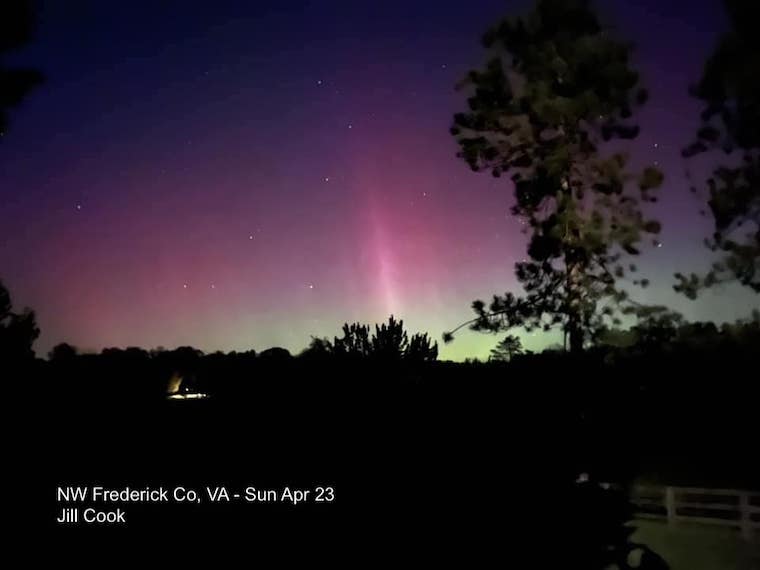 Maryland
These first two pics appeared to have captured an Aurora Pillar, with interact with one crystals lower in the atmosphere.
Aurora In Baltimore County, Maryland
I received this photo contrasting with the power lines from @BaltimoreBSRK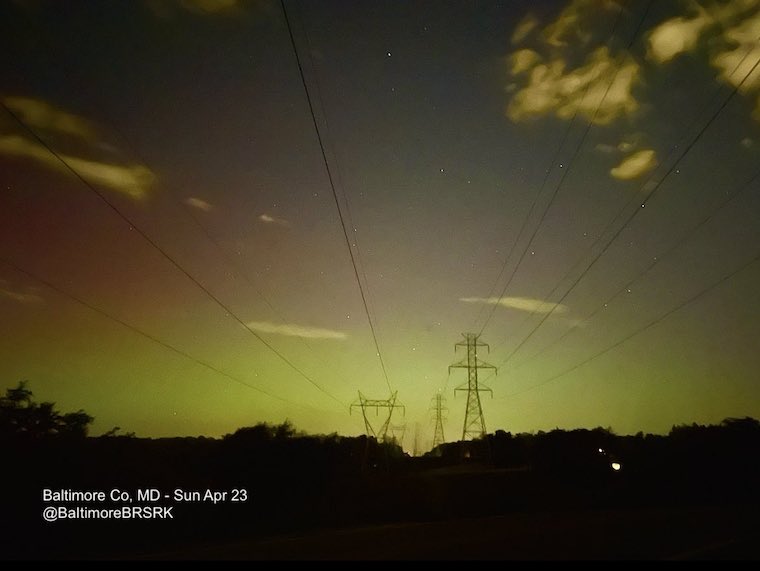 See more photos and location of this viewing…
This is the same 30 second exposure image from around 12:20-12:30am, just playing with iPhone picture settings… the least colorful is raw and original. @TonyPannWBAL @AvaWBAL @JustinWeather pic.twitter.com/aCYwp9Fdkm

— BaItimoreBRSRK (@BaItimoreBRSRK) April 24, 2023
Aurora in Ellicott City, Maryland
This from Sami Uddin @9sami98 on Twitter
Another From Sami in Ellicott City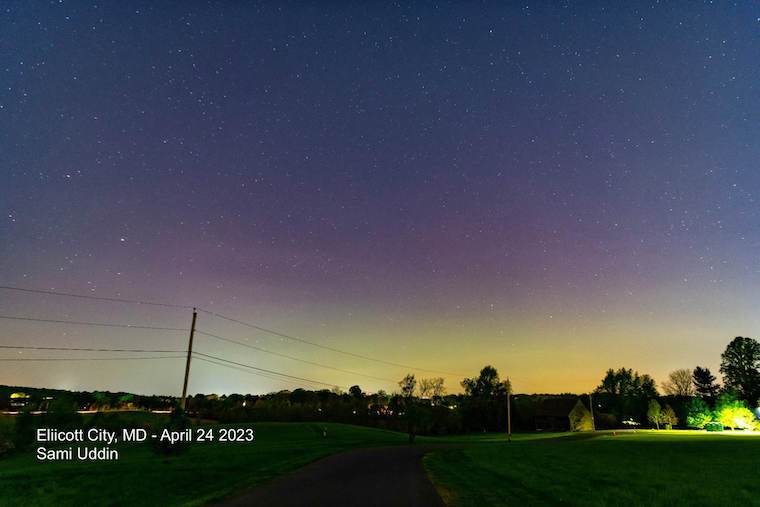 The Quad-Screen from Sami
@capitalweather @MatthewCappucci @forecaster25 @TonyPannWBAL @JustinWeather @ECpix @ttasselWBAL
Nothern lights visible from Ellicott city MD.
I may have captured the aurora pillar in the first picture. pic.twitter.com/qrV7TFVBXh

— 9msami98 (@9sami98) April 24, 2023
Carroll County, Maryland
Aurora in Westminster, Maryland
This is from Rick Edwards showing the green and purple hue.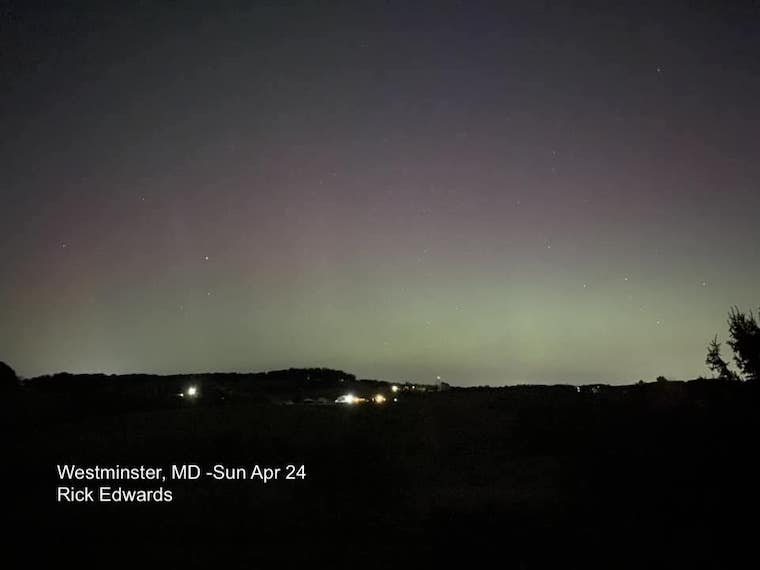 Aurora in Hampstead, MD
This color shows up behind this cluster of trees. Thanks to Kelly Hayes.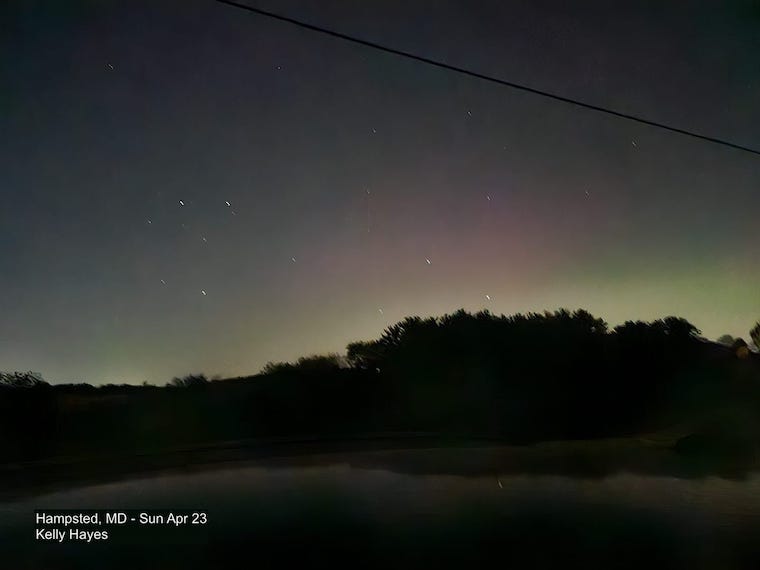 Aurora in Sykesville
Nick Proudfoot had to leave the exposure open longer and the clouds may hinder your view here… But I see the purple shade to the sky just above the tree line.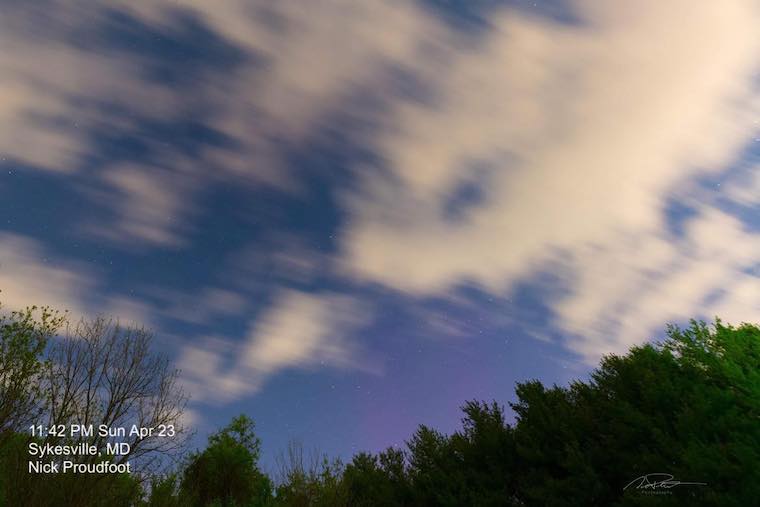 Western Maryland
Deep Creek Lake in Garrett County
This from The Deep Creek Lake Times. See their Facebook page to give them a follow.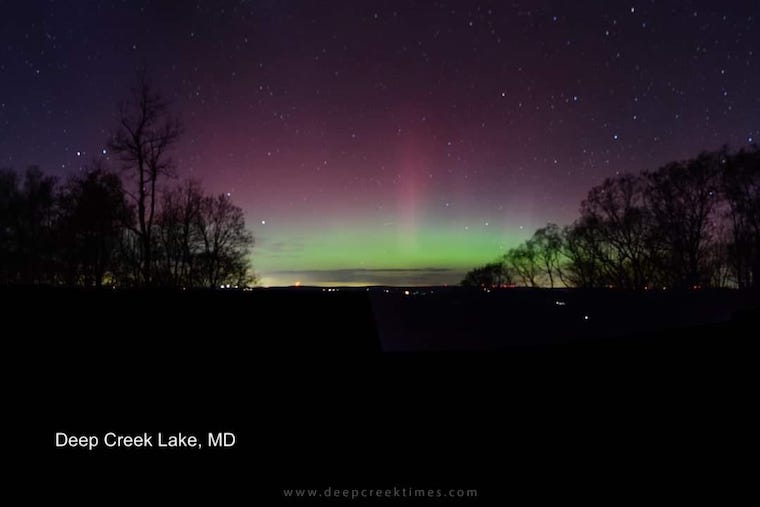 Delaware
Lewes From Kyle Brochet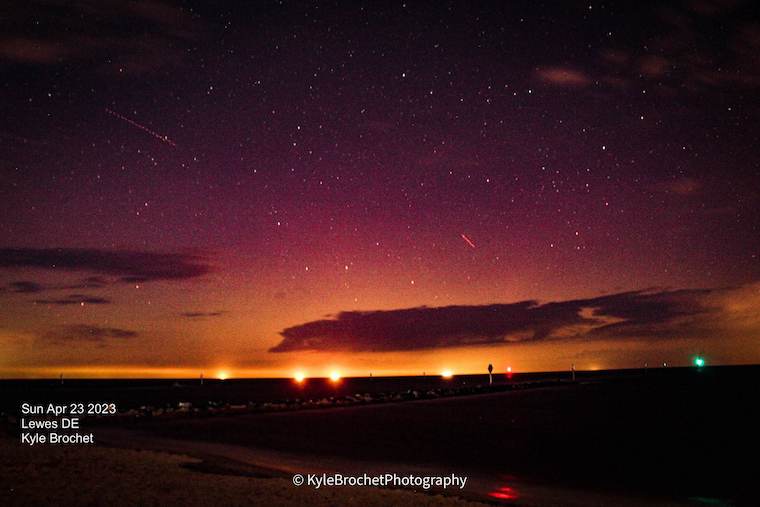 More Photos From My Prior Report
Stonehenge Aurora
One of the more spectacular views was seen over Stonehenge in the UK. This may end up on a widely distributed poster or high gloss photo near you.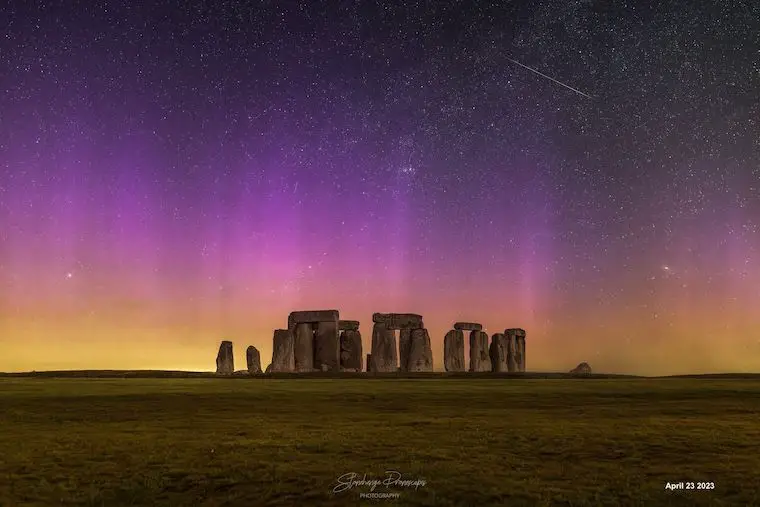 See the photographer here Stonehenge Dronescapes
Aurora pillars from just west of St Louis, MO at 10pm. #mowx pic.twitter.com/2LIX1LaitU

— Peter Forister ⚡️🌪️⚡️ (@forecaster25) April 24, 2023
New Jersey Aurora
This glowing view was captured by…

Maryland Aurora Lights
Central Maryland did get a faint view as shown by James Wilinghan. He identified that there was clearing after sunset.
Aurora over central Maryland April 23rd. Clouds blocked the view after sunset and once cleared activity seemed to be calming down this far south, but there was still some activity to be pulled out with the camera. @JustinWeather pic.twitter.com/ZjGWEqZD31

— James Willinghan (@JamesWillinghan) April 24, 2023
St. Louis Aurora Lights
This is at a similar altitude to Baltimore and has a wonderful display seen here.
Aurora pillars from just west of St Louis, MO at 10pm. #mowx pic.twitter.com/2LIX1LaitU

— Peter Forister ⚡️🌪️⚡️ (@forecaster25) April 24, 2023
Kaleidoscope Aurora in Montana
Cory Mottice captured what looked like a tied-eye shirt at a Grateful Dead Concert at times.
Quite the impressive show tonight from Billings, MT! Unfortunately my tripod broke so I had to make due with what I had, but still got some pretty cool shots. Easily the brightest #aurora I have seen so far. Lit up the ground brighter than a full moon for a time! #mtwx pic.twitter.com/UTcp6eNRgb

— Cory Mottice (@EverythingWX) April 24, 2023
REPORTS:
Subscribe for eMail Alerts
Weather posts straight to your inbox
Sign up and be the first to know!
STEM Assemblies/In School Fields Trips Are Back
Click to see more and 'Book' a visit to your school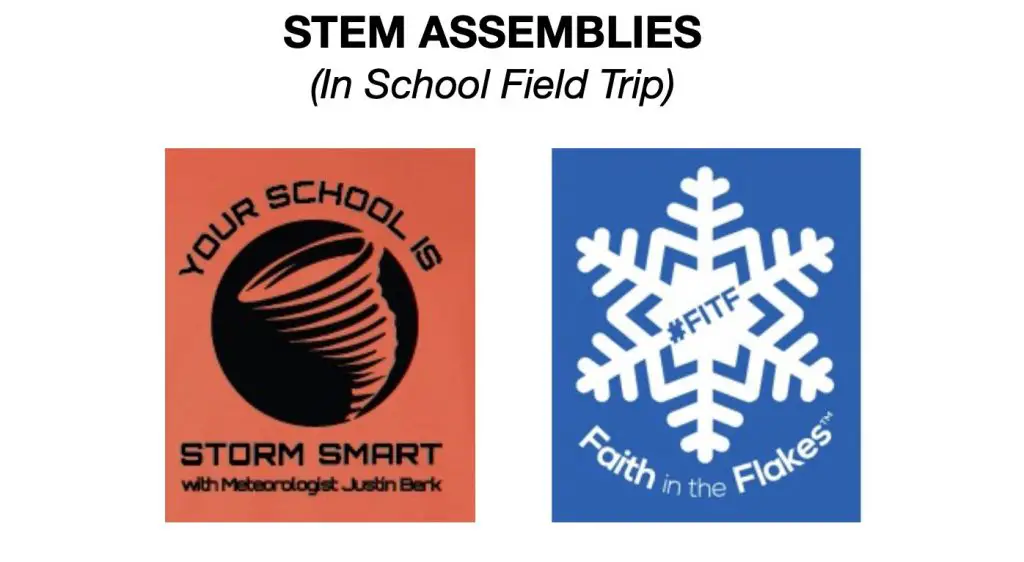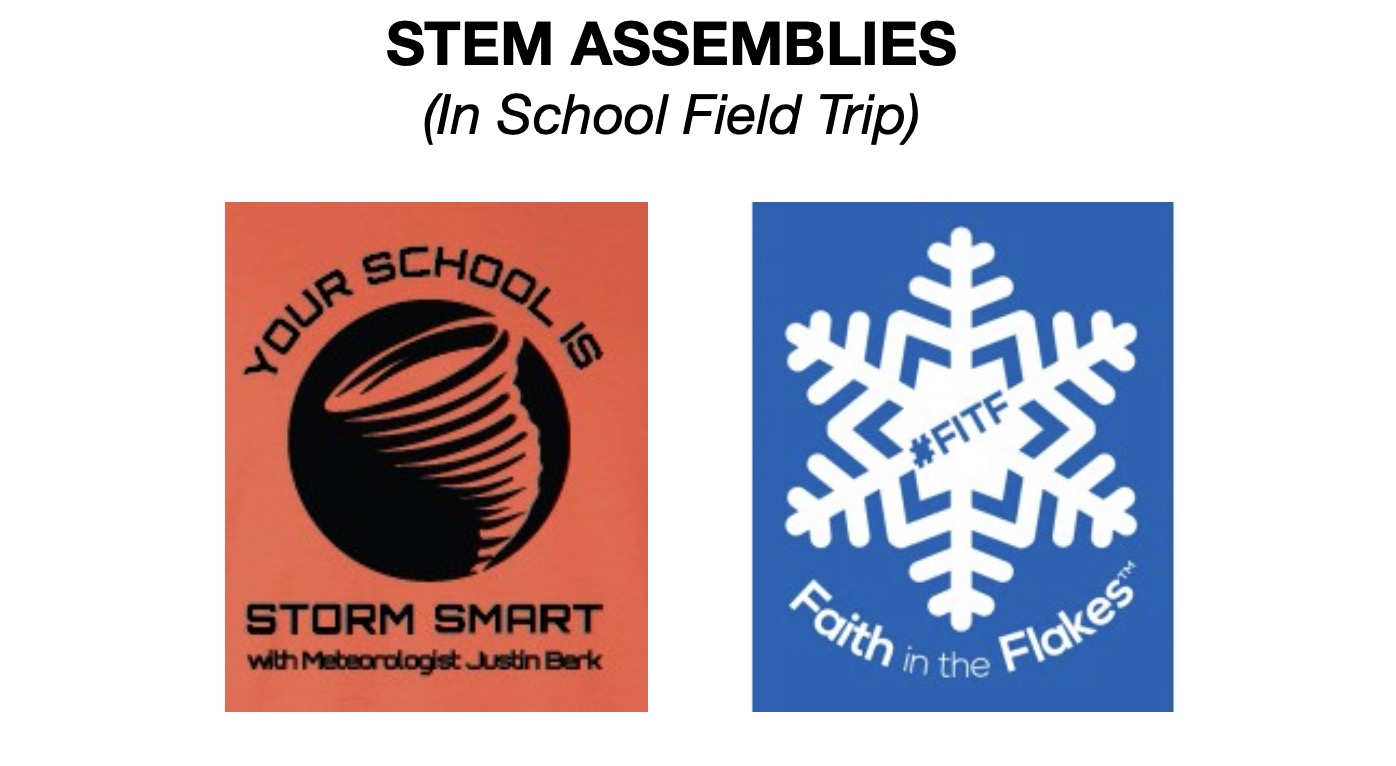 Please share your thoughts, best weather pics/videos, or just keep in touch via social media
RESTATING MY MESSAGE ABOUT DYSLEXIA
I am aware there are some spelling and grammar typos, and occasional other glitches. I take responsibility for my mistakes, and even the computer glitches I may miss. I have made a few public statements over the years, but if you are new here you may have missed it: I have dyslexia, and found out during my second year at Cornell University. It didn't stop me from getting my meteorology degree, and being first to get the AMS CBM in the Baltimore/Washington region. One of my professors told me that I had made it that far without knowing, and to not let it be a crutch going forward. That was Mark Wysocki and he was absolutely correct! I do miss my mistakes in my own proofreading. The autocorrect spell check on my computer sometimes does an injustice to make it worse. I also can make mistakes in forecasting. No one is perfect predicting the future. All of the maps and information are accurate. The 'wordy' stuff can get sticky.  There has been no editor that can check my work when I needed it and have it ready to send out in a newsworthy timeline. Barbara Werner is a member of the web team that helps me maintain this site. She has taken it upon herself to edit typos, when she is able. That could be AFTER you read this. I accept this and perhaps proves what you read is really from me… It's part of my charm.
#FITF