September 18 Lingering Rain Departs With A Fall Feel And Hurricane Nigel
Maryland Weather
climate data
National Hurricane Center
Forecast
Tropics
Justin Berk
Sep 18, 2023
6:26 am
0
September 18, 2023
Monday Morning Update
Rain from overnight is slowly moving through coastal areas this morning. This has been beneficial to our drought conditions and it will be the last rain we see until maybe next weekend.
As this moves away, we can track the rain on the live radar below. A new Fall Feeling air mass will spread in for a few days.
The tropics have a new hurricane in the Atlantic. Nigel was named over the weekend but this is no threat to land. We will take a look.
Later in the week, there may be a new tropical system trying to form off the Southeast US coast.
Morning Surface Weather
The latest cold front that moved through had developing Low Pressure. That is what enhanced the rain and slowed this system down. It has left this morning with damp roads, and the rain is lingering closer to the coast. Behind this, there will be a gusty wind from the north as the new air mass spreads in.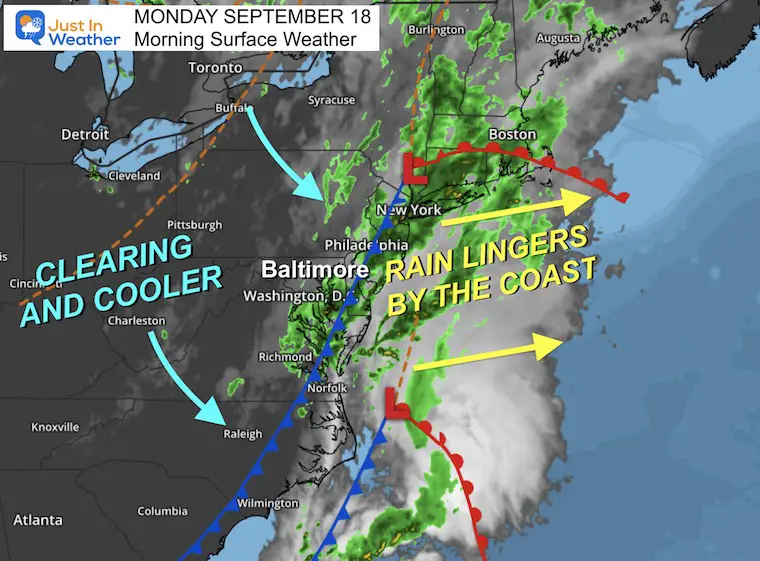 Live Radar and Lightning Widget
See the forecast simulations below.
Radar Simulation 7 AM to 6 PM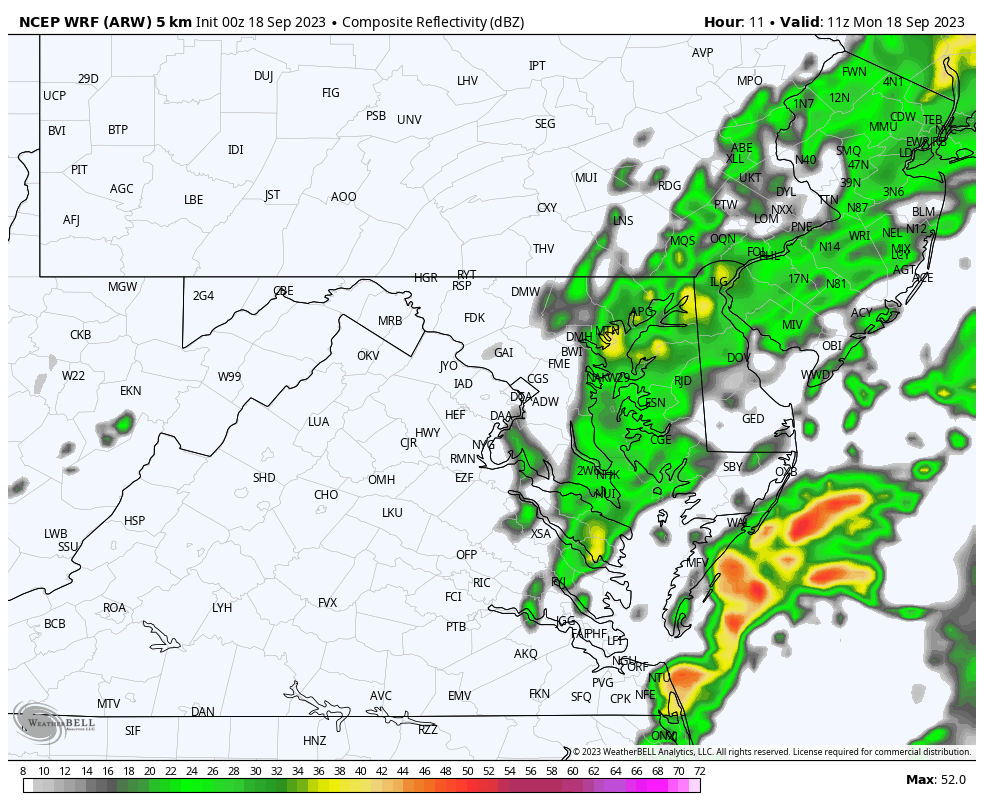 Wind Forecast
8 AM to 8 PM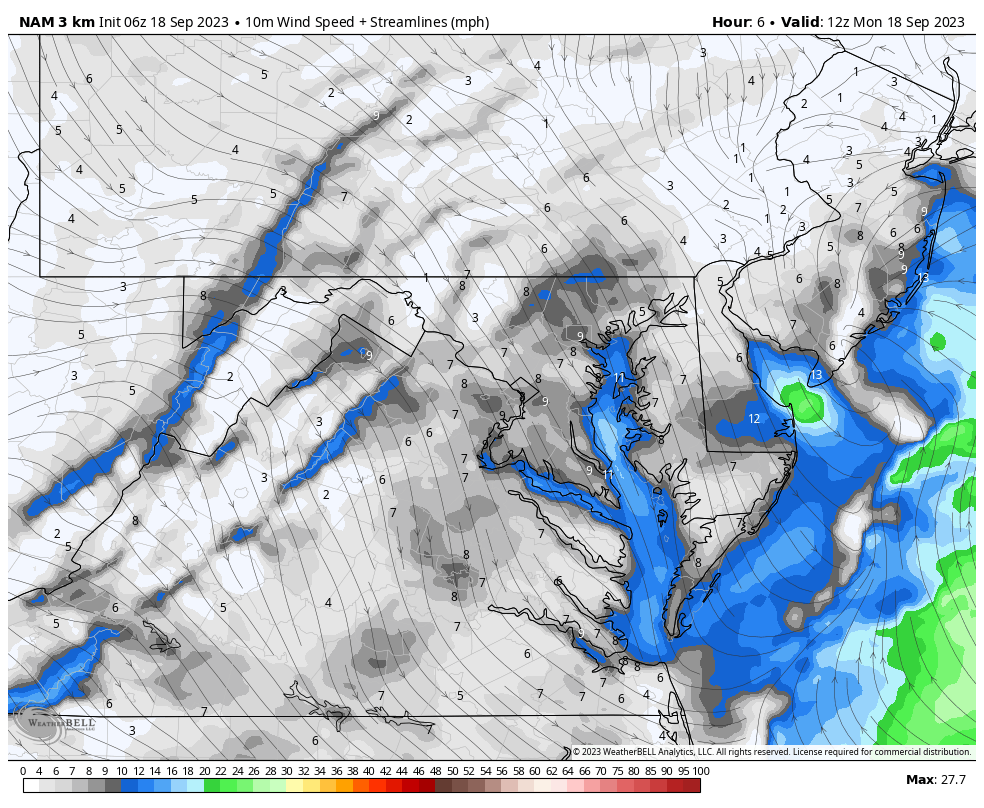 Snapshot at 4 PM
Peak winds will be early afternoon. Gusts may still reach over 20 mph.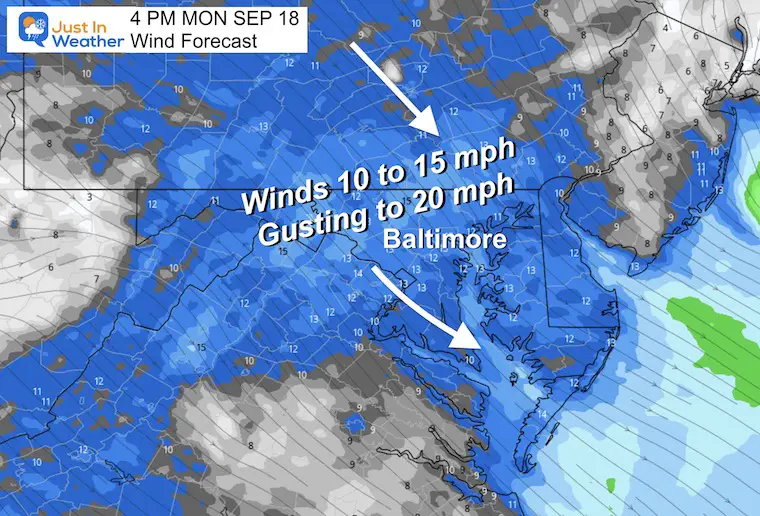 Temperature Forecast
The sun will try to peak through the clouds but the wind will keep it feeling cool.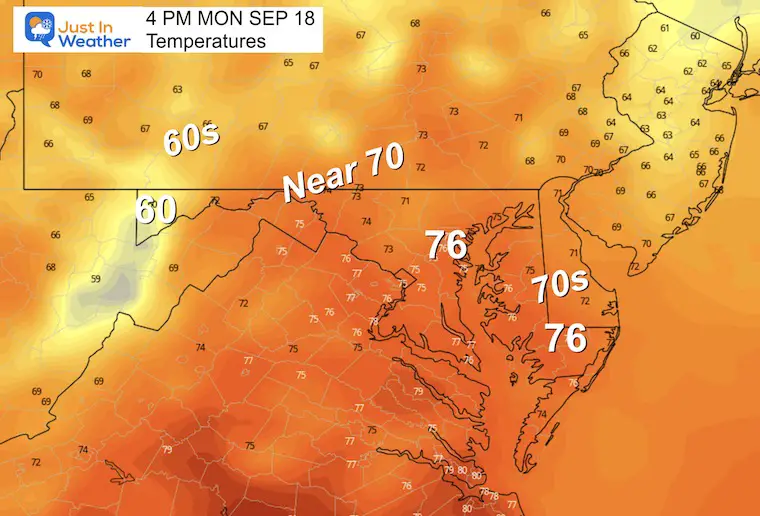 Hurricane Nigel
This wide view shows how far away this storm is located. It is no threat to land now and will remain in the middle of the Atlantic.
Hurricane Force Winds reach 25 miles from the center.
Tropical Storm Force Winds reach 160 miles from the center.
National Hurricane Center Advisory
5 AM Update
LOCATION…26.5N 50.7W
ABOUT 935 MI…1510 KM ESE OF BERMUDA
MAXIMUM SUSTAINED WINDS…80 MPH…130 KM/H
PRESENT MOVEMENT…NW OR 325 DEGREES AT 12 MPH…19 KM/H
MINIMUM CENTRAL PRESSURE…984 MB…29.06 INCHES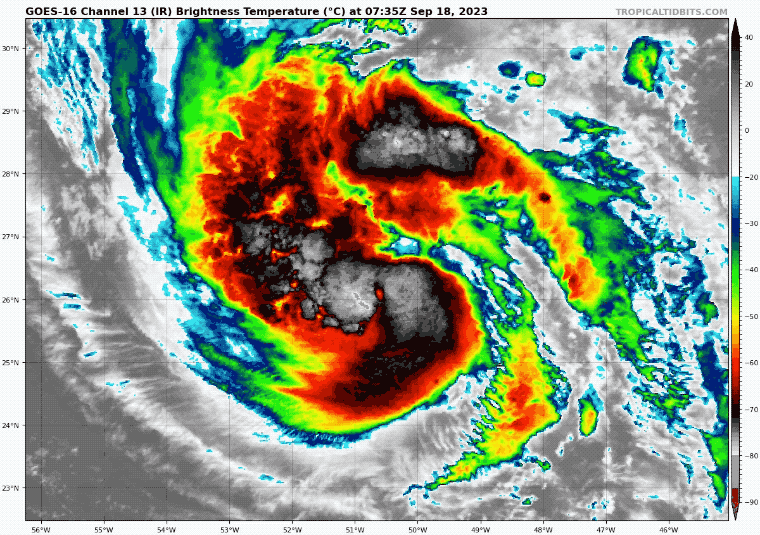 CLIMATE DATA: Baltimore
TODAY September 18
Sunrise at 6:50 AM
Sunset at 7:10 PM
Normal Low in Baltimore:  59ºF
Record 41ºF in 1990
Normal High in Baltimore: 79ºF
Record 91ºF 1898
New Reports:
Subscribe for eMail Alerts
Weather posts straight to your inbox
Sign up and be the first to know!
Tuesday Morning
A new air mass will settle in with a crisp Fall Feel to the air for a few days…
Temperature Forecast
Tuesday Morning
Seasonably chilly start inland.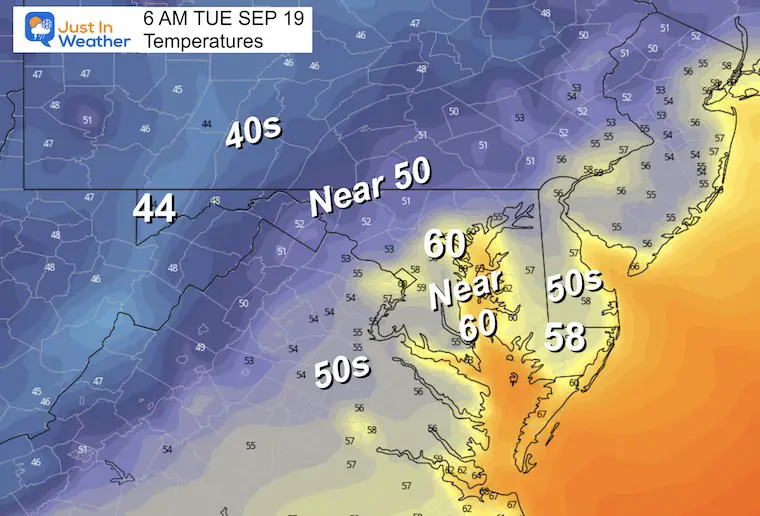 Tuesday Afternoon
A little cooler than average but plenty of sun.
Looking Ahead
Animation
 

Friday through Sunday

There is a suggestion that Low Pressure that could have tropical characteristics may try to form off the Southeast US coast and move our way with rain over the weekend.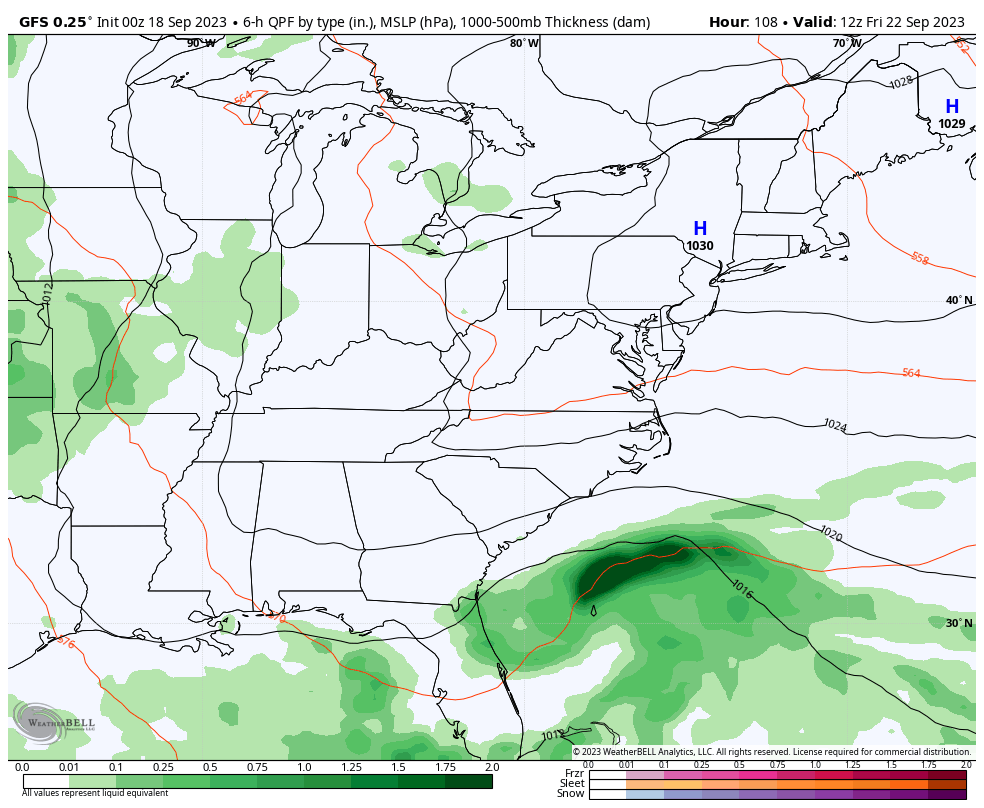 7 Day Forecast
A quiet week ahead with slight warming. Then we will watch to see if that storm forms in the Southeast coastal area and bring us rain over the weekend. This is not a guarantee so I am watching with caution.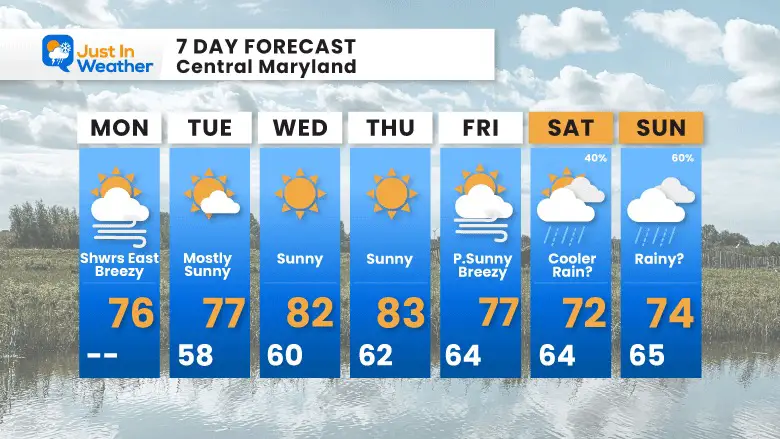 EXPLORE MORE
EARLIER IN AUGUST: Maryland Trek 10 For These Kids
I will have a follow-up and recap on our amazing week shortly.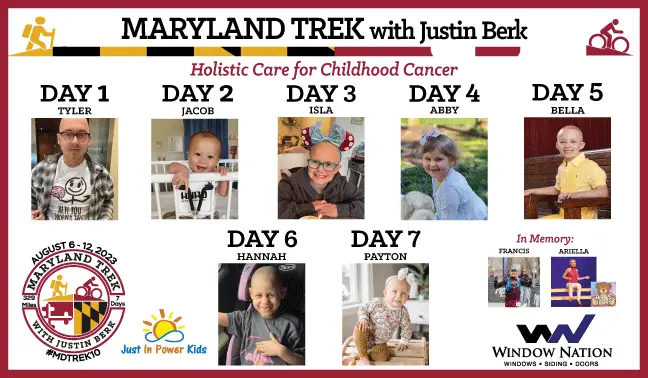 Subscribe for eMail Alerts
Weather posts straight to your inbox
Sign up and be the first to know!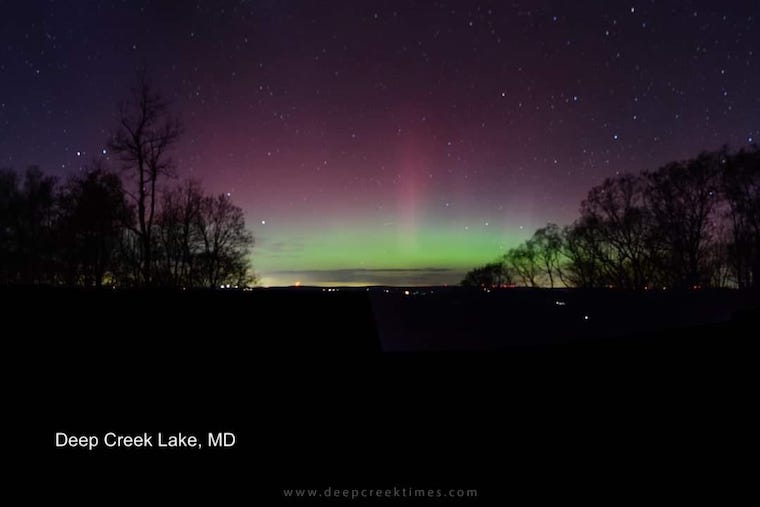 Please share your thoughts and best weather pics/videos, or just keep in touch via social media
RESTATING MY MESSAGE ABOUT DYSLEXIA
I am aware there are some spelling and grammar typos and occasional other glitches. I take responsibility for my mistakes and even the computer glitches I may miss. I have made a few public statements over the years, but if you are new here, you may have missed it: I have dyslexia and found out during my second year at Cornell University. It didn't stop me from getting my meteorology degree and being the first to get the AMS CBM in the Baltimore/Washington region. One of my professors told me that I had made it that far without knowing and to not let it be a crutch going forward. That was Mark Wysocki, and he was absolutely correct! I do miss my mistakes in my own proofreading. The autocorrect spell check on my computer sometimes does an injustice to make it worse. I also can make mistakes in forecasting. No one is perfect at predicting the future. All of the maps and information are accurate. The 'wordy' stuff can get sticky.  There has been no editor who can check my work when I need it and have it ready to send out in a newsworthy timeline. Barbara Werner is a member of the web team that helps me maintain this site. She has taken it upon herself to edit typos when she is available. That could be AFTER you read this. I accept this and perhaps proves what you read is really from me… It's part of my charm.
#FITF