September 17 Chilly Morning Then Afternoon Rain And Final Lee Report
Maryland Weather
climate data
National Hurricane Center
Forecast
Tropics
Justin Berk
Sep 17, 2023
8:00 am
0
September 17, 2023
Sunday Morning Update
Another chilly start definitely has a Fall Feel in the air and might be accelerating some of the trees turning their colors. We've seen an early start in many areas already.  The week ahead continues that trend into the Autumn season with seasonable to cooler weather dominating.
Today a cold front will increase the clouds and bring in rain that is already falling across our western mountains.
Below is a look at the radar and forecast simulations. The rain appears to be moving in faster than model suggestions, so it could reach Baltimore before noon. Definitely morning rain for western and northern suburbs. Plan for afternoon showers or steady rain for most of the region.
Lee is a Post-Tropical Storm in Eastern Canada. It made landfall in western Nova Scotia yesterday with winds at 70 mph, and this may be the final report.
Morning Surface Weather
We can see Lee on the Map in Eastern Canada with 50 mph winds.
Locally a cold front and wave of Low Pressure is what will support the rain we expect today.
Following will be another cool and dry air mass that will take over most of the week ahead.
Live Radar and Lightning Widget
See the forecast simulations below.
Morning Temperatures
Notice the chilly 40s and 50s across most of the region. With advancing clouds, temps will be limited this afternoon.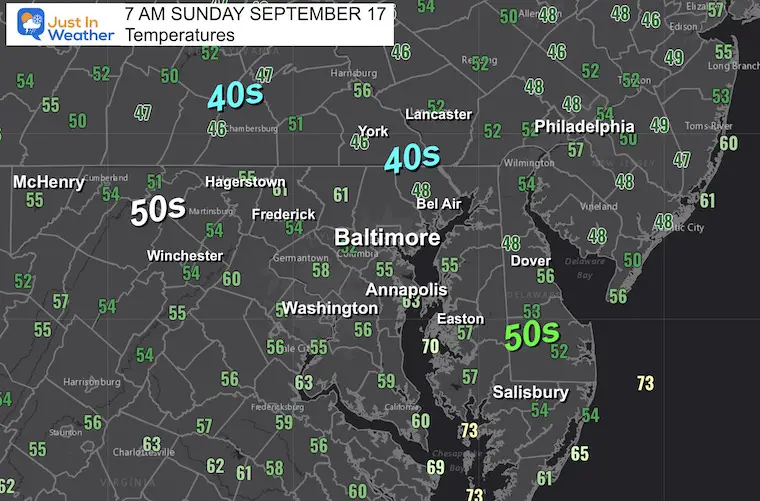 Temperature Forecast
It will be cooler with rain moving in.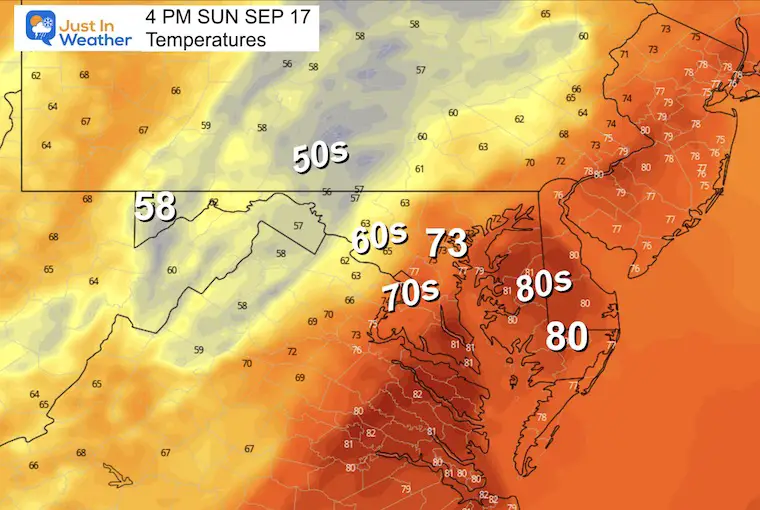 7 AM Morning Radar
I want to show this snapshot to compare to the models below.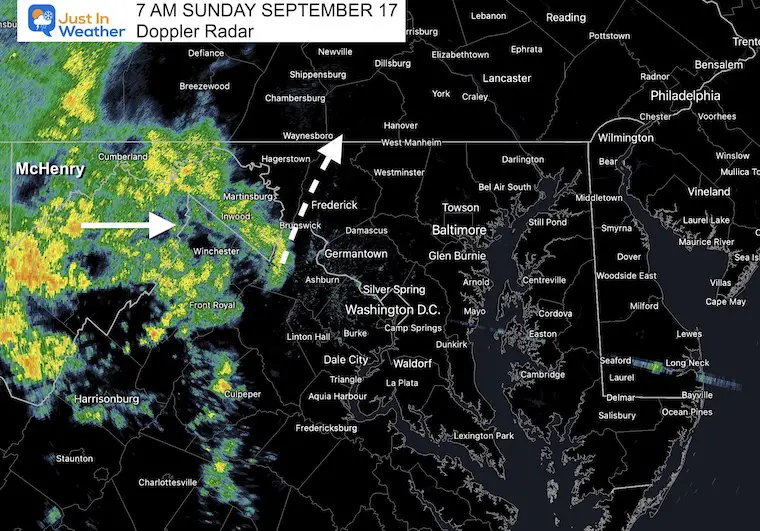 7 AM Forecast NAM 3 Km Model
This product is missing some of the short-term rain, so we can expect it is underestimating the rain this afternoon.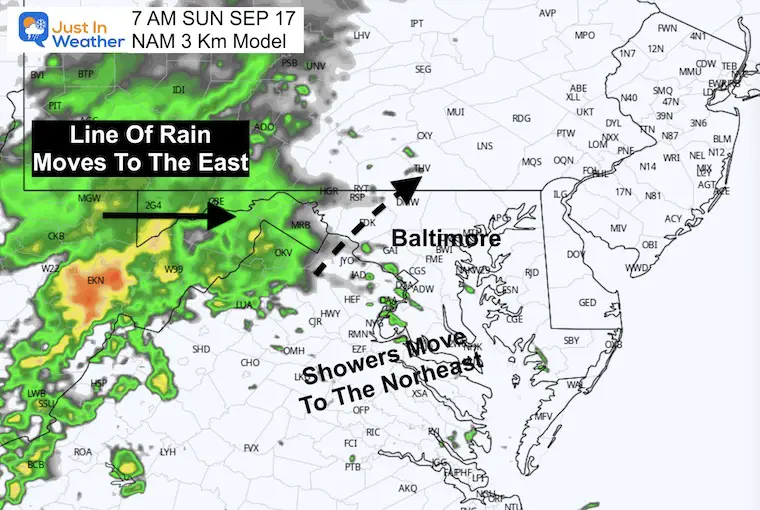 Forecast Simulation 7 AM to Midnight
7 AM Forecast WRF
 

Model

This product is also missing some of the short-term rain, so we can expect it is underestimating the rain this afternoon.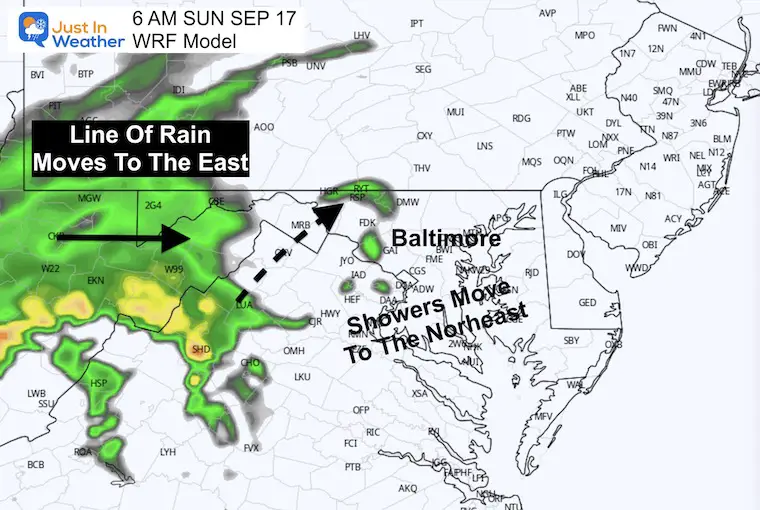 Forecast Simulation 7 AM to Midnight
NOTE: Rain may linger at daybreak tomorrow, then clear out during the day.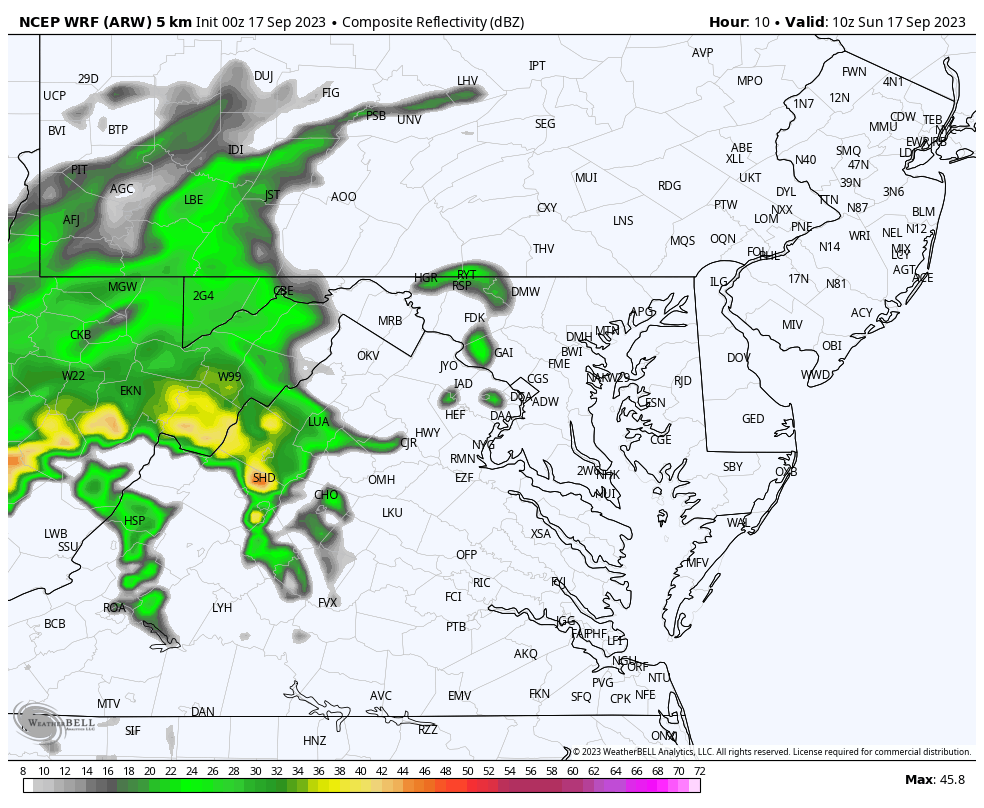 Post-Tropical Storm Satellite Loop
After making landfall, Lee is now Post-Tropical and still a potent system for eastern Canada. It has winds holding at 50 mph. It is now showing signs of spreading out as it moves north, which will be followed by weakening.
Tropical Storm Force Winds reach 290 miles from the center.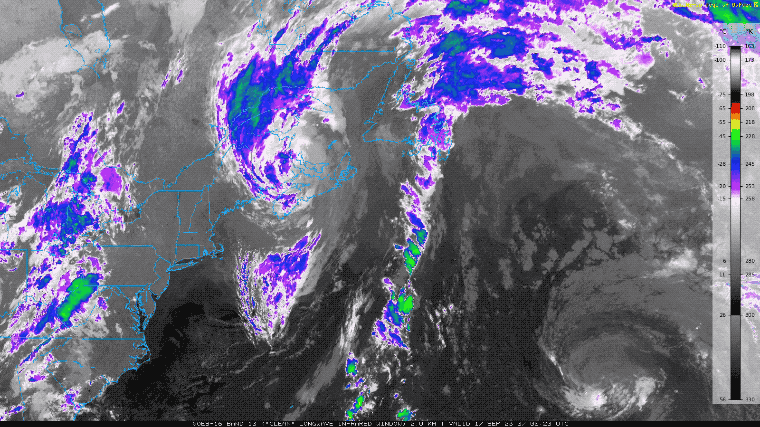 National Hurricane Center Advisory
5 AM Update
LOCATION…46.5N 63.7W

ABOUT 35 MI…55 KM WNW OF CHARLOTTETOWN PRINCE EDWARD ISLAND
ABOUT 225 MI…360 KM WSW OF PORT AUX BASQUES NEWFOUNDLAND
MAXIMUM SUSTAINED WINDS…50 MPH…85 KM/H
PRESENT MOVEMENT…NE OR 45 DEGREES AT 22 MPH…35 KM/H
MINIMUM CENTRAL PRESSURE…987 MB…29.15 INCHES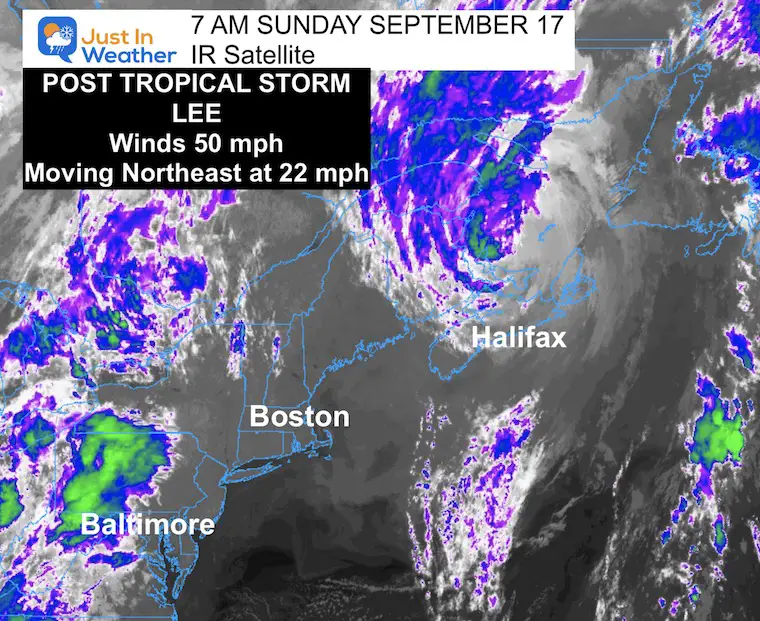 CLIMATE DATA: Baltimore
TODAY September 17
Sunrise at 6:50 AM
Sunset at 7:12 PM
Normal Low in Baltimore:  59ºF
Record 44ºF in 1984
Normal High in Baltimore: 79ºF
Record 97ºF 1991
New Reports:
Subscribe for eMail Alerts
Weather posts straight to your inbox
Sign up and be the first to know!
Monday Morning
Rain may linger at daybreak, especially near and east of the Chesapeake Bay. This will be followed by the new cool air mass clearing us out, while clouds may rebuild in the mountains.
NAM 3 Km Model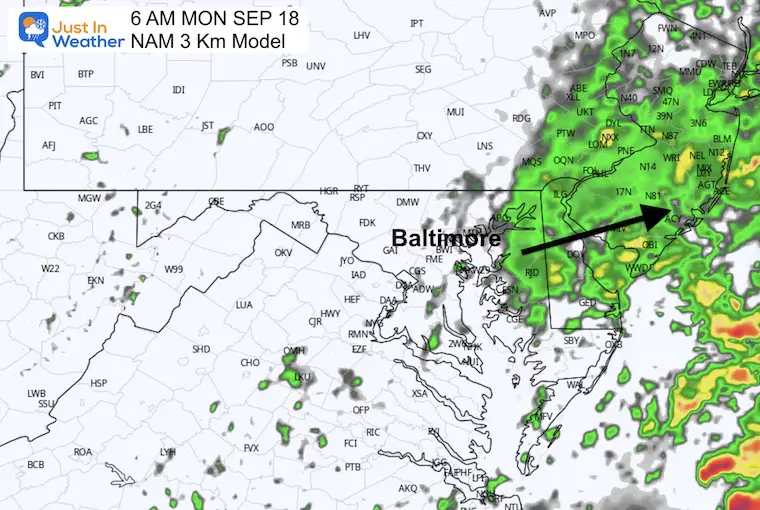 WRF Model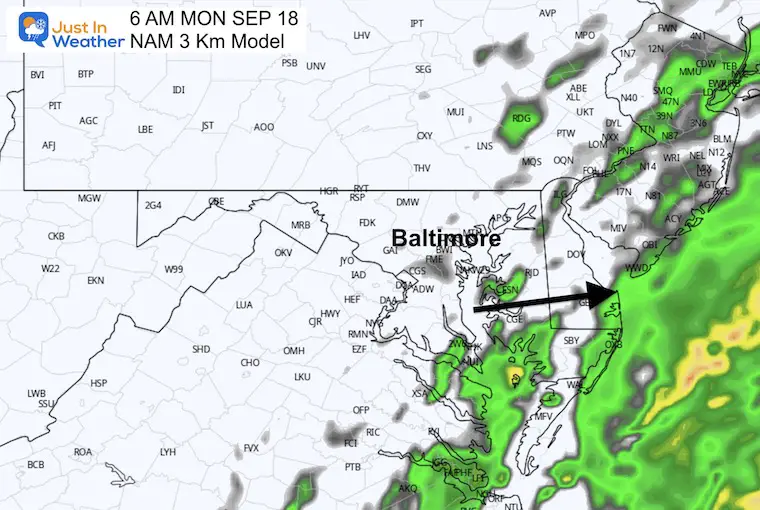 Temperature Forecast
Monday Morning
These numbers are seasonal as the final push of rain and clouds start to move out.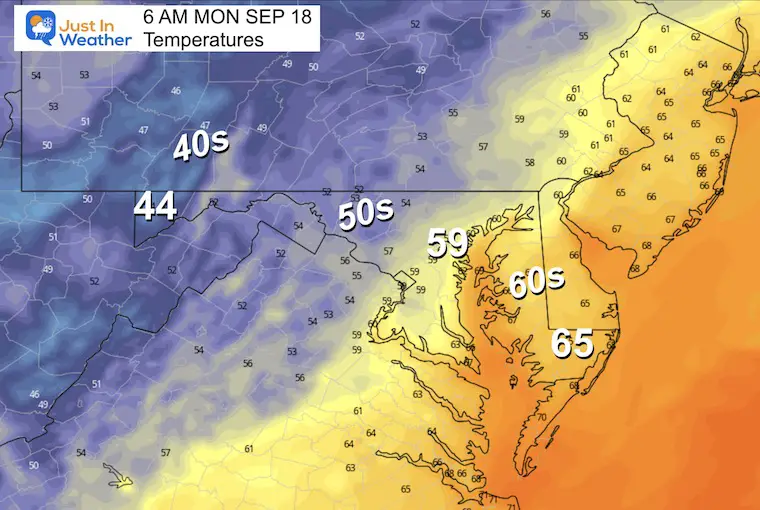 Monday Afternoon
We should have a mix of sun and clouds while temperatures remain slightly below average.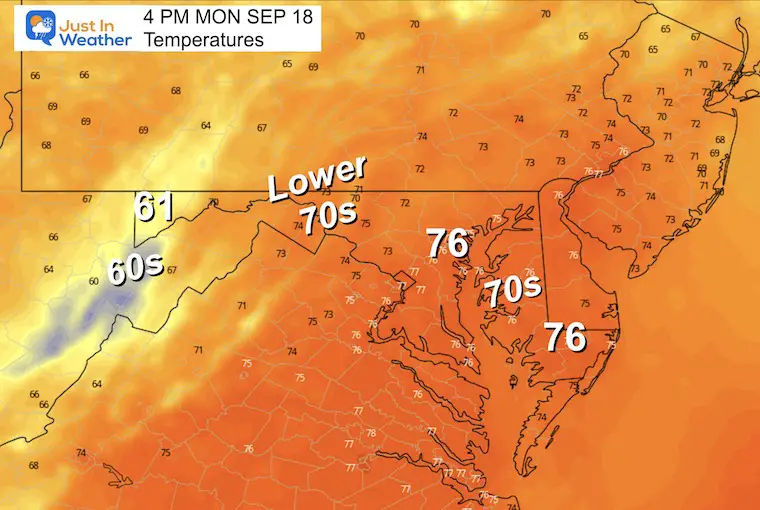 Looking Ahead
Jet Stream Snapshot Monday
The trough that swings through on Monday will reinforce the Fall Feel to the air. Mornings will be cool and afternoons will be dry and mild in the sun. Slight warming later in the week, but still within the margin of 'normal'.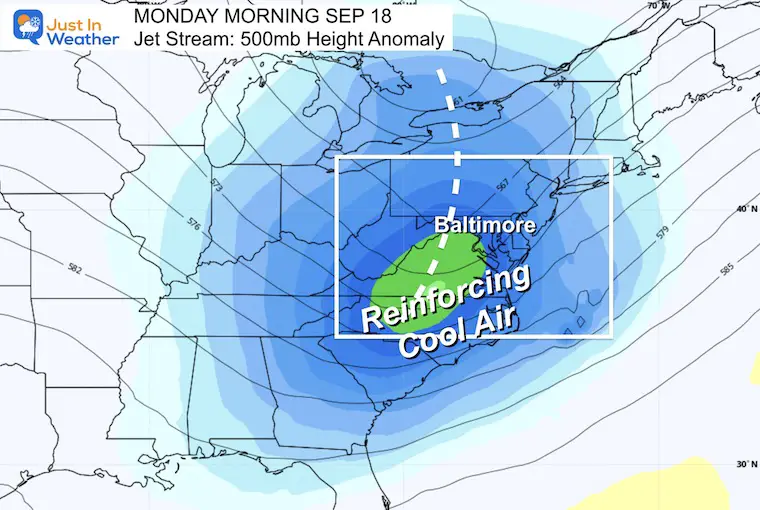 Animation Monday through Thursday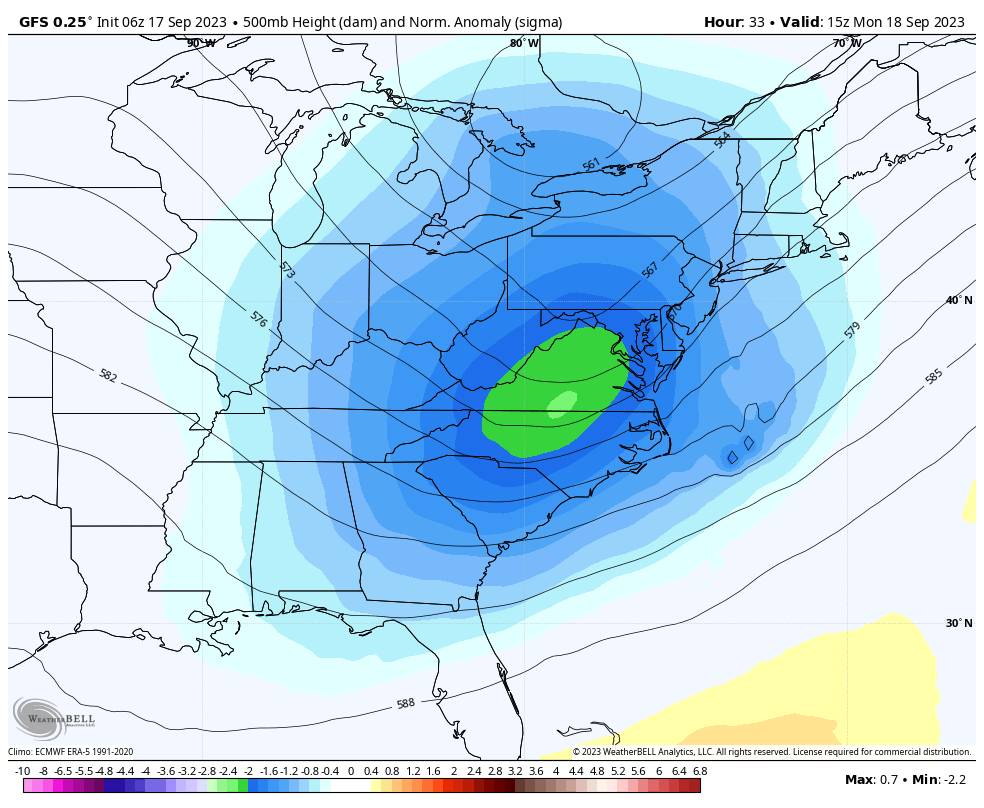 7 Day Forecast
The reinforcing cool air pattern will keep us near or slightly below average. A brief warmup later in the week and remaining mostly dry.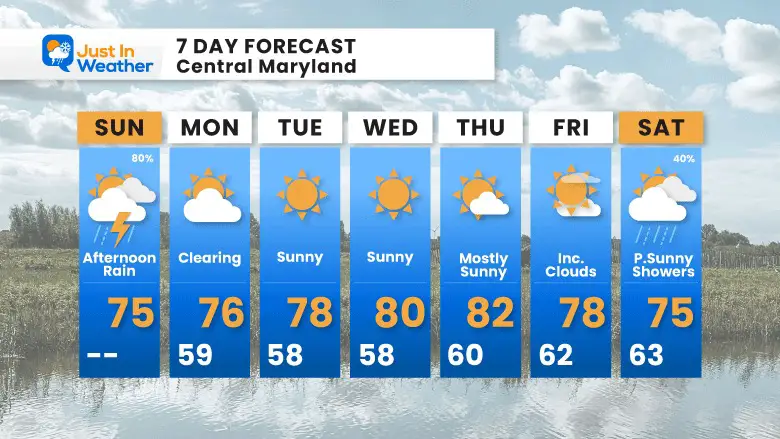 EXPLORE MORE
EARLIER IN AUGUST: Maryland Trek 10 For These Kids
I will have a follow-up and recap on our amazing week shortly.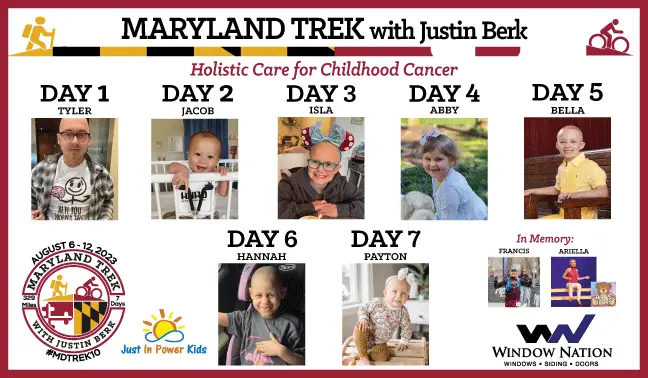 Subscribe for eMail Alerts
Weather posts straight to your inbox
Sign up and be the first to know!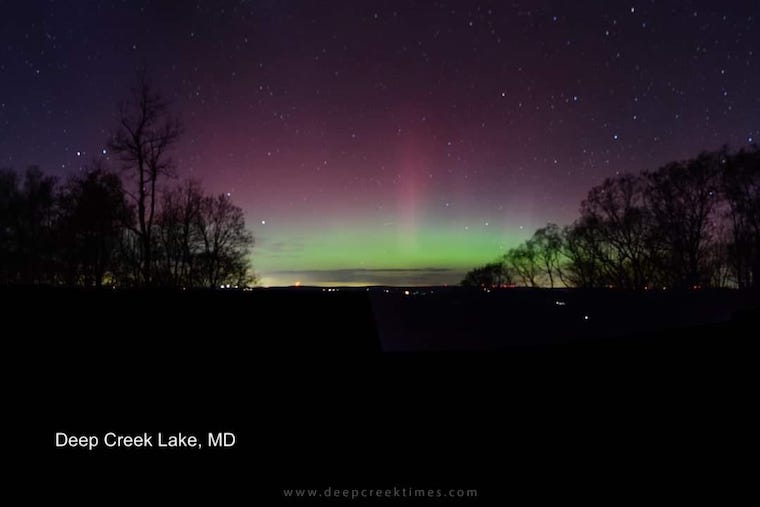 Please share your thoughts and best weather pics/videos, or just keep in touch via social media
RESTATING MY MESSAGE ABOUT DYSLEXIA
I am aware there are some spelling and grammar typos and occasional other glitches. I take responsibility for my mistakes and even the computer glitches I may miss. I have made a few public statements over the years, but if you are new here, you may have missed it: I have dyslexia and found out during my second year at Cornell University. It didn't stop me from getting my meteorology degree and being the first to get the AMS CBM in the Baltimore/Washington region. One of my professors told me that I had made it that far without knowing and to not let it be a crutch going forward. That was Mark Wysocki, and he was absolutely correct! I do miss my mistakes in my own proofreading. The autocorrect spell check on my computer sometimes does an injustice to make it worse. I also can make mistakes in forecasting. No one is perfect at predicting the future. All of the maps and information are accurate. The 'wordy' stuff can get sticky.  There has been no editor who can check my work when I need it and have it ready to send out in a newsworthy timeline. Barbara Werner is a member of the web team that helps me maintain this site. She has taken it upon herself to edit typos when she is available. That could be AFTER you read this. I accept this and perhaps proves what you read is really from me… It's part of my charm.
#FITF