September 13 Storm Reports Cooler Air Moving In And Pushing Hurricane Lee
storm recap
Maryland Weather
climate data
National Hurricane Center
Forecast
Justin Berk
Sep 13, 2023
6:36 am
0
September 13, 2023
Wednesday Morning Update
Strong storms overnight overachieved in central Maryland. The bulk of this event was in metro Baltimore and up to the Northeast, which was south of the posted Flood Watch. The heaviest rain did fall in Baltimore City with a storm that also prompted a tornado Warning overnight.
As a result, there was local flooding and many downed trees this morning, which has resulted in power outages as well.
First, we will recap this storm, then our local weather. It is this new cool air mass that will push Hurricane Lee off the coast, but it still may make landfall in Eastern Maine this weekend.
Doppler Radar Recap 10 PM Tue to 12:30 AM Wed
The heaviest storm was around midnight as expected in my last report.
This first view has higher resolution but may only cycle through once. You can refresh to repeat or see the loop below A glitch made that a little fuzzy.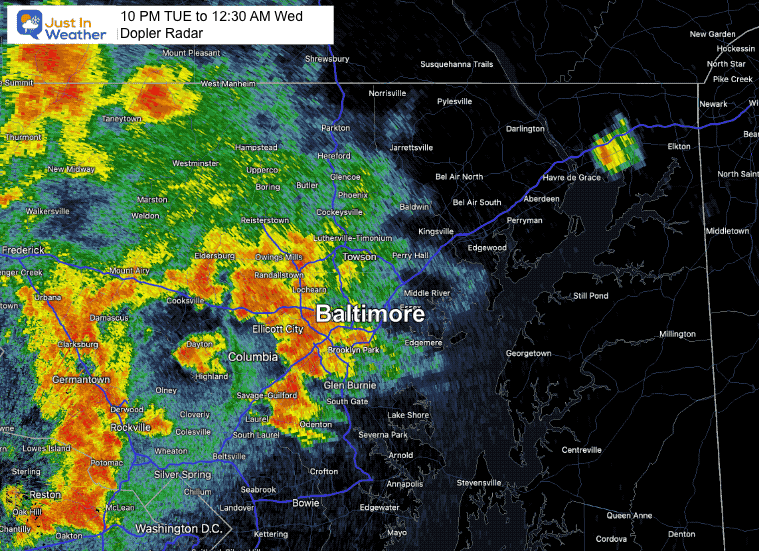 Doppler Radar Recap 10 PM Tue to 12:30 AM Wed
This is the same time frame looping but the glitch in my program made the resolution poor.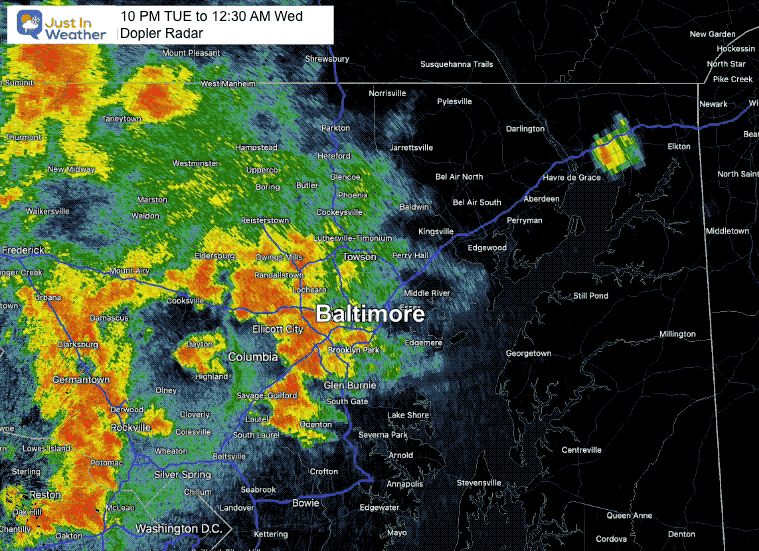 Doppler Radar Rainfall Estimate
Here we see a widespread of 1 to over 2.5 inches where the slow-moving storms tracked.
Baltimore City shows over 2.5 inches and up to 4 inches in some spots.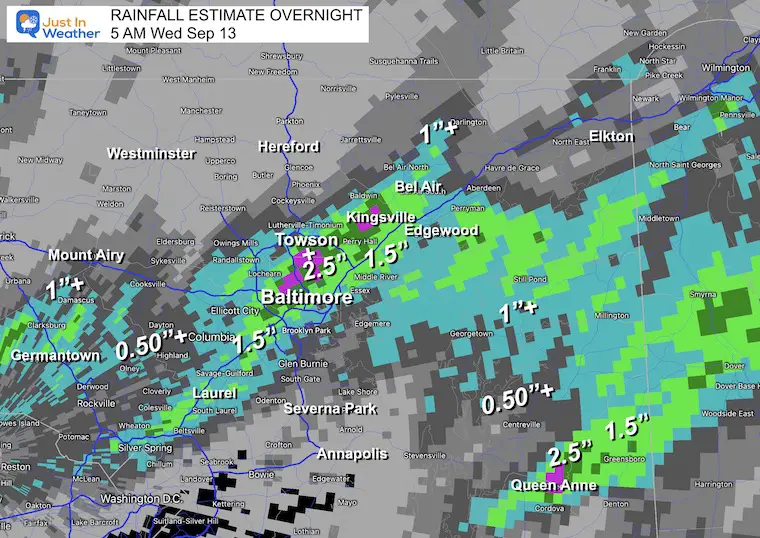 Storm Reports From NWS Spotters
Heavy Rain/Flooding and Wind Damage cluttered metro Baltimore.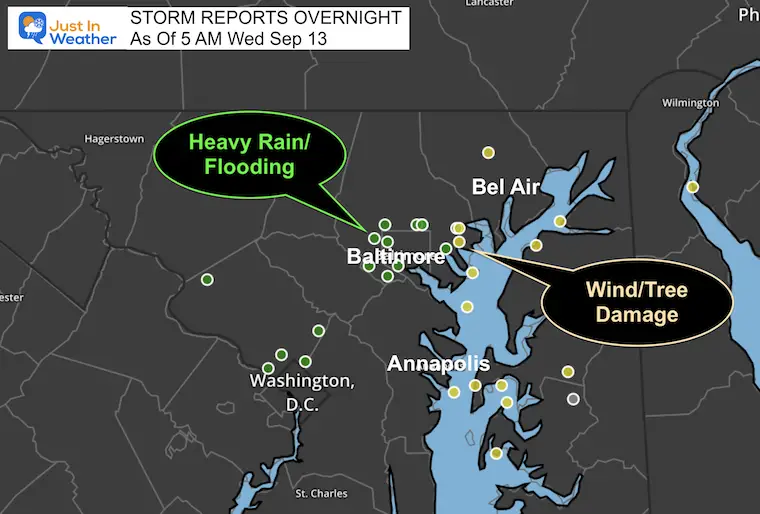 Morning Surface Weather
This front is finally moving the humidity and storms off the coast. Cooler air is flowing in, but we still may have a shower later today or this evening.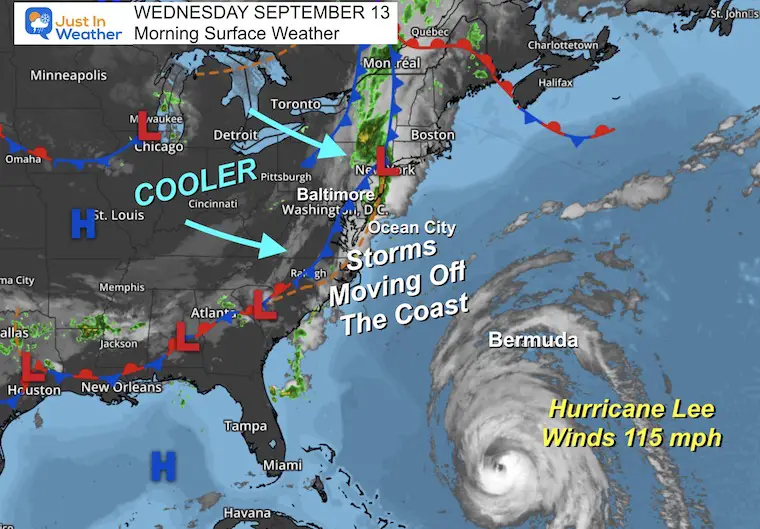 Live Radar and Lightning Widget
Afternoon Temperatures
This will be our last warm and humid afternoon for a while.
Radar Simulation Noon to 9 PM
If we get any showers they will more likely be this evening.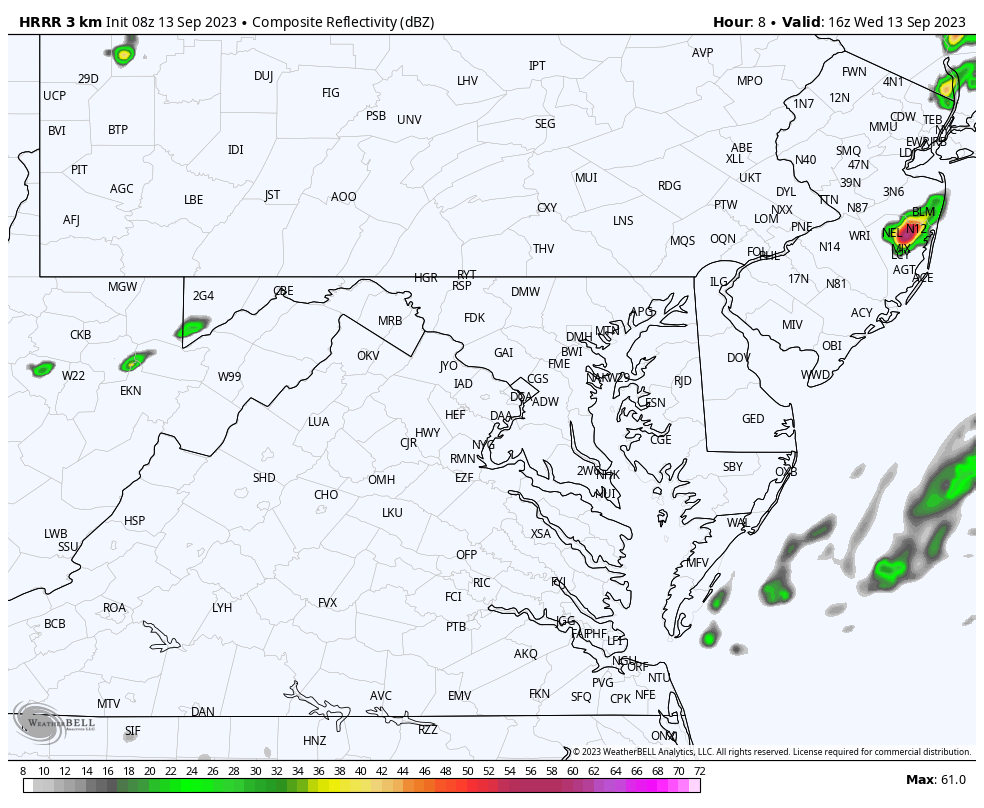 CLIMATE DATA: Baltimore
TODAY September 13
Sunrise at 6:46 AM
Sunset at 7:19 PM
Normal Low in Baltimore:  60ºF
Record 42ºF in 1958
Normal High in Baltimore: 81ºF
Record 97ºF 1952
Subscribe for eMail Alerts
Weather posts straight to your inbox
Sign up and be the first to know!
Temperature Forecast
Thursday Morning
Here comes the Autumn Chill!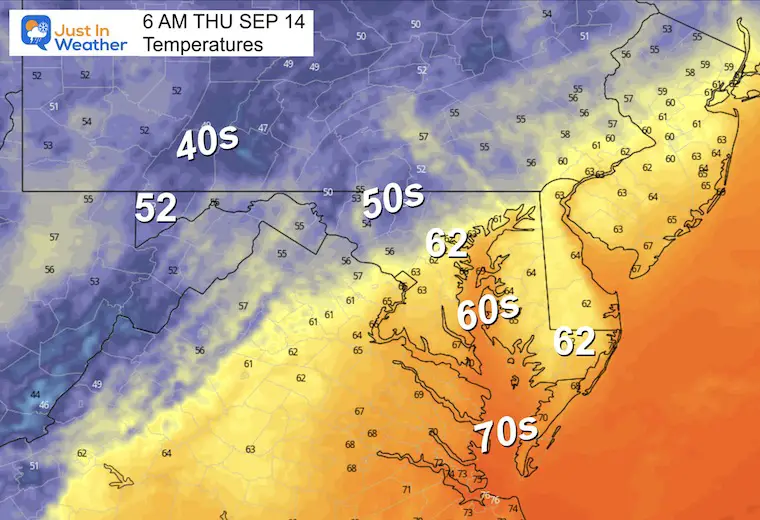 Thursday Afternoon
Starting to get into cooler air.
Jet Stream Forecast: Wednesday Morning To Sunday Night
This shows the influence of our cool air mass helping steer Hurricane Lee.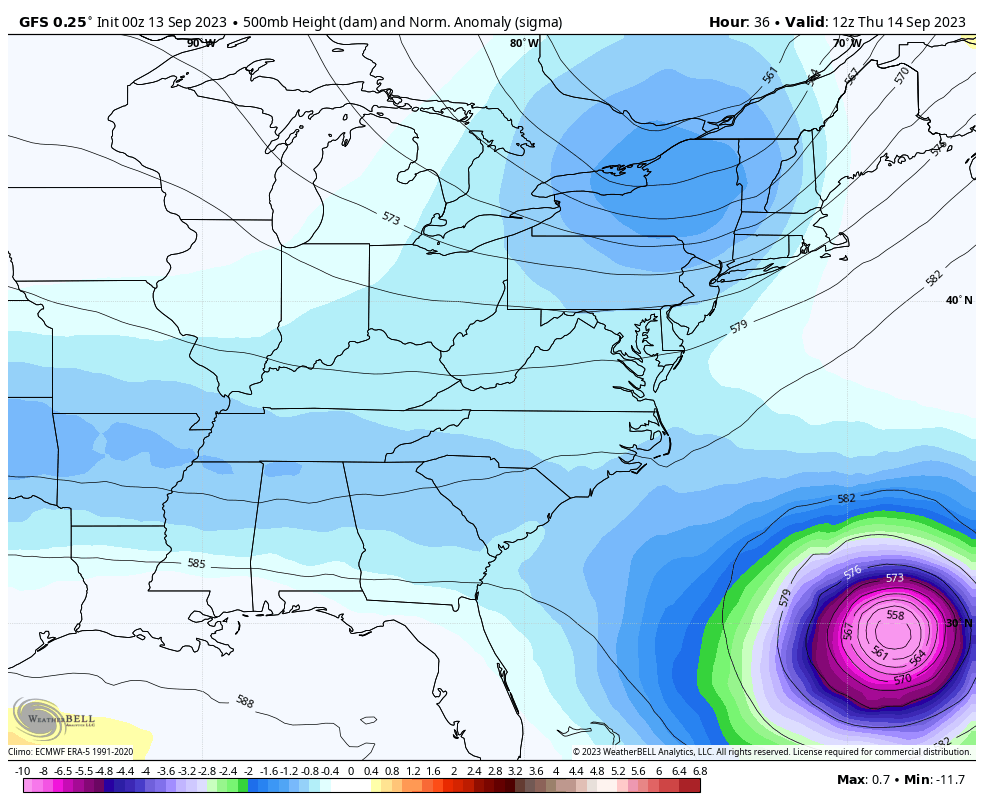 Snapshot Saturday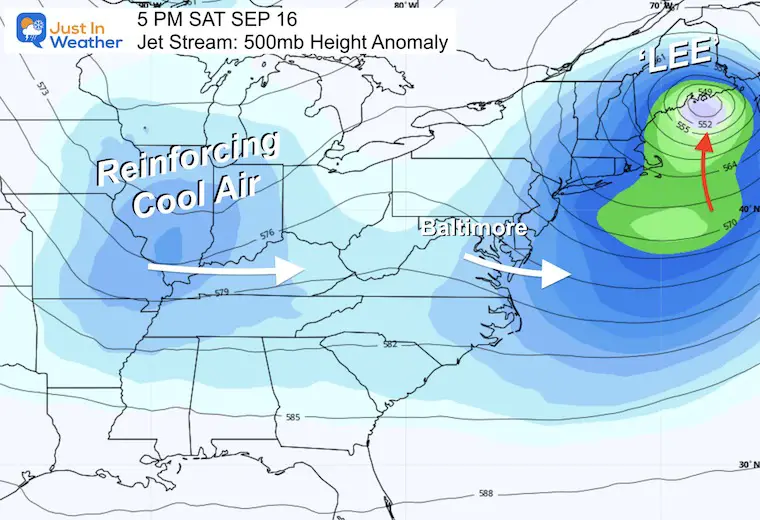 Snapshot Sunday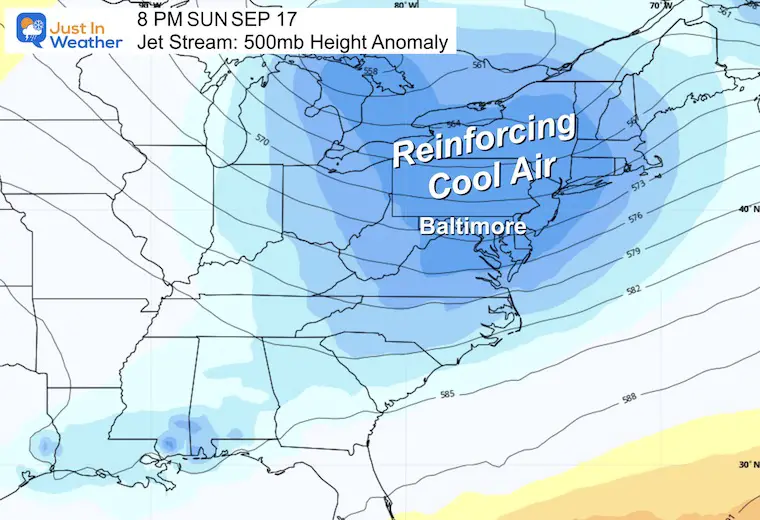 Hurricane Lee Satellite Loop
Holding at Category 3, Hurricane Lee has winds of 115 mph.  This is now showing signs of spreading out as it moves north, which will be followed by weakening.
Hurricane Force Winds reach 115 miles from the center.
Tropical Storm Force Winds reach 240 miles from the center.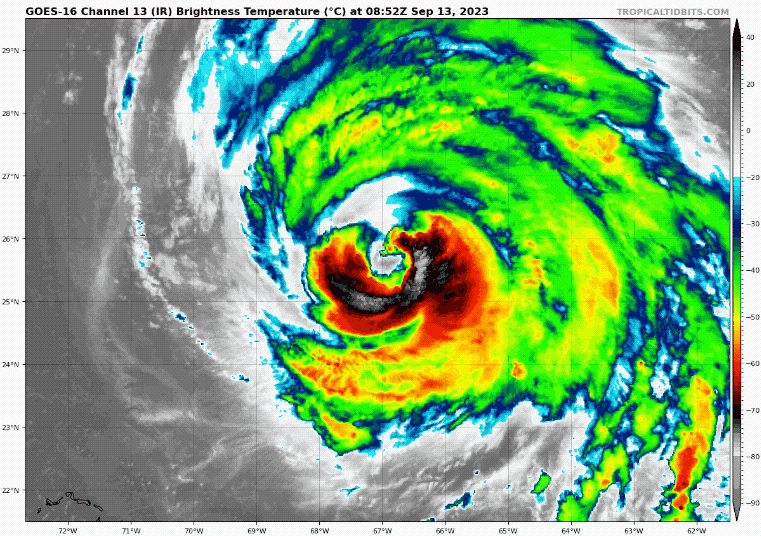 National Hurricane Center Advisory
5 AM Update
LOCATION…25.7N 67.1W
ABOUT 475 MI…765 KM SSW OF BERMUDA
MAXIMUM SUSTAINED WINDS…115 MPH…185 KM/H
PRESENT MOVEMENT…NW OR 325 DEGREES AT 6 MPH…9 KM/H
MINIMUM CENTRAL PRESSURE…948 MB…28.00 INCHES
A Tropical Storm Warning is in effect for Bermuda.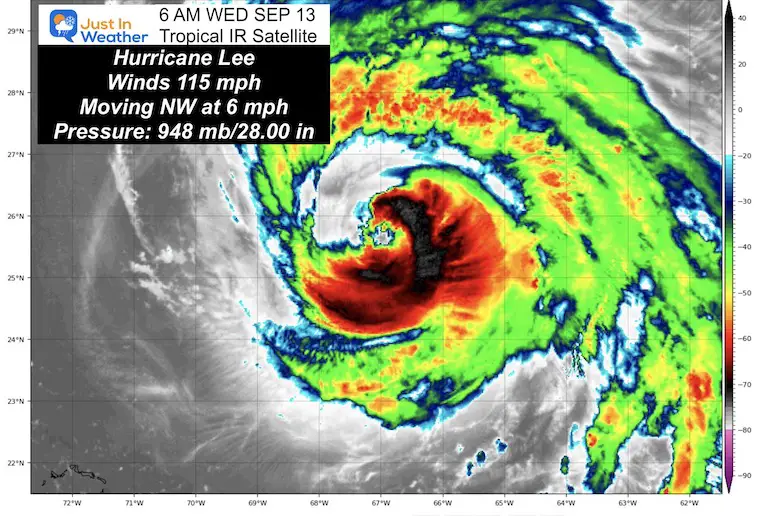 Forecast Track From The National Hurricane Center
We see the Major Hurricane Intensity holding for a few days… with a build back to Category 4. A close pass to Bermuda, still to the west.  It will weaken as it moves north.
I will have a detailed report this afternoon.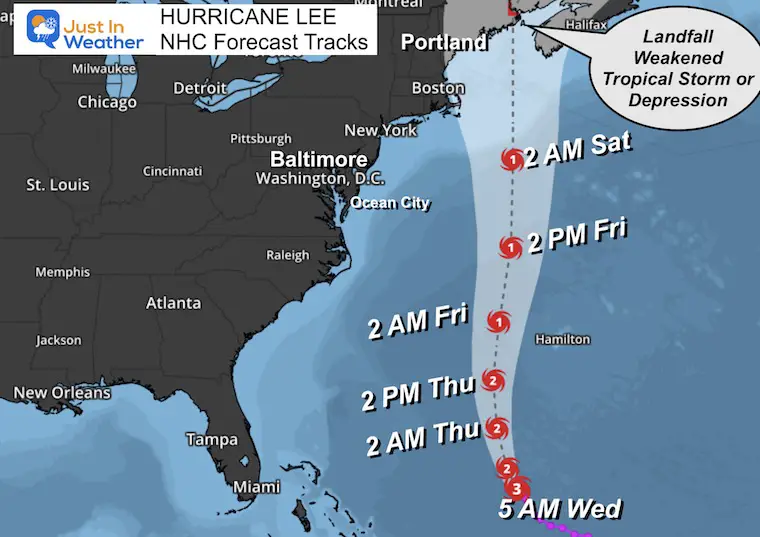 7 Day Forecast
This new cool air mass and reinforcement will keep us cool with a brief bump back to near or above average. The next 7 days look free of storms.
We may have higher winds on Friday indirectly connected to the air being pulled into Lee… Not Lee itself.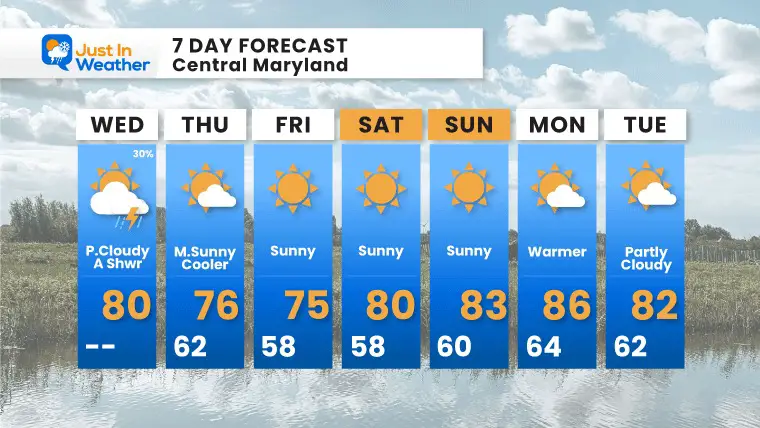 EXPLORE MORE
EARLIER IN AUGUST: Maryland Trek 10 For These Kids
I will have a follow-up and recap on our amazing week shortly.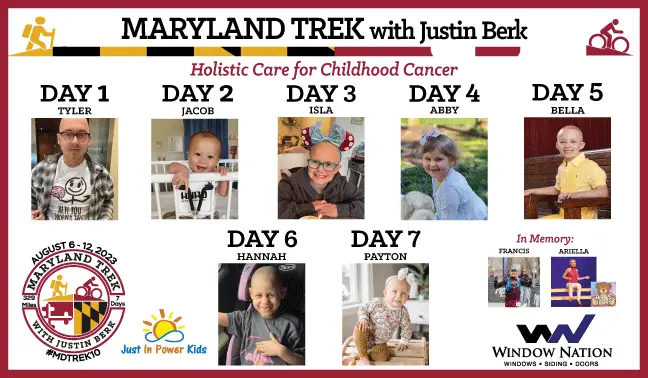 Subscribe for eMail Alerts
Weather posts straight to your inbox
Sign up and be the first to know!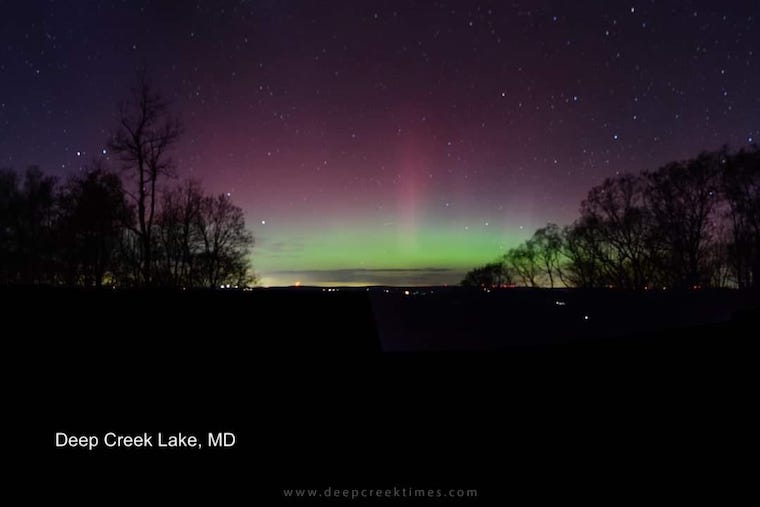 Please share your thoughts and best weather pics/videos, or just keep in touch via social media
RESTATING MY MESSAGE ABOUT DYSLEXIA
I am aware there are some spelling and grammar typos and occasional other glitches. I take responsibility for my mistakes and even the computer glitches I may miss. I have made a few public statements over the years, but if you are new here, you may have missed it: I have dyslexia and found out during my second year at Cornell University. It didn't stop me from getting my meteorology degree and being the first to get the AMS CBM in the Baltimore/Washington region. One of my professors told me that I had made it that far without knowing and to not let it be a crutch going forward. That was Mark Wysocki, and he was absolutely correct! I do miss my mistakes in my own proofreading. The autocorrect spell check on my computer sometimes does an injustice to make it worse. I also can make mistakes in forecasting. No one is perfect at predicting the future. All of the maps and information are accurate. The 'wordy' stuff can get sticky.  There has been no editor who can check my work when I need it and have it ready to send out in a newsworthy timeline. Barbara Werner is a member of the web team that helps me maintain this site. She has taken it upon herself to edit typos when she is available. That could be AFTER you read this. I accept this and perhaps proves what you read is really from me… It's part of my charm.
#FITF