Flood Watch Overnight For More Slow Moving Rain And Thunderstorms
Flooding
Maryland Weather
Forecast
Tropics
Warnings
Justin Berk
Sep 12, 2023
8:01 pm
0
Tuesday Night Update
One popular weather motto many of us meteorologists learn in school is 'the trend is your friend'. This is part of the premise for my Atmospheric Memory Theory that expands this further out in time.
If we consider the thunderstorms we had over the weekend, this final push of the cold front may close out this pattern in a similar way. A line of rain and thunderstorms is expected to develop tonight. This will move slowly or nearly stall around central Maryland and Southern Pennsylvania.
The main risk overnight is for heavy rain where storm cells may repeat over some areas for a few hours. As a result, some places may receive 1 to 3 inches of rainfall and result in flooding. This is what has prompted a Flood Watch for part of our region where the rain is plotted to be more potent.
Flood Watch
This has an expiration of varied times, but all Wednesday morning. This followed the progress of the line of rain and thunderstorms that will slowly move through overnight.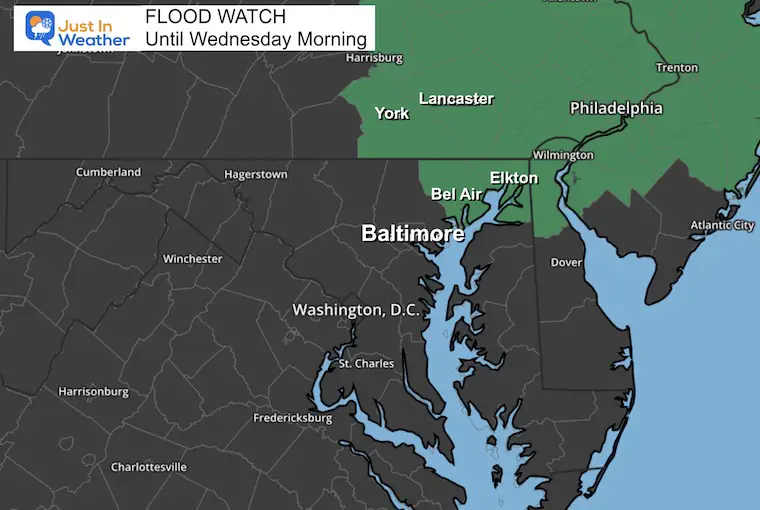 SEVERE WEATHER ALERTS Reminder:
A Watch may be issued for a broad area. This would be for higher POTENTIAL of severe storms. NOT A PROMISE
A Warning is issued for active storms in progress. These will be tracked for 45 minutes or so across counties and specific towns in the path.
Evening Weather Setup
The leftover warm and humid air is about to meet up with and get pushed out by this next cold front. A wave of Low Pressure along this front is the reason we expect there to be enhanced thunderstorms overnight. The model below reflects the Flood Watch region where the bulk of the storms are expected. However, watch the Live radar below and you may see more real activity compared to the underperforming model simulation.
Live Interactive Radar and Lightning
HRRR Model Simulation
I want to reinforce that short-range models have consistently underperformed all summer. So the forecast maps I show below are a suggestion. It is very possible there is more storm coverage into central Maryland than shown here.
Forecast Rainfall Total By Daybreak
The pulsing of storms is why this map looks speckled. The simulation loop below will show the bulk of the storm cluster from I-70 in Central Maryland to Southern PA.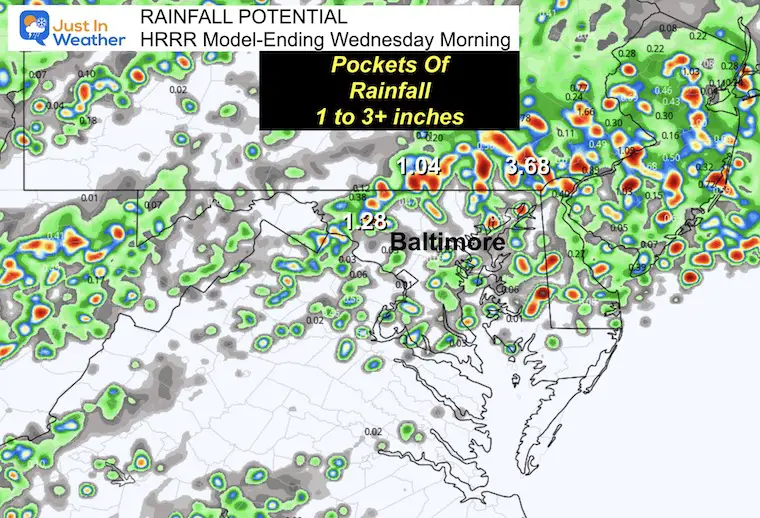 10 PM to 8 AM
This is still underperforming, but still a guide for the formation. I expect more than shown here.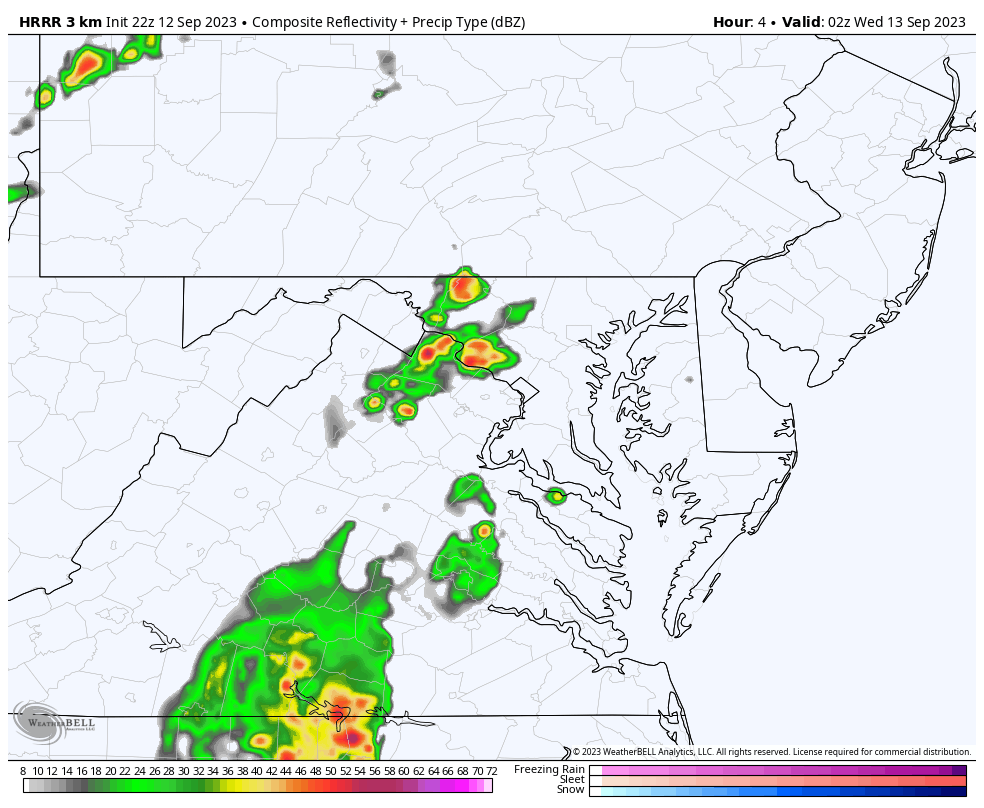 Atmospheric Memory: The trend over the weekend was slow-moving storms, with some training over the same areas. That is what led to some getting clobbered and others missing out. Here we see the line slow down over central Maryland with a focus of heavy storms for a few hours North and Northeast of Baltimore. This fits with the counties in the Watch shown above.
Snapshot at 10 PM
Suggestion for location and coverage may be an hour behind. This may compare better to the 9 PM radar.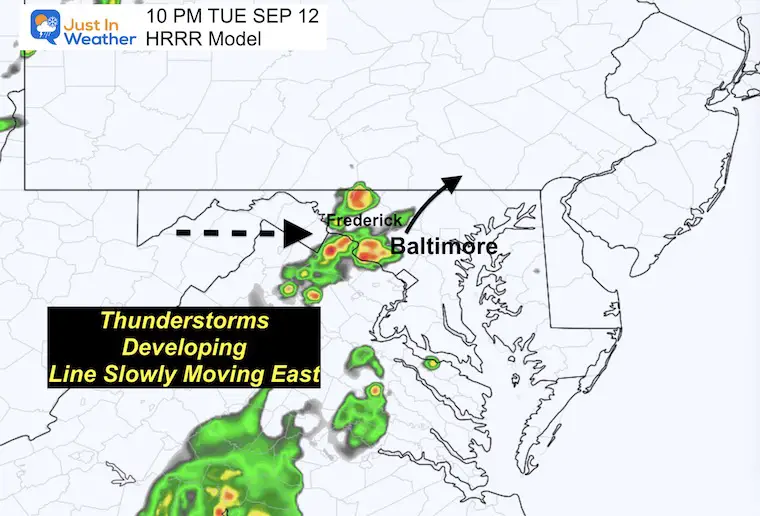 Snapshot at Midnight
Suggestion: This storm cluster will enhance and expand. This product may undersell what happens, but the bulk is still expected to be along I-70 in Maryland and northward.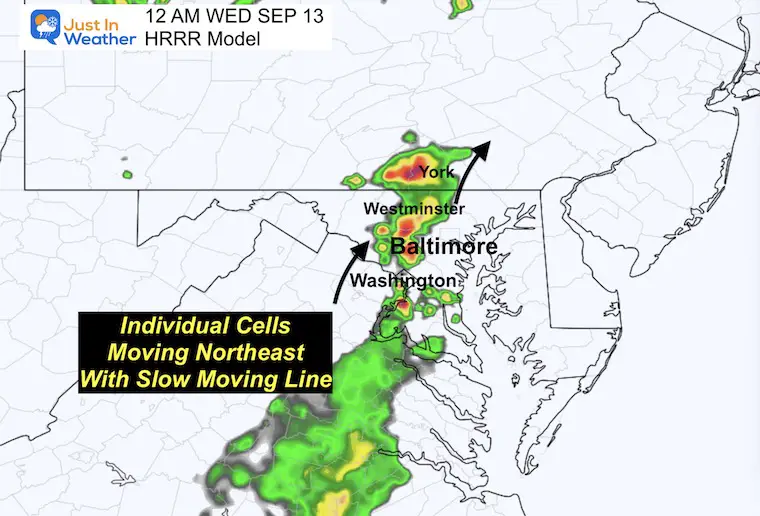 Snapshot at 1 AM
Suggestion: After midnight for an hour or two, thunder may be booming around metro Baltimore to York PA.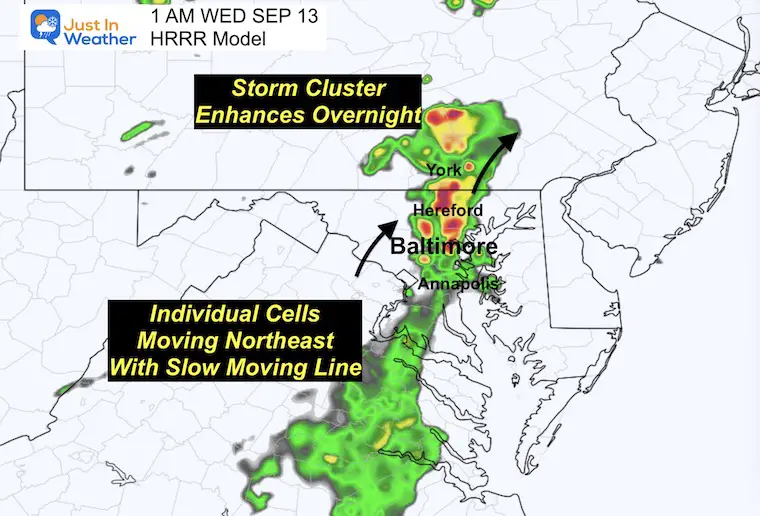 Snapshot at 2 AM
Suggestion:  The heaviest part of the storm may be passing through Harford and Cecil Counties in Maryland to Lancaster PA.
3 AM
Suggestion: This storm cell may truly blossom as it passes northern Delaware and metro Philadelphia.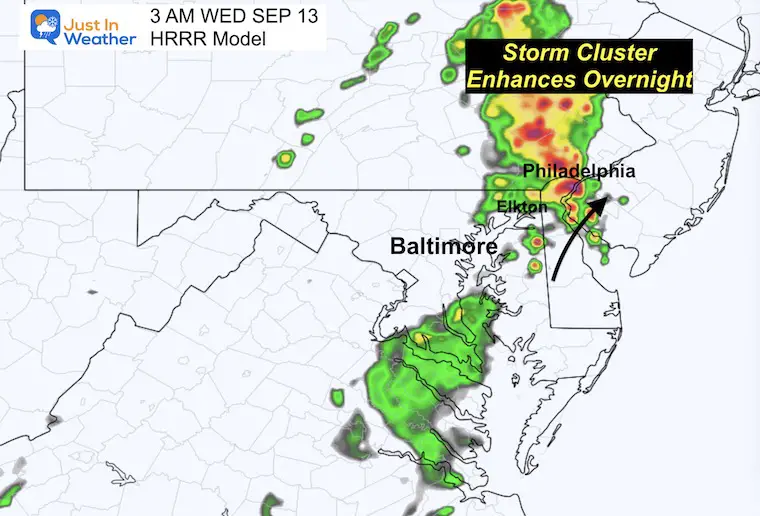 Looking Ahead
This is the front that will help keep Hurricane Lee well off the coast (for the Mid-Atlantic) and usher in a Fall Feel to the air for a few days.
GFS Model Surface Weather
Tonight Through Saturday Morning
We can see this line of rain move off the coast and watch Hurricane Lee on the right side keep true (Due North) to pass us.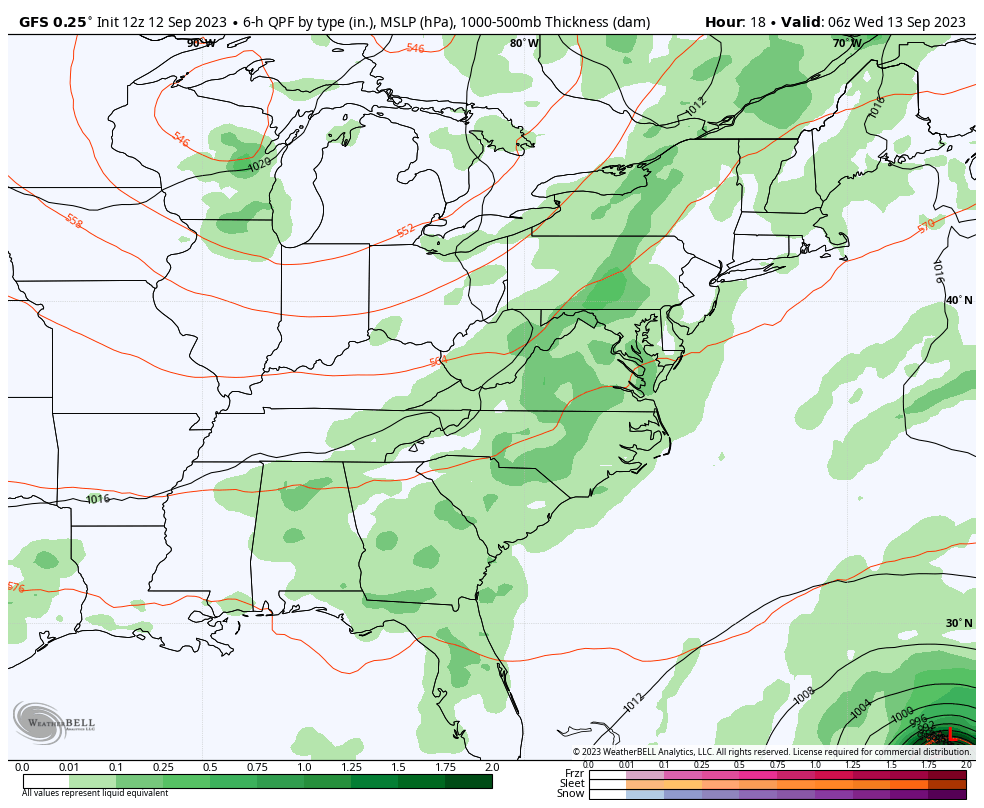 Jet Stream
Tonight Through Saturday Morning
As the trough swings through (blue) with a cooler air mass, the tight circulation of Hurricane Lee gets steered to the north and increases forward speed.
Snapshot Thursday Morning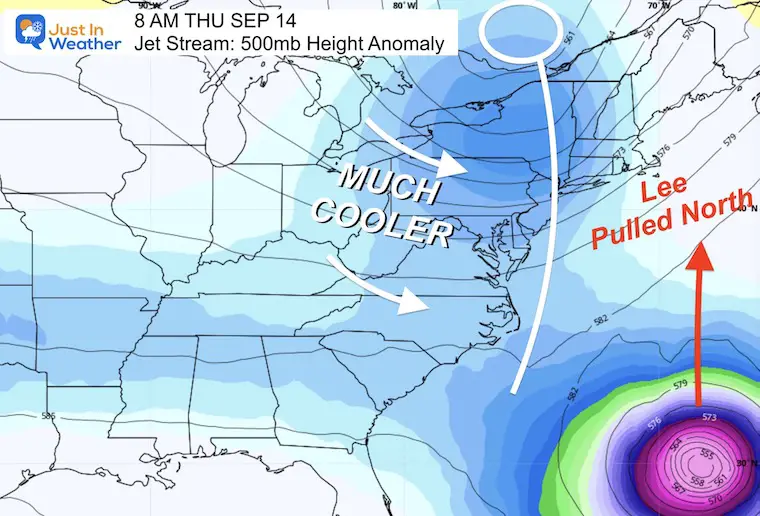 Temperatures Thursday Morning
Noticeably chilly air settles in with 40s in the mountains and 50s for most areas west of I-95. While the lower 60s hold in urban and Bay areas, even cooler temps will arrive Friday morning.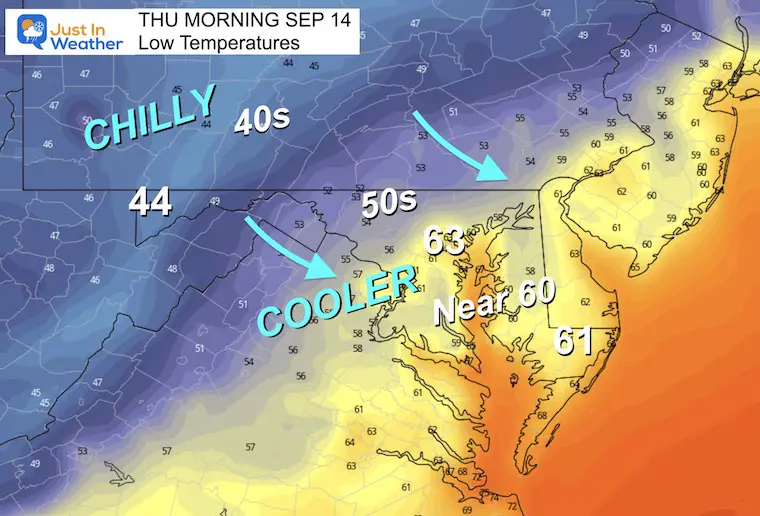 Looking Ahead
7 Day Forecast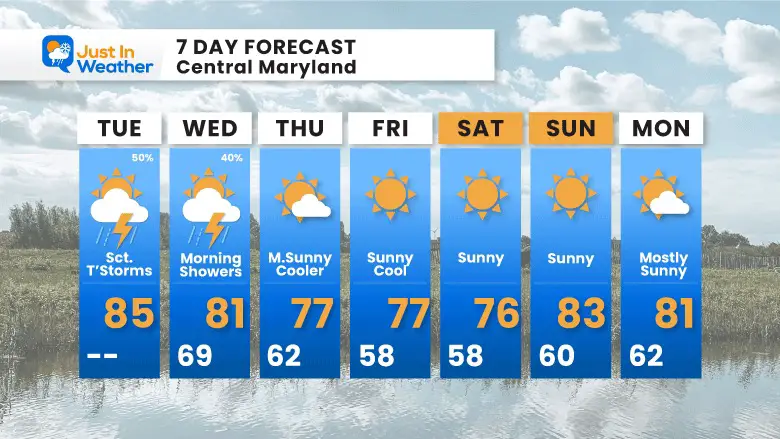 EXPLORE MORE
EARLIER IN AUGUST: Maryland Trek 10 For These Kids
I will have a follow-up and recap on our amazing week shortly.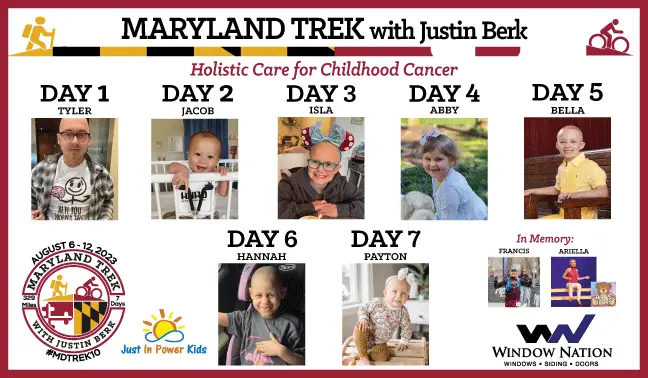 Subscribe for eMail Alerts
Weather posts straight to your inbox
Sign up and be the first to know!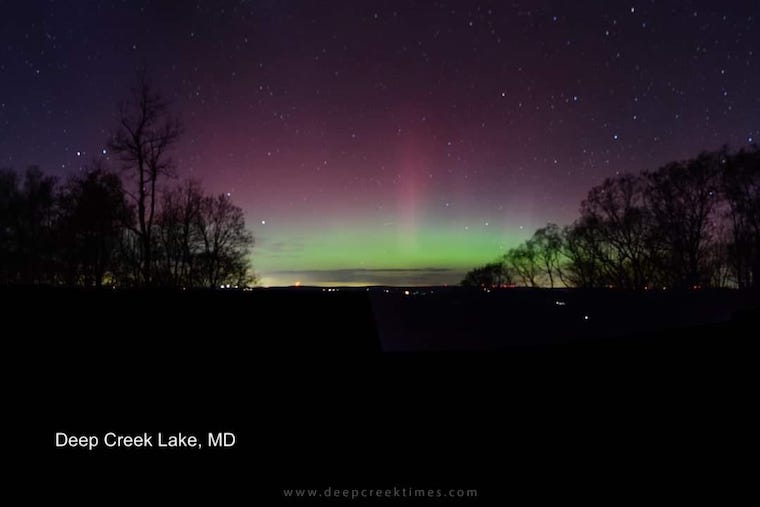 Please share your thoughts and best weather pics/videos, or just keep in touch via social media
RESTATING MY MESSAGE ABOUT DYSLEXIA
I am aware there are some spelling and grammar typos and occasional other glitches. I take responsibility for my mistakes and even the computer glitches I may miss. I have made a few public statements over the years, but if you are new here, you may have missed it: I have dyslexia and found out during my second year at Cornell University. It didn't stop me from getting my meteorology degree and being the first to get the AMS CBM in the Baltimore/Washington region. One of my professors told me that I had made it that far without knowing and to not let it be a crutch going forward. That was Mark Wysocki, and he was absolutely correct! I do miss my mistakes in my own proofreading. The autocorrect spell check on my computer sometimes does an injustice to make it worse. I also can make mistakes in forecasting. No one is perfect at predicting the future. All of the maps and information are accurate. The 'wordy' stuff can get sticky.  There has been no editor who can check my work when I need it and have it ready to send out in a newsworthy timeline. Barbara Werner is a member of the web team that helps me maintain this site. She has taken it upon herself to edit typos when she is available. That could be AFTER you read this. I accept this and perhaps proves what you read is really from me… It's part of my charm.
#FITF