Hurricane Lee Down To Cat 2 Speeding Up North And Impact On Mid Atlantic to New England
Flooding
beaches
National Hurricane Center
Tropics
Warnings
Justin Berk
Sep 13, 2023
9:17 pm
0
September 13 Wednesday Night Update
Hurricane Lee has weakened to a Category 2 storm with winds of 105 mph. This has been expected in addition with the increase in forward speed. It will pass to the west of Bermuda. A Tropical Storm Warning is in place for the island where conditions will be felt Thursday morning.
Additional Watches have been issued for New England as described below.
The risk to our Mid-Atlantic region of the US coast is for gusty winds on Friday in addition to rip currents and coastal flooding.
In this report, I have added closer forecast model maps to track Lee to possible landfall, plus the wind and wave impact for both the Mid-Atlantic and New England.
Eastern US Satellite
The cold front that brought severe storms overnight, has moved off the coast. This is what will help steer Lee away from the Mid-Atlantic and increase the forward speed to the north.
Atmospheric Memory: This is in the region where both Franklin and Idalia have crossed. A lot of upwelling has cooled the water in this part of the Atlantic. It may also be a favorable region for storm formation in the next season.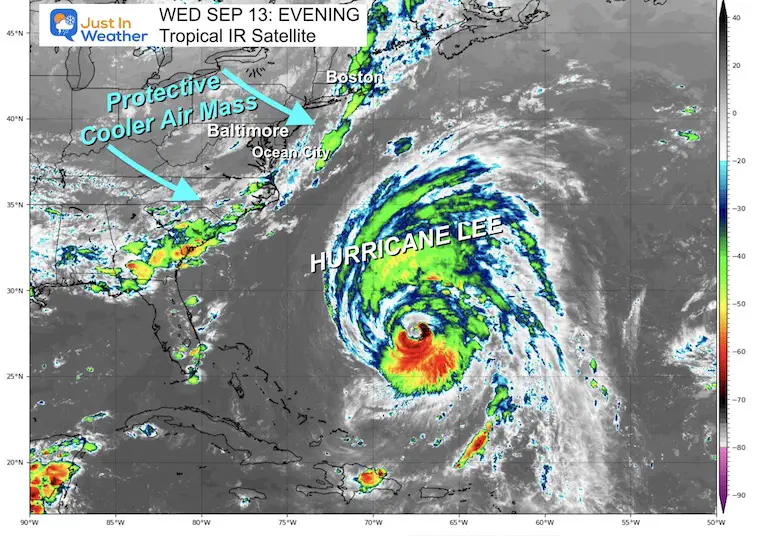 Hurricane Lee Satellite Loop
As we discussed in earlier reports, a northward moving tropical system will get weaker AND expand out farther:
Hurricane Force Winds reach 115 miles from the center.
Tropical Storm Force Winds reach 265 miles from the center.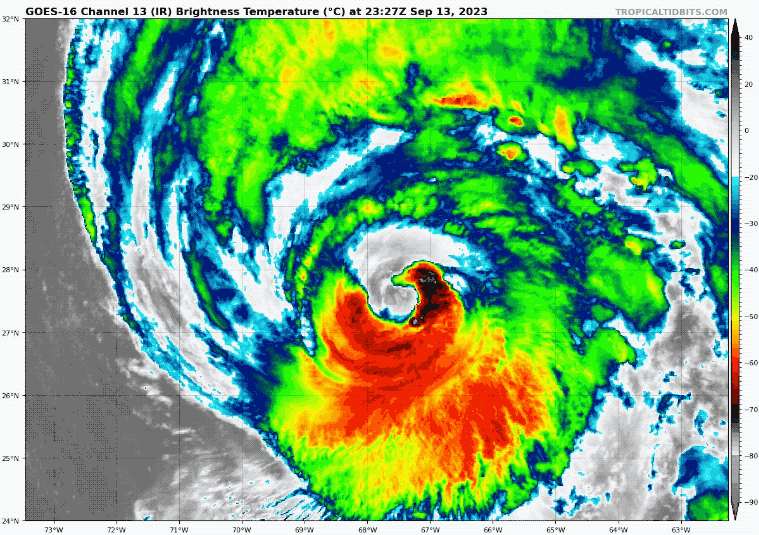 5 PM update From The National Hurricane Center
LOCATION…27.6N 67.7W
ABOUT 370 MI…595 KM SSW OF BERMUDA
ABOUT 950 MI…1530 KM S OF NANTUCKET MASSACHUSETTS
MAXIMUM SUSTAINED WINDS…105 MPH…165 KM/H
PRESENT MOVEMENT…NNW OR 340 DEGREES AT 9 MPH…15 KM/H
MINIMUM CENTRAL PRESSURE…951 MB…28.08 INCHES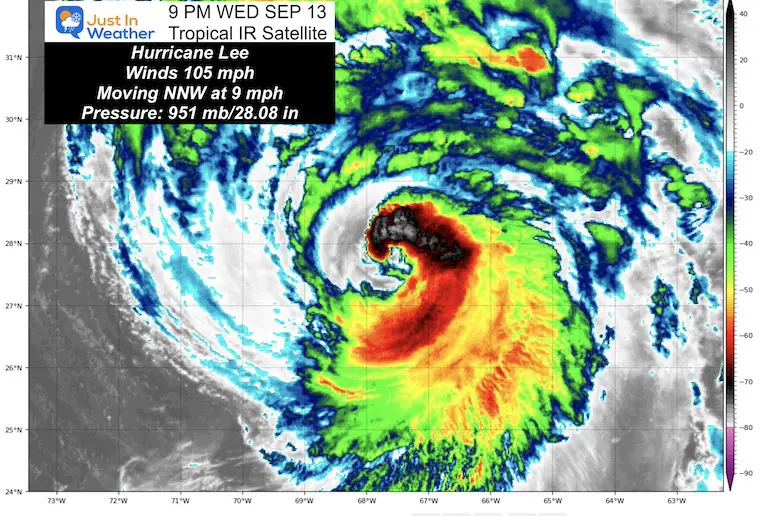 Forecast Tracks: National Hurricane Center
This shows the path and category strength as a Category 1 as it passes EAST of Boston. The possible landfall may be between the US and Canadian border and it could be down to a Tropical Storm at that time. It is important to note that the STRONGER SIDE is on the East of the center, so Nova Scotia will bear the brunt worse than Maine.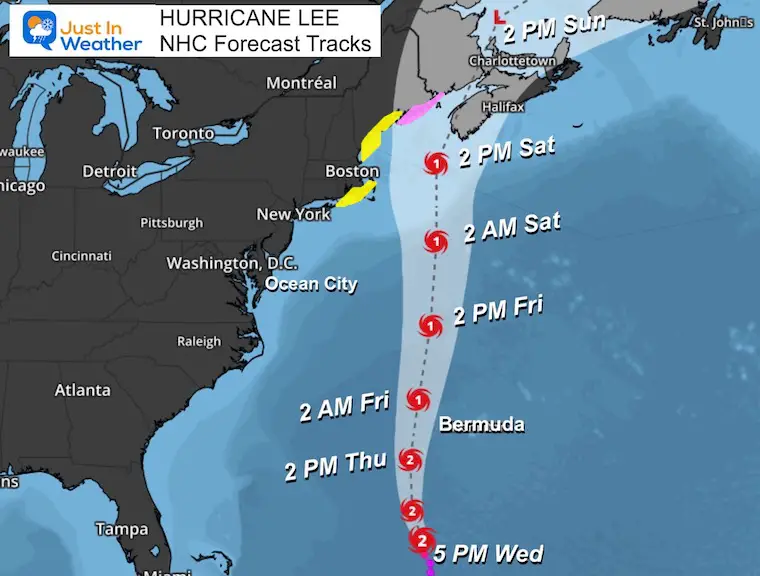 SUMMARY OF WATCHES AND WARNINGS IN EFFECT:
A Hurricane Watch is in effect for…
* Stonington, ME to the U.S./Canada border
A Tropical Storm Warning is in effect for…
* Bermuda
A Tropical Storm Watch is in effect for…
* Watch Hill, RI to Stonington, ME
* Block Island
* Martha's Vineyard
* Nantucket
A Storm Surge Watch is in effect for…
* Cape Cod Bay
* Nantucket
Wind (Tropical Storm Intensity) Arrival Times
This goes under the file of Inappropriate Weather Maps.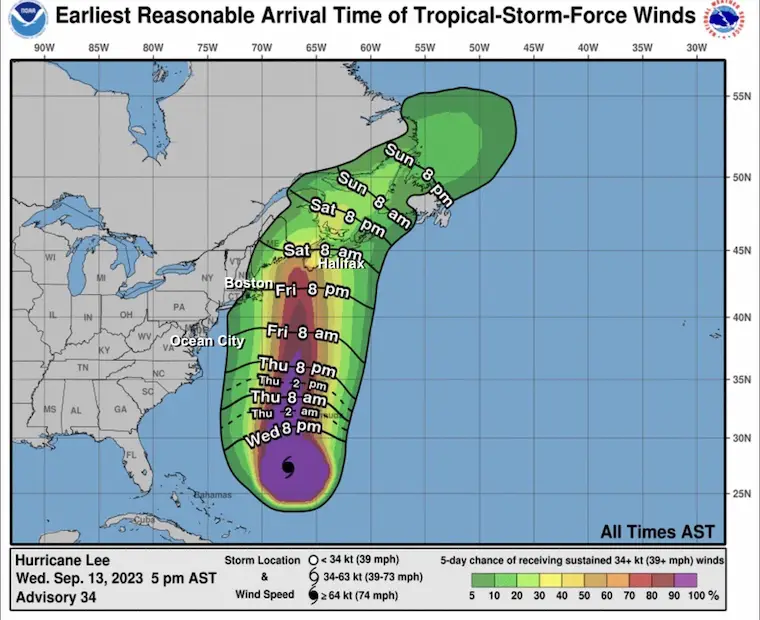 HAFS Parent Model Forecast
8 AM Thursday to 8 AM Sunday
This is the 126 Hour Forecast showing the landfall later on Saturday and the final turn through Eastern Canada.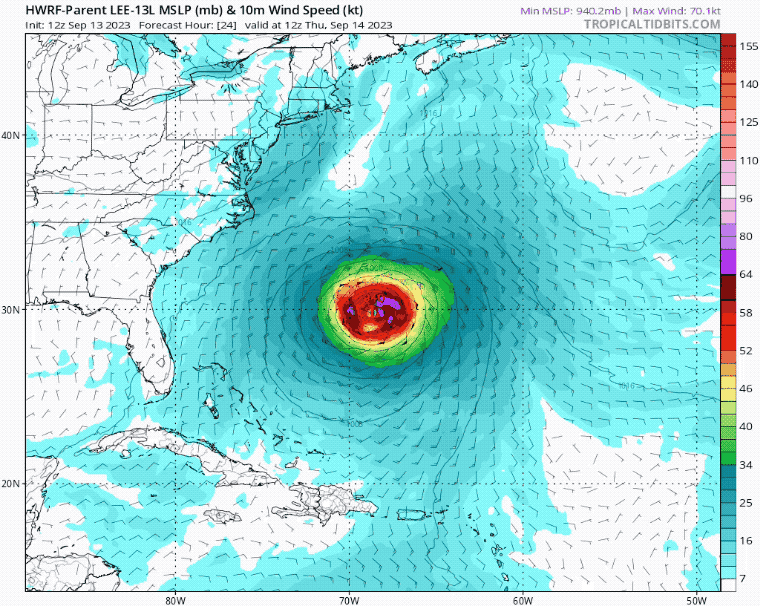 Comparing The GFS and European Models
I've put these plots side by side to show that both models are almost identical with the forecast plots this weekend.
Saturday Afternoon

Sunday Night

Forecast Animation
ECMWF Model Friday Night to Sunday Night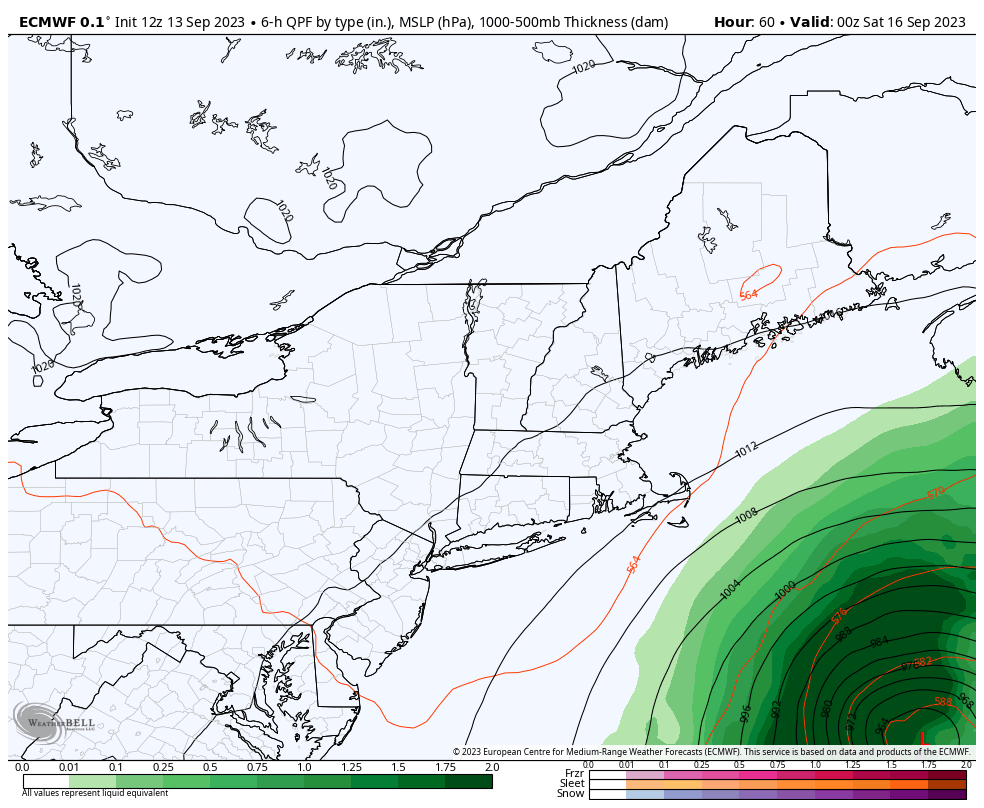 WIND FORECAST
ECMWF Model
Friday Afternoon to Sunday Morning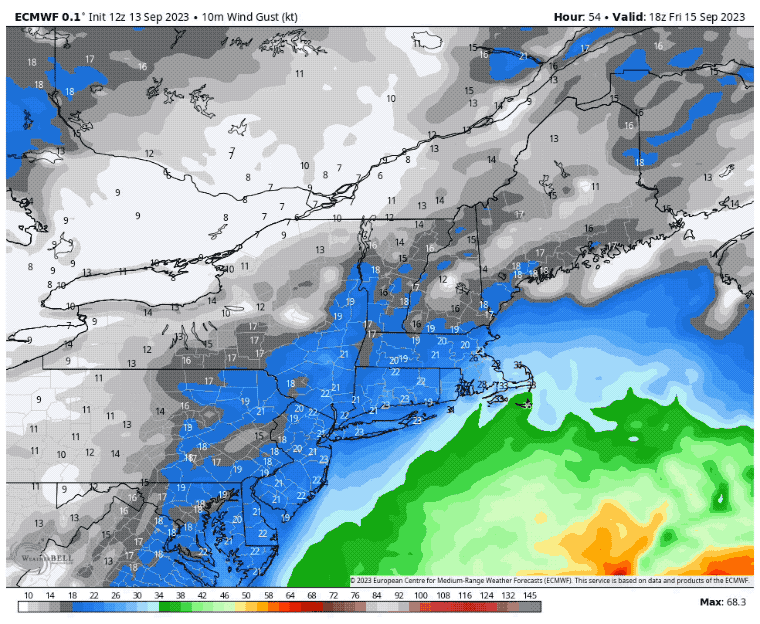 Mid Atlantic Impact
Friday Afternoon
Most of our region, even inland may experience winds over 20 mph. There may be some wind restrictions on area bridges.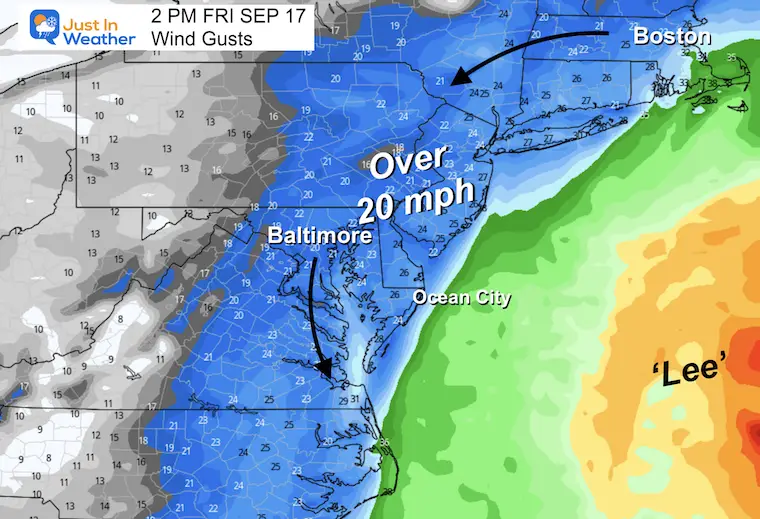 New England Impact
Saturday Afternoon
Much of this region, even in the mountains will have gusts over 20 mph.
Eastern areas will be over 30 mph, with over 40 mph by the coast of Cape Cod to Maine. We may also see winds over 80 mph on top of Mount Washington in New Hampshire (over 6,000 Ft elevation).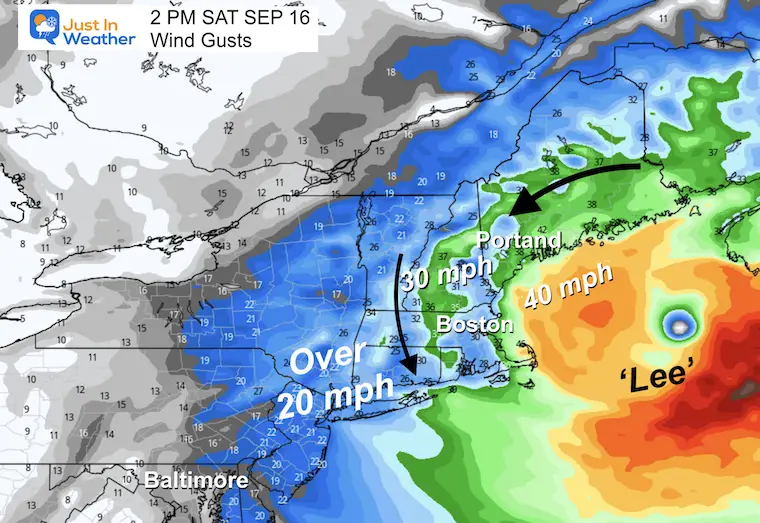 Wave Watch III Model Forecast
Friday Afternoon to Sunday Morning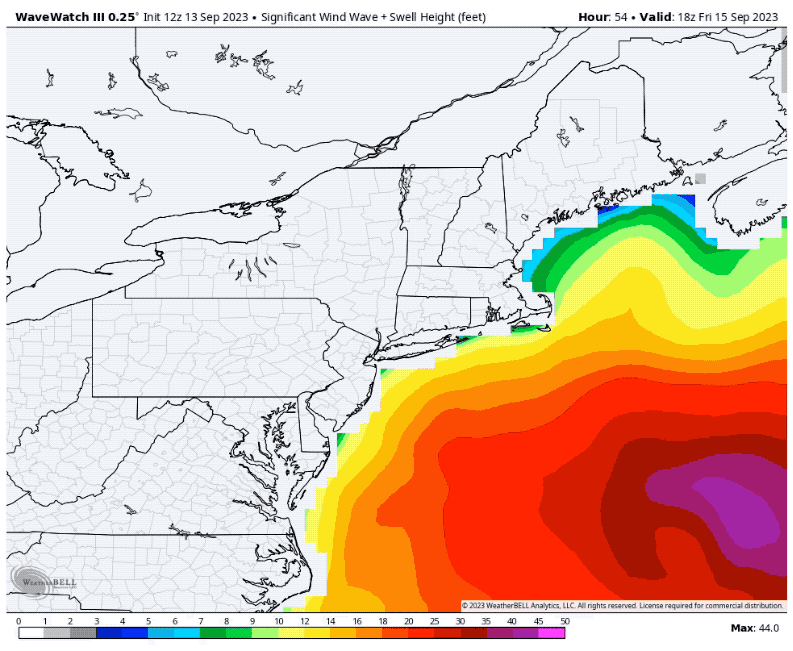 Friday Afternoon
This will be the closest pass to the Mid-Atlantic. Hurricane Lee should be down to Category 1 at this time and at least 500 miles or more off the coast.
Peak waves may be 8 to 12 Feet high, with concern about tidal flooding.
If you live by the water, pay attention to high tide. There may be advisories for Coastal Flooding on the Atlantic and maybe the Chesapeake Bay.
I will post key location tides in my report tomorrow.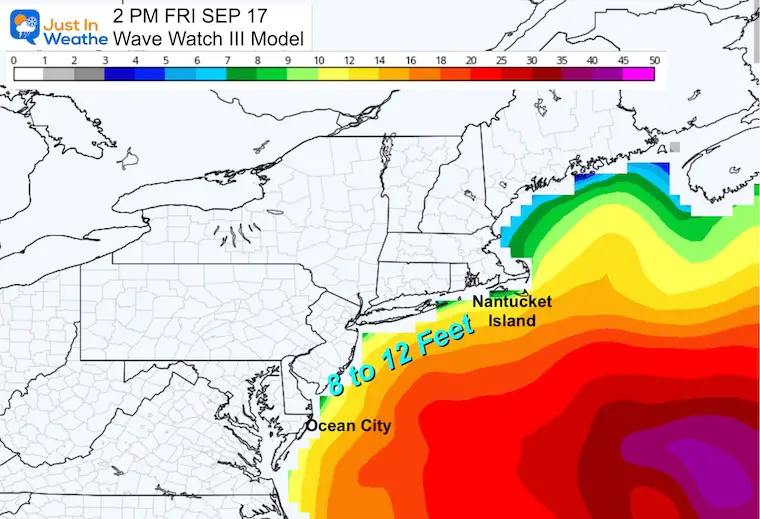 Saturday Morning
The closest pass of Lee either as a Category 1 Hurricane or Tropical Storm will produce the highest waves in the Gulf of Maine. They may see 14 to 20-foot waves.
New Jersey to Long Island (New York), Rhode Island, and the south side of Cape Code waves may still be 8 to 10 Feet high.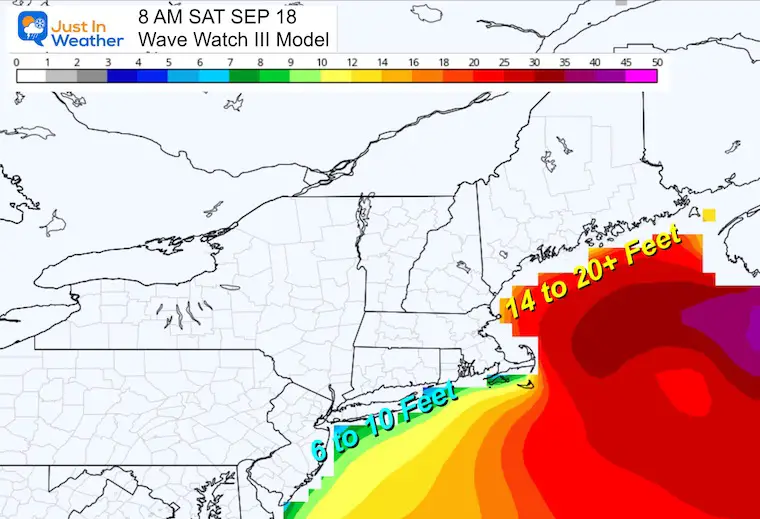 EXPLORE MORE
EARLIER IN AUGUST: Maryland Trek 10 For These Kids
I will have a follow-up and recap on our amazing week shortly.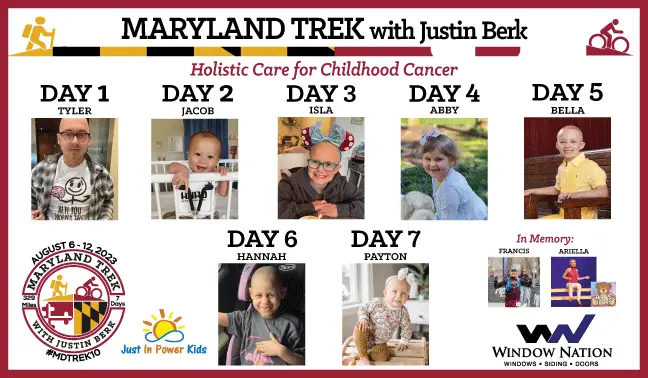 Subscribe for eMail Alerts
Weather posts straight to your inbox
Sign up and be the first to know!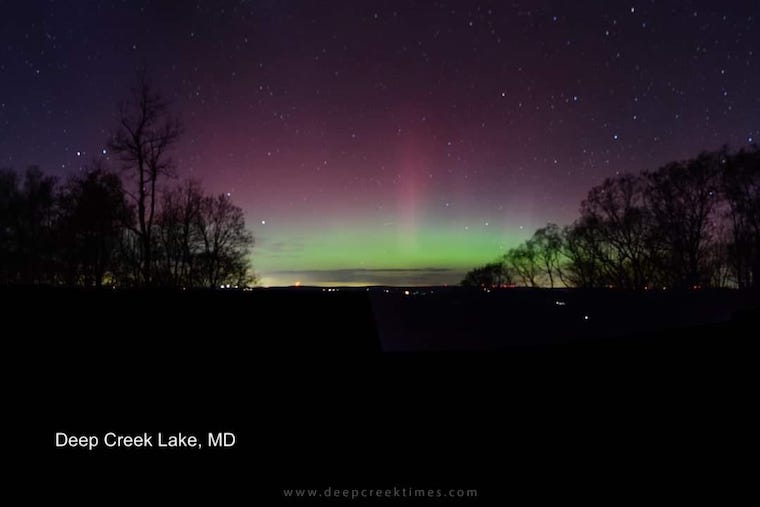 Please share your thoughts and best weather pics/videos, or just keep in touch via social media
RESTATING MY MESSAGE ABOUT DYSLEXIA
I am aware there are some spelling and grammar typos and occasional other glitches. I take responsibility for my mistakes and even the computer glitches I may miss. I have made a few public statements over the years, but if you are new here, you may have missed it: I have dyslexia and found out during my second year at Cornell University. It didn't stop me from getting my meteorology degree and being the first to get the AMS CBM in the Baltimore/Washington region. One of my professors told me that I had made it that far without knowing and to not let it be a crutch going forward. That was Mark Wysocki, and he was absolutely correct! I do miss my mistakes in my own proofreading. The autocorrect spell check on my computer sometimes does an injustice to make it worse. I also can make mistakes in forecasting. No one is perfect at predicting the future. All of the maps and information are accurate. The 'wordy' stuff can get sticky.  There has been no editor who can check my work when I need it and have it ready to send out in a newsworthy timeline. Barbara Werner is a member of the web team that helps me maintain this site. She has taken it upon herself to edit typos when she is available. That could be AFTER you read this. I accept this and perhaps proves what you read is really from me… It's part of my charm.
#FITF