March 14 Snow Showers And Wind Advisory On Edge Of Noreaster
Coastal Storm
climate data
Winter Weather
wind
Warnings
Justin Berk
Mar 14, 2023
6:33 am
0
March 14, 2023
Tuesday Morning
Happy Pi Day! Today is 3/14 and to celebrate we get a piece of the Nor'easter pie.  The snow showers that we were expecting have materialized. As of 6 AM, a moderate snow was falling over parts of Carroll and Baltimore Counties in Maryland. A coating is possible in some spots. The flurries have extended much farther with strong winds and cold air. Yes, it feels like winter!
Doppler Radar Loop
5 AM to 6 AM
Notice the pulse of moderate snow over Carroll County, MD.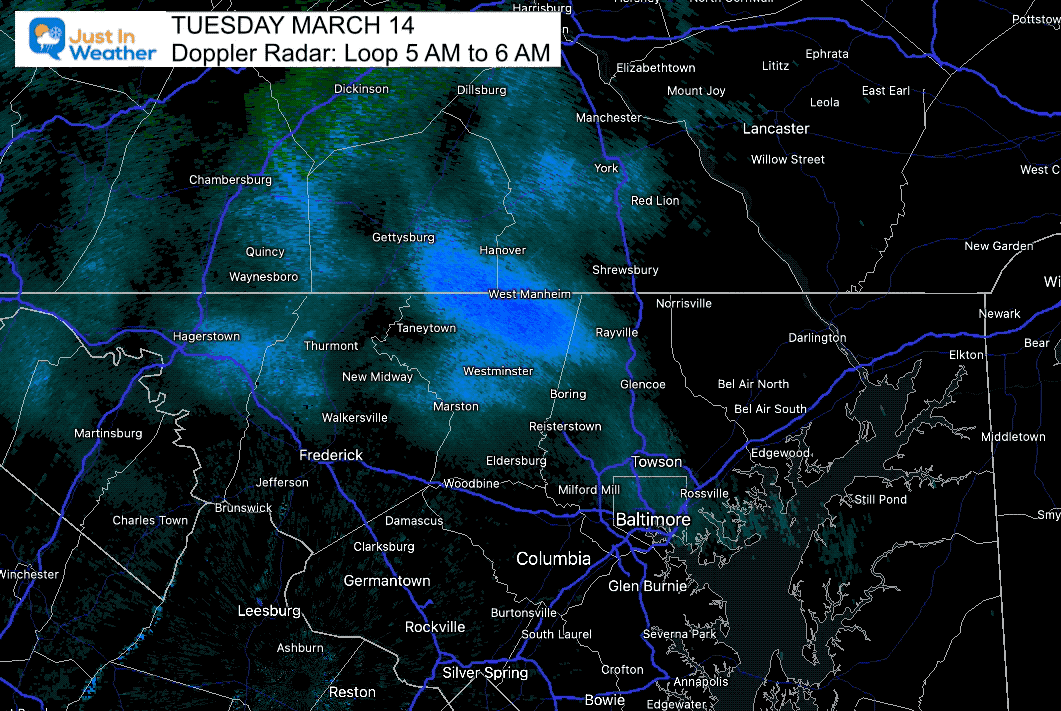 Doppler Radar Snapshot at 6 AM
There may be a coating in some places, but this is localized.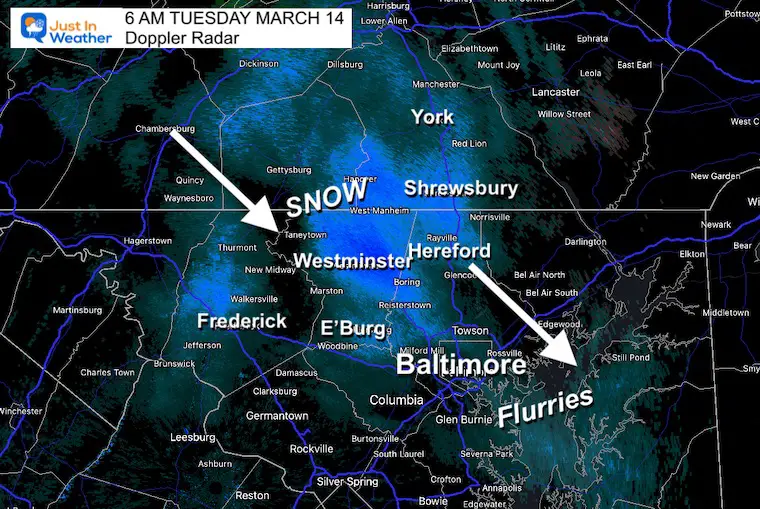 Temperatures at 6 AM
Most of us are in the 30s, with Wind Chill in the 20s or colder.
Temps have dropped into the Teens in far western Maryland.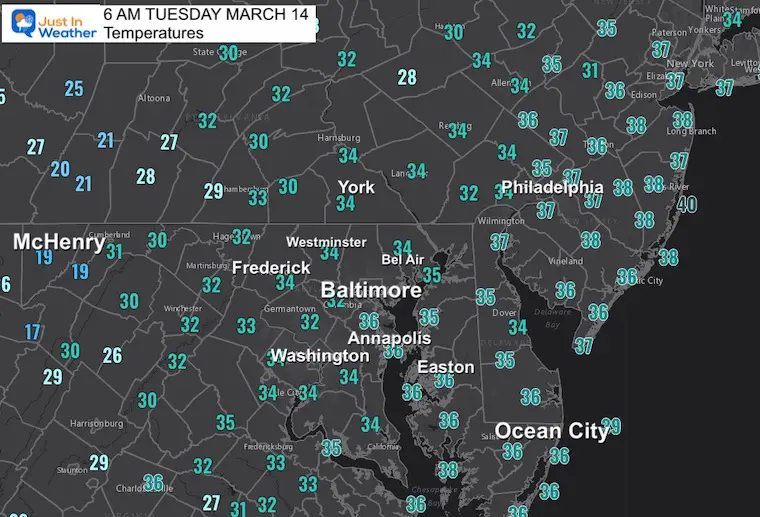 Wind Advisory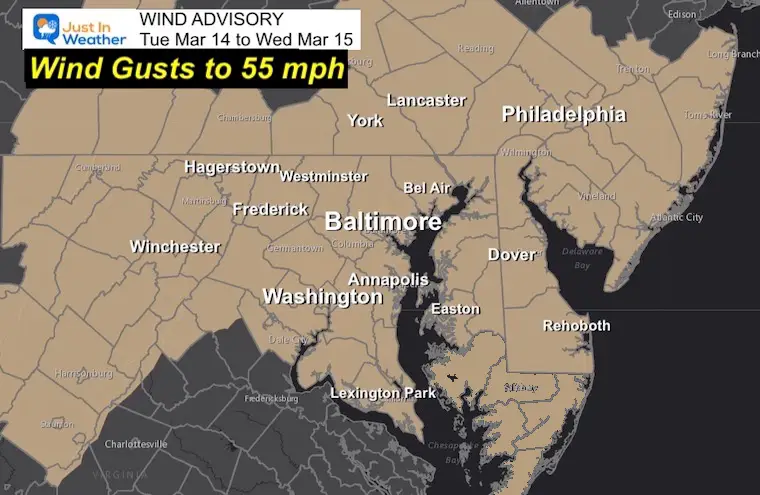 Morning Surface Weather
The new storm is forming off the North Carolina Coast. This is expected to swing out into the Atlantic.
Heavy snow inland across the mountains of New York and New England. Locally we get wind and snow showers.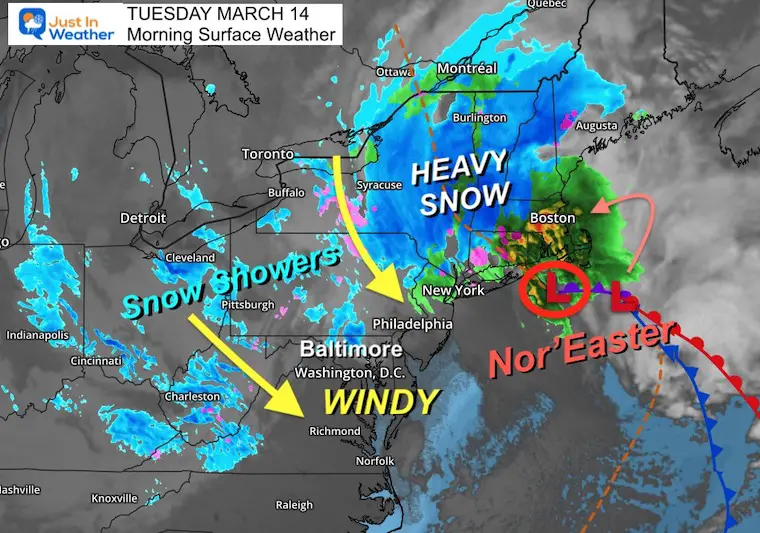 Storm Forecast Animation
GFS Model 8 AM Tue to 8 PM Wed
The storm will wrap around eastern New England then head out to the Atlantic. We will continue to get strong winds for another day.
Wind Forecast Animation Through 8 PM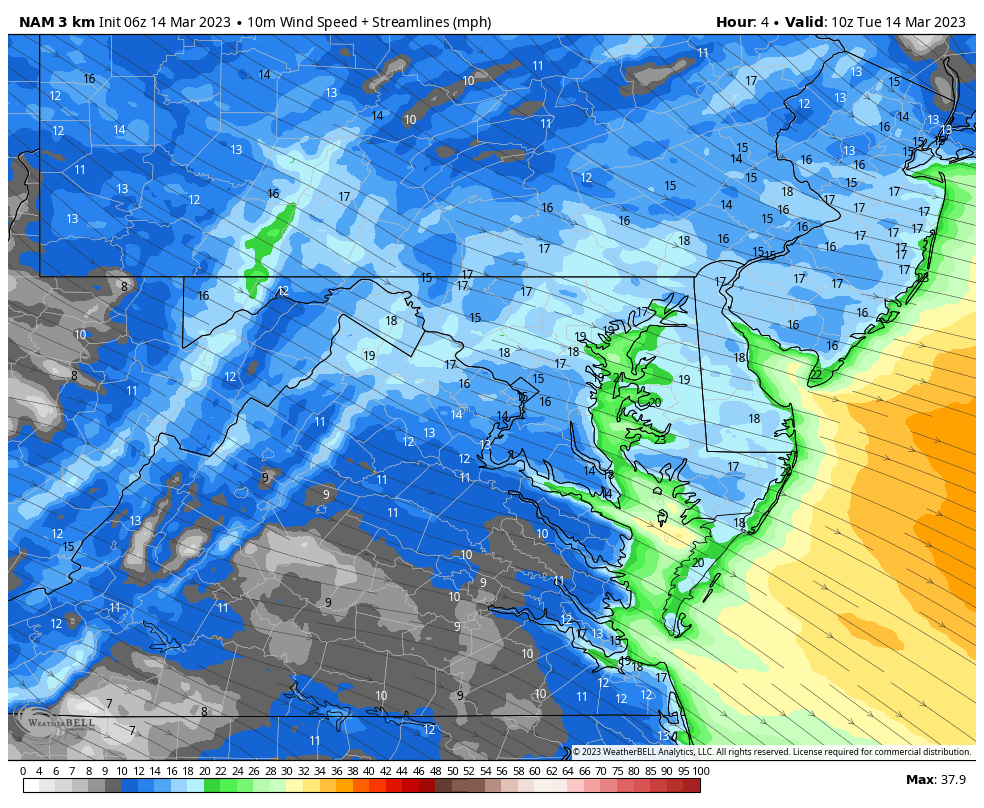 Wind Snapshot
Steady winds over 25 mph, with gusts up to 55 mph. There may be downed trees and power lines.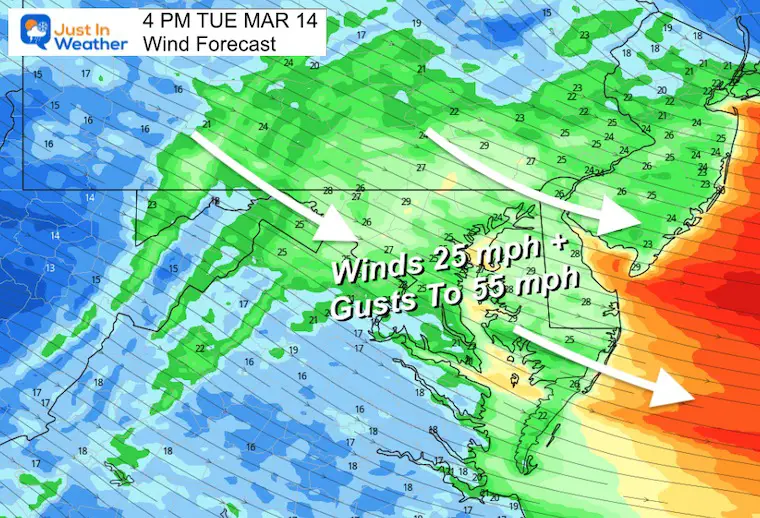 Afternoon Temperatures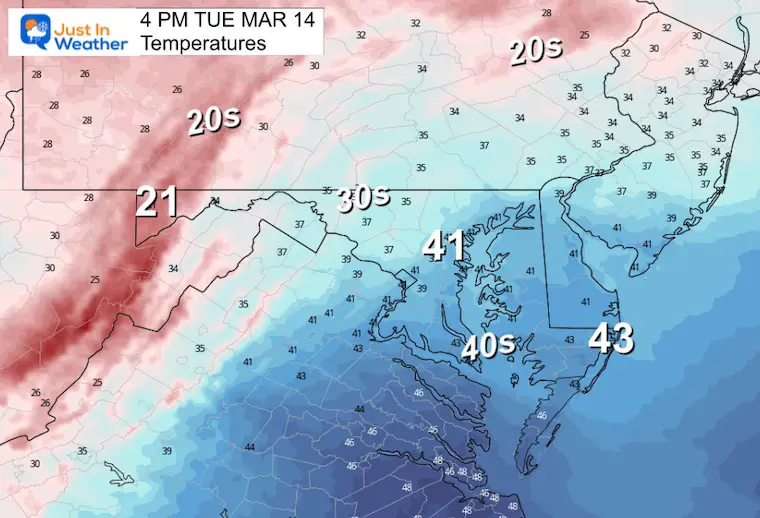 Afternoon Wind Chill
It is going to be uncommon to say the least.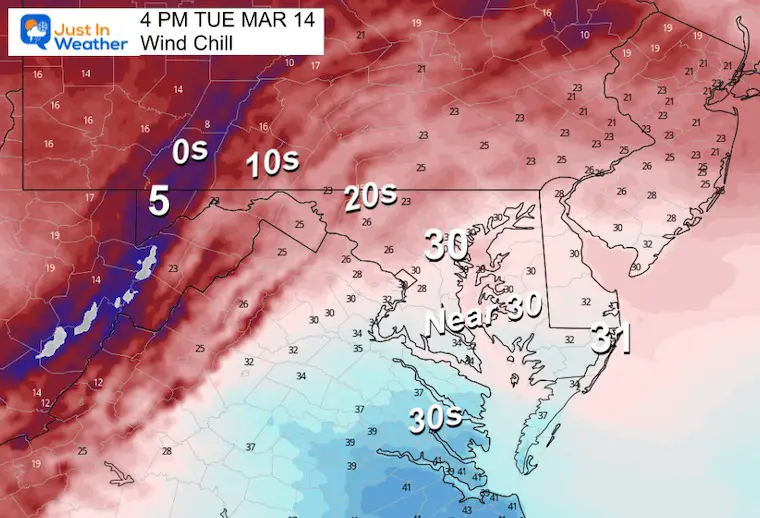 Subscribe for eMail Alerts
Weather posts straight to your inbox
Sign up and be the first to know!
CLIMATE DATA
TODAY March 14
Normal Low in Baltimore:  33ºF
Record 14ºF in 1888
SNOW: 5.8" in 1937
Normal High in Baltimore: 54ºF
Record 83ºF in 2007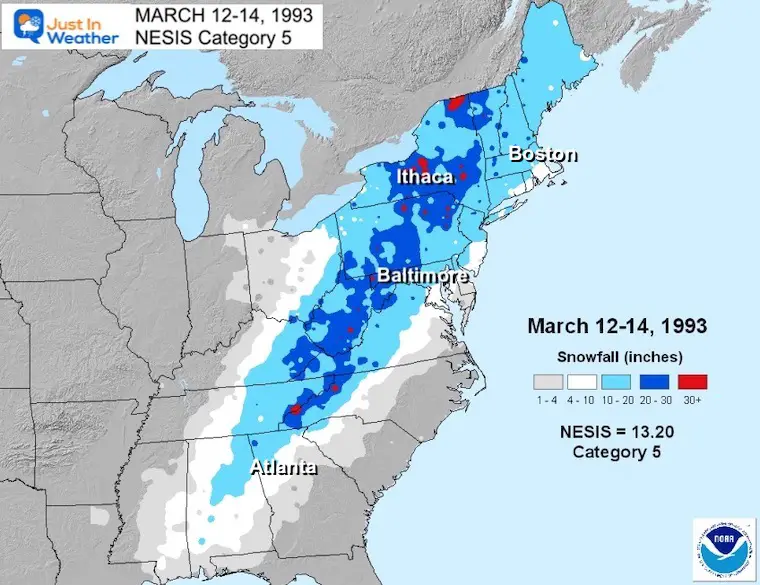 Wednesday Morning Temperatures
Still windy, but dry.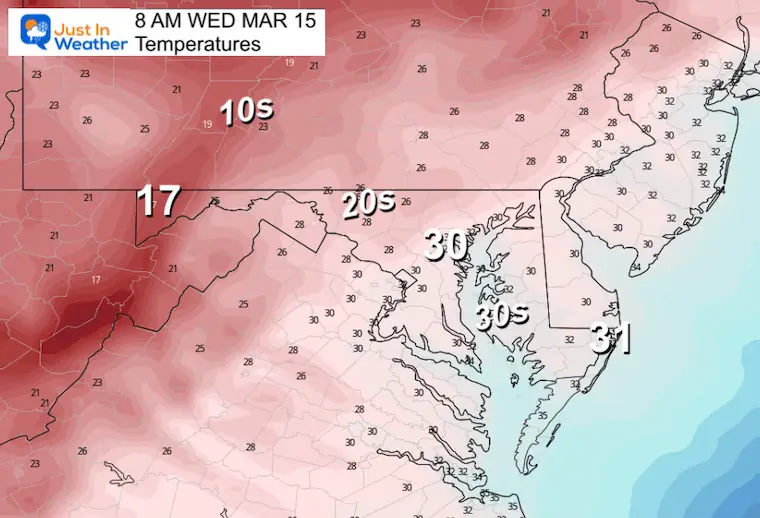 Afternoon Temperatures
Still windy, but dry.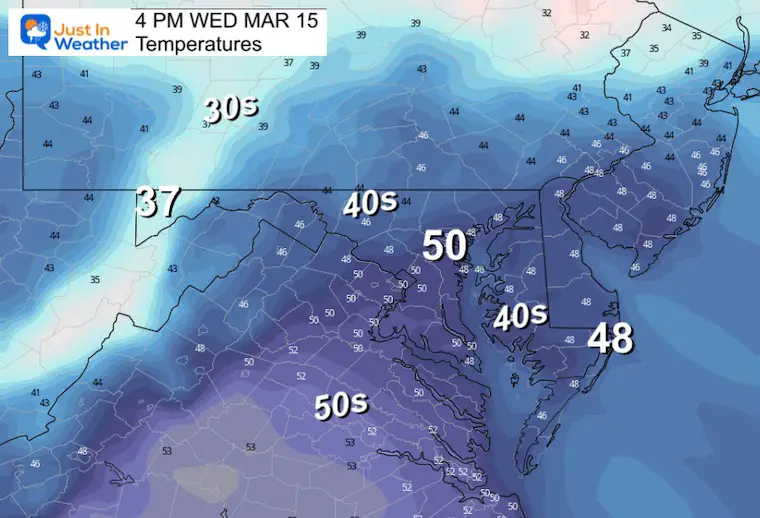 7 Day Forecast
The wind will be with us through tomorrow, then a big warm up ahead of the next rain on Friday.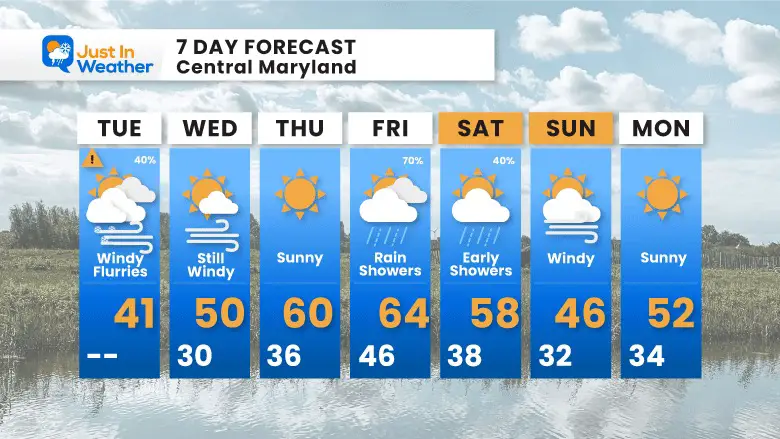 Subscribe for eMail Alerts
Weather posts straight to your inbox
Sign up and be the first to know!
IN CASE YOU MISSED IT
My REALISTIC Expectations for the COLD OUTLOOK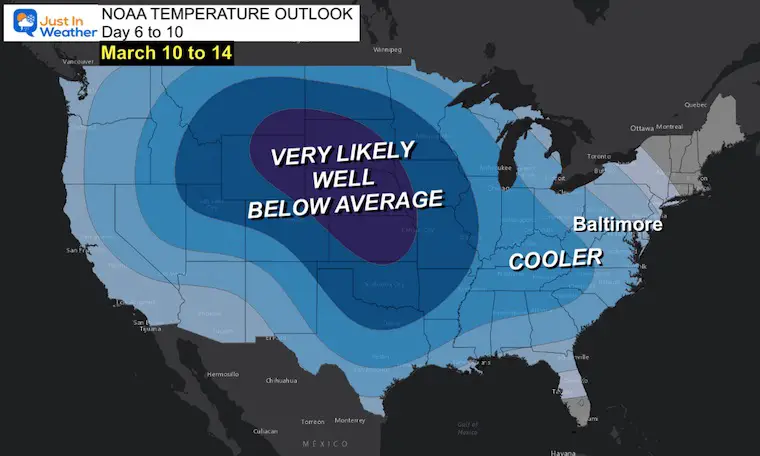 Winter History: Low Snow And Late Starts
See my research based on Baltimore data since 1883.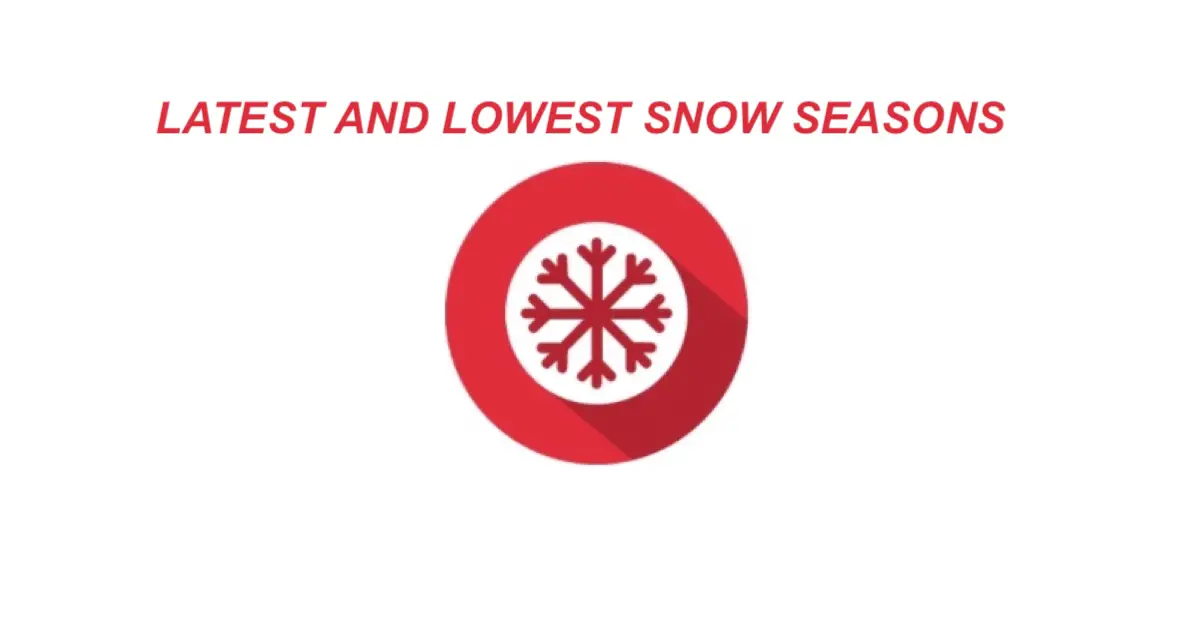 RESTATING MY MESSAGE ABOUT DYSLEXIA
I am aware there are some spelling and grammar typos, and occasional other glitches. I take responsibility for my mistakes, and even the computer glitches I may miss.
I have made a few public statements over the years, but if you are new here you may have missed it:
I have dyslexia, and found out during my second year at Cornell University. It didn't stop me from getting my meteorology degree, and being first to get the AMS CBM in the Baltimore/Washington region. One of my professors told me that I had made it that far without knowing, and to not let it be a crutch going forward. That was Mark Wysocki and he was absolutely correct!
I do miss my mistakes in my own proofreading. The autocorrect spell check on my computer sometimes does an injustice to make it worse. I also can make mistakes in forecasting. No one is perfect predicting the future.
All of the maps and information are accurate. The 'wordy' stuff can get sticky. 
There has been no editor that can check my work when I needed it and have it ready to send out in a newsworthy timeline. Barbara Werner is a member of the web team that helps me maintain this site. She has taken it upon herself to edit typos, when she is able. That could be AFTER you read this.
I accept this and perhaps proves what you read is really from me…
It's part of my charm.
#FITF
STEM Assemblies/In School Fields Trips Are Back
Click to see more and 'Book' a visit to your school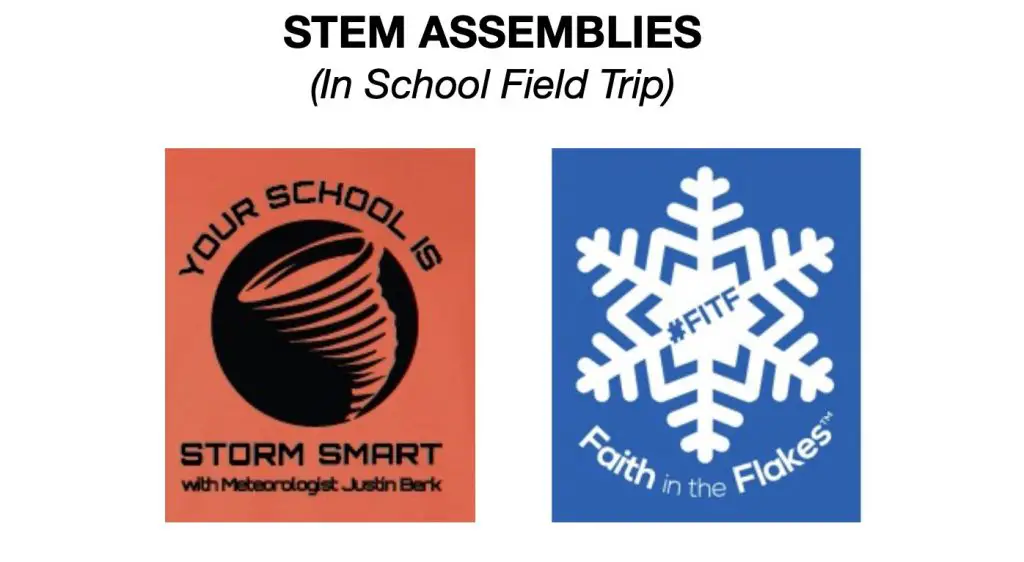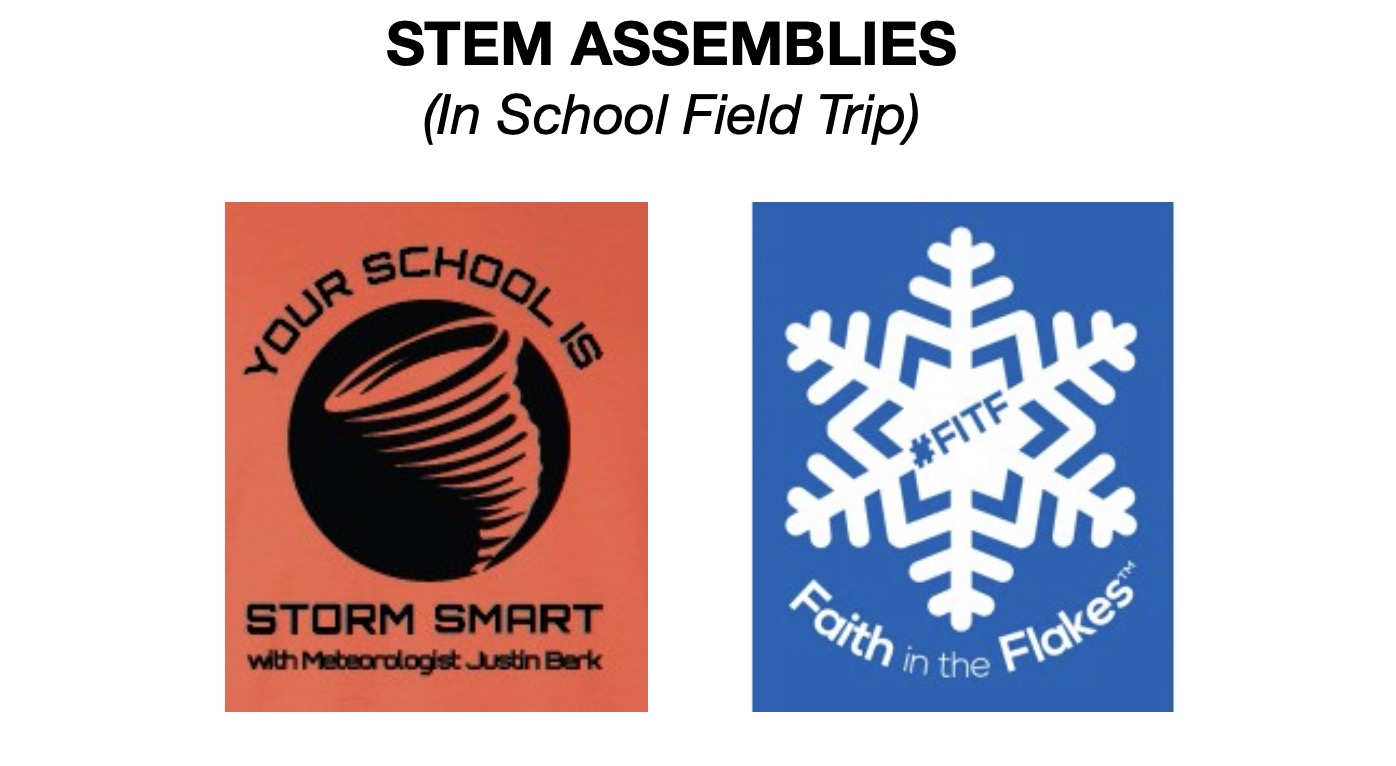 My Winter Outlook: Not A Typical La Niña!
I see many factors to support colder influence with multiple systems. Early and later in winter. Check it out. https://justinweather.com/2022/11/22/winter-outlook-2023-for-snow-not-typical-la-nina-plus-polar-vortex-disruption/
Also See The Winter Outlook Series:
https://justinweather.com/2022/11/20/atmospheric-memory-suggests-active-winter-storm-pattern-outlook/
https://justinweather.com/2022/10/21/winter-outlook-2023-from-noaa-very-different-than-farmers-almanacs/
Farmer's Almanac Comparison
Winter Outlook 2023 Early Look At Snow From Two Farmers Almanacs
Triple Dip La Niña Winter
https://justinweather.com/2022/09/09/winter-outlook-2023-la-nina-triple-dip-expectations/
CONNECTION TO WINTER?
If you want a snowy winter, this is what you might want to look for in the rest of the tropical season. https://justinweather.com/2022/08/31/record-august-for-no-named-tropical-storms-closer-look-at-snow-following/
Woolly Bear Caterpillars
https://justinweather.com/2022/10/25/winter-weather-outlook-from-the-wooly-bear-caterpillar/
Persimmon Seeds
Click to see Top 20 and MORE
https://justinweather.com/2022/10/28/winter-weather-folklore-top-20-and-more-outlook-signals-from-nature-for-cold-and-snow/
Normals And Records: Maryland and Baltimore Climate History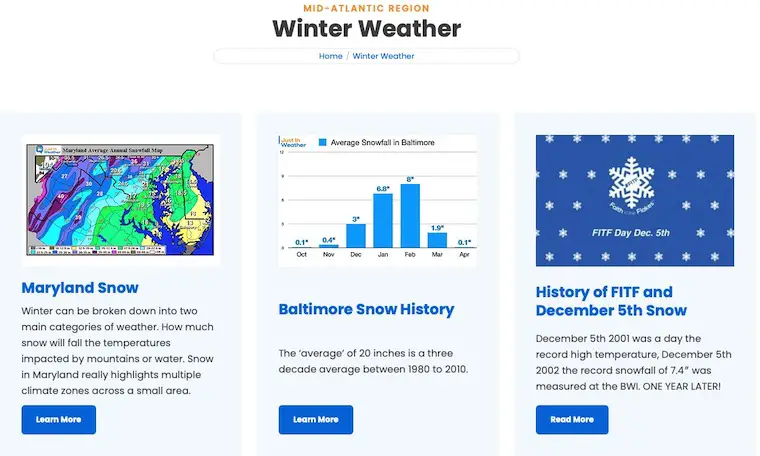 Please share your thoughts, best weather pics/videos, or just keep in touch via social media