March 12 Major Winter Storm Just Clips Us With Inland Mix
Frost and Freeze
Storm Forecast
Maryland Weather
climate data
Winter Weather
Forecast
Justin Berk
Mar 12, 2023
8:07 am
0
March 12, 2023
Sunday Morning
For starters, Daylight Saving Time has begun, and you may be reading this an hour early or late. Daylight will be extended an hour later as sunset will be AFTER 7 PM. But we will not get to enjoy that today with the storm moving in.
This is going to be a major winter storm; however, like the rest of the winter, we will barely get clipped by it.
A band of snow and sleet will be crossing the mountains but will have trouble breaking the High-Pressure bubble in place. Some western suburbs may get a few sleet pellets or flakes today, then more moves in tonight and the storm will crank on Monday. The major impacts will be felt through much of central PA, NY, and New England.
Morning Surface Weather
The last storm is stalled well off the coast and is helping to create the pathway for this new storm. High Pressure in the Mid-Atlantic is the block to delay the arrival, but it will break down today.
Severe storms are already erupting in the Southeast US.
A Winter Storm and Blizzard Warnings are in effect for northern Minnesota as the northern part reaches Michigan to Ohio and West Virginia.
This storm will be reorganizing off of the coast.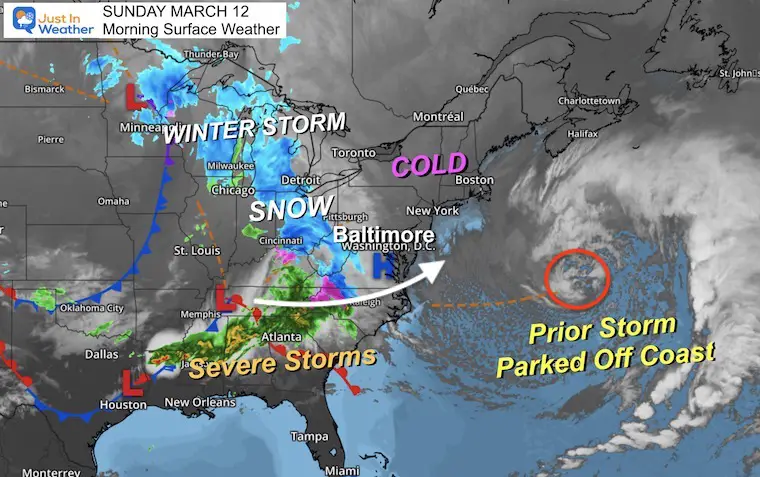 ECMWF Model Sunday Morning to Wednesday Morning
This will be an impressive storm that rapidly cranks in a major snow event… just beyond our Mid-Atlantic home base. We will get some snow in the mountains and northern suburbs, but the stalling of this storm near Boston will be a major event THERE for a few days.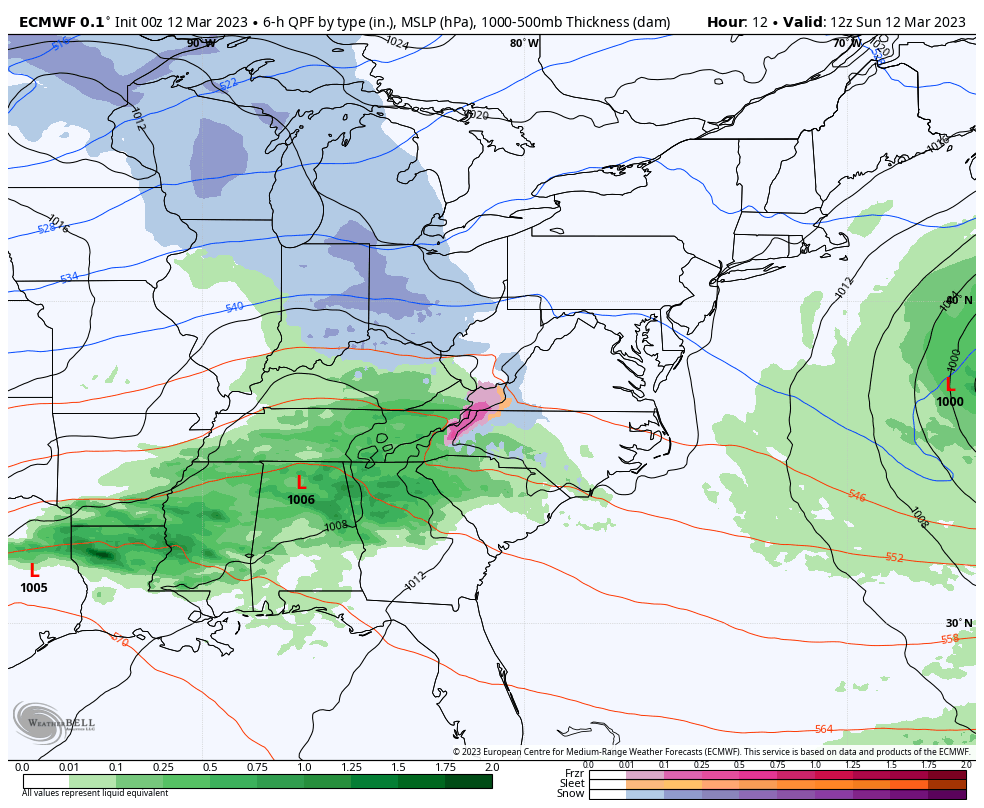 Local Look
Doppler Radar Snapshot
This is from a radar in Southwest Virginia showing the snow in that region. It is not picking up the light snow over western Maryland, but it is there…. The leading edge of this will affect travel in the mountains and perhaps Skyline Drive throughout the morning.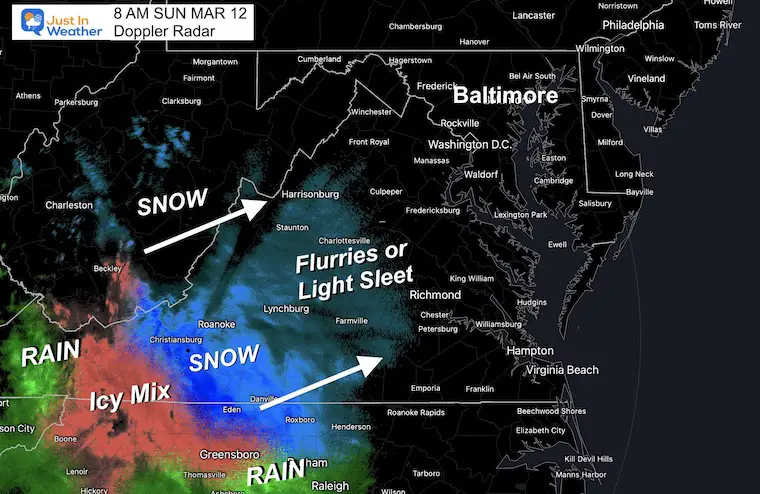 Temperatures
The cold air has settled in this morning, but will be warming just enough for most of us ahead of the next weather event.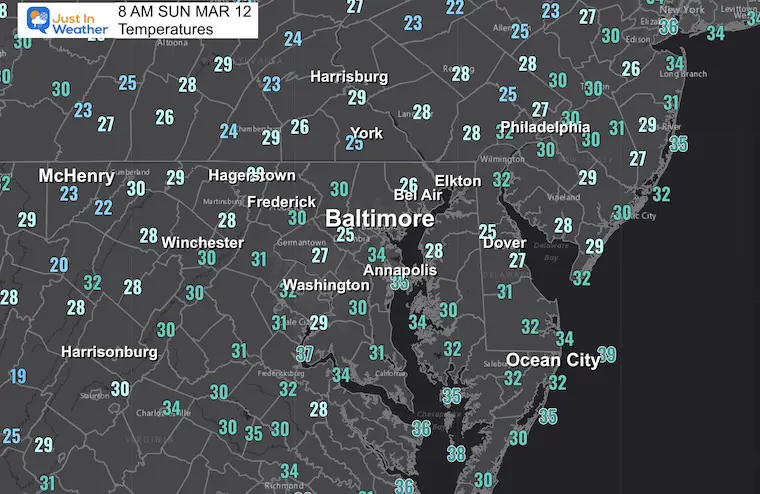 Radar Simulation
NAM 3Km Noon to Midnight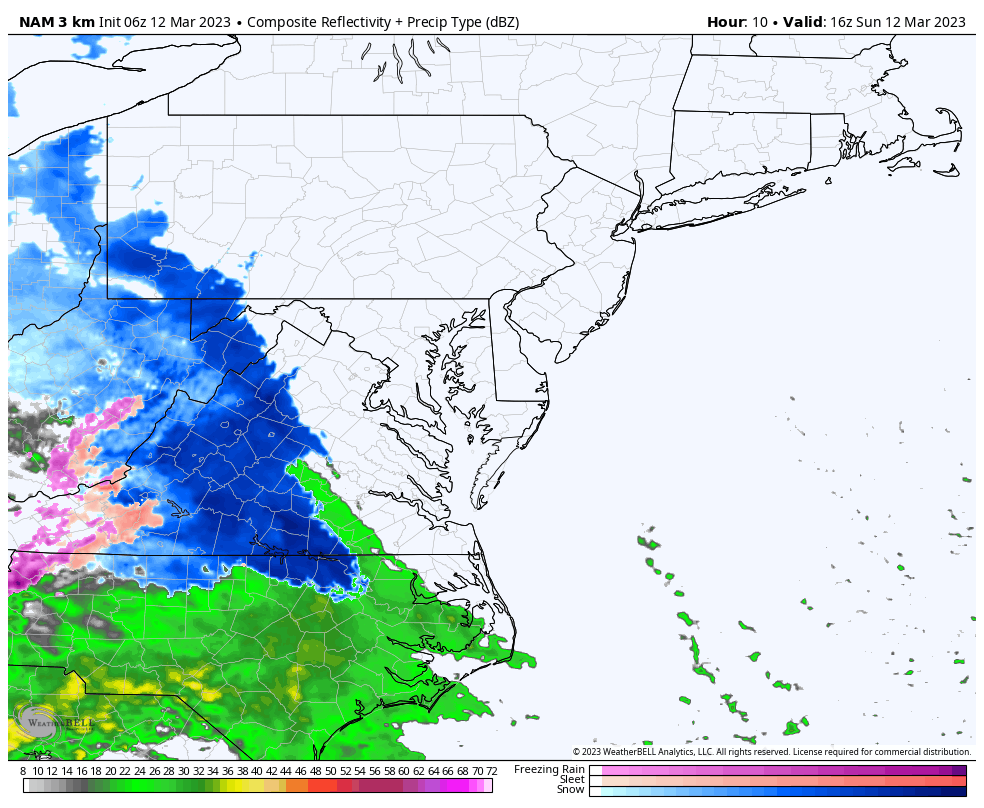 Afternoon Temperatures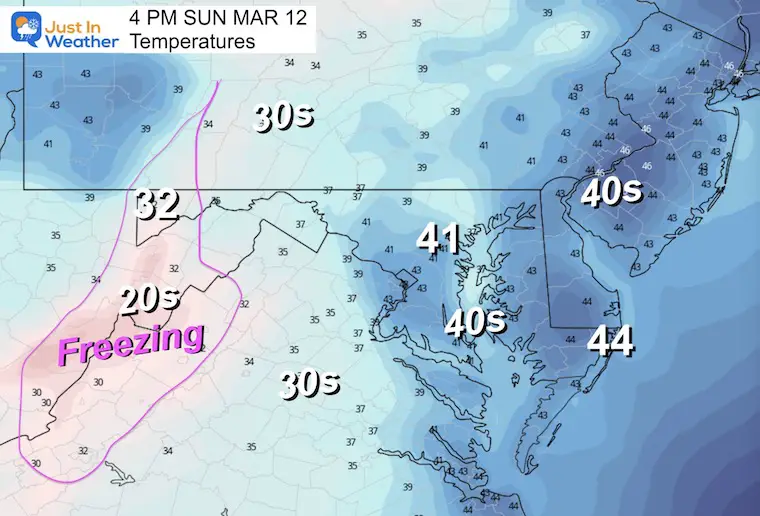 Evening Radar Snapshot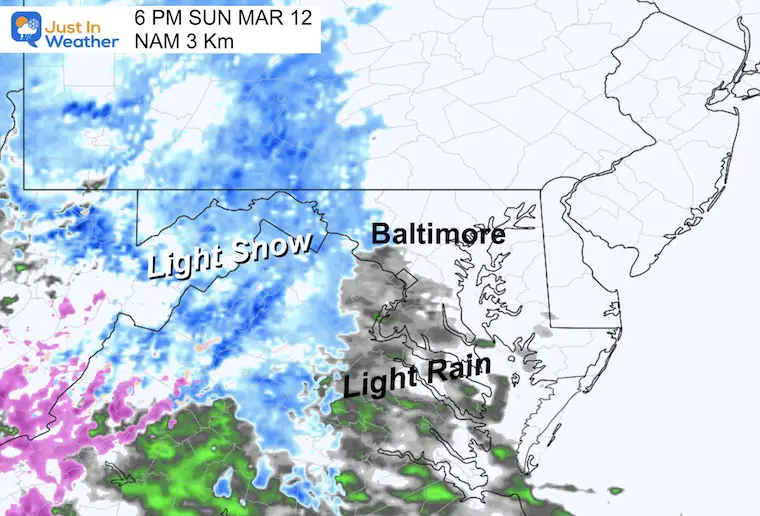 Midnight Radar Snapshot
It looks like light snow in the favored inland locations…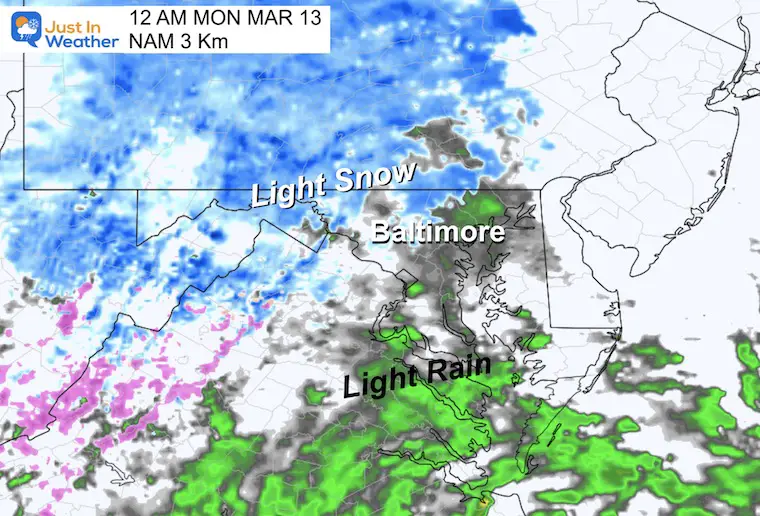 Temperatures
There is not much freezing air in sight to support stickage.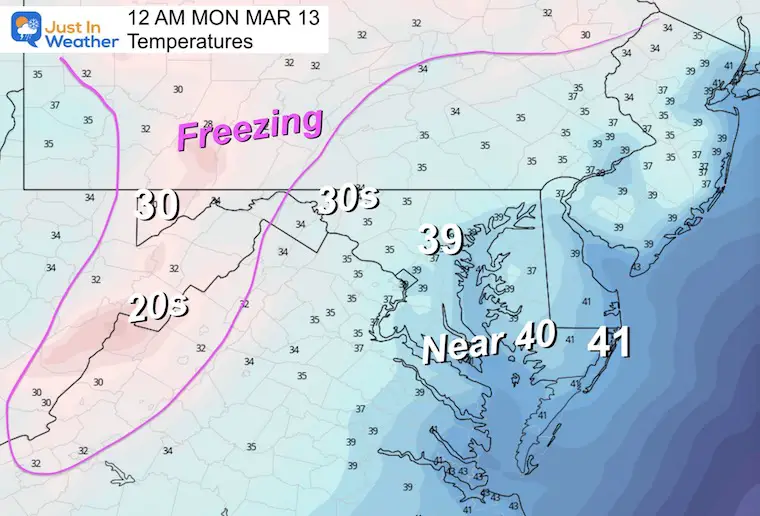 Subscribe for eMail Alerts
Weather posts straight to your inbox
Sign up and be the first to know!
CLIMATE DATA
TODAY March 12
Normal Low in Baltimore:  33ºF
Record 12ºF in 1900
SNOW: 4.4" in 1968
Normal High in Baltimore: 53ºF
Record 86ºF in 1990
REPORT: March Snow and Extreme Weather History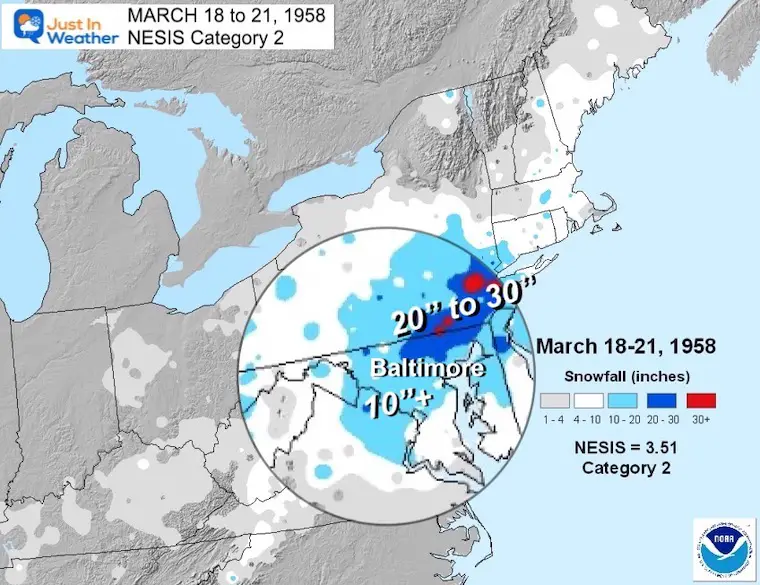 Snapshot Monday Morning
7 AM – The radar simulation shows some light snow in the favored colder inland locations well northwest of the city/Bay. However, it still looks to be too warm for much local stickage. The issues will be farther west and north.
Temperatures
7 AM – It will be chilly, but remaining above freezing.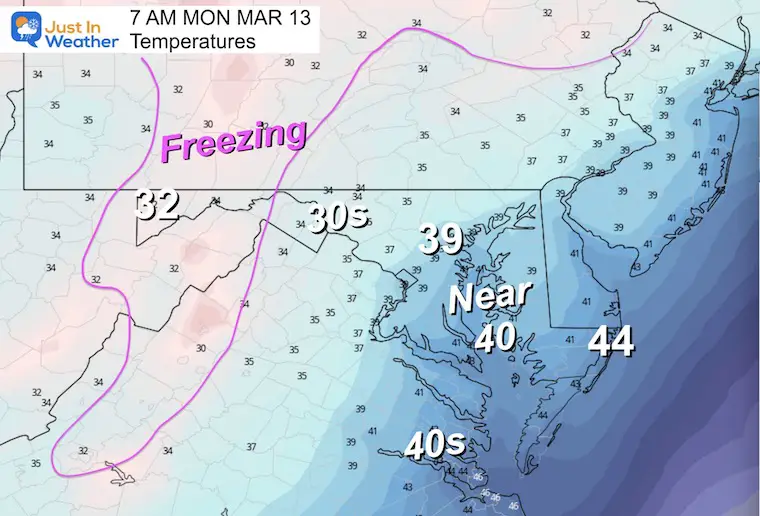 Afternoon –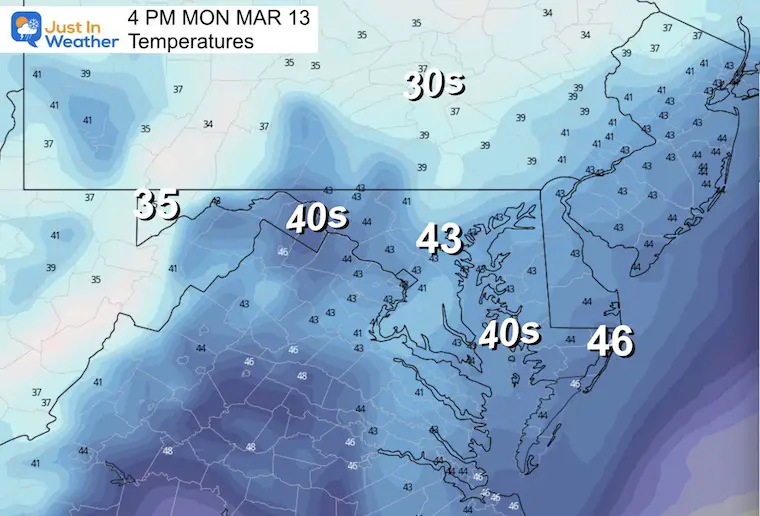 Local Snow Potential
If there is any stickage locally, it will be on the grassy areas. It may include parts of Frederick, Carroll, Northern Baltimore Counties in Maryland and southern Pennsylvania. The roads should remain wet.
Far Western Maryland and the high mountains west of Skyline Drive may get  2" to 4" by Monday, with more to follow.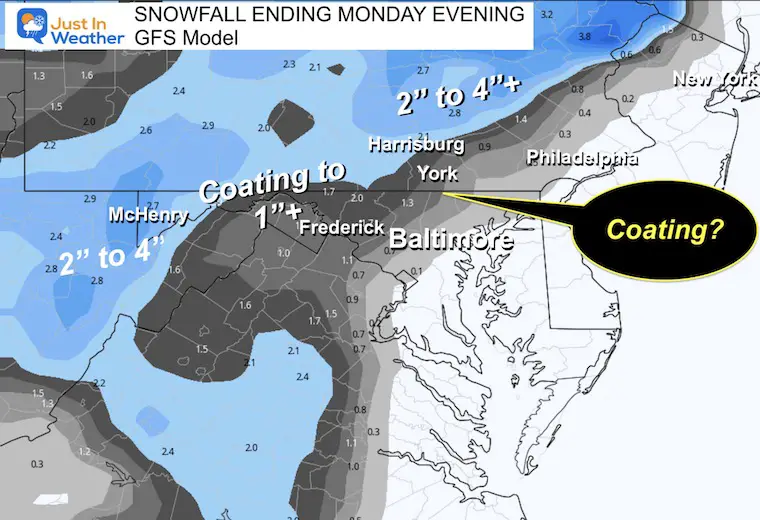 Radar Simulation
6 AM Monday to 2 PM Tuesday
This coastal storm will rapidly develop and drop moderate to heavy snow. The major cities will be on the edge of this, including Philadelphia, New York, and Boston.  Some interior areas are expecting heavy snow.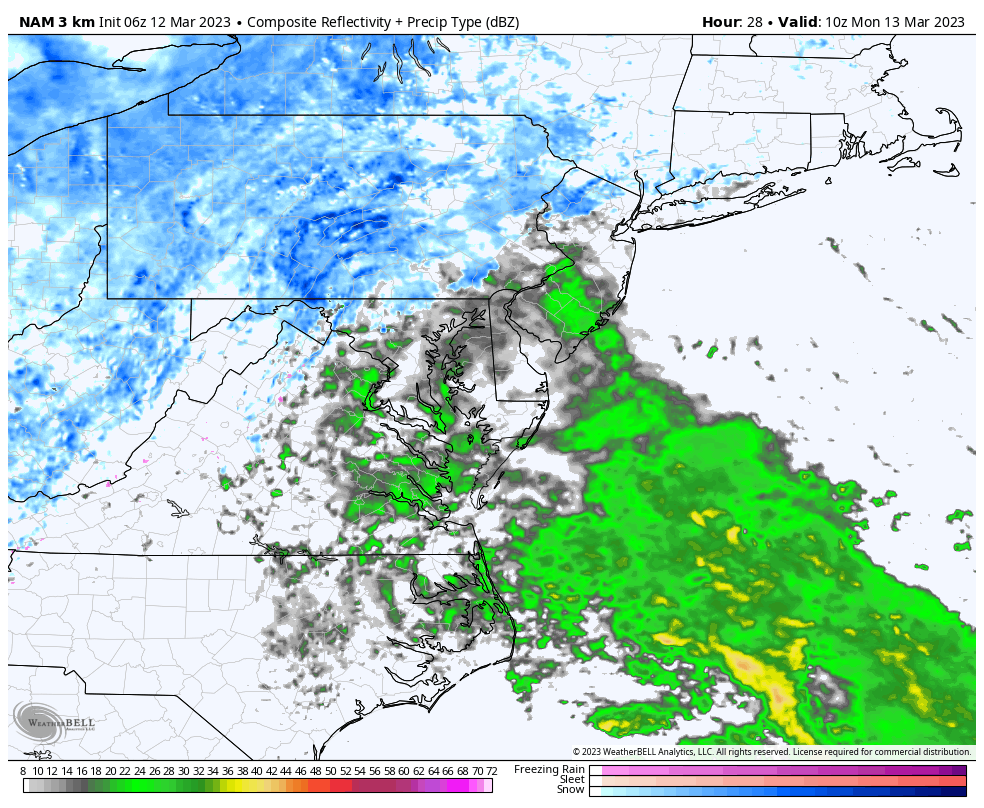 Snow Forecast
This is what we are missing out on… Many areas between The Poconos and central Massachusetts may get between 1 and 2 FEET of snow!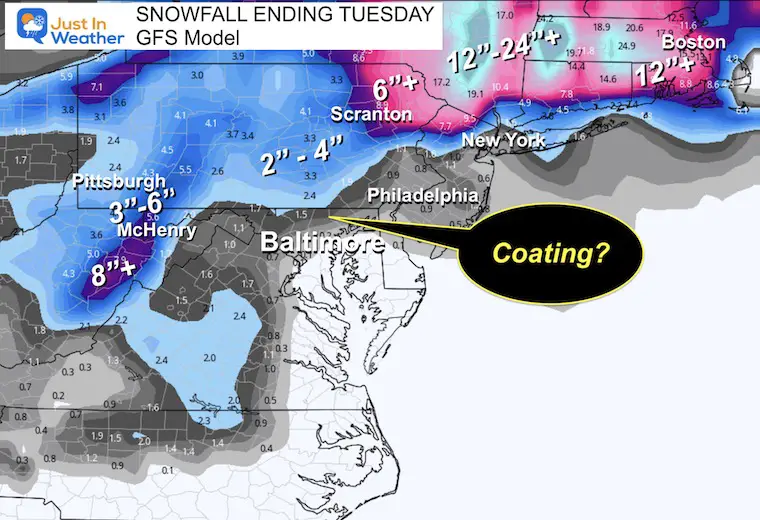 7 Day Forecast
This major winter storm may just miss us, but it will be a culmination of the winter pattern 'potential'. I do not see much opportunity for our region after this event.
A big warm up later this week, will be followed by another cool down. However, this should not to be substantial enough to bring any gift to snow lovers.  We may be watching the end of the winter that never really began.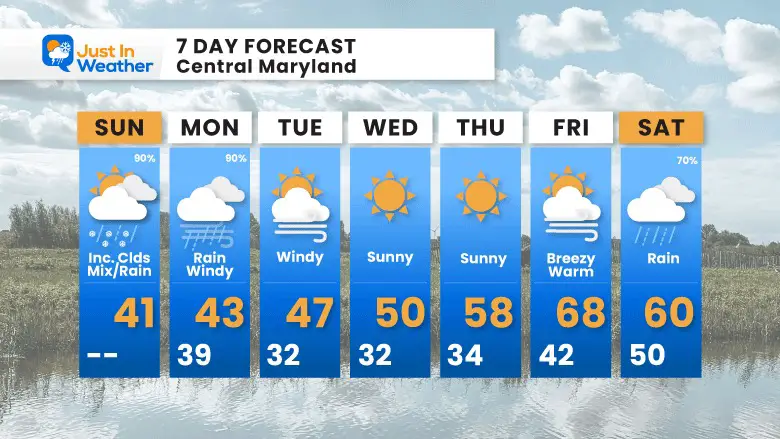 Subscribe for eMail Alerts
Weather posts straight to your inbox
Sign up and be the first to know!
IN CASE YOU MISSED IT
My REALISTIC Expectations for the COLD OUTLOOK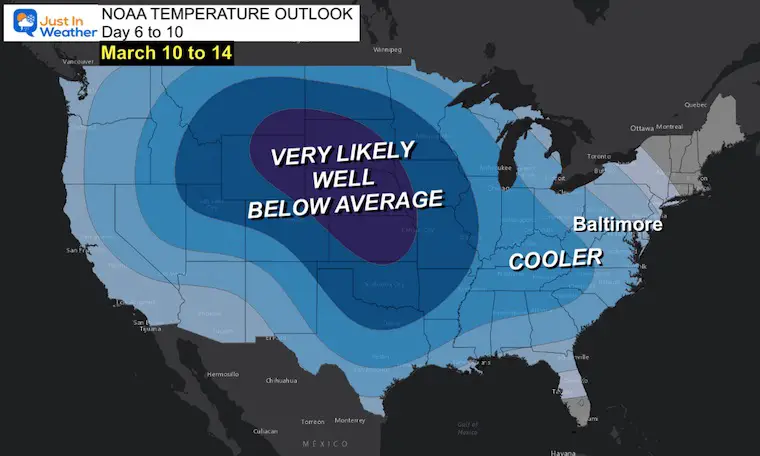 Winter History: Low Snow And Late Starts
See my research based on Baltimore data since 1883.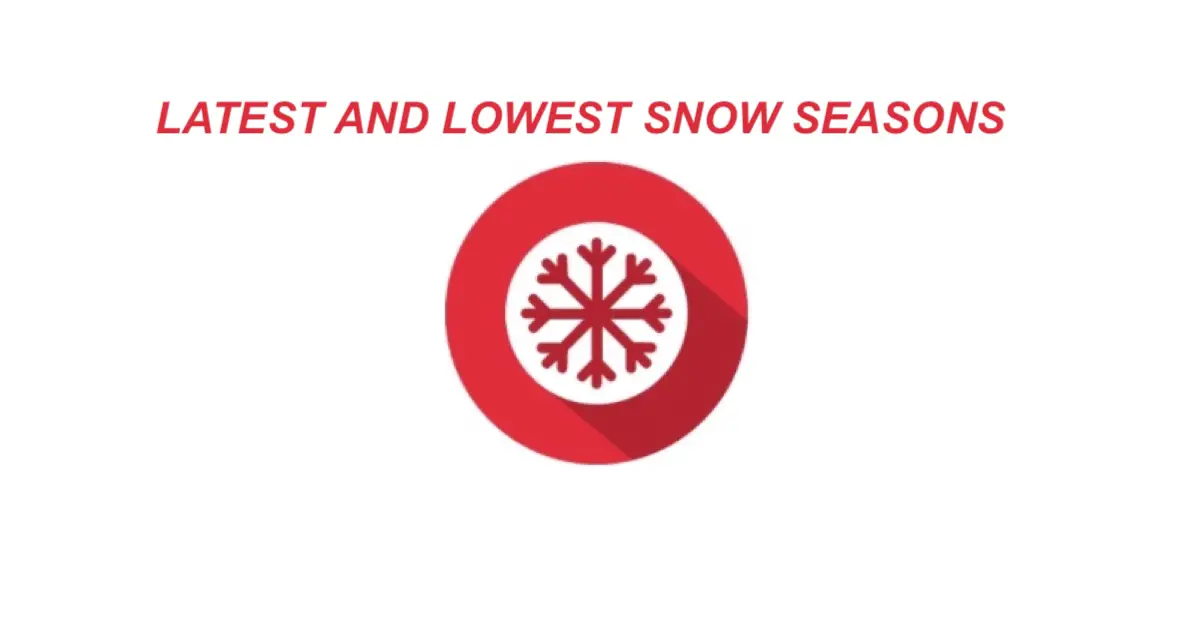 RESTATING MY MESSAGE ABOUT DYSLEXIA
I am aware there are some spelling and grammar typos, and occasional other glitches. I take responsibility for my mistakes, and even the computer glitches I may miss.
I have made a few public statements over the years, but if you are new here you may have missed it:
I have dyslexia, and found out during my second year at Cornell University. It didn't stop me from getting my meteorology degree, and being first to get the AMS CBM in the Baltimore/Washington region. One of my professors told me that I had made it that far without knowing, and to not let it be a crutch going forward. That was Mark Wysocki and he was absolutely correct!
I do miss my mistakes in my own proofreading. The autocorrect spell check on my computer sometimes does an injustice to make it worse. I also can make mistakes in forecasting. No one is perfect predicting the future.
All of the maps and information are accurate. The 'wordy' stuff can get sticky. 
There has been no editor that can check my work when I needed it and have it ready to send out in a newsworthy timeline. Barbara Werner is a member of the web team that helps me maintain this site. She has taken it upon herself to edit typos, when she is able. That could be AFTER you read this.
I accept this and perhaps proves what you read is really from me…
It's part of my charm.
#FITF
STEM Assemblies/In School Fields Trips Are Back
Click to see more and 'Book' a visit to your school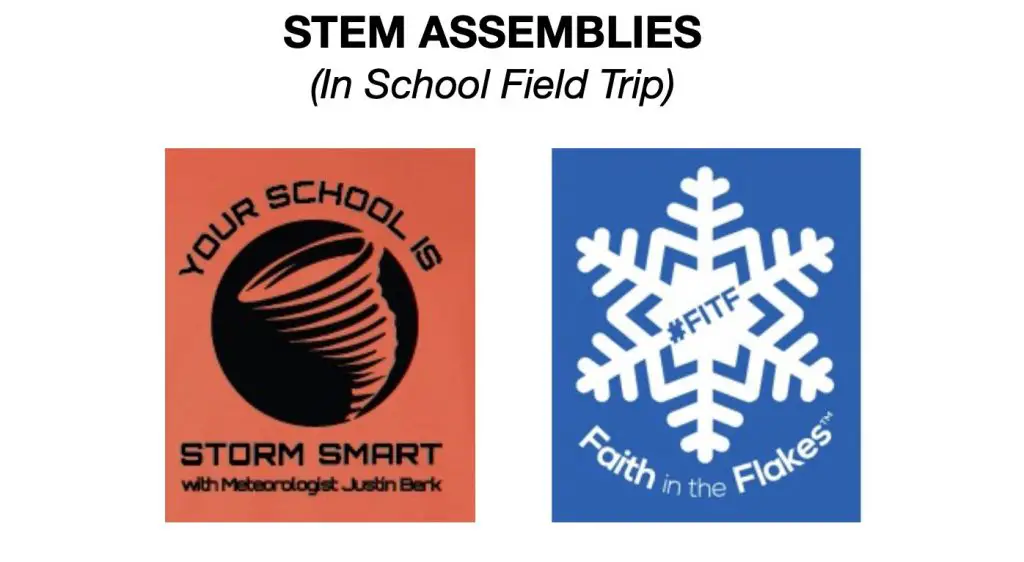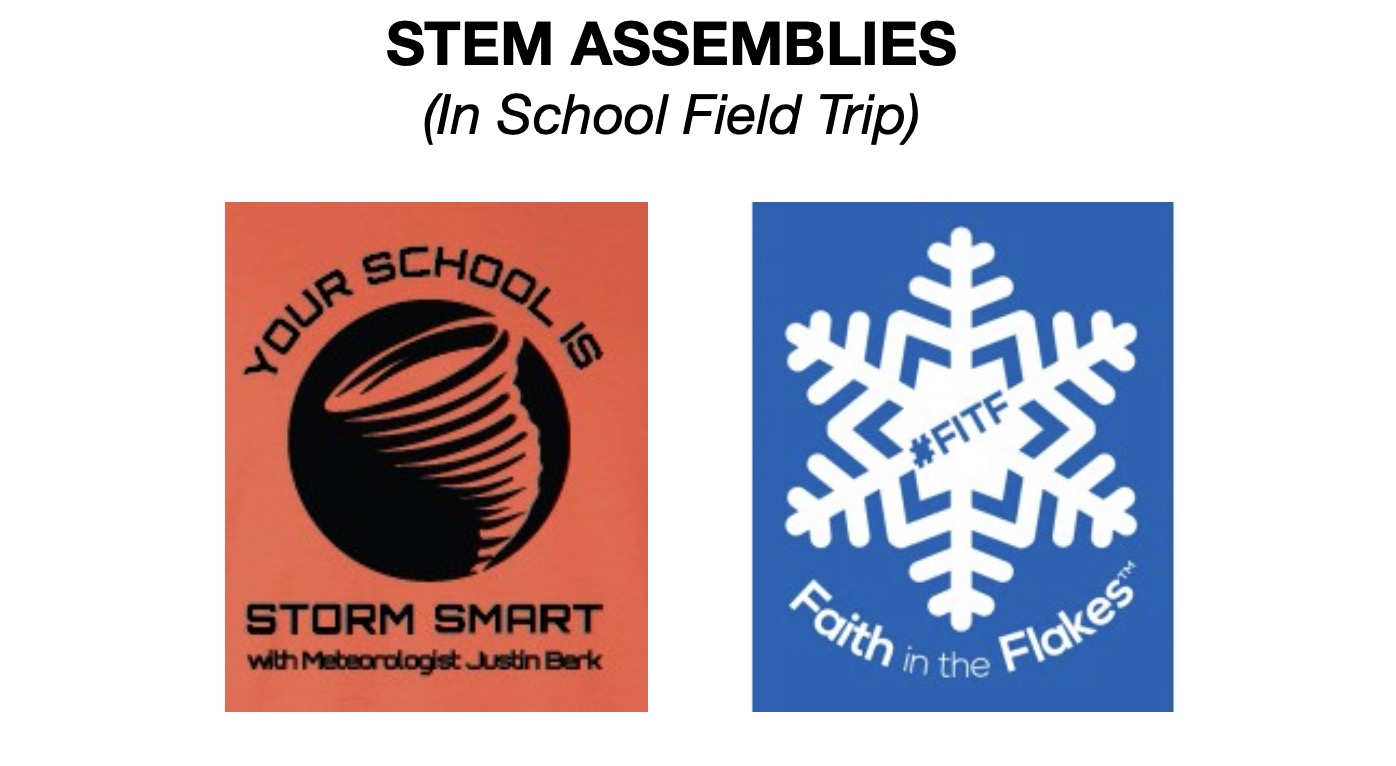 My Winter Outlook: Not A Typical La Niña!
I see many factors to support colder influence with multiple systems. Early and later in winter. Check it out. https://justinweather.com/2022/11/22/winter-outlook-2023-for-snow-not-typical-la-nina-plus-polar-vortex-disruption/
Also See The Winter Outlook Series:
https://justinweather.com/2022/11/20/atmospheric-memory-suggests-active-winter-storm-pattern-outlook/
https://justinweather.com/2022/10/21/winter-outlook-2023-from-noaa-very-different-than-farmers-almanacs/
Farmer's Almanac Comparison
Winter Outlook 2023 Early Look At Snow From Two Farmers Almanacs
Triple Dip La Niña Winter
https://justinweather.com/2022/09/09/winter-outlook-2023-la-nina-triple-dip-expectations/
CONNECTION TO WINTER?
If you want a snowy winter, this is what you might want to look for in the rest of the tropical season. https://justinweather.com/2022/08/31/record-august-for-no-named-tropical-storms-closer-look-at-snow-following/
Woolly Bear Caterpillars
https://justinweather.com/2022/10/25/winter-weather-outlook-from-the-wooly-bear-caterpillar/
Persimmon Seeds
Click to see Top 20 and MORE
https://justinweather.com/2022/10/28/winter-weather-folklore-top-20-and-more-outlook-signals-from-nature-for-cold-and-snow/
Normals And Records: Maryland and Baltimore Climate History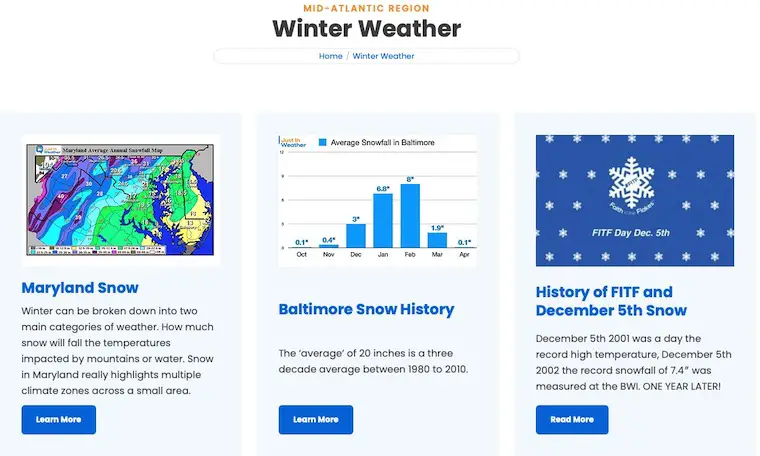 Please share your thoughts, best weather pics/videos, or just keep in touch via social media