This Polar Vortex Event Is Not Groundhog Day All Over Again
La Nina
Polar Vortex
Outlook
climate data
atmospheric memory
Justin Berk
Feb 2, 2023
9:08 pm
0
February 2, 2023
Thursday Evening Update
The reality of this Polar Vortex event will be felt as soon as Friday and Saturday morning. True arctic winds will be surging in both snow showers and the frigid winter air we have been missing. Does this sound familiar? We experienced something like this just before Christmas weekend. That was followed by very warm air through New Year's day and the outlook for next week looks similar. It is something we could perhaps file under Atmospheric Memory. But this is not exactly same and I believe the rest of this month will not be a repeat of January. I'll explain below.
Recap: Polar Vortex Before Christmas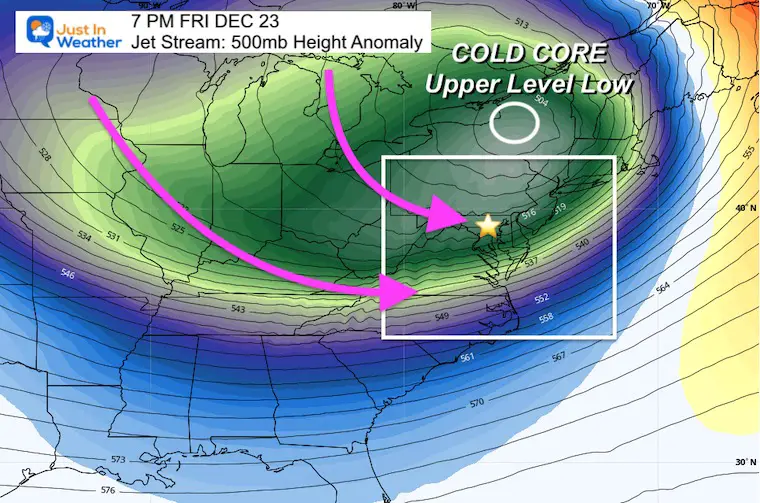 Current: Polar Vortex This Friday
Below is the animation of the forecast through next weekend.
I am writing this on Groundhog Day and we have the support from Phil that winter will last 6 more weeks.  OK, his accuracy is under 50%, but it is something for the hopefuls.  However, there are other things to give hope.
In all of my recent reports, I have shown the latest first measurable snow dates in Baltimore. We broke that this week (barely with 0.2") to lock in 3rd place.   The 2nd place year is very interesting.
Latest Measurable Snow In Baltimore
This Year Was 3rd Latest
Feb 21 in 1973 (50 years ago)

Feb 6 in 1914 (109 years ago)

FEB 1 in 2023

Jan 25 in 1992 ( 31 years ago)

Jan 25 in 1901 ( 122 years ago)
The 2nd place year was 1914 (109 years ago):

More About That Winter
Mid Winter Record Warmth
72ºF on January 30, 1914 – Record High
Imagine what those people thought that winter?
Well, they broke their snow drought on February 6th, 1914, then made up for lost time!
11.4" Snow fell in February
11.6" Snow fell in March. 
That season ended with 23 inches, which was above an average winter.
It has happened before, and can happen again.
Why hang on to that? Well, it was another extreme year for late start to a winter season, and still contained a few robust snow events.
This winter was our THIRD La Niña in a row. 
Back in December I wrote this report that the waters in the Pacific Ocean were expected to end that event and return to neutral. In the Title I wrote "Increasing Late Season Snow Odds".  We are now about to enter the late season.
Last week I wrote this report update, which included this Polar Vortex event, and a follow up on La Niña showing signs of ending.
February is also prime time for snow.  Historically, the most snow occurs in this month. Most of our top 10 snowstorms are close to Presidents Week.  So while we see a warm up next week, it does not promise the rest of the month will follow.
Average Snowfall In Baltimore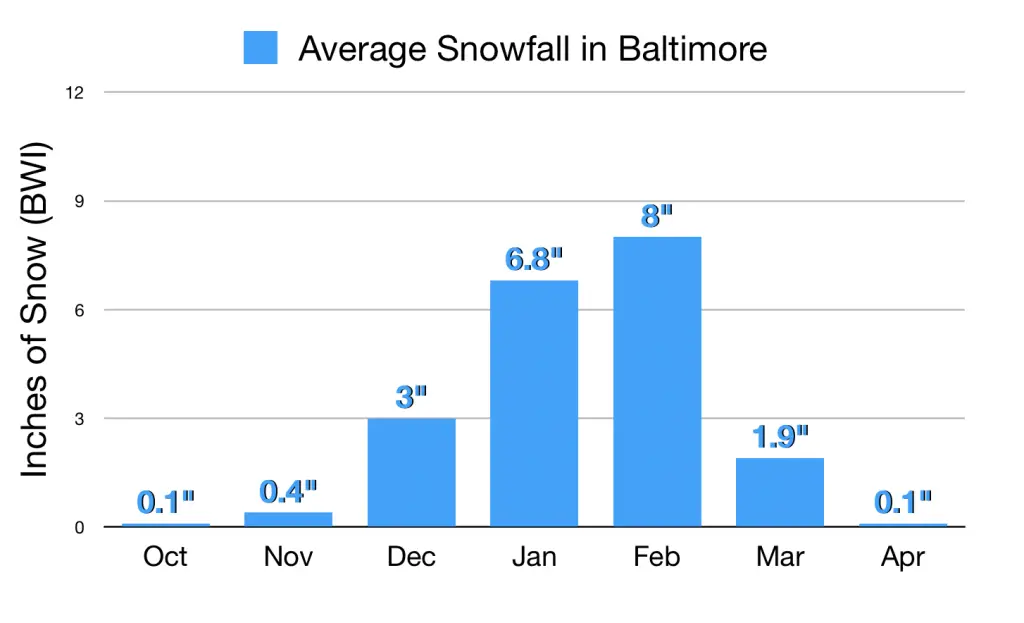 Let's Get To This Current Weather
Thursday Evening Surface Weather
The cold front on the move tonight will usher in the strong winds and true arctic air. The net result means high temperatures for us will be close to midnight.
By morning we may get a band of snow showers, followed by temps staying steady or falling… with additional flurries.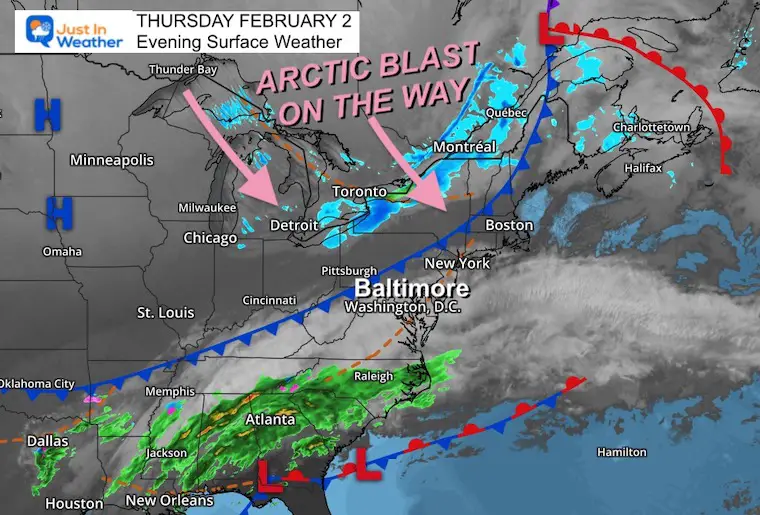 Friday Forecast
Radar Simulation
Friday Midnight to Noon
Tracking that snow band from the Great Lakes through central Maryland by daybreak.  Additional snow showers or flurries are possible during the day.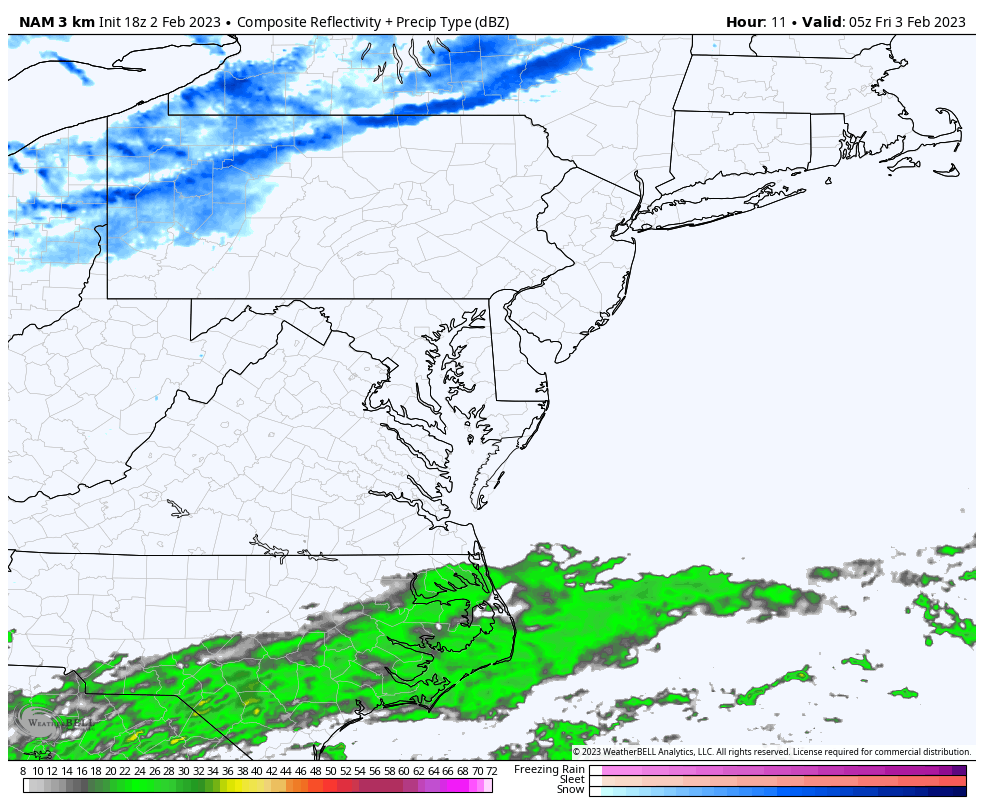 Wind Animation
Strong winds from the northwest will be steady at 10 to 20 mph with gusts over 30 mph at times.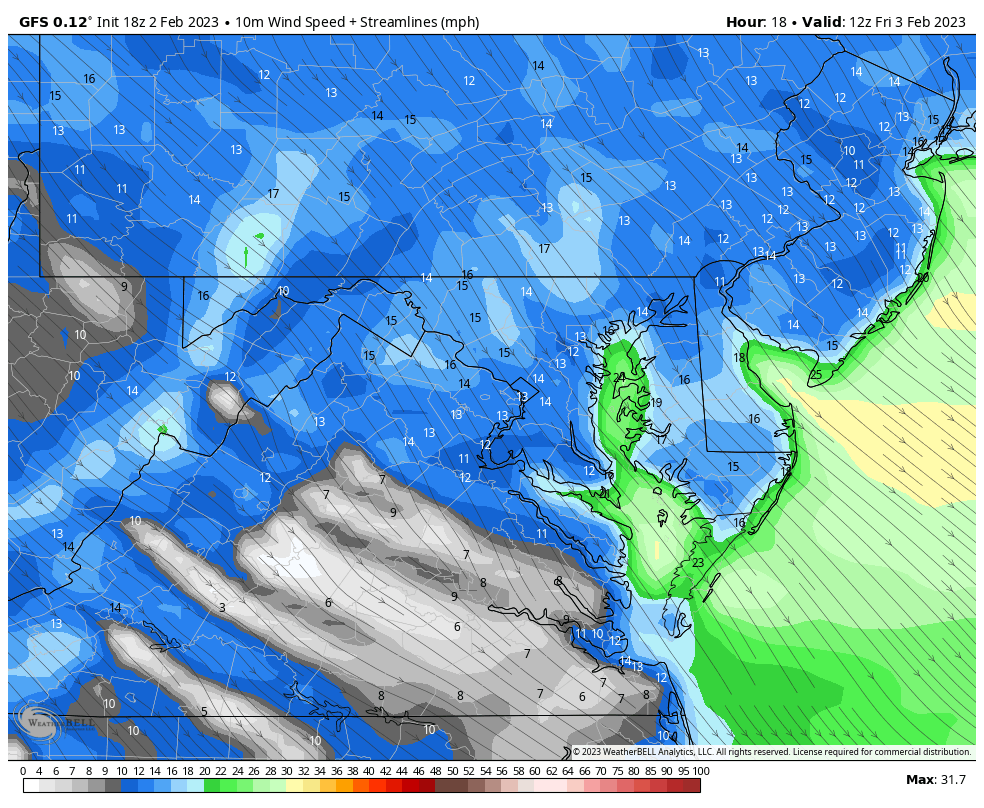 Temperatures
Friday Morning

Friday Afternoon
Nearly steady or falling from the morning.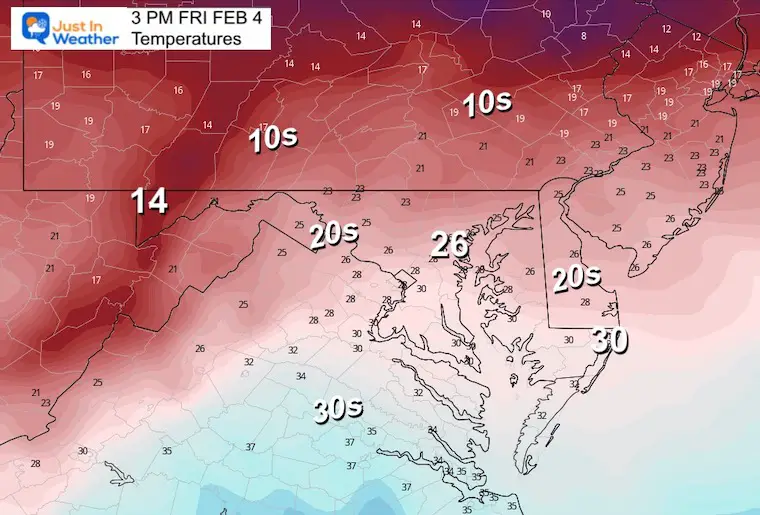 Wind Chill
This will hurt as one of the coldest days all winter. It may be comparable to the Christmas Eve frigid feel.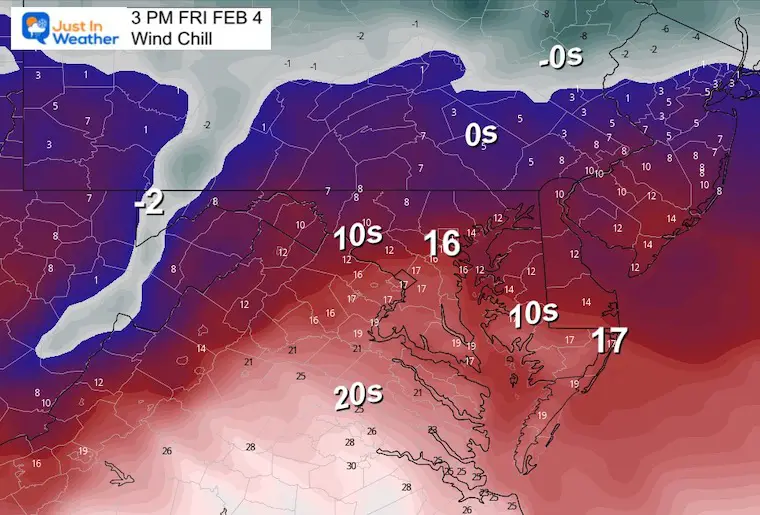 Saturday Morning
The big story may be the Polar Bear Plunge in Annapolis on the Chesapeake Bay. It will be dangerously cold without being wet.
Temperatures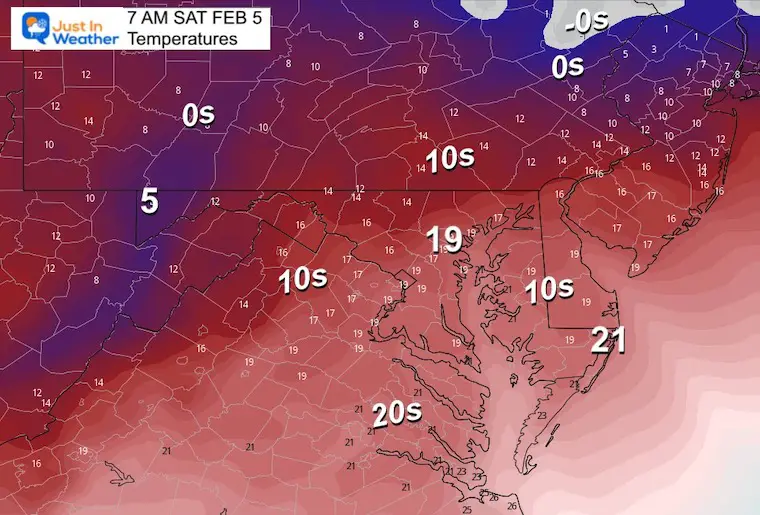 Wind Chill
This outlook has our region in the single digits. But stronger wind gusts may take us below zero!

Northeast View
Temperatures
Yes, actual readings could drop to the -20s and -30s across the mountains of northern New York and New England.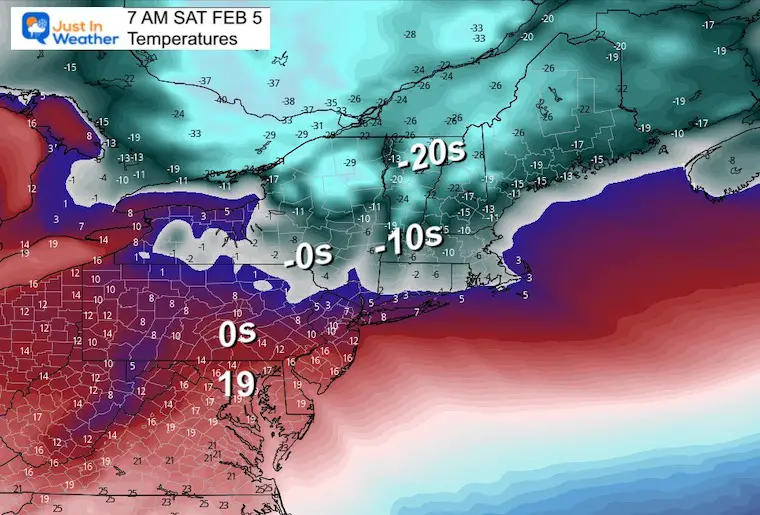 Wind Chill
This may be some of the coldest recorded temperatures for some areas of New England. Metro Boston may have wind chills in the -30s, while the mountains of New Hampshire and Maine could end up colder than shown here. Some peaks like Mount Washington could end up with observations to -80ºF.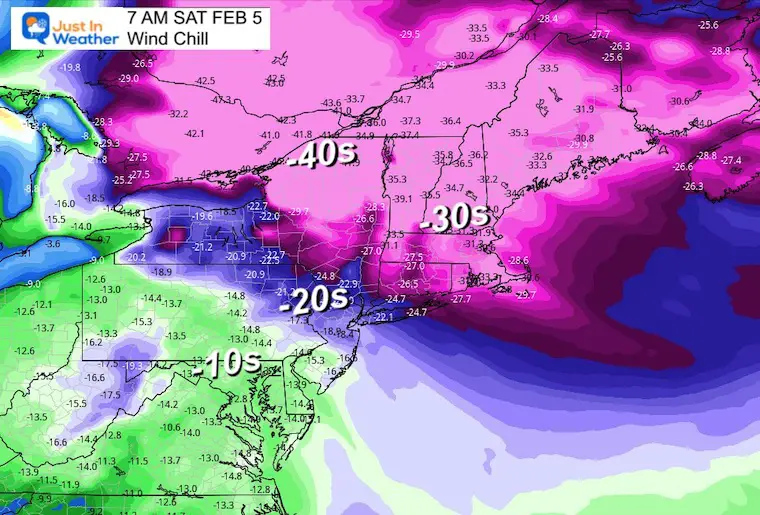 Jet Stream
Animation Thursday Night Feb 2 to Saturday Night February 11
The polar vortex will retreat quickly as a strong ridge will build in quickly. It is my humble opinion that the forecast temperatures are not high enough.
The next push of cold air will arrive next weekend.  There is more winter fighting back.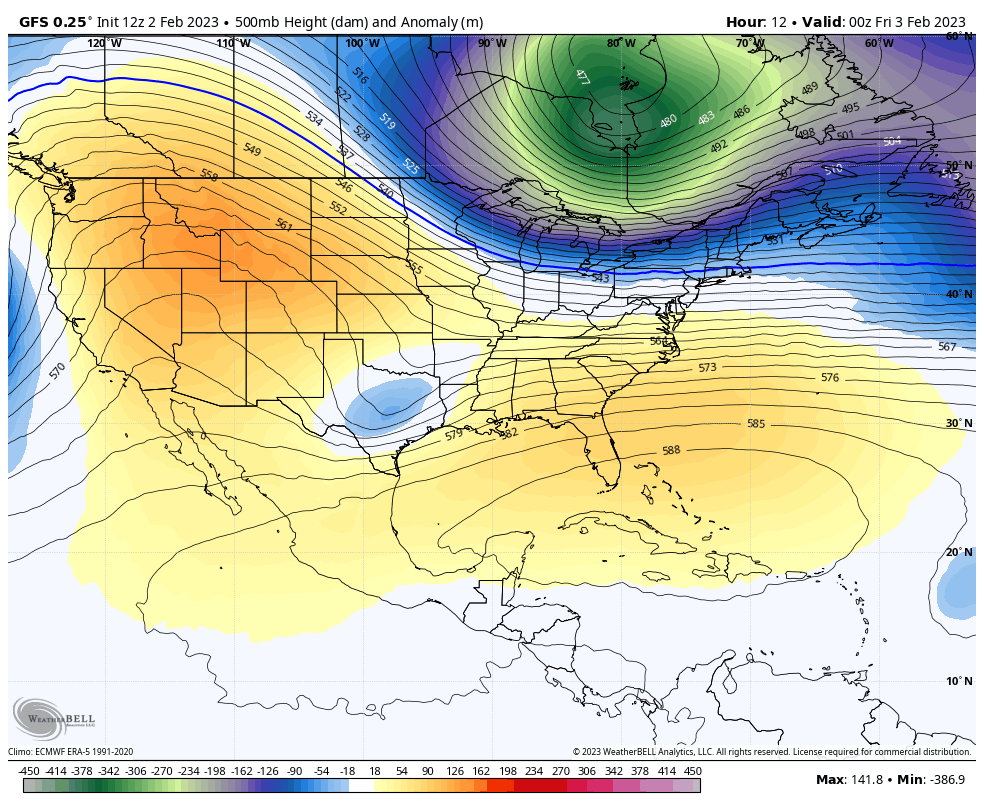 Snapshots
Thursday February 9
That ridge in the East will push us into the 60s, or warmer!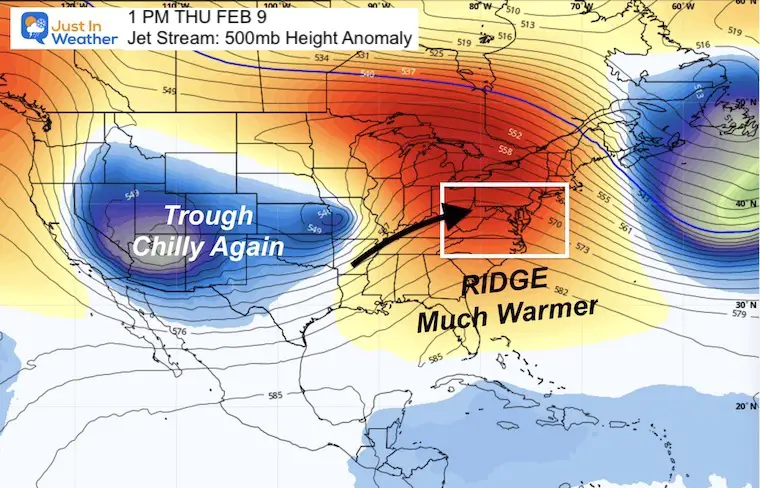 Saturday February 11
NEXT WEEKEND that warming should come to an end. Much like the warmth, I am not sure the modeling is handling this well. Considering the miss I suggested earlier this week (and we ended up verifying that little snow) it's best to keep an open mind about this as well.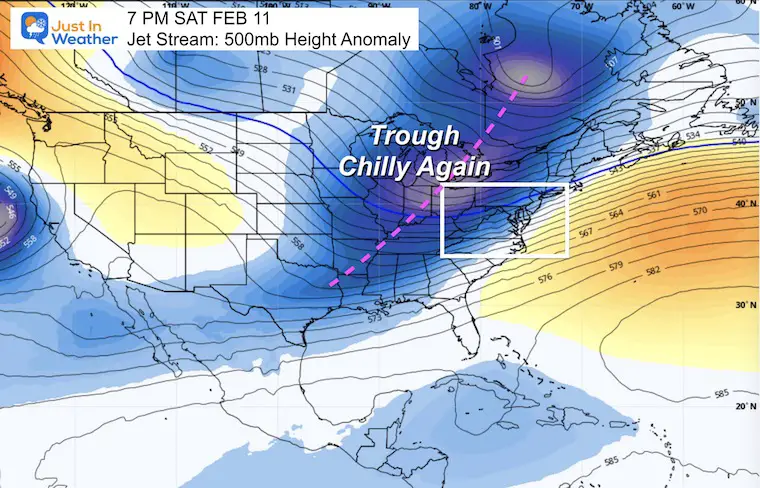 Temperature Outlook
I am using the GFS Model – Deterministic
I cut this off at next weekend considering the low confidence farther out in time.
Note: The number for Friday is a high at midnight.
We may end up colder this Saturday and Warmer next Thursday and Friday. Upper 60s to 70ºF is possible.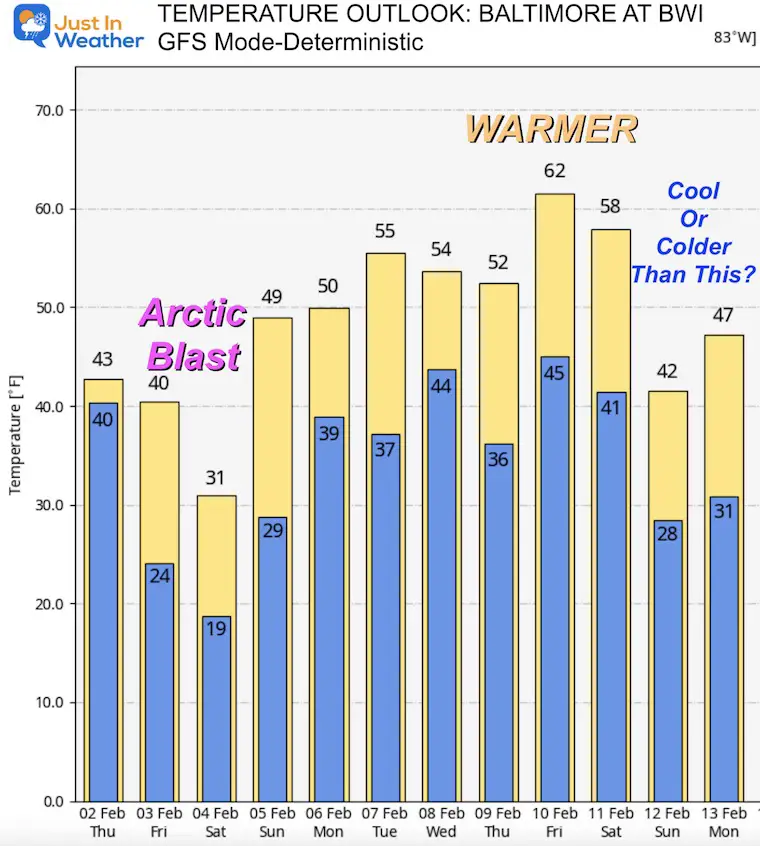 Final Thoughts
There is a similarity to what we had around Christmas and New Year's Day, but there is more at play.
All I can suggest is once again keep an open mind.  Winter is not done and any outlook beyond 7 to 10 days has very low confidence and accuracy. The best we can do for now is spot the trends along the way.
Faith in the Flakes
Also See:
Winter History: Low Snow And Late Starts
See my research based on Baltimore data since 1883.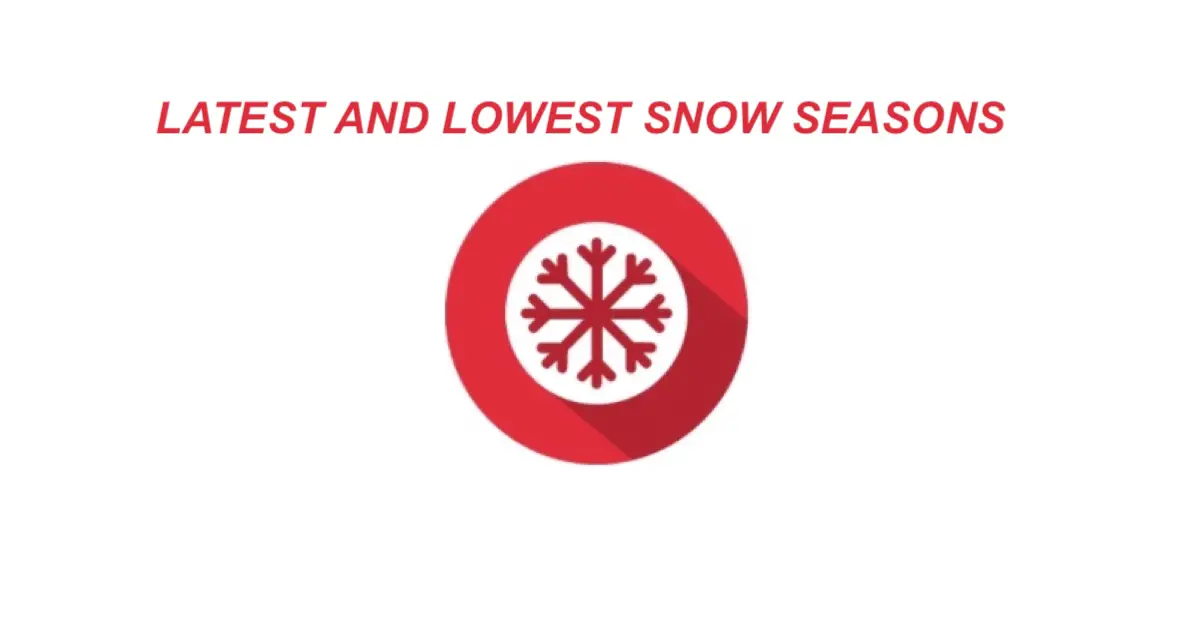 NOAA Outlook: Colder Start To February
Click here for the full report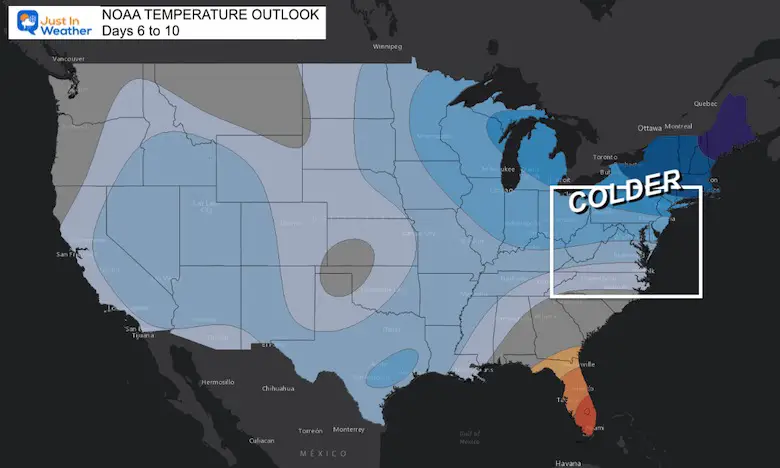 Subscribe for eMail Alerts
Weather posts straight to your inbox
Sign up and be the first to know!
STEM Assemblies/In School Fields Trips Are Back
Click to see more and 'Book' a visit to your school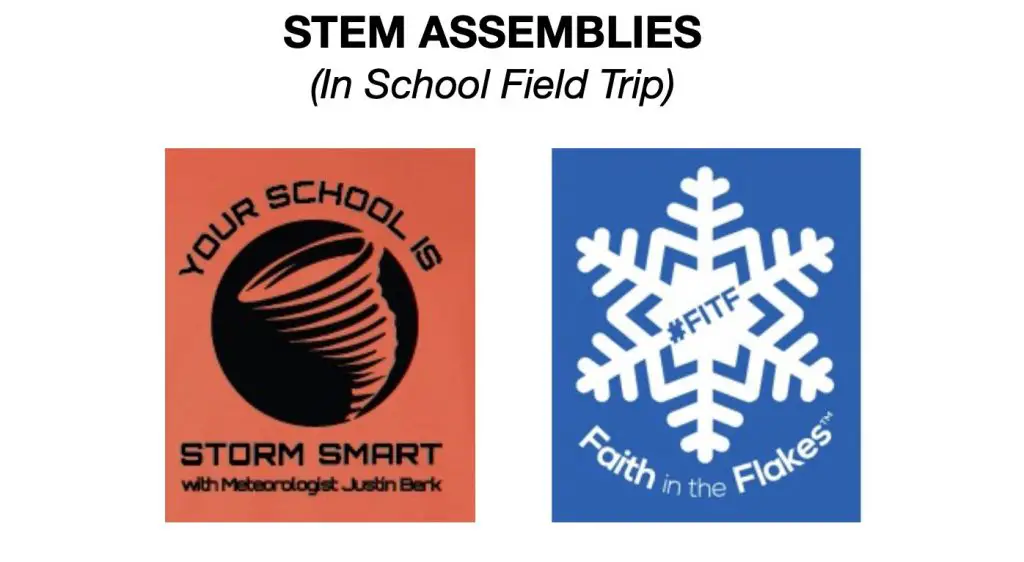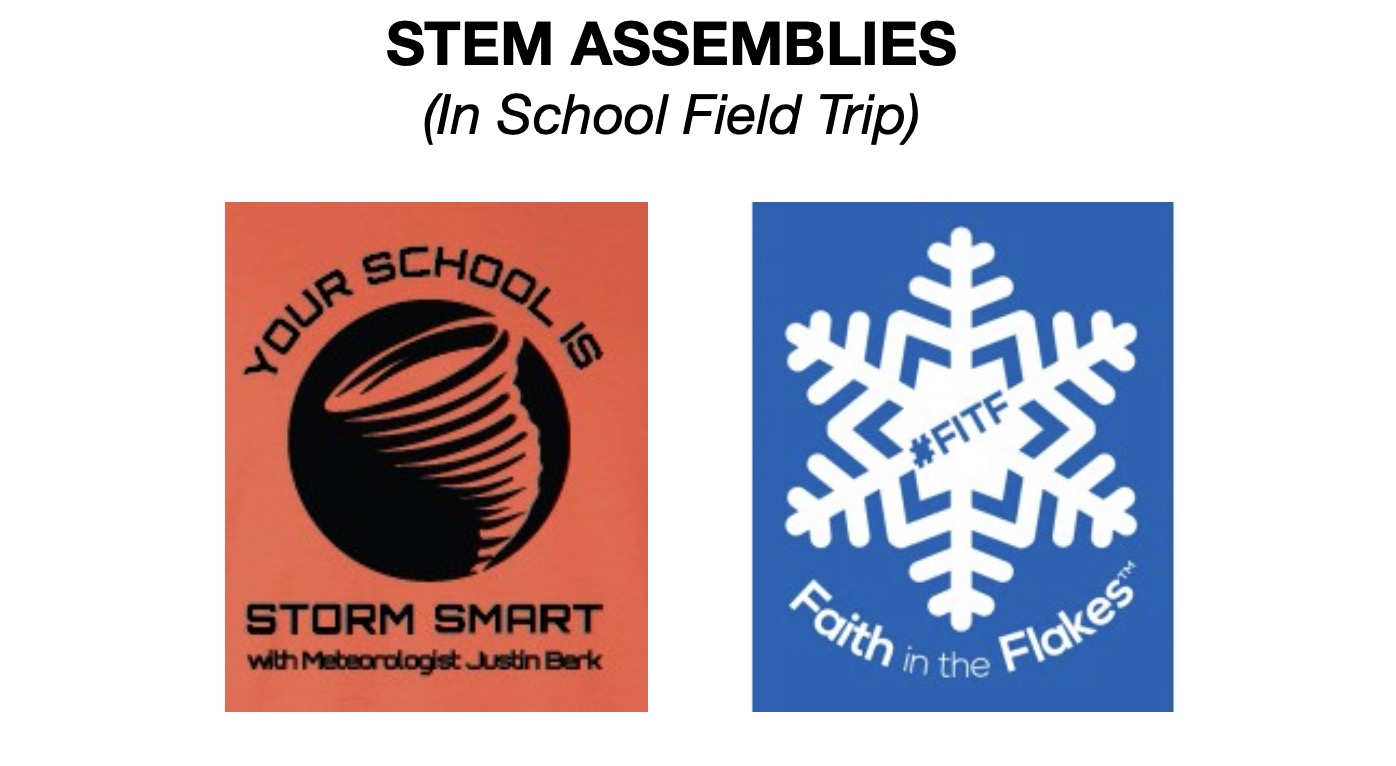 My Winter Outlook: Not A Typical La Niña!
I see many factors to support colder influence with multiple systems. Early and later in winter. Check it out.
https://justinweather.com/2022/11/22/winter-outlook-2023-for-snow-not-typical-la-nina-plus-polar-vortex-disruption/
Also See The Winter Outlook Series:
Atmospheric Memory Suggests Active Winter Storm Pattern Outlook
Winter Outlook 2023 From NOAA Very Different Than Farmers Almanacs
Farmer's Almanac Comparison
Winter Outlook 2023 Early Look At Snow From Two Farmers Almanacs
Triple Dip La Niña Winter
https://justinweather.com/2022/09/09/winter-outlook-2023-la-nina-triple-dip-expectations/
CONNECTION TO WINTER?
If you want a snowy winter, this is what you might want to look for in the rest of the tropical season.
Record August For No Named Tropical Storms: Closer Look At Snow Following
Wooly Bear Caterpillars
Persimmon Seeds
Click to see Top 20 and MORE
Winter Weather Folklore Top 20 And More Outlook Signals From Nature For Cold And Snow
Normals And Records: Maryland and Baltimore Climate History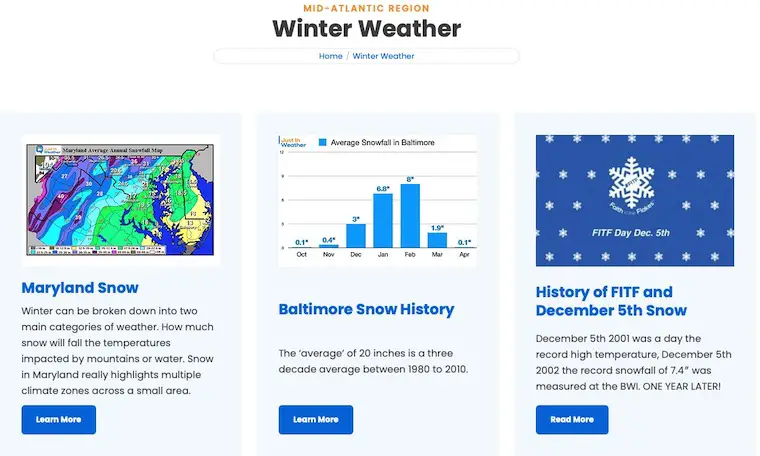 Please share your thoughts, best weather pics/videos, or just keep in touch via social media