February 3 Frigid Friday With Flurries And Arctic Winds
Polar Vortex
Maryland Weather
Winter Weather
Forecast
Justin Berk
Feb 3, 2023
6:19 am
0
February 3, 2023
Friday Morning
The arctic air is moving in. We have already seen our high temperatures for the day as temps will drop to the 20s this afternoon. Winds will make it feel much colder, so it will not be the best day to be outside.
A band of light snow has been crossing through central Maryland, so you may have a coating on your vehicle or lawn. The roads are OK. This is just the leading edge of arctic air and may be followed by more flurries today.
Radar Snapshot at 6 AM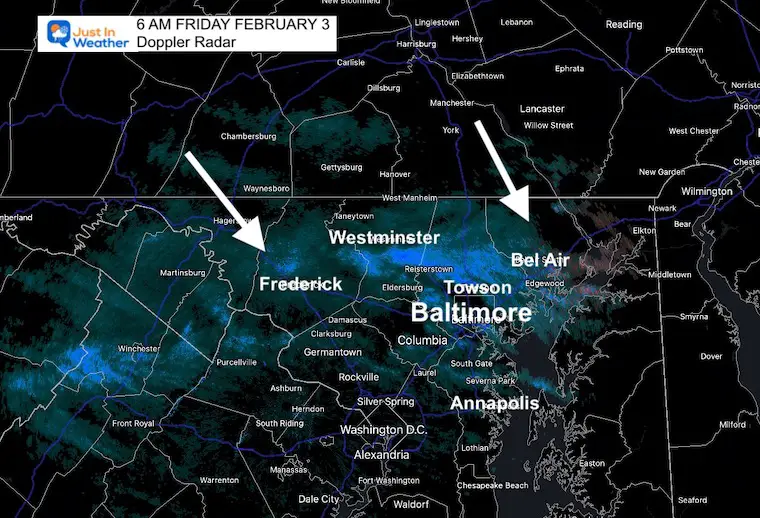 Morning Temperatures
The leading edge of the very cold air is just starting to move in.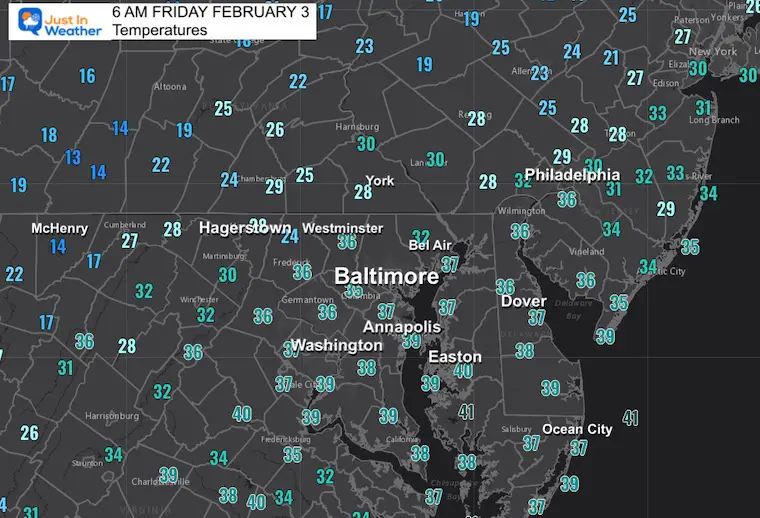 Morning Surface Weather
Behind this arctic front, we can see the streaming bands of snow off the Great Lakes. That is a signal of the strong and very cold winds. Some of that energy will carry more flurries our way today.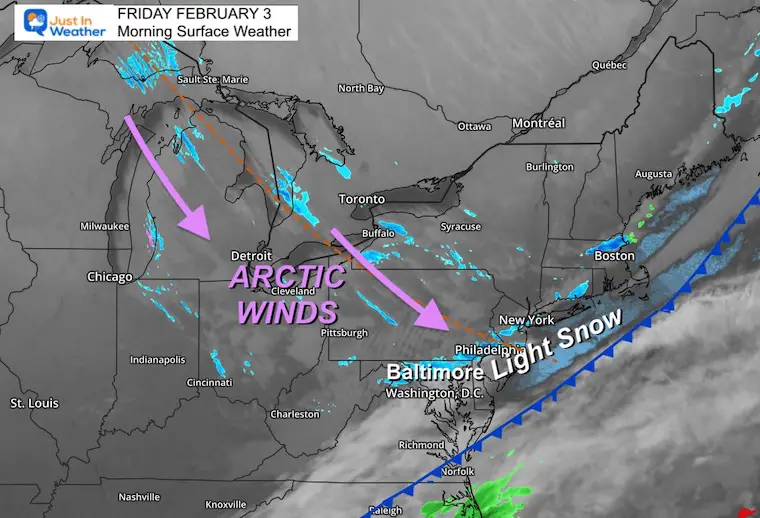 Radar Simulation 10 AM to 7 PM
A few light snow streamers or flurries will be possible.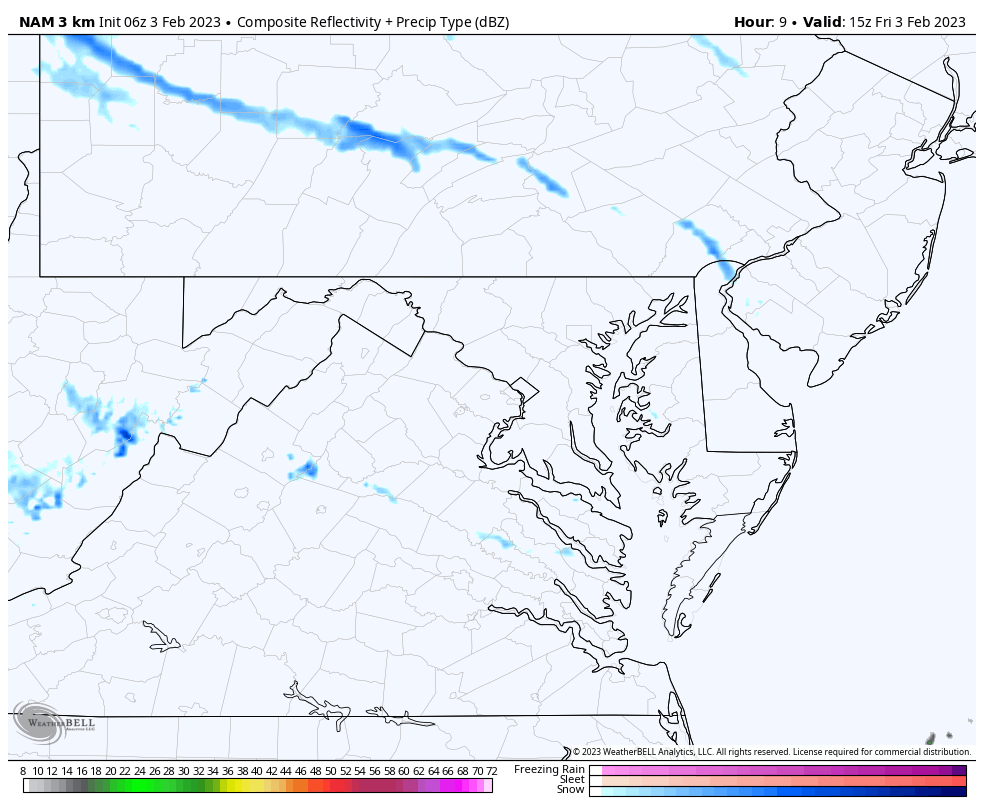 Snapshot at 4 PM
We may see some localized snow bands.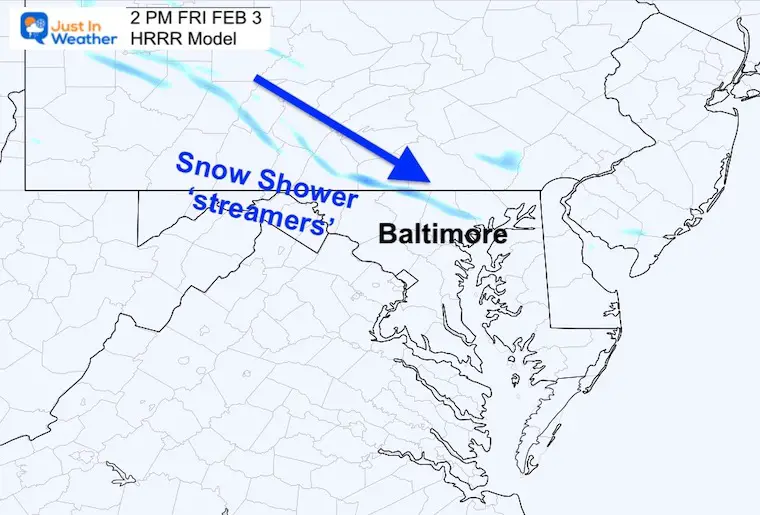 Polar Vortex This Afternoon
The actual circulation will NOT be here in the Mid Atlantic. It will be passing just north of the state of Maine! We are getting the most brisk arctic winds pulling down our way today and tonight.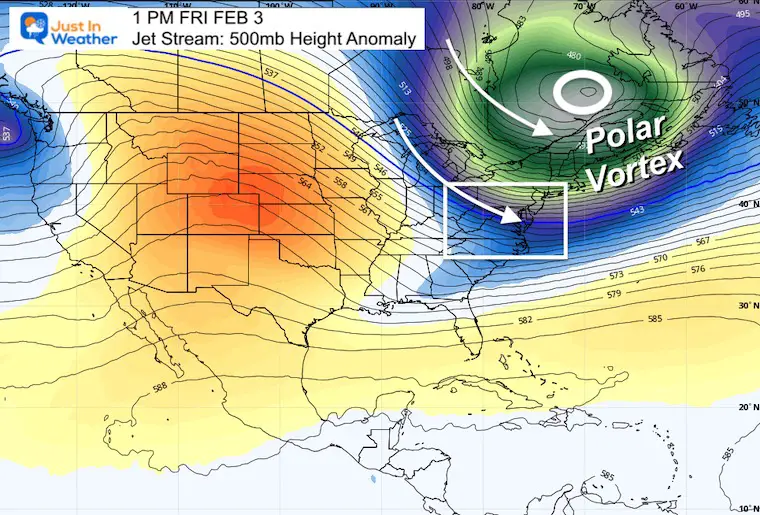 Wind Animation Through 7 PM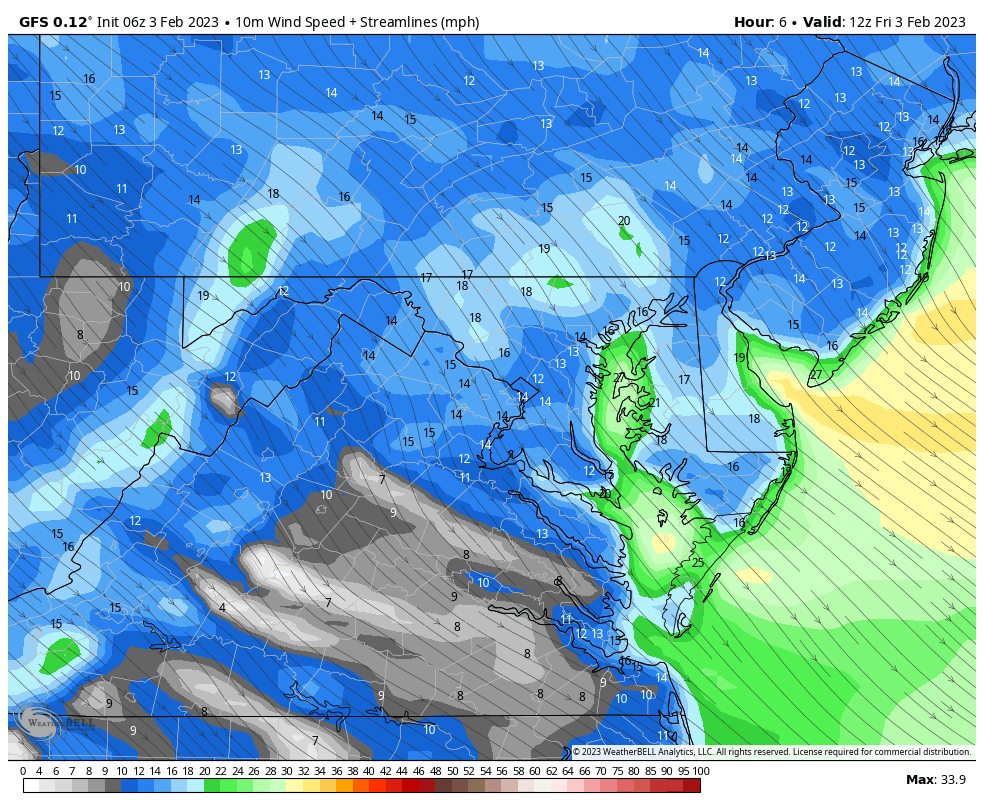 Afternoon Temperatures
The air will get colder during the day.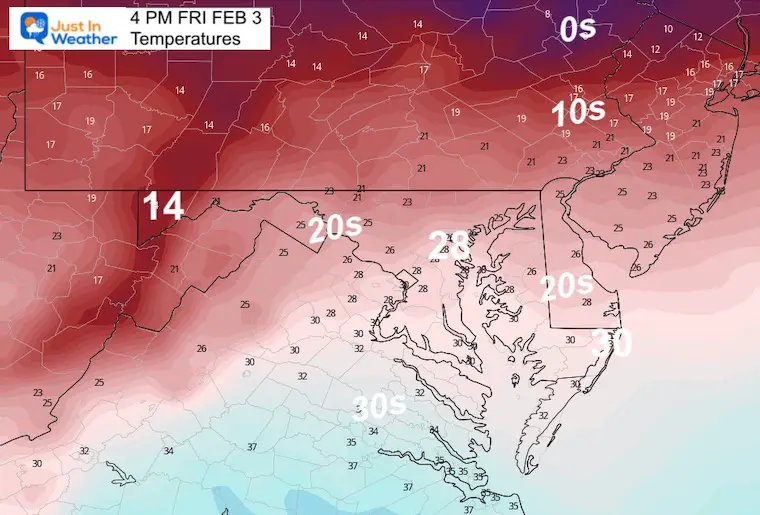 Wind Forecast Snapshot
With gusts to 30 mph, it will make the air feel colder.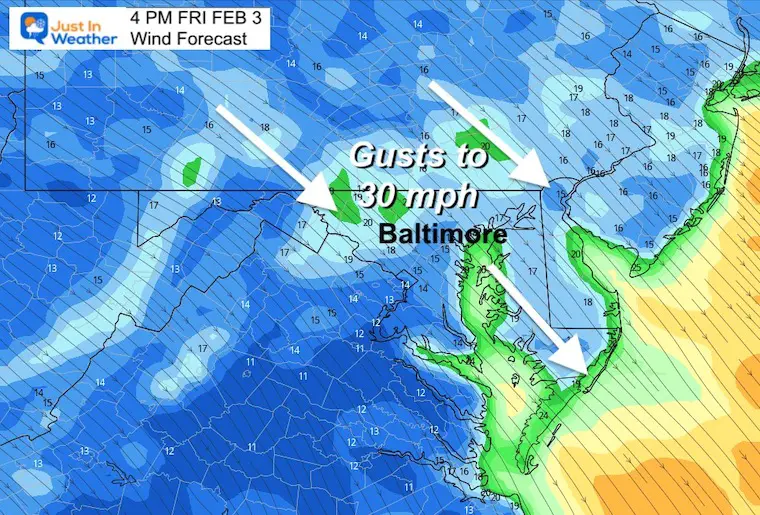 Wind Chill
It is going to be painful to be outside.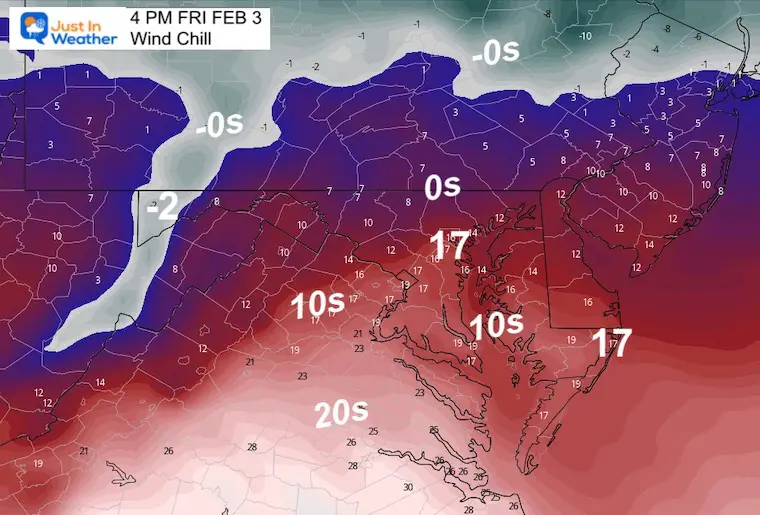 Subscribe for eMail Alerts
Weather posts straight to your inbox
Sign up and be the first to know!
CLIMATE DATA
TODAY February 3
Normal Low in Baltimore:  25ºF
Record 4ºF in 1961
SNOW: 9.6" 1961
Normal High in Baltimore: 44ºF
Record 67ºF 2020
Saturday Weather
Morning Temperatures
This is when we bottom out with the coldest air.
Wind Chill
This will be worse in the morning, then improving.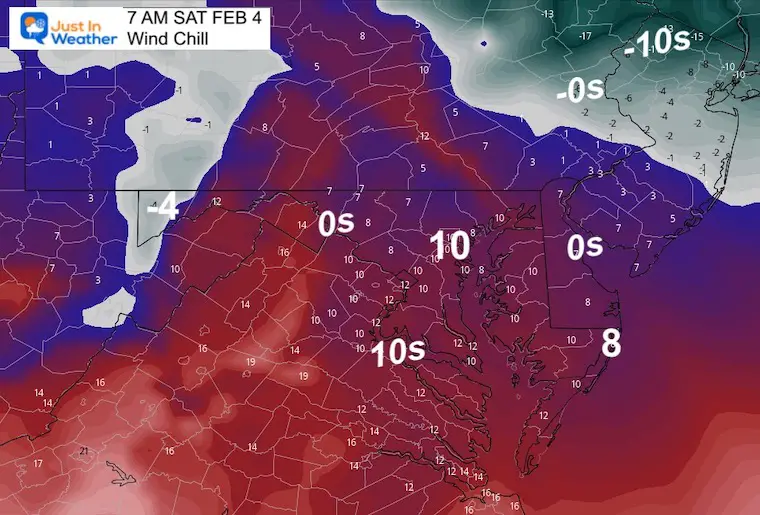 Afternoon Temperatures
Recovering back to near freezing.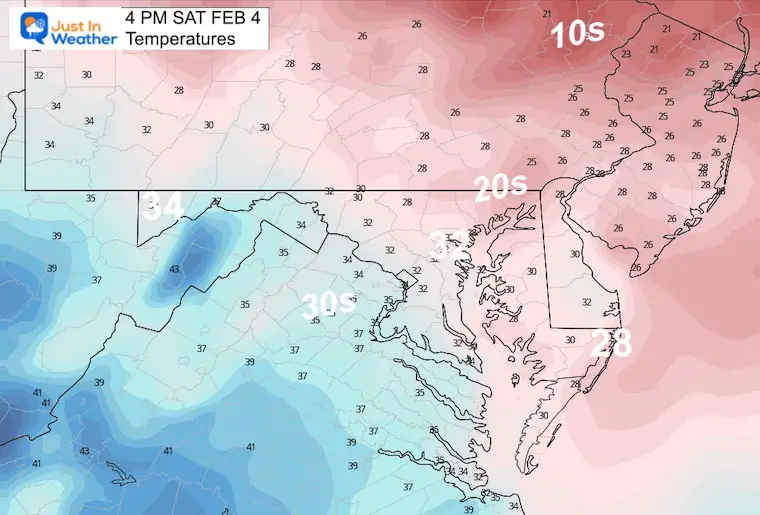 Afternoon Wind Chill
It will remain chilly, but not as cold.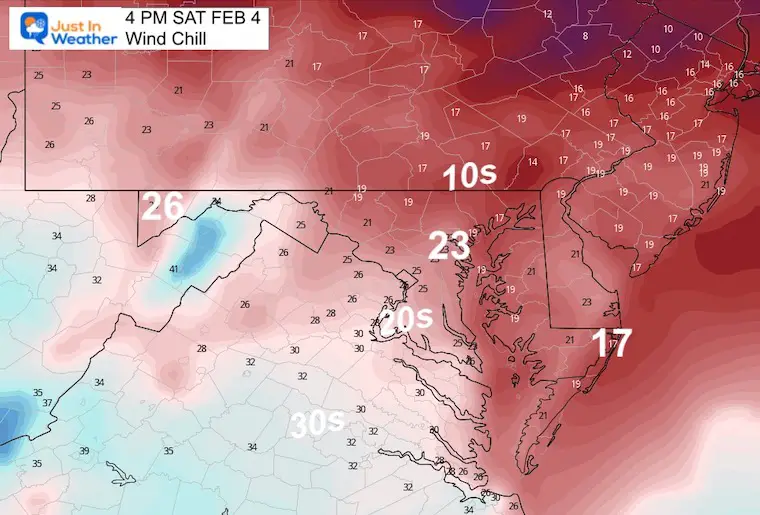 Looking Ahead
Wednesday Morning Feb 8 to Saturday Feb 11
Rain showers mid week, then things get interesting next weekend. I am showing this because I know it will change! There is an impulse that could shift where the wintry weather tries to return.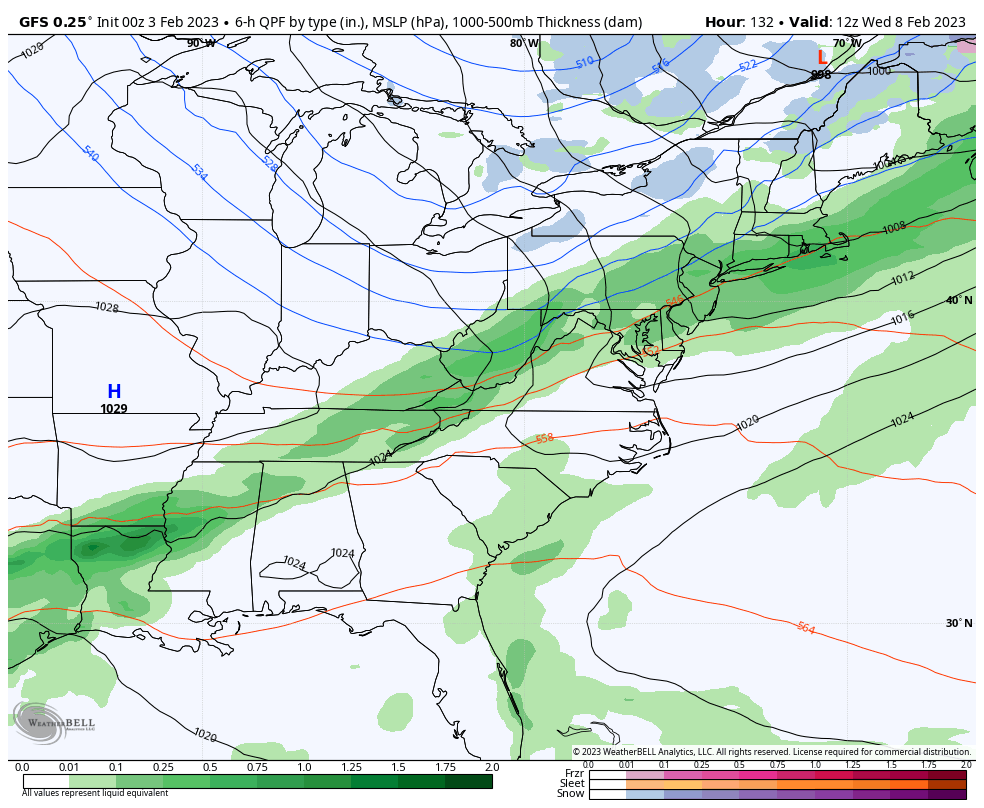 7 Day Forecast
After this arctic blast bottoms out on Saturday morning, we will bounce to spring temps quickly. The impact of rain may limit how warm we get, so watching those systems will determine where and when the 60s may expand.
Beyond this time frame I see a return to some colder air and a chance for winter weather again.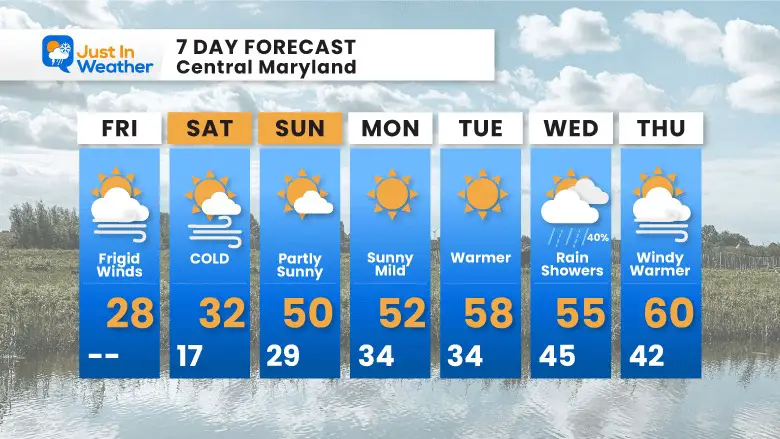 Also See:
Winter History: Low Snow And Late Starts
See my research based on Baltimore data since 1883.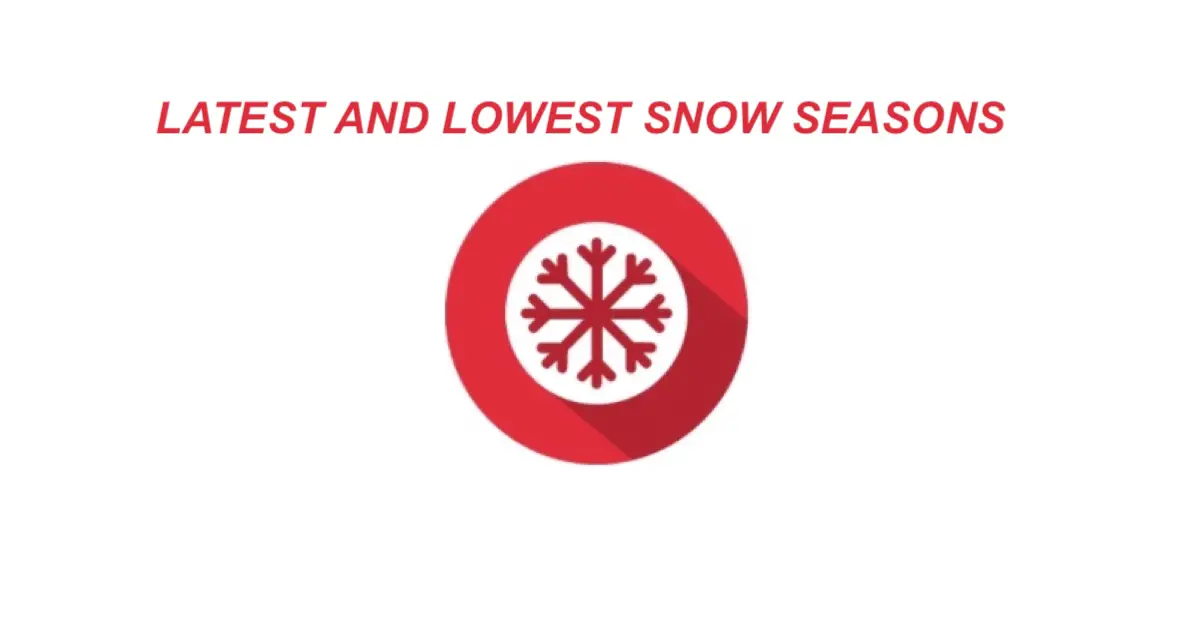 NOAA Outlook: Colder Start To February
Click here for the full report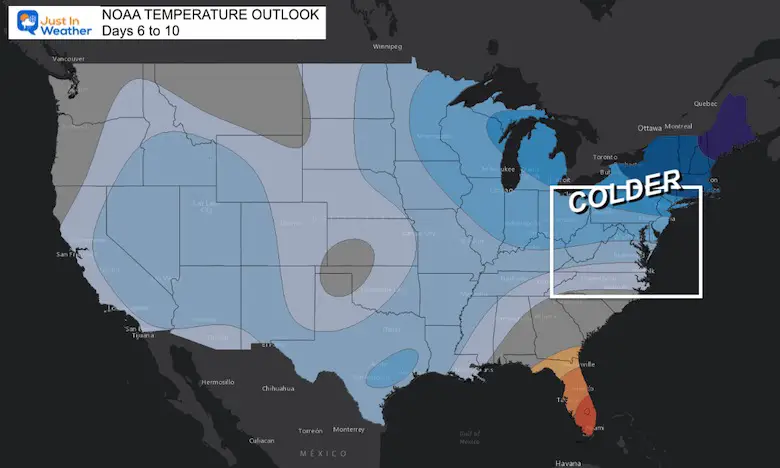 Subscribe for eMail Alerts
Weather posts straight to your inbox
Sign up and be the first to know!
STEM Assemblies/In School Fields Trips Are Back
Click to see more and 'Book' a visit to your school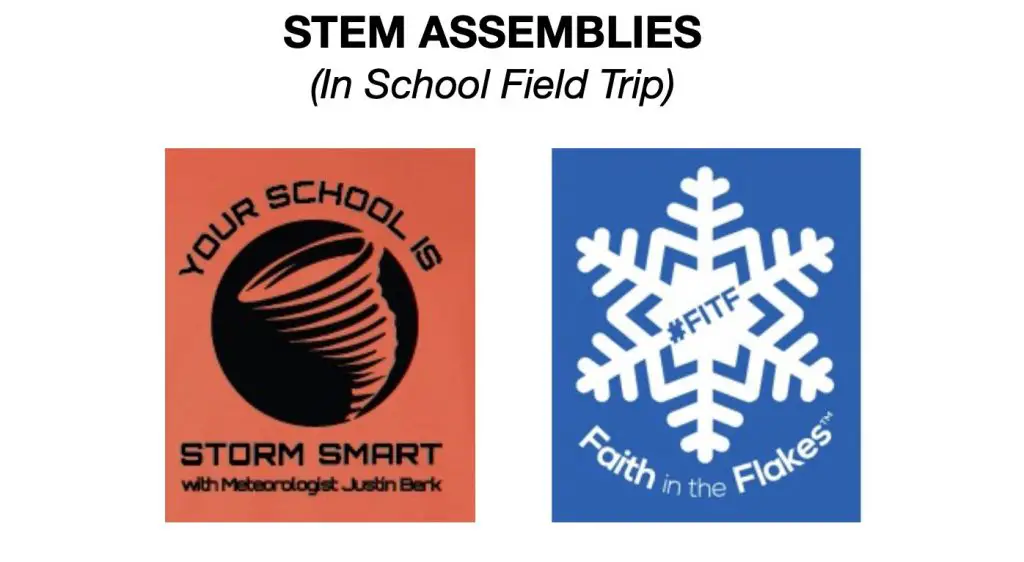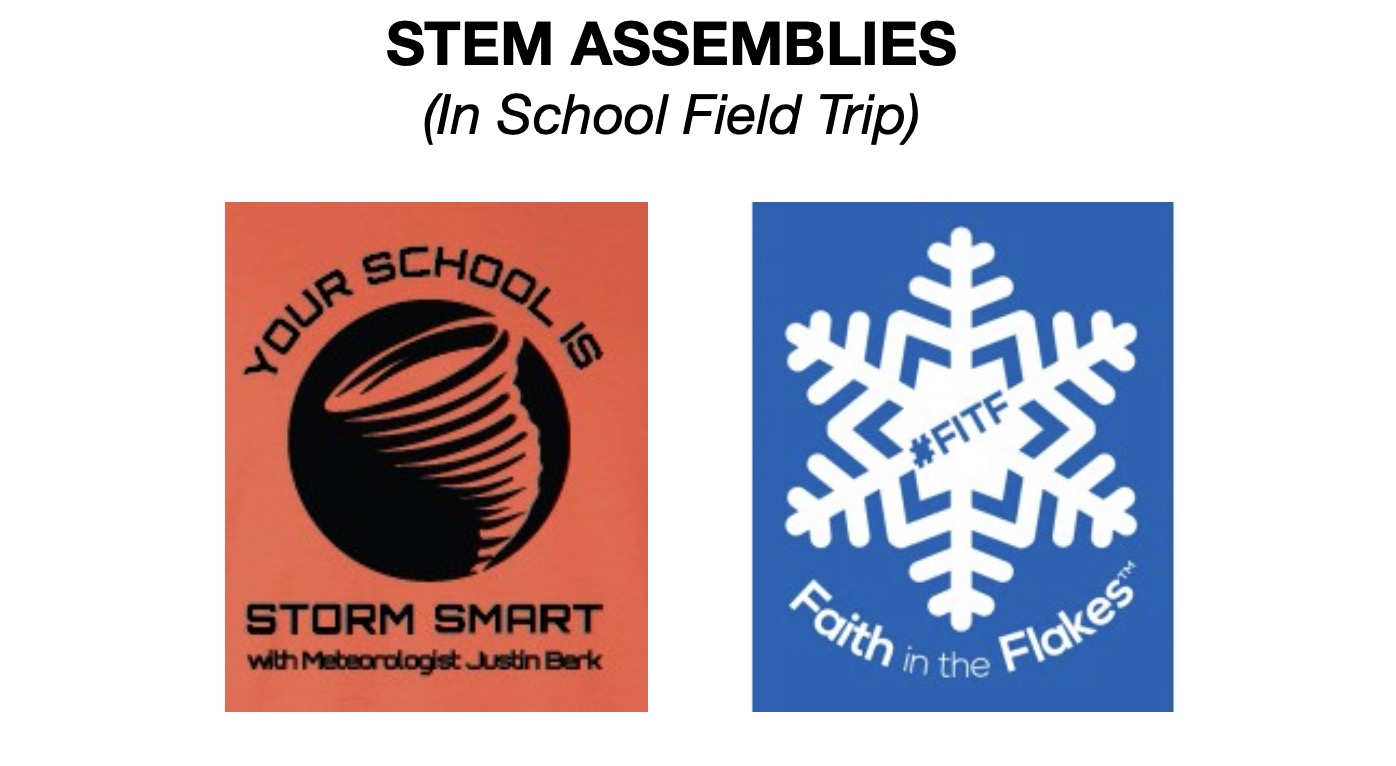 My Winter Outlook: Not A Typical La Niña!
I see many factors to support colder influence with multiple systems. Early and later in winter. Check it out.
https://justinweather.com/2022/11/22/winter-outlook-2023-for-snow-not-typical-la-nina-plus-polar-vortex-disruption/
Also See The Winter Outlook Series:
Atmospheric Memory Suggests Active Winter Storm Pattern Outlook
Winter Outlook 2023 From NOAA Very Different Than Farmers Almanacs
Farmer's Almanac Comparison
Winter Outlook 2023 Early Look At Snow From Two Farmers Almanacs
Triple Dip La Niña Winter
https://justinweather.com/2022/09/09/winter-outlook-2023-la-nina-triple-dip-expectations/
CONNECTION TO WINTER?
If you want a snowy winter, this is what you might want to look for in the rest of the tropical season.
Record August For No Named Tropical Storms: Closer Look At Snow Following
Wooly Bear Caterpillars
Persimmon Seeds
Click to see Top 20 and MORE
Winter Weather Folklore Top 20 And More Outlook Signals From Nature For Cold And Snow
Normals And Records: Maryland and Baltimore Climate History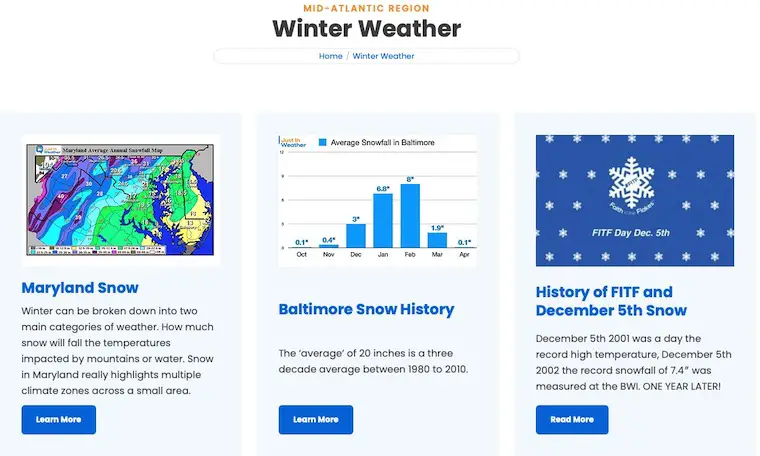 Please share your thoughts, best weather pics/videos, or just keep in touch via social media