February 4 Historic Cold For Mount Washington And Our Big Warm Up
Polar Vortex
Maryland Weather
climate data
Winter Weather
Forecast
Justin Berk
Feb 4, 2023
7:54 am
0
February 3 2023
Saturday Morning
I get it! We have not had much winter other than these brief bursts of arctic air and a few days of headlines about the Polar Vortex. The reality is that weather phenomenon did clip the Northeast US and resulted in new weather records at Mount Washington in New Hampshire. This was already known to have the World's Worst Weather.
I want to highlight what they experienced, the current weather there and here, then focus on our big warm up.  I also want to highlight that there is more winter ahead and the models are trying to show something as soon as next weekend.
Polar Vortex- Saturday Morning
This is the location as it exits into the North Atlantic.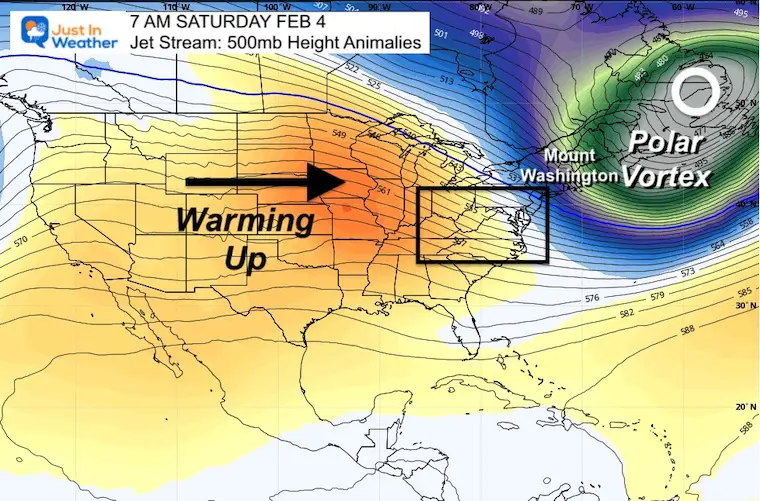 Mount Washington Weather
Last Night at 8 PM I posted this:
At 8 PM Fri Feb 3 2023
Breaking The Record and trying for more
Mount Washington, NH
-46ºF (all time coldest record -47ºF in 1934)
Peak Wind Gust was 127 mph earlier (231 mph set in 1934)
Wind Chill -108ºF
THIS IS THE LOWEST EVER IN USA
Saturday Morning Conditions
Click here to see the latest Live weather report.

Video From Mount Washington
JUST IN; Mount Washington, New Hampshire wind chill drops to -108°F (-78°C), lowest ever recorded in the USA.

— Remarks (@Remarks) February 4, 2023
Morning Temperatures
-45ºF and warming up a little already.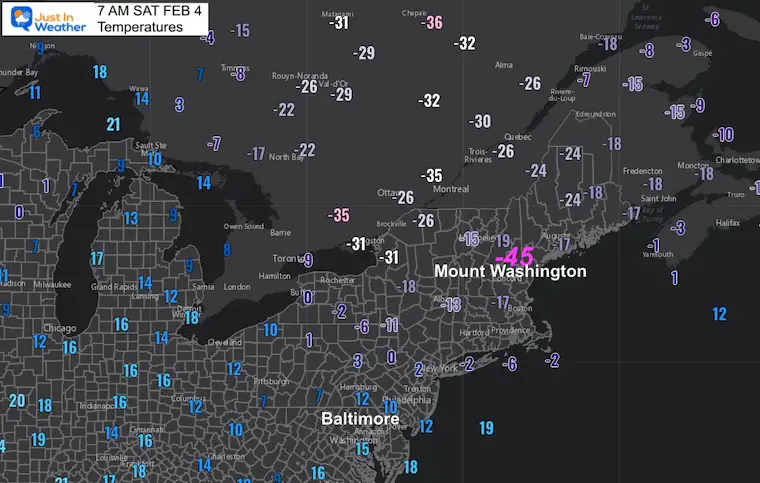 Morning Surface Weather
High Pressure is passing through our region today. That will keep the wind calmer and sky mostly sunny. A warmer air mass will be racing in over the next few days.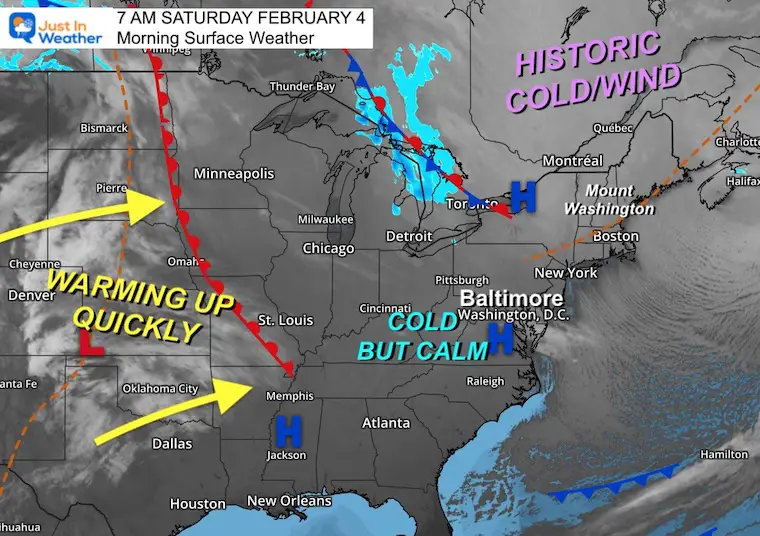 Local Weather
Morning Temperatures
Wind Animation 7 AM to 7 PM
We can see High Pressure passing directly overhead. This will keep us sunny with light wind. Then a shift from the south will begin the warming trend.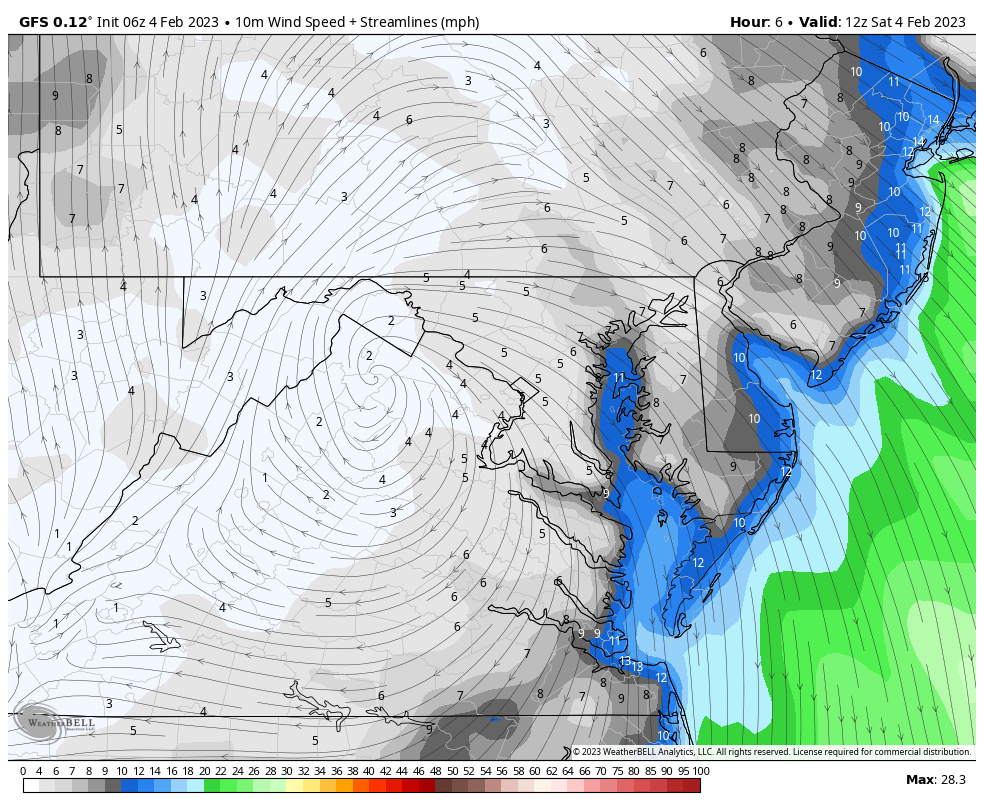 Afternoon Temperatures
Recovering close to freezing, but the light winds will shift to a southerly flow.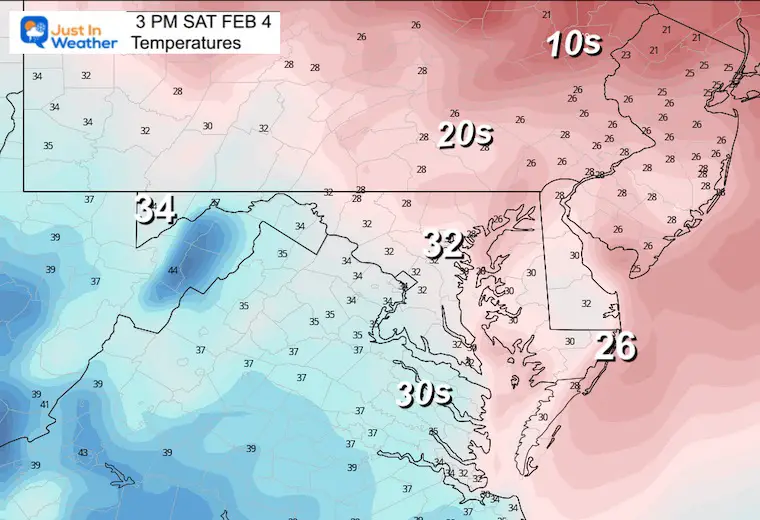 Subscribe for eMail Alerts
Weather posts straight to your inbox
Sign up and be the first to know!
CLIMATE DATA
TODAY February 4
Normal Low in Baltimore:  25ºF
Record 5ºF in 1918
SNOW: 7.2" 1995
Normal High in Baltimore: 44ºF
Record 72ºF 1991
Sunday Weather
Morning Temperatures
These numbers may be similar to the afternoon on Saturday.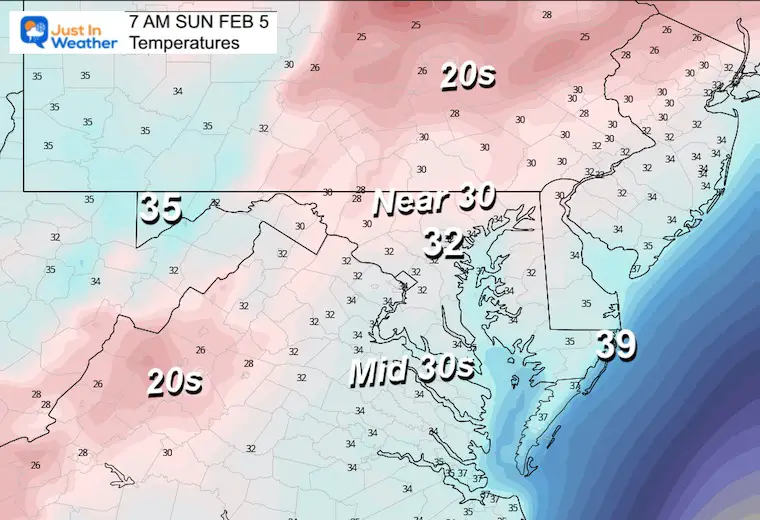 Afternoon Temperatures
Definitely a much more comfortable day, however we may have more cloud cover.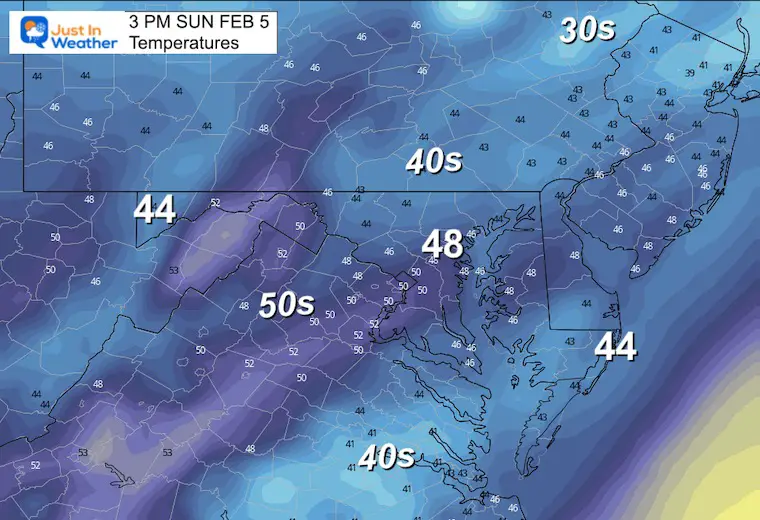 Looking Ahead
Jet Stream Saturday To Saturday
The Polar Vortex departs and a large ridge builds in very warm temps next week. This will be followed by another colder impulse next weekend.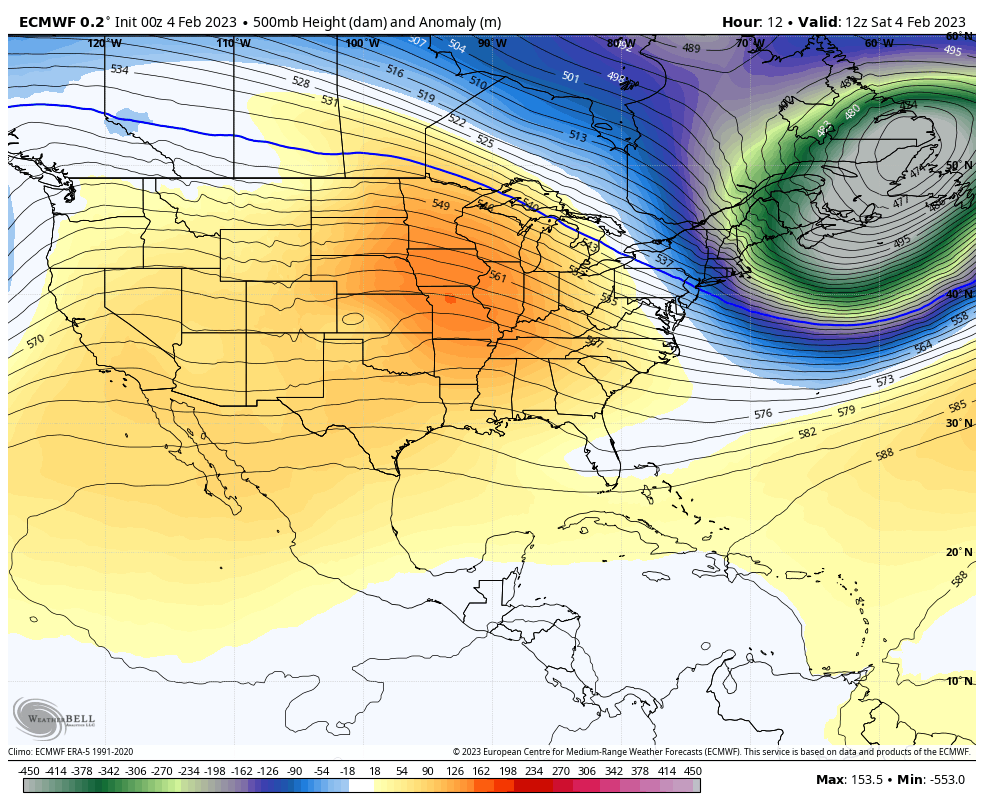 Snapshot Next Weekend
This impulse will have a colder pocket with it and may try to bring in a winter component to the storm complex.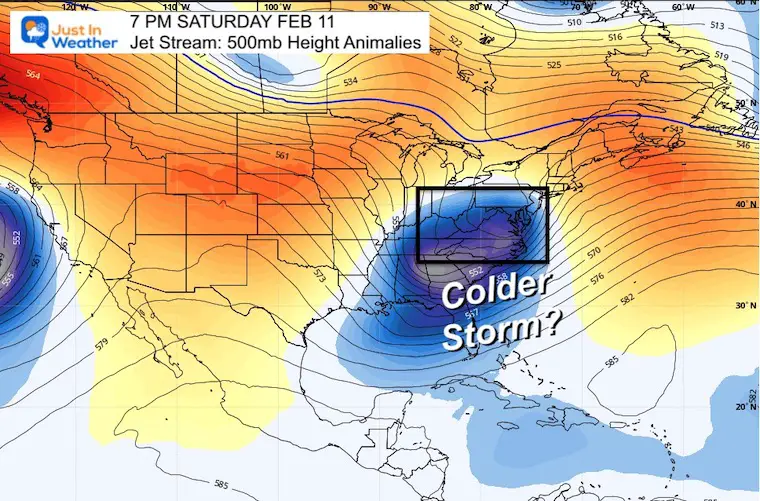 Thursday To Saturday
The storm pattern does ride the warm air with rain, then a possible last wave shifting south with colder air and maybe inland snow.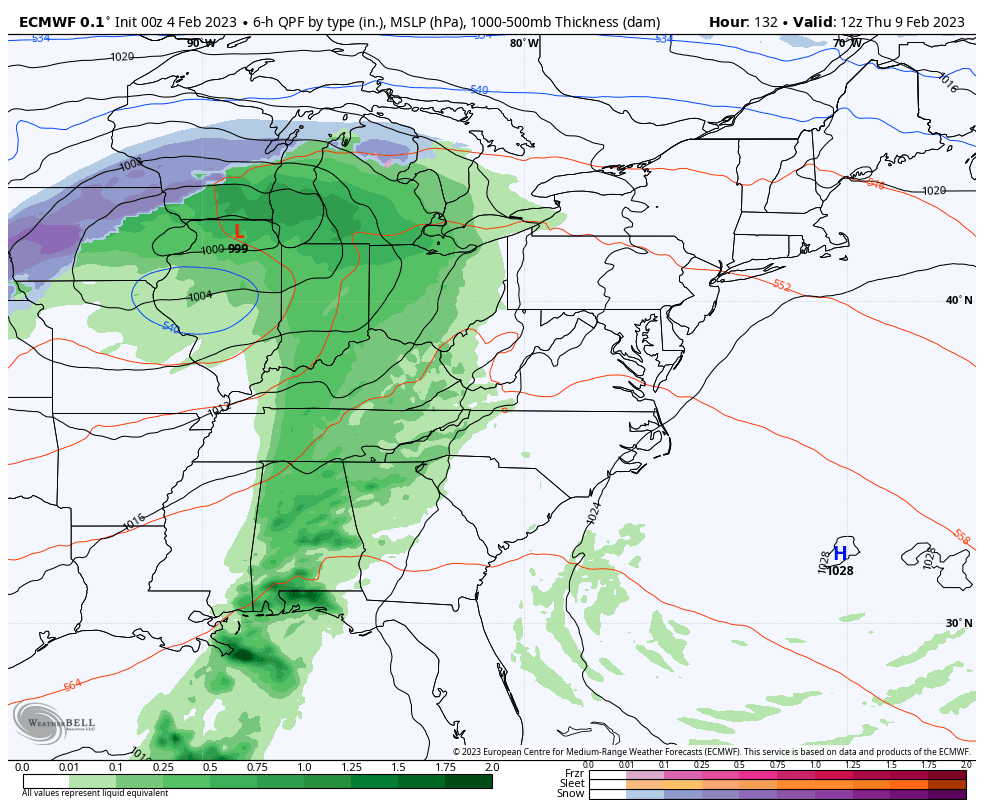 Next Weekend Snapshot
Please keep in mind that this is an 8 day outlook, but there has been some consistency with yesterday to bring in a weather event with colder air.
The more reliable ECWMF (European) Model is the more robust plot and worth watching. I will keep tabs on it.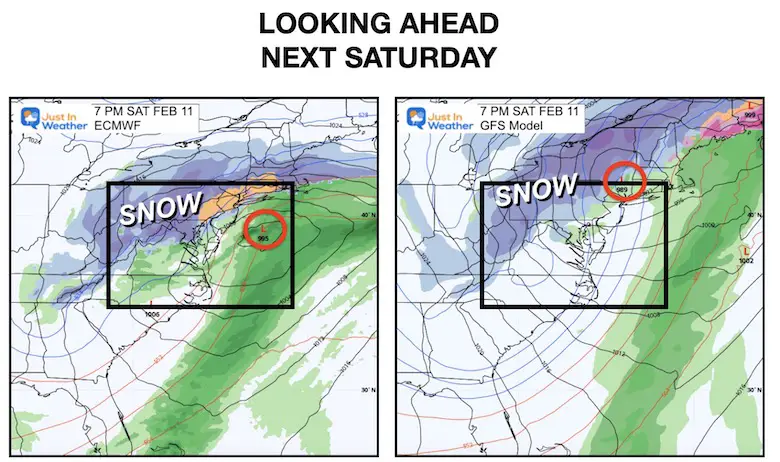 7 Day Forecast
A quick warm up begins tomorrow and as often is the case, we get the other extreme of warm air next week. This will bring in rain at the end of the week, but the longer range does bring winter back next weekend.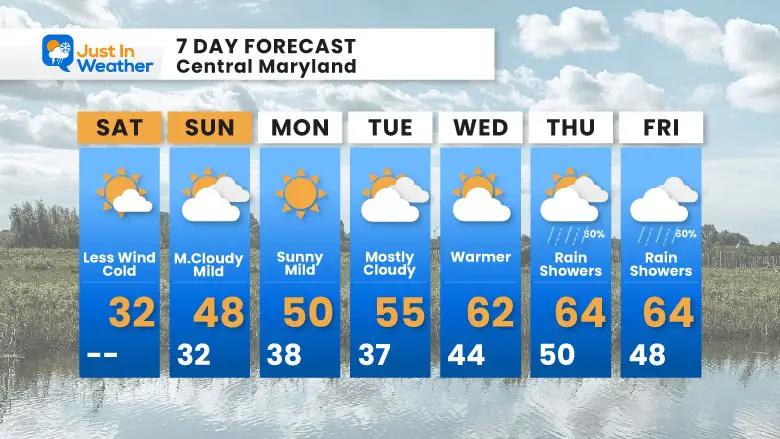 Also See:
Winter History: Low Snow And Late Starts
See my research based on Baltimore data since 1883.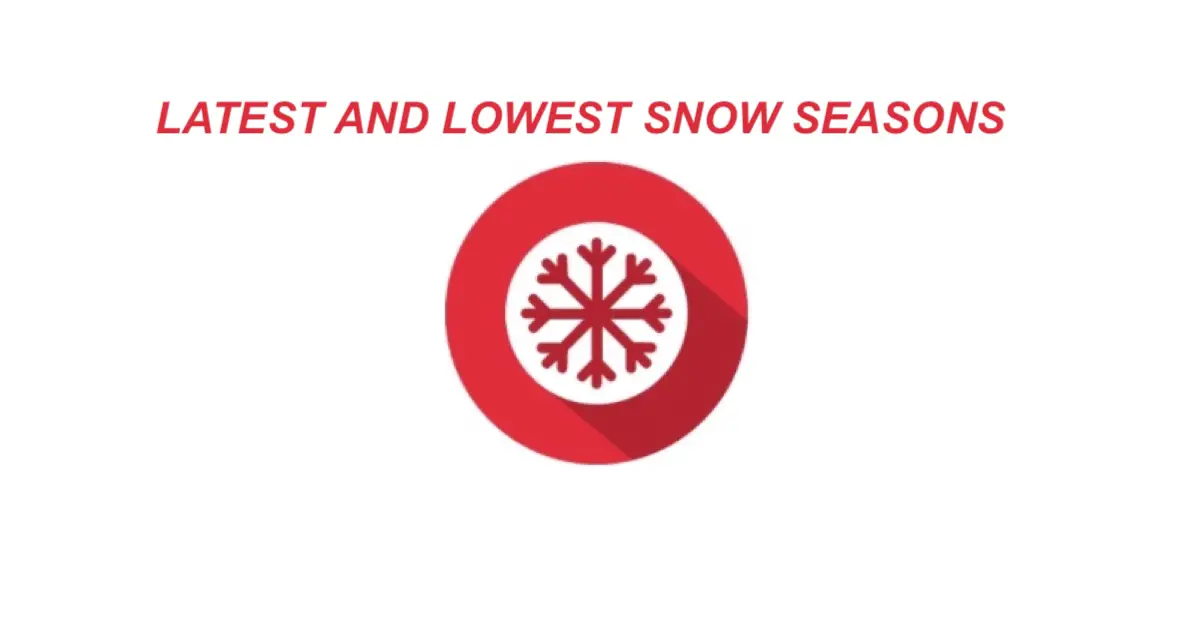 NOAA Outlook: Colder Start To February
Click here for the full report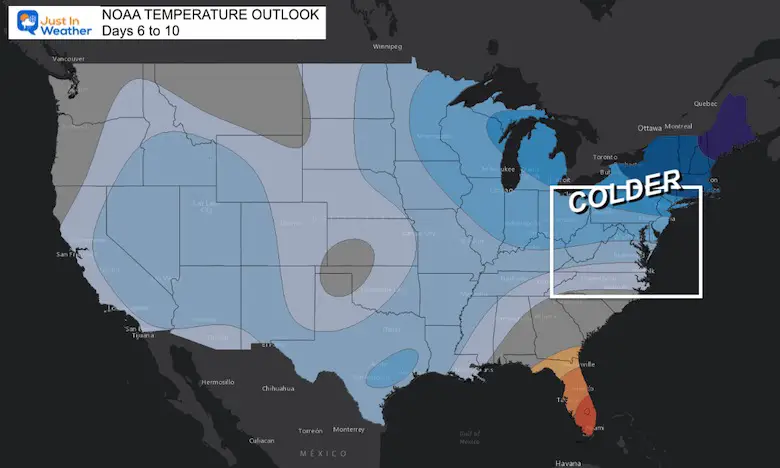 Subscribe for eMail Alerts
Weather posts straight to your inbox
Sign up and be the first to know!
STEM Assemblies/In School Fields Trips Are Back
Click to see more and 'Book' a visit to your school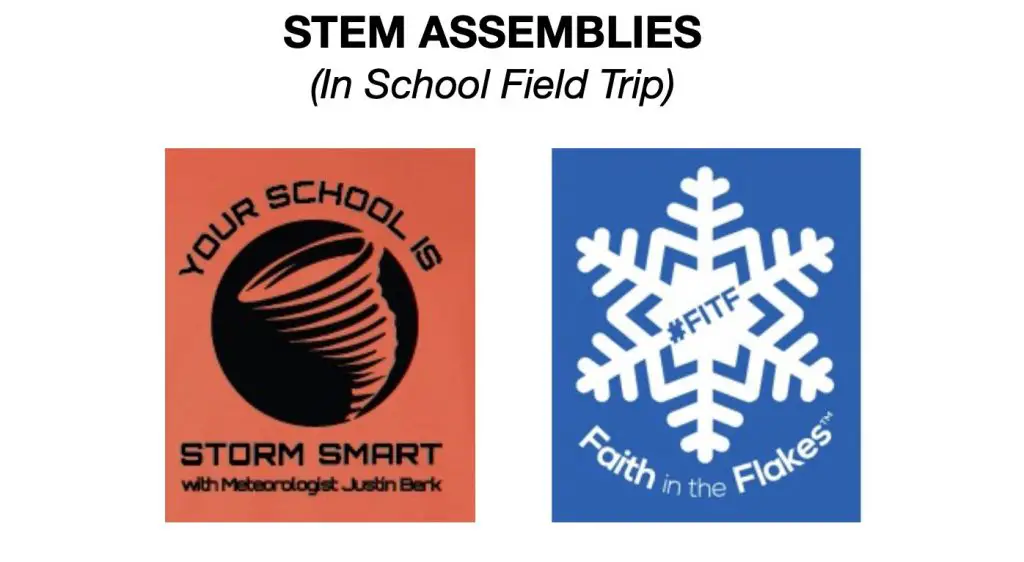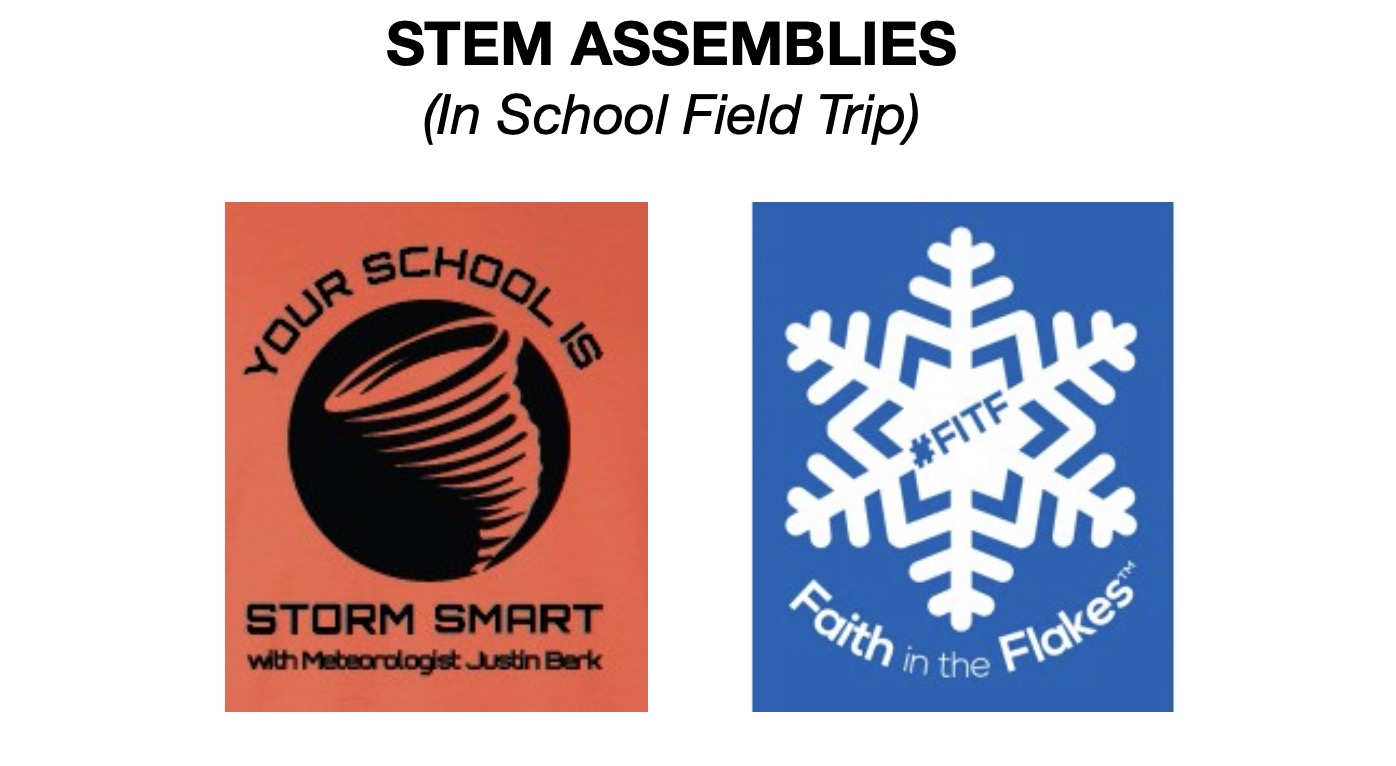 My Winter Outlook: Not A Typical La Niña!
I see many factors to support colder influence with multiple systems. Early and later in winter. Check it out.
https://justinweather.com/2022/11/22/winter-outlook-2023-for-snow-not-typical-la-nina-plus-polar-vortex-disruption/
Also See The Winter Outlook Series:
Atmospheric Memory Suggests Active Winter Storm Pattern Outlook
Winter Outlook 2023 From NOAA Very Different Than Farmers Almanacs
Farmer's Almanac Comparison
Winter Outlook 2023 Early Look At Snow From Two Farmers Almanacs
Triple Dip La Niña Winter
https://justinweather.com/2022/09/09/winter-outlook-2023-la-nina-triple-dip-expectations/
CONNECTION TO WINTER?
If you want a snowy winter, this is what you might want to look for in the rest of the tropical season.
Record August For No Named Tropical Storms: Closer Look At Snow Following
Wooly Bear Caterpillars
Persimmon Seeds
Click to see Top 20 and MORE
Winter Weather Folklore Top 20 And More Outlook Signals From Nature For Cold And Snow
Normals And Records: Maryland and Baltimore Climate History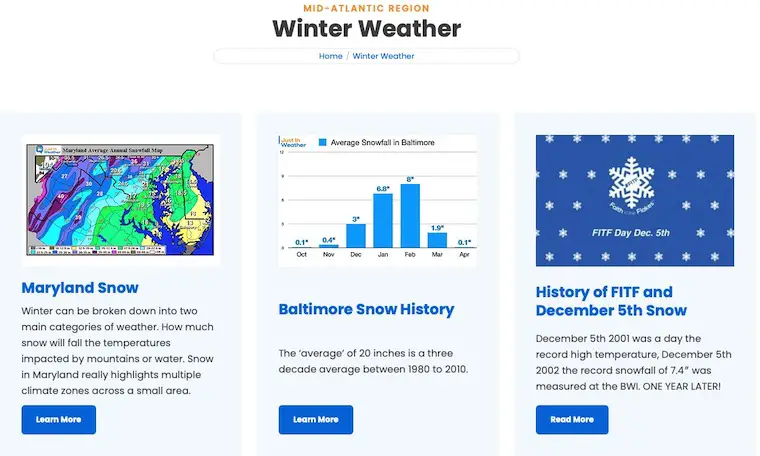 Please share your thoughts, best weather pics/videos, or just keep in touch via social media