February 5 Starting Our Warm Up Ahead And Look Back At Historic Blizzard Anniversary
Maryland Weather
climate data
Record Weather
Winter Weather
Forecast
Justin Berk
Feb 5, 2023
7:54 am
0
February 5, 2023
Sunday Morning
We have already turned the corner. The historic cold air (for New England) and our bitter chill has quickly changed. Today will be a rather pleasant day by early February standards.  We have a warm week ahead, but there is still some attempt of winter trying to show up next weekend.
Today is the anniversary of the most extreme snow week on record in our region. Not the individual storm, but the fact that 2 blizzards hit within 5 days in 2010.  See today's anniversary event below.
Morning Surface Weather
A shift of winds still has variable cloud cover, however the winds are shifting from the Southwest and will pump in warmer air for a few days.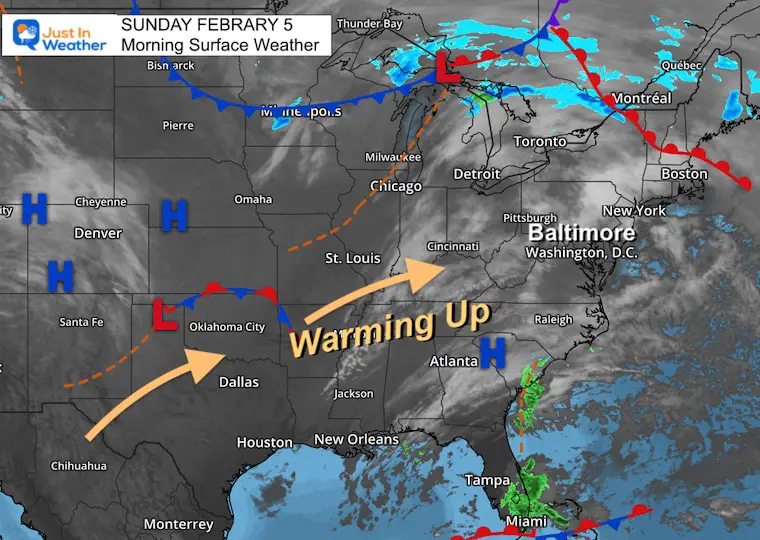 Local Weather
Morning Temperatures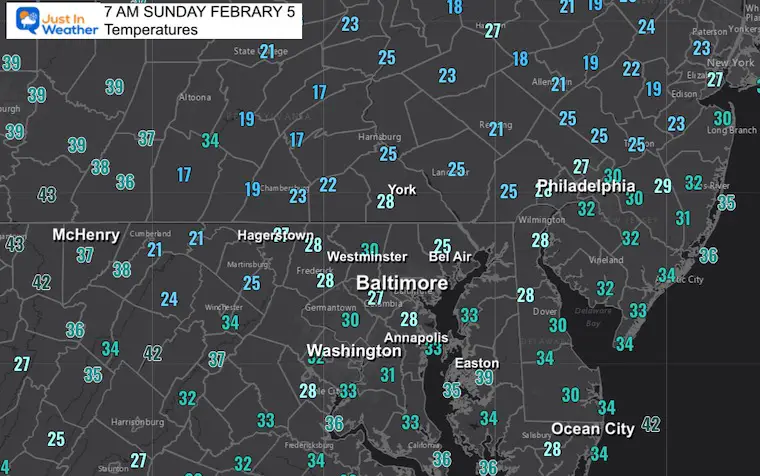 24 Hour Temperature Change
This shows how much warmer these numbers are since yesterday morning.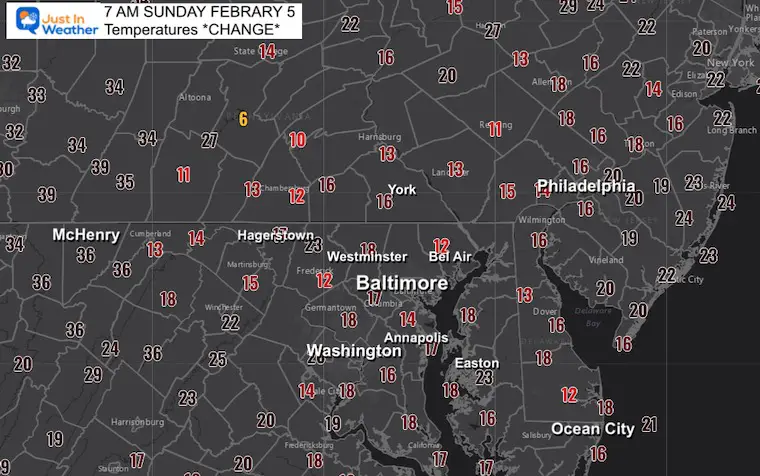 Afternoon Temperatures
Some areas could get close to 50ºF today and tomorrow even if the model is not showing it here.  Even warmer temps are on the way.

Subscribe for eMail Alerts
Weather posts straight to your inbox
Sign up and be the first to know!
CLIMATE DATA
TODAY February 5
Normal Low in Baltimore:  25ºF
Record -1ºF in 1996
SNOW: 9.0" 2010
Normal High in Baltimore: 44ºF
Record 73ºF 1991
Climate Trivia
Today was the start of the first of two blizzards to hit in 2010. This first storm brought a total of 25 inches of snow to Baltimore's BWI. It started a controversial debate as it was about to break the all time record, then NWS stopped reporting measurements. Then retroactively they lowered the snow totals, dating back to 2000. This was explained as different methods of snow measurements from The NWS standards and FAA guidelines. The NWS Observer was removed in budget cuts, leaving the FAA to monitor observations at BWI.
Both record storms added to a total 50 inches of snow to Baltimore that February. That is more than double an average season. The season total was 77 inches.  That was more than triple an average season!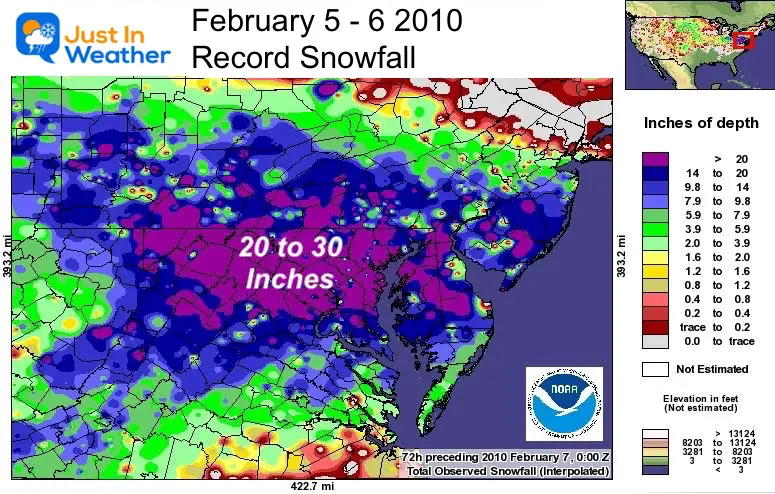 Monday Weather
Morning Temperatures
Not as cold.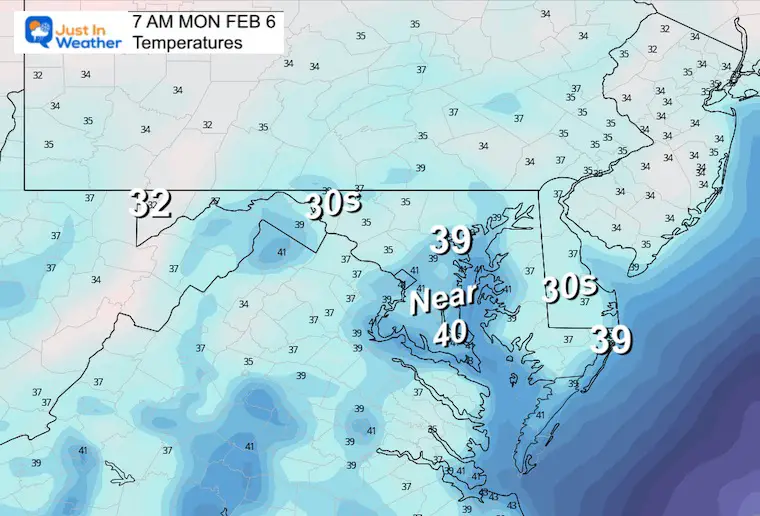 Afternoon Temperatures
Cloud cover may inhibit some warming, but more warmth is on the way.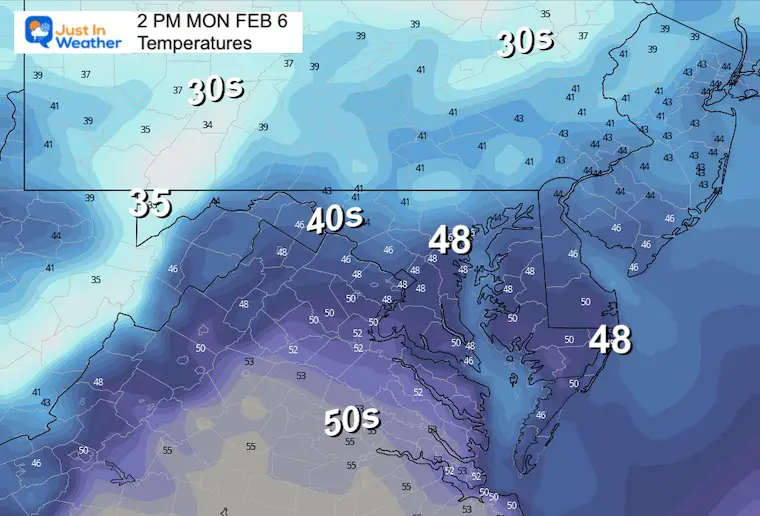 Tuesday Evening Weather
The storm track will again remain to our west as High Pressure parks off the Southeast US coast. This is what will pump in warmer air for a few days.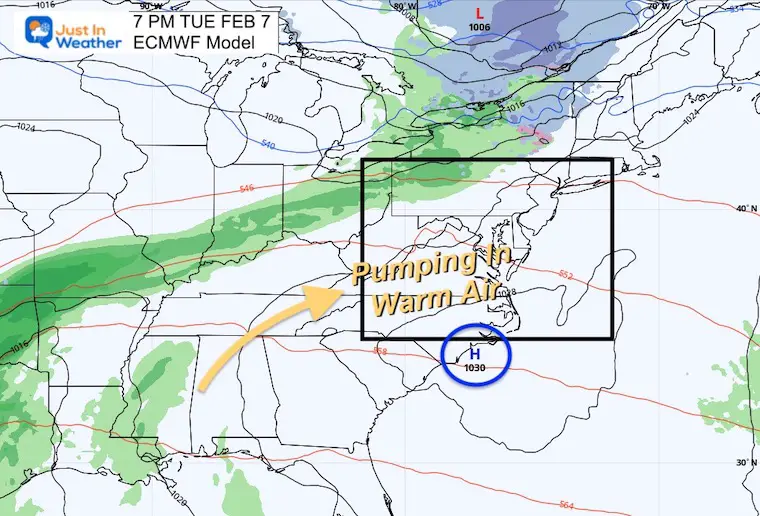 Looking Ahead
Jet Stream Tuesday Feb 7 to Tuesday Feb 14
After the ridge and warming this week, there will be another push to return the cold air to the east coast.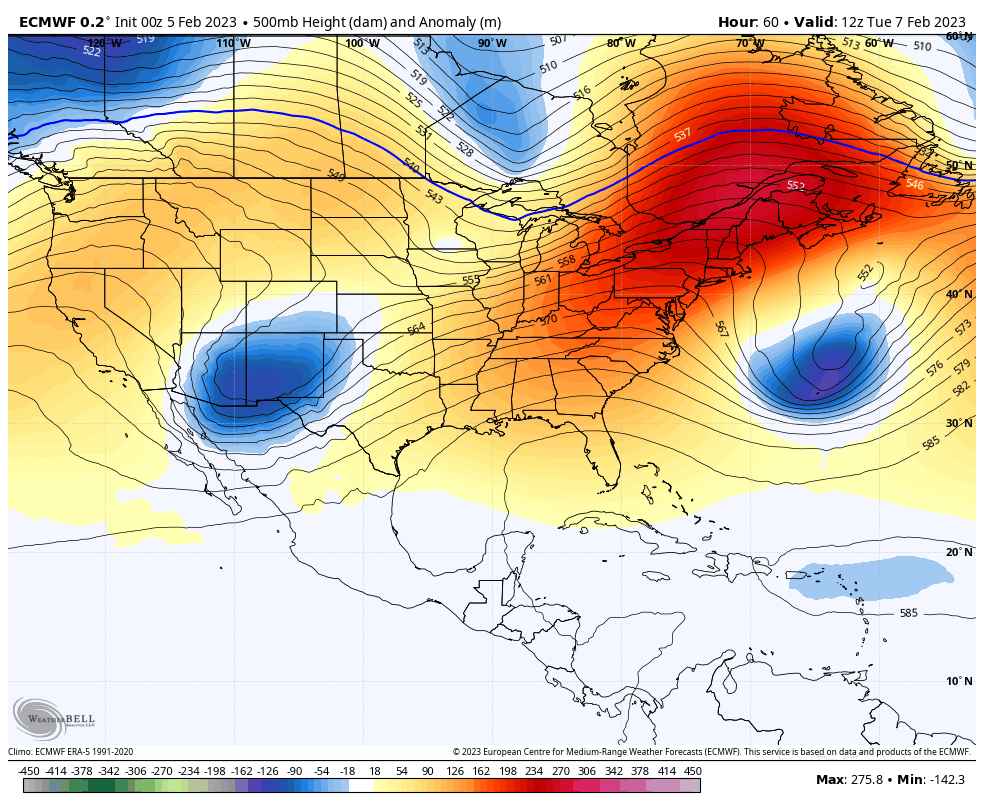 Storm Animation Tuesday To Saturday
The ECMWF Model storm pattern does ride the warm air in with rain, then a possible last wave shifting south with colder air and maybe inland snow.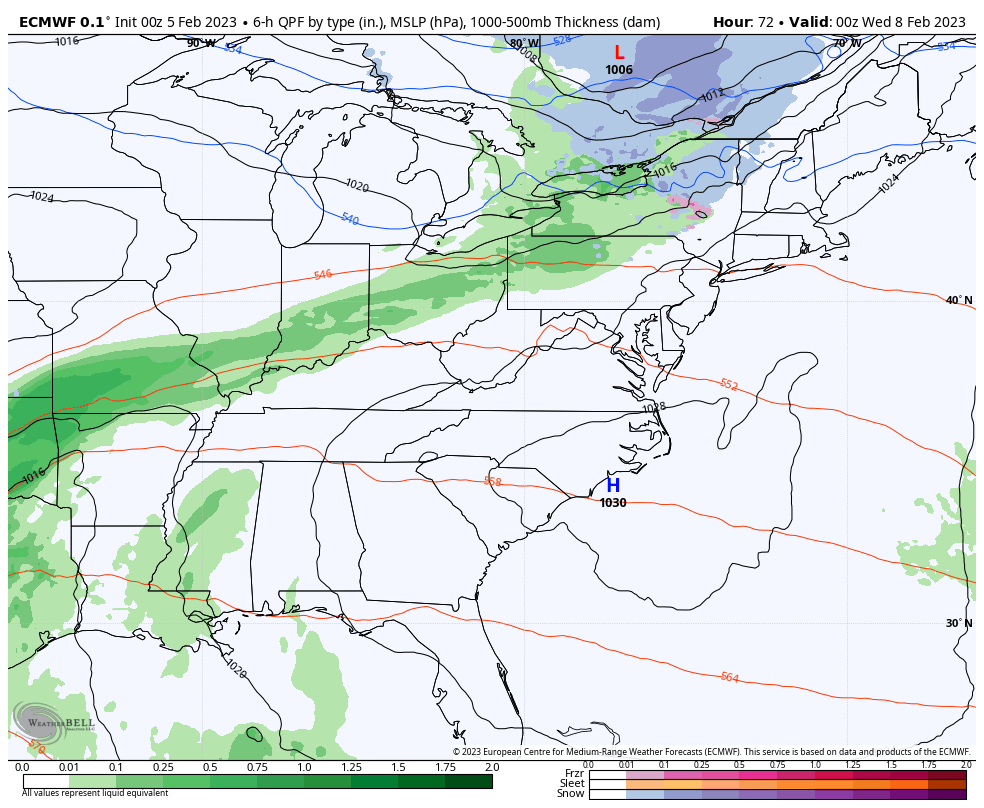 Next Weekend Snapshot
Please keep in mind that this is one week ahead, but the 3rd day in a row of still showing some form of winter weather. I believe this will continue to morph, but I am tracking that wintry element.
Often in February if we see unseasonable warmth in the 60s or higher, it is met with a return of winter within a week.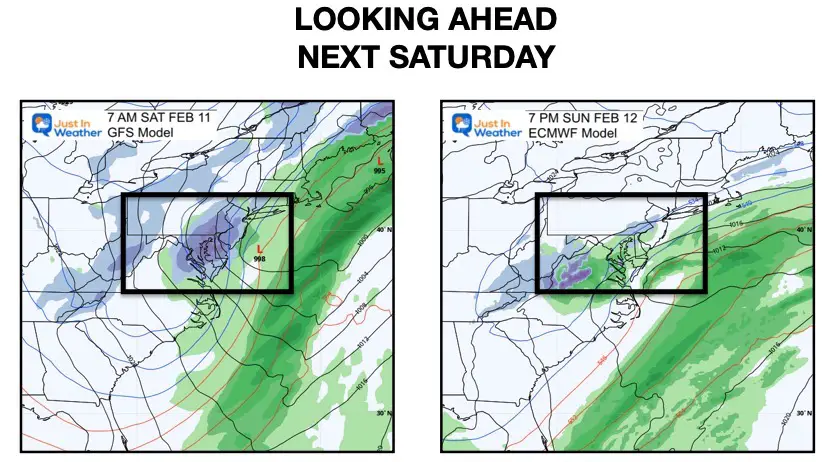 7 Day Forecast
The warm up this will culminate at the end of the week. The only mitigating factor may be how much rain we see on Thursday.
Models bring in a trough and shortwave next weekend. That is why I am keeping a wintry mix in place.
In February when we see a big warm up, it is often followed by a return of winter weather in some form.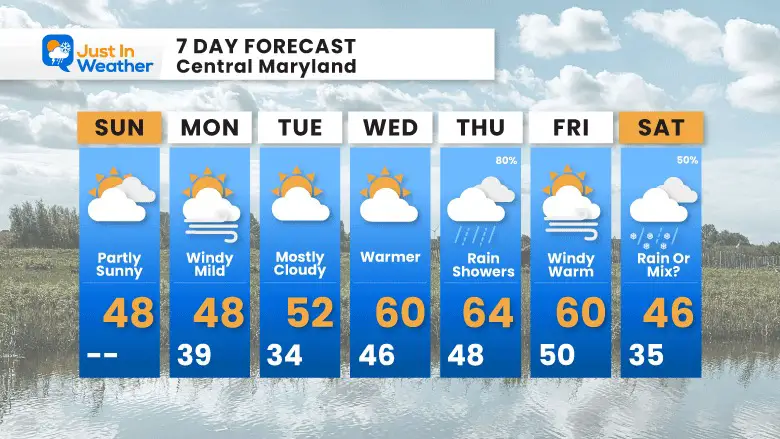 Also See:
Winter History: Low Snow And Late Starts
See my research based on Baltimore data since 1883.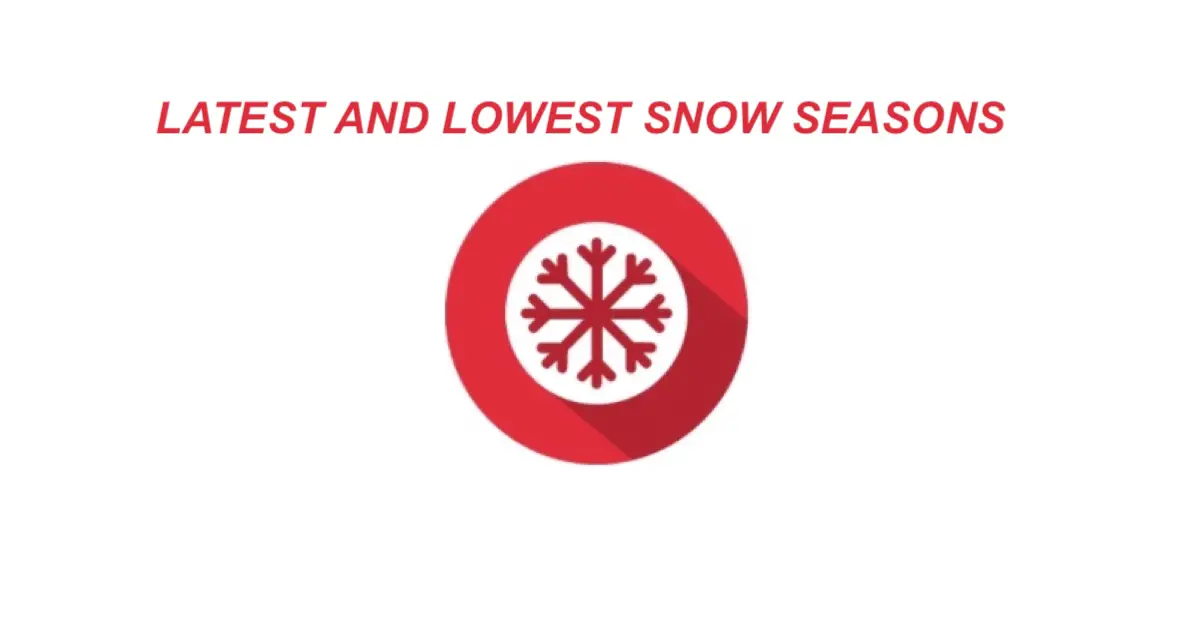 NOAA Outlook: Colder Start To February
Click here for the full report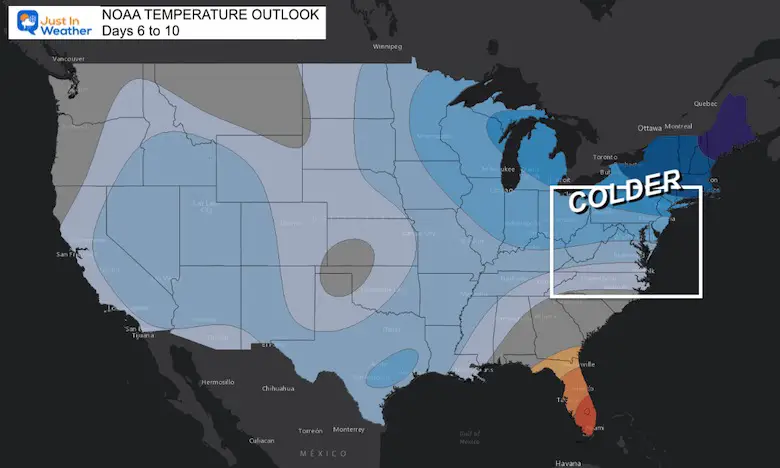 Subscribe for eMail Alerts
Weather posts straight to your inbox
Sign up and be the first to know!
STEM Assemblies/In School Fields Trips Are Back
Click to see more and 'Book' a visit to your school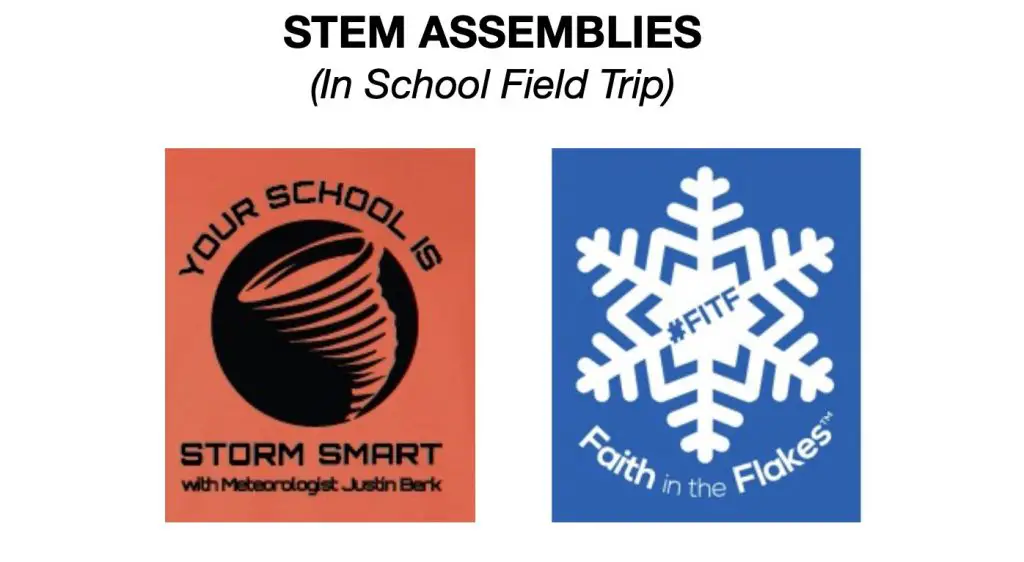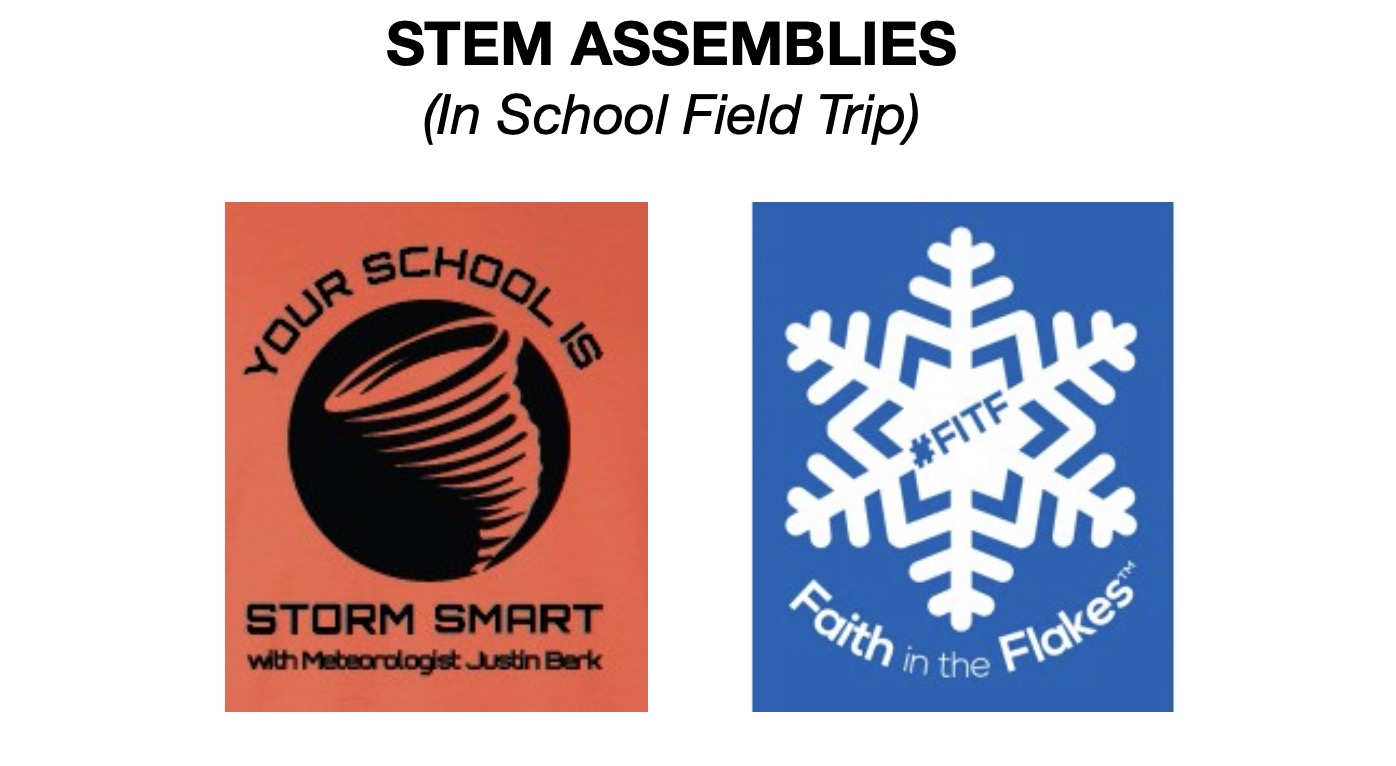 My Winter Outlook: Not A Typical La Niña!
I see many factors to support colder influence with multiple systems. Early and later in winter. Check it out.
https://justinweather.com/2022/11/22/winter-outlook-2023-for-snow-not-typical-la-nina-plus-polar-vortex-disruption/
Also See The Winter Outlook Series:
Atmospheric Memory Suggests Active Winter Storm Pattern Outlook
Winter Outlook 2023 From NOAA Very Different Than Farmers Almanacs
Farmer's Almanac Comparison
Winter Outlook 2023 Early Look At Snow From Two Farmers Almanacs
Triple Dip La Niña Winter
https://justinweather.com/2022/09/09/winter-outlook-2023-la-nina-triple-dip-expectations/
CONNECTION TO WINTER?
If you want a snowy winter, this is what you might want to look for in the rest of the tropical season.
Record August For No Named Tropical Storms: Closer Look At Snow Following
Wooly Bear Caterpillars
Persimmon Seeds
Click to see Top 20 and MORE
Winter Weather Folklore Top 20 And More Outlook Signals From Nature For Cold And Snow
Normals And Records: Maryland and Baltimore Climate History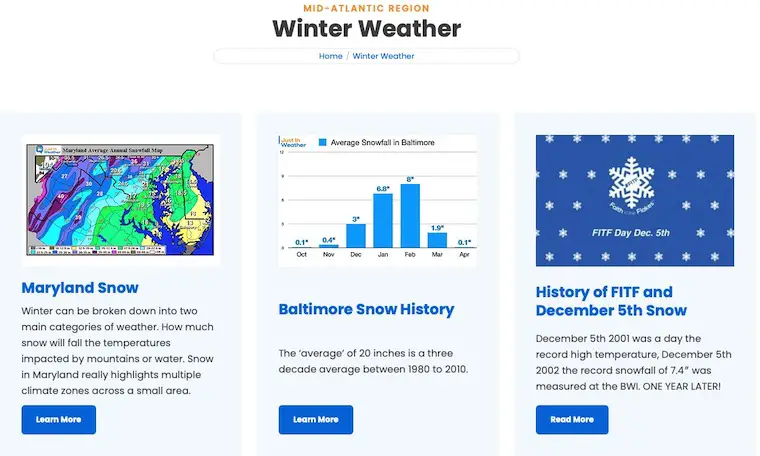 Please share your thoughts, best weather pics/videos, or just keep in touch via social media