December 2 Today Sunny And Mild Then Rain Again Tomorrow
Maryland Weather
climate data
rain timeline
Forecast
Justin Berk
Dec 2, 2022
6:09 am
0
December 2 2022
Friday Morning Update 
Stop me if you have heard this from me before: We are in a pattern that is repeating every 3 days.  This part is the cold morning, then a sunny and mild afternoon. It will be followed by another rain event that will arrive in the morning, then end mid day, only to be followed by a final brief line of showers and gusty winds.  That will be our Saturday. Then colder on Sunday for the Ravens game… and we look to next week for more action and a change!
It does look like the winter pattern will kick in by next weekend, but before then temps may boost higher briefly in the middle of the week.
Headlines
Today: Sunny and Mild
Tomorrow: Morning Rain, Afternoon Showers
Sunday: Sunny And Cooler
Next Week: Warming Before The Winter Pattern Kicks In
Morning Temperatures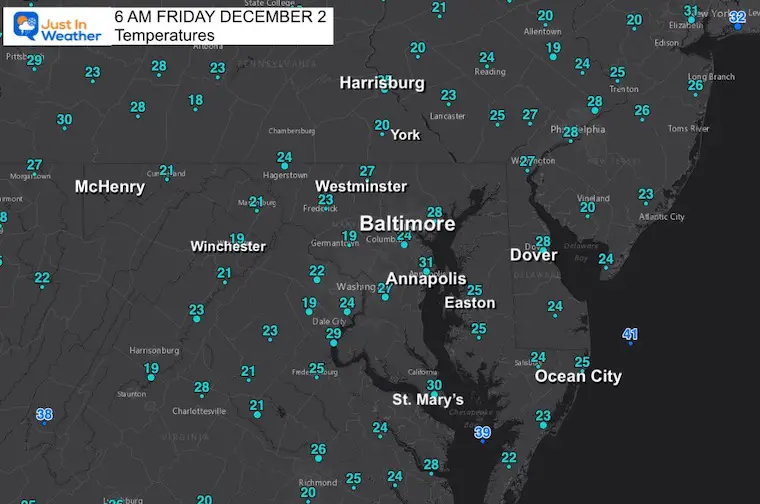 Morning Surface Weather
WE have a very cold morning, but High Pressure and a light wind shift will boost up a mild afternoon.
The next weather event does not look like much, but it will organize with rain developing that will reach us by Saturday morning.

3 PM Temperatures
With sunshine and a few high clouds, light winds will help temps get back to near 50ºF.
Weekend Weather Below

NEW REPORTS
Comparing The Snow In Decembers With Similar Patterns
Comparing December Cold Pattern Forecast To Snow In Similar Analog Years
December Outlook Trending Colder For Start Of Meteorological Winter
Subscribe to my Newsletter
Weather posts straight to your inbox
Sign up and be the first to know!
CLIMATE DATA
TODAY December 2
Normal Low in Baltimore:  32ºF
Record 9ºF in 1967
SNOW: 3 inches in 1952
Normal High in Baltimore: 51ºF
Record 72ºF 1970
NEW Faith In The Flakes Full Zips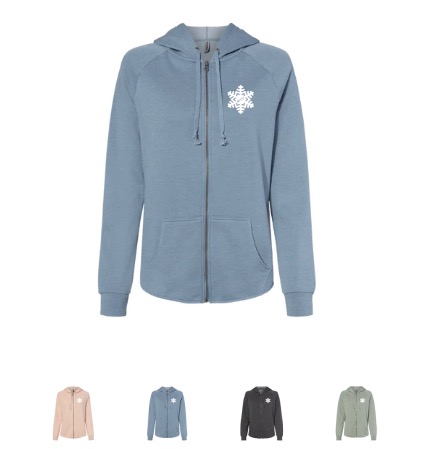 Saturday Weather:
Another Rain Event: Starting Early, Breaking Mid Day, Then One Last Gusty Shower Late Afternoon.
Radar Simulation: 
NAM 3 Km 5 AM to 7 PM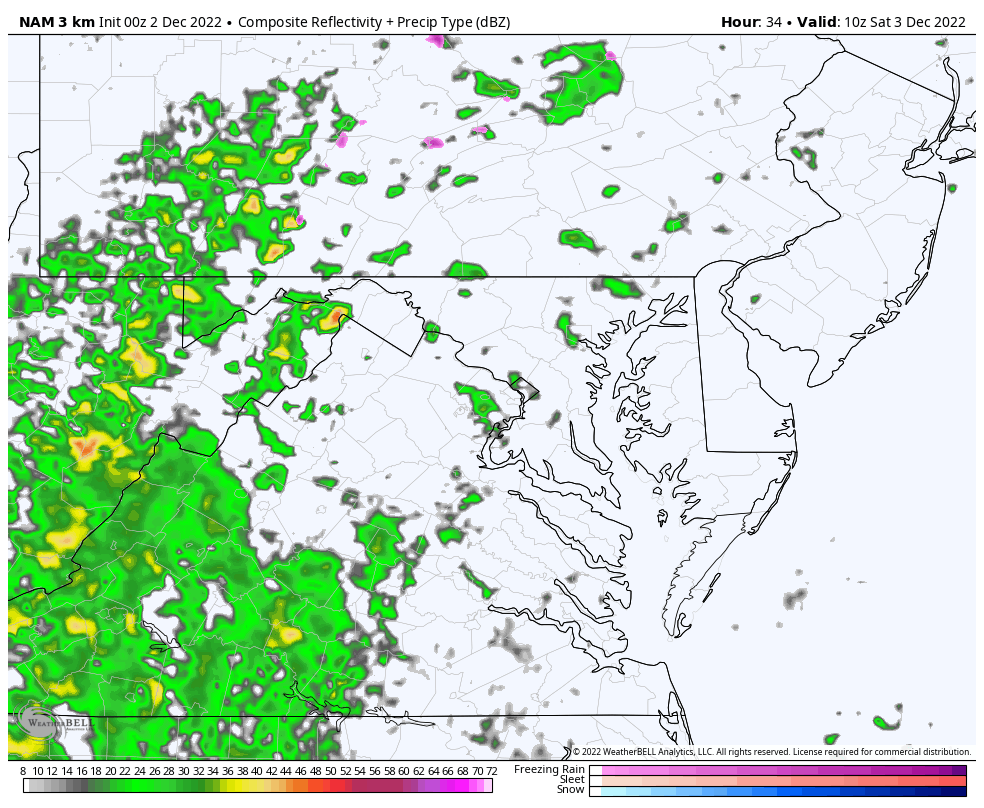 Snapshots:
Morning
Rain will spread across most of the region by sunrise.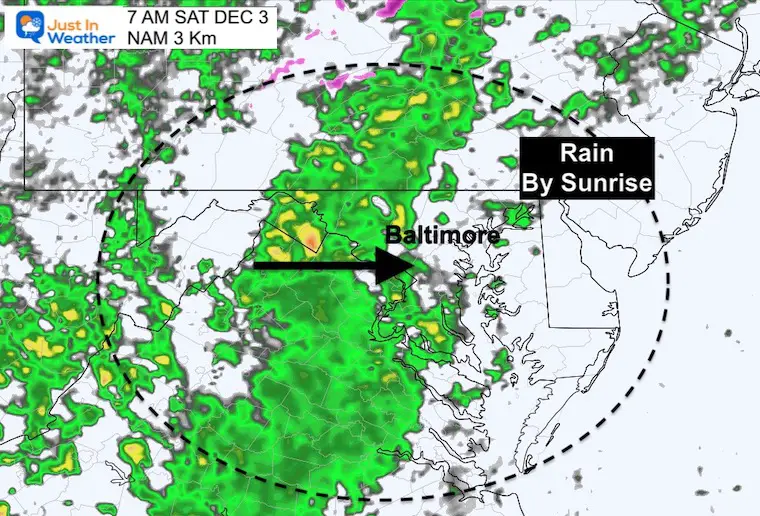 '
Noon
The steady rain will move east, leaving a break for a few hours. It will be mild.

Afternoon
One last line of showers with the front. This will bring a brief burst of gusty winds, then cooler air.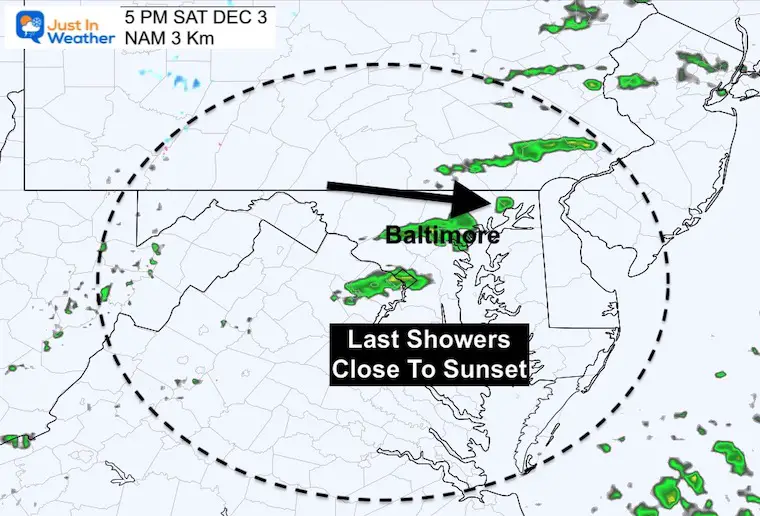 Wind Forecast: Noon to Midnight
Notice the shift from the southerly flow in the afternoon to the turn from the Northwest in the evening.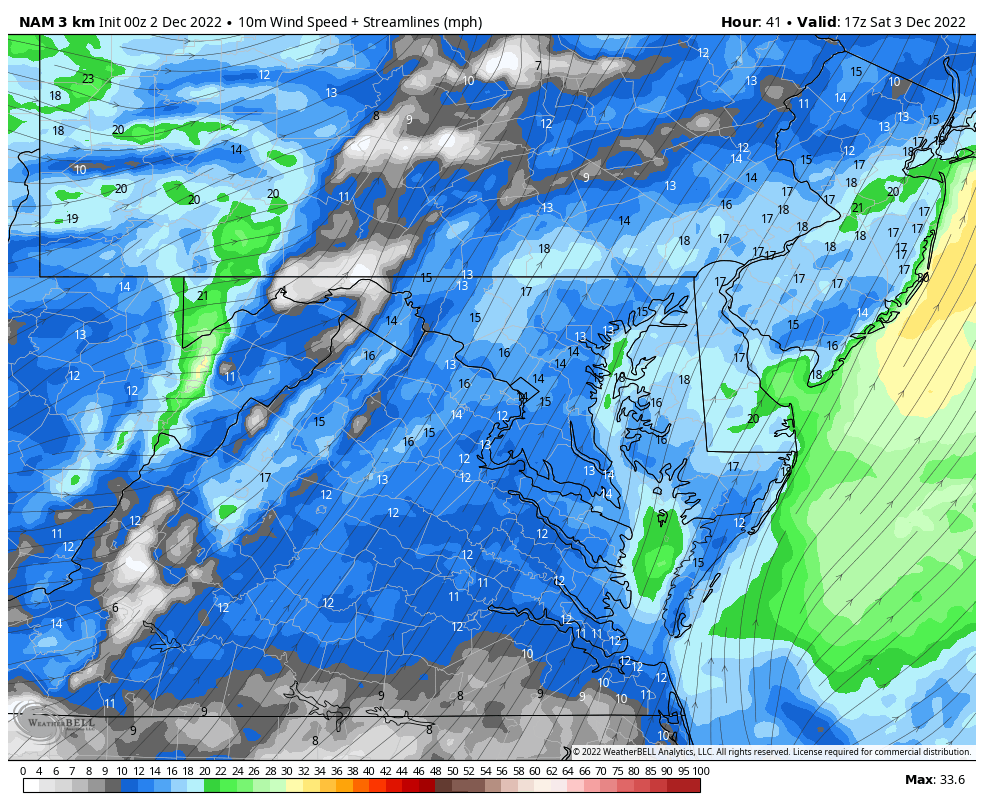 Saturday Temperatures
Morning
Remaining mild with rain moving in.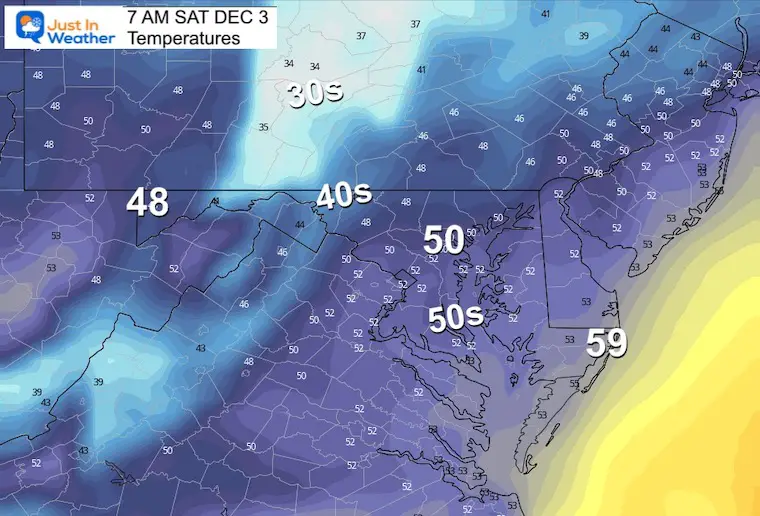 Afternoon
Between Baltimore and the beaches temps will be near 60ºF, but behind that last line of showers there will be a quick drop to the 40s. The mountains get back to the 30s.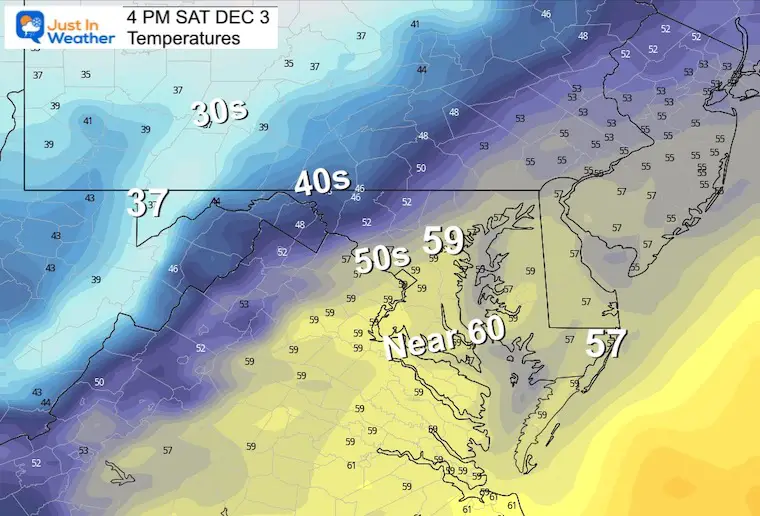 7 Day Forecast
After the rain, it will be chilly for the Ravens game. Then mild again next week with rain ahead of the pattern change.
There is rumbling about next weekend turning wintry. I will have a look at that in my next report.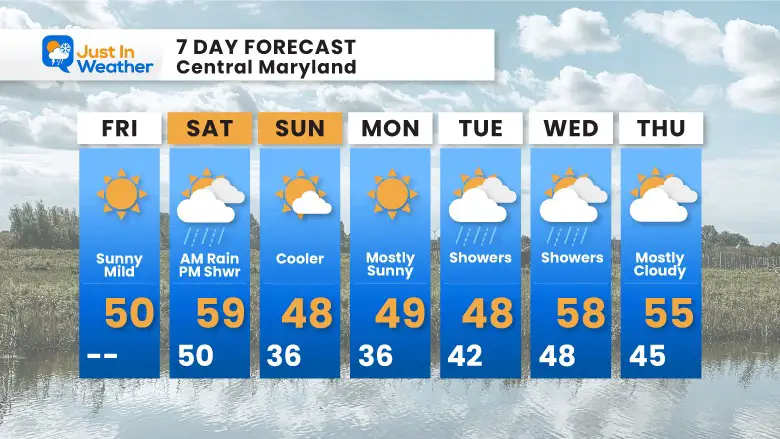 RELATED REPORTS
Record Snow Cover Across The Northern Hemisphere
My Winter Outlook: Not A Typical La Niña!
I see many factors to support colder influence with multiple systems. Early and later in winter. Check it out.
Winter Outlook 2023 For Snow Not Typical La Niña Plus Polar Vortex Disruption
Also See The Winter Outlook Series:
Atmospheric Memory Suggests Active Winter Storm Pattern Outlook
Winter Outlook 2023 From NOAA Very Different Than Farmers Almanacs
Farmer's Almanac Comparison
Winter Outlook 2023 Early Look At Snow From Two Farmers Almanacs
Triple Dip La Niña Winter
CONNECTION TO WINTER?
If you want a snowy winter, this is what you might want to look for in the rest of the tropical season. (You might be seeing a lot of commercial snow removal people out this Winter).
Record August For No Named Tropical Storms: Closer Look At Snow Following
Wooly Bear Caterpillars
Persimmon Seeds
Click to see Top 20 and MORE
Winter Weather Folklore Top 20 And More Outlook Signals From Nature For Cold And Snow
Faith in the Flakes Gear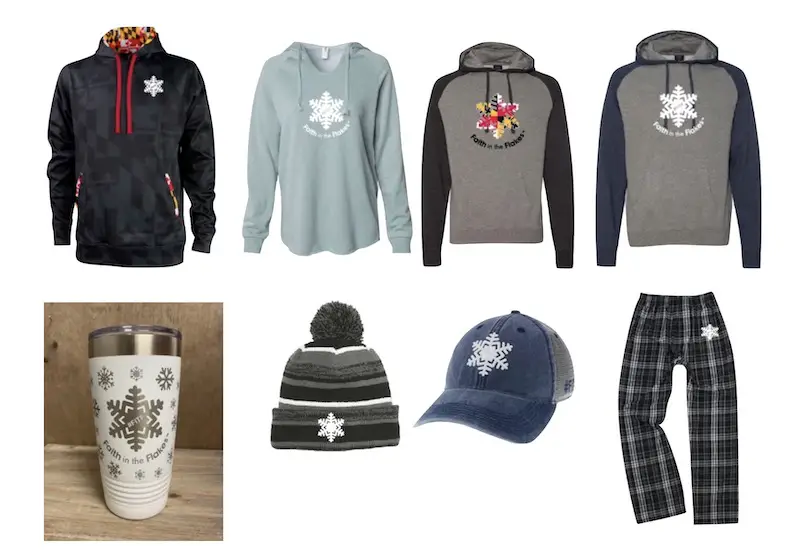 SNOWSTIX – Available Now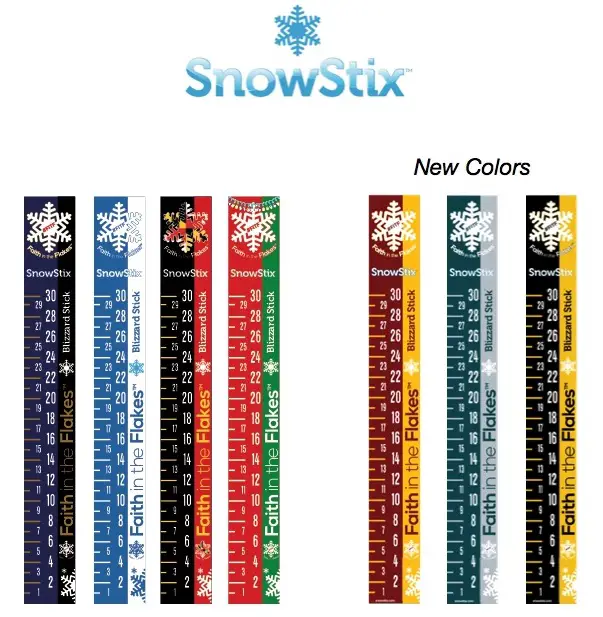 Normals And Records: Maryland and Baltimore Climate History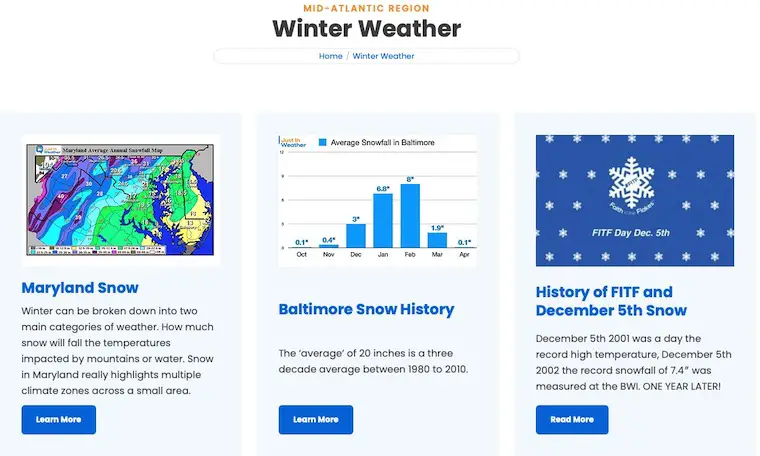 STEM Assemblies/In School Fields Trips Are Back
Click to see more and 'Book' a visit to your school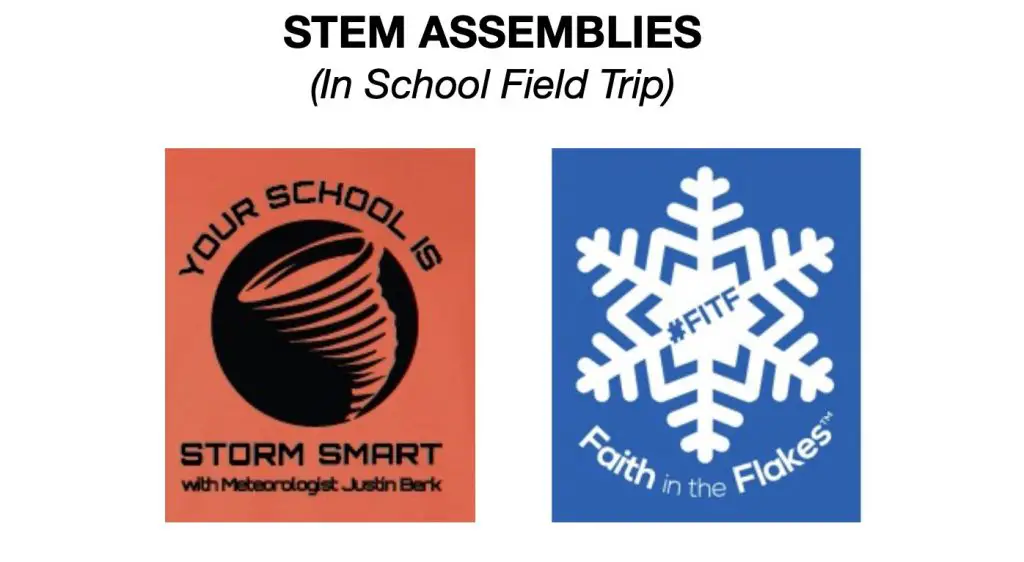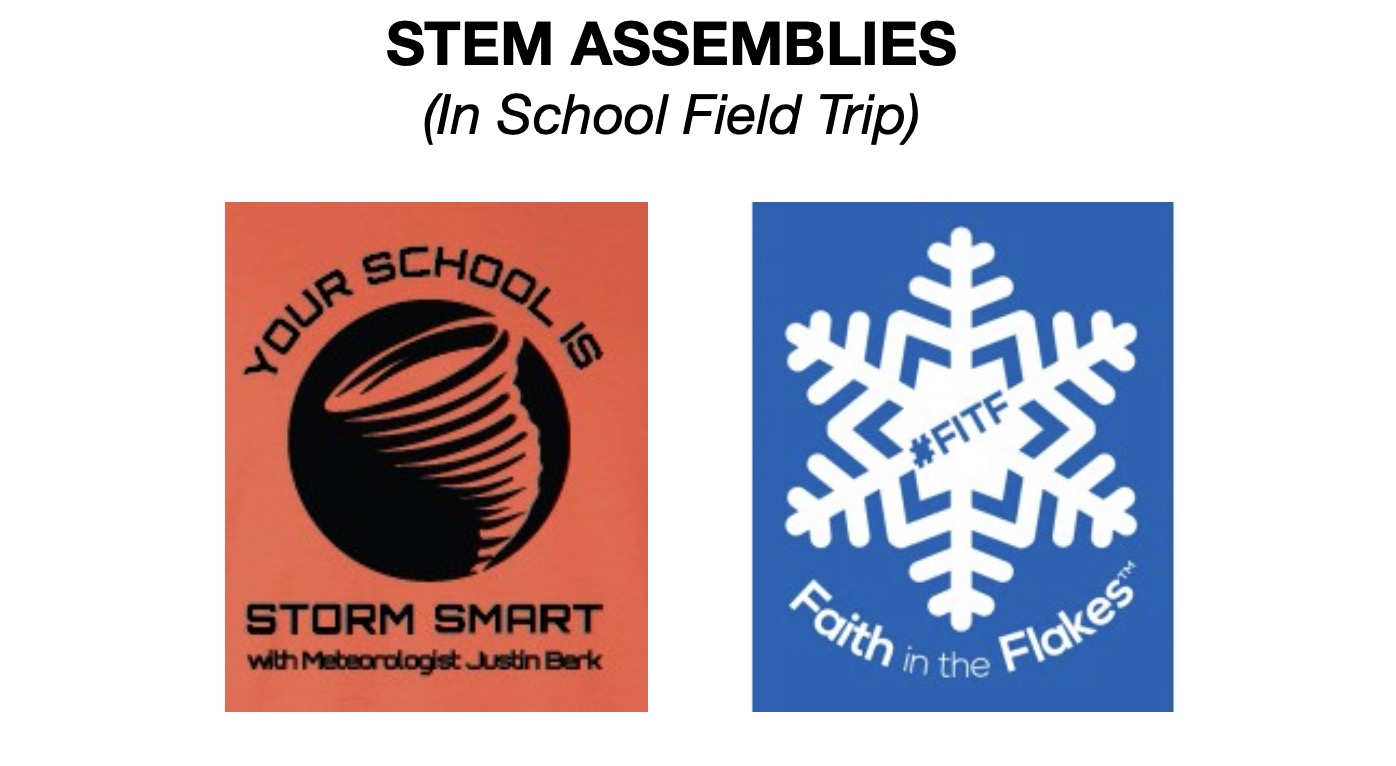 Please share your thoughts, best weather pics/videos, or just keep in touch via social media