NOAA Issued A Geomagnetic Storm Watch In Effect August 17 to 19
aurora northern lights
space
NOAA
Warnings
Justin Berk
Aug 17, 2022
7:52 pm
0
August 17 2022 – Wednesday Evening Update
Tonight could be the night for the Northern Lights display into the US, and maybe as far south as the Mid Atlantic. A solar flare erupted over this past weekend which appears to be on the stronger side and already reaching Earth.  This looks like a long term event that is escalating after the initial impact. The peak activity may be tonight. 
While we (in the Mid Atlantic) are at lower latitudes and often less likely to view this, there is a chance to see the Aurora Borealis also known as the Northern Lights.
Where: Look To The North.  Best opportunity is away from city lights and obstructions like trees, hills, or buildings.
When: 10 PM Wednesday to 2 AM Thursday (if the sky is clear).
Planetary K index Increasing
K 6 was measured at of 5:30 PM on Wed Aug 17.
Note: We need K>7 or 8 to be seen in the Mid Atlantic! It's close…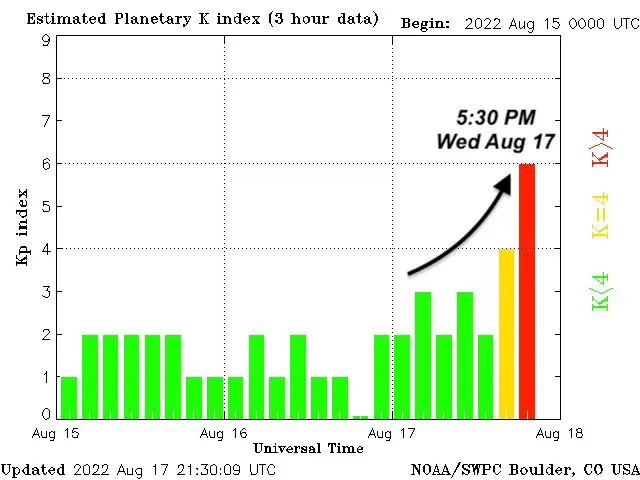 Updated K index Report Window
This will match the image above until updated. Next update should be at or after 8:30 PM EDT
UPDATE: TOP 6 PHOTOS OVERNIGHT
Click here to see these first views
The Kp peaked at 6… These pics are from Canada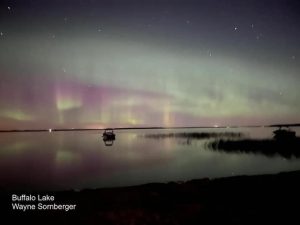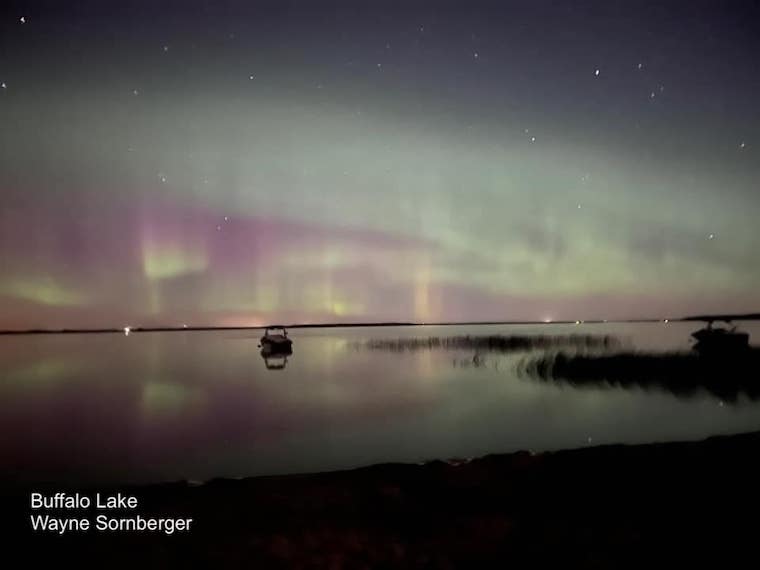 Planetary K index: Forecast
The expectation is to reach K 7 or higher overnight
Between 10 PM and 2 AM
The forecast is actually for 11 PM, but I always hedge my bets an hour earlier with arrival times.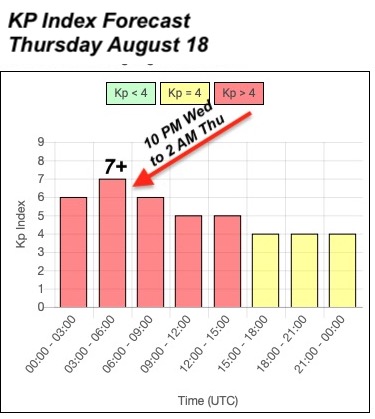 Aurora Visibility Forecast Map
More likely at Higher Latitudes 
This shows the best chance north of the Pennsylvania line
(In dark unobstructed areas)
There is a 'Possible' chance into Maryland and the rest of the Mid Atlantic.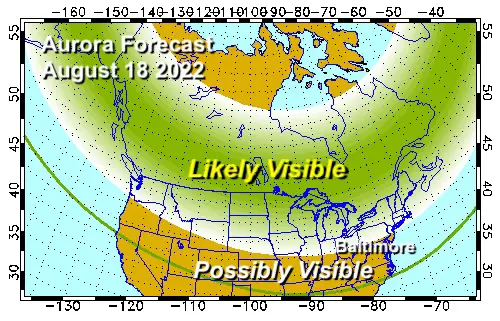 Even if we do not see this, the NOAA forecast for a G3 storm is enough to potentially impact satellites and communications.  If your phone calls or TV signals fade or drop in the next two days, this could be the reason. 
From NOAA
Geomagnetic storm watches are in effect for 17-19 August, 2022 due to likely CH HSS and CME influences. A recurrent coronal hole (CH) high speed stream (HSS) is anticipated to connect with Earth first, on 17 Aug. The resultant elevated and disturbed solar wind field is thought to be enough for potential G1 (Minor) geomagnetic storm conditions on 17 Aug.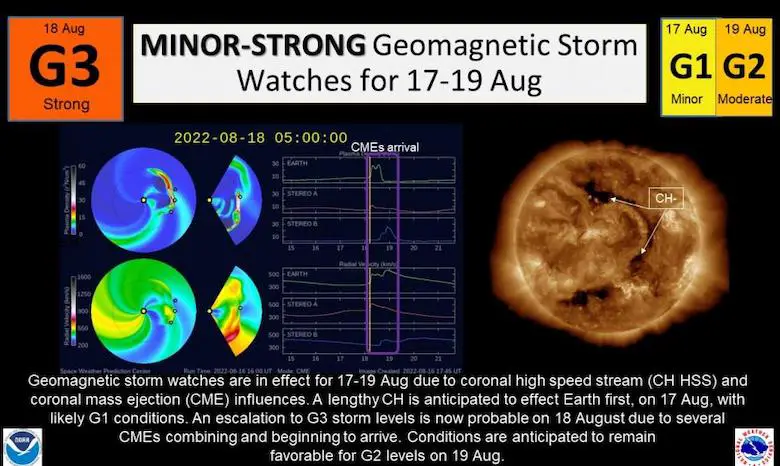 Geomagnetic responses are likely to escalate to G3 (Strong) conditions on 18 Aug due to the arrival at or near Earth of multiple coronal mass ejections (CMEs) that have departed the Sun since 14 Aug. Despite the numerous CMEs, most are expected to have little to no impact at Earth, however, at least four have potential Earth-directed components. 
The most recent flare-associated CME took place from small, but complex, Region 3078 at 3:58 am EDT (0758 UTC) on 16 Aug; while the first CME in this chain of activity took place on 14 Aug.
Forecast confidence is low to moderate regarding Earth impact of these CMEs, as most of the ejecta is expected to pass either ahead or south of Earth's orbit. However, model runs indicate combined arrival of some of these CMEs at or in the vicinity of Earth beginning 18 Aug – therefore, the G3 (Strong) storm watch is in effect for that day. Any CME influences are likely to continue on 19 Aug and a G2 (Moderate) storm watch is posted accordingly.
Weather posts straight to your inbox
Sign up and be the first to know!
Related Posts


Cancer Can Succit- THE SHIRT
By Popular Demand and Supporting Just In Power Kids
This is the shirt that Power Kid James and his family has embraced… They even surprised us with this sign during our Kids Trek Too event.
It is now available!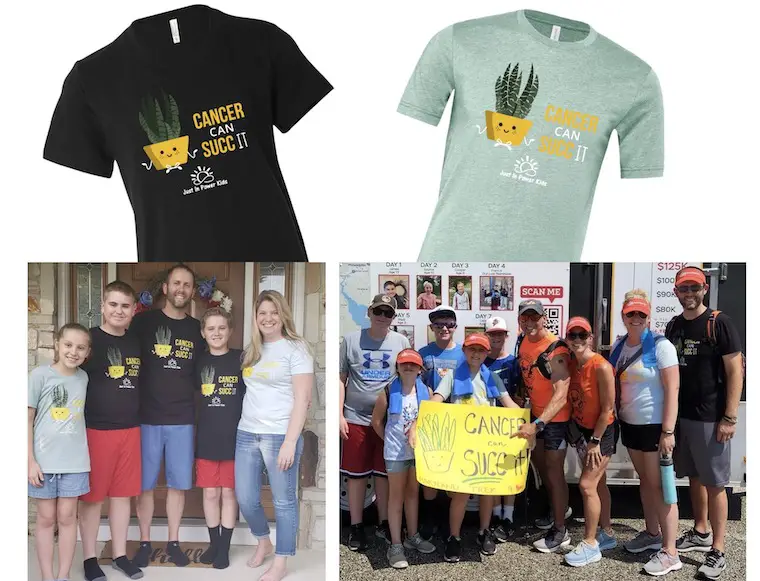 Hurricane Season Forecast: June 1 Through November 30
NOAA 2022 Hurricane Forecast- Above Normal Again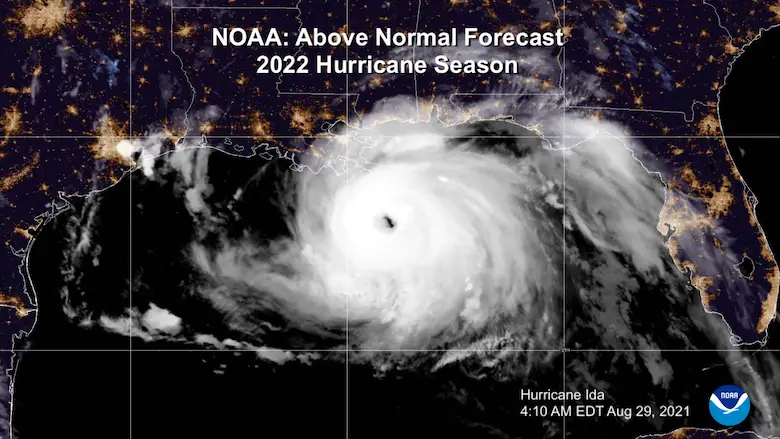 Forecast From Colorado State University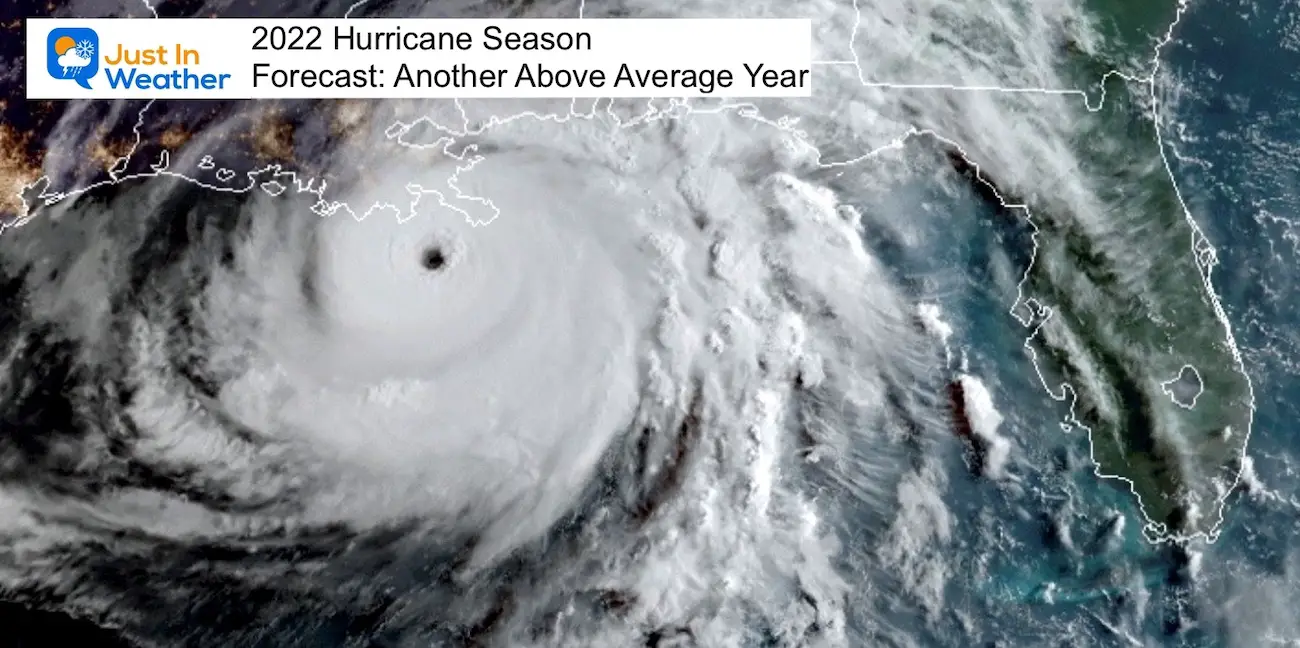 Related Posts
NOAA Study: Reducing Air Pollution INCREASED Tropical Storms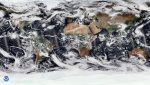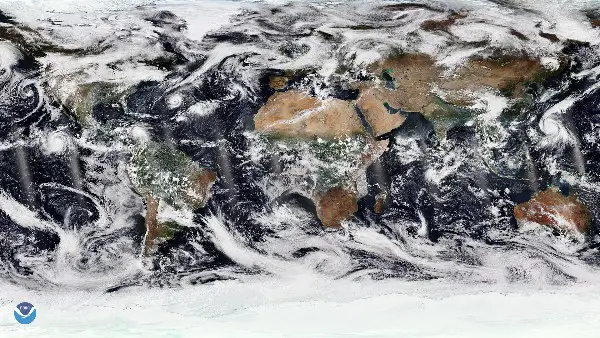 Atlantic Tropical History: Maps of Origin Regions Every 10 Days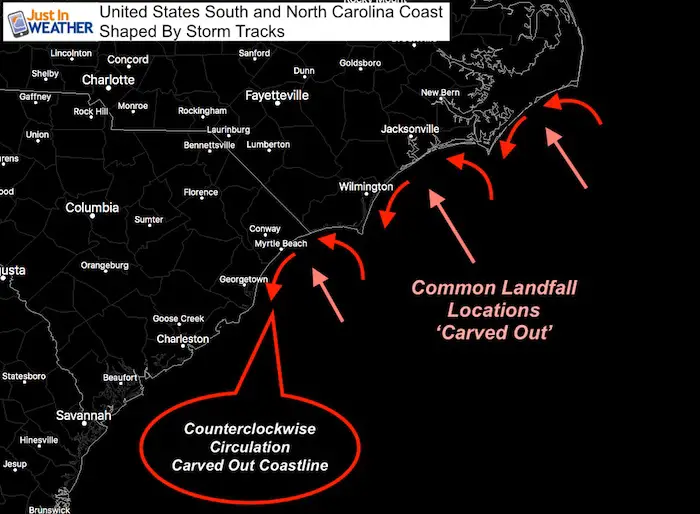 Recent Storm Reports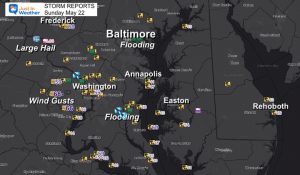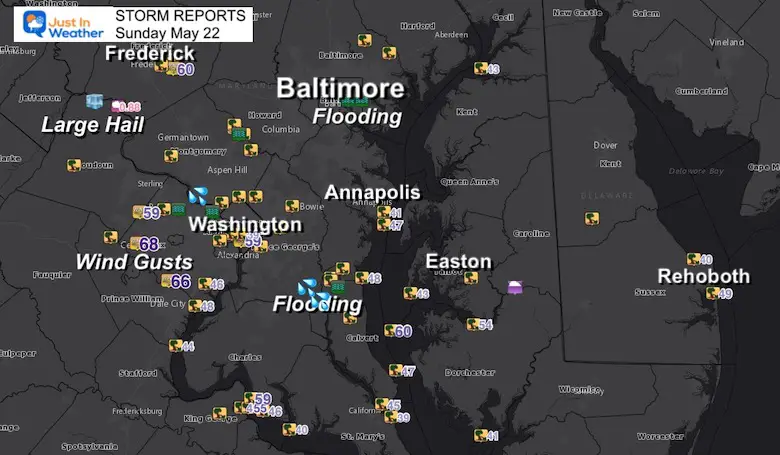 May 16 Large Hail Videos And Storm Tracking Map
Please share your thoughts, best weather pics/videos, or just keep in touch via social media
Connect With A Health Coach
From My Maryland Trek Team
Click the image or here for more info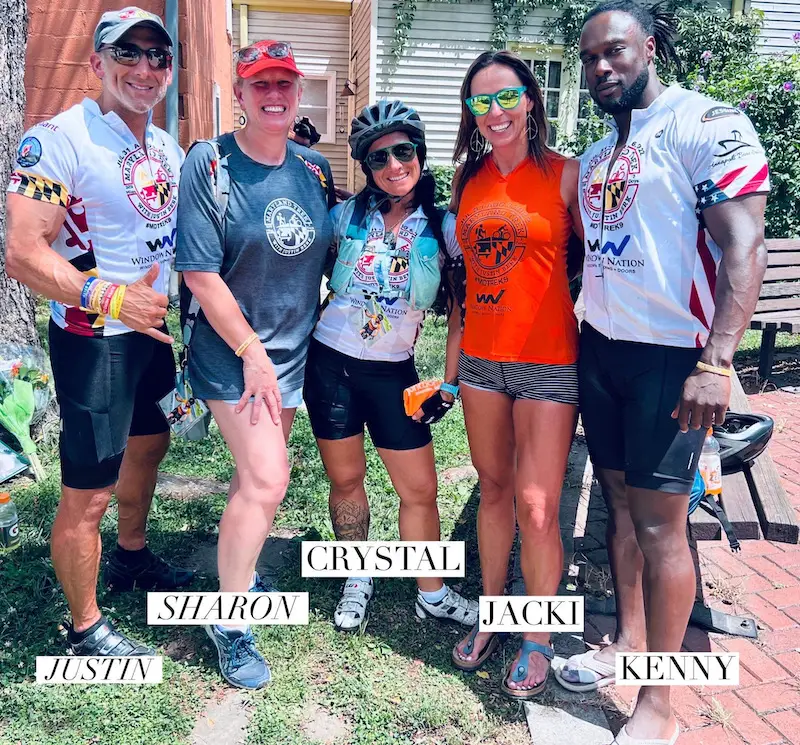 *Disclaimer due to frequent questions:
I am aware there are some spelling and grammar typos. I have made a few public statements over the years, but if you are new here you may have missed it:
I have dyslexia, and found out at my second year at Cornell.  It didn't stop me from getting my meteorology degree, and being first to get the AMS CBM in the Baltimore/Washington region. 
I do miss mistakes in my own proofreading. The autocorrect spell check on my computer sometimes does an injustice to make it worse. 
All of the maps and information are accurate. The 'wordy' stuff can get sticky. 
There is no editor that can check my work when I need it and have it ready to send out in a newsworthy timeline. 
I accept this and perhaps proves what you read is really from me…
It's part of my charm.