July 2 Severe Storm Risk and Two New Tropical Storms
NOAA
climate data
Severe Weather
Forecast
Tropics
Justin Berk
Jul 2, 2022
7:25 am
0
July 2 2022
Saturday Morning Update 
Simply put we should plan for a stormy day locally.  Now we add Neely named Tropical Storm Colin along the South Carolina Coast.
The atmosphere is unstable and the heat will help develop storms that may turn severe.  This will begin in the mid afternoon and linger through tonight.
I have low confidence in the short range models, so the simulations below are simply suggestions. We will have to watch for storm development all afternoon and evening. 
The risk for storms to turn severe means that cells may produce damaging winds, large hail, flash flooding, dangerous lighten, and isolated tornados. 
Severe Storm Outlook from NOAA
Alert Reminder:
Watch – (may happen) – This means potential for storms to turn severe or flooding is likely. This is usually issued first for a broad areas and over the course of 6 hours or longer.
Warning – (happening now) – This is when a storm is occurring with those conditions. A shorter time frame with more specific towns and counties will be named.
Morning Surface Weather
A very complex looking weather map. Storms will develop through the afternoon and evening.
Tropical Storm Colin was named along the South Carolina Coast.  More on that below.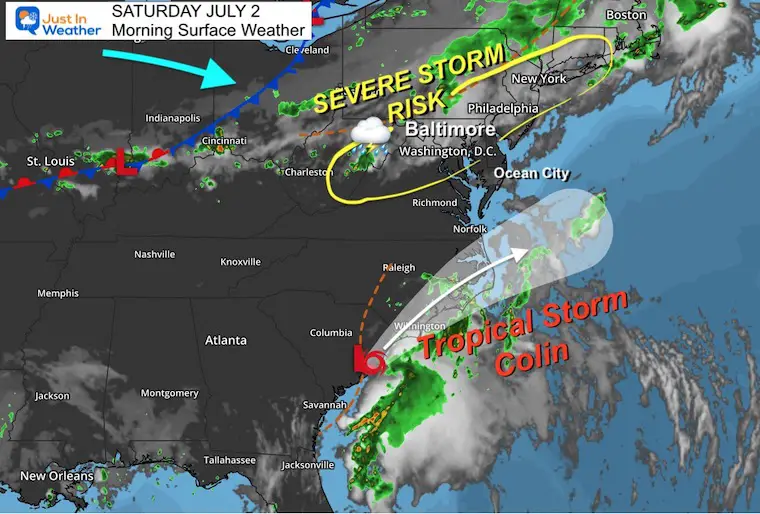 Live Radar Widget
The may be some scattered showers this morning, but the action will build during the afternoon and evening.
Afternoon Temperatures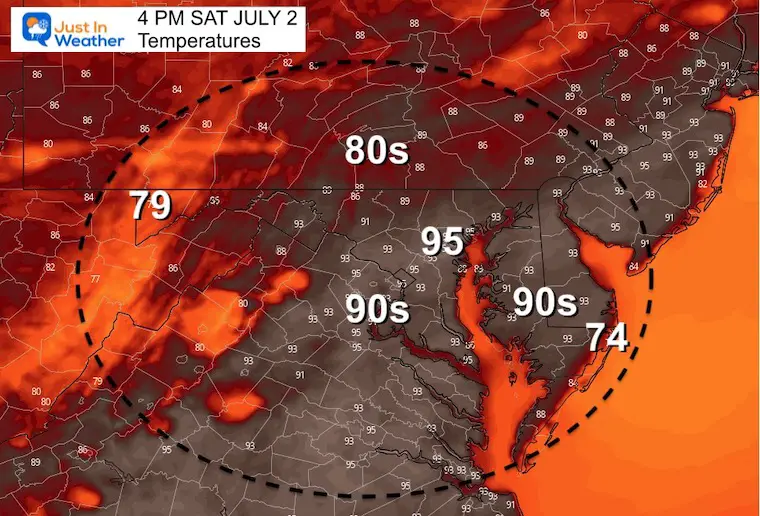 Radar Simulations
I have mentioned often that the recent short range modeling has been struggling. Here is an example comparing the high resolution HRRR and NAM 3 Km Models.
I know this may affect some fireworks displays. It is impossible to guarantee now if they will hit or miss you, so we need to keep watching for updates all day.
Recent event have shown that storms have developed earlier and become more numerous than these model have shown. So these are simple suggestions.
7 PM HRRR
This shows the main cluster in central Maryland including Washington, Baltimore, and Annapolis to southern Maryland.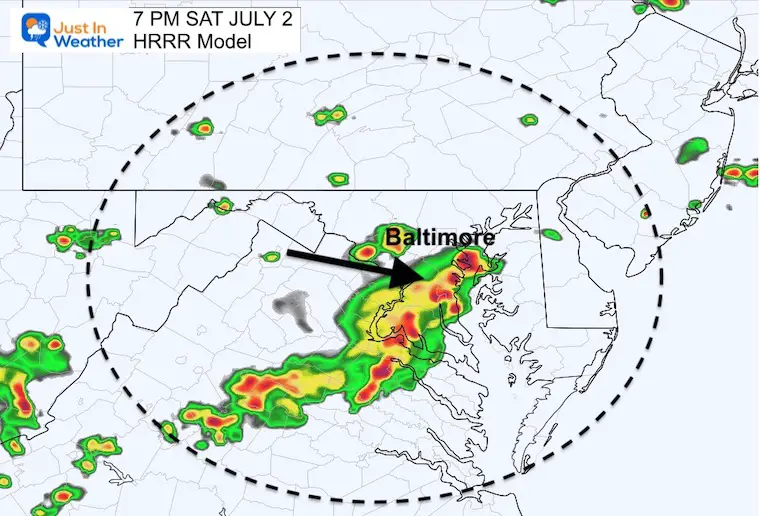 7 PM NAM 3 Km
This has those areas above still dry, with the development across southern PA, then dropping south and flaring up in central Maryland after sunset.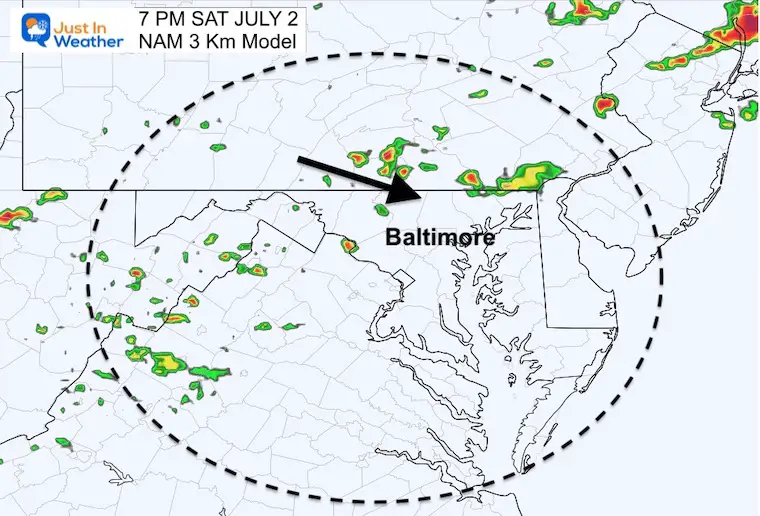 11 PM NAM 3 Km
This model has central Maryland getting the burst of storms after dark but before midnight.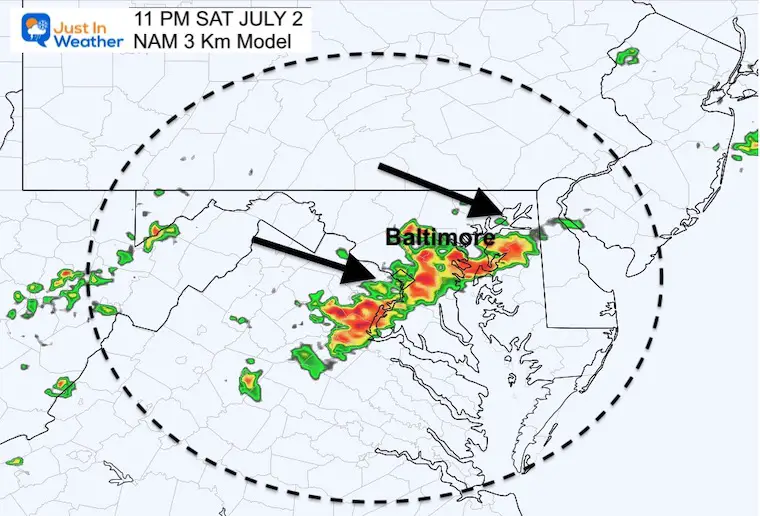 Animations
NAM 3 Km 12 PM to Midnight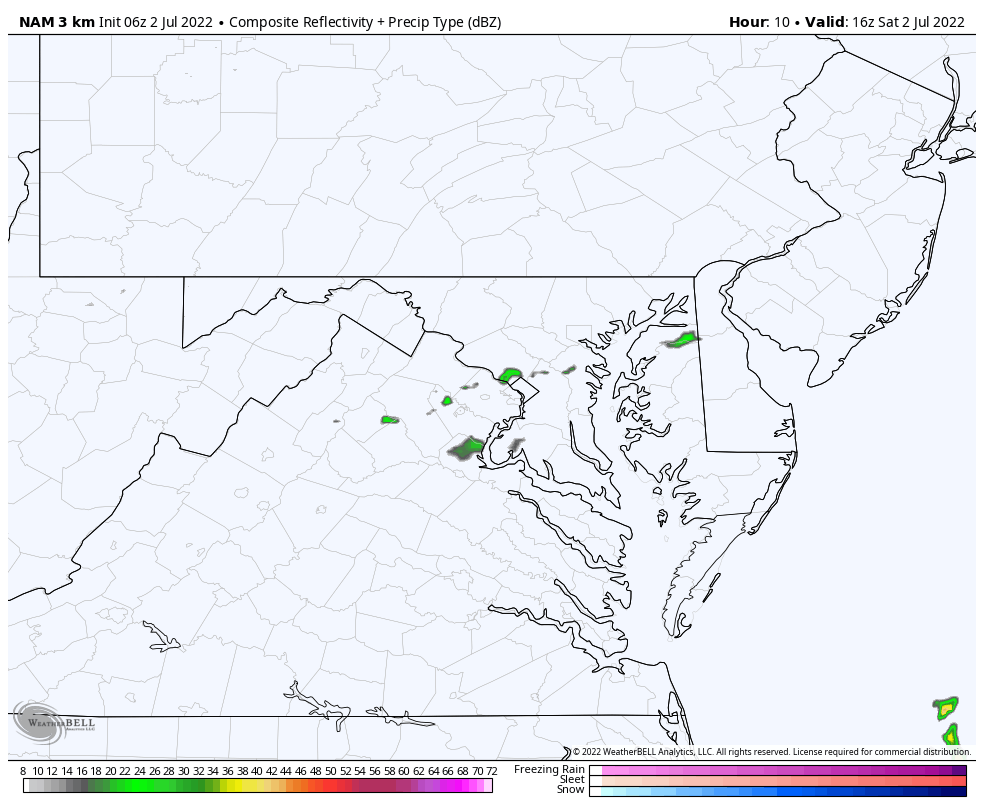 HRRR Model 4 PM to 10 PM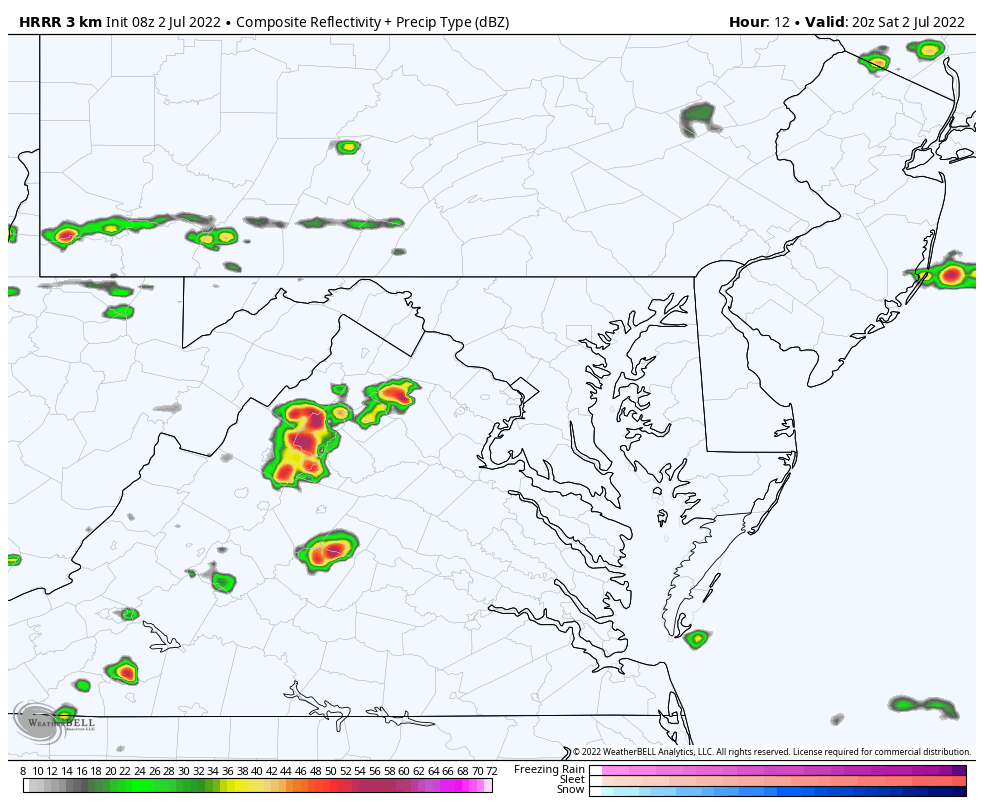 CLIMATE DATA
TODAY July 2nd
Normal Low in Baltimore:  67ºF
Record 51ºF in 2001
Normal High in Baltimore: 88ºF
Record 103ºF 1901
Sunday
Morning Temperatures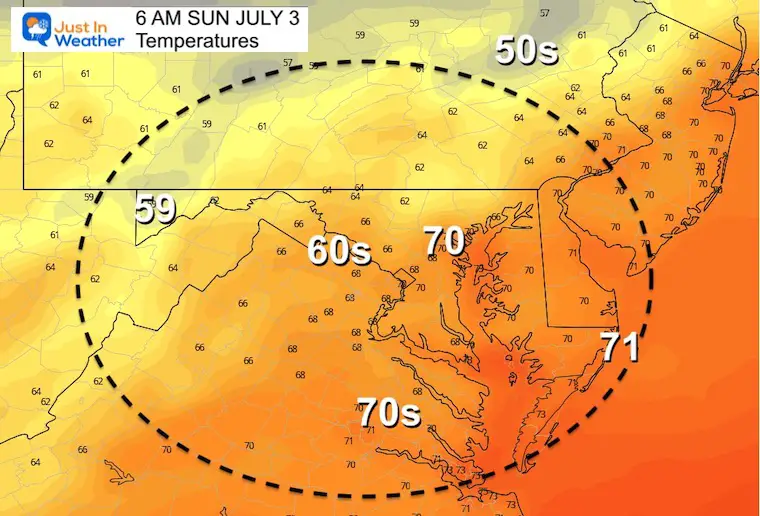 Afternoon Temperatures
Not as hot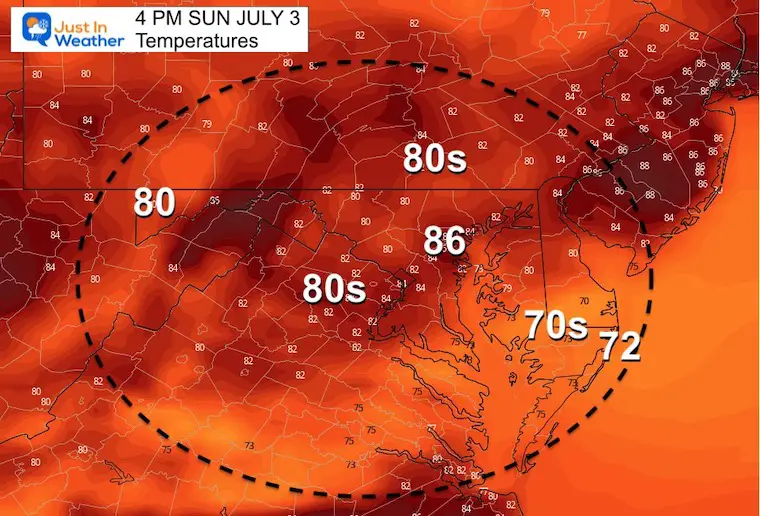 NAM 3Km Radar Simulation: 6 AM to 4 PM
We may have a morning showers, then clearing especially north.
For the beaches around Ocean City:  Off/on rain and storms will linger into the afternoon.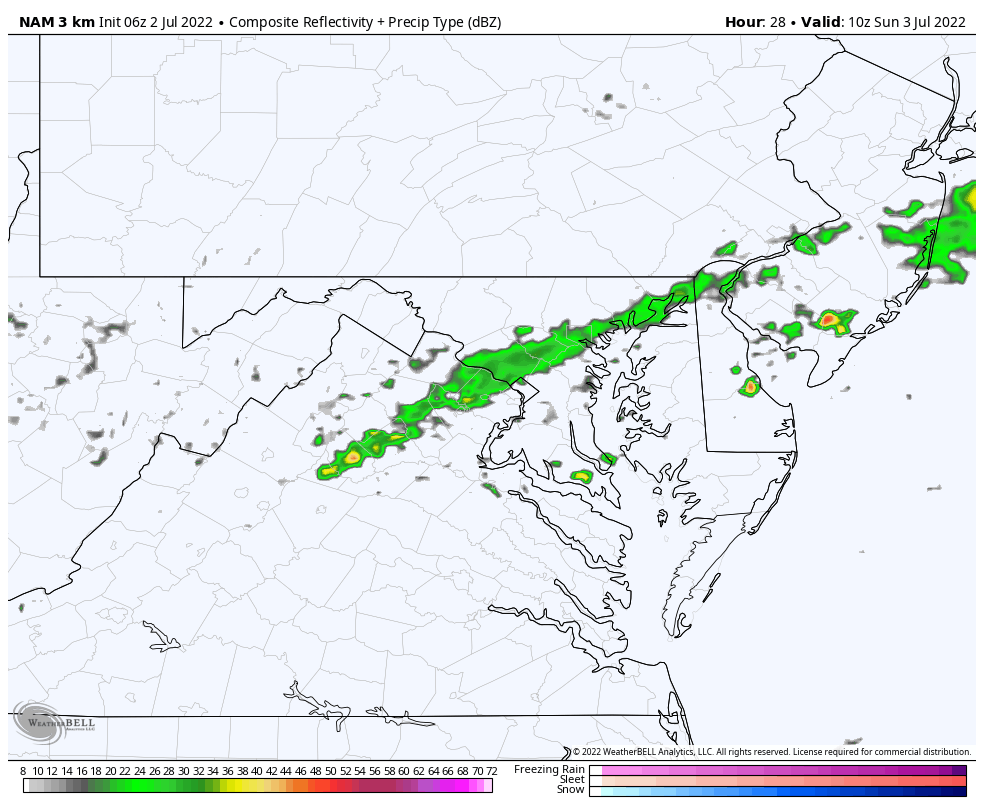 Beach Forecast
Tropics
Tropical Storm Colin was named, but will be tracking just inland for coastal South and North Carolina. This will then scoot off the coast, but is the reason the front will be slowing down for Ocean City MD.
Maryland will NOT get this storm, but may get the high waves.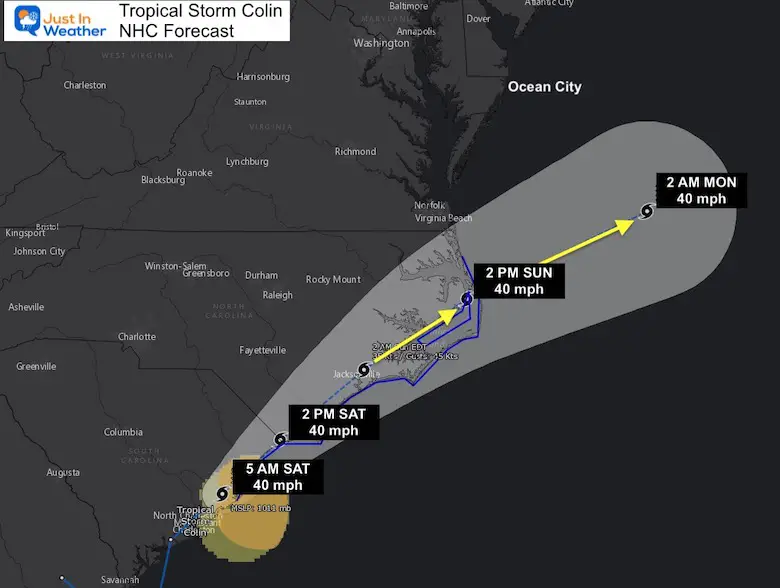 National Hurricane Center Advisory and Warning
SUMMARY OF 500 AM EDT...0900 UTC...INFORMATION
----------------------------------------------
LOCATION...33.2N 79.5W
ABOUT 50 MI...80 KM SW OF MYRTLE BEACH SOUTH CAROLINA
MAXIMUM SUSTAINED WINDS...40 MPH...65 KM/H
PRESENT MOVEMENT...NE OR 45 DEGREES AT 8 MPH...13 KM/H
MINIMUM CENTRAL PRESSURE...1011 MB...29.86 INCHES


WATCHES AND WARNINGS
--------------------
CHANGES WITH THIS ADVISORY:

A Tropical Storm Warning has been issued from South Santee River,
South Carolina, to Duck, North Carolina, including Pamlico Sound.

SUMMARY OF WATCHES AND WARNINGS IN EFFECT:

A Tropical Storm Warning is in effect for...
* South Santee River, South Carolina, to Duck, North Carolina
* Pamlico Sound



Tropical Storm Bonnie was finally named as it made landfall between Costa Rica and Nicaragua.  This is expected to hold together into the Pacific Ocean, where it will get a new name and may become a hurricane off of the coast of Mexico when it passes Acapulco.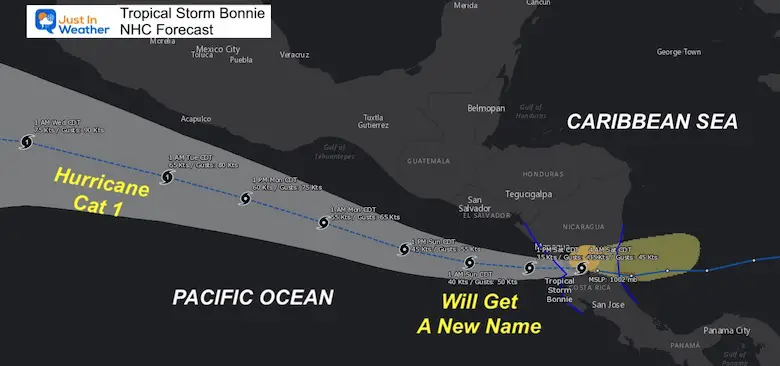 It Is Paddling Season

Book Your Kayak or Paddle Boat Adventure On The North Chesapeake Bay
7 Day Forecast
After storms that may turn severe on Saturday, it will be followed by a cooler Sunday. The July 4th- Monday should heat up again, but remain dry.
Another round of strong to severe storms is possible on Tuesday.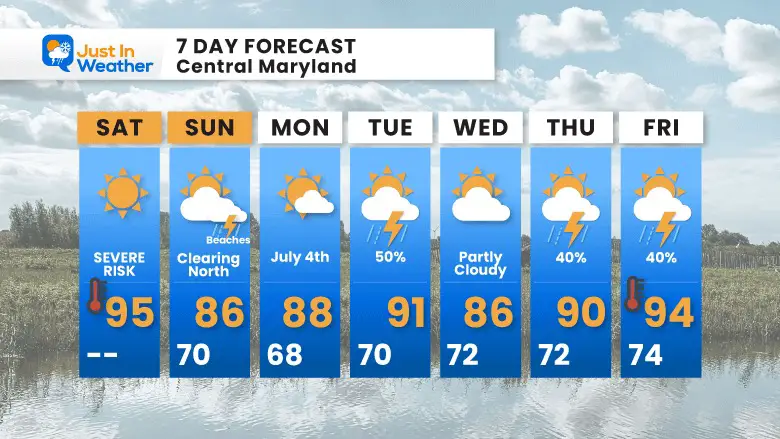 Hurricane Season Forecast: June 1 Through November 30
NOAA 2022 Hurricane Forecast- Above Normal Again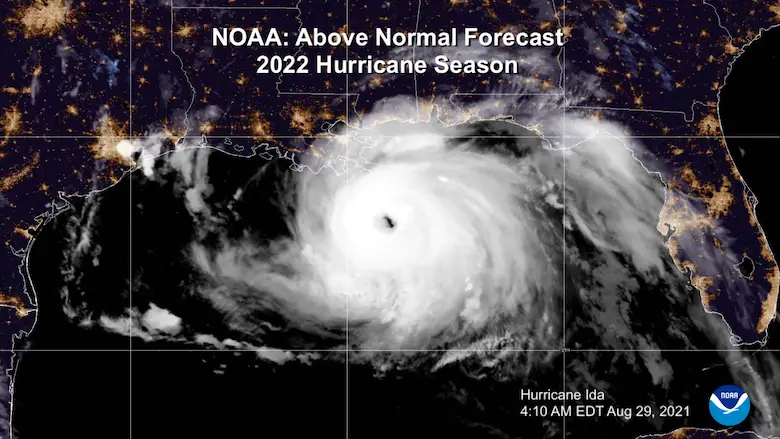 Forecast From Colorado State University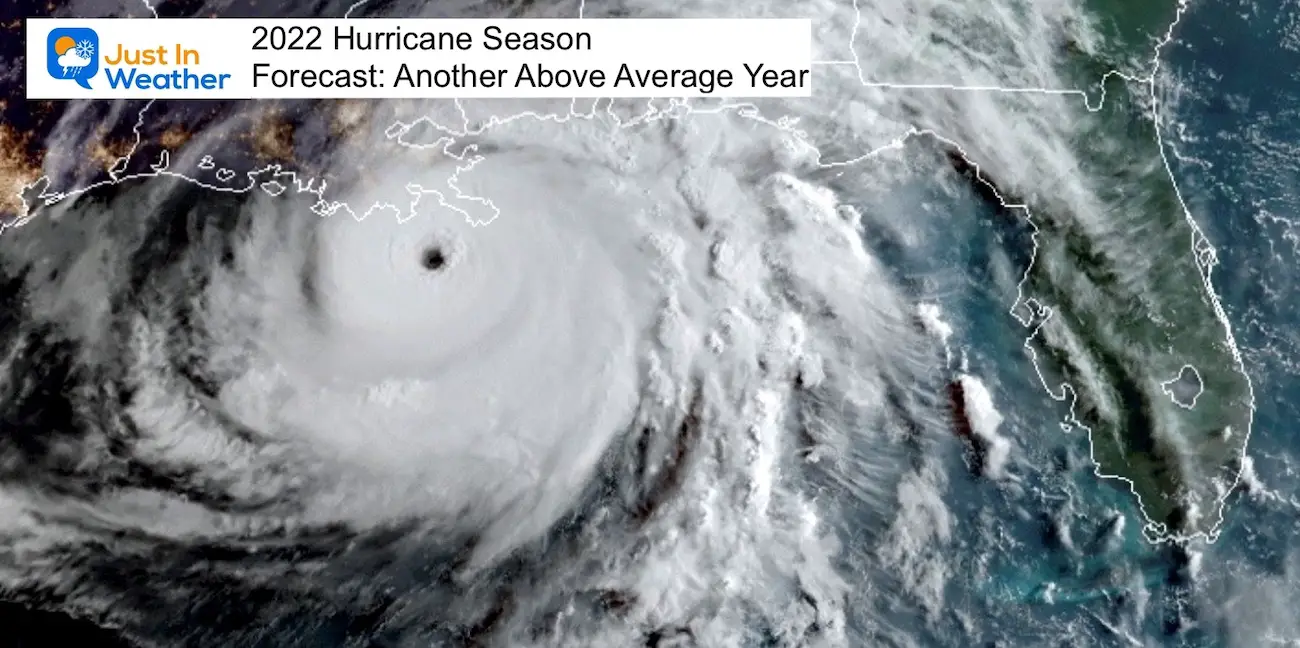 Related Posts
NOAA Study: Reducing Air Pollution INCREASED Tropical Storms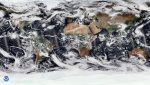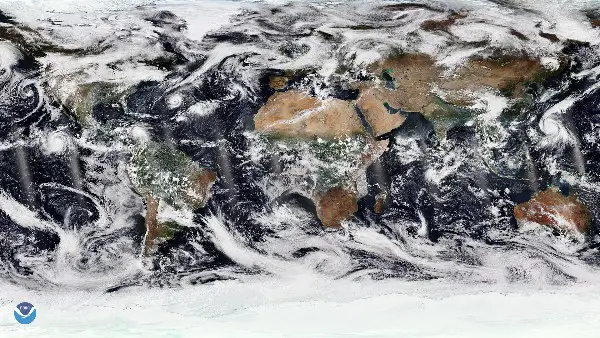 Atlantic Tropical History: Maps of Origin Regions Every 10 Days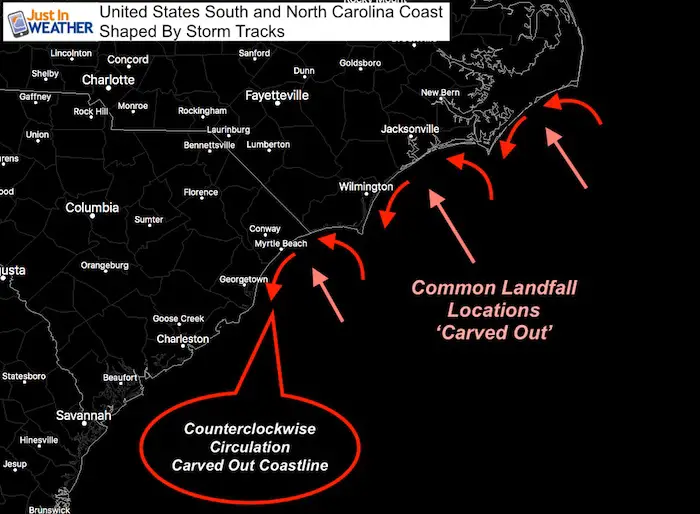 Recent Storm Reports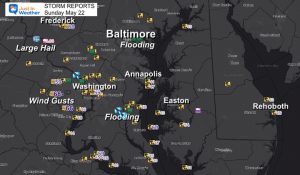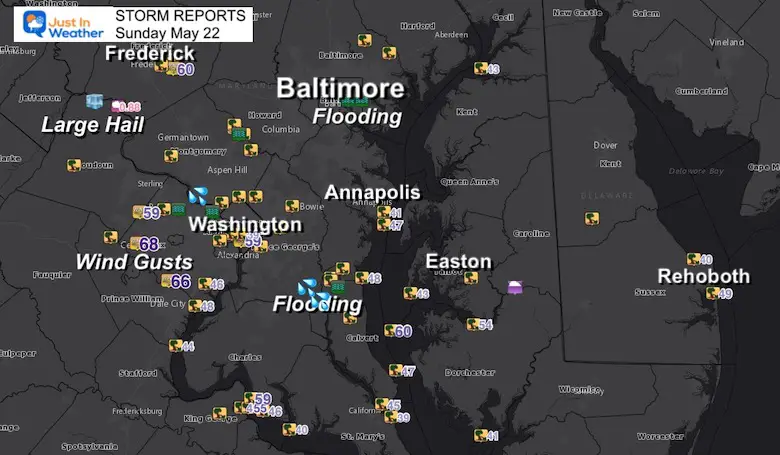 May 16 Large Hail Videos And Storm Tracking Map
Please share your thoughts, best weather pics/video, or just keep in touch via social media
*Disclaimer due to frequent questions:
I am aware there are some spelling and grammar typos. I have made a few public statements over the years, but if you are new here you may have missed it:
I have dyslexia, and found out at my second year at Cornell.  I didn't stop me from getting my meteorology degree, and being first to get the AMS CBM in the Baltimore/Washington region. 
I do miss my mistakes in my own proofreading. The autocorrect spell check on my computer sometimes does an injustice to make it worse. 
All of the maps and information are accurate. The 'wordy' stuff can get sticky. 
There is no editor that can check my work when I need it and have it ready to send out in a newsworthy timeline. 
I accept this and perhaps proves what you read is really from me…
It's part of my charm.