Rare Southern Tropical Storm To Track: Warning For Aruba
National Hurricane Center
Tropics
Justin Berk
Jun 28, 2022
9:16 pm
0
June 28 2022
Tuesday Evening Update
I have received many questions about this tropical system entering the southern Caribbean Sea, mainly with the island of Aruba.  I visited there many years ago and they pride their location for usually staying out of the tropical storms and hurricanes.
Those most often pass at slightly higher latitudes, but on occasion a storm can scrape the northern edge of South America. That is that case this week and there is a Tropical Storm Warning for Aruba and the rest of the ABC islands – Aruba, Bonair, and Curaçao. I have a closer look below.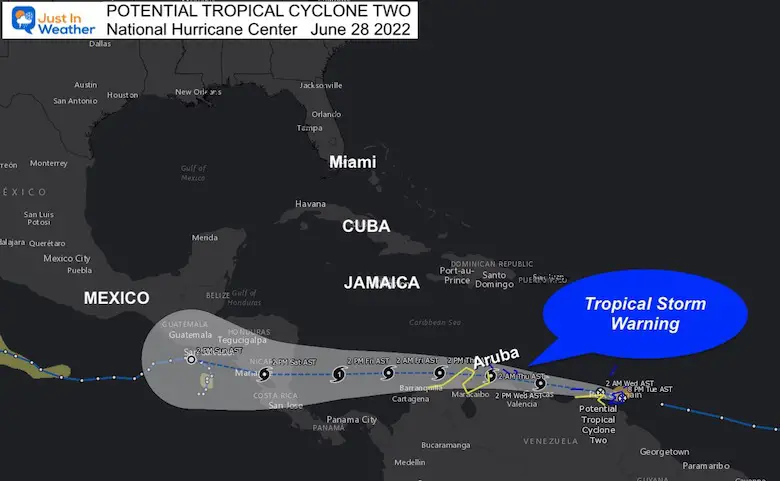 At 8 PM The National Hurricane Center posted this intermediate advisory.  If accurate, then with 40 mph this could be named Bonnie tonight at the 11 PM Advisory. In fact, Tropical Storm Forecast Winds are documented in this report, so it should get names. However, the forecast was for sure to happen by Wednesday.
National Hurricane Center Advisory
SUMMARY OF 800 PM AST…0000 UTC…INFORMATION
———————————————-
LOCATION…10.4N 61.0W
ABOUT 10 MI…15 KM E OF TRINIDAD
MAXIMUM SUSTAINED WINDS…40 MPH…65 KM/H
PRESENT MOVEMENT…W OR 280 DEGREES AT 25 MPH…40 KM/H
MINIMUM CENTRAL PRESSURE…1009 MB…29.80 INCHES
Tropical-storm-force winds extend outward up to 60 miles (95 km)
from the center.  During the past several hours, there was a wind 
gust of 74 mph (119 km/h) on Grenada during a severe thunderstorm. 
There have also been other reports of wind gust of tropical-storm 
force elsewhere across portions of the southern Windward Islands 
and Trinidad and Tobago.  
The estimated minimum central pressure is 1009 mb (29.80 inches).
This will be intensifying over the next few days, as it tracks towards Central America on the Nicaragua coast.  What is more interesting is that it could possibly cross over and survive into the Pacific. This is opposite of how Tropical Storm Alex formed, from a system that came from the Pacific and reorganized off of the Mexico coast.
Satellite Loop: Gulf of Mexico and Caribbean Sea
Our system in question is over the lower right of the loop.
Forecast Maps
The general consensus of the computer model guidance shows this tracking nearly due west. So, no threat to the US and skirting the northern coast of South America then into Central America.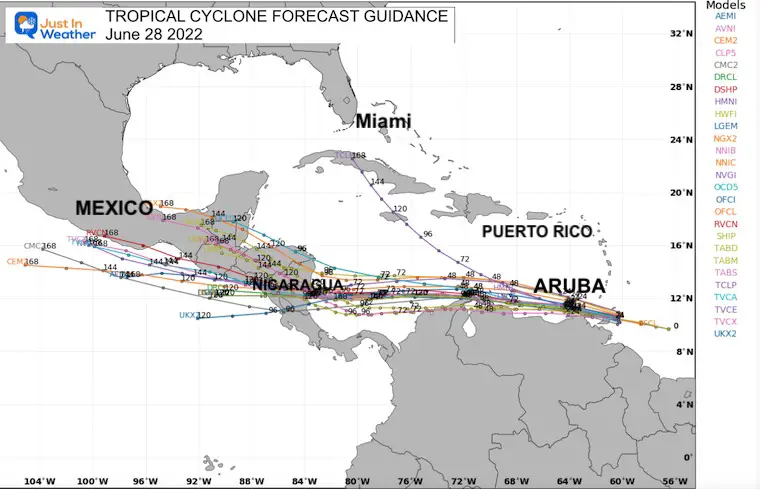 Closer Look
I've highlighted the track and timings, along with suggested wind speed. It is expected to be upgraded to a Tropical Storm and named Bonnie on Wednesday. Then maintain a moderate tropical storm intensity, then become a hurricane by Friday when it approaches landfall on the coast of Nicaragua.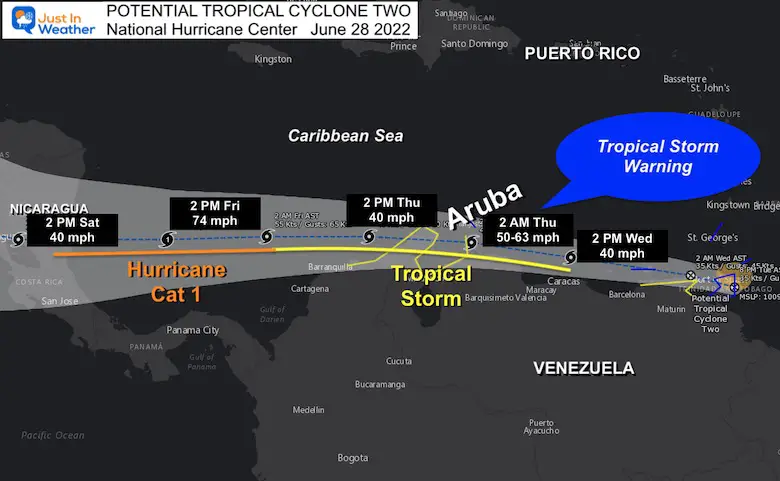 Even Closer Look
A Tropical Storm Warning is in place for the ABC Islands (Aruba, Bonair, and Curaçao). Winds may be between 50 and 63 mph.  The likely pass will be south of Aruba, but over the tip of Venezuela around 2 AM Thursday (Atlantic Time).  This is such a quick mover, that most of the storm will be gone at or just after sunrise.. passing on to the west.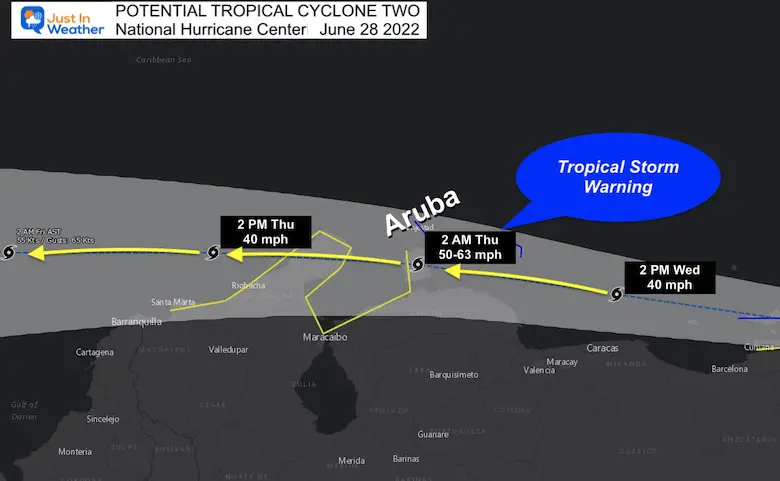 National Hurricane Center Advisory
A Tropical Storm Warning is in effect for…
* Trinidad and Tobago
* Grenada and its dependencies
* Islas de Margarita, Coche and Cubagua
* Bonaire
* Curacao
* Aruba
Note:
This is a developing storm, but should remain below hurricane intensity. The hotels are designed to withstand at Category 3 storm, so anyone there should be OK.   Anyone flying out Wednesday or Thursday however may get postposed. 
But this is a quick mover, and will be long gone by later on Thursday and into the long weekend. 
Revisit Tropical Storm Alex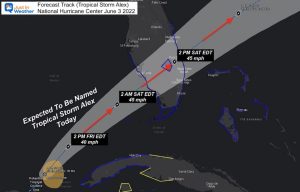 Hurricane Season Forecast: June 1 Through November 30
NOAA 2022 Hurricane Forecast- Above Normal Again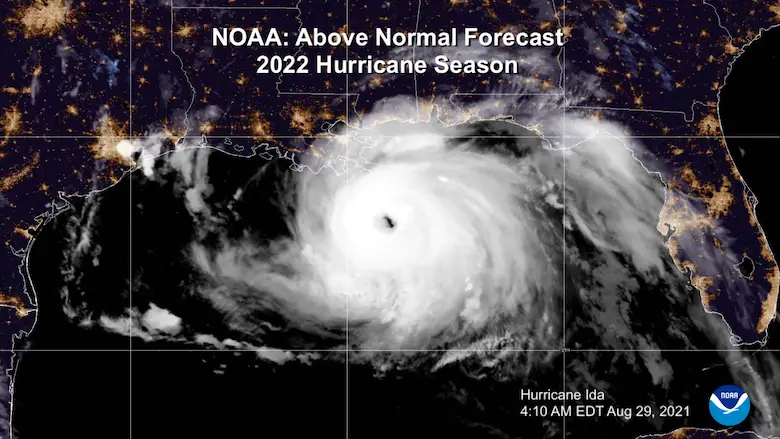 Forecast From Colorado State University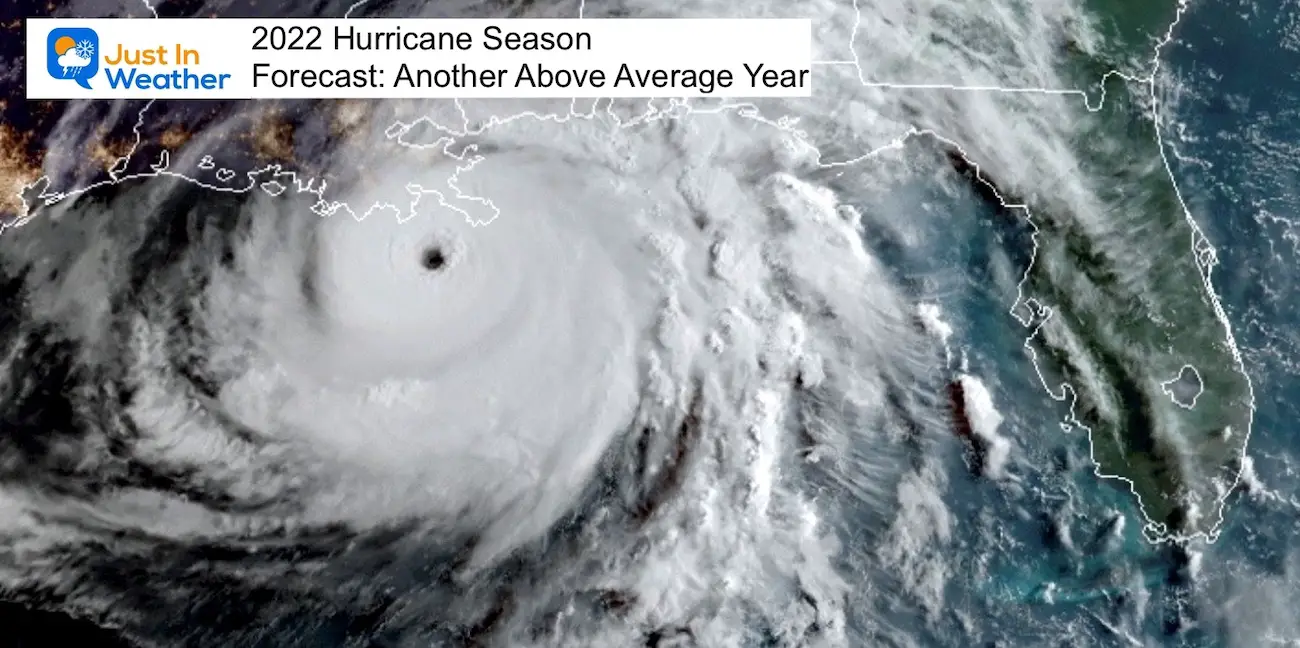 Related Posts
NOAA Study: Reducing Air Pollution INCREASED Tropical Storms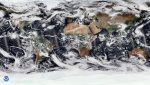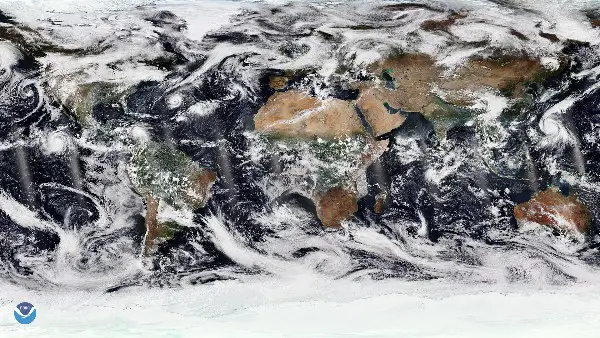 Atlantic Tropical History: Maps of Origin Regions Every 10 Days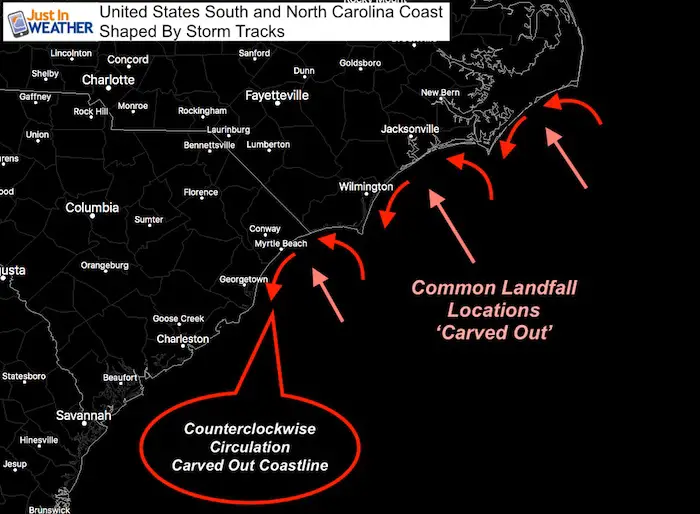 Recent Storm Reports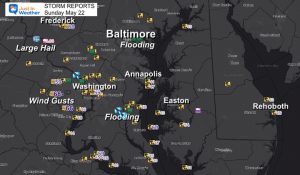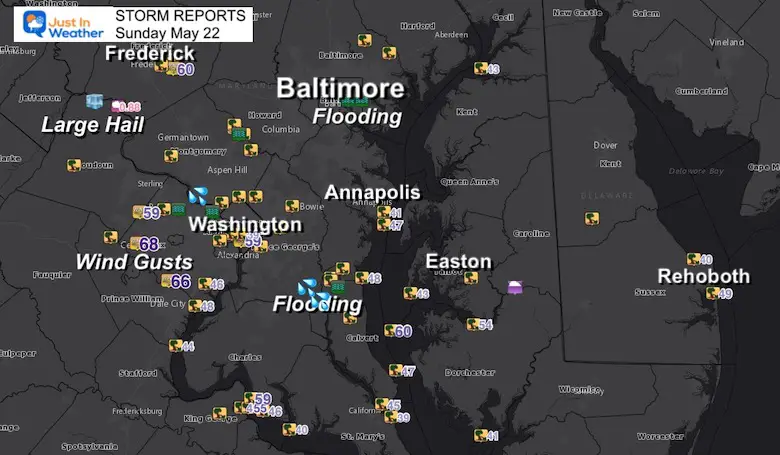 May 16 Large Hail Videos And Storm Tracking Map
Please share your thoughts, best weather pics/video, or just keep in touch via social media
*Disclaimer due to frequent questions:
I am aware there are some spelling and grammar typos. I have made a few public statements over the years, but if you are new here you may have missed it:
I have dyslexia, and found out at my second year at Cornell.  I didn't stop me from getting my meteorology degree, and being first to get the AMS CBM in the Baltimore/Washington region. 
I do miss my mistakes in my own proofreading. The autocorrect spell check on my computer sometimes does an injustice to make it worse. 
All of the maps and information are accurate. The 'wordy' stuff can get sticky. 
There is no editor that can check my work when I need it and have it ready to send out in a newsworthy timeline. 
I accept this and perhaps proves what you read is really from me…
It's part of my charm.