Sunday Afternoon Storm Update
rain timeline
Forecast
Justin Berk
Jun 26, 2022
3:44 pm
0
June 26 2022
Sunday Afternoon Update
This is a quick update as I am meeting up with some of my team for a few hours to ride our bikes. I wanted to get an idea what we may expect in Carroll County, and am still on the fence with little support. 
But hopefully this may help you as well understand that we still may have some 'stuff' to watch for.
Do you recall me mentioning how I am having trouble trusting the short range modeling? Well, my low confidence in both the HRRR and NAM 3 Km Model has been discussed quite a few times in the last month with these pop up storms.
Today my hesitation has been with the addition of a supportive Southeast Wind.
The line of thunderstorms has developed ahead of the cold front we plan to pass through tonight. The display in  Virginia has been expected, while the storms farther north in Pennsylvania have been more vibrant that suggested. In fact the HRRR Model is missing this all together. 
Radar Recap: 1:30 PM to 3 PM
I made this animation for this report. The live up to date radar and lighting widget is at the bottom of this report.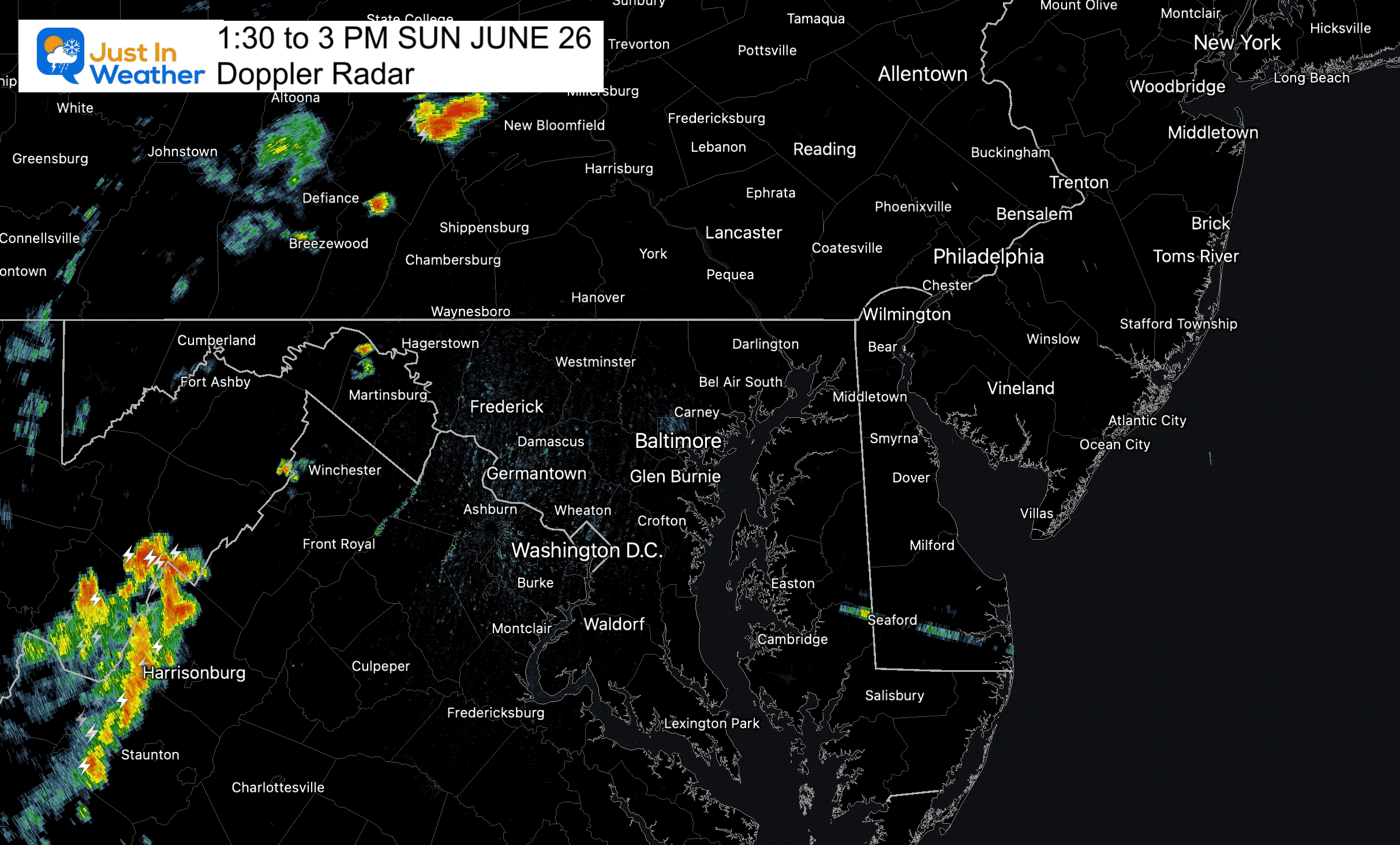 3 PM Snapshots
Doppler Radar:
Here is the storm highlight in Pennsylvania…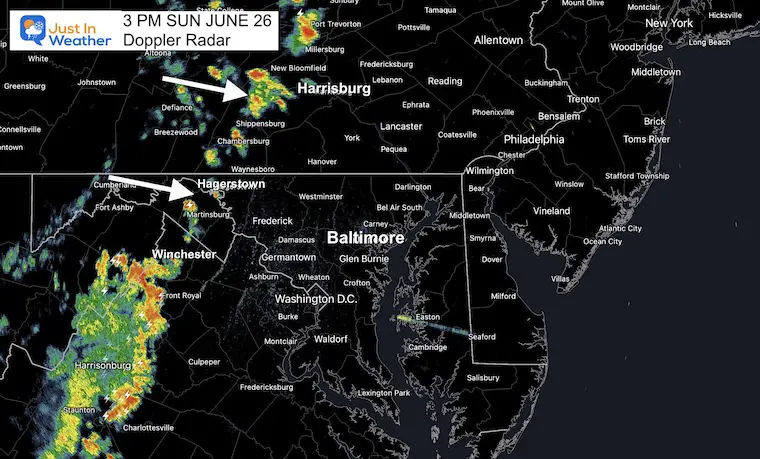 HRRR Model Forecast for 3 PM
This is missing the PA action all together. So we can toss this out for the short range….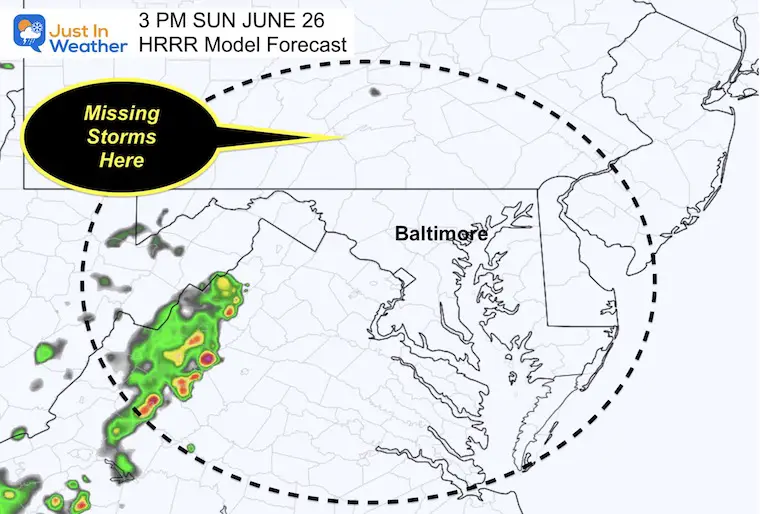 NAM 3 Km Model Forecast for 3 PM
This did a better job of the two, so we will examine this further…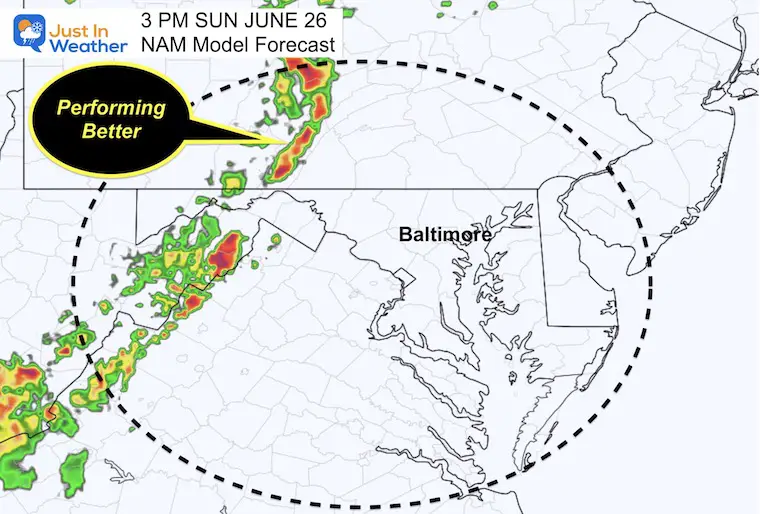 Radar Simulation:
NAM 3 Km 4 PM Sun to 8 AM Mon
This is still trying to have these showers fall apart east of I-81, with some residual rain spotty in Frederick, Carroll Counties in MD and to York and Harrisburg in PA.
Then nothing overnight.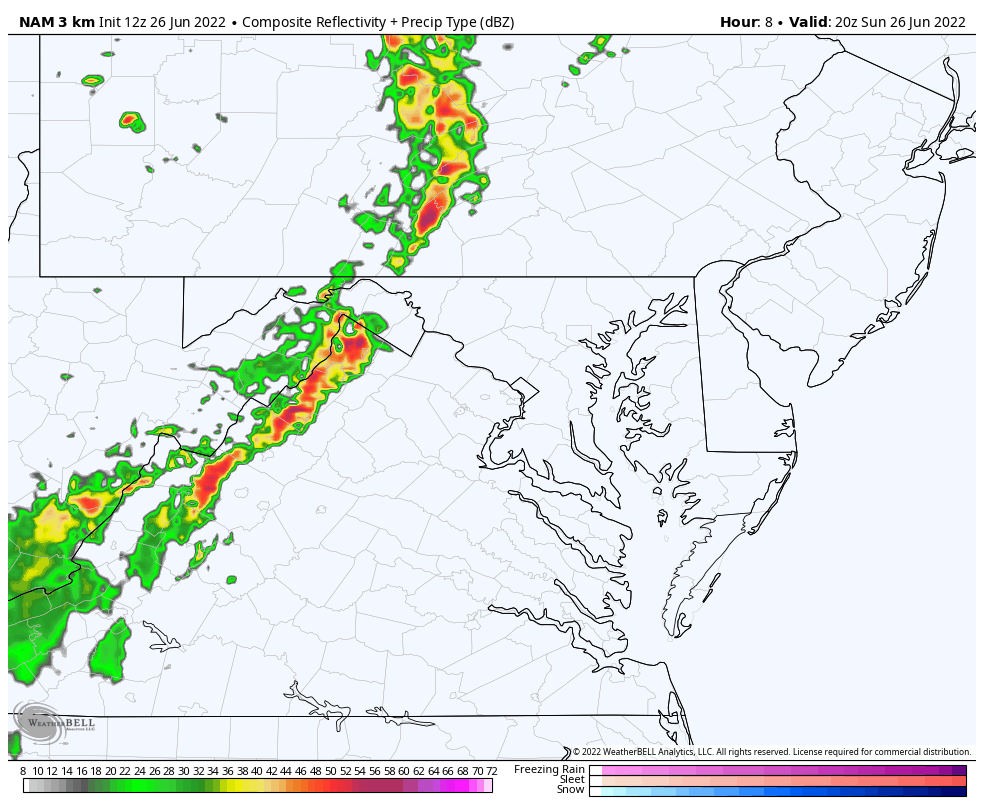 That HRRR Model… While it is void of this afternoon's storms, it continues to show the boundary flaring up some storms around metro Baltimore before sunrise. 
HRRR Model Simulation Midnight to 8 AM Monday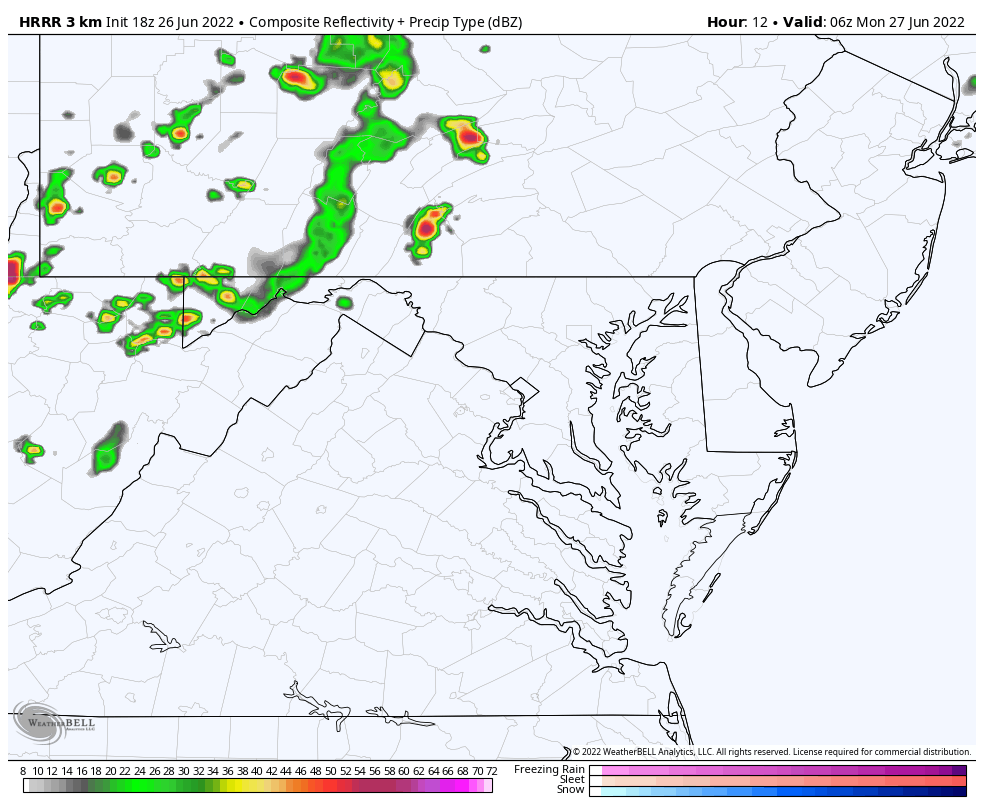 Monday: Storms Shift South
That cold front will play a role, but the timing is still up for debate.
What is looking likely is a resurgence of storms by noon near and south of I-95. Then a rainy or stormy day in southern Maryland to the beaches, while to the north there will be gradual clearing. 
Radar Simulation: NAM 3 Km
12 PM Monday to 8 PM Monday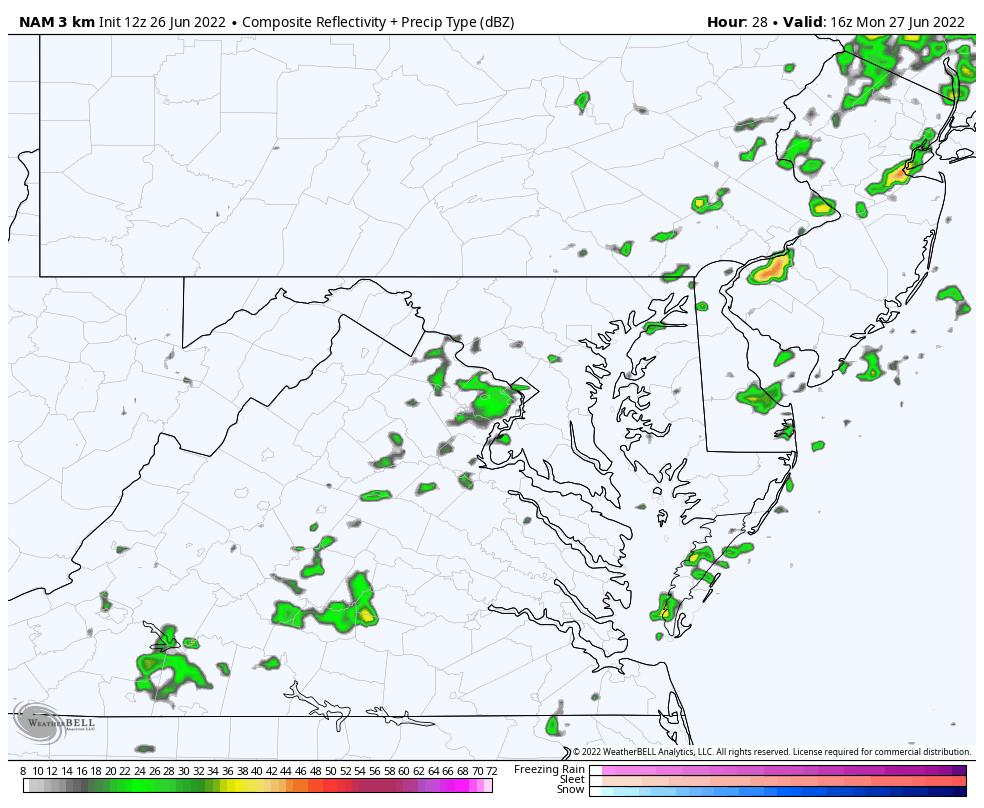 Live Radar and Lightning



;
Perfect Relief From The Heat

Book Your Kayak or Paddle Boat Adventure On The North Chesapeake Bay
7 Day Forecast
Summer heat is coming back.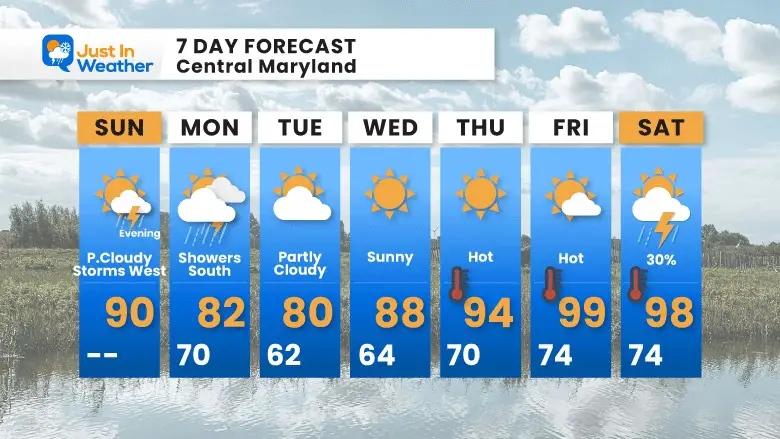 Hurricane Season Forecast: June 1 Through November 30
NOAA 2022 Hurricane Forecast- Above Normal Again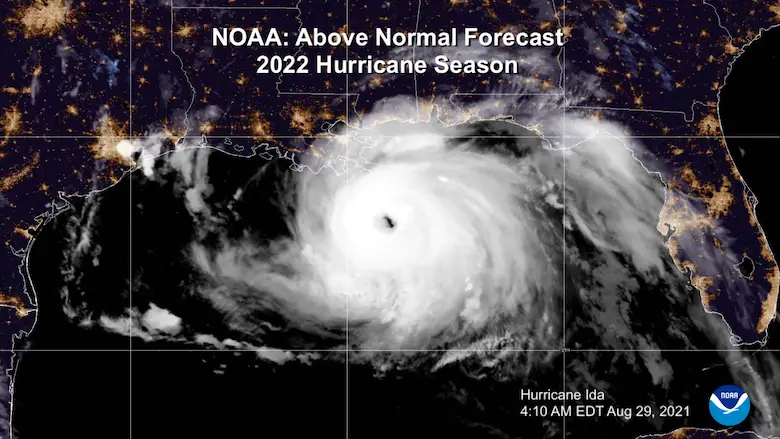 Forecast From Colorado State University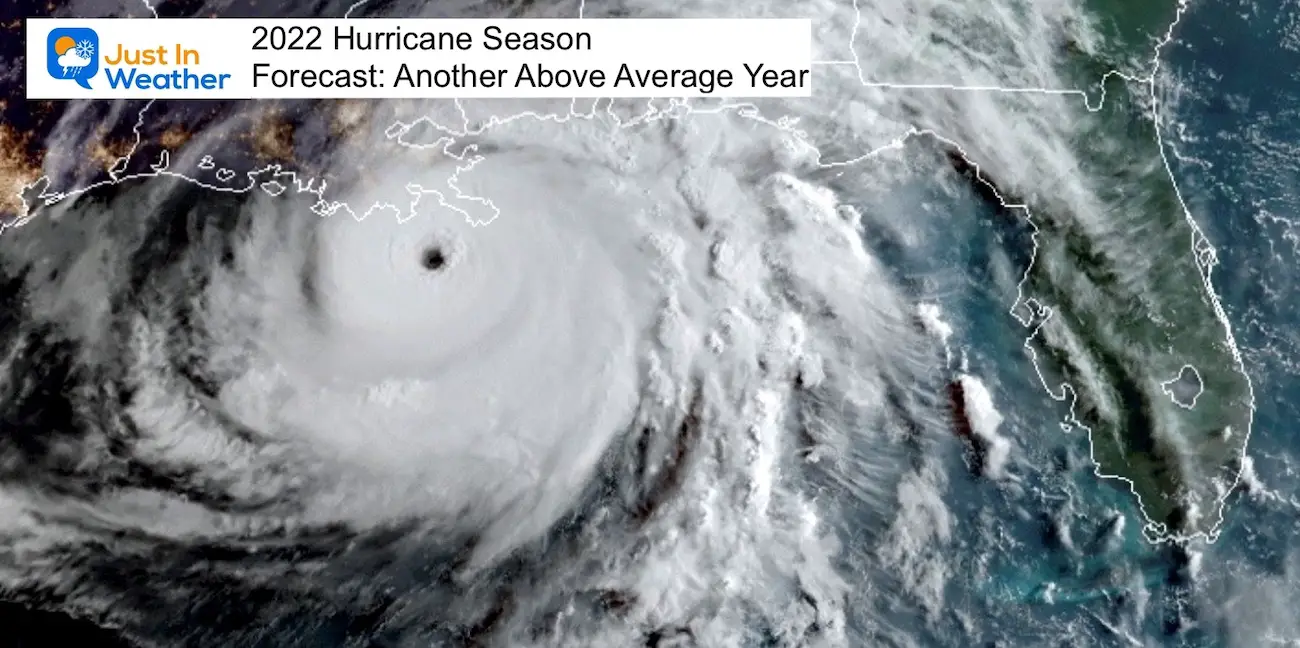 Related Posts
NOAA Study: Reducing Air Pollution INCREASED Tropical Storms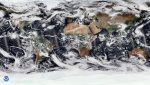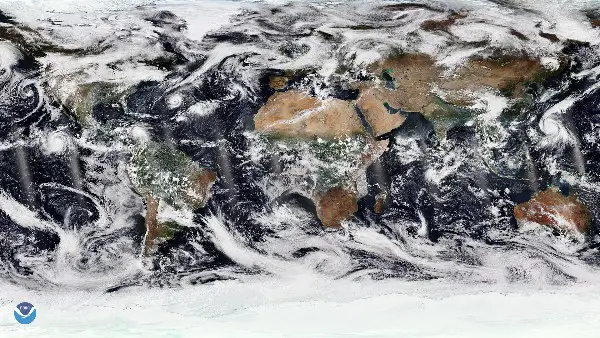 Atlantic Tropical History: Maps of Origin Regions Every 10 Days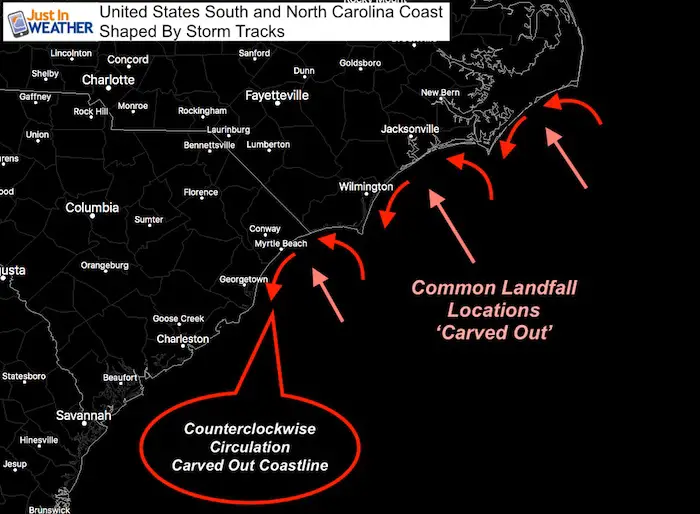 Recent Storm Reports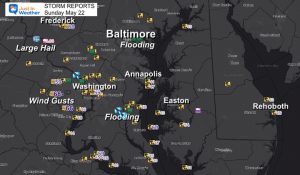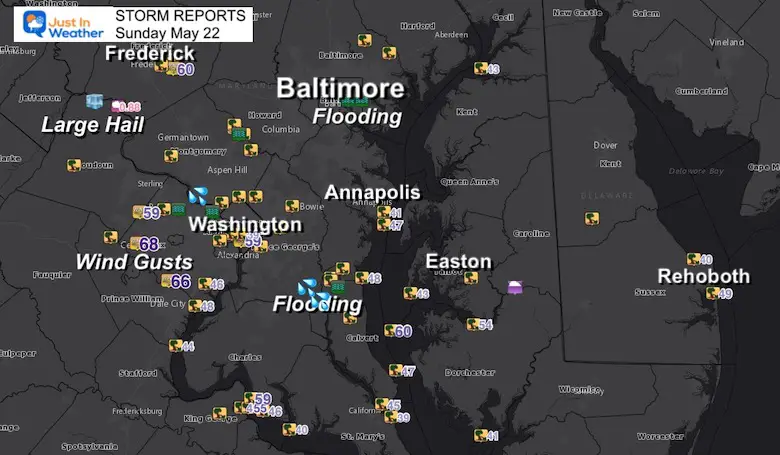 May 16 Large Hail Videos And Storm Tracking Map
Please share your thoughts, best weather pics/video, or just keep in touch via social media
*Disclaimer due to frequent questions:
I am aware there are some spelling and grammar typos. I have made a few public statements over the years, but if you are new here you may have missed it:
I have dyslexia, and found out at my second year at Cornell.  I didn't stop me from getting my meteorology degree, and being first to get the AMS CBM in the Baltimore/Washington region. 
I do miss my mistakes in my own proofreading. The autocorrect spell check on my computer sometimes does an injustice to make it worse. 
All of the maps and information are accurate. The 'wordy' stuff can get sticky. 
There is no editor that can check my work when I need it and have it ready to send out in a newsworthy timeline. 
I accept this and perhaps proves what you read is really from me…
It's part of my charm.