Stormy Night Ahead As Rain Reaches Metro Areas In Central Maryland
Flooding
rain timeline
Severe Weather
Justin Berk
Jun 22, 2022
9:05 pm
0
June 22 2022
Wednesday Night Update
I hope you have been seeing my updates, as I have been trying to keep you informed of how this event was playing out. Earlier today I showed that the short range models were not performing well.  I have said that often, but the earlier storms near Washington were hours ahead of schedule.
What did play out well was two distinct areas of rain. To the West were clusters of severe storms in Pennsylvania to mountain Maryland. On The Eastern Shore of Maryland a steady flow of rain, which ended up also producing a lot of lighting and over 1 inch of rain. 
What is happening now is what we discussed last night, and more thunder with heavy rain will continue for more areas, leading to potential flooding.
Radar Recap: 6 PM to 8 PM
The most glaring feature has been that stubborn rain band on Maryland's Eastern Shore.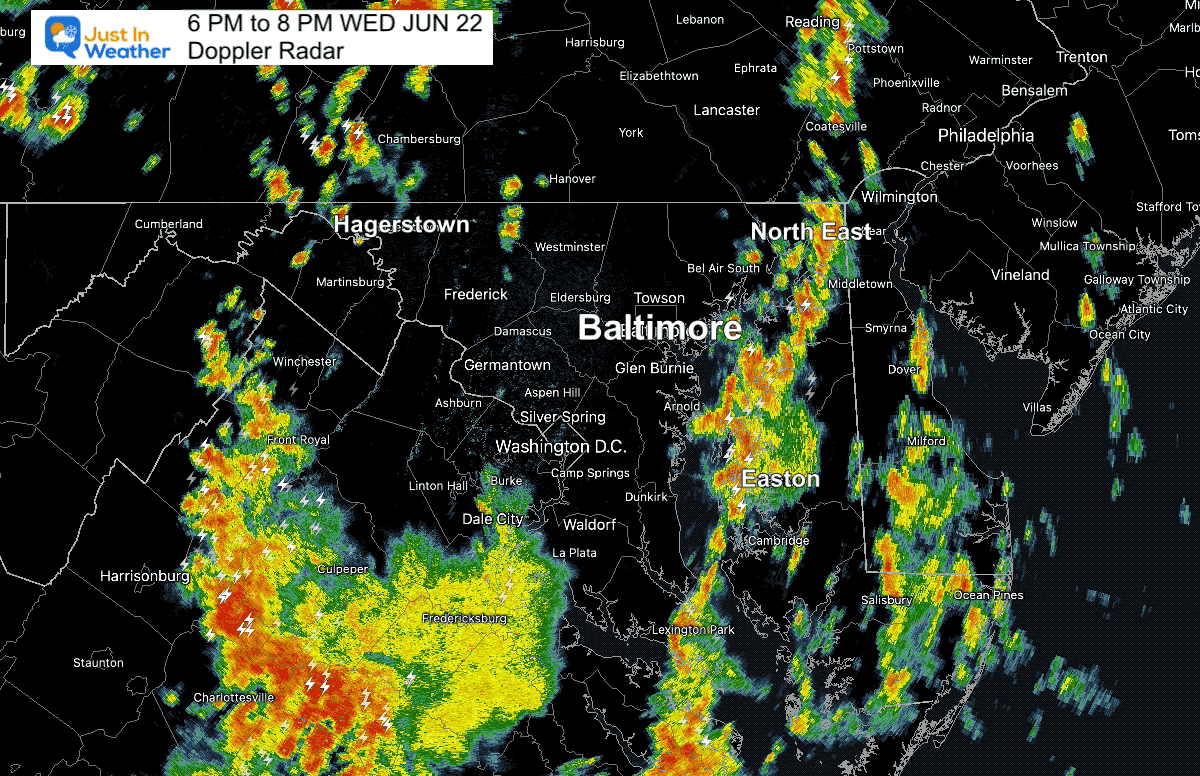 In between is the densely populated metro Baltimore Corridor. 
Last night I showed that this region would be in a Convergence Zone between those other rain bands, and eventually get in on the action at night. 
That is playing out now, but I have seen many comments from people suggestion this was a bust or upset they have been dry.  Well, hang in there and be careful what you wish for.  This is the part of the forecast that has been working, and the rest of us get the rain tonight. Some may still get in on flooding as rain bands may produce 1 to 3 inches in spots.
Wednesday Evening Set Up
I've annotated the storms in Pennsylvania that are associated with an approaching cold front.
Along the coast, that wind flow has been wrapping around a large Trough in the Atlantic that has been retrograding or moving west.  This is even more impressive on the satellite loop below.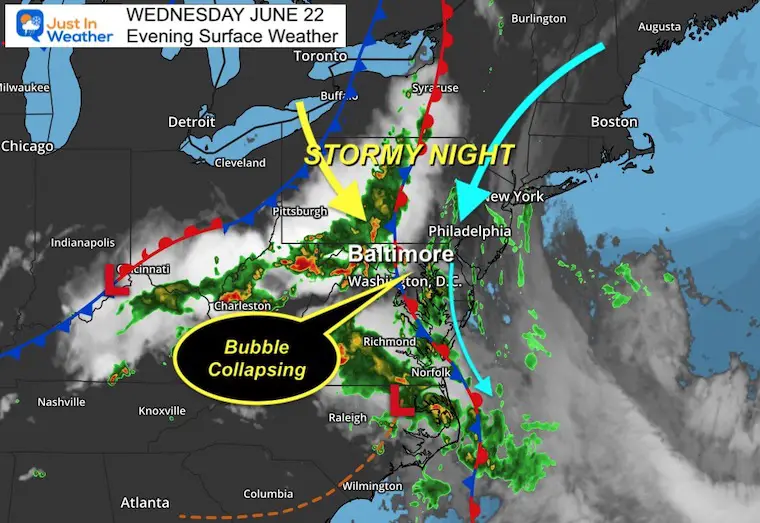 Satellite Loop
6:30 PM to 8:30 PM
I can stare at this for a while. It's mesmerizing.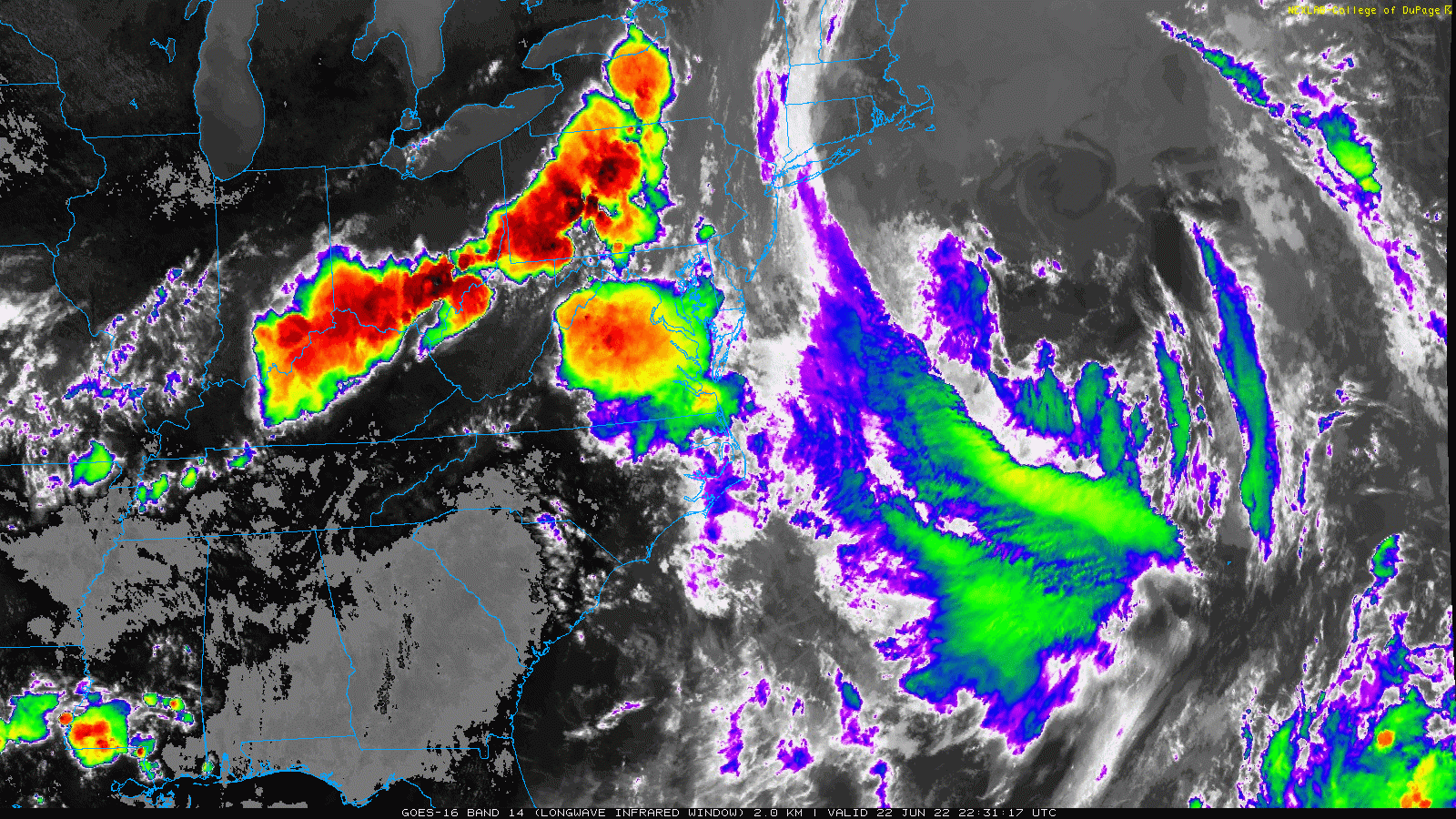 9 PM Doppler Radar Snapshot
This is the Convergence Zone I showed you last night now playing out!
Here is that bubble in between collapsing and new bands of heavy rain are forming like ripples in the atmosphere.  These are still moving with the same flow from North to South… Training over the same areas. That means if you get underneath, you could easily pick up over 1 inch of rain.
Note: I've put the radar and lighting widget at the bottom of the post so you can compare to this model animation through the early morning hours.
Radar Simulation:
10 PM Wed to 12 PM Thursday
Here we see heavy rain bands tonight, plus a resurgence of rain Thursday morning. Then showers lingering across central Maryland and Delmarva at Noon.  
This looks a lot more like a winter Nor'easter than a summer storm. 
It will be chilly!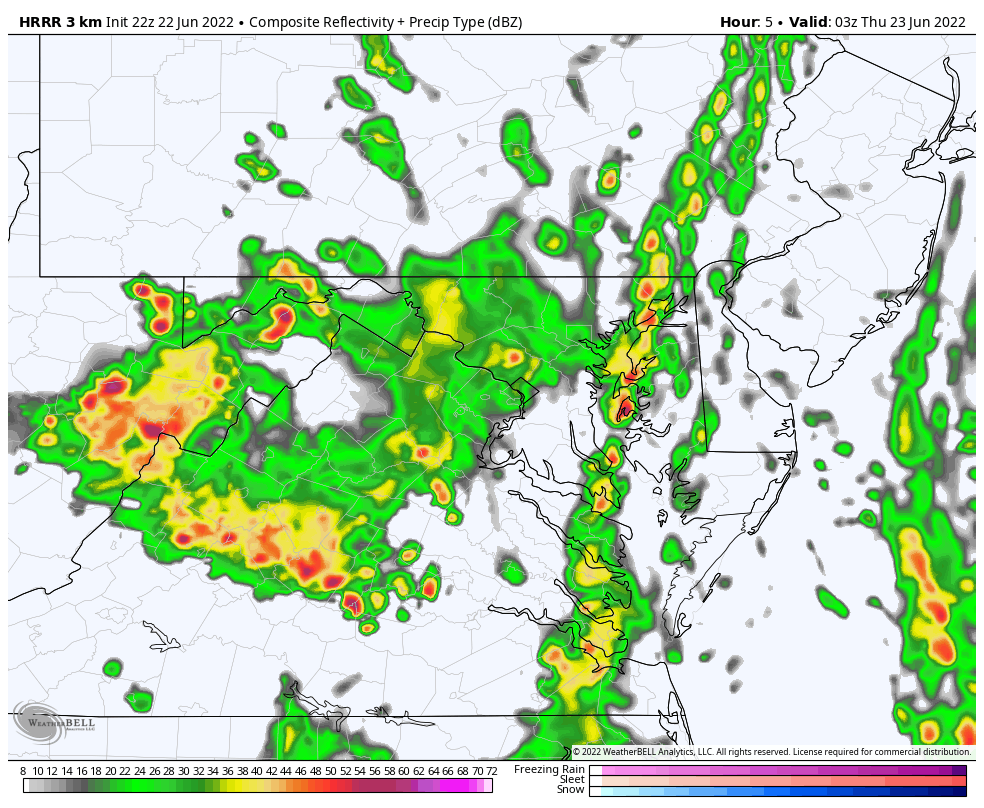 Snapshots
8 AM
It might feel like fall with the rain and chilly winds.  You may suggest it's like a Nor'easter as well.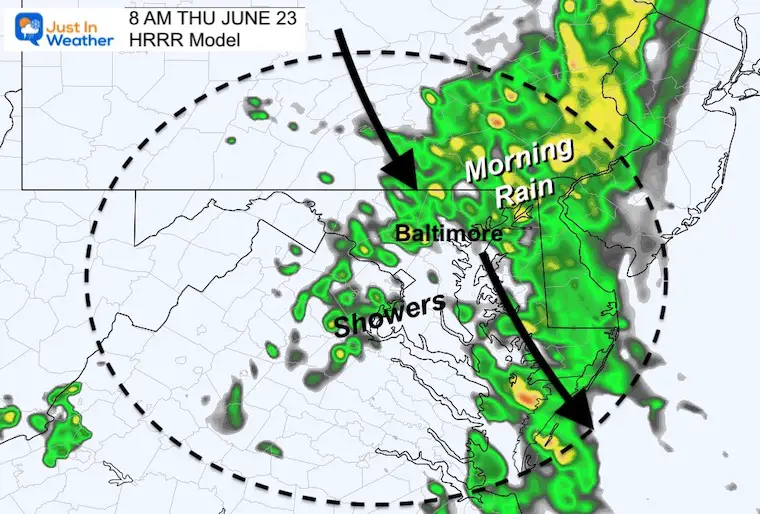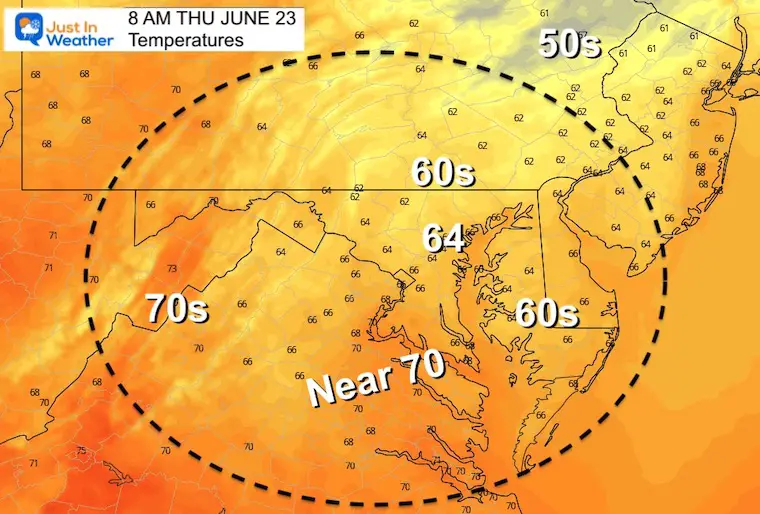 12 PM
This will be a chilly and wet day at the beaches, and remaining chilly in central MD and PA as well.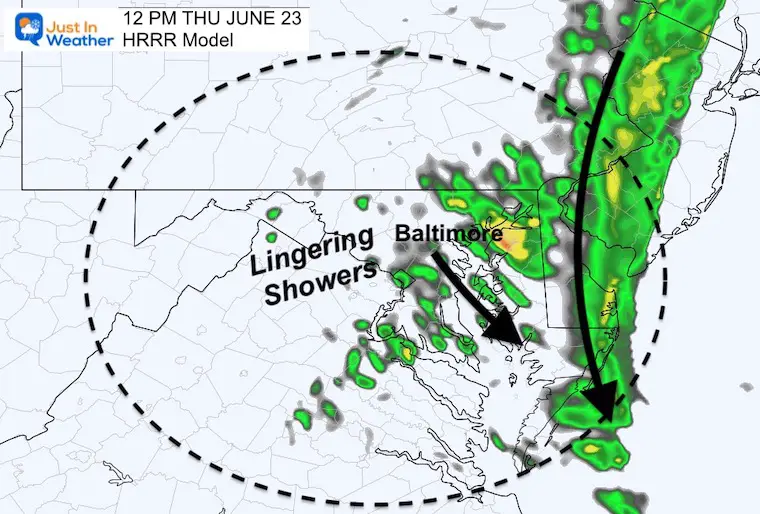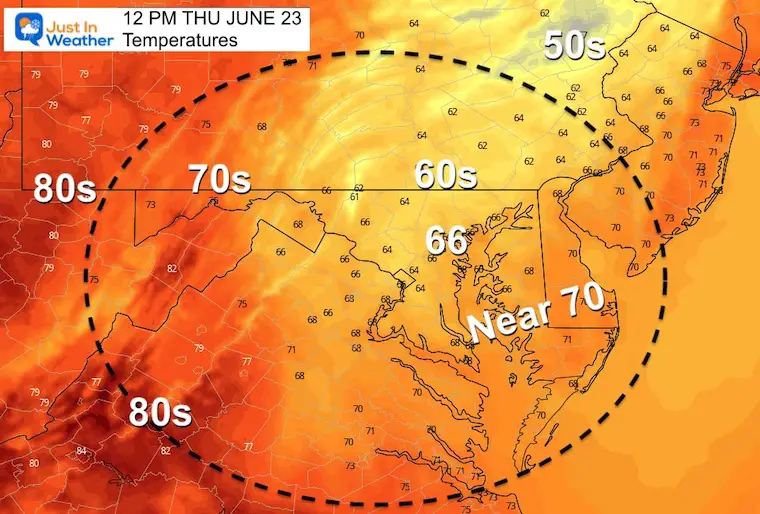 Live Radar Widget
Pinch and pull to zoom and drag the view.
Flash Flood Watch
The National Weather Service expanded this to include counties west of Baltimore where those multiple heavy cells are more likely.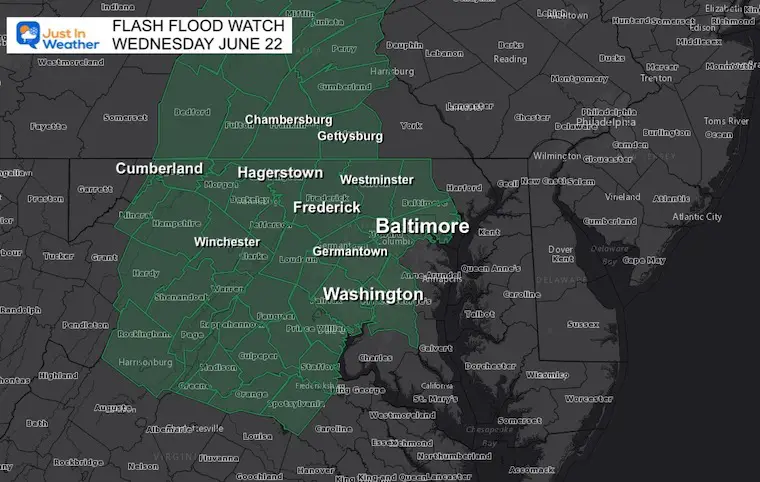 Weather posts straight to your inbox
Sign up and be the first to know!

Book Your Kayak or Paddle Boat Adventure On The North Chesapeake Bay
Hurricane Season Forecast: June 1 Through November 30
NOAA 2022 Hurricane Forecast- Above Normal Again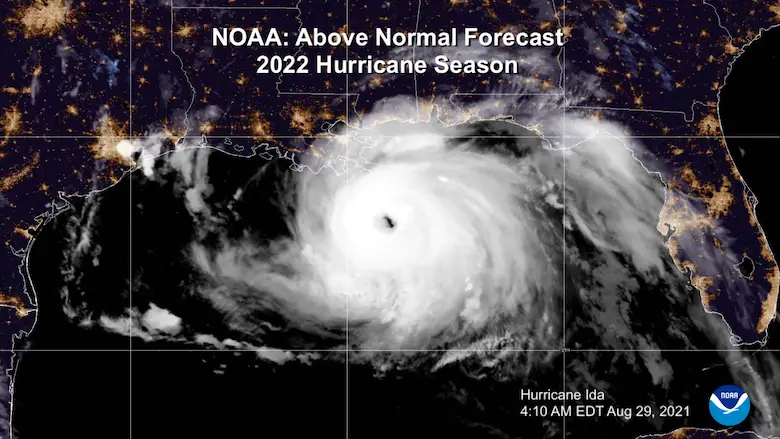 Forecast From Colorado State University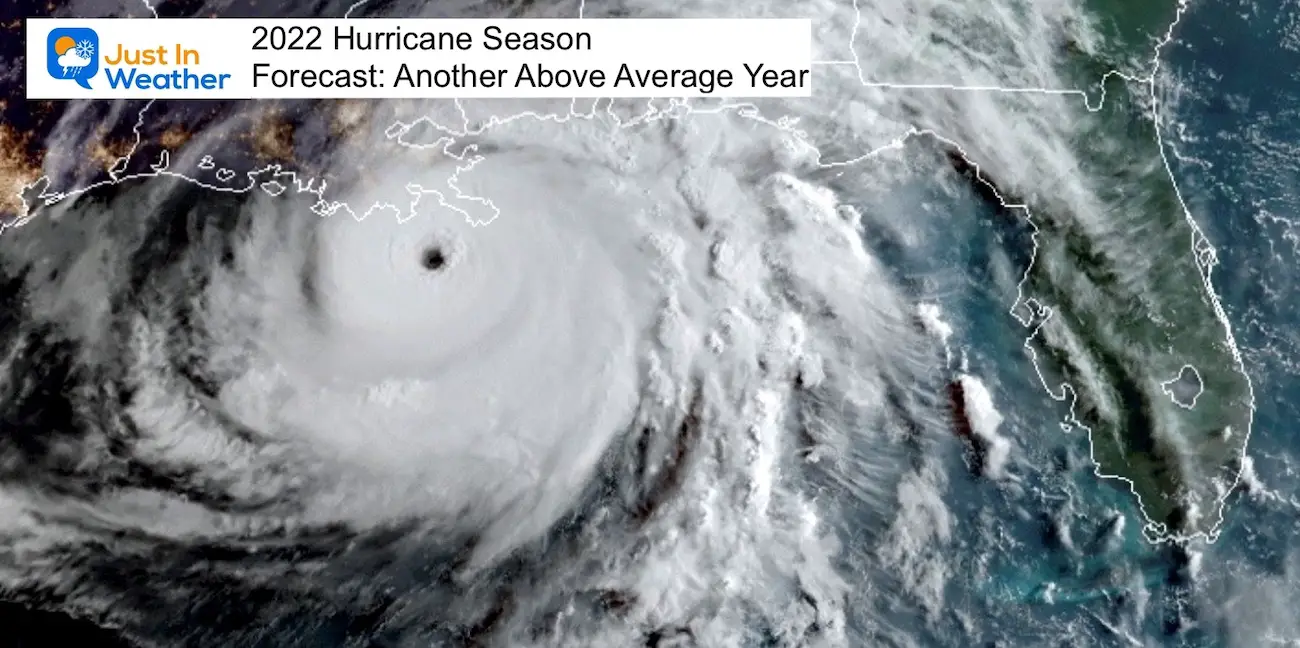 Related Posts
NOAA Study: Reducing Air Pollution INCREASED Tropical Storms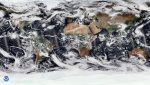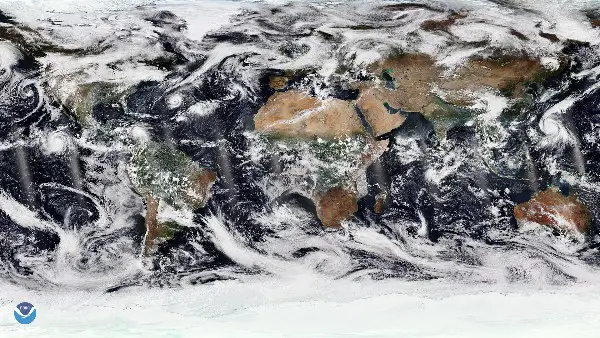 Atlantic Tropical History: Maps of Origin Regions Every 10 Days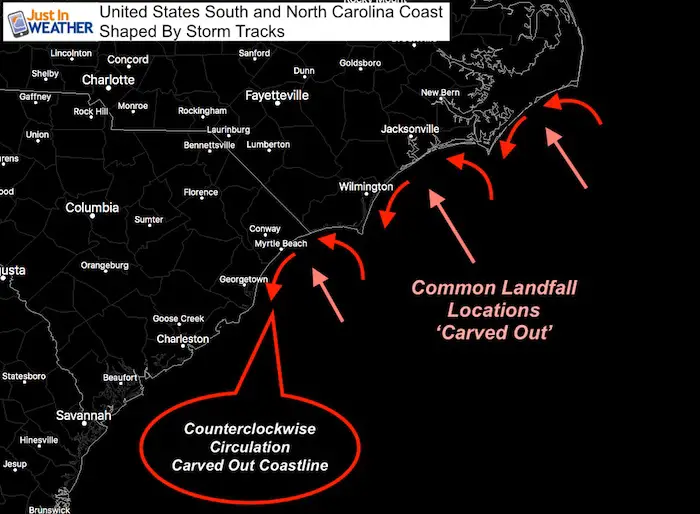 Recent Storm Reports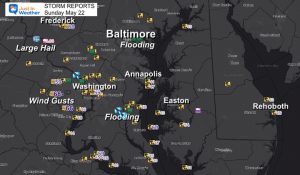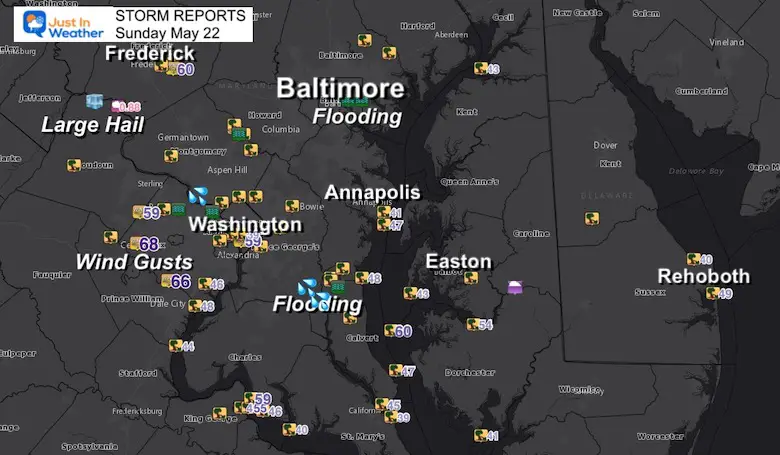 May 16 Large Hail Videos And Storm Tracking Map
Please share your thoughts, best weather pics/video, or just keep in touch via social media
*Disclaimer due to frequent questions:
I am aware there are some spelling and grammar typos. I have made a few public statements over the years, but if you are new here you may have missed it:
I have dyslexia, and found out at my second year at Cornell.  I didn't stop me from getting my meteorology degree, and being first to get the AMS CBM in the Baltimore/Washington region. 
I do miss my mistakes in my own proofreading. The autocorrect spell check on my computer sometimes does an injustice to make it worse. 
All of the maps and information are accurate. The 'wordy' stuff can get sticky. 
There is no editor that can check my work when I need it and have it ready to send out in a newsworthy timeline. 
I accept this and perhaps proves what you read is really from me…
It's part of my charm.